In this guide to the cable pull-through exercise, we'll look at why you should use this exercise, step-by-step instructions for engaging the right muscles, and common mistakes people make when doing cable pull-throughs. Next stop, Glutetown!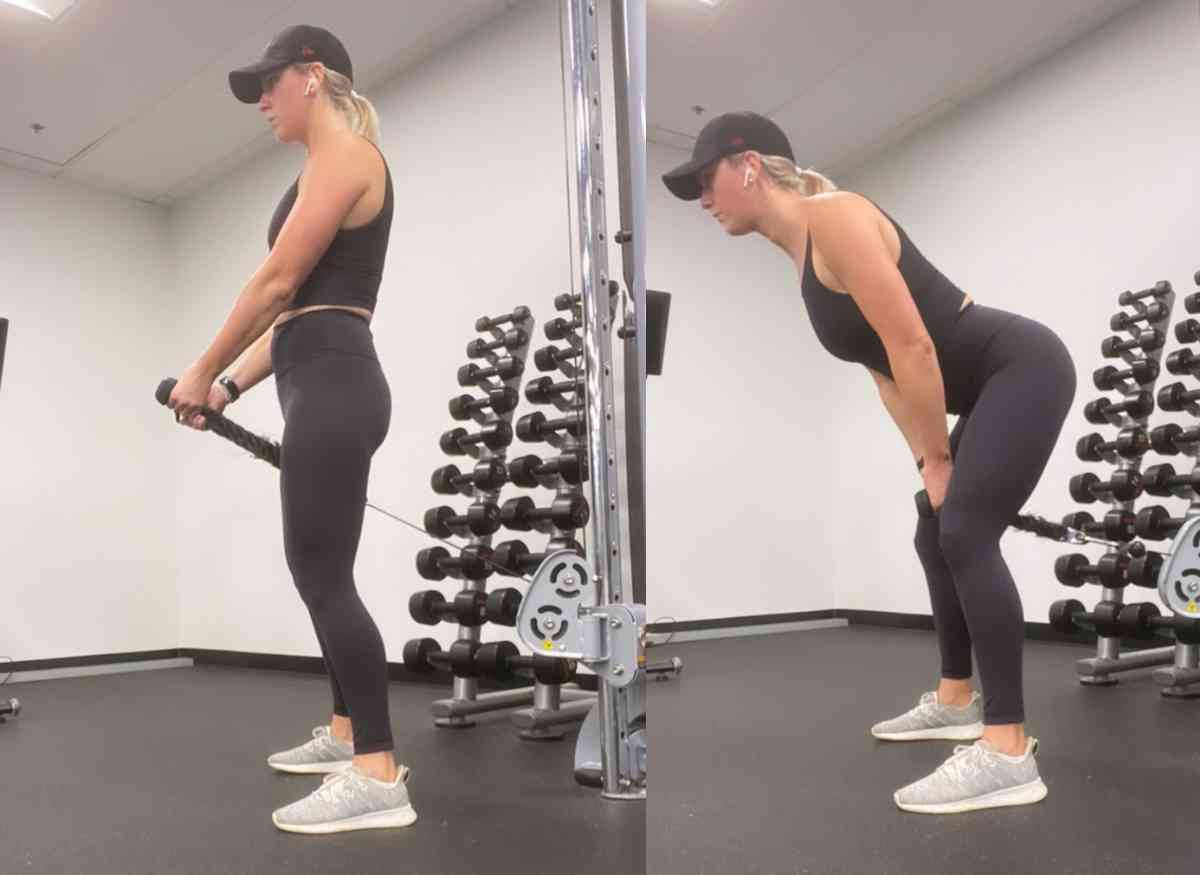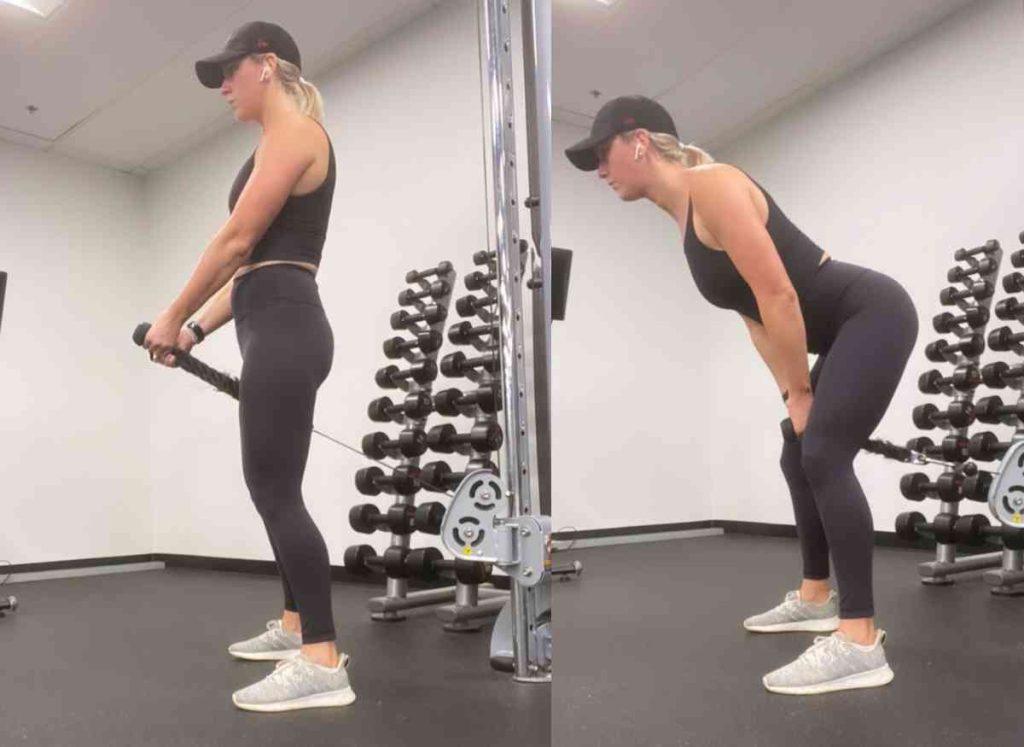 The cable pull-through is one of the best exercises you can do for stronger glutes.
Everyone wants a bigger, stronger booty, and the cable pull-through is a great way to do this while also working your core and hamstrings.
That said, although the exercise looks relatively simple—pull a cable through your legs—there are some consistent mistakes lifters make, resulting in wasted time and energy.
In this article, you'll learn the proper form and technique for the cable pull-through, some of the most common no-no's lifters make, and why you should add this exercise to your training regimen.
Let's get to pullin'!
Why You Should Do the Cable Pull-Through Exercise
Here are a few of the main benefits to working the cable pull-through into your routine:
? Benefit #1: Better Back Strength
This cable machine exercise is intended to target your glutes and hamstrings, but you'll find that it also does an amazing job of strengthening your lower back. Because you're performing this movement in a bent-over position, your spinal erector muscles have to engage throughout the range of motion.
However, there will be no direct load placed on your back, which is the primary problem with exercises like squats or lunges.
The lack of compressive axial load (sitting on your shoulders, pressing down on your spine) means there is a significantly lower risk of back injuries with this exercise. Even if you're recovering from an injury or going through PT after surgery, you can safely incorporate this exercise into your routine.
As long as you're working the proper form (which we'll expound on below) and focusing on keeping your movements controlled and slow, your back should be perfectly safe throughout this exercise.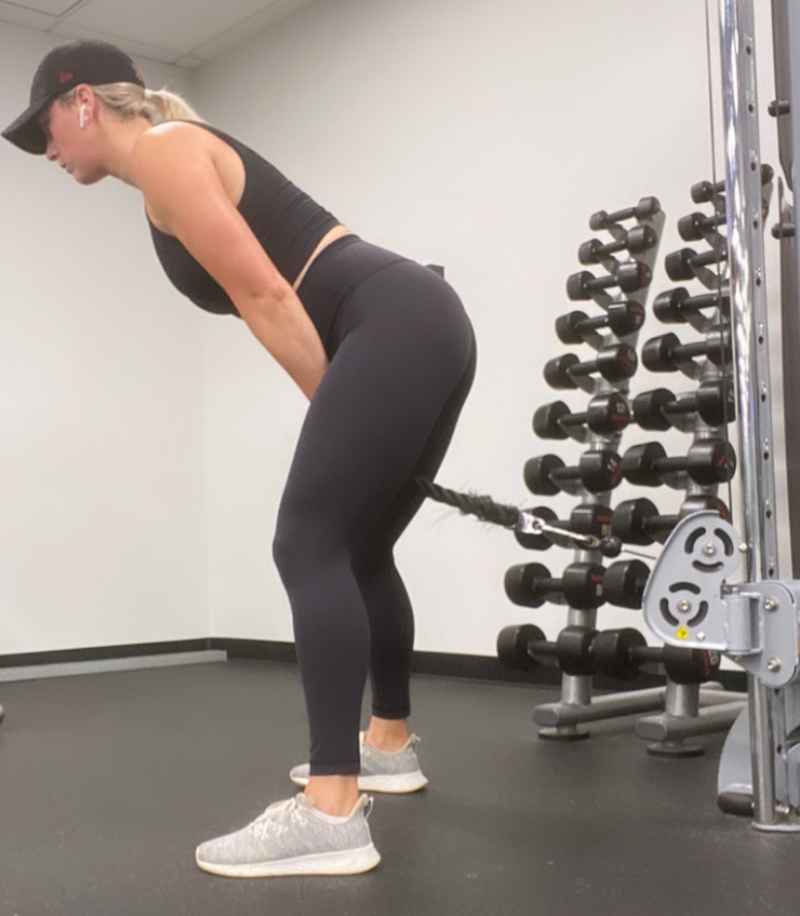 ? Benefit #2: Improved Hip Hinging
Many glute exercises focus exclusively on contracting the glute muscles, which is great for improving glute strength. However, it doesn't help to compensate for movement deficiencies and stiffness caused by long hours spent sitting down.
You will find that it takes specific training to increase the movement in your hips and combat reduced range of motion.
But with the cable pull-through, you've got an exercise that kills two birds with one stone. Not only does it target your glutes (very effectively, I might add!), but it also encourages greater motion in your hips.
You have to hinge at the hips in order to move smoothly through this exercise, and that movement will encourage better hip mobility overall.
It's an excellent way to help train for greater mobility and fluid movement to counteract the negative effects of long periods of inactivity.
? Benefit #3: Stronger Posterior Leg Muscles
This is the primary benefit of cable pull-throughs, the reason most people incorporate them into their workouts. The exercise focuses largely on the posterior leg muscles—a.k.a. the glutes and hamstrings.
The glutes and hamstrings both work together with your lower back, quads, hip flexors and extensors, and your calves to facilitate movement in your legs. You can't run, jump, squat, lunge, sit, or stand without your glutes and hamstrings getting involved. Strengthening these two posterior muscles is crucial for running faster, jumping higher, squatting and lunging with greater strength, and being able to sit down and stand up with ease.
The cable pull-through also targets your calf muscles, along with your lower back and core. There's even minor isometric engagement of your lower back. Because it works virtually the entire posterior chain, you'll find it's an exercise that makes you more stable and stronger overall.
As you can see, there are a lot of great reasons to incorporate the cable pull-through into your workout. Time to dive into the nitty gritty and see how it's done!
How to Do Cable Pull-Throughs Properly
Step 1: Set up the machine. Set the cable machine to its lowest setting (ankle height) and secure the rope handle attachment in place. Set your weight as desired.
Step 2: Set up your body. Turn to face away from the machine and reach down between your legs to grip the handle. Stand up straight and step forward roughly 2-3 feet away from the machine, until the weight just begins to lift. Adopt the right stance: your feet spread slightly more than shoulder width apart, toes pointed slightly outward, spine straight, knees soft, and head up.
Step 3: Bend forward. Keep your back straight and in alignment as you bend forward. Let your hips do the work of hinging backward, but maintain a neutral spine. Push your hips backward until you feel your hamstrings tightening. Let your knees bend slightly to avoid locking out, but not so much your lower back ends up doing the work.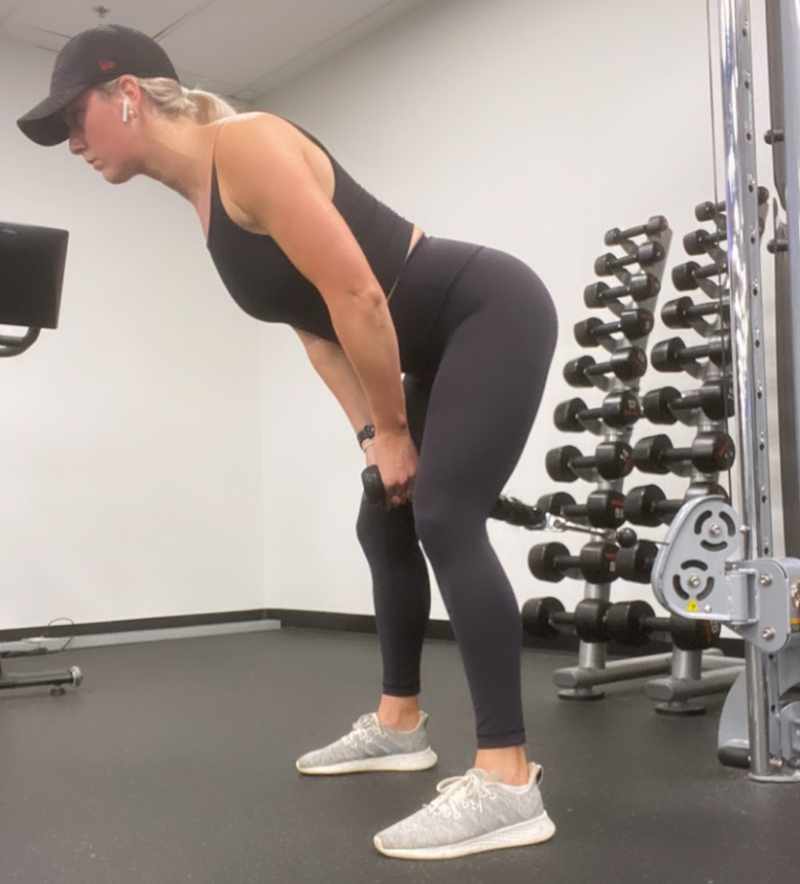 Step 4: Pause at the bottom. Lower until your torso is nearly parallel to the floor. Pause at the bottom, finishing your inhale and tensing your glutes in anticipation of the movement to come. Giving yourself a short pause will help you to avoid swinging and allow you to focus on your form and posture.
Step 5: Squeeze your glutes and reverse. Really focus on the way you contract your glutes to thrust forward from the hips as you stand up straight. Keep your arms soft and don't let them do any of the work, and make sure your spine is straight and in neutral position. You should feel the burn entirely in your glutes for this exercise!
Step 6: Straighten and pause. Lift upward until you're standing fully straight once more. You can finish with a little forward thrust of your hips to maximize glute engagement. Pause at the top for a 1-count, then hinge/bend forward into the next rep.
Step 7: Repeat as desired. Train in the 4-6 rep range for maximum power, 8-12 reps for strength, and 15-25 reps for muscular endurance.
Common Mistakes Lifters Make with Cable Pull-Throughs
Here are a few of the most common mistakes to be aware of when doing pull-throughs:
❌ Mistake #1: Wearing the Wrong Shoes
If you wear shoes with very thick, cushioned soles, you actually lose power in your hips and thighs.
Lifting barefoot, in minimalist shoes, or flat-soled shoes (like Converse Chuck Taylors or Reebok Crossfit Nanos) will help to encourage better engagement of your leg muscles from the soles of your feet all the way to your hips, and will help to improve your balance overall.
❌ Mistake #2: Rounding Your Back
There is a tendency when there is a heavy load on your posterior chain muscles to round out your back so as to let the spinal erector muscles get more involved to help with the lifting.
BIG MISTAKE!
Letting your spinal muscles get more involved will lead to a higher risk of injury and will reduce the focus on your glutes. Really pay attention to your spine during this entire exercise.
Make sure that it's as neutral as possible throughout the bending and straightening movement. It will already be engaged to keep your torso upright and straight, and you shouldn't let it do any more work than absolutely necessary.
Maintaining a straight, neutral spine will keep the focus chiefly on your glutes and hamstrings.
❌ Mistake #3: Using Your Arms and Shoulders
There may be the temptation to use your arms (biceps and forearms) to help pull the weight, or to shrug your shoulders and engage your traps if your glutes are fatiguing.
Resist that temptation!
Using your upper body will not only decrease glute and hamstring engagement, but it will increase the strain on your lower back. Your arms should remain soft and move as little as possible.
Let your hips and legs do all the moving.
❌ Mistake #4: Jerking or Swinging
When lifting heavy weights, there's always the temptation to jerk or swing to facilitate the lift. This is acceptable if you're hitting fatigue and need a bit of help to complete those last few reps, but only at the end.
To begin, focus on maintaining smooth movement, and keep from swinging as much as possible.
Start each set off right, pay attention to your posture, and avoid anything that could:
compromise your form, and
increase your risk of injury.
---
How to Do Cable Pull-Throughs — FAQs
What muscles do cable pull-throughs work?
The prime movers (primary muscles) involved in cable pull-throughs are your glutes and hamstrings. However, the exercise also works your:
Spinal erectors
Abdominals
Upper back (via isometric contraction)
Forearms (also via isometric contraction)
Calves
Feet muscles
Are cable pull-throughs as effective as hip thrusts?
Hip thrusts are a glute-focused exercise that involves the use of a heavy, weighted barbell, vs. the cable pull-through's cable machine.
The fact that there is a load placed directly atop your lap and your glutes have to engage to thrust that load upward definitely leads to concentrated engagement of the gluteal muscles.
It's safe to say that hip thrusts are as effective at cable pull-throughs, if not more. (For more on the hip thrust, check out this article that outlines all the benefits of hip thrusts.)
However, there is the caveat that with the load placed directly on your lap, it may be harder to safely engage your glutes and hamstrings without straining your lower back.
Many people struggle to master the hip thrust form to reduce back engagement.
With the cable pull-through, it's a much easier exercise to master, allowing you to start hitting your glutes hard from Day One without putting your lower back at risk.
Are cable pull-throughs the same as RDLs?
Romanian deadlifts are more focused on the hamstrings and lower back, with some glute engagement.
Cable pull-throughs, on the other hand, target the glutes and hamstrings, with some (minor) lower back engagement.
Both are highly effective posterior chain lower body exercises, but their slight differences in focus determine whether you incorporate them into Back Day or Leg Day workouts.
The Bottom Line
Cable pull-throughs have the potential to be one of the safest, most effective exercises you can do to train your glutes, hamstrings, and hip hinge.
Because there is minimal engagement of the lower back, you'll find you can safely train these muscles without fatiguing spinal muscles already tired from deadlifting, squatting, lunging, or other training.
Ideally, you'd incorporate a few sets of cable pull-throughs at the end of your glute workout, using less weight and a higher number of reps to "finish off" your session by blasting your glutes and hamstrings.
Next time you hit the gym, saddle up to the cable machine and blast away at those glutes with cable pull-throughs with confidence.
---
More Stuff Like This
How to Master the Hip Thrust (Technique, Reps, and More). Here's everything you need to know about performing the hip thrust—the best exercise you can do for strong and muscular glutes.
5 Best Stretches for Tight Glutes (Plus Benefits and How to Do Them). Stretching your tight glutes reduces muscle stiffness, increases range of motion, and can even help you build more muscle. Here are my five favorite glute stretches for unlocking the muscles around your rear end.