The Smith Machine squat is both loved and loathed in the gym. In this guide, we will cover the range of benefits of Smith Machine squats, disadvantages, how to do them properly, and much more.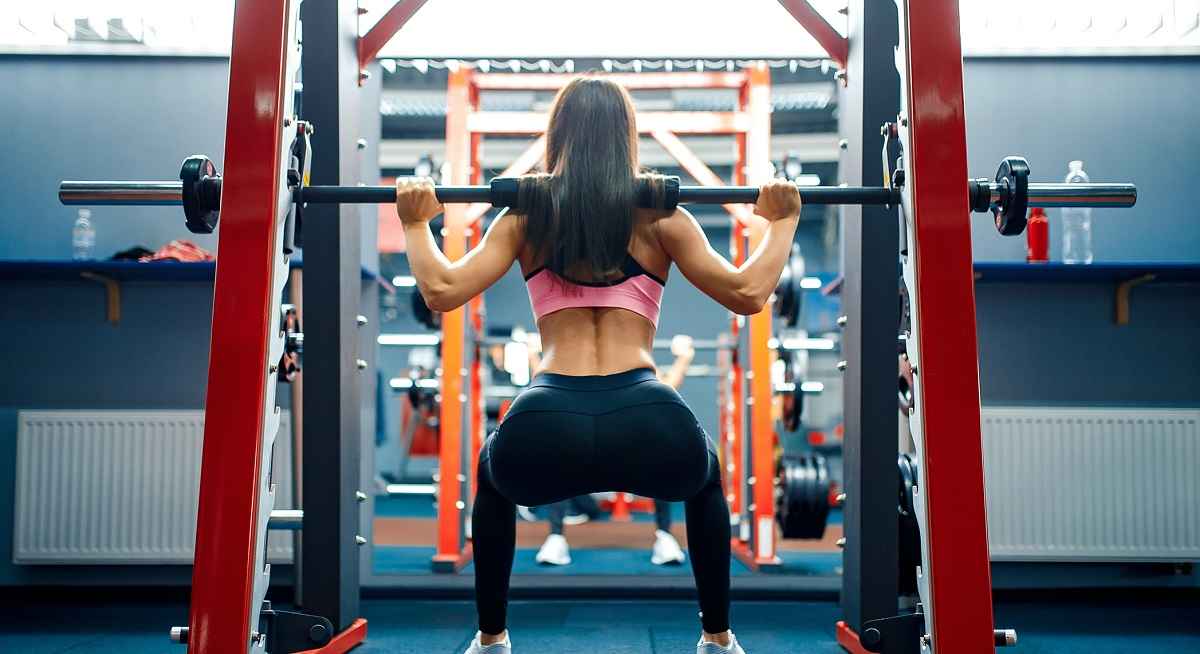 I'm gonna come right out and say it…
The Smith Machine squat doesn't get the respect that it deserves.
Yes, I know that even with the best Smith machine on the market, you're still going to get a few side-eyes when you start squatting on the machine, just because it gets a lot of hate from your fellow gym-goers.
But I think that once you see why Smith machine squats are such a great choice, you'll incorporate them into your workout.
In this article, we are going to take a deep dive into the Smith Machine squat, including:
The benefits of using Smith Machine for squats
The difference between vertical and angled Smith Machines (and why the difference matters)
Step-by-step instructions on performing Smith Machine squats like a certified boss
How to avoid the most common mistakes lifters make when doing this exercise
And I'll answer the most popular questions lifters and gymgoers have about Smith machine squats
Pour yourself a double-scoop of pre-workout, buckle in, and let's jump right in.
Benefits of Smith Machine Squats
We all know that squats are the king of the Leg Day workouts.
No other exercise can recruit as many muscles in as efficient a way as squats—not lunges, leg extensions, even leg presses. Though some (such as leg presses) are better for isolation, squats build overall greater leg power and functional strength.
The argument for the Smith Machine doesn't require discarding the old-school, clang-and-bang barbell back squat.
Stuck with Your Training in the Gym?
Join 12,000 lifters and athletes and sign up for FREE access to my 5-day email course on how to conquer the most common gym mistakes.
From goal setting to lifting technique, you will learn how to overcome the mistakes in the gym that are holding you back from getting bigger and stronger.
Unsubscribe anytime. No spam.
See also: What is a Smith Machine? (And Should You Use One?)
The question here is: why would you want to incorporate a Smith machine when you could free-weight it?
We've talked a lot about this particular topic in the Smith machine vs squat rack article, which I highly recommend you read in full detail.
However, for the sake of brevity, I'll list the main benefits of Smith machine squats (versus regular squats) here for you:
⭐ Improved Balance and Stability
With free weights, a lot of effort goes into keeping your balance throughout the squat range of motion.
This means your secondary stabilizer muscles have to engage—which is great for your long-term agility and balance, but hard on you in the moment.
With a Smith machine, however, the bar can only slide up and down, so there's really no way you can fall or tip over. You can even lean on the bar if you're struggling with balance or stability issues.
⭐ More Efficient Muscle Focus
Because your secondary stabilizer muscles aren't needed, the entire focus of this exercise is directly on your leg muscles.
This increased muscle focus leads to better results in terms of leg muscle growth!
⭐ Isolation
By removing the secondary stabilizer muscles from the equation, you isolate your lower body muscles (glutes, hamstrings, and quads) to max out the effectiveness of the leg training.
It's a great way to really pay close attention to your leg muscles to build raw power and strength.
Smith Machine squats primarily work the quadriceps. Angled Smith Machine squats–which simulate a wall-sit, engage more of the posterior chain, including the glutes and hamstrings.
---
⭐ Improved Squat Form
With the Smith machine, you're sliding the bar up and down, with no "wiggle room" to tip forward or backward. Because of this, you can focus much more effectively on your form and posture throughout the full squat.
The goal is to keep the Smith machine bar weight balanced and sliding smoothly up and down without tipping either forward or backward.
When it comes time to lift free weights, you'll have much better posture because of the extra attention you paid to your form on the Smith machine.
⭐ Lower Injury Risk
Because you're more stable, there is less risk of straining your lower back, knees, hips, and ankles during the squat.
That's an absolute game-changer for anyone (like me) who may be injury-prone.
⭐ No Spotter Needed
The Smith machine is designed with lots of cradles where you can rack the weight if you're struggling on the last few reps, so you can lift heavier with greater confidence even if you don't have a spotter to assist you.
⭐ Lift Heavier
Again, the built-in safety features (sliding rack that only allows you to move up and down, as well as the multiple cradles to rack the weight) gives you the ability to push yourself harder even without a spotter.
You'll find that you can typically squat anywhere from 5-15% heavier on a Smith machine than a free weight for precisely this reason!
As you can see, there are many reasons to love Smith machine squats. Though they're not the be-all-and-end-all for Leg Day, the truth is that no exercise is.
Just like you wouldn't want to do 12 sets of front Squats or box squats, you won't make your entire workout revolve around Smith machine squats.
Incorporate them along with Front/Back Squats, Split Squats, Sumo Squats, Jump Squats, Lunges, and all the other excellent exercises, and you've got the recipe for success!
How to Do Smith Machine Squats Like a Boss (Step by Step)
Excited to incorporate Smith machine squats into your workout? Giddyup!
Before you do, though, I want to pay a bit of special attention to the form, posture, set-up, and movements throughout.
It will save you a lot of injuries down the road and make your workouts exponentially more effective.
There are two types of Smith machines you can use for squatting: vertical and angled.
Both types are suitable for squats, but your form will change slightly because of the way the bar slides along the rack.
---
Step 1: Set up the machine.
Set the barbell to slightly below shoulder height, and load it up with the right amount of weight.
Not sure how much you can squat?
Start out light—working with 30-50 pounds—and test to see how that feels. Increase or decrease as needed. The goal is to hit failure on the last 1-2 reps in the final set of your workout.
Step 2: Set up your posture.
Get under the barbell, resting the weight on your rear deltoid and trapezius muscles.
Note: Never rest the barbell directly on your neck. That's a recipe for bruised bones and increased neck muscle strain.
Step your feet to your normal squat width, roughly beyond shoulder width apart.
However, step your feet 3-6 inches farther forward than normal. Your feet should be slightly out in front of you with your toes pointing forward and your knees straight.
For angled Smith Machines:
Place your back toward the slant, so that when you squat, your body/the bar will slide backward slightly.
You'll also step your feet farther forward (8-12 inches), so that when you squat, it's almost like a "Wall Squat" with your legs pressing you back against the Smith machine rather than just straight up and down.
This posture will also help to maintain a neutral spine and adjust for the machine's angle.
Fun fact: Vertical Smith Machine squats do a great job of targeting the quads, while angled Smith Machines recruit more glute and hamstring muscles.
---
Step 3: Lift and unhook.
Grip the bar with your hands, keeping your elbows aligned with your torso but slightly backward. Using your legs (not your back), push the bar upward and rotate to unhook it from the cradle.
Now you're ready to squat.
Step 4: Inhale and squat.
Take a deep breath before you start squatting, but continue breathing through your descent.
Keep your chest upright, your head facing forward, your shoulder blades pulled back, and your knees in line with your toes.
Step 5: Stop and pause.
Stop when your legs are roughly at a 90-degree angle, thighs parallel to the ground. (If you really want to work the calves, quads, and glutes, break that 90 and go slightly lower.
This will force you to work extra-hard to push back up. Just be aware that this will be harder on your knees.) Pause for a 1-count at the bottom, before pushing back upward.
Step 6: Push up.
Drive through your heels as you push upward, keeping your back straight, knees as aligned with your toes as possible, and your core engaged.
Make sure to exhale throughout the push. Keep pushing until you reach the "top" position: legs extended but not locking the knees, hips thrusting slightly forward to squeeze the glutes.
Step 7: Repeat as desired.
Remember that working in the 4-6 rep range builds power, working in the 8-12 rep range builds strength, and working in the 15-25 rep range builds endurance.
Common Mistakes on Smith Machine Squats
Okay, now we are going to take a look at some of the boo-boos lifters make when doing squats on a Smith Machine.
A big part of the reason that purist lifters side-eye this machine for squats is because it's often beginner lifters using it in a way that is incorrect, either with bad form or using the equipment improperly.
Here are some of the common mistakes to avoid:
? Facing the wrong way. This is an error made on angled Smith machines. If you face the wrong way (leaning in toward the angle), you'll end up hunched over and in a strange/uncomfortable position at the low-point of your squat. This leads to higher injury risk and reduced workout effectiveness and will build bad form.
? Not planting your feet correctly. Your feet should be slightly farther forward than with a regular squat because you want your legs to drive backward against the Smith machine, not just up and down. It's the only way to safely lift following the bar's path.
? Rounding your spine. DON'T DO IT! Keep your head up and your back and chest straight. Otherwise, you are at risk of some nasty back injuries.
? Poor knee control. Your knees are going to want to shift—either caving inward or swiveling outward—to compensate for insufficient leg strength or leg muscle fatigue. This will increase the strain on your knees, hips, and ankles, and make the workout less effective overall. Keep your knees as aligned with your toes as you possibly can!
? Pushing from the balls of your feet. This can lead to foot fatigue/injuries, as well as ankle, hip, and knee injuries. Plus, it's bad form and you get less driving power. Always push up from the heels, really driving them into the ground to max out leg power.
Smith Machines Squats – FAQs
What's the best way to do squats on a Smith Machine for glutes?
Ideally, you'd want to work with an angled Smith machine, because your glutes engage to push your body backward against the bar. The vertical Smith machine is more leg-focused.
Why can I squat more on a Smith Machine?
Simple: there's no instability, so your secondary stabilizer muscles don't have to engage to maintain your balance. This places all the focus on your legs, ensuring all the muscular force generated is isolated to your legs.
Is angled or vertical Smith machine squats better?
Both are great, but serve a slightly different purpose.
Angled Smith machine squats function more like wall squats, using your lower quads, hamstrings, and glutes to push backward as you squat.
Vertical Smith machine squats are all about the quads, using only the up-and-down trajectory to shred serious leg muscle.
The Bottom Line
As I told you at the beginning, I love Smith machine squats because they isolate leg muscles and provide a safe, stable alternative to front or back squats.
Whether you're a gym newbie looking for a great first exercise or an experienced lifter wanting to max out leg hypertrophy, Smith machine squats make a killer addition to your training sessions.
Follow the advice above and really get the form right, and you'll see real growth in muscle size and strength.
Happy squatting!
More Guides and Articles Like This
⭐ 7 Best Smith Machines for Home Gyms. Skip the lineups at the gym (and the commute!) with a detailed look at the best Smith Machines for home gyms, including key features, a buyer's guide, and more.
6 Benefits of Dumbbell Squats (Plus Disadvantages and Variations). Wondering if the dumbbell squat is a good way to train your legs? Here's a detailed look at the benefits of dumbbell squats and how it's superior to other squat alternatives.
How to Do the Smith Machine Row Like a Champ (Plus Muscles Worked, Benefits, and More). Wondering how to do the Smith Machine row like a boss? Here's a complete look at the benefits of this exercise, muscles used, and a step-by-step blueprint for doing it properly.
Smith Machine Bench Press vs. Barbell Bench Press: Pros, Cons, and More. Torn between using a Smith Machine or barbell for bench press? Here's a look at the pros, cons and differences of both so that you can conquer chest day.