Curious about the differences between assault bikes and spin bikes? Here's a detailed comparison, including pros, cons, and differences of both.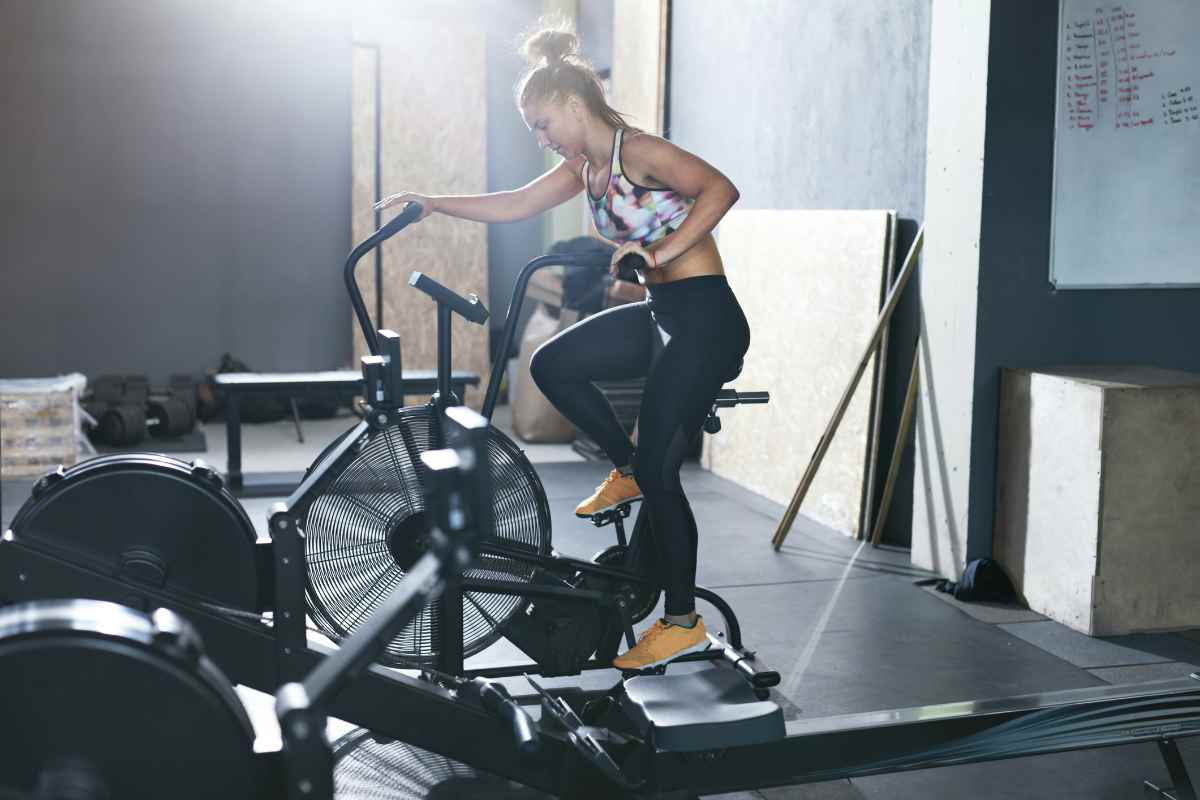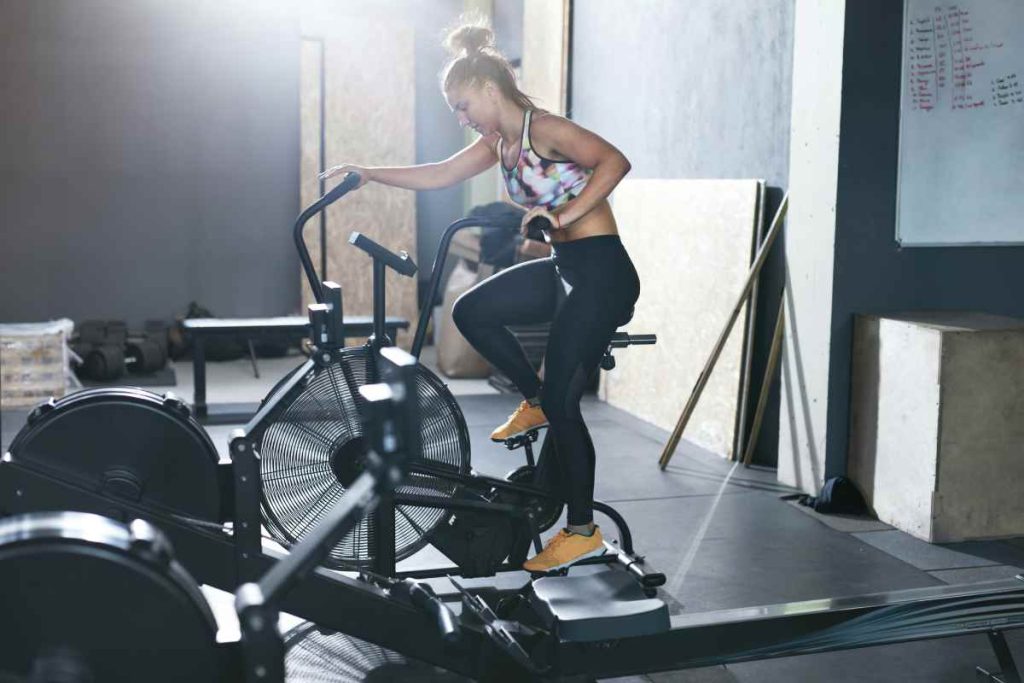 Ready to kick your cardio training up a notch?
Cycling can be an amazing workout; it combines lower body endurance training with cardio, as high or low intensity as you want to make it.
With the right stationary bike, you've got everything you need for a truly spectacular training session that will torch calories and burn serious fat.
In this post, we're going to look at two of the most popular types of bikes: air bikes and spin bikes. Both offer some excellent benefits, but the nature of their workout is different enough that it's worth comparing the two side by side.
By the end of this page, you'll know whether it's worth looking for the best air bike or spin bike to add to your home gym setup.
Let's get to pedalin'!
Air Bikes vs Spin Bikes – The Basics
First of all, we've got to take a look at what these two exercise bikes have in common. To understand that, you've got to look at their design.
Both spinning bikes and air bikes are based on the bicycle design, featuring a spinning front wheel that is operated by pedals. Obviously, the harder you pedal, the more calories you burn, and the more challenging the workout.
But let's take a closer look and see where in their design the two differ…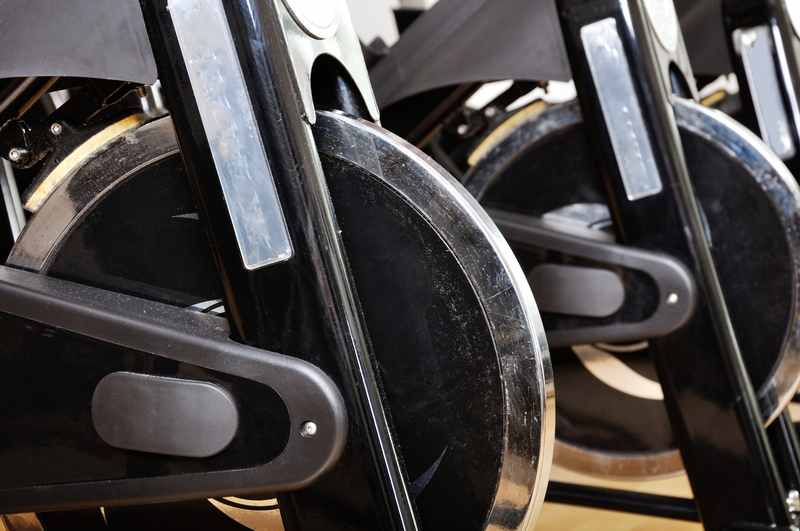 Air Bike
The air bike utilizes a fan-based front wheel. The harder you pedal, the more resistance it will create because the giant fan blades have a harder time displacing the air around it.
This creates what is called "variable" resistance, meaning it will vary according to how hard you pedal. When you start out slow, you will find it's fairly easy, but all you have to do to make it a more difficult workout is to speed up the pedaling.
Air bikes are also called "assault bikes", they feature movable handles that allow you to add upper body movement into the workout. Your arms pump back and forth to move the handles in time with your legs.
There are a lot of assault bike benefits thanks to these handles, including:
Better recovery from injuries, because you can use your upper body to support your lower body strength/endurance.
A full-body workout all in one piece of equipment.
Easier time completing difficult training sessions.
Spin Bike
The spin bike utilizes a flywheel that incorporates magnets into the design. When you twist the knob to make the workout more difficult, this pushes the magnets closer to the metal flywheel, increasing the resistance generated.
To make the workout easier, you twist the knob to "loosen" the magnets and decrease resistance. This is called "adjustable resistance" because you can adjust it using the knob, but once set, the resistance remains the same no matter how fast you pedal.
Spin bikes feature a stationary handle that allows you to rest your weight on it. This makes it easier for you to lean forward and really focus on working your legs, maximizing the endurance training portion of your spinning workout.
Other benefits of spin bikes include:
Easier time working for endurance/low-intensity steady state training.
Take the weight off your legs to give them a rest thanks to the stationary handle.
Built-in touchscreen offers a variety of features, including multiple workouts, entertainment, even video recordings of a trainer guiding your workout session.
As you can see, both bikes have a lot of benefits. But it's their differences that we're here to discuss today—and which make them unique pieces of equipment despite their similarities.
Air Bikes vs Spin Bikes — The Main Differences
#1: Adjustable vs. Variable Resistance
As I explained above, air bikes use variable resistance (which grows more difficult the harder you pedal) while spin bikes use adjustable resistance (manually changed/adjusted via the knobs/dials). Both have their pros and cons, but they make for a very different workout.
With a spin bike, all you have to do to make the workout harder is to adjust the knob and increase magnetic resistance. However, you don't have to increase your pace or the speed of your pedaling.
That means that though it's harder to pedal, you can stay at a slow, steady pace to reduce cardio impact and really maximize muscle-training focus. Spin bikes are great cardio but also make it possible to get in a more resistance training-like workout.
Air bikes, on the other hand, are pure cardio.
The only way to make the workout harder is to pedal faster, and that will increase the strain on your cardiovascular system (heart, lungs, blood vessels, etc.) while also increasing the demand on your muscles.
But because you're pedaling faster, you have to keep up the high-intensity exercise, without the ability to pedal slowly to give your cardiovascular system a rest while working on resistance training.
#2: Full Body vs. Lower Body Workout
Spinning is all about your lower body! The focus is on your glutes, hamstrings, quads, and calves, simulating hills and rough terrain to force your lower body muscles to work as much as possible.
But, because the bike has the stationary handle, your upper body is just there for support, to take some of the weight off your lower body if you're feeling fatigued.
Not so with the air bike! The handles move as you pedal, so there's no solid, stable platform for you to rest on. Even if your hands are just resting on the handles and your legs are doing all the work, you have no way to take your weight off your legs.
Really, the only thing you can do is throw your arms into the mix and use the strength of your shoulders, chest, back, biceps, and triceps into the pedaling action to make it a bit easier on your legs.
This allows for a highly effective full body workout, one you can adapt to your desires.
For example, try this assault bike workout:
10 minutes of fast-paced pedaling using both arms and legs
10 minutes of fast-paced pedaling using just your legs
10 minutes of fast-paced pedaling using just your arms
10 minutes of fast-paced pedaling using both arms and legs to finish off
That's a full-body workout in just 40 minutes. You will feel that burn!
All you have to do is push the pace to your max, and the increased variable resistance will take your workout to the next level.
#3: Tracking Capabilities
With the air bike, you typically get a simple monitor that features the basic workout tracking metrics, including:
Time
Distance pedaled
Calories burned
Time per 100 meters/500 meters
Heart rate (if the bike has an integrated heart rate monitor)
It's simple, efficient, and pretty much everything you need to know for a standard full body cycling workout.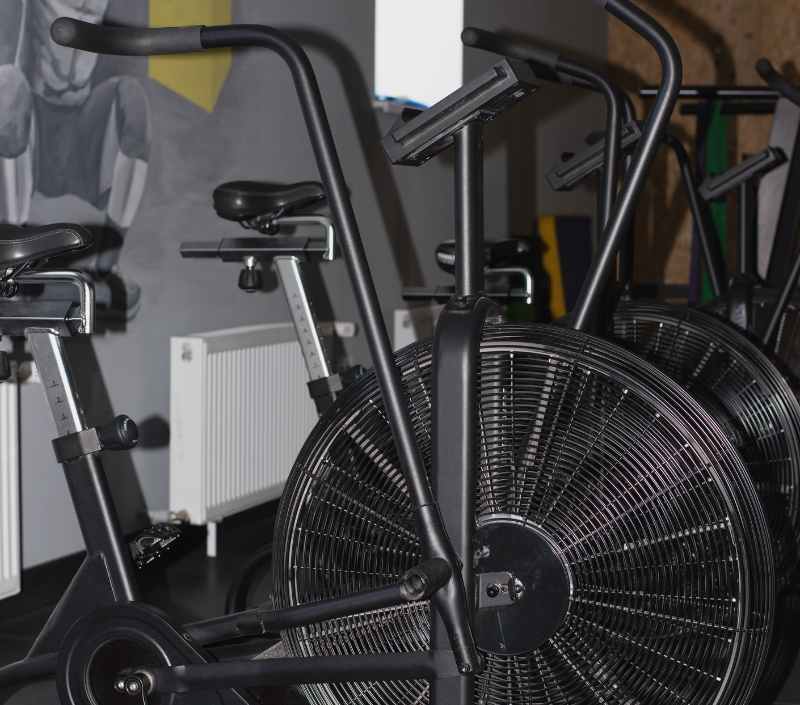 But spin bikes are designed to be a bit more "next-level-tech" than your standard bike. Because they typically feature a built-in touchscreen, they allow you access to a more advanced operating system that includes multiple workout tracking apps.
Some will even connect to your smartwatch, send workout data to your phone, let you compare workout performance with others around the world, and many more features that just aren't available in the simple air bike.
#4: Workout Options
With the air bike, there really only is one approach to training: pedal faster, work harder. Sure, you can switch up between your lower and upper body, but it's pretty much a straightforward pedaling session all the way through.
But the more advanced spin bike includes extra features and options that allow for a more advanced workout.
For example, the video workouts included with the monthly membership fee you'll pay for bikes like Peloton or Myx will take you through a much more complex workout, one with adjustable pacing, varied intensity and speeds, simulated terrain, and even 3D virtual tours of the world. There are many more options for workouts thanks to the touchscreen integrated into spin bikes.
#5: Rehab Tool
Spin bikes are all about the lower body, forcing you to pedal your butt off to get in a workout.
Which can be a bit difficult when you're trying to recover from a lower body injury. Maybe you blew out your knee, sprained an ankle, or injured your foot playing sports.
When the time comes to work out, with all the pressure on your legs, you'll find you can really only go slow and easy in order to give your lower body time to recover.
But with air bikes, you've got the option to let your legs relax and just hang out on the pedals while your arms do all the work.
You'll find you can still get in a truly spectacular cardio workout on an air bike even if you need to take it easy on your legs.
You can add or subtract your legs from the equation as much as desired, making it an amazing tool for rehabilitating injuries.
Air Bikes vs Spin Bikes – FAQs
What burns more calories, air bikes or spin bikes?
Typically, stationary bikes will burn around 210 to 290 calories in 30 minutes (depending on your weight). Obviously, if you increase the intensity of the cycling session, you can burn more calories. This number is essentially a "starting point" to give you a rough idea of the outcome.
But remember that the stationary bike is all about your legs, which means all the muscles in your upper body remain unutilized during the training session. With an air bike, your entire body is working, so it means double the muscle engagement and significantly more (40 to 75% more) calories burned.
Which bike is better for HIIT training?
Both are great for HIIT—simply speed up and/or raise the difficulty—but the focus is slightly different. The stationary bike allows you to speed up the pace without increasing the difficulty, making it easier to focus on the lightning fast pedaling—ergo, more cardio focus. With the air bike, speeding up the pedaling also increases the difficulty, which increases muscle engagement.
The Bottom Line
Both spin bikes and air bikes are amazing training tools that you would be lucky to have in your home gym.
They both lead to a great lower body workout, and feature a lot of excellent benefits that make them suitable training tools.
However, as you saw above, their differences do make them unique enough from each other that it's worth considering carefully which suits you and your workouts best.
---
More Guides Like This
? The Best Air Bikes for Home Gyms (Unleash Beast Mode). Ready to perform a laser-targeted attack on your weight loss goals? Here's a detailed look at the best Air Bikes for home gyms.
Assault Bike vs Echo Bike: Pros, Cons, Differences and Which One is Best. The AssaultBike and Rogue Echo are two of the best air bikes in the gym. Here's a detailed look at the main differences between these two commercial-grade air bikes.