The Smith machine is an excellent tool for developing glute strength and muscle. Here are the best Smith machine exercises for developing a stronger behind.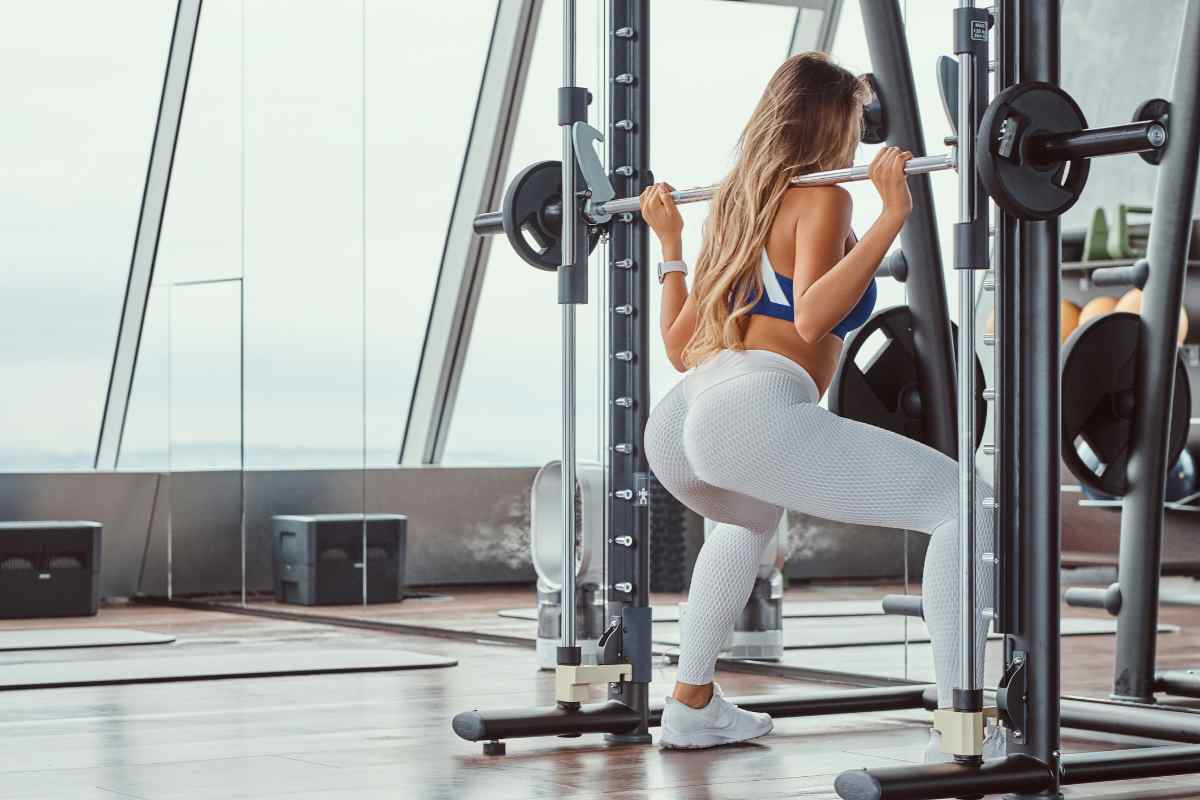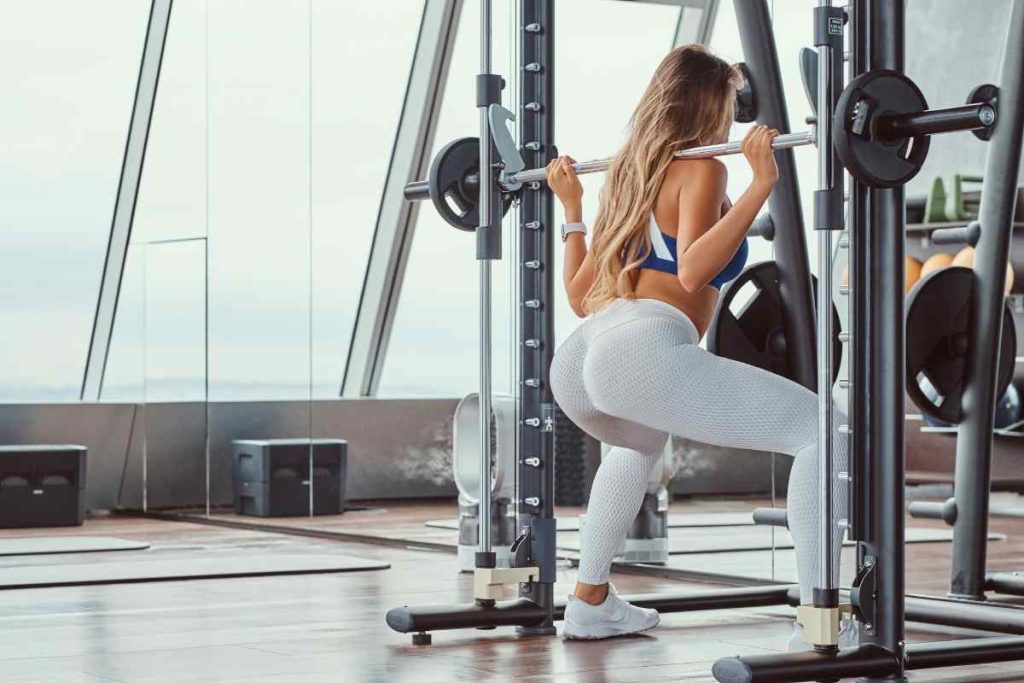 When you think of the Smith machine, your mind likely goes immediately to the "classics"—exercises like bench presses, squats, or overhead military presses.
These are all the go-to's that the Smith machine is typically used for; training large muscle groups using effective isolation exercises.
But what if I told you that one of the best uses of the Smith machine was targeting your glutes?
There are a number of Smith machine exercises that will help you specifically train your glutes to build that thick, well-rounded booty we all want.
Thanks to the fixed position of the Smith machine, all the focus is on your glutes, and the isolation will help to max out muscle-building.
Intrigued? Keep reading to find out how to train your glutes on a Smith machine like a BEAST!
Benefits of Using the Smith Machine for Bigger Glutes
What makes the Smith machine such a great choice for glute training?
Here are just some of the benefits of using a Smith machine:
⭐ Focus. The Smith machine bar weight is fixed to a sliding rail that can only move in one direction, which eliminates the need for secondary stabilizer muscles to engage. Thus, all the focus is placed entirely on the prime movers—in the case of the Smith machine exercises listed below, that would be your glutes!
Stuck with Your Training in the Gym?
Join 12,000 lifters and athletes and sign up for FREE access to my 5-day email course on how to conquer the most common gym mistakes.
From goal setting to lifting technique, you will learn how to overcome the mistakes in the gym that are holding you back from getting bigger and stronger.
Unsubscribe anytime. No spam.
⭐ Easier to train to failure. With free weights, the only way to safely train to failure is with a trainer, spotter, or gym buddy. But if you're a solo trainee and no trainers are around, you have to stop pushing before you hit failure, or else you risk injury.
Not so with a Smith machine! It's built for safe, easy solo racking at any height—literally from your shin level to above your head—so even if your muscles give out and you're on the verge of collapse, you're not at risk.
⭐ Safe and easy. Even if you're a newbie just getting into working out for the first time, you can do Smith machine exercises because there's very little risk of stumbling, falling, or losing your balance. The sliding rail really ends up doing all the work of keeping you stable, so you can focus on improving you form and posture.
All pretty great reasons to use the Smith machine specifically for glute training, right?
It offers all the benefits of a weighted barbell, but with some extra goodness baked into its design.
5 Best Smith Machine Glute Exercises
Exercise #1: Romanian Deadlifts
The Romanian deadlift is easily one of the best glute-specific exercises you can do—with a barbell or Smith machine, all that matters is that you do them.
Because your knees stay straight (stiff-legged), your glutes have to do A LOT more of the work at the lowest point of the exercise (the pull).
Your upper back, lower back, and hamstrings still help, but the Romanian deadlift is exponentially more glute-focused than standard deadlifts.
To perform this exercise:
Start with your feet planted roughly hip width apart, toes pointed forward, with your shins roughly 1 inch from the bar.
Set the bar at roughly waist height. Grip the bar in a double overhand grip (palms facing you), lift the bar, and twist it to move the hooks into "ready-to-lift" position.
Hinge backward at the hips, keep your chest up and your back straight, and lower the bar slowly toward your shins. Keep your legs stiff and straight (NEVER LOCKED!) as you descend.
Descend until the Smith machine almost hits the ground. This helps to increase glute-focus and increases tension on the hamstrings.
Drive through the heels and explode upward. Keep your back straight, shoulders firm, chest up, and knees stiff as you lift.
At the peak point (when the weight reaches your waist), thrust your hips forward and squeeze your glutes. This is the "lockout" phase, and critical for strengthening your glutes.
Hold for a 1-count, then lower once more under control. Repeat as desired.
Exercise #2: Hip Thrusts
In other articles, I've talked a lot about the benefits of hip thrusts and how they are hands-down, the best exercise to do for stronger glutes.
The muscles worked in hip thrusts include both the gluteus medius and the gluteus maximus, along with the hamstrings, core, quads, and hip adductors.
Really, the only reason that I didn't list it as the #1 exercise for training your glutes on a Smith machine is because the Smith machine's design makes them a bit more difficult to do.
You have to set up a bench directly beneath the sliding bar, and the fixed plane of movement (straight up/down) makes it slightly harder to master the proper form.
But I love hip thrusts on any machine, and they deserve a prime spot in any list of exercises to train your glutes.
To perform this exercise:
Raise the Smith machine barbell weight to just below waist height, and set up the bench (or step-up box) directly beneath the barbell.
Lie on your back on the bench/box, with your feet planted on the floor and your toes pointed slightly outward (15 degree external rotation) to increase glute activation. Make sure the bar is resting in the crease of your hips.
To begin the lift, contract your glutes to thrust your hips upward as far as you can (safely) go. Stop before you feel tension in your lower back—it should be a hip-focused exercise as much as possible.
Hold for a 1-count in the thrusting position, really squeezing the glutes to maximize engagement.
Control your descent as you lower the bar back down, and stop at the "lowest point" with the barbell resting in your lap/the crease of your thigh.
Hold for a 1-count, then thrust once more.
Repeat as desired.
Exercise #3: Kneeling Squat
The kneeling squat is an interesting exercise. It's not exactly a squat—you're starting on your knees, so really it's just your upper legs going through the squatting movement, with limited help from your lower legs and knees.
But that helps to place all the focus squarely on your glutes (with a bit of help from your hamstrings). Following the correct form will max out glute training and all but eliminate your lower back from the equation.
To perform this exercise:
Set up a Yoga mat or thick pad beneath the Smith machine barbell. Rack the barbell at roughly belly height—which will be shoulder height when you kneel on the pad.
Get on your knees, and rest the barbell on your upper back (like a back squat). Use a barbell pad to cushion the weight/reduce pressure on your upper back.
Unrack the bar and get ready to lift.
Picture yourself doing a squat, hinging backward at the hips and bringing your glutes down. Lower until your glutes make contact with the backs of your calves.
Hold for a 1-count, then squeeze your glutes to push up. Thrust your hips forward, too, and finish with a concentrated contraction of your glute muscles at the peak of the lift.
After a 1-count hold, hinge backward at the hips and lower once more under control.
Repeat as desired.
Exercise #4: Donkey Kick
Donkey kicks will BURN like a wildfire in your glutes, but boy are they effective! You'll find that no other exercise can quite compare to the glute engagement of donkey kicks, which is why they deserve a place on any list of glute-training workouts.
Typically, donkey kicks are done with your body weight, ankle weights, or an ankle band secured to a cable machine.
They're a bit trickier to do with a Smith machine, but with a bit of practice, you can nail the form and add this amazing exercise into your glute workout.
To perform this exercise:
Set the bar to roughly thigh height. Place a Yoga mat or thick pad at the entrance to the Smith machine.
Get on your hands and knees facing away from the Smith machine. Bend your right leg at the knee and place the bottom of your foot underneath the barbell. Shift your position until your legs/hips/knees form a 90-degree angle—thigh parallel to the floor.
Push against the barbell to lift it. You only need to lift a few inches (just enough to lift it off the cradle), and you'll quickly feel the burn in your glutes. Hold that contracted position for a 1-count, then lower the bar once more to starting position.
Repeat for 8-12 reps on your right leg, then switch to your left leg.
(Note: You may need help from a trainer or spotter to safely lift/re-rack the weight.)
Exercise #5: Deep Back Squat
Deep squats maximize glute engagement in a wonderful way!
Your quads do most of the work between the standing position and a 90-degree angle (thighs parallel to the ground), but once you crack that 90, your glutes are the muscles that do most of the work to propel you back upward from the lowest point of the squat.
The result: serious glute power!
To perform this exercise:
Start in the standard back squat position, with the Smith machine barbell resting on your upper back, your feet planted roughly hip width apart, toes pointed slightly outward (to increase hip mobility).
Bend at the knees, hinge your hip backwards, and keep your back straight as you lower under control into the squat.
Keep going past the 90-degree angle, and descend as far as you can. Picture yourself trying to touch the floor with your butt.
Hold at the bottom of the squat for a 1-count to eliminate any risk of bounce.
Contract your glutes and drive your heels into the floor to push back upward. You'll feel the moment your quads engage, but until then, it's all glutes, baby!
At the top, thrust your hips forward and squeeze your glutes to finish with a bang.
Repeat as desired.
Can you do hip thrusts on a Smith machine?
You absolutely can, and, as you saw above, they're one of my top-rated exercises for training your glutes on a Smith machine.
Really, all you'll need is the machine, some weight, a weight bench or box, and a pad for hip thrusts (to provide cushioning/reduce strain on your hips). Put the bench/box in the right place, and you're good to go!
Do Smith machine squats work glutes?
Smith machine squats work your glutes as effectively as barbell squats—that is to say, at least some glute work.
Typically, squats are more focused on your quads, with your glutes and hamstrings as the secondary support muscles.
By going deeper into the squat, you can get a more glute-focused exercise with either a barbell or Smith machine.
The Bottom Line
Using the Smith machine to train your glutes is absolutely the way to go.
These exercises I shared above are the perfect end to your Leg Day workout, excellent options to take your glute training to the next level.
Incorporate them into your Smith machine training session and you'll see real results in your BOOTAY!
More Articles Like This
6 Dumbbell Glute Exercises (Plus Benefits and How to Do Them Properly). Dumbbells are a killer way to take your glute training to the next level. Here's a look at the best dumbbell glute exercises, including benefits and pro tips for doing them properly.
5 Best Stretches for Tight Glutes (Plus Benefits and How to Do Them). Stretching your tight glutes reduces muscle stiffness, increases range of motion, and can even help you build more muscle. Here are my five favorite glute stretches for unlocking the muscles around your rear end.
6 Tips for Targeting Your Glutes on Leg Press. The leg press is an underrated way to develop stronger glutes. Here are six tips on how to optimize the exercise so that you are primarily targeting the glutes.