The weight bench is one of the best tools for a killer workout at the gym. Here's a look at the best weight bench exercises plus benefits of training with a bench no matter if it's legs or arms day.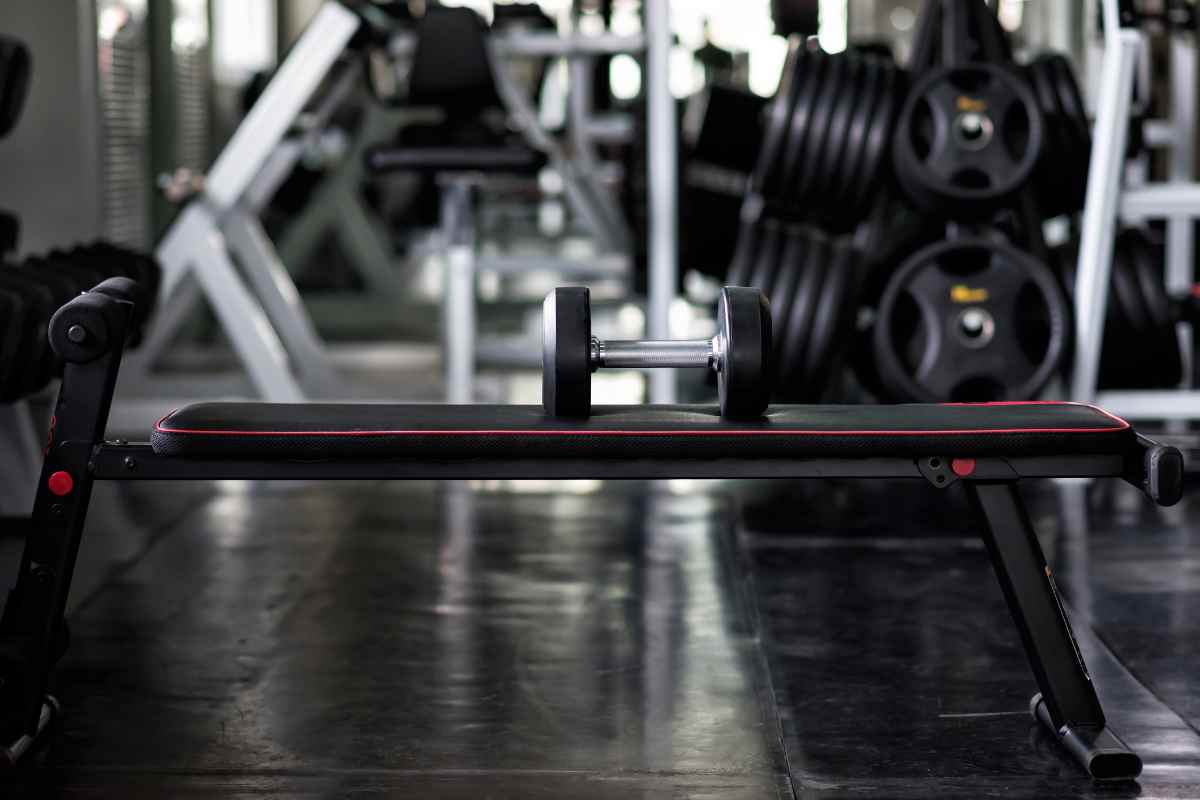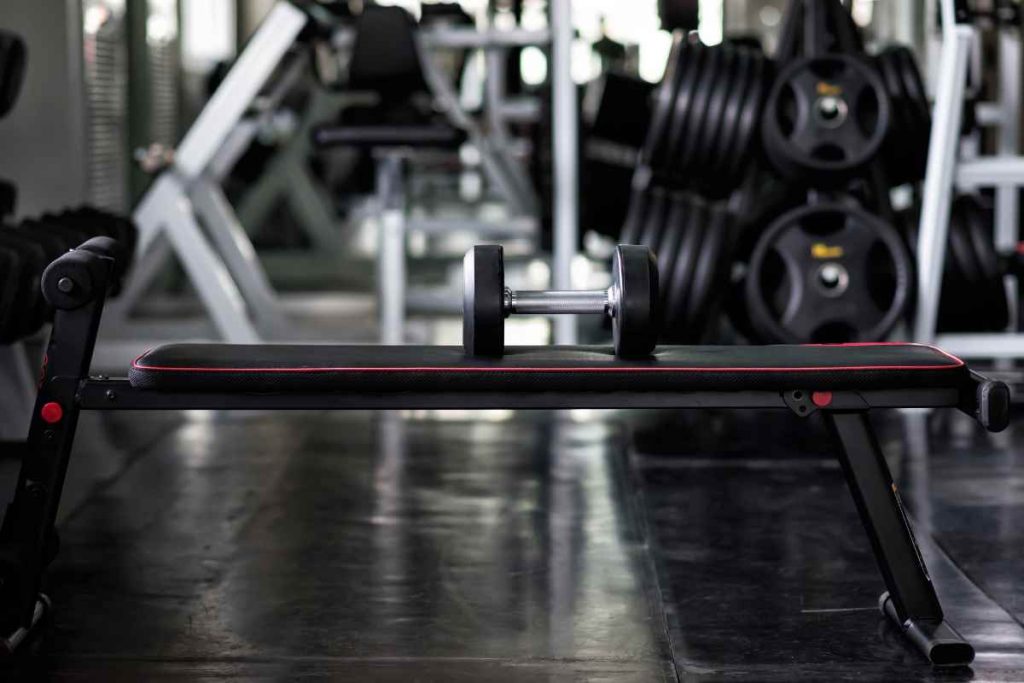 The weight bench is, by far, the single most practical piece of equipment in the gym.
It doesn't matter if it's a solid or adjustable weight bench—really, all you need is that stable platform, and you can perform literally dozens of exercises that target every muscle in your body.
From elevated push-ups to step-ups to dumbbell flys, the weight bench provides versatility and practicality that just can't be beat.
If you had to buy just one piece of equipment for your home gym, 99 out of 100 trainers and trainees would recommend the weight bench (along with the barbells and dumbbells to go with it, of course).
In this article, we'll take a look at the best exercises you can do with a weight bench, exercises that will max out the effectiveness of your training sessions EVERY. SINGLE. TIME!
Benefits of Training with a Weight Bench
Honestly, I could spend all day listing the many, many benefits of working out with a weight bench. They're just so insanely practical and reliable.
But to save time, here are the four most important reasons you need a weight bench in your gym setup:
⭐ Versatility – An adjustable or folding weight bench can pretty much do it all. From incline and decline bench presses to hip thrusts to step-ups to concentrated curls, the single piece of equipment is possibly the most versatile in any gym. And yes, that includes the cable machine and Smith machine, too!
Stuck with Your Training in the Gym?
Join 12,000 lifters and athletes and sign up for FREE access to my 5-day email course on how to conquer the most common gym mistakes.
From goal setting to lifting technique, you will learn how to overcome the mistakes in the gym that are holding you back from getting bigger and stronger.
Unsubscribe anytime. No spam.
⭐ Size – A weight bench can fit pretty much anywhere! Whether you've got an entire basement or just a corner of your living room to dedicate to your home gym, you've probably got enough space for a weight bench and the accompanying weights. There are few machines or pieces of equipment more compact.
⭐ Reliability – A weight bench doesn't need to be anything fancy; really, it's just a solid platform with two legs for support. Whether you go for a flat weight bench or a fancier adjustable bench, what matters is that the frame is strong and reliable enough for all of the classic bench-based and seated exercises.
⭐ Affordability – How much could that weight bench actually cost you? Compare it to the cost of some of the bigger, fancier machines—like a Smith machine, leg press, hack squat machine, or cable machine—and it's immediately clear that the weight bench ends up being the most affordable solution by far. That's one reason it's such a common staple of home gyms. Everyone can afford one!
Pretty clear to see why the weight bench is the go-to piece of equipment for your gym setup.
And once you've got the bench in place, you can use the list below to help you optimize your workouts using only the best of the best exercises.
7 Best Exercises You Can Do with a Bench
? Exercise 1: Bench Press
The bench press—using either a barbell or dumbbell—is the be-all-and-end-all weightlifting exercise for building powerful chest muscles.
See also: 9 Reasons the Dumbbell Bench Press Kicks Butt
Push-ups will develop more functional strength, but if you want serious pec power, then it takes bench presses to see real results.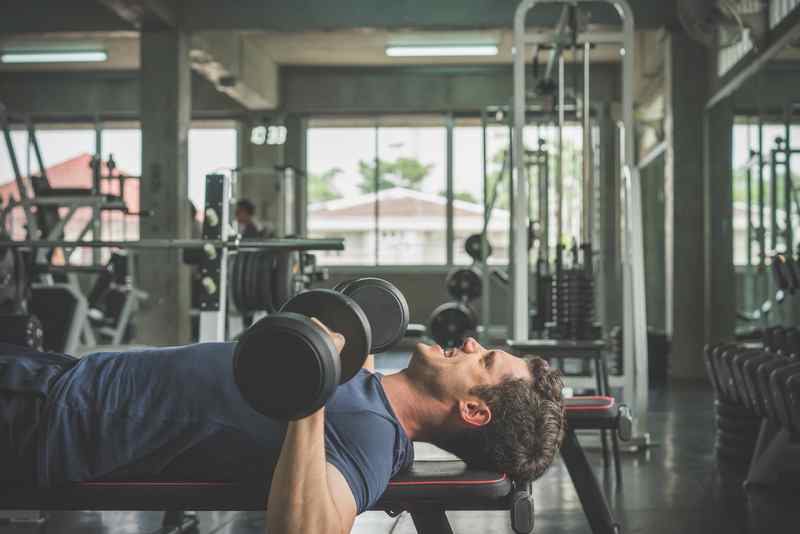 To perform this exercise:
Lie on your back on the bench. Use either the barbell (supported in the bench cradle), or a pair of dumbbells (which you can rest on the floor between sets).
Hold the weight directly over your chest, with your hands spread roughly shoulder width apart (whatever feels comfortable for your wrists and shoulders).
Inhale as you lower the weight to your chest. Stop when the barbell or dumbbells tap your chest lightly (control the movement!).
Exhale forcefully as you press the weight back up to your original starting position. Stop when your arms are fully extended but just before your elbows lock out.
Repeat as desired.
? Exercise 2: Dumbbell Hammer Press
The dumbbell hammer press is an amazing variation on the bench press. By using dumbbells instead of barbells, you can twist your wrists into "hammer position" (palms facing each other), which increases engagement of your forearms and triceps throughout the exercise.
This exercise will not only build serious chest power, but also thicken your arms and increase your grip strength significantly.
To perform this exercise:
Lie on your back on the bench press, with a pair of dumbbells gripped in your hands.
Bring the dumbbells up to chest level (like you're performing a standard dumbbell bench press) and twist your wrists so your palms face inward and the dumbbells are parallel to your ribs.
Exhale forcefully as you press the weights up. Bring your hands close together until the dumbbells nearly touch (directly over your chest). This helps to focus on the inner chest muscles.
Hold at full extension for a 1-count, then inhale and slowly lower back to your starting position.
Stop lowering when the weights are once again beside your chest. Finish your inhale and get ready to push.
Repeat as desired.
? Exercise 3: Dumbbell Row
The dumbbell row is a staple of Back Day because of how effectively it targets your lats, traps, and rhomboids, along with your shoulders and biceps.
Related: 7 Best Dumbbell Exercises for a Strong Back (Plus Benefits and a 20-Minute Back Workout)
Because you're leaning on the bench, there's no engagement of your lower back muscles, which means a far lower chance of injury than with exercises like deadlifts or bent over rows.
To perform this exercise:
Place your right knee and right hand on the bench, forming a "tabletop" with your back (as flat and neutral a spine as possible). Grip a dumbbell in your left hand and plant your left foot firmly on the floor.
Exhale as you "row", pulling the dumbbell up to your chest. Pull until the weight is nearly touching your ribs.
Inhale as you slowly lower the weight under control back down to the starting position, allowing your arm to fully extend but keeping your shoulder muscles engaged.
Pause for a 1-count at the bottom, then get ready to row again.
Repeat as desired.
? Exercise 4: Triceps Dip
When it comes to building powerful triceps, few exercises are as effective as the triceps dip.
Your triceps have to do all the work of lowering and pushing your body, which maxes out muscle engagement and helps to build thick arms.
In fact, by focusing on your triceps (using the triceps dip and other exercises), you'll develop those "guns" you want far faster than if you only paid attention to your biceps, because the triceps muscle is about twice as large/thick as your biceps and can grow far faster.
To perform this exercise:
Sit on the weight bench, with your legs extended in front of you and resting on another bench, a stability ball, or the floor.
Slide forward until your butt is off the bench and all of your weight is resting on your hands. Your hands should be gripping the bench just slightly beyond shoulder width apart (or whatever feels comfortable throughout the range of movement).
Bend your elbows and use the strength of your triceps to "dip". Keep lowering until your arms and elbows reach a 90-degree angle. (Trainer's Note: You can go lower to maximize triceps isolation, but be aware that it will increase the strain on your elbow joint and wrists.)
Push back up until your arms are at full extension (but avoid locking out your elbows!).
Hold at the peak for a 1-count, then lower once more.
Repeat as desired.
? Exercise 5: Hip Thrusters
Hip thrusters are the ultimate glute-building exercise!
Not only do they help to strengthen your glutes, but they also work your hips through a full range of motion and strengthen the hamstrings, lower back, and core muscles that help to support your pelvis.
Essentially, they'll create a strong, resilient middle body, meaning the muscles and joints that connect your upper body and legs will be more agile, powerful, and better-able to move.
To perform this exercise:
Sit on the floor with your back against the weight bench and your legs extended in front of you. Bend your knees and place your feet flat on the floor.
Place a dumbbell, weight plate, or loaded barbell on your lap. (Trainer's Note: If you're using a barbell, make sure you've got a hip thruster pad to cushion the metal bar, or it could make for quite a painful exercise!)
Exhale as you thrust your hips upward, raising them until you roughly form a tabletop position with the bench. Your torso should be as flat as possible, your knees bent at roughly a 90-degree angle.
Lower slowly back down, controlling your descent. Stop just before your butt touches the floor. Inhale throughout the descent.
Hold for a 1-count, and get ready to exhale and thrust upward.
Repeat as desired.
We've covered the hip thrust bigly on this website. Below are some more resources on this killer exercise:
? Exercise 6: Step Ups
Step-ups are an awesome exercise to help you build strong quads, hamstrings, and glutes.
(I like them so much, in fact, that they made my list of the best dumbbell exercises for stronger glutes.)
They're best performed on a solid platform like a plyometric box or step-up box, but if you don't have either, a weight bench will do just fine.
You'll find they do an amazing job of helping to build better balance and mobility as well as real muscular strength.
To perform this exercise:
Stand facing your weight bench, holding either a pair of dumbbells or kettlebells in your hand, or with a barbell resting across your shoulders and upper back (as if you're doing back squats).
Place your right foot on the bench, and push off your left foot to step up onto the bench. Place your left foot beside your right foot and hold for a 1-count.
Lower your right foot back to your starting position, using your left leg to control your descent. Once your right foot is solidly planted, bring your left foot down and place it beside your right foot.
Repeat 8-12 times, then switch to the other foot for another 8-12 times to complete the set.
? Exercise 7: Lateral Bench Hops
Benches aren't just great for weightlifting; you can also use them for some killer cardio! This simple exercise will do an amazing job of increasing your stamina, pushing your heart and lungs, and building explosive/jumping power. Best of all, it can be done in very limited space, with only a bench—no weights of any sort needed!
To perform this exercise:
Stand on the right side of the bench, with your feet planted side by side.
Bend forward and place your hands on the bench. Lean your upper body on the bench for support and stability.
Hop over the bench, planting your feet together on the left side.
Without pausing for rest, hop back over to the right side of the bench to complete 1 rep.
Repeat 10-15 times, and get ready to SWEAT!
Weight Bench Exercises — FAQs
Can you get big with just a weight bench?
You absolutely can! A weight bench is versatile enough that you can use it for just about every muscle in your body (though you may find it harder to train your upper back).
What is a weight bench good for?
Quite literally everything and anything. Whether you want to bench press, row, pull-over, curl, dip, or squat, a bench can be the support you need.
Plus, it serves as a cradle (storage solution!) to hold your barbell, so you can have a more complete gym with less space occupied.
Is it worth buying a weight bench?
If there is one piece of equipment I recommend everyone buys for their home gym, it's a weight bench. You can do virtually every type of workout you want using a weight bench, and it's both affordable and incredibly reliable.
No moving parts to break or get damaged; just solid support where you need it most. If you want more information on the top benches for home gyms, check out this "best of" list of flat weight benches for home gyms.
More Guides Like This
5 Rogue Weight Benches for Every Kind of Lifter. Rogue makes some of the best weight benches on the planet. Whether you are looking for a flat, adjustable, or folding weight bench, Rogue has one that fits your goals and budget. Here are full reviews of the best of Rogue's weight benches.
6 Best Adjustable Weight Benches for Home Gyms. Building an epic gym is more affordable than ever. Read through our list of the best adjustable weight benches for home gyms and get to lifting.