Looking for some treadmill workouts to shed those extra pounds? These treadmill workouts are specifically designed for obese and overweight people. Plus some proven tips for doing them safely and smartly.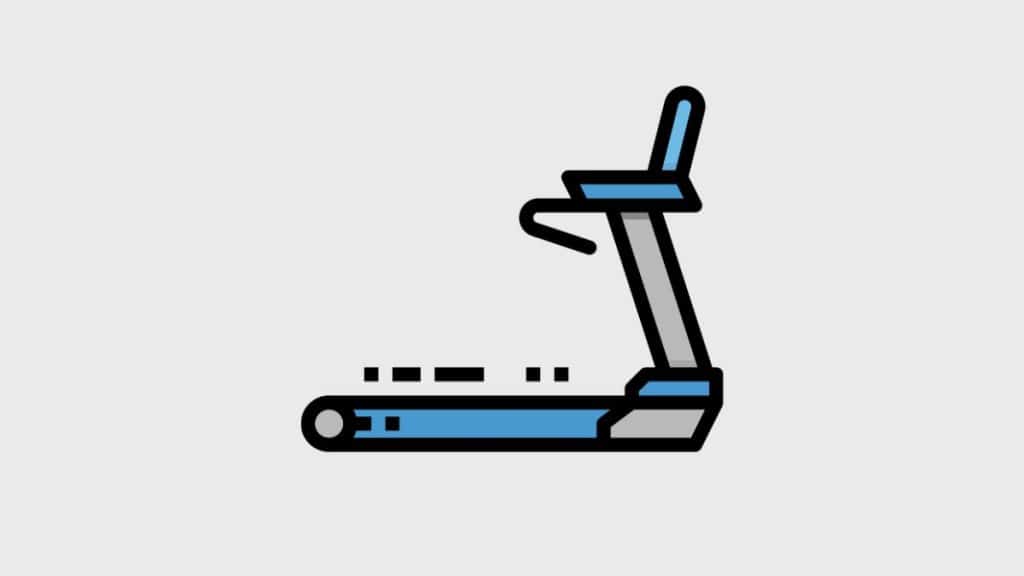 Currently overweight or obese and ready to get to work on the treadmill machine to lose some poundage?
Here's some good news: at the outset of any training regimen is when you stand to make the most progress in the least amount of time.
Provided, of course, that you do your treadmill workouts in a way that not only helps you lose weight but also doesn't increase the risk of injury, setting you back to square one.
(And yes, overweight or obese people are more prone to injury and increased muscle soreness from working out1.)
In this guide, we will take a closer look at the best treadmill workouts for overweight beginners.
We'll talk about the benefits of treadmill walking and running, share some useful treadmill tips for beginners who are carrying a bit extra (no shame here, I'm a big dude myself at 295lbs!), and, of course, give you some workouts you can incorporate into your weekly training.
By the end of this post, you'll know exactly what you need to do to maximize the time you spend on the treadmill.
Let's jump in.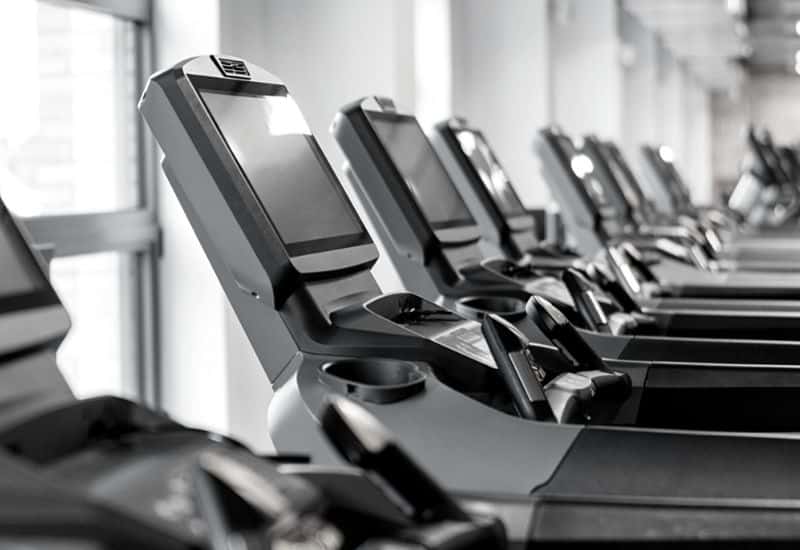 Why the Treadmill is Awesome for Your Weight-Loss Journey
Before we dive into some treadmill machine workouts for heavy people, it's worth taking a look at why the treadmill is an excellent choice for losing weight compared to other cardio machines, such as the elliptical machine or a rowing machine.
Reasons to choose the treadmill include:
⭐ Burn Lots of Calories
One of the best benefits of treadmills is that they are highly effective for burning calories!
In fact, when it comes to the best cardio machines for burning calories, the treadmill is right at the top of the heap.
According to data collected by the good people at Harvard Medical School, 185 pound person can burn:
252 calories in 30 minutes of jogging
336 calories in 30 minutes of running at 5 MPH
377 calories in 30 minutes of cross-country running
420 calories in 30 minutes of running at 6 MPH
525 calories in 30 minutes of fast-paced running at 7.5 MPH
671 calories in 30 minutes of sprinting at 10 MPH
That's a lot of calories, as many or more as you'd burn in just about any other type of exercise.
Whether you're walking, jogging, running, or sprinting, you can always count on a lot of calories burned on a treadmill.
Best of all, because it's right in your own home, you can hop on and run even short distances multiple times per day.
⭐ Get an Amazing Cardio Workout
Running or walking aren't just workouts that help you burn calories; they're also amazing for your cardiovascular system.
In your 30 minute treadmill workout, you'll encourage your heart to beat more efficiently and for longer without tiring, your lungs will become more capable at absorbing oxygen and infusing it into your bloodstream, and the exercise will clear away a lot of "junk" (like cholesterol and fats) floating in your bloodstream.
Treadmill workouts of all types are amazing for your cardiovascular health. They'll make your cardiovascular system stronger and reduce your risk of cardiovascular disease2 (like heart attack and stroke).
For those carrying a bit of extra weight, they're a truly excellent addition to your life that will combat obesity and increase your lifespan.
⭐ Go Easy on Your Joints
Running outdoors can be pretty hard on your joints, especially if you're running on hard concrete roads or sidewalks.
But you'll find that the treadmill is good for bad knees because it's designed with a shock-absorbing platform that will reduce the impact to your joints. The treadmill is particularly useful for heavier people, and can reduce the strain on your knees, ankles, hips, and lower back.
If you're thinking about taking up running but don't want to put your body at risk outdoors, it's definitely a good idea to look into the best treadmills for heavy people to find a machine that will go easier on your joints while still offering amazing training.
⭐ Track and Make Progress
All types of treadmills offer at least some form of screen, monitor, or display where you can see your workout metrics: distance, time, speed, etc. These metrics are very important to tell you not only about your workout right now, but how far you've come and how far you have yet to go.
A workout goal will help you to avoid boredom and give you something concrete to work towards.
With that in mind, you'll be far less likely to skip training sessions or "go too easy" because you're training for a certain fitness metric—for example, a farther distance in a shorter overall time, a faster average speed, etc.
Fun Fact: Being obese means that recovery after a treadmill workout takes longer. Overweight trainees experience DOMS (delayed onset muscle soreness) significantly longer compared to normal-BMI individuals1. Allow for plenty of recovery and train smartly when starting out.
Tracking your progress ensures that you're always on top of how the workouts are going. That way, if incorrect diet, sleeping, or lifestyle habits are impacting your fitness, you can see the differences and course correct.
And perhaps most importantly, you can keep seeing incremental progress and be encouraged by how much you can improve over time.
Treadmill Workouts for Obese People
Workout #1: Walk-Jog-Run
This is an excellent workout for you to measure just how fast you can run, and what you're capable of. As a newbie, you might not be aware of how fit you really are, and that's what this workout will show you.
See also: The Best Cheap Treadmills for Home (Tested and Reviewed)
Don't worry if you run more slowly or run out of steam before the 1-minute mark. Just push yourself to repeat the cycle as many times as you can.
This is the "baseline", the starting point from which you will work toward achieving fitness.
The Workout:
Start off with 5 minutes of stretching, focused on your lower back, knees, hips, ankles, and lower body muscles. Follow this up with 5-10 minutes of slow-paced walking to warm up your muscles.
Walk at around 3 MPH for 1 minute.
Jog at around 4 MPH for 1 minute.
Run at around 4.5-5 MPH for 1 minute.
Repeat this cycle up to 8 times, for a total of 24 minutes of training time. Increase the jog and run speed if you feel you can.
Cool down with 5 minutes of slow-paced walking and 5 minutes of stretching.
Workout #2: HIIT Workout
This workout combines high-intensity exercise (fast-running/sprinting) with low-intensity exercise (walking) to burn serious calories while still giving your body a chance to recover between "sets".
It's an amazing way to push your fitness to the next level and expand both your aerobic capacity and heart rate. Even better, you'll get to feel like you're running at full speed (which you are) without risking injury or pushing yourself to the point of collapse.
The Workout:
Start off with 5 minutes of stretching, followed by 5-10 minutes of slow-paced walking to warm up.
Run at your top speed (anywhere from 6 to 10 MPH) for 30 seconds.
Walk (at around 3 to 3.5 MPH) for 2 minutes.
Repeat this cycle 8 times, for a total of 20 minutes.
Cool down with 5 minutes of slow-paced walking and 5 minutes of stretching.
Workout #3: Pyramid Workout
This workout is an excellent choice for building your endurance. Though you start off slow, you gradually increase the pace until you're fast-walking or even jogging at a much higher speed.
Not only will this burn a lot of calories, but it'll improve your cardiovascular and muscular endurance so you can ultimately run faster and for longer.
The Workout:
Start off with 5 minutes of stretching, followed by 5-10 minutes of slow-paced walking to warm up.
Set the treadmill to a moderate walking pace, around 3.5 MPH. Walk at this pace for 1 minute.
Every minute on the minute, increase the speed by 0.1 MPH.
Keep increasing the speed until you hit 4.5 MPH, which would be a jogging/slow run speed.
Every minute on the minute thereafter, decrease the speed by 0.1 MPH.
Keep decreasing the speed until you return to your starting point of 3.5 MPH.
Cool down with 5 minutes of slow-paced walking and 5 minutes of stretching.
Workout #4: Incline Workout
This workout specifically targets your glutes and hamstrings, the leg muscles that play a critical role in your posture and the health and strength of your knees.
By strengthening these lower body muscles specifically, you ensure your knees can take a greater beating without feeling the strain.
See also: 8 Benefits of Turning Up the Incline on a Treadmill Machine
It's a great way to prepare yourself for faster-paced and higher-impact running workouts as your fitness improves.
The Workout:
Start off with 5 minutes of dynamic stretching (leg swings, body squats, etc).
Set the speed to a moderate-to-fast walk (3 to 3.8 MPH), and the incline to 1%. Walk at this setting for 2 minutes.
Raise the incline to 5%. Walk at this setting for 3 minutes.
Raise the incline to 10%. Walk at this setting for 5 minutes.
Raise the incline to 15%. Walk at this setting for 5 minutes.
Lower the incline to 10%. Walk at this setting for 5 minutes.
Lower the incline to 5%. Walk at this setting for 5 minutes.
Cool down with 5 minutes of slow-paced walking at 1% incline and 5 minutes of stretching.
Workout #5: Steady State Jog
Finally, if you think you're ready to give jogging a try, this is the workout for you!
It's a "steady state" workout, which means you'll maintain the same pace for the duration of the workout. You won't burn as many calories as you would with HIIT, but you'll increase your muscular and cardiovascular endurance.
Basically, it's running for longer to ultimately be able to run even longer. That's really the only way you'll ever be able to increase your run time (and, eventually, your run speed, too.)
The Workout:
Start off with 5 minutes of stretching, followed by 5-10 minutes of slow-paced walking to warm up.
Set the incline to 1% (to mimic air resistance when running outdoors) and the speed to a slow jog, between 4 to 4.5 MPH (depending on what feels right for you).
Maintain this speed for at least 20 minutes, but up to 45 minutes.
If you need a break, try jogging for 5 minutes, then walking for 1 minute before resuming your jog. However, you'll find it's actually harder to keep jogging after a break. You're better off maintaining your jog the entire time.
Cool down with 5 minutes of slow-paced walking and 5 minutes of stretching.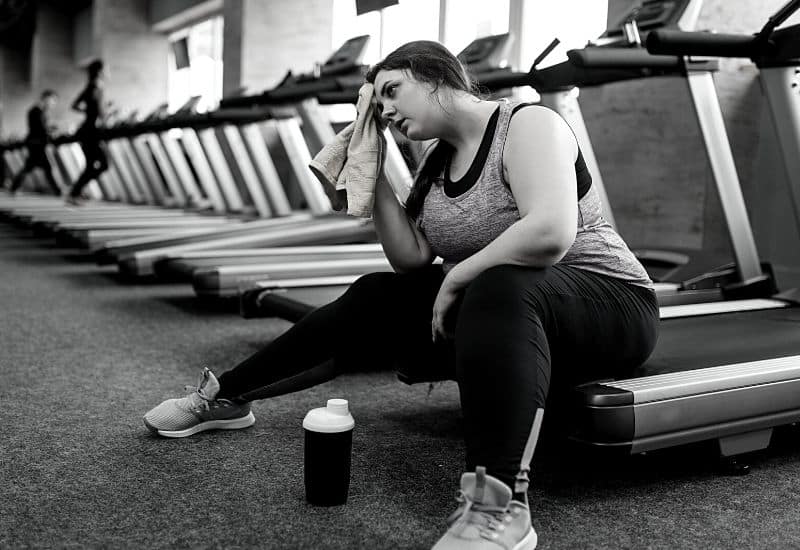 Treadmill Workout Tips for Heavy and Obese People
Alrighty, now that you have workouts in hand, here are some tips for maximizing your time on the treadmill machine while also reducing the likelihood of injury.
Progress incrementally. Obese runners have a greater likelihood of injury when mileage is increased too quickly. Especially as overweight or obese runners tend to choose training programs similar to that of normal-weight runners when starting out3. The goal is consistency and incremental progress; not running a marathon on day one.
Start slow. Beginners should aim to run no more than three total kilometers the first week of treadmill running to reduce the risk of running-related injury4. Workouts that feature walking and running are your best friend when starting out to build joint and muscle strength.
Use the incline. Adding incline will make even a slower-paced walking or jogging workout more challenging without adding impact. It's also a great way to focus on the muscles that play a crucial role in your knee health. (See also: 6 Best Incline Treadmills for Home Gyms)
Use the pre-set workouts. Most treadmills come with pre-programmed workouts with various speed and incline settings. Using these workouts can help you discover new ways to train so you're never bored.
Switch to distance. A lot of runners focus on run time, but distance is another useful metric to track. You can train to run a 5K or a 10K race rather than just sustaining the pace for 30, 45, or 60 minutes. That tangible goal makes it much easier to monitor your performance.
Track your workouts. Every time you get on the treadmill, track your workouts so you can see how fast you're running, how much distance you cover and in what time, etc. Tracking is crucial for you to see your progress and know you're improving. Metrics give you the motivation to keep showing up and putting in the miles.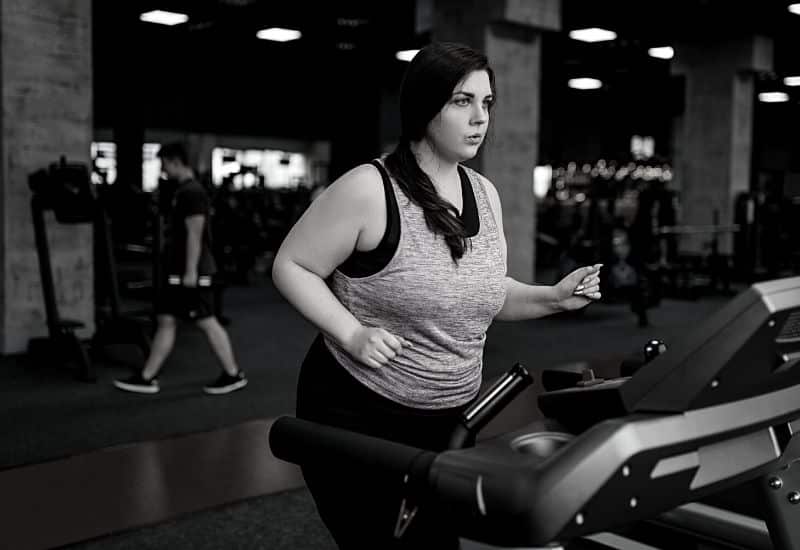 Use the right clothes and shoes. A good pair of running shoes can make a huge difference in performance and reduce impact. Uncomfortable clothing that constricts, rubs, or gets sodden with sweat will make it harder to work out, so use proper workout clothing that fit and feel comfortable.
Distract yourself. Watch TV, read a book, listen to music or a podcast, or even talk with a friend. Anything that gets your mind off the exertion will make it easier for you to maintain that exertion for longer periods. Distraction is the key to making longer steady-state workouts more enjoyable and gives you something to look forward to (i.e. new episodes of your favorite show that you only watch on the treadmill).
Push the speed. Any time you can, try adding 0.1 or 0.2 MPH to your walk, jog, run, or sprint speed. Your body is capable of much more than you know. If you've been training at the same speed for a while (weeks or months), adding a bit more speed can help you to break through a plateau and push your fitness harder.
Always warm up and cool down. The pre-workout warm-up is essential for limbering up stiff muscles and loosening tight joint tissue, as well as getting your heart and lungs working. Cooling down after the workout will prevent soreness and improve circulation to the muscles and joints worked, speeding up recovery time.
The Bottom Line
Just because you're new to working out on the treadmill, that doesn't mean you have to struggle or hate it. On the contrary: treadmill workouts for beginners and heavier folk can be a whole lot of fun, because you can usually see very visible progress right out of the gate.
The more time you put into the treadmill training, the faster, longer, and farther you'll be able to run. You'll also burn a lot of calories and make great progress on your fitness and weight loss journey.
Best of all, you can know you're doing a workout that will improve your health and combat the potential consequences of being overweight.
That's all the reasons you need to bring treadmill training into your everyday life.
---
More Treadmill Guides and Articles
Decline Treadmill Running: Benefits, Disadvantages, and How to Do It Like a Pro. Decline treadmill running is a great way to improve downhill running technique, strengthen your knees, and mix up your workouts. Here is a full look at the pros and cons of decline treadmills and how to use them like a champ.
How Long Should I Run on the Treadmill Machine? (For Weight Loss, Cardio, Speed, and More). Wondering how long you should run on the treadmill for your workout goals? Here's how long to run on the treadmill machine for weight loss, cardio, and more.
The Best Elliptical Machines for Heavy People (Bye-Bye Calories!). The elliptical machine is another excellent option for burning a ton of calories and fat. Here's a look at the top heavy-duty ellipticals for home gyms.
---
References
Tian D, Meng J. Exercise for Prevention and Relief of Cardiovascular Disease: Prognoses, Mechanisms, and Approaches. Oxid Med Cell Longev. 2019 Apr 9;2019:3756750. doi: 10.1155/2019/3756750. PMID: 31093312; PMCID: PMC6481017.
Kim J, Yoon JH. Does Obesity Affect the Severity of Exercise-Induced Muscle Injury? J Obes Metab Syndr. 2021 Jun 30;30(2):132-140. doi: 10.7570/jomes20100. PMID: 33820879; PMCID: PMC8277587.
Nielsen RO, Bertelsen ML, Parner ET, Sørensen H, Lind M, Rasmussen S. Running more than three kilometers during the first week of a running regimen may be associated with increased risk of injury in obese novice runners. Int J Sports Phys Ther. 2014 May;9(3):338-45. PMID: 24944852; PMCID: PMC4060311.
Bertelsen ML, Hansen M, Rasmussen S, Nielsen RO. THE START-TO-RUN DISTANCE AND RUNNING-RELATED INJURY AMONG OBESE NOVICE RUNNERS: A RANDOMIZED TRIAL. Int J Sports Phys Ther. 2018 Dec;13(6):943-955. PMID: 30534460; PMCID: PMC6253747.