Maximize your running workouts at home without maxing out your bank account. We tested 90+ treadmills and found the best cheap treadmills that deliver on performance without breaking the bank.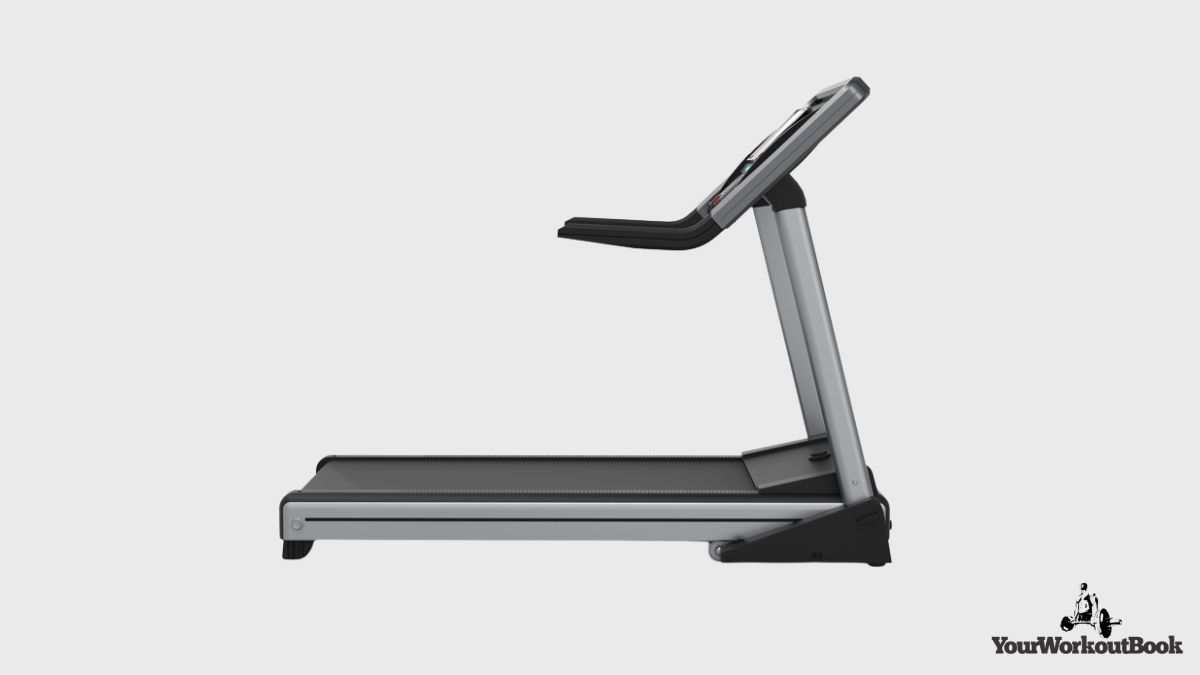 A treadmill machine is one of the best investments you can make in your health and home. The benefits of a treadmill include reduced joint impact, all-weather exercising, and ultimate customization of your walks and runs.
The cost of a treadmill, however, can vary from a few hundred dollars up to $10k+ for commercial-grade treadmills. That's obviously a lot of money, but you don't have to spend that much money to get a high-quality treadmill rich in features.
In fact, there are some excellent budget-friendly treadmills that have most of the performance, durability, ease of use, and safety features of more expensive models.
In this guide, we tested some of the most popular low-cost treadmills on the market. No matter whether you are a newbie or an elite athlete, there is a budget-friendly treadmill in this list for you.
Let's get started.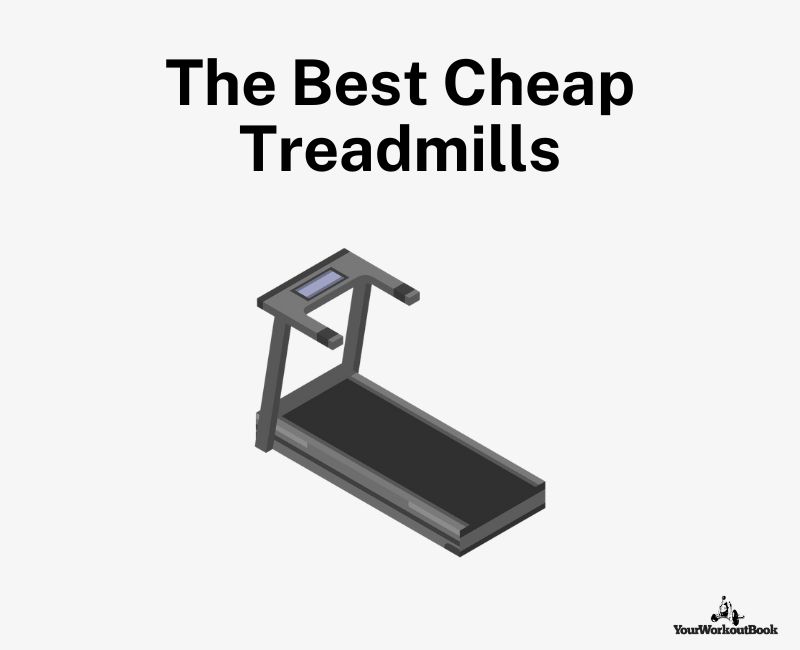 Here is a look at our top picks for the best cost-friendly treadmills at a glance:
More detailed reviews of these cheap treadmills, including key features, pros and cons, and where to buy, can be found in the rest of the guide below.
From folding treadmills to super-inexpensive and sleek treadmills, each model has its perfect user.
Horizon T101 Treadmill
⭐ Bet overall cheap treadmill for runners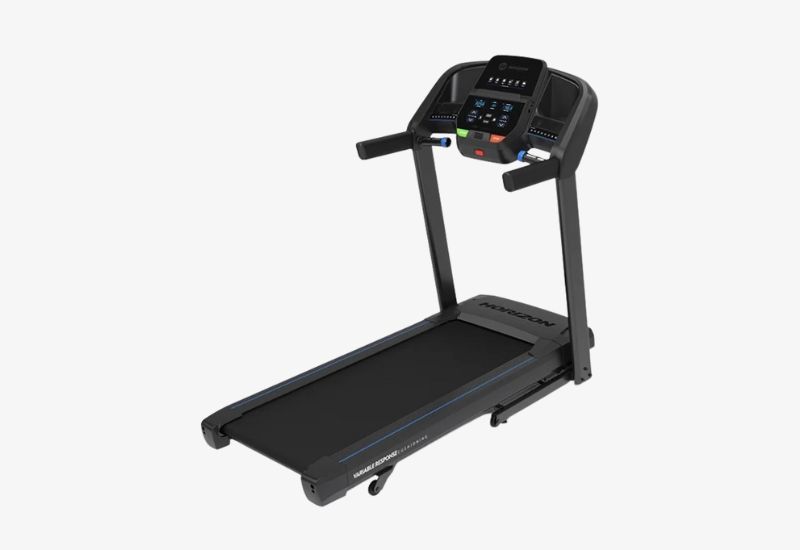 Key features:
Price: $649
Motor: 2.5 HP
3-zone cushioning
Up to 10mph
Incline: Up to 10 degrees
300lb weight capacity
Footprint: 34" x 71" 57"
Footprint (folded): 34" x 46" x 61"
Running belt: 20" x 55"
Lifetime warranty on the frame and motor
The Horizon T101 is the best cheap treadmill on the market for home gyms, and the competition isn't even really close.
Whether it's the motor (2.5 HP), longer running deck, incline feature, foldability, or lifetime warranty on the frame and motor, the Horizon T101 runs (Ha! Running puns!) away from the competition.
The console on the Horizon Fitness T101 reminds me a lot of the consoles on the commercial-grade treadmills at my neighborhood gym, with plenty of space for a tablet, water bottle, and so on.
Safety arms on the sides of the T101 make it a breeze to get on, or catch your breath in the middle of a grueling treadmill interval workout.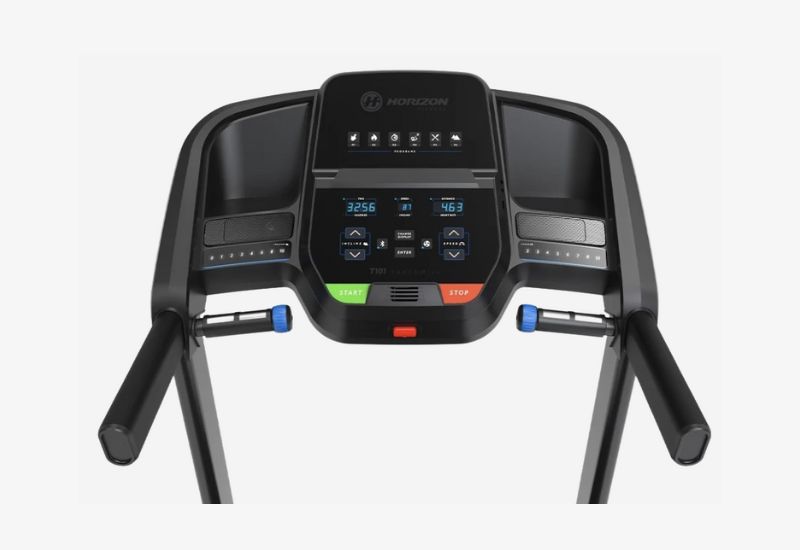 Running on the Horizon T101 Treadmill was comfortable; even as a bigger fella there was no rattling or clunking from the 2.5 HP motor when working out. The running deck is also a decent size at 20" x 55". This will be suitable for runners up to around 6'4.
Another thing I really liked about this treadmill was the three-zone cushioning. One of the main benefits of treadmill machines is the cushioning system in the running deck. A cushioned treadmill that is "soft" through the whole deck is less optimal as it results in a push-off that is biomechanically compromised. When pushing off, you want a firm surface.
The Horizon T101 solves this with a three-zone cushioning system that is softer at the front, where the heel strikes, and firmer towards the back, in the push-off zone. This means you get the benefits of low-impact treadmill running with a more effective push-off at the back of your stride.
Putting it all together, the Horizon Fitness T101 is packed with features and functionality, is designed for proper running form, and won't nuke your bank account with a high value-for-the-money price tag of $649.
| | |
| --- | --- |
| ✅ PROS | ❌ CONS |
| Best value-pick treadmill | No immersive training options built-in |
| Incline (up to 10-degrees) | |
| Three-zone cushioning for reducing shock and optimal push-offs | |
| Large, studio-grade console | |
| Quick assembly | |
| Best warranty on the market | |
---
ProForm City L6
⭐ Best cheap treadmill for beginners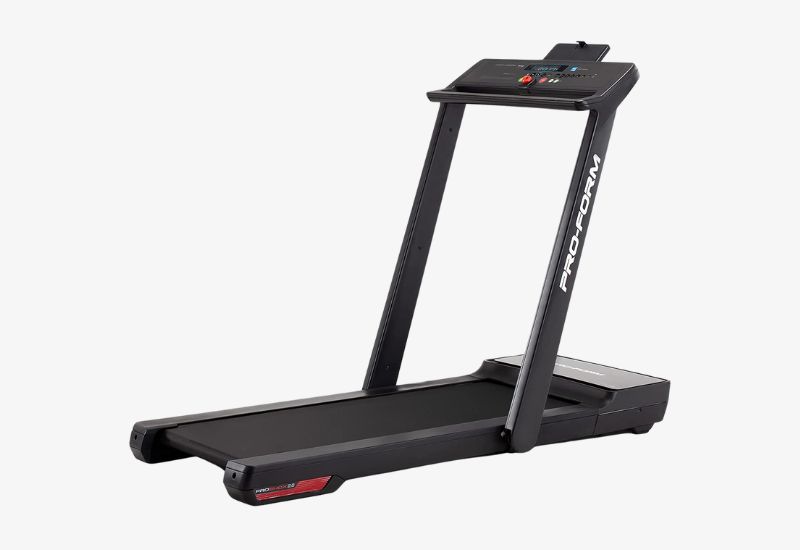 Key features:
$599
1.6 CHP Motor
Cushioning through the whole deck
Up to 8mph
Incline: No
iFit compatible
250lb weight capacity
Footprint: 29" wide x 70.25" deep x 44.5" tall
Footprint (folded): 29" wide x 73.6" long x 12.6"
Running deck: 17.5" x 45"
10-year warranty frame, 1 year parts and labor
The ProForm City L6 is the best low-cost and feature-rich treadmill for smaller spaces and home gyms.
With a uniquely folding design that can be wheeled under a bed (folded, the City L6 measures 12.6" high), the City L6 performs above it's price class with a three-zone cushioning system, 250lb weight capacity, and a reasonable price tag of $599.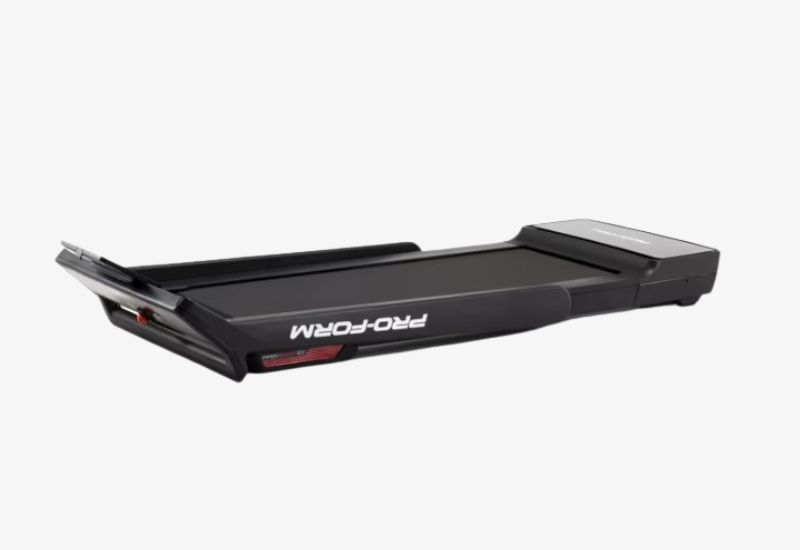 Running on the treadmill was a surprisingly smooth and stable experience. The self-cooling drive runs on a 1.6 CHP motor that generates speeds up to 8mph.
The display on the ProForm City L6 is fairly basic, but if you want to step up to immersive training through iFit, simply park a tablet or smartphone on the treadmill and pair it with the treadmill.
The City L6 comes with a free 30-day trial of iFit, which has literally thousands and thousands of workouts, online classes, monthly challenges, strength training workouts you can do off the treadmill, and more.
While I enjoyed the stability and cushioning on the ProForm City L6, the smaller-than-standard running belt (17.5" x 45") makes it a less ideal option for taller runners like myself (I'm 6.5", for reference). Also, you pay for the foldability with no incline or decline settings on the treadmill.
Outside of those two nit-pickings, the ProForm Carbon City L6 is an economical treadmill for shorter beginners and is a great fit for people looking to maximize space at home.
| | |
| --- | --- |
| ✅ PROS | ❌ CONS |
| Foldable design | Small running deck |
| Budget-friendly pricing | Basic display |
| Easy to assemble | No incline or decline |
| Made for beginners | |
| Cushioning to reduce impact on joints | |
---
Sole Fitness F63 Treadmill
⭐ Best cheap treadmill for a studio-grade experience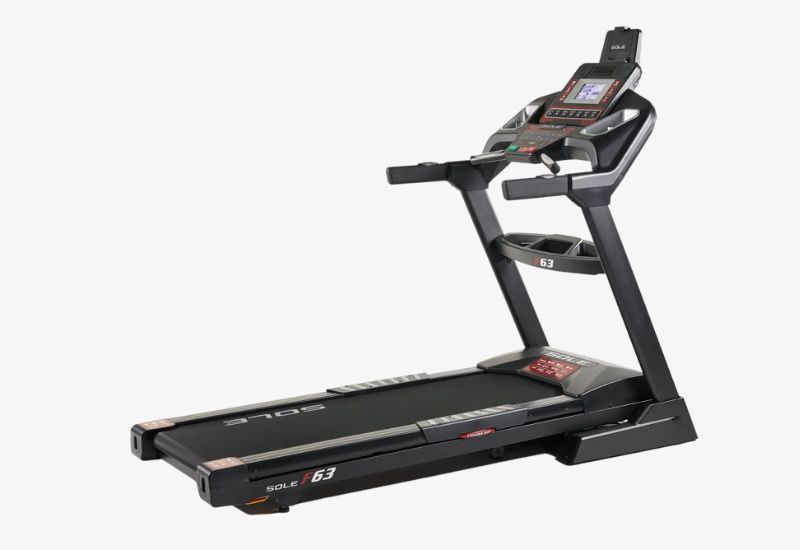 Price: $999
3.0 CHP Motor
Cushioning
Up to 12mph
Incline: 0-15 degrees
STUDIO compatible
325lb weight capacity
Footprint: 35" W x 83" L x 66" H
Footprint (folded): 35" W x 46" L x 71" H
Running deck: 17.5" x 45"
Lifetime warranty on frame and motor
Sole Fitness is one of the leading cardio machine brands on the planet, making excellent ellipticals, rowers, and yes, treadmills for residential use (and a couple commercial-grade machines in there, too).
The F63 is Sole's entry-level and most budget-friendly treadmill, priced at just under $1,000. Now I know what you might be thinking—that isn't "cheap."
But in the case of the F63, you are getting what you are paying for in the truest sense of the word.
Let's start off with some raw numbers. The F63 has a really high weight capacity—at 325lbs it is one of the best treadmills for heavy people—a workhorse of a motor (3.0 CHP) and a motorized incline of up to 15-degrees.
The Sole F63 is a well-built treadmill, and as a result, it runs like one. Using it I couldn't meaningfully tell the difference between the F65 and the Life Fitness treadmills at my local gym that cost $5,000+.
Other standard features of the Sole F63 Treadmill include heart rate monitoring, a safety key (kill switch), cushioned running deck, and a 6.5" LCD screen that has tons of pre-programmed workouts (HIIT, hills, manual, fat burning zones, etc).
And like all of Sole's treadmills, the F63 comes with a lifetime warranty on the frame and motor.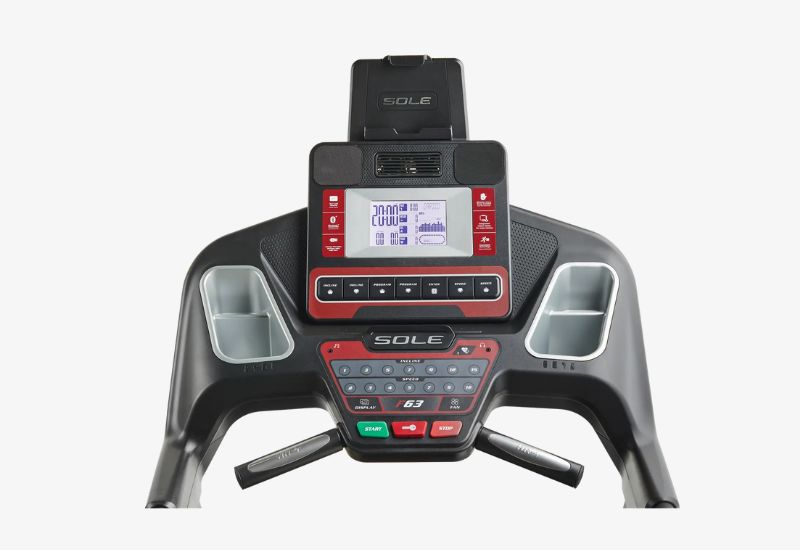 The downsides to the Sole F63 include being such a tank of a treadmill means that it is a little difficult to move (the treadmill weighs nearly 250lbs fully assembled) and the assembly process wasn't as much as some of the cheaper treadmills on this list, taking nearly two hours for my wife and I to complete.
And if durability or quality is your biggest concern, well, Sole Fitness backs up the F63 with an industry-leading lifetime warranty on the frame and motor.
Ultimately, the Sole Fitness F63 is an extremely well-built and economical treadmill for runners and walkers who want the best in durability balanced with a reasonable price tag.
| | |
| --- | --- |
| ✅ PROS | ❌ CONS |
| Economically priced studio-grade treadmill | Heavy; hard to move solo |
| Motorized incline (up to 15-degrees) | Assembly took a while |
| Folding design to save space | |
| Lifetime warranty on frame and motor | |
| Compatible with Sole's STUDIO online training app | |
---
Sunny Health Interactive Slim Treadmill
⭐ Best cheap treadmill for walking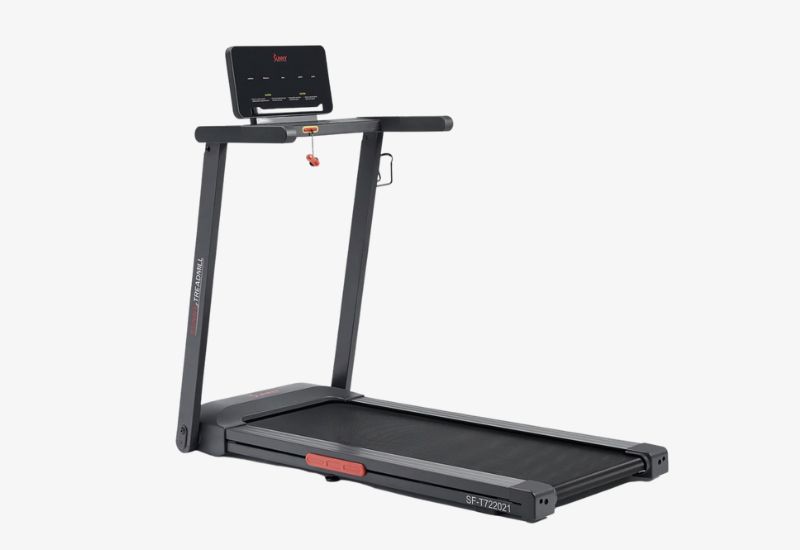 Price: $589
2.0 Peak HP Motor
Shock absorption deck
Up to 9mph
Incline: Fixed
265lb weight capacity
Footprint: 28" W x 59" L x 49" H
Footprint (folded): 28" W x 55" L x 5.5" H
Running deck: 17.3" x 47"
Three year warranty on the frame and 180 days on parts
Sunny Health and Fitness is a cardio machine and strength training company with a wide line of very savings-oriented gear for home gyms. Among the Sunny Health and Fitness line of treadmills is one of my favorite options for the wallet-friendly crowd with the Sunny Health Interactive Slim Treadmill.
It's the best cheap treadmill for people looking for a very low step-up height, an extremely slim design when not in use (it folds down to just 5.5" of height!), and for people who want a walking or jogging treadmill that is easy to assemble.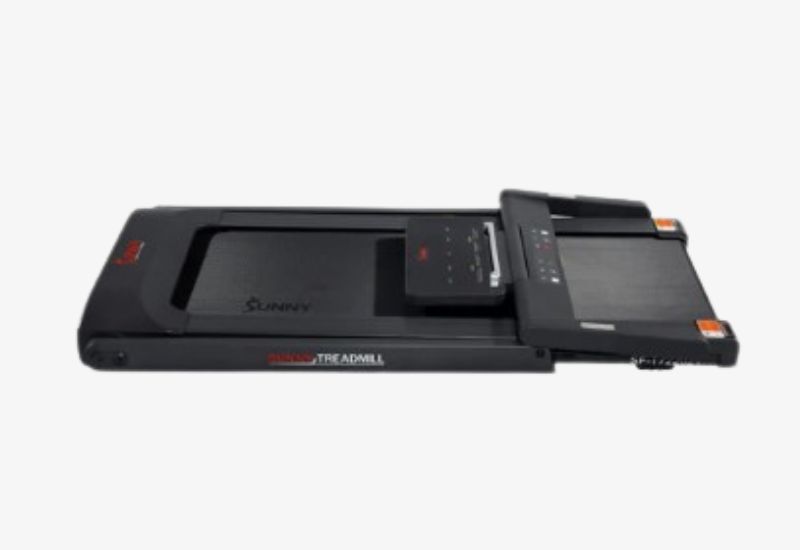 The motor on the Sunny Health Interactive Slim Treadmill isn't as strong as some of the other contenders on this list, particularly the Sole F63, but for people who jog and walk, the 2.0 peak horsepower is more than enough.
I like the clean and sleek look on this treadmill, particularly the digital display (it's just a display, not a screen), the one-touch controls for different speeds, heart rate sensors, and the kill switch right at the front of the console. Other key features include transportation wheels to make moving the treadmill a breeze,
Like other low-cost treadmills, the running deck (the amount of running space available to us when walking or running on it) is a little small, at 17.3" x 47", and the warranty coverage isn't awesome (3 years on the frame and just 180 days for parts).
Those asterisks aside, the Sunny Health Interactive Slim Treadmill is a beautiful treadmill that takes up very little space in your home, runs quietly on that brushless 2.0 HP motor, and takes minutes to assemble and get up and running.
| | |
| --- | --- |
| ✅ PROS | ❌ CONS |
| Very compact and sleek design | Not ideal for taller runners/walkers |
| Low step-up height | Warranty could be longer |
| Easy to assemble | No incline settings |
| Digital display look sgreat | |
| Safety key (safety doesn't take a holiday!) | |
---
XTERRA Fitness TR150 Treadmill Machine
⭐ Best cheap treadmill with incline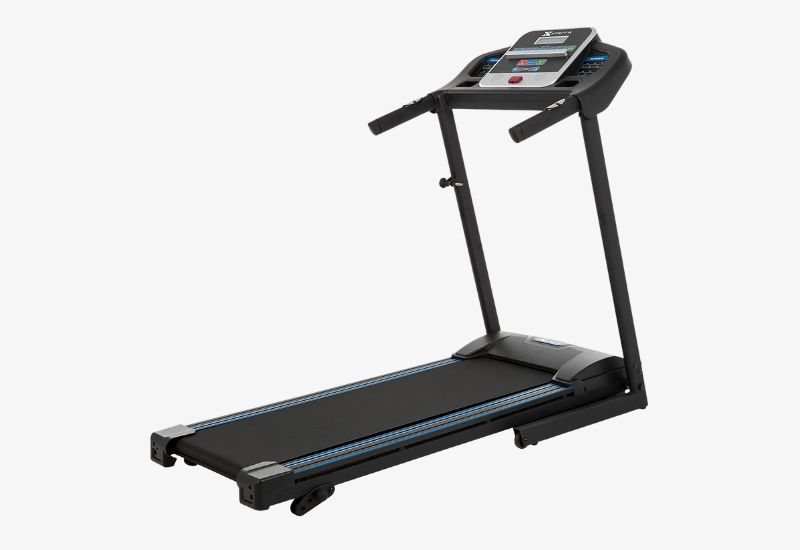 Key features:
Price: $375
2.25 HP Motor
Cushioned deck
Up to 10mph
Incline: Manual (three levels)
250lb weight capacity
Footprint: 28.75" W x 63" L x 51" H
Footprint (folded): 27.5" x 27.5"
Running deck: 17" x 50"
Three year warranty on the frame and 180 days on parts
XTERRA Fitness is an almost hilariously inexpensive treadmill that is built for speed and incline. Able to hit top speeds of 10mph, this easily foldable treadmill has a ton of awesome features that will help you take your walking and running workouts to the next level.
The TR150, which we featured in our guide to the best folding treadmills for home gyms, too, has a Lambo-engine for its price point. You simply don't see a 2.25 HP motor on treadmills that cost around $375.
Perhaps what home users on a space-crunch will love most about the XTERRA TR150 Treadmill—besides that money-saving price point—is how easy it is to fold and store the treadmill between workouts.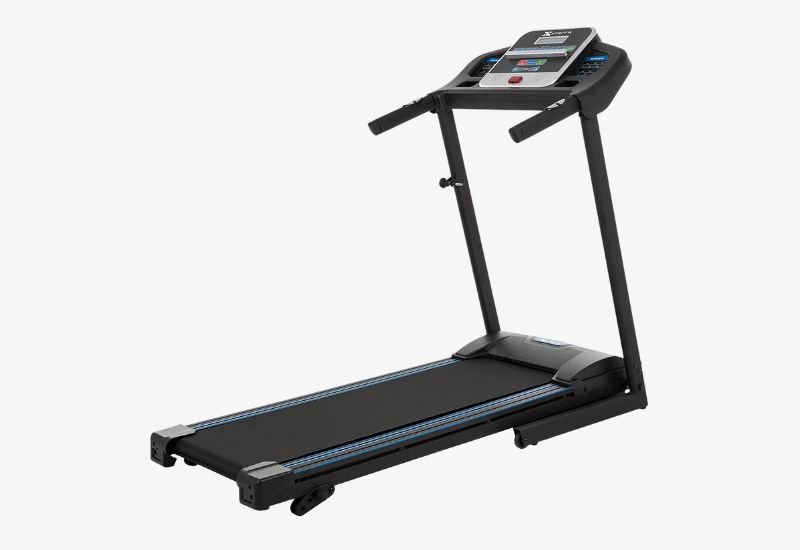 The frame is lightweight, under 100lbs, and can quickly be folded using a quick-release knob and a hydraulic telescoping rod under the deck. Add some transportation wheels, and it's as maneuverable as a suitcase on wheels.
Being a budget-friendly treadmill, you know there are always going to be some downsides, but with the TR150, these are almost shockingly few things I didn't like about it. While the running deck is a little narrow (17") for my wide frame, the length of the deck (50") is perfect for longer runners.
Additionally, while the XTERRA TR150 has an incline setting, this is done manually, which means no mid-workout hill adjustments unless you dismount the treadmill. (The TR150's older brother, the XTERRA TR260 Treadmill, does have a motorized incline for a few hundred dollars more.)
The XTERRA TR150 is backed by a lifetime warranty on the frame, a year on the motor, and 90 days on parts and in-home labor.
| | |
| --- | --- |
| ✅ PROS | ❌ CONS |
| Very cost-effective pricing | The running belt is a bit narrow |
| Lightweight frame; easy to fold and transport | Weight capacity tops out at 250lb |
| 12 preset programs for touch-and-go workouts | |
| Large console for a cheap treadmill | |
| Lifetime warranty on frame | |
---
How to Choose the Best Cheap Treadmill for You
There are plenty of things to consider when narrowing down and choosing the perfect budget-friendly treadmill for you and your home gym.
Here are the key decision-making factors to keep an eye on:
Price
When shopping for an inexpensive treadmill, cost is going to be the key factor. Treadmills range widely in price, but you don't need to spend a ton of money to get an excellent treadmill with lots of functionality.
Motor
The motor on the treadmill should have sufficient horsepower to support desired speed levels when exercising on the machine.
Faster and heavier runners/walkers will want to opt for a stronger motor.
Cushioning
The cushioning on a treadmill reduces impact and joint stress. Look for a treadmill that has "zoned" cushioning, which means it's softer at the front of the treadmill, where the heel makes impact, and firmer at the back where you push-off.
Workout Programs
While inexpensive, a good cheap treadmill should have all the basics when it comes to pre-programmed workout programs.
Look for the staples, including intervals, hills (if the treadmill has incline), and different modes to keep users motivated and engaged.
Incline
Although budget treadmills are less expensive, that doesn't mean you need to forego the added benefits of incline training. Inclines offer added intensity and variety to your treadmill workouts.
Folding and Portability
Treadmills can take up a lot of space. If your home is busy—and whose isn't—look for a treadmill that can be folded up and is easily portable.
Folding the treadmill also acts as a safety feature, keeping it inaccessible to kids and pets.
Running surface
Being able to use the treadmill properly and safely is crucial, and that means having a running surface large enough for your stride.
Taller and wider users will want to opt for a treadmill with a larger running deck so that they can walk/run without hitting the console with their knees or running off the back of the treadmill.
Weight capacity
Check the weight capacity of the treadmill to ensure it can support your weight. Running on a treadmill over the recommended weight capacity can damage the motor and deck and in some cases, nullify the warranty of the machine.
Warranty
Although these machines are cheap, they shouldn't be made cheaply. Treadmills come with a variety of warranties to protect against manufacturer's defects or malfunctions.
---
More Treadmill Guides and Articles
The Best Treadmills with Screens for Home Gyms: Online Workouts, Streaming, and TV. We logged hundreds of miles on 90+ treadmills to find you the best treadmill with a screen. Read on for a look at the top treadmills for streaming, online classes, and watching TV.
The Best Folding Treadmills for Small Spaces: Big Performance with a Small Footprint. Looking for a treadmill that is big on performance and features but small on footprint? Read on for an expert's guide to the best folding treadmill for small spaces, whether for walking or endurance running.