Wondering how long you should run on the treadmill for your workout goals? Here's how long to run on the treadmill machine for weight loss, cardio, and more.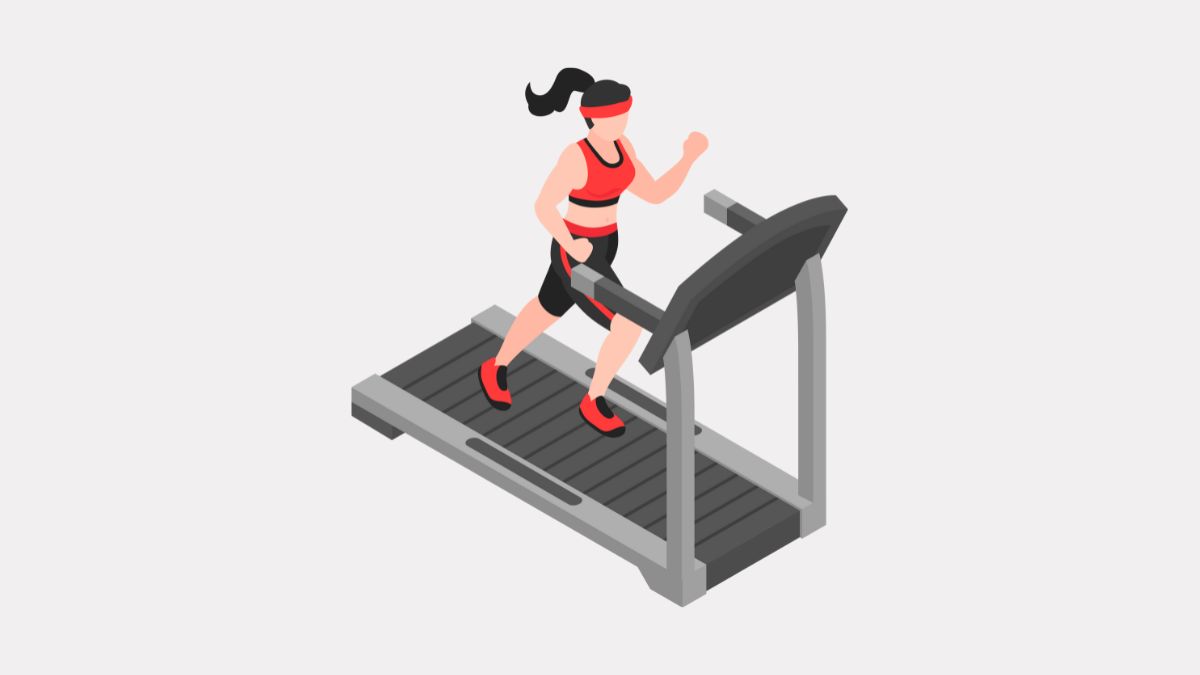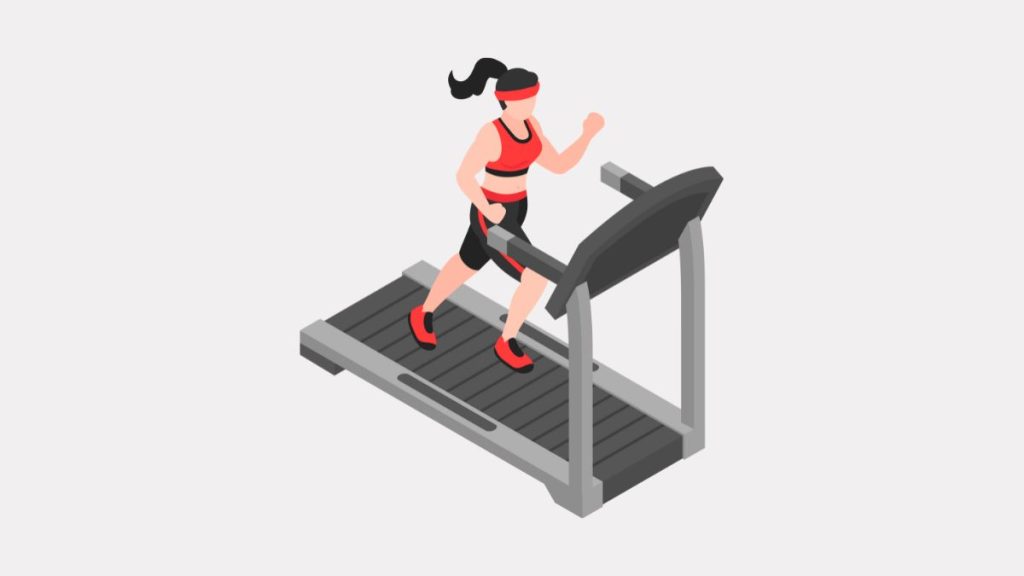 I've written a lot of posts talking about all the benefits of treadmill training, how this one machine can make a massive difference in your weight loss and fitness efforts.
One question I often get from readers is, "How long should I run on the treadmill? Should I shoot for a 20-minute HIIT workout, a 30-minute run, or a 60-minute jog?"
In today's post, I want to address that question so you can understand not only the proper way to run on a treadmill, but also the proper length of time.
By the end of this article, you'll have a much clearer understanding of how long to spend on the treadmill to make the most of your training sessions every single time.
Why the Treadmill is Awesome for Health
Before we dive in, I want to take a moment to list a few of the reasons that you should be doing more treadmill workouts for weight loss and overall health. These benefits extend to every aspect of your health and fitness:
Better Cardiovascular Conditioning
The more you run, the better your cardiovascular system functions. Your heart will beat more efficiently and the cardiac muscles will grow stronger.
Your lungs will expand more and absorb more oxygen into your bloodstream with every breath. And, of course, your blood vessels will dilate and contract more efficiently to regulate blood flow1.
Running is, hands down, the best type of cardio for you, so it's worth incorporating into every weekly training session.
Improved Brain Function
Running—and all forms of cardio, really—are excellent for your brain.
Research2,3 has shown that running can:
Improve cognition
Enhance memory and recall
Sharpen attention
Increase focus and concentration
Prevent or slow neurodegeneration
Boost mood
and the list goes on!
Enhanced Heart and Metabolic Health
Running burns excess fats from your bloodstream and utilizes glucose-based calories that your body would usually store as fat.
What this means is that through your daily exercise, you not only prevent the accumulation of body fat, but clear your blood vessels of the excess fats that could be oxidized and harden into plaque.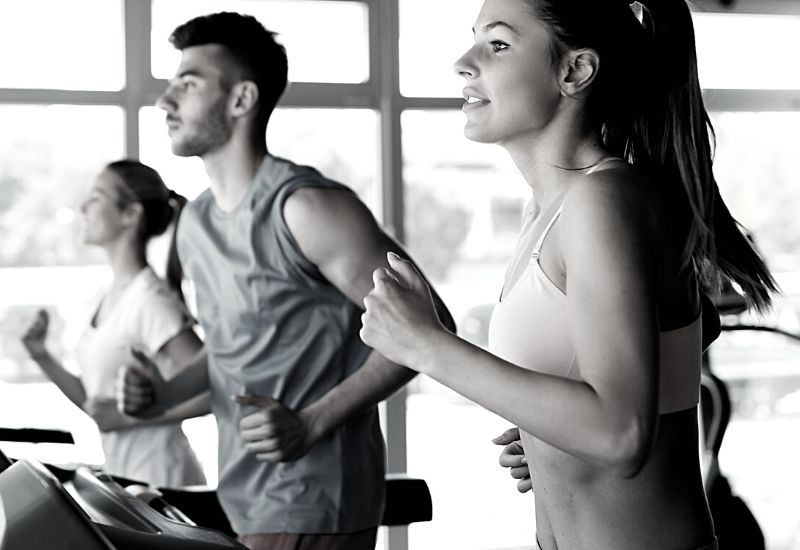 Arterial plaque, as you well know, is one of the main contributors to heart attack and stroke: the plaque stiffens your blood vessels, causing the walls to crack, leading to clots that cut off blood flow to your heart (heart attack) or brain (stroke).
But treadmill running is also excellent for your metabolic health. Not only will it help your body to regulate its blood sugar levels, but will prevent insulin resistance (which leads to diabetes).
Plus, it will increase your metabolic rate so you naturally burn more energy every single day.
Stronger Muscles
Running is excellent for your muscles!
Chiefly, your quads, hamstrings, glutes, and calves are engaged when you run, but your core also gets involved to maintain your upright posture.
Frequent running will strengthen your core and lower body muscles, especially when paired with regular resistance training.
Great Weight Loss
Not only will you see an excellent number of calories burned on the treadmill with every run, but you can actually help your body to burn more calories every day.
The human body adapts to the amount of energy required, raising or lowering energy production (your metabolism) as needed. The more you move every day, the faster your metabolism runs, and the more energy it produces (from the food you eat and the fats you have stored).
Daily exercise like running (and resistance training) will keep your metabolism chugging along as quickly as possible, preventing fat storage and encouraging both fat-burning and weight loss.
More Resilient Skeletal System
Running is a high-impact exercise, with each step sending minor impacts (shock waves) traveling up and down your skeletal system4.
During your run, your body sustains microscopic amounts of damage in the bone, joint, and muscle tissue.
Not only does your body attempt to repair this damage (during your recovery period/at night when you sleep), but it will actually increase the density and mass of your bone, joint, and muscle tissue in an attempt to protect itself against future damage.
Over time, your skeletal system will become more resilient to high-impact exercise because it's slowly building up more cells (mass and density) in the tissues that are usually damaged by the training.
You'll have an easier time keeping up with high-impact energy for longer and longer periods, suffer less damage, and recover more quickly.
As you can see, there are a lot of amazing reasons to spend more time running on the treadmill. The big question is: how much time is enough? Keep reading to find out…
How Long to Run on the Treadmill
For Increasing Speed: 20 to 30 minutes
If your goal is to increase speed, the best way to do is by running at top speed. Typically, on a treadmill, this will be somewhere between 8 and 10 MPH.
However, keep in mind that the human body is only capable of sustaining maximum energy output for a short period of time—typically 15 to 60 seconds, depending on your fitness level.
Any longer, your body will become starved for oxygen and the buildup of lactic acid will shut your muscles down.
For this reason, most speed-focused workouts involve intervals of high-intensity (maximum speed running) with intervals of low-intensity (walking or jogging) that allow you to recover, flush lactic acid, and absorb more oxygen.
This type of exercise, called HIIT (high-intensity interval training) is really only sustainable for 20 to 30 minutes before your body runs out of energy.
Only the fittest athletes will be able to push for a full-length 30-minute treadmill workout using this HIIT method. For the rest of us mere mortals, 20 to 25 minutes is an excellent goal to start off with.
How it'll look:
Start off with your average warm-up,usually 5-10 minutes of stretching and slow-paced running or jogging.
Run at full speed for 30 to 60 seconds.
Walk or jog at a "recovery" pace for 60 to 120 seconds.
Repeat this cycle for 20 to 30 minutes.
Cool down with a light jog or a walk and some stretching.
For Improving Cardiovascular Health: 20 to 45 minutes
If your goal is to improve cardiovascular health, you've got a few options available to you.
You can aim to increase your VO2 max by incorporating higher-intensity and faster-paced training (such as HIIT/sprint training).
You can increase your cardiovascular endurance by maintaining a slower-paced run or jog for longer.
You can increase aerobic conditioning and muscular endurance by running rather than jogging, or by tackling incline (using the incline treadmill setting).
Some of these workouts will be easier to sustain for longer periods than others.
For example, a slow-paced jog isn't too demanding on your cardiovascular system or your energy supplies. Most people can quickly reach 20 to 30 minutes of jog time, or even 45+.
Incline running and higher-intensity training will be more demanding, which means you'll tire faster and end the workout sooner.
As a rule of thumb:
The more demanding the run (the faster the pace/steeper the incline), the shorter the workout (20 to 30 minutes).
The gentler the pace and terrain, the longer the workout (30 to 45 minutes).
For Fat Burning and Losing Weight: 30 to 60 minutes
A fat-burning, weight loss-focused treadmill workout is all about sustaining that exertion for as long as possible so your body can not only burn through the glucose-based fats in your bloodstream and liver, but also activated stored fats to use as energy.
Fat-burning mechanisms take a few minutes to kick in, as your body is typically accustomed to burning glucose for energy. This means that only after the first 10-15 minutes of your run will you start burning serious amounts of fat.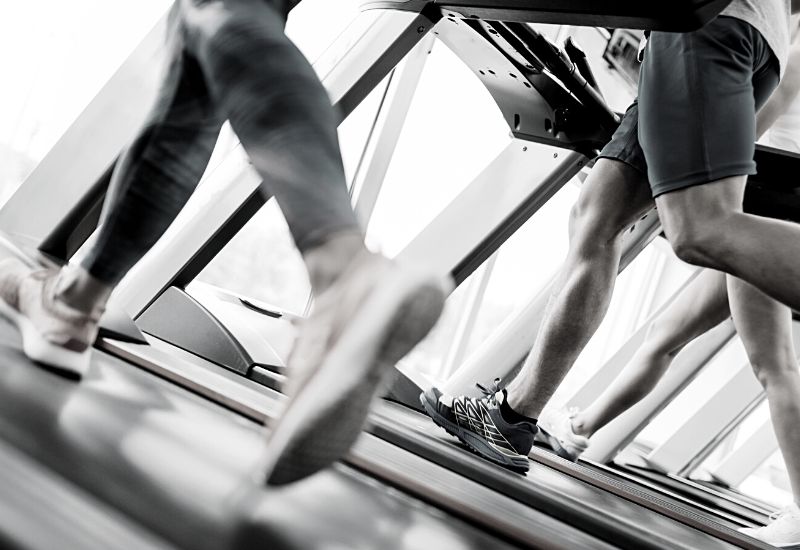 For real fat-burning to occur, you must keep your pace slower—slow enough to remain in the "aerobic zone," where your body can absorb oxygen enough to activate stored fats. The ideal pace will usually be somewhere between a jog and a moderate-paced run (4.5 to 5.5 MPH).
However, remember that the lower intensity/slower pace also means less energy is being used. To see real results, you have to stretch the workout longer to burn more calories.
That's why most fat-burning and weight-loss workouts will last at least 30 minutes, and will run to around 60 minutes tops. Within that timeframe, you can activate a lot of stored fat and burn enough calories to promote real weight loss.
For Training for a Race: 45+ minutes
If you're training for a race—be it a 5K, 10K, Ironman, marathon, or something else—you'll usually want to spend more time running in order to push your cardiovascular and muscular endurance as much as possible.
For a shorter race (say a 5K), you can usually hit the target distance in around 45 to 60 minutes (depending on your speed). If you're trying to push your speed, you can intersperse periods of lower-speed jogging/running with intervals of sprinting or fast-paced running to really give your cardiovascular system a workout.
For a mid-length race (say a 10K), you can run to complete the entire race (in 45 to 90 minutes, depending on your running speed), or you can just run some of the distance (5 to 7K) to condition your body without demanding too much from your body. This is typically done in the days leading up to the big event.
For a longer or more demanding race (like Ironman or marathon), you'll usually run for no less than an hour—but up to 4 to 6 hours—in order to simulate the real-life endurance race conditions.
Tips for Running Longer on the Treadmill Machine
Tip 1: Run Longer
This may sound silly, I know, but bear with me.
The human body is often capable of more than we believe it is. Most of the time, we can run longer than we typically do, we just don't know for sure because we haven't tried.
If you've got an "average" length of time or distance that you run, try pushing it a bit. Add five more minutes to the run, or even two more minutes. Add another kilometer or even just 500 meters.
For those who have adapted to a certain running speed, distance, and time, pushing yourself to go a little longer, farther, or faster may be as simple as that.
Tip 2: Give Yourself a Challenge
If you're working toward a goal—be it a race you plan to participate in, a faster average run speed, a target distance, or something else—you'll find it's much easier to keep pushing yourself. Really, it's only when you stop aiming for a target that you begin to settle and start to be a bit more lax in your runs.
Set yourself some kind of goal, and push hard in every single running workout to get a little bit closer. Then, when you reach the goal, set a new goal and keep pushing!
Tip 3: Engage Your Mind
One of the best ways to run longer is to distract yourself with something interesting: a book, podcast, audiobook, movie, or TV show. If your mind is occupied, you'll pay far less attention to how your body is feeling. You'll be less likely to notice that you're tired if you're engrossed in something fascinating.
Tip 4: Mix it Up
Don't just run on flat, straight road settings or at same running speed. That can get very boring very quickly, and boredom is the enemy of consistency and progress.
Instead, try mixing it up.
Add some incline to hammer your glutes and hamstrings.
Speed up to a faster-paced run.
Push yourself to a full-speed sprint and go for HIIT workouts.
Slow down and speed up repeatedly.
Try a ladder drill or pyramid workout.
Whatever you have to do to keep the workout fresh and new, do it! That's the key to avoiding boredom and seeing real progress.
Tip 5: Keep Water (and Snacks) Close at Hand
Dehydration will cause you to fatigue quickly, making it very difficult to get through your full run. Make it a point to regularly take a sip of water (every 1-3 minutes) so you stave off dehydration and keep your body fueled up.
If necessary for a longer distance run, keep snacks or gels close at hand on the treadmill or your running belt so you can fuel up.
The Bottom Line
I'm a huge fan of both running indoors and outdoors, as you'll see in my treadmill vs outdoor running.
The beauty is that the longer you run in either condition, the more calories you'll burn, the more resilient your musculoskeletal system becomes, and the greater your cardiovascular health.
Hopefully, the information I shared above will not only get you started setting goals to hit your ideal run targets, but also give you easy tips to put into practice to run longer every time you step on the treadmill.
---
More Treadmill Guides and Articles
How Much Do Treadmills Cost? (90 Different Treadmills Compared). The treadmill machine is a killer tool for better health and improved fitness. But knowing how much you should spend on a treadmill can be tough. Here's your ultimate guide to how much treadmills cost and how much you should spend on one.
6 Best Treadmills with Incline (Burn More Calories, Faster). Ready to take your treadmill workouts to the next level? Here's a look at the best incline treadmills for home gyms.