Decline treadmill running is a great way to improve downhill running technique, strengthen your knees, and mix up your workouts. Here is a full look at the pros and cons of decline treadmills and how to use them like a champ.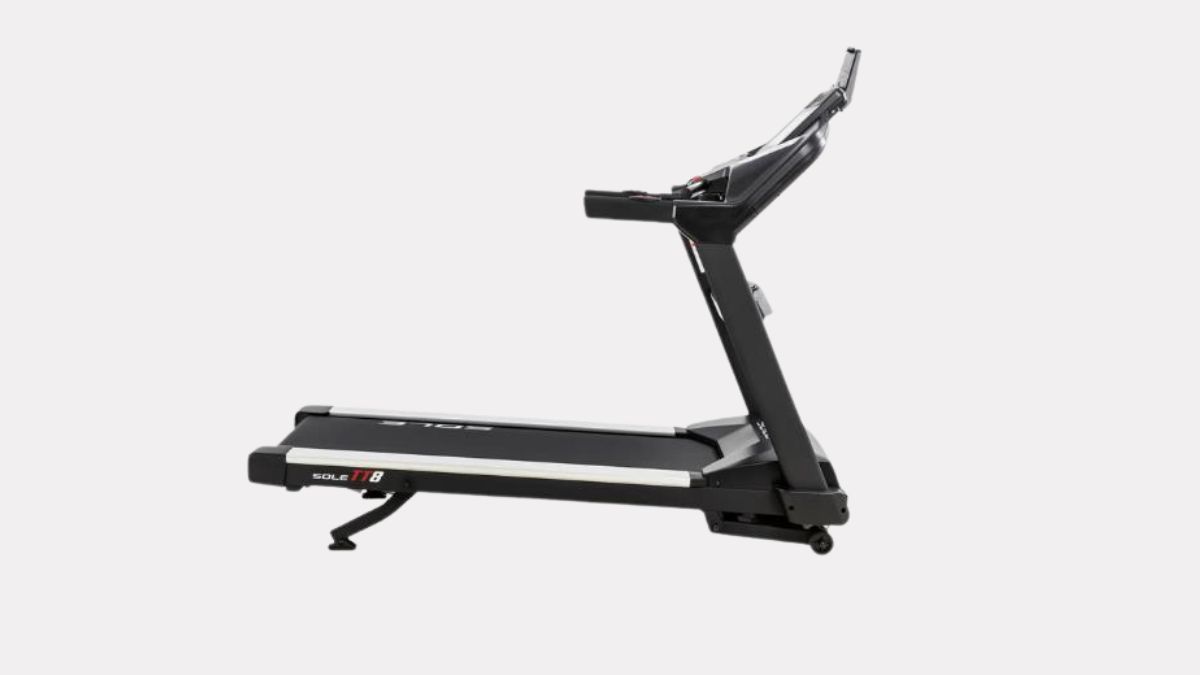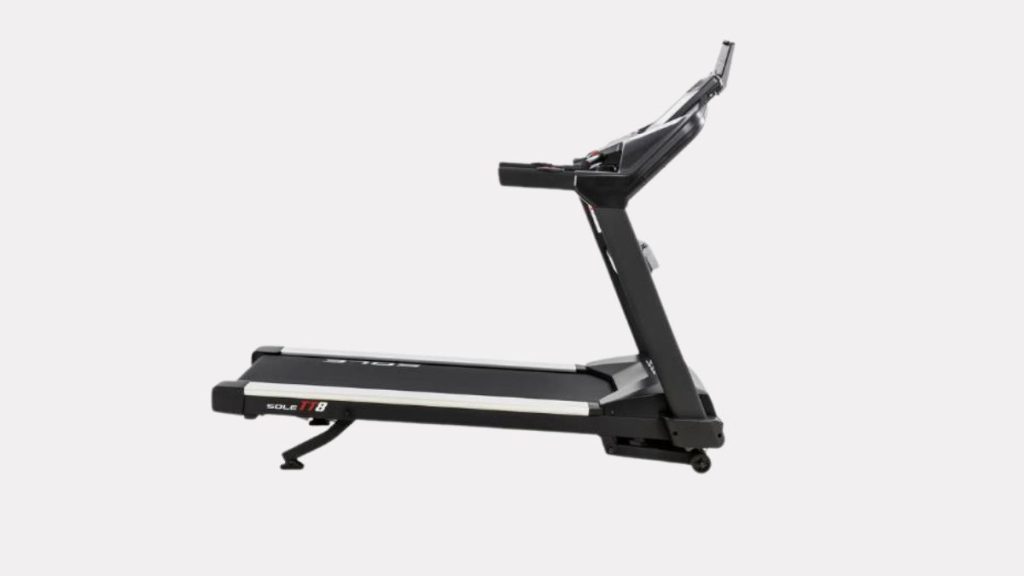 Treadmills are considered the "King of Cardio Machines" because no cardio workout can beat a good old-fashioned run for efficiency and results.
Most treadmills nowadays come with motorized adjusters that raise it from the flat-road feel to a incline and back again, simulating hill runs.
Typically, you can only run uphill, because you can't lower the setting beyond 0% incline.
Unless you get yourself a decline treadmill, that is!
In this post, we're going to look at the benefits of using decline on the treadmill, including what they do, how they work, what their pros and cons are, and the science behind how they affect your body.
I'll even include some tips to help you make the most of your decline treadmill workouts for weight loss.
By the end of this post, you'll know how to incorporate this type of training into your weekly training programs.
Let's jump in.
What is Decline Treadmill Running?
Decline treadmill running, as its name suggests, involves running on a treadmill set to a decline.
Typically, the motors and servos that raise the front of the treadmill to an incline will also be able to lower it to a decline. That way, it feels like you're running downhill.
While incline treadmills can usually reach a 15% incline, decline treadmills usually max out around 3-6%. That's really all the decline you need to obtain all the benefits of treadmill machines simulating a downhill run.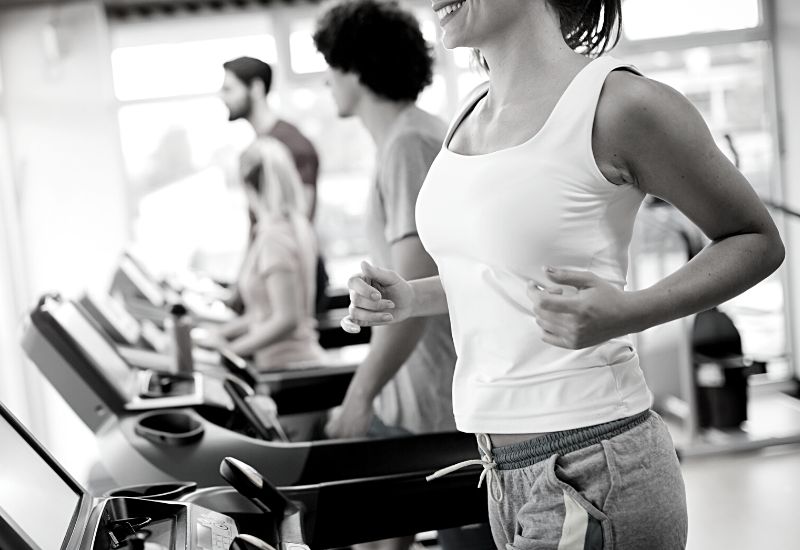 The Benefits of Decline Treadmill Running
Run Faster
Running uphill (or at an incline on the treadmill) can be exhausting. Your body has to work extra hard to propel your weight not only forward, but also upward.
Running downhill, however, will feel a little bit like a "break." The amount of effort expended to move forward decreases because gravity naturally pulls your weight downward as you run.
Though downhill running can lead to joint fatigue (as you'll see below), it can be excellent for short-term recovery after a steep uphill climb. In both training on the treadmill or running outdoors, it'll give you a "breather."
Combat the Decrease in Running Efficiency
Did you know that running downhill actually decreases your running efficiency?
Research found that the quadriceps muscles tire out faster when downhill running (or running at a decline in your jogging, running, or treadmill sprint workouts). Not only that, but because of this muscle fatigue, your legs are unable to reduce the shock (impact) on your joints.
Study into the kinematics of downhill running found that downhill runners tended to experience higher impact on the joints but with less shock attenuation by the muscles.
Decline running also led reduced running efficiency in the form of:
Lower glycogen levels
Minute shifts in the running posture and form
Decreased strength and muscular engagement
Increased fast-twitch muscle fiber recruitment
Over time, running downhill will make you a less effective runner.
Which is why it's so important that runners spend time training on a decline treadmill for the real-life conditions they'll encounter in a race.
That way, when the time comes that your outdoor race heads downhill—and keeps you going downhill for multiple miles—your body has been trained to adapt to the slight differences in skeletomuscular function common to downhill running.
Strengthen Your Knees
Our knees take a real beating when we run downhill.
On a decline, the load placed largely on the lower quadriceps muscles, and there is greater tension on the knee joints.
The knee extensors, in particular, get most of the focus.
See also: Is Running on a Treadmill Machine Bad for Knees? (And How to Avoid Knee Pain on the Treadmill)
While this can lead to joint pain (as you'll see below), including at least some decline running into your jogging, walking, or HIIT treadmill workout will target your knees specifically.
Training the knee extensors will help to strengthen them and make them more resilient against future damage from downhill runs—or, really, any runs!
Prevent Injuries and Soreness
If you were to jump straight into downhill running (say, for a race or in your daily runs around town) with no prior training, you risk both injury and soreness.
Injury is more likely to occur because the quadriceps muscles fatigue faster on downhill running, so there is less support and your joint tissue has to absorb more of the impact.
Soreness is more likely to occur because your body is unaccustomed to new muscle contractions and movements. All of your weight and all the impact is hitting your joints in a way it's not accustomed to. Not only can this lead to muscle soreness, but also stiffness in the joints.
Training for downhill running on a decline treadmill, however, conditions your body to the new motion. That way, when you head outdoors, your muscles won't get as sore, won't fatigue as fast, and your injury risk will be greatly decreased.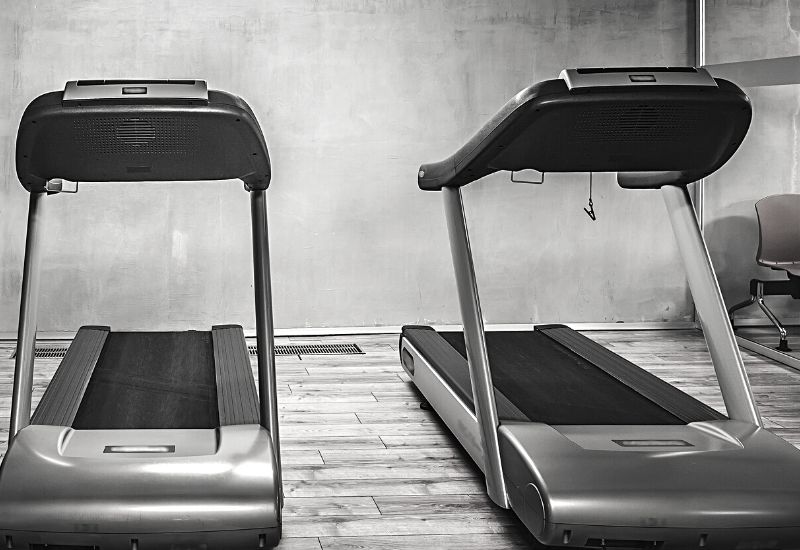 The Disadvantages of Decline Treadmill Running
Burn Fewer Calories
I love treadmill workouts because the number of calories burned on the treadmill is higher than nearly every other cardio machine. A bit of sprint training or HIIT is all it takes to torch a lot of calories—plus, contributes to fat-burning and weight loss.
With the best incline treadmill, you add a degree of difficulty that pushes your workout to a whole new level. Your glutes and hamstrings end up doing more work, strengthening the posterior chain muscles that play such a crucial role in lower body and core mobility.
On the decline treadmill, however, there is less effort required to run because (as I mentioned above) gravity is pulling you downward with every step. Incline running forces you to fight gravity, but decline running moves with gravity.
As a result, the effort is fractionally less than flat-road running and significantly less than incline running.
The decrease in calories won't be too huge, but for those who are trying to take their fat-burning efforts to the absolute max, it's worth keeping in mind if you're thinking about the workout that will give you the greatest bang for your buck.
Increased Injury Risk
Research has shown that running downhill can lead to higher rates of exercise-induced muscle damage.
This is because there is prolonged eccentric muscle action (muscle lengthening rather than the shortening that occurs during muscle contraction), less ability to keep the muscles from over-stretching, and even changes in the way your feet strike the ground.
Your body also has to "put on the brakes" to keep you from picking up speed as you run downhill, and your center of mass moves more as you stride.
All of this combines to increase your risk of muscle and joint injury. More strain is placed on your knees, ankles, feet, and hips. As a result, you're more likely to experience knee pain on treadmill when running downhill vs. uphill or on a flat road setting.
The Science Behind Decline Treadmill Running
Here are a few more discoveries science has made about decline treadmill running:
How to Decline Treadmill Run Like a Pro
If you're planning on incorporating this new style of training into your weekly workouts, here are a few tips to help you do it right:
Start Off Slow
As you saw above, your body's natural inclination is to slow down when running at a decline. It's always best to listen to your body—which, in this case, means running a bit slower initially.
Set the decline to the full 3% and set your run speed for 0.3 to 0.5 MPH slower than your usual run. Even if it feels a bit sluggish at first, it's smart to give your body time to adjust to the new running form and the way your skeletomuscular system engages in this new range of motion.
You can always speed up later on, but in the beginning, start off a bit slower.
Lengthen Your Stride
When decline running, your body is going to naturally try to shorten your stride in order to slow your descent. But all shortening the strides does is increase the strain on your joints.
Note: The only time you should be taking short strides is when running on rugged, highly technical terrain such as when hill or trail running.
Make sure to take long, smooth steps. Resist the urge to shorten your stride, but extend those legs fully so you cover more ground with every step. It'll take some practice and may feel uncomfortable at first.
Over time, though, you'll realize you can cover more ground without picking up speed or risking losing control. Longer steps will ultimately be easier on your body and more likely to develop the quads strength you need to get through the run.
Lean Forward
Your instinct will be to lean back, to "put on the brakes". But that's a mistake: leaning back will increase the strain on your knees, and may even put strain on your spine, shoulders, and neck.
When running at a decline, lean forward at an angle to match the decline. It'll feel much more "natural" with time and is much better for your joints.
Focus On Your Posture
Always keep your shoulders aligned over your knees, ensuring a proper center of gravity.
Swing your arms in small, controlled circles. Use the motion of your arms to keep your balance and avoid picking up speed.
Keep your head up, with your eyes fixed on the ground a few strides ahead of and below you. Looking at the path ahead will help your brain to subconsciously adjust your posture and movement to suit the terrain.
Pay Attention To Your Stride
With downhill running, you want to strike right in the middle of your foot. It'll almost feel like running flat-footed, but that's necessary in order to maximize control as you run downhill.
Striking on your heel will make your forward motion longer and more likely to lose control, and striking on your forefoot will affect your balance and increase your risk of twisting an ankle.
Make sure to always hit on the forefoot as you stride.
Relax
Easier said than done, I know.
When running at a decline, you're likely to feel yourself picking up speed and fear losing control.
But don't give into that fear or let tension cause you to "put on the brakes". Instead, focus on maintaining your balance, pace, and posture. Relax your body as much as you can, and just lean into the run until you master the form.
With regular practice, you'll find decline treadmill running can be an amazing way to train your body to tackle the downhills that are a normal part of all hill running.
Decline Treadmill Running – FAQs
What is the maximum decline on a treadmill machine?
Treadmill machines that have a decline setting range from 2% decline to a hearty 6% decline.
Treadmills like the NordicTrack X32i, the best decline treadmill on the market, has a huge range of incline/decline, from -6% all the way up to a whopping 40% incline. It's also got a massive 32" touchscreen which is awesome for simulating outdoor running.
Other options include the Sole TT8 Treadmill (-6%), Bowflex Treadmill 22 (-5%), Proform Pro 9000 (-3%), and the LifeSpan TR5500iM (-2%).
The Bottom Line
Decline treadmill running isn't as effective a workout as incline running, or even flat-road running.
However, in order to be prepared for any real-life race or outdoor running conditions, it's worth spending some time training at a decline.
That way, your quadriceps develop the necessary endurance to maintain the exertion required, and reduce the strain on your knee joints.
Putting in the time on the treadmill will make you a better, more effective, less injury-prone runner outdoors—and that's what it's all about, isn't it?
---
More Treadmill Articles and Guides Like This
6 Best Treadmills for Heavy People (Bye-Bye Calories). Ready to take your fat-burning and weight loss to the next level? Here is a detailed and hands-on review of the best treadmills for heavy people. No matter what your budget or goal, we've got a treadmill for you.
How Long Should I Run on the Treadmill Machine? (For Weight Loss, Cardio, Speed, and More). Wondering how long you should run on the treadmill for your workout goals? Here's how long to run on the treadmill machine for weight loss, cardio, and more.