Ready to take your fat-burning and weight loss to the next level? Here is a detailed and hands-on review of the best treadmills for heavy people. No matter what your budget or goal, we've got a treadmill for you.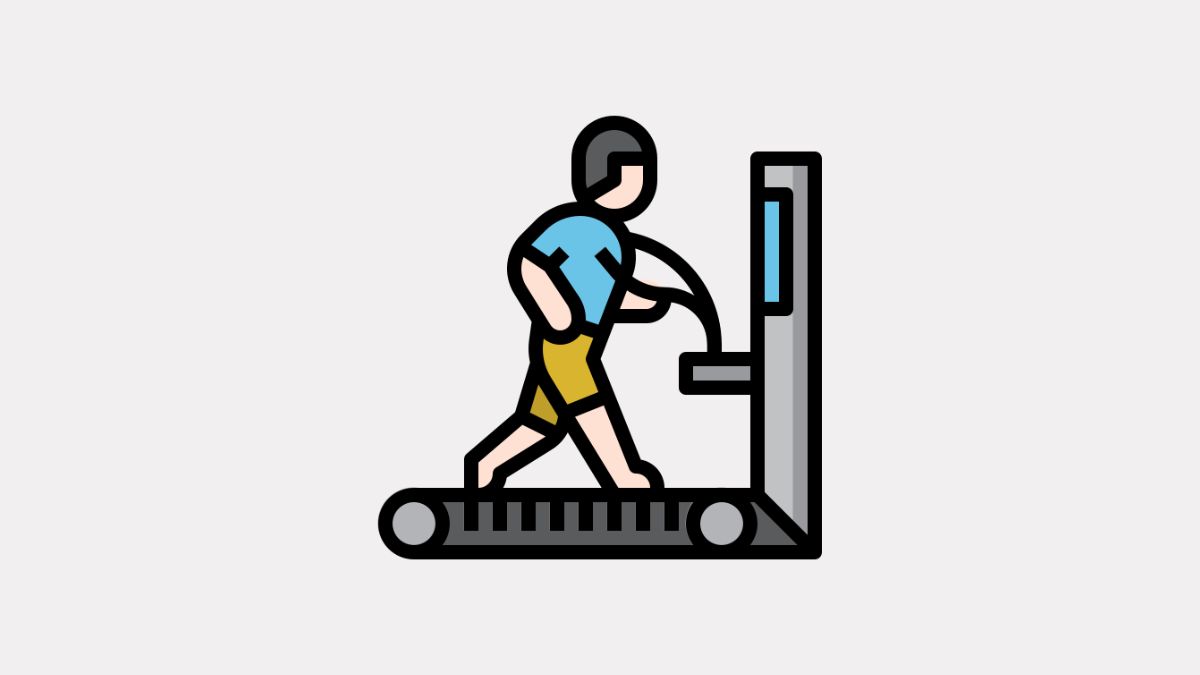 The treadmill is the classic cardio machine for people looking to lose weight and get in shape.
The list of benefits of treadmills is as almost as long as there are different types of treadmill machines for home gyms.
Treadmills are an absolute boss for functional fitness, can be used indoors year-round, and the functionality of treadmills is great for beginners and elite athletes alike.
But when it comes to shopping for the perfect type of treadmill machine, there is a lot to consider and think about.
Especially when you are in the heavyweight division of human beings (present company included!).
In this guide to the best treadmills for heavy people, we will look specifically at treadmill machines that are best-suited for the big and tall crowd.
There are very explicit things heavier people want from a treadmill machine, including a higher weight capacity (obvious), larger running deck, and of course, all of the bells and whistles that come with treadmills.
No matter what your goals or budget, there is a heavy-duty treadmill machine out there for you, and in this guide, I'll help you find it.
Let's jump in.
---
Best Treadmills for Heavy People
Sole F85 Treadmill Machine
⭐⭐⭐ Best "no frills" treadmill machine for heavy people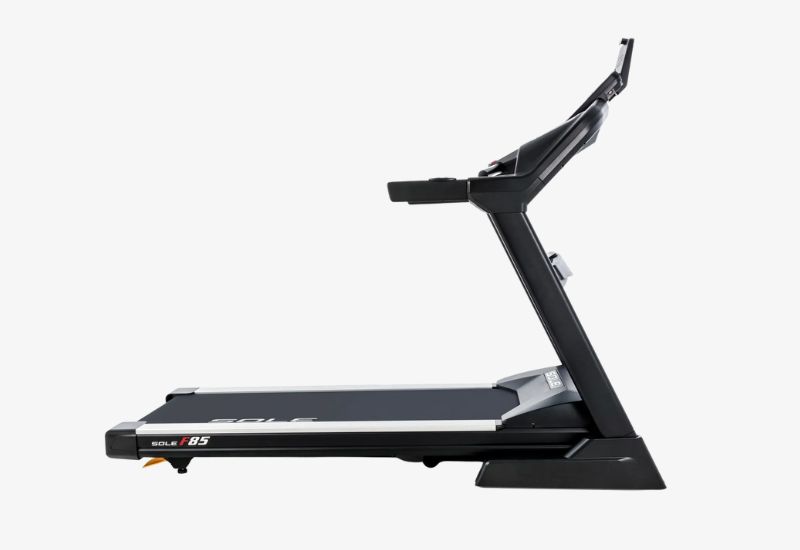 Key features:
Capacity: 400lb
Price: $1,899
Running deck: 22" x 60"
The Sole line of treadmill machines are well-known for being built like absolute brutes, similarly to Sole Ellipticals, which consistently rank at the top of our list of best elliptical machines for home gyms.
The Sole F85 is Sole's best folding treadmill machine, best suited to larger trainees and people looking for the ultimate in stability and compactness.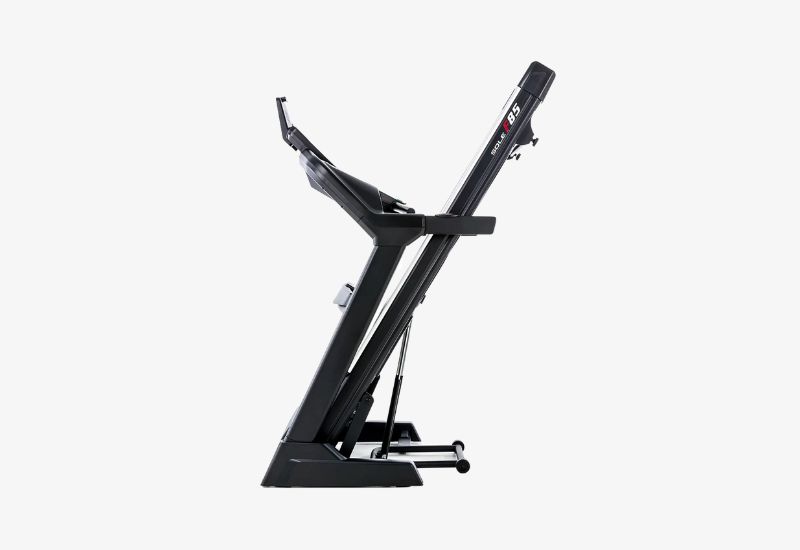 The F85 comes with the things we look for most when it comes to treadmills for heavier people: a full size running deck (22" wide x 60" long), the highest max weight capacity in its class (400lbs), and a price tag that is wildly affordable.
One thing that I really liked about the Sole F85 when testing it out was that the running deck absorbed my foot strikes, helping reduce some of the shock from being a heavier fella running on a treadmill.
It's got all of the basics on the display panel, including HIIT, manual, and fat-burning programs. The treadmill can also be cranked up to a 15-degree incline to maximize calorie burn on the treadmill.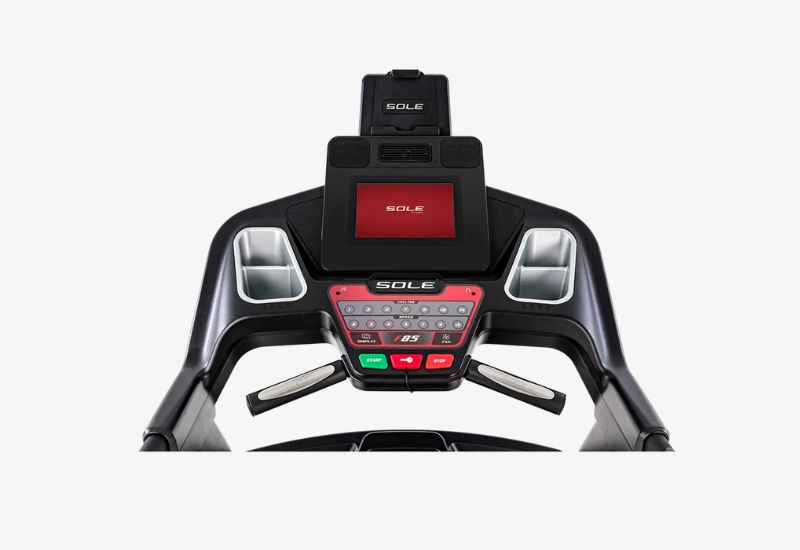 The key thing that isn't awesome about the Sole F85 is that the tech and display is a little basic, especially compared to some of the other options on the market like the Bowflex Treadmill 22 and the NordicTrack line of treadmills, which have HD touchscreens up to 32" (!!) in size.
The F85 does have a ledge for parking your tablet or smartphone and you can pair your smartphone to the Bluetooth speakers for booming sound while running.
That said, if you are looking strictly for a no-frills treadmill that can handle heavier users, has all of the basic workout programs (manual, HIIT, etc.), folds up, and is on the less expensive side of things, the Sole F85 is our top pick.
| | |
| --- | --- |
| ✅ PROS | ❌ CONS |
| Highest weight capacity available for treadmills – 400lb max | Display is a bit basic |
| Folding design for saving space | |
| Shock absorption deck | |
| Priced to win | |
---
Horizon Fitness 7.8 AT
⭐⭐⭐ Best treadmill for heavy people that love doing HIIT workouts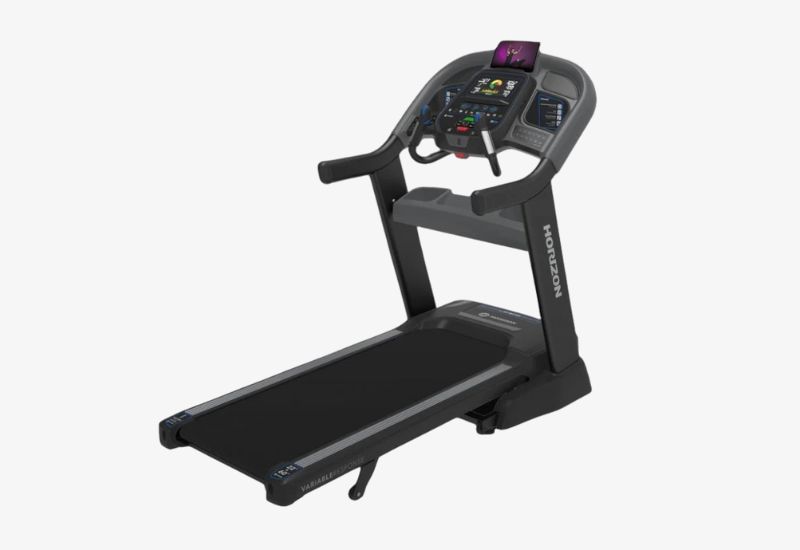 Key features:
Capacity: 375lb
Price: $1,999
Running Deck: 22" x 60"
Incline: 0-15%
Are you the kind of person that lvoes doing HIIT workouts? These kind of workouts, after all, burn more fat in less time compared to traditional steady-state cardio workouts1.
The Horizon Fitness 7.8 AT Treadmill, the premium machine in Horizon's roster of treadmills, is built specifically for interval training with tons of HIIT workouts pre-programmed into the console.
It's got a 375lb weight capacity, a full size running deck of 22" x 60", perfect for us big and tall peeps, and the price is super reasonable at $1,999. Like the Sole F85, it doesn't have a huge touchscreen, sticking with a more basic LCD display, and also has one of the strongest motors on the market (4.0 CHP).
The deck has a three-zone cushioning system that is ideal for heavier people and those who like doing sprints (heavier foot strikes when sprinting, after all). And speaking of sprinting, one of the coolest things that I like about the 7.8 AT is the added HIIT programs built into the console.
Treadmill HIIT workouts are one of the best ways to shred a ton of weight while also getting more bang for your buck when working out, so the Horizon Fitness 7.8 AT is perfect for those who like interval workouts.
The 7.8 AT folds up, and folding it back down when it's go time for a workout, simply push down on a small latch with your foot and the deck "floats" back to the ground hands-free.
My only criticism of this budget-friendly treadmill is that the console is massive, to the point that I feel like I am driving a Tesla.
| | |
| --- | --- |
| ✅ PROS | ❌ CONS |
| Full-size tread (22" x 60" | The console is huge |
| Folds up (with a hands-free fold down) | |
| Controls for speed and incline on the handles and console | |
| Budget-friendly pricing | |
| Awesome for doing HIIT workouts | |
---
Bowflex Treadmill 22
⭐ Best treadmill for heavy people who like online classes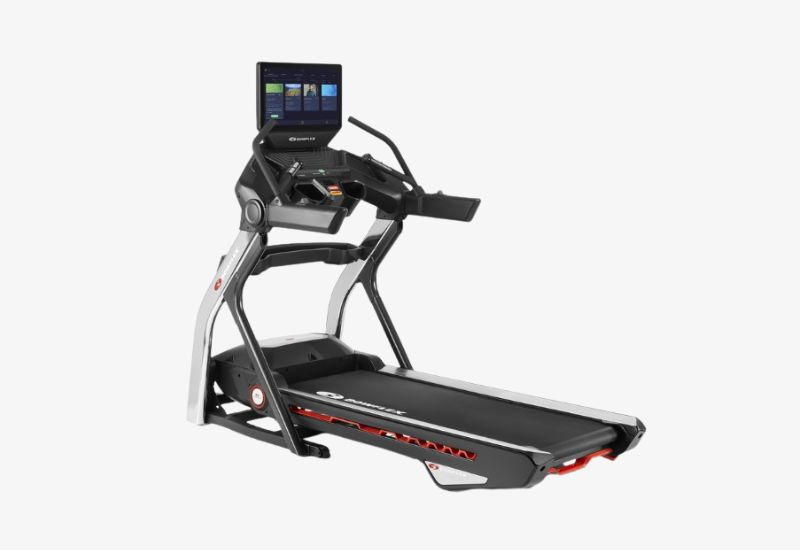 Key features:
Capacity: 400lb
Price: $2,699
Running Deck: 22" x 60"
The Bowflex Treadmill 22, for lack of a better word, is an absolute beast. And for those who get a motivational kick out of doing online classes, challenges, and workouts, there is no better treadmill on the market for heavy folks.
Let's dispense with the specs first…
The Treadmill 22 has a 400lb weight capacity, placing it at the top of the heap in this metric, an XL running deck that is 22" wide and 60", and as you might guess by the name of the treadmill, it has a 22" wide HD touchscreen that is glorious.
The screen does the basic stuff like time elapsed, heart rate, controls the incline, and so on, but it where it really shines is when it is hooked up to JRNY, Bowflex's online immersive programming portal (like Peloton or iFit, but way cheaper).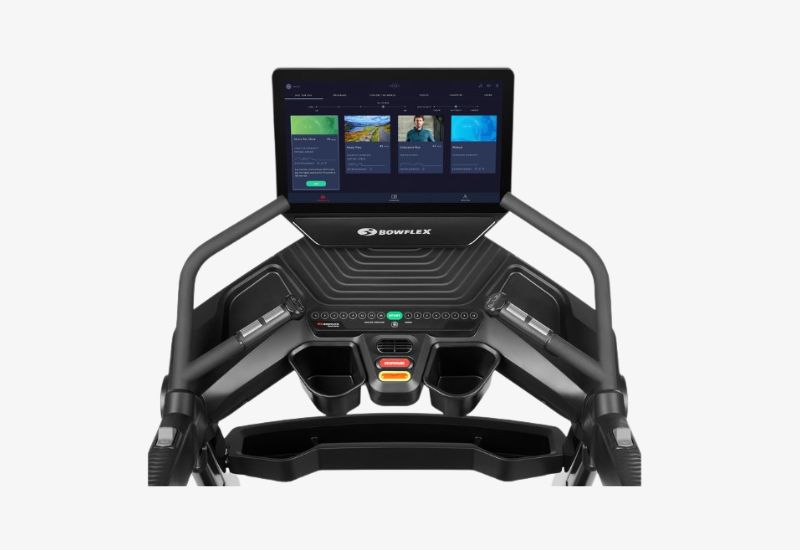 You can also stream the major media channels (HULU, Netflix, Disney+, etc.) so you can catch up on your favorite shows while melting off the calories.
The Bowflex Treadmill 22 is not cheap at nearly $2,699, but it boasts some features not seen on other treadmills in this weight category, including an extra high incline feature (all the way up to 20-degrees) as well as a decline option to simulate walking downhill (which is excellent for strengthening the ligaments and muscles around the knees and ankles2).
I appreciated that the Treadmill 22 came with an actual heart rate armband with the machine, so that you can monitor your HR without having to grab the handles, which can be awkward when running.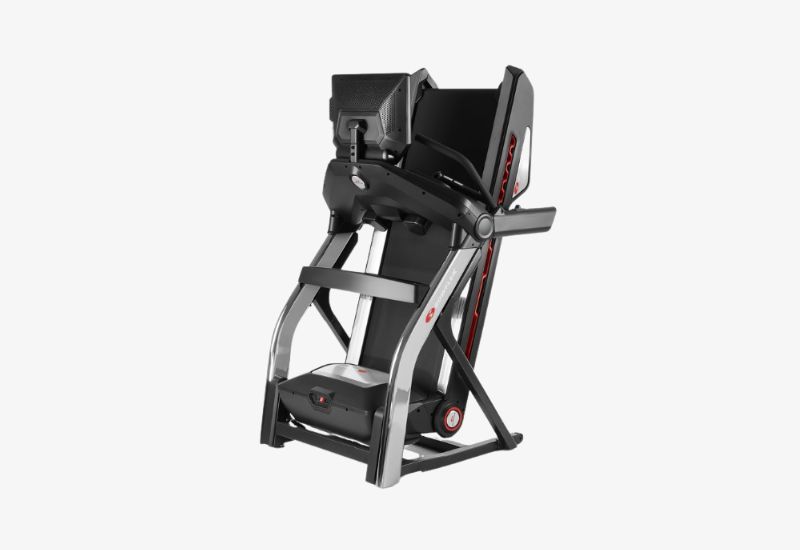 Finally, and as someone who has used countless cardio machines at home in the past, I really appreciated that the online immersive training program—JRNY—is included with the treadmill for 12-months.
This is a huge value point compared to other treadmill brands that only offer a 30-day trial to their online workout classes (cough, iFit and Peloton, cough).
The obvious downside to the Bowflex Treadmill 22 is that it is pretty expensive—the priciest on this list—and if you don't opt in for the in-home assembly, can be a pain in the glutes to assemble.
| | |
| --- | --- |
| ✅ PROS | ❌ CONS |
| Huge 22" HD touchscreen for online classes and workouts | She ain't cheap |
| 400lb weight capacity and full-size running deck | Lengthy assembly process |
| Can stream content on the screen | |
| Big incline (20-degrees) and decline (-5 degrees) | |
---
AssaultRunner Elite
⭐ Best manual treadmill for heavy users who like to sprint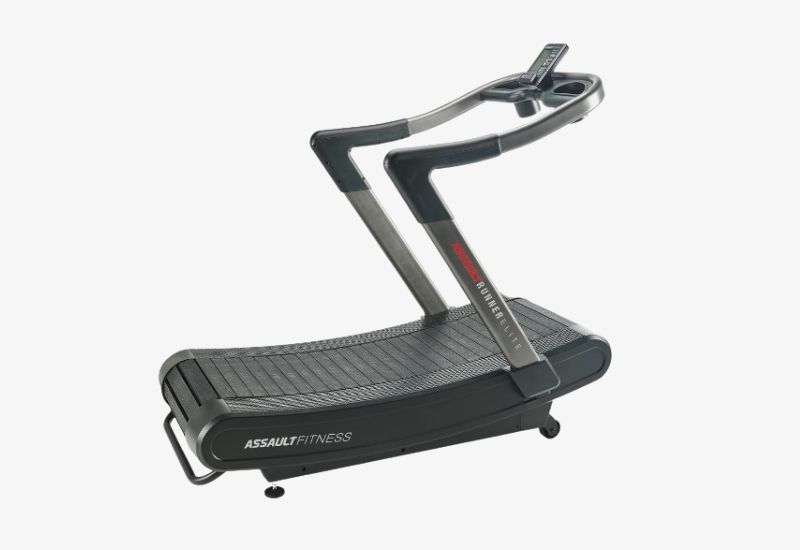 Key features:
Capacity: 400lb
Price: $3,499
Running Deck: 17" x 62"
The AssaultRunner Elite is absolutely a premium treadmill machine with that big $3,499 price tag.
And with a 400lb maximum user capacity, curved design, no motor, and softer slat-belt design, it's much more of a specialty treadmill.
But for more experienced runners, it can be an excellent way to crank up their training without generating excess strain on joints and muscle tissue.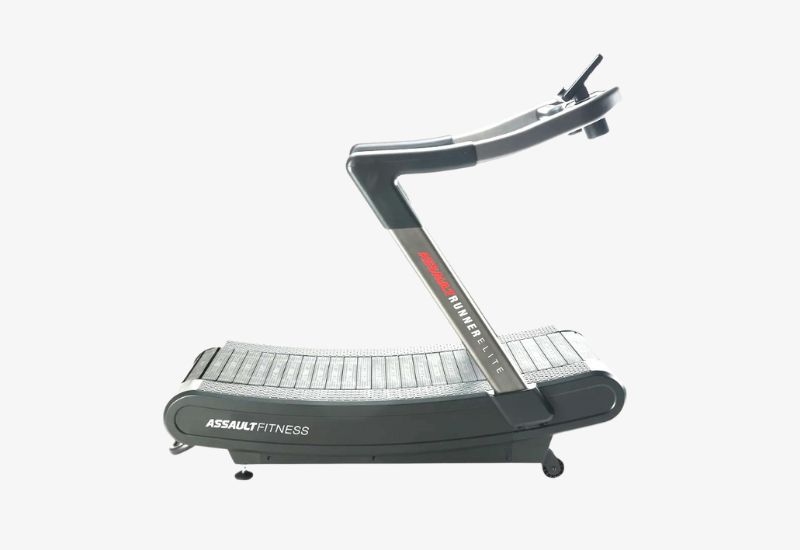 The AssaultRunner Elite is a curved treadmill, and the benefits of this type of treadmill are many, including:
You have to work harder to move the belt as there is no motor (aka you are the motor), generating greater calorie burn and metabolic demand3
They are more ergonomic, reducing joint impact
Manual treadmills are quieter than motorized treadmills
And because they are powered by you (100% organic, free-trade energy), you don't need to worry about plugging it in.
Among the field of curved treadmills, the AssaultRunner Elite is the king daddy when it comes to weight capacity at 400lbs (it's little bro, the AssaultRunner Pro, has a 350lb capacity).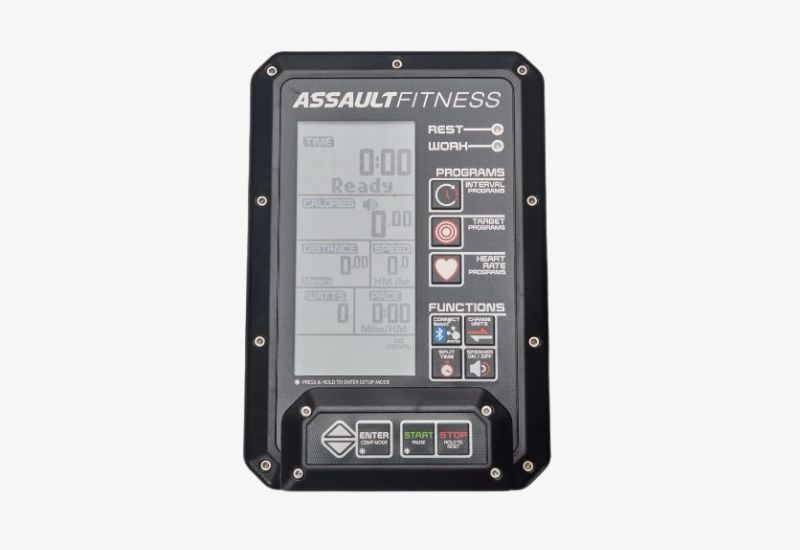 The display is very simple and similar to what I have on my Rogue Echo Bike—giving you the basics of your workout including calories spent, wattage, distance, and so on.
The ergonomic shape might reduce the impact on your joints, but study after study has shown that curved treadmills are harder effort-wise to use, which doesn't make it an ideal option for beginners or those looking to do longer steady-state walking or running workouts.
| | |
| --- | --- |
| ✅ PROS | ❌ CONS |
| Lifetime warranty on the belt | Not ideal for long, steady-state workouts |
| Ergonomic design that is easier on the joints vs regular treadmills | Will gas you out faster |
| Awesome for sprinting and HIIT workouts | |
| Manual; no plug in or outlet required; can be set-up anywhere | |
| Belt is softer compared to regular treadmill belts | |
| Quieter compared to motorized treadmills | |
---
Landice L8 Treadmill
⭐ Best treadmill for tall and heavy people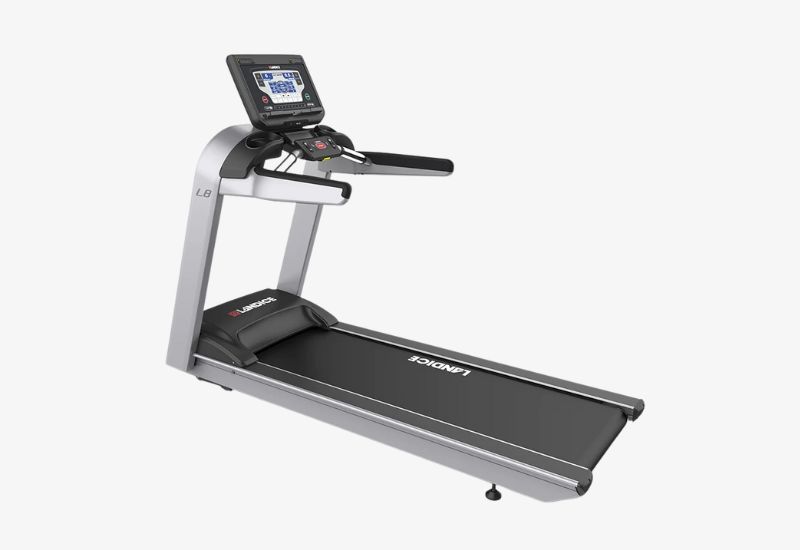 The Landice L8 Treadmill is the strongest and biggest treadmill machine for heavy people available for home gyms.
It's got a 500lb weight capacity, one of the longest and widest running decks available, and has a range of extras, including an orthopedic suspension for people looking for maximum joint protection.
Let's be honest here: the Landice L8 is basically a commercial-grade treadmill machine that is stronger and better equipped than many of the treadmills at my local gyms.
The running deck is huge—at 22" x 63" it's almost the largest on the market, with the NordicTrack X32i edging it out at 22" x 65"—and the weight capacity is light-years ahead of the competition.
A 4.0 CHP keeps the belt running smoothly, a motorized incline cranks up the difficulty and angle of the deck up to 15-degrees, and the heavy-duty frame (it weighs over 400lbs) won't rattle or shake when walking or running on the L8.
Now, for the bad news: the Landice L8 is also the most expensive treadmill on our list, and it's not even really close. The Landice L8 Pro Sports model, the one I've tested and reviewed, costs $5,889.
If you can get past the sticker shock of the price, and want a treadmill that is truly commercial-grade, the Landice L8 is going to be the right treadmill machine for you.
| | |
| --- | --- |
| ✅ PROS | ❌ CONS |
| Maximum weight capacity of 500lb is best in class | The price—ouchie |
| Huge running deck for lots of running space | |
| Available suspension upgrade for max joint protection | |
| Lifetime warranty on parts | |
| Excellent choice for really tall people | |
---
How We Chose the Best Treadmills for Heavier Users
The two main considerations for heavier users when it comes to selecting the right treadmill are:
Heavy-duty weight capacity
Obviously, us big-bone folks need a treadmill that can handle the weight. We don't want to worry about breaking the frame or running deck on the treadmill if we pick up the pace from walking into a light jog.
Additionally, using a treadmill not rated for our weight can rapidly increase the wear and tear on the belt.
The most heavy-duty treadmills on the market top out at 500lbs, with a handful in the 400lb range before opening up to a huge range of treadmills in the 300lb bracket.
Full-size running deck
The second key thing we looked for was a running deck that was XL running decks—the available running space on a treadmill. The standard running space on a treadmill is 20" wide and 50" to 55" long.
In this roundup, we prioritized the treadmills with a full-size running deck of 22" wide and 55" or longer.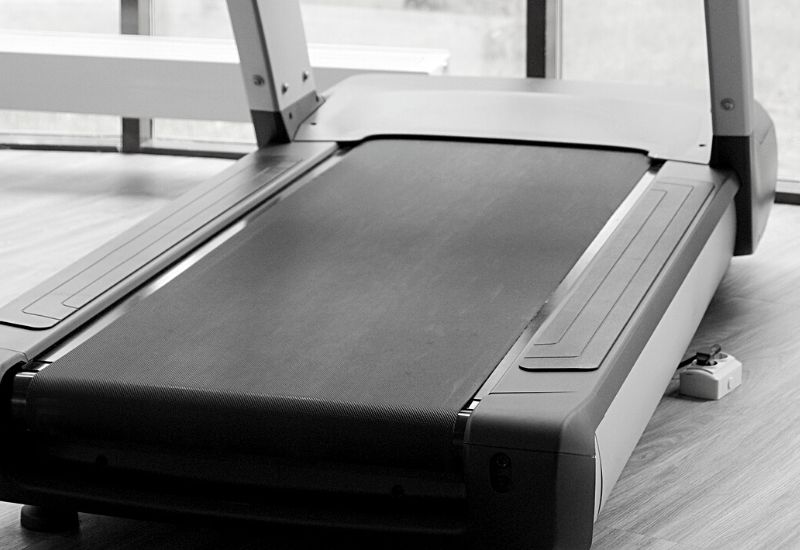 Beyond those two crucial characteristics, we also used our template treadmill rating guide, assessing the following:
Incline
As you progress in your walking/running journey, there will come a time when you are ready for a more challenging workout.
Using the incline on a treadmill is an excellent way to immediately crank up the difficulty (and also the calorie burn).
The best incline treadmills give you lots of flexibility with incline (and can even offer decline to simulate walking/running downhill).
See also: The Best Decline Treadmills for Home Gyms
Screen and Programming
Cardio machines have come a long way since the days of basic LCD screens. Now, there are options for HD touchscreens that are perfect for streaming shows or doing online classes and workouts.
Additionally, most online training programs (iFit, JRNY, STUDIO, etc) have "around the world" programs where you can simulate walking/climbing exotic locales worldwide.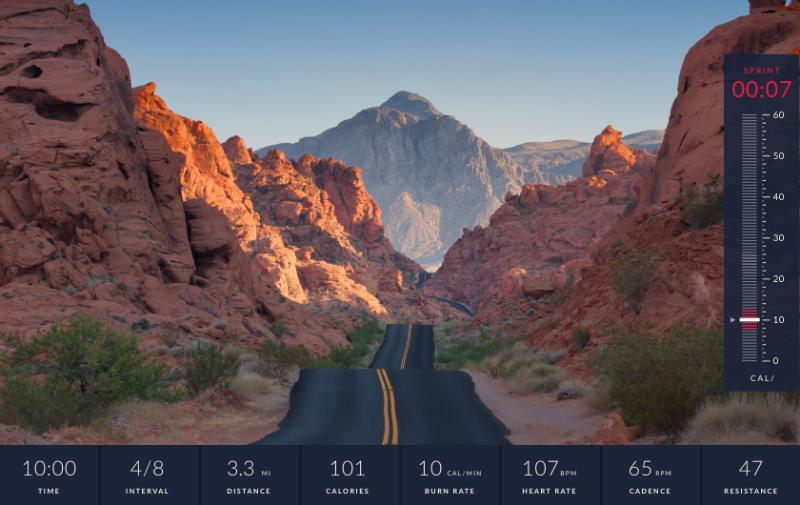 These subscriptions are rarely free, so remember to factor in the cost of immersive programming if that's something that gets your motivational juices going.
Cushioning
Protecting your joints and bones when just starting out with your fitness journey is crucial.
If this concern speaks to you, look for a cushioned treadmill that help soften the blow of your foot strikes on the treadmill. The Landce L8, for example, has an upgraded suspension system perfect for adding a cushion to the foot-pushin'.
Curved treadmills tend to have the best cushioning with slat tread belts that is softer compared to nylon/PVC tread belts and shortened stride, reducing the overall impact.
Warranty
Treadmills are expensive business and complicated machines, which is a reason you should always buy from reputable buyers with a solid warranty.
Warranties vary by model and component (i.e. the motor warranty will only be two years while the frame warranty will be lifetime), so be aware of what's covered before hitting add-to-cart.
Price
Unfortunately for the big and tall crowd, a full-size and heavy-duty treadmill doesn't come cheap. They are in the higher price tier regarding treadmills for home gyms.
There are treadmills with a 300lb weight rating for around $1,200, while heavier-duty treadmills—with a 375lb or 400lb max—start at around $1,900 and quickly go up from there.
---
Treadmill Machines for Heavy People – The List
Below is a list of treadmill machines that we have reviewed and tested over the years, including each machine's respective weight capacity, price, and running deck size.
| | | | |
| --- | --- | --- | --- |
| TREADMILL | CAPACITY | RUNNING DECK | PRICE |
| Landice L8 | 500lb | 22" x 63" | $5,899 |
| Landice L10 Club | 500lb | 22" x 60" | $5,799 |
| Bowflex Treadmill 22 | 400lb | 22" x 60" | $2,699 |
| Sole F85 | 400lb | 22" x 60" | $1,899 |
| Bowflex Treadmill 10 | 400lb | 22" x 60" | $1,999 |
| Sole TT8 | 400lb | 22" x 60" | $2,399 |
| AssaultRunner Elite | 400lb | 17" x 62" | $3,499 |
| Horizon 7.8 AT | 375lb | 22" x 60" | $1,999 |
| Sole F80 | 375lb | 22" x 60" | $1,699 |
| AssaultRunner Pro | 350lb | 17" x 62" | $2,999 |
| Horizon 7.4 AT | 350lb | 22" x 60" | $1,599 |
| Woodway Curve LTG | 350lb | 17" x 62" | $3,995 |
| Sole ST90 | 330lb | 20" x 60" | $3,499 |
| Horizon 7.0 AT | 325lb | 20" x 60" | $999 |
| Horizon T202 | 325lb | 20" x 60" | $799 |
| Sole F63 | 325lb | 20" x 60" | $1,299 |
| Bowflex BXT8J | 300lb | 20" x 60" | $1,299 |
| NordicTrack Commercial 2450 | 300lb | 20" x 60" | $2,999 |
| NordicTrack X32i | 300lb | 22" x 65" | $4,499 |
| NordicTrack X22i | 300lb | 22" x 60" | $3,499 |
| Horizon T101 | 300lb | 20" x 55" | $649 |
| ProForm Pro 9000 | 300lb | 20" x 60" | $2,099 |
| ProForm Pro 2000 | 300lb | 20" x 60" | $1,799 |
| ProForm Carbon T14 | 300lb | 20" x 55" | $1,599 |
The Bottom Line
Ultimately, the treadmill machine you choose comes down to a blend of the features you want, budget, and how you plan on using the treadmill.
To recap our top choices:
The Landice L8 Pro Sports Treadmill is the highest-capacity treadmill with a huge running deck perfect for big and tall people.
The Sole Fitness F85 is the ideal budget-friendly treadmill for those who don't want the fancy-pants immersive programming and just want to hop on and go.
And for those who do want online workouts, the Bowflex Treadmill 22 is the perfect machine for maxing out on immersive programming and streaming your favorite shows while watching the calories evaporate.
Choose the right treadmill that matches your goals and budget, make walking/running part of your daily routine, and feel the rush of better health.