Ready to take your treadmill workouts to the next level? Here's a look at the best incline treadmills for home gyms.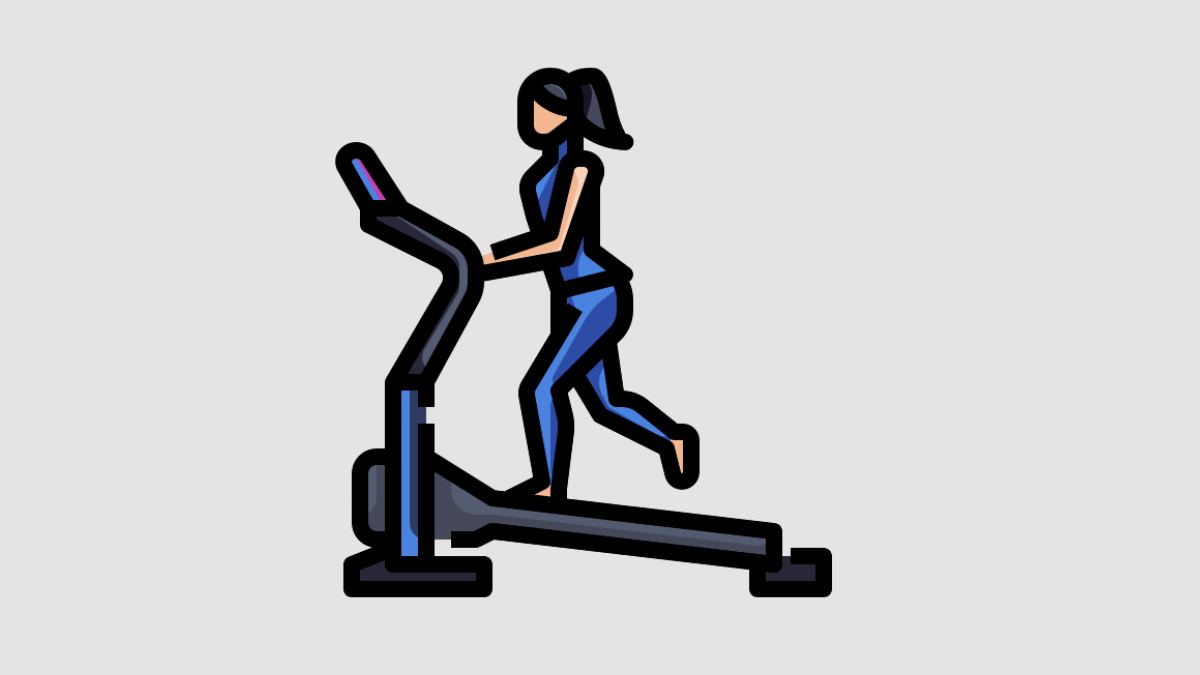 Treadmill machines are one of the best cardio machines for burning calories and getting fit.
The benefits of treadmills are almost endless: they are highly functional, can be used during cold and yucky weather, and can be used with incline for even more calorie burn.
That said, not all treadmills have incline options. And among the ones that do, a select few step apart from the competition.
In this guide, we will focus on those few, the best treadmills with incline, highlighting the pros and cons of each, our experience using them, and more.
By the end, you will have a perfect idea of which treadmill with incline will help you slay your training goals.
Let's jump right in.
---
Best Incline Treadmill for Every Kind of Budget and User
Below is a quick overview of the top treadmills for incline.
Later, we will look more deeply at the pros and cons of each treadmill, examine key features, and more.
---
Bowflex Treadmill 22
⭐ Best overall incline treadmill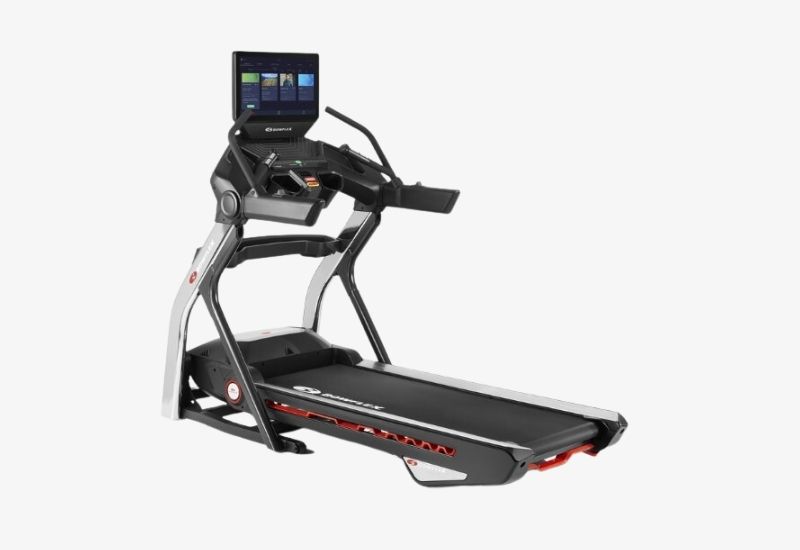 Most incline treadmills come with a 15% degree max incline. But what if that is not enough for you? Got it. How about 20%?
And how about pairing that with a big and fancy 22" touchscreen for immersive training, whether that's running trails around the world or doing online classes? And a weight capacity that is king?
The Bowflex Treadmill 22 (love the simplicity of the name) checks all of those boxes and more.
For starters, the Bowflex Treadmill 22 can be cranked all the way up to a 20% incline and a -5% incline, giving you tons of grade flexibility for simulating running up and down.
The screen is massive at 22", ideal for either streaming your favorite shows (works with Netflex, Hulu, Disney+, etc) or JRNY, Bowflex's library of classes and scenic trails.
Speaking of classes, the Treadmill 22 comes with 12-months of JRNY, Bowflex's in-house immersive training platform.
This is a significant value compared to NordicTrack, which only gives new treadmill owners a month of free access to their online workouts and classes.
The Bowflex Treadmill 22 is also about $300 less expensive compared to the NordicTrack 2450 Commercial, has an extra wide, 22" running deck (most treadmill machines feature a running deck that is 20" wide), and a 400lb weight capacity that leads the category.
My only criticism of the Bowflex Treadmill 22 is that it is a bit bulky and cumbersome. Folding it up is relatively easy, but it still looks… busy.
If you can get past that, and I am sure many of you will, the Bowflex Treadmill 22 is hands-down our top pick for the best incline treadmill for home gyms.
| | |
| --- | --- |
| ✅ PROS | ❌ CONS |
| Huge 22" touchscreen for using JRNY and streaming | Frame is bulky compared to other treadmills in this category |
| Extra wide running deck | |
| Online programming is cheaper than iFit | |
| Has a motorized 20% incline and a -5% decline | |
| 400lb max user weight | |
---
Sole Fitness F63 Treadmill Machine
⭐ Best Sole fitness elliptical with incline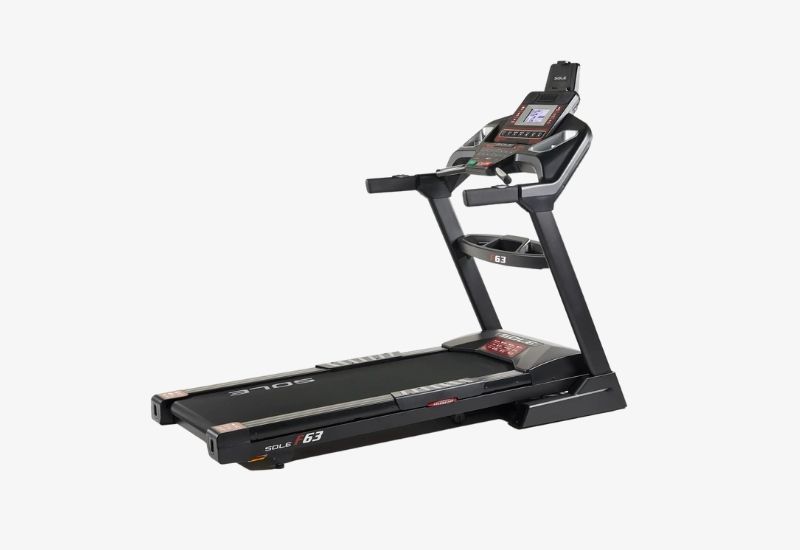 The Sole Fitness F63 Treadmill is the best-selling treadmill machine in Sole's line-up of treadmills. It's got a sturdy 3.0 HP motor, and the 325lb weight capacity is ideal for heavier users (raises hand).
But does it have what you came for? You bet—the Sole Fitness F63 Treadmill has 15 levels of incline to crank up the angle and difficulty of your running or walking workouts. The motor on the F63 is 3.0 HP, which can get up to speeds of 12mph, perfect for those sprint and HIIT treadmill workouts.
And the foldable design means you can tuck it away quickly between sweat-drenched incline walks and runs.
The Sole Fitness F63, like Sole Fitness's line of treadmills, ride like commercial-grade treadmills in every way possible. Never once did I feel like the deck was giving way or flexing, and I am at the higher end of the suggested weight range for this treadmill.
Although the actual running performance on the F63 is awesome, the display and tech could use an update. Treadmill machines—and this is a broader point about all cardio machines, too—are more and more adopting big and shiny HD touchscreens for doing online classes and streaming.
The F63 leaves a bit to be desired in this regard. But if you are looking for a sturdy, high-powered treadmill that nails the performance basics, the F63 is a great choice for your incline workouts.
| | |
| --- | --- |
| ✅ PROS | ❌ CONS |
| Easy to fold up between workouts | Display is a bit dated |
| 325lb weight capacity | |
| 3.0 HP can handle all speeds | |
| Strong deck that doesn't flex when running full speed | |
---
NordicTrack Commercial 2450
⭐ Best treadmill with incline for doing iFit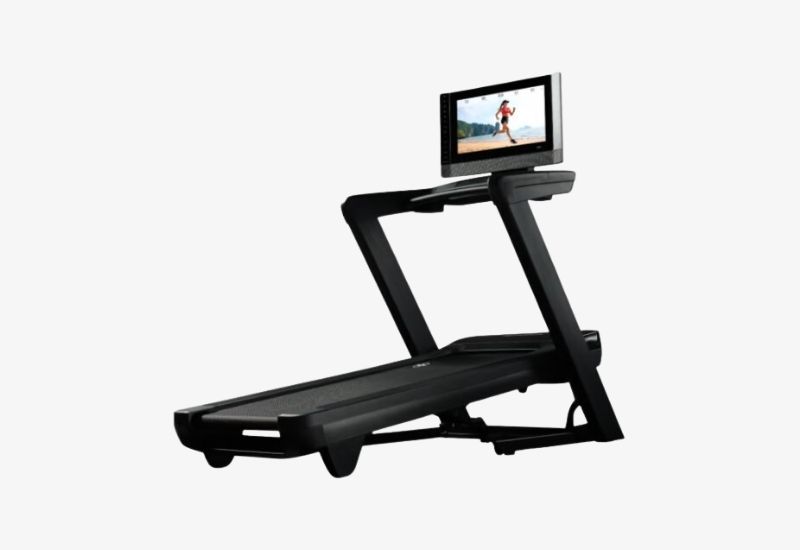 Do you like doing online classes and training? How about simulating running through the alps and down a wooded trail while using your treadmill? Then the NordicTrack Commercial 2450 is going to righ tup your alley.
The Commercial 2450 has a 12-degree incline—and is also one of the few treadmills on the market that offers a slight decline feature, as well—that can be quickly adjusted from the console.
But the main thing I love about the Commercial 2450 is the big, 22" HD touchscreen that is awesome for taking advantage of iFit, an online portal of classes and workouts. iFit also has the "explore the world" feature which I really like, giving you the opportunity to simulate running in various exotic locales around the world.
Beyond that, you get all of the main features you expect from what I consider a premium incline treadmill, including a foldable design, a quiet 3.6 CHP motor, Bluetooth connectivity, and a low step-up height for those mornings when you are little stiff and sore from yesterday's workout.
The NordicTrack Commercial 2450 Treadmill is priced at the higher range of the incline treadmills on this list, at around $2,999, which is a bit pricey, particularly for those who don't plan on taking advantage of the iFit functionality.
Additionally, the weight capacity isn't super high (300lbs), making it a less ideal option for heavier users, and the iFit subscription kicks in after a 30-day trial (at $39 per month).
Ultimately, the person who really gets motivated from doing iFit classes—and loves the dual incline and decline options—will get the most use of this treadmill machine.
| | |
| --- | --- |
| ✅ PROS | ❌ CONS |
| Huge 22" touchscreen that is perfect for classes and running trails | 300lb weight capacity not ideal for heavier users |
| Foldable | Only get a 30-day trial for iFit |
| Screen can be titled | |
| Has both incline (12%) and decline (-3%) options | |
| Bluetooth connectivity | |
---
NordicTrack X32i Treadmill
⭐ Best treadmill with 40% incline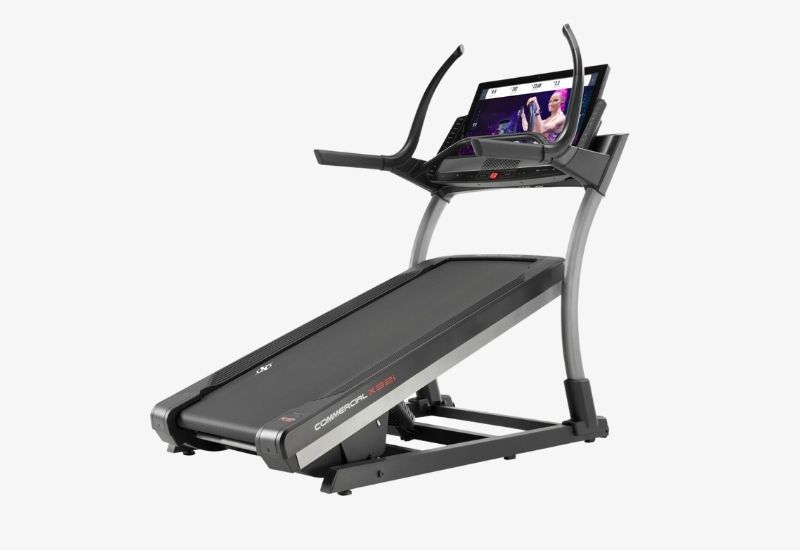 What's that? 15% and 20% is still not remotely challenging enough for you? Fair enough. If maximum difficulty and grade is what you're after, the NordicTrack Commercial X32i and its 40% grade are ready for you.
Yes, you read that correctly… the NordicTrack X32i can be tilted upwards to a 40% angle, which is basically like walking up a wall. (It can also be angled downwards to -6 degrees.)
Beyond the obvious challenge of a 40% incline, the X32i also has a best-in-class 32" touchscreen which is perfectly suited for doing online classes (with the option of trainer-led classes, too) or simply running around trails across the planet.
With the iFit subscription—you get a 30-day trial with the treadmill; $39/month afterwards—there is a huge library of workouts that you can do off of the treadmill.
The actual running experience on the X32i is excellent; it has a 4.25 CHP motor that can crank up the speed smoothly up to 12mph. The wide running deck (22") and nearly silent belt operation were things I also really liked.
Downsides?
You can't tilt the screen when doing non-treadmill workouts like yoga and strength training, which makes it hard to follow along at times. The treadmill is also very heavy, weighing over 460lbs.
And as you can probably guess with the big screen in industry-leading functionality, the X32i ain't cheap, retailing for something like $4,500.
(NordicTrack also makes a less expensive version, the NordicTrack X22i Incline Treadmill, that has a smaller screen that sells for $3,499.)
And like NordicTrack's other treadmills, the max weight capacity is just 300lbs.
| | |
| --- | --- |
| ✅ PROS | ❌ CONS |
| Up to 40% incline! (and a -6% decline) | Heavy machine weight; difficult to move |
| Extra wide tread belt (22") | Max user weight only 300lb |
| 32" HD touchscreen that is awesome for immersive training and classes | Screen cannot be tilted for non-treadmill iFit workouts |
| Trainer-led classes | Ain't cheap; ~$4,500 |
| 4.25 CHP motor | |
---
Horizon Fitness T101
⭐ Best budget-friendly treadmill with incline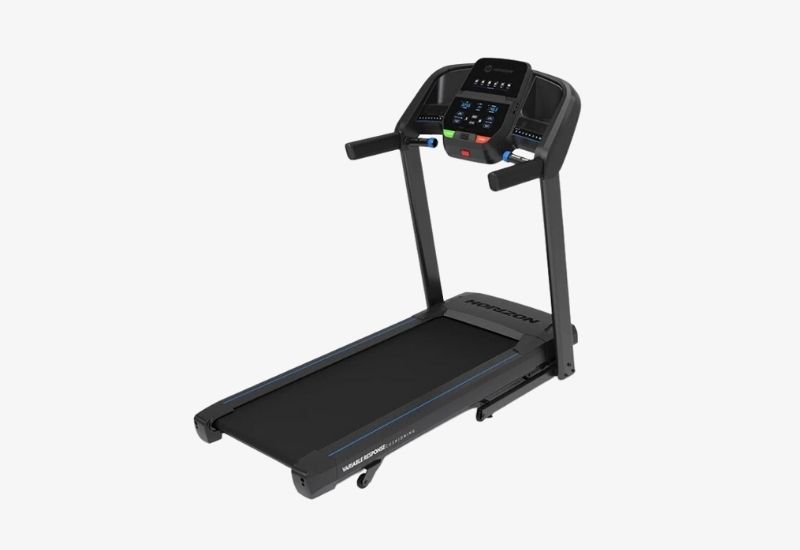 The Horizon Fitness T101 is the most affordable of Horizon Fitness' line of treadmill machines at $649, has a motorized incline that can angle up to 10%, and a thick deck that makes for a comfortable running experience.
The T101 does the basics really well, with a folding design (it has a handle to make folding it up easier), six workout programs (including manual), and a lifetime warranty on both the frame and the motor of the treadmill.
Tech features include Bluetooth connectivity, pairing your training program of choice (i.e. Zwift or STUDIO) from your smartphone to the speakers on the treadmill.
The weight capacity on the Horizon Fitness T101 is pretty solid at 300lbs, matching far more expensive machines.
The running deck is 20" x 55", which won't be ideal for larger and taller users. I am 6'4ish, and found myself really having to focus on staying in the middle of the track to avoid wandering into the side arms or off the back of the tread.
Outside of that, the Horizon Fitness T101 is an excellent budget-friendly incline treadmill for people who want an easy-to-assemble machine that does all of the basics really well.
| | |
| --- | --- |
| ✅ PROS | ❌ CONS |
| Best budget-friendly pick for incline treadmills | Running deck is a bit small |
| Solid weight capacity (300lbs) | Limited incline |
| Incline up to 10-degrees | |
| Ideal for getting on and going | |
---
Sunny Health Manual Walking Treadmill
⭐ Best manual incline treadmill for walking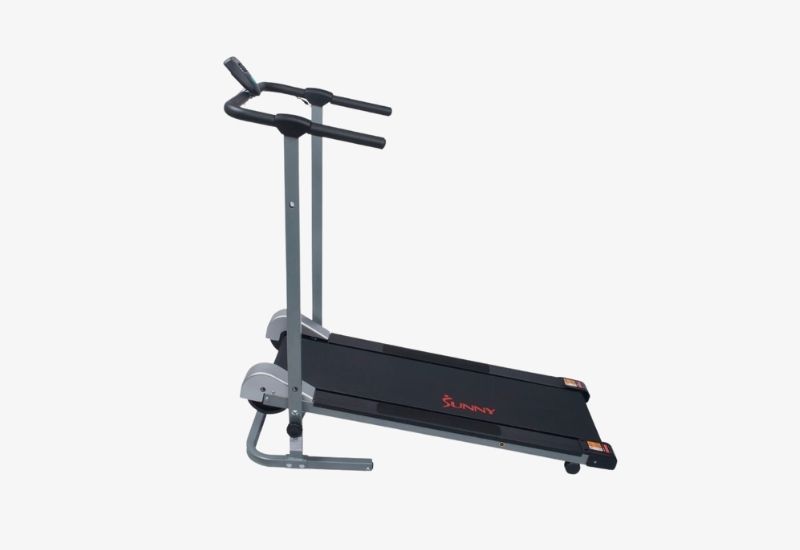 For people who strictly want to walk on an incline, and who don't want to spend a ton of money to do so indoors, the Sunny Health Manual Walking Treadmill is your best option.
Sunny Health makes ridiculously inexpensive workout gear, from elliptical machines to power racks, and the $179 on this treadmill is eye-poppingly budget-friendly.
The treadmill is incredibly compact, can be folded and rolled away when not in use, and has a fixed 13.5% incline that will help you burn more calories than ever. And because it is a manual treadmill, you actually burn more calories compared to a motorized treadmill as your legs are the motor to move the belt.
(See also: Manual vs. Motorized Treadmills: Which is Best for Your Goals?)
Being such a no-frills treadmill comes with some obvious downsides, including the fixed incline (you can't raise it or lower beyond 13.5%) and the somewhat limited max user weight capacity of 220lbs.
All that said, the Sunny Health Manual Walking Treadmill is the perfect cardio machine for the person who likes walking uphill and wants a budget-friendly treadmill that can be tucked away easily between workouts.
| | |
| --- | --- |
| ✅ PROS | ❌ CONS |
| Manual treadmill; burns more calories | Incline is fixed (13.5%) |
| Doesn't need to be plugged in; can be used anywhere in the home | Not suitable for larger users |
| Easy to fold up | |
| Extremely budget-friendly | |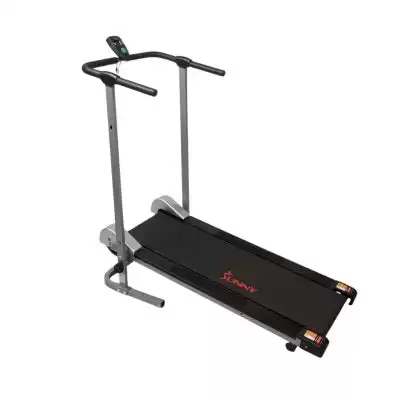 ---
Incline Treadmills — FAQs
What should I look for when choosing an incline treadmill for my home gym?
When choosing the perfect incline treadmill for you, there are some key things to be on the lookout for.
They include:
Incline (and decline) levels
Obviously, the most important thing when shopping for an incline-specific treadmill is the incline itself. Treadmills with incline typically go up to 15 degrees as a maximum.
There are also a handful of treadmills on the market—such as the NordicTrack 2450 Commercial Treadmill—that have both incline and decline features, which allow you to get a more realistic sense of running hills and trails.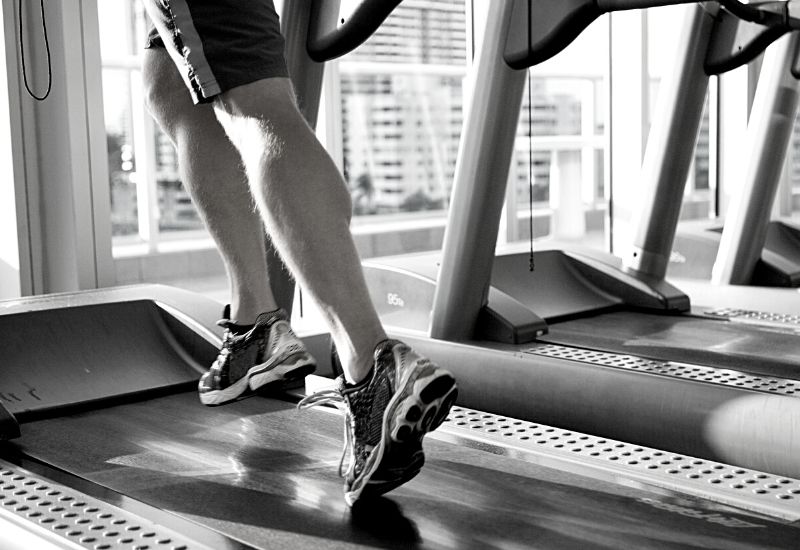 Motorized or manual incline
Treadmills that have incline use either a motor to generate incline or its set manually.
For long, extended incline walking workouts, a manual treadmill—like the Sunny Health Manual Walking Treadmill—can be a great choice for the "set it and forget it" walking crowd.
For people who like doing interval workouts, or want to simulate running hills, a motorized incline allows you to set a hill program or change the incline mid-run.
Running deck
Larger users—like myself—appreciate a little more space on the running deck. Smaller treadmills use a 20" wide running deck that are in the neighborhood of 50" in length. This can be a little too short for taller users, as well.
Footprint and Compactness
Treadmill machines, like most cardio machines, take up a lot of room. For home gyms, this is a primary concern as not all of us have unlimited space for exercise equipment.
All of the treadmills on this list are foldable, making them ideal for home gyms. The footprint when in use also varies, with some units extending out as far as 82" in length.
Screen
Gone are the days when cardio machines had a basic dot-matrix screens that spit out basic workout data like time elapsed and a rough approximation of calories burned.
Now, treadmills come with big, HD touchscreens that beam a library of workout classes and trainer-led workouts. Conversely, the screen can be used to stream your favorite digital streaming service like Netflix or Hulu.
The screen size correlates strongly with price, so if you love online classes and get better workouts from streaming, know that the price tag will be significantly higher compared to the no-frills LCD screens on more simple treadmill machines.
Which treadmills have the highest incline?
The NordicTrack X32i Treadmill and the NordicTrack X22i have the highest inclines for treadmills available for home gyms at a 40% maximum grade.
They also have the highest declines, making them our top choice for best decline treadmill, too.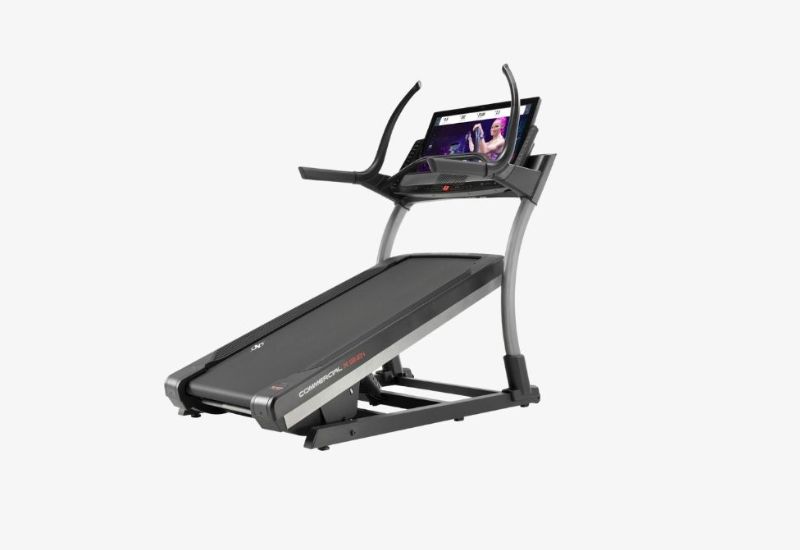 The Bowflex Treadmill 22, our top overall pick, comes in next with a 20% grade. Treadmills with the option of incline tend to max out in the 10-15% range.
What are the benefits of incline running and walking?
There are more than a few treadmill incline walking and running benefits, but the biggie is that running and walking uphill significantly increases metabolic cost and calorie burning.
Using a grade of 7% can increase the metabolic cost by over 50%1 compared to running on flat ground. Other studies2 have shown incline walking to burn 60% more calories compared to flat walking.
So, when it comes to efficiency and calorie-burning, using the incline is where it's at. You can deliver a harder and faster workout by simply cranking up the incline.
Walking or running on an incline also helps prepare you for hikes and outdoor running. Adding a 1% incline to the treadmill simulates the air resistance we experience when walking outdoors3.
What are the downsides to using an incline treadmill?
Running and walking uphill at a steep angle forces you to shorten your stride (this study found a 4% step length decrease), which can change up your running and walking technique if done for extended periods of time.
Using the incline is also harder on the knees compared to flat running and walking.
While a treadmill machine is typically good for bad knees, cranking up the incline bends the knee further with each stride, placing more pressure on the quads, which are stabilizer muscles for the knee.
The Bottom Line
Ultimately, if you are ready to elevate (ha! See what I did there?) your treadmill workouts at home, investing in an incline treadmill is a no-brainer.
After years of experience running and testing treadmills, we have compiled our favorites for home gyms.
To recap our top choices:
The Bowflex Treadmill 22 is a unique combination of huge 22" touchscreen, incline of up to 20% (plus a -5% decline), sturdy 400lb weight capacity, and better-priced immersive training options compared to the competition.
The NordicTrack X32i is the best HIGH incline treadmill with a staggering 40% incline. Additional pluses include the big 32" screen and a powerhouse 4.25 HP motor for a smooth stride.
Beginners will love the simplified functionality of the Horizon Fitness T101, budget-friendly pricing, and of course, the motorized incline of up to 10-degrees.
Choose the right incline treadmill that matches your goals and budget, crank up the incline, and watch those calories melt away!
---
More Treadmill Guides and Articles
5 Best Treadmill Workouts for Weight Loss (Plus Tips for Turbocharged Weight Loss). Looking for some killer treadmill workouts for weight loss? Here are five weight loss workouts you can do on the treadmill, plus some tips for getting the most of your time on the treadmill.
6 Best Treadmill Alternatives (Pros and Cons of Each). There are other cardio machines out there that can help you lose weight and get fit. Here are our favorite treadmill alternatives for exercising.