Using spotter arms when using a squat rack means you can lift more, lift safely, and protect your lifting equipment. Here's a deeper look at spotter arms, including benefits and best practices for how to use them.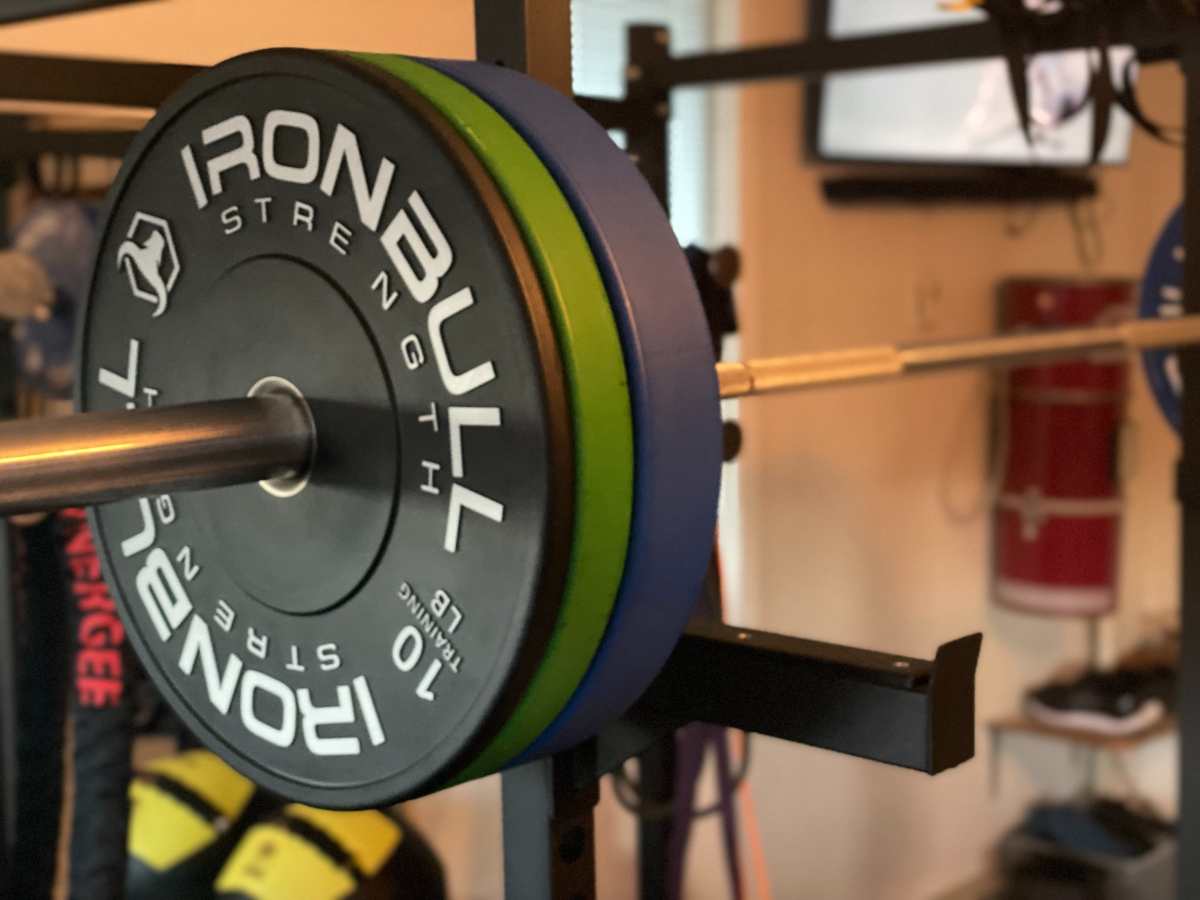 Having a spotter at the gym can be absolutely game-changing!
With a spotter, you've got someone to help you knock out those last few reps when you just can't, when your energy is drained and you're hitting the wall. You've also got help to re-rack a very heavy weight without putting your joints at risk.
But what if there's no one around to spot you? What do you do if you're working out at home alone, if the gym is empty, or if everyone's already lifting?
Well, that's where the spotter arms on your squat rack come in handy!
Below, we'll take a closer look at what spotter arms are and how to use them, as well as the benefits they provide.
We'll even examine a few of the alternatives you can use if your rack has no spotter arms, including some DIY solutions that will help you lift smarter and safer.
Let's jump right in.
What Are Spotter Arms?
To start off, let's take a look at what spotter arms are and what they do.
Squatter arms are, to put it simply, a squat or power rack attachment that serves as a "spotter" so you can drop the weight if you're struggling.
Typically, the spotter arms are attached to the squat or power rack at roughly thigh or knee height—i.e., the height you're at when at the lowest point in your squat. They're used for power and squat racks as a safe way to bail on a squat that you just can't complete.
With the spotter arms securely in place, you can drop the weight while still in the squat position without putting yourself at risk.
The arms will catch the loaded barbell and keep it from dropping onto your heels or the backs of your legs.
Why You Should Use Spotter Arms
What makes spotter arms one of the most useful parts of a squat rack?
Injury prevention and safety
First off, with spotter arms, you can lift pretty much any lift safely.
It doesn't matter if you're doing squats, lunges, or even trying to deadlift in a squat rack, the spotter arms will provide you with a safe place to drop your weight without putting your feet and legs at risk.
You see, if you're squatting a heavy weight and unable to stand back up, you've got to bail out by dropping the weight off your back (when doing any squat besides front squats). If you drop the weight straight off your back, there's the risk it'll fall directly onto your legs or heels.
See also: 6 Best Barbells Squat Pads
A loaded barbell dropped from even squat height can do SERIOUS damage to your bones!
But that's not the only risk to you. If you drop the barbell and the weights bounce (which is normal thanks to the rubberized coating used on many barbell plates), they could bounce into your legs and cause injuries that way.
Reduce damage and wear and tear of your gym equipment
Spotter arms stop the weight from hitting the floor altogether.
They "catch" the bar as you're dropping it, and the fact that it doesn't have as far to fall means it'll do less damage to A) your floor, B) your squat rack, and C) the weight discs themselves.
It's just the smarter way to train!
For exercises like bench presses, spotter arms give you a safe way to rack the weight if you just can't complete that last set.
All you have to do is set the arms to the right height (see below), and you'll be able to safely complete every rep while still having the arms to back you up in case you just can't finish that last press.
Makes some exercises easier to do properly
Spotter arms also make it easier to do certain exercises, such as rack pulls (a variation on deadlifts). They're larger than J-cups or the standard rack pins, so you've got more room to set the weight down if you're struggling.
All in all, spotter arms are an excellent addition to whatever types of squat racks or power racks you're using, whether at the home or in the gym.
How to Use Spotter Arms Correctly
Time to talk turkey! Let's take a closer look at how you can use the spotter arms correctly so you're safer with every lift.
By now, you know how to use a squat rack, so we won't get into the nitty-gritty details of how to set up the arms or lock them in place (most racks come with their own instructions, and each rack will feature a different type of connection/attachment).
Instead, we'll talk about how to place the spotter arms correctly according to the exercise you're doing.
Spotter arms are chiefly used for three different lifts:
Squats
With squats, you want to set the spotter arms to roughly knee or thigh height. You can test out the ideal height by getting into your usual squat, but using only your bodyweight (no barbell).
Pay attention to how low you go. Ideally, you want to set the spotter arms roughly 6-12 inches below your lowest point in the squat.
That way, if you have to bail out, the barbell is only dropping a short distance.
Note: If you are doing heavy squats on a rack that is NOT bolted down, do not rely on spotter arms that are set up on the outside of the rack. This is a great way to cause your rack to topple over. For unsecured racks, use safety pins or even attach the spotter arms inside the squat rack.
Rack Pulls
For rack pulls, you want to set the weight at roughly knee height, though some people prefer the arms to be set just above or just below the knees.
With rack pulls, your focus is largely on the upper part of the pull, which means the higher the weight is, the less distance you have to pull, and the more the weight is loaded on your lower and upper back.
See also: Rack Pulls vs. Deadlifts: Benefits, Differences, and How to Program Both for Max Progress
Test a couple of different settings to see which feels better for your rack pulls. Start at knee height and raise/lower as desired until you find the sweet spot.
Bench Presses
Bench pressing with a squat cage as your spotter can enable you to knock out some seriously heavy lifts without putting yourself at risk even if you don't have someone standing by to lend a hand when you're struggling. However, setting the spotter arms will be a bit trickier for this exercise.
When performing a bench press, you ideally want to bring the weight as close to your chest as possible. Some people actually touch the barbell to their chest to ensure they're going as low into the press as they can.
If you set the spotter arms above your chest level, you won't be able to lower all the way down. But you can't place the spotter arms below your chest level, you'll end up crushing your chest when you have to set the bar down on the arms.
Ultimately, the only way to use spotter arms for bench pressing is to set them as close to your chest level as possible, but slightly above.
That way, you can still lower as far into the press as possible while still having the safety of the arms to catch the weight when you hit failure.
You'll just have to pay more attention while you're bench pressing to ensure you don't lower so far the barbell hits the spotter arms.
What are Some Alternatives to Spotter Arms?
Unfortunately, a lot of people opt not to buy spotter arms for their home gym setup because they're a pricey addition to any power or squat rack.
Spotter arms can cost up to $300, though you can find some as cheap as $50 or so.
See also: How Much is a Squat Rack? (Cost of Every Kind of Rack)
If you don't have a pair of spotter arms and aren't sure you want to go that route (due to the high price), there are two alternatives you can consider:
1. Spotter Straps
Spotter straps, also called safety straps, are basically straps that you secure to your squat rack or power rack to act as a spotter in case you have to bail out. The straps basically wrap around your barbell so that when you drop the weight, it dangles from the straps instead of falling all the way to the ground.
See also: Squat Rack Spotter Pins vs. Safety Straps: Pros, Cons, and Which One is Best
Fair warning: safety straps aren't as sturdy as spotter arms. Rather than being made of metal like spotter arms, they're usually a tough nylon (like ballistic nylon) that can handle a lot of weight and stand up to regular hardcore use.
However, like all fabric, the material will eventually wear, fray, sag, and be damaged over time. You'll have to replace them eventually, or upgrade to spotter arms.
2. DIY Safety Bar
If you've got some skills at woodworking, metalworking, or welding, you can always build your own spotter arms.
You can buy used attachments (such as J-hooks or safety pins) and weld your own spotter arms onto them, or build them out of wood.
It's possible they won't be as sturdy or reliable as the spotter arms manufactured by the company that built your power rack or safety rack, but it's a good option to consider if you're looking for a cheaper, at-home solution.
The Bottom Line
Spotter arms are an absolutely game-changing addition to your power or squat rack that will allow you to perform a lot more heavy lifts safely, even if you don't have a spotter.
Trying to push your 1-Rep Max can be dangerous if you're lifting alone, because you have no one to help you if you hit failure or overloaded the barbell.
Thanks to the spotter arms, you can lift for all you're worth but trust that if you ever need to bail, you've got a sturdy structure built specifically for that purpose, one designed to protect both you and your weight.
Be smart and safe, and always use those spotter arms!
---
More Squat Rack Guides and Articles
9 Things to Know Before Buying a Squat Rack. Buying a squat rack is one of the best things you can do for your training goals. Here are the key things to know when looking for a new squat rack for your home or garage gym.
Power Racks vs Squat Racks: Pros, Cons, and Differences. Wondering what the differences are between a squat rack and a power rack? Read on for a detailed look at the pros and cons of each.