Is it better to train with a Smith Machine or free weights? Here's a look at the pros and cons of both, and how to figure out which (or both!) is best for your training goals.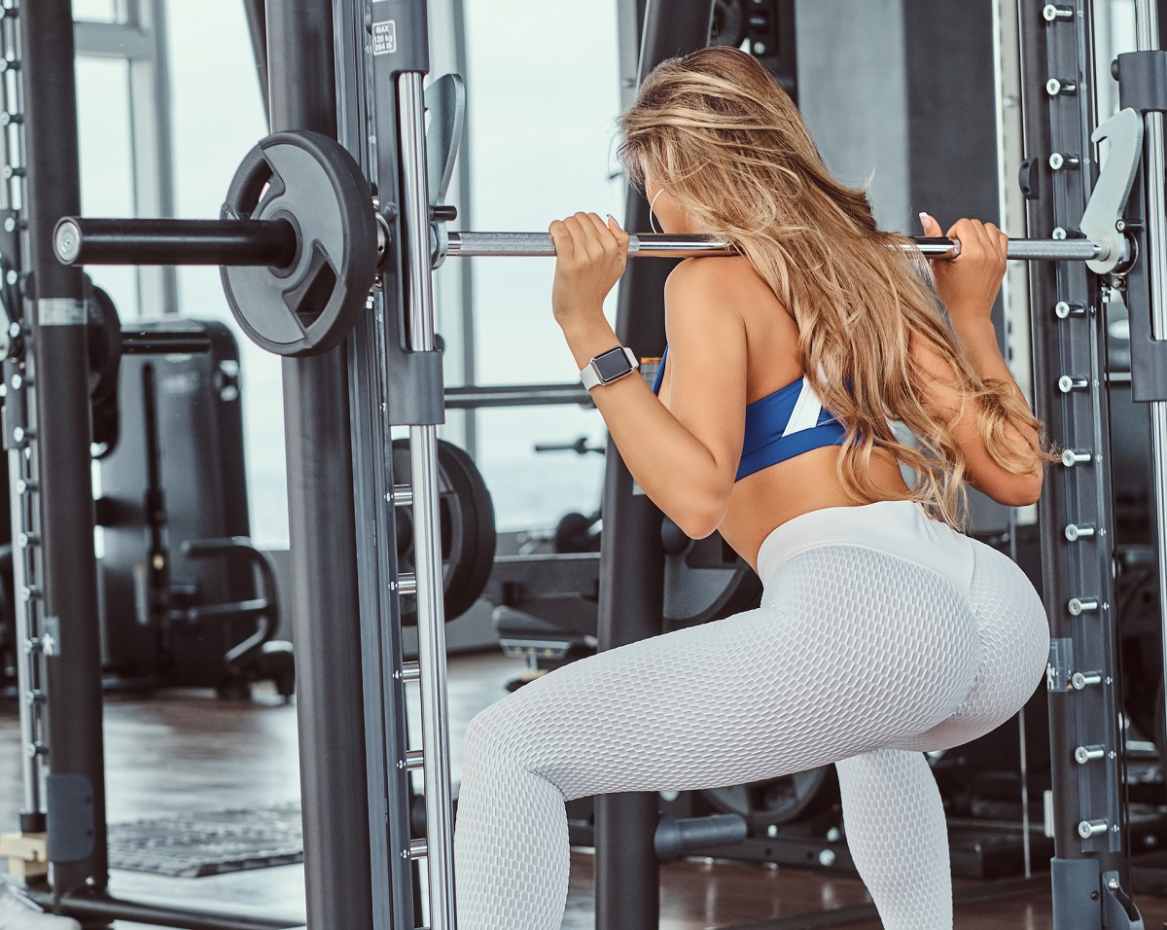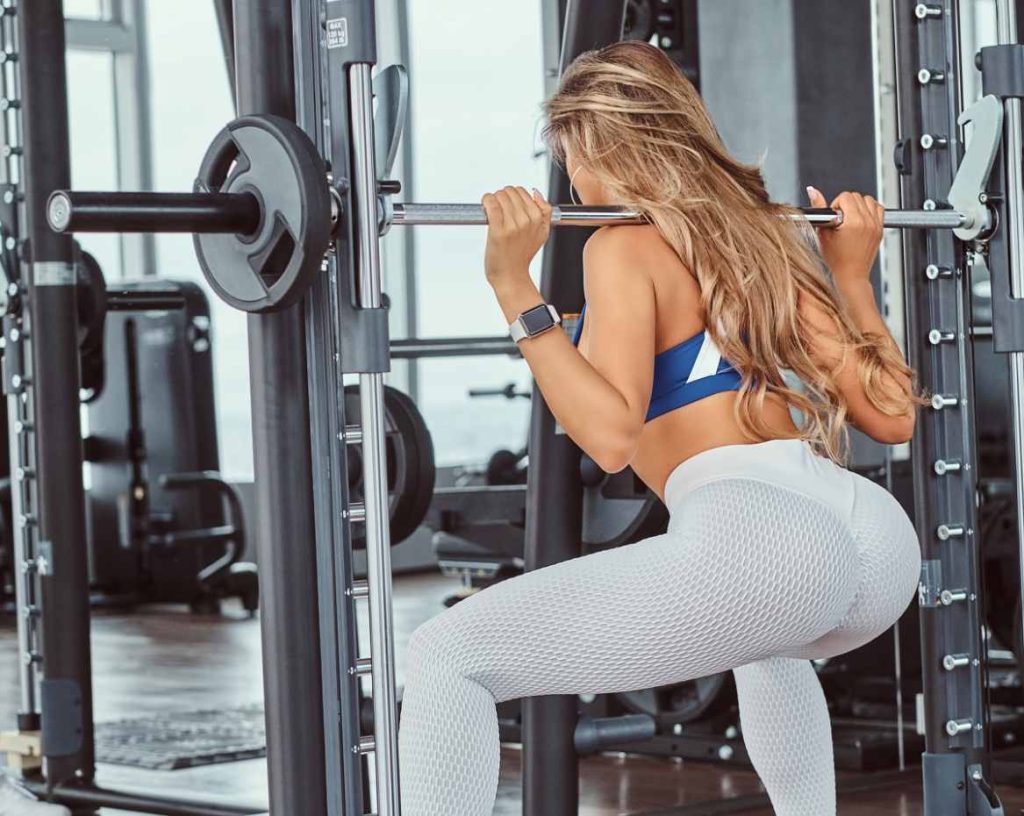 Ahh, the age-old debate of free weights vs. Smith machine!
Since the Smith machine was first popularized in the 1950s and 60s, it has become one of the most polarizing pieces of gym equipment.
On one side, you have free weight enthusiasts who disdain the machine because of its limitations. On the other, you've got Smith machine proponents who argue that it can be even more effective for training than free weights.
But which is it?
Is it worth trading your barbell, dumbbells, and kettlebells for a Smith machine, or should you steer clear of the Smith machine in favor of free weights?
That's what we're going to find out below.
I'll walk you through both options, look at the pros and cons, and give you a clear answer to help you determine which is the best for your workouts.
Fair warning: the answer might surprise you!
The Smith Machine – Overview
To start, let's take a look at the challenger to the throne: the Smith machine.
The design is fairly simple: an Olympic barbell is affixed to a sliding rail that allows it to move vertically (and only vertically), and features a safety hook and multiple cradles along its vertical length so you can rack the weight at any time during the full range of motion.
See also: What is a Smith Machine? (And Should You Use One?)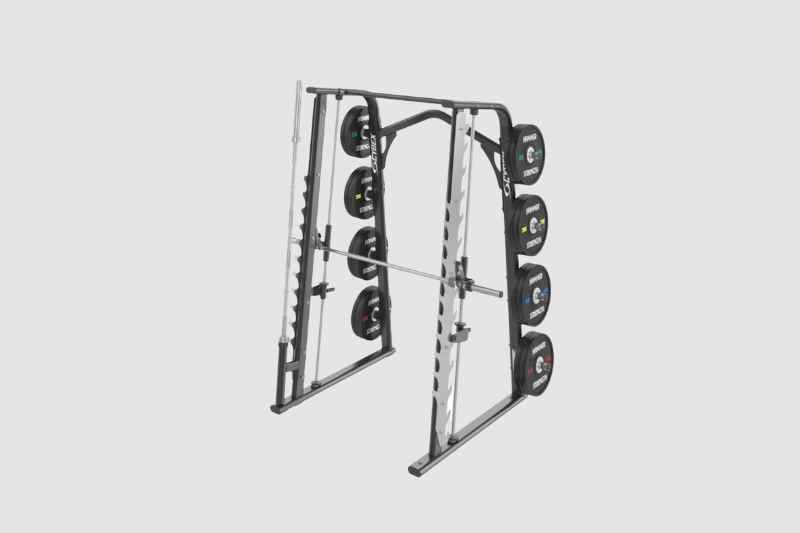 Smith Machine Benefits
There are some excellent reasons that this form of resistance training can help you out in the pursuit of your goals in the gym.
? Greater safety.
With the bar weight on Smith Machine affixed to the sliding rail, there is zero chance that you will tip, tilt, or topple over when lifting. For newbies, this is a HUGE benefit!
People struggling to master the basic form of an exercise like bench presses or squats will love the added support of the Smith machine because it keeps them stable and balanced while enabling them to lift a lot of weight.
? No spotter needed.
With a Smith machine, you can rack the weight at any point in the full range of motion, so if you're struggling to lift the weight for those last few reps and just can't, you can bail from the set far more safely than with free weights.
See also: Can You Deadlift on a Smith Machine? (Yes, Here's How to Properly)
This makes it less likely you'll injure yourself by trying to strain for that "one last rep" when you're already hitting fatigue (because that's when your joints shift to try and bring un-exhausted muscles to bear, and you put your connective tissue at risk).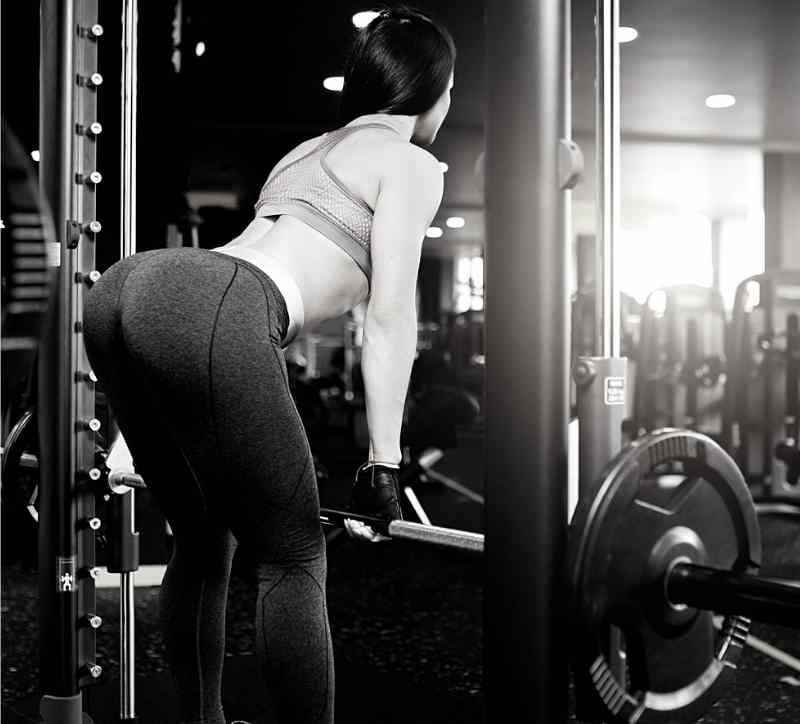 ? More emphasis on the prime movers.
One of my personal favorite Smith machine benefits is the fact that it provides greater emphasis on the prime movers, the muscles doing the majority of the heavy lifting.
Because the secondary muscles are eliminated from the equation (the Smith machine keeps you stable on its own), all of the energy available to burn goes straight to your prime movers.
As a result, you can often lift noticeably heavier with the Smith machine.
? Easier to concentrate on form.
With the Smith machine, you don't have to worry about falling or tipping, but you can pay attention to the way your body moves through the full range of motion.
It's a much better solution for really focusing on improving your form and posture.
Whether you are doing squats on a Smith machine, doing Smith machine row, or any other multitude of exercises, it's generally easier to dial in your technique and concentrate on lifting with proper form.
Smith Machine Cons
Alrighty, although we have looked at the benefits of lifting with the assistance of a Smith machine, there are some downsides specific to this machine.
They include:
Limited mobility.
With the affixed rail, you're limited to a single range of motion (up/down), with almost no flexibility or mobility to accommodate joint problems.
If you're not comfortable working in that very specific range of motion, you may be unable to complete the exercises with proper form.
Or, at the very least, you'll have to adapt your form to accommodate the limited movement of the sliding rail.
No secondary strength built.
While the Smith machine is great for isolating your prime movers, the fact that it doesn't build strength in your secondary stabilizer muscles means it's not as good for your overall fitness.
Those secondary stabilizer muscles need to grow stronger in order for you to be more agile, balanced, dextrous, coordinated, and stable in every exercise you do.
This is why isolation exercises, while great for concentrated muscle-building, aren't as highly recommended for overall functional fitness.
Form may feel "off".
This comes back to the limited range of motion. If you've already mastered the specific form using free weights, the Smith machine will feel odd or strange because you are forced to lift at a perfectly vertical angle.
There is no accommodating for your joints or the movement that feels most natural.
As you can see, a good few pros, but also some cons to be aware of!
Free Weights – Overview
Free weights are exactly what they sound like: weights that are "free", meaning not affixed to anything.
Your muscles—both the prime movers and the secondary stabilizers—are the only thing keeping them from falling, tipping, toppling, or sliding.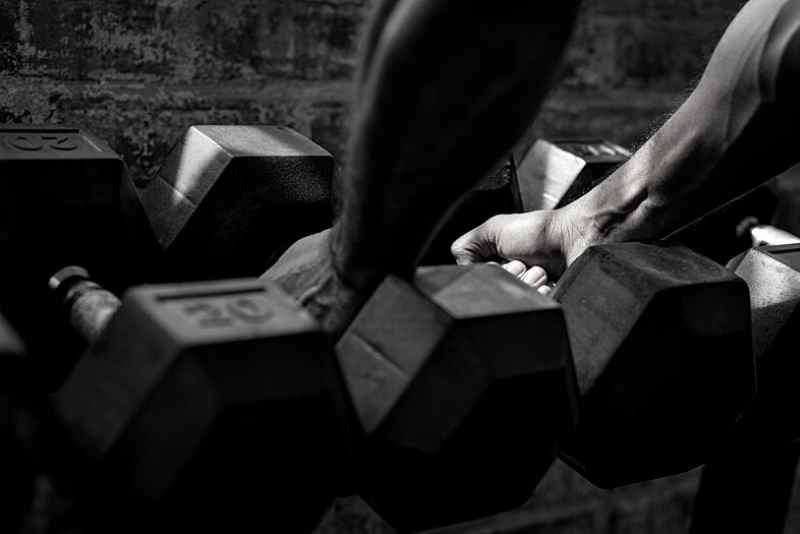 Dumbbells, barbells, kettlebells, medicine balls, and more—there are a wide range of free weights to choose from, but they all serve a similar purpose of forcing your muscles to engage to move them through the specific range of motion utilized by whatever exercise you're doing.
Benefits of Lifting with Free Weights
? Mobility galore.
With free weights, you can move through literally any range of motion. Lift overhead, extend straight out in front of you, swing all around, even throw the ball into the air.
You've got an insane amount of options to choose from, and you can work within the range of motion that feels most comfortable and correct according to your joints and muscles.
? Variety 9000.
Free weights let you work through hundreds of exercises—from curls to kickbacks to lunges to presses to skull crushers.
There is virtually no end of options to choose from.
The weights aren't affixed to anything, so you can move them any way you want, and your muscles will have to do the work of fighting gravity the entire time, leading to better strength development overall.
? Excellent overall strength development.
I like to highlight the overall part, because it's not just the prime movers doing all the work, but also the secondary stabilizer muscles.
Your balance and coordination will improve, you'll become more agile, and you'll be more resistant to injury overall because every exercise requires additional muscles to be utilized to keep the free weight stable.
One 2009 study, for example, found that doing squats with free weights led to 43% better engagement of stabilizer muscles (biceps femoris, vastus medialis, and gastrocnemius) than the Smith machine, and led to better strength-building in the knees, hips, and feet.
The engagement in the prime movers remained the same, but it was the other parts of the body that saw improvement because of the instability of free weights.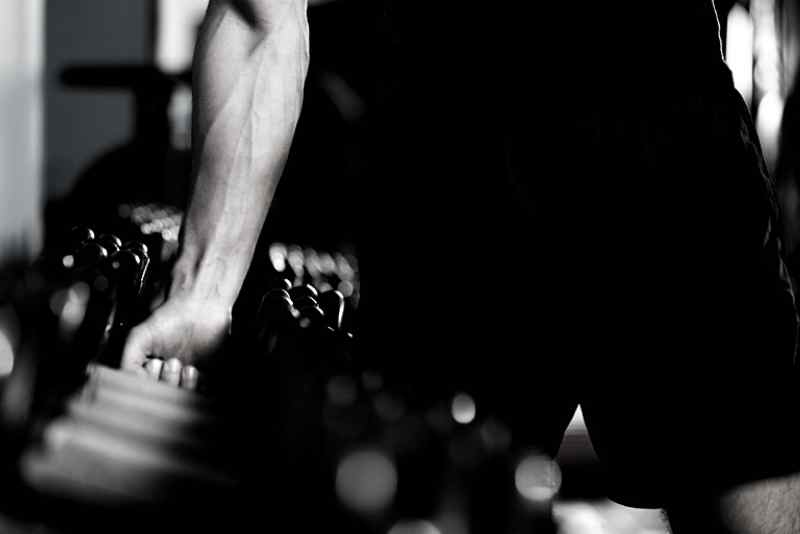 ? Adapt the form to your comfort.
The beauty of free weights is that your movements are free, so you can adapt your form according to your comfort level.
This refers to not just the depth of the movement (how low you squat, how close to your chest you lower the weight on your bench press, etc.), but also the way your muscles move the weight through the full range of motion.
You have total control over the range of motion, so you can find the form and posture that suits your specific mobility and joint function best.
Cons of Lifting with Free Weights
While there are plenty of upsides to training with free weights, there are also some downsides that especially new trainees should be aware of:
Not as safe for solo training.
With free weights, if you don't have a spotter or buddy to help you hit those last few reps that you're struggling with, you could be in real danger.
A lot of newbies get "stuck" squatting or bench pressing because they hit fatigue but can't rack the weight until it's back at the starting position, at the end of the rep.
Solo trainees end up lifting less weight than they typically can and have a harder time safely adding weight for this very reason.
Lower 1-Rep Max.
Because the secondary muscles are engaged to support and stabilize your body while lifting, there is less energy available for the prime movers to burn.
This leads to less force generated overall.
In fact, one 2005 study found that the 1-Rep Max for free weights was lower than Smith machines for this very reason.
More joint risk.
The lack of support for the heavy weight you're lifting means that your muscles have to do all the work of keeping the weight stable. If the load is too heavy, you're hitting fatigue, or you're new to the exercise, you may find that you struggle to maintain proper form.
You might end up accidentally or unknowingly compromising your form enough that you can put your joints at risk.
For example, with free weight back squats, all the weight is loaded behind your head, so your back naturally curves forward to compensate.
If you don't correct the form, your lower back may be at serious injury risk because it is bearing more weight than it should.
Smith Machine vs Free Weights: The Main Differences
As you've seen, there are a lot of things to consider on both sides of the argument.
Free weights and the Smith machine both have some merits as well as drawbacks. It's up to you to consider carefully all your options to see which differences matter most to you.
The main differences between the two are:
⭐ Range of motion – Free weights can move in any direction, but the Smith machine has to follow the fixed vertical path. This allows for greater flexibility with free weights, but greater stability with the smith machine.
⭐ Muscle engagement – Thanks to the added stability of the Smith machine, the prime movers end up doing all the work, leading to a higher 1-Rep Max. However, free weights develop overall strength more effectively because they engage the secondary stabilizer muscles.
⭐ Safety – Smith machine exercises are safer in terms of how you handle the load. Thanks to its design, you can easily rack the weights at any point in the range of motion if you're struggling.
The Bottom Line: Use Both!
At the end of this article, I've got to pass a verdict on which is better in the contest between free weights vs. the Smith machine.
But I'm not going to do that.
Instead, I'm going to say that BOTH offer something of value, so why not include BOTH in your workouts?
It's likely you already do isolation exercises (such as leg extensions or preacher curls), so you're familiar with working these exercises into your routine around other free weight exercises that engage your secondary muscles along with your prime movers.
So you can go that route with the Smith machine, too.
Use the Smith machine to load up extra weight and really hammer away at the prime movers, building greater strength by isolating the muscles you want to focus on. After your first few sets, switch to free weights to build strength in the secondary muscles that stabilize your prime movers.
Do this, and you'll see vast improvements in your strength and fitness—more so than you could achieve with either Smith machine or free weights alone!
---
More Smith Machine Articles and Guides
7 Best Smith Machines for Home Gym (with Buyer's Guide). Skip the lineups at the gym (and the commute!) with a detailed look at the best Smith Machines for home gyms, including key features, a buyer's guide, and more.
6 Best Smith Machine Leg Exercises (and Sample Workout). The Smith Machine is a versatile tool for developing stronger and more muscular legs. Here are the best lower body exercises you can do on a Smith Machine plus a sample routine for your next leg day workout.