Curious about exactly how much you are lifting each time you step into a Smith Machine? Here's a breakdown of how much a Smith Machine bar weighs.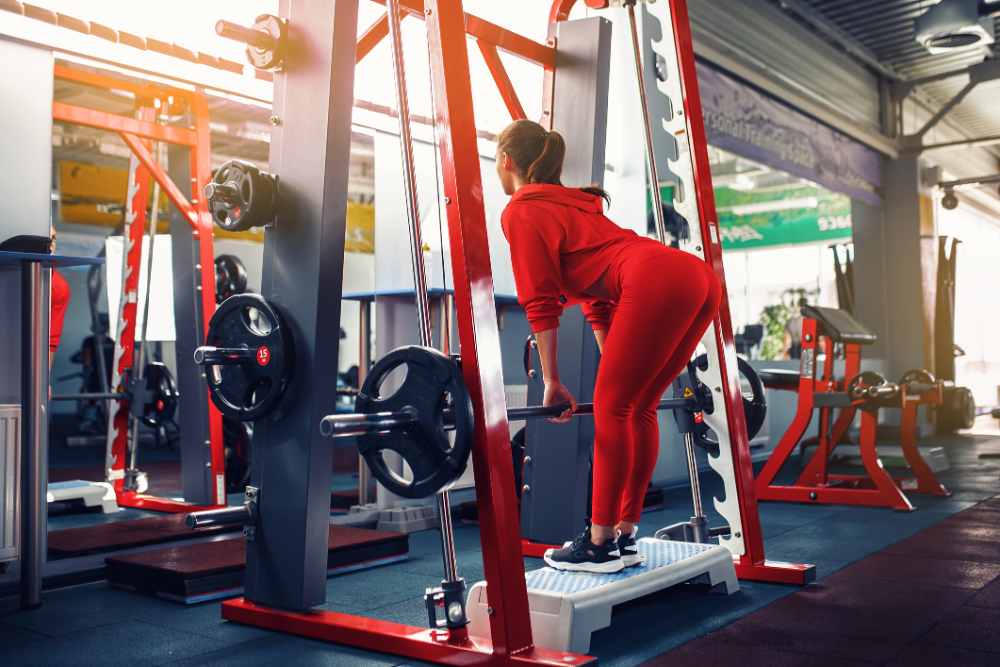 When you step into a Smith Machine to strength train, you want to focus on form and technique and pushing yourself to the limit.
Not doing space math to figure out how much you may or may not be lifting.
Which is why it's so key to have a clear understanding of how heavy the barbell in the Smith Machine is.
How Much a Smith Bar Weighs: Counter-balanced bars weigh between 6-20lbs, while other Smith Machine bars weigh between 20-45lbs.
Unlike an Olympic barbell, which weighs a standard 44lbs (20kg), there is no regulated or official weight for the bars used inside a Smith Machine.
Further, the bar weight is influenced by what type of Smith machine you are using.
In this article, we will look at the various weights of Smith Machine bars, and how you can tell how much yours weigh.
Let's jump right in.
Smith Machine – The Basics
The Smith Machine is a type of rack that uses a sled system to move a bar in a fixed vertical or slightly (5-7 degree) angled direction.
The bar is attached to a carriage system that slides up and down. The bar can be rotated by the lifter to rack the weight, giving lifters a sense of confidence and increased safety when lifting.
See also: How Much Does a Barbell Weigh?
While there is always a healthy debate about the differences between a squat rack versus a Smith machine, both have their uses and benefits.
Smith Machines allow for a more controlled lifting experience. This can come in handy for athletes coming back from injury, novice lifters who are progressing towards lifting with free weights, or as an alternative for the free racks at the gym when it's really busy.
The Different Types of Smith Machines
One of the frustrating parts about this kind of barbell is that there is almost never any kind of indication on the bar or on the machine about how much it weighs.
But you can get a pretty good idea by simply figuring out what kind of Smith machine you are working with.
Counter Balanced Smith Machines
Most Big Box gyms use counterbalanced Smith Machines, which makes the bar feel extremely light.
I'm talking as light as 6lbs!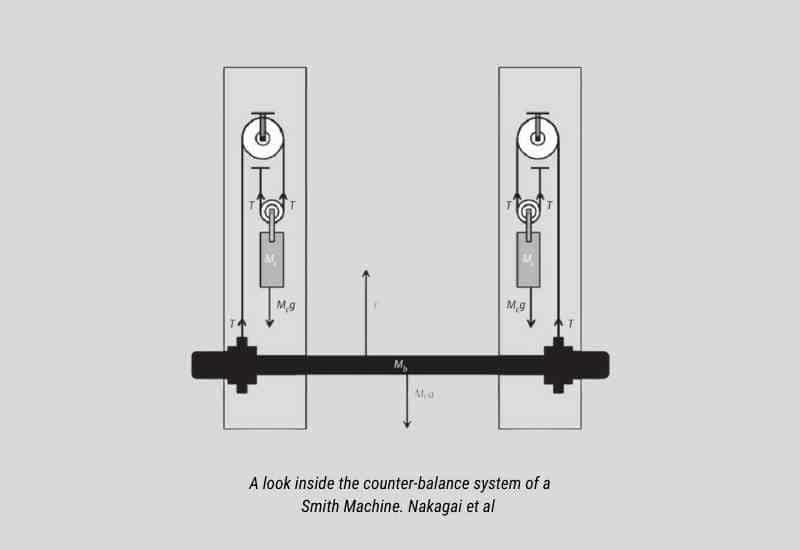 Counterbalanced bars use a pulley system with a counter-weight.
These pulley systems are typically hidden inside the frame of the Smith Machine.
Counter-balanced Smith Machines, like the ones you are most likely to see in your local gym, significantly reduce the weight of the bar in a Smith Machine, making them ideal for beginners.
The Life Fitness Signature Series Smith Machine is a good example of a machine you are likely to see at a gym.
The counter-balance system is hidden inside the front uprights.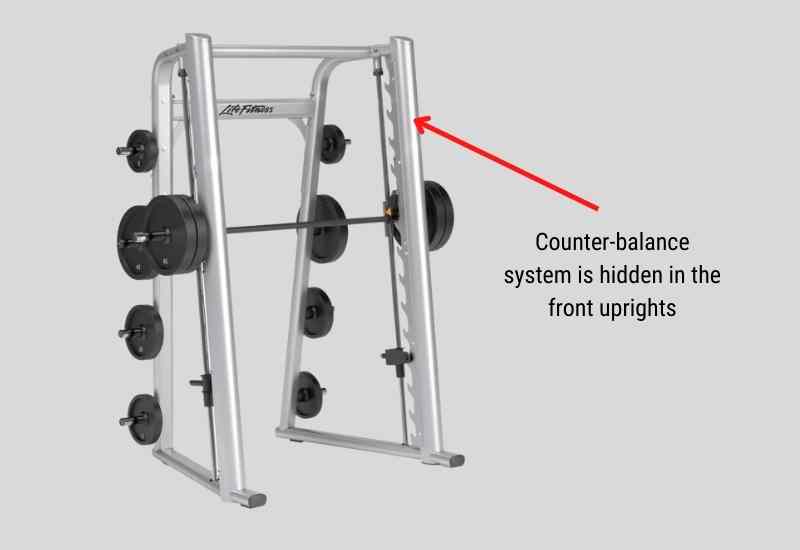 Other machines, like the Body-Solid ProClub Line Commercial Smith Machine, which is designed for high-volume gym areas, has a counter-balance system that makes the bar weigh just 6lbs!
You can see the pulley system poking out the top of the frame of the Smith Machine.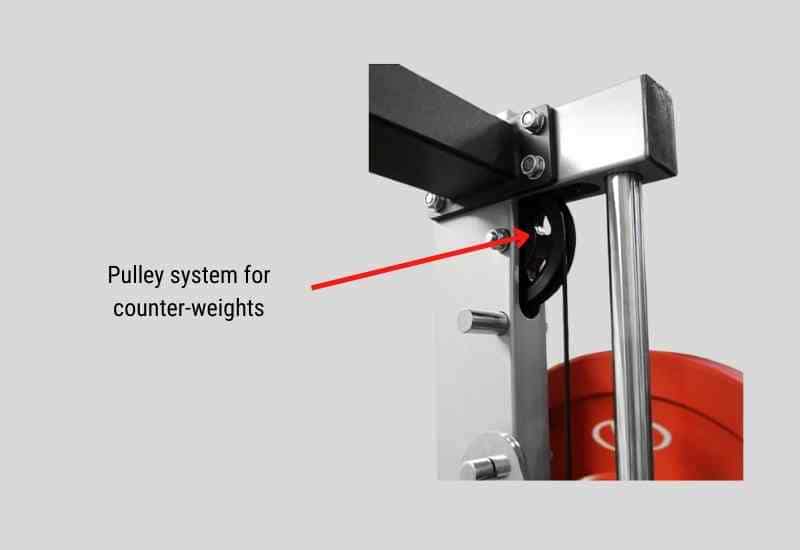 With a counter-balanced Smith machine, the bar is almost always going to weigh significantly less, typically in the range of 6-20lbs.
Linear Bearing Smith Machines
Linear bearing Smith machines give you more of the feel of a free weight barbell. With nothing to balance the weight, you get more of the actual weight of the bar when lifting.
Linear bearing Smith Machines are more typically used in home gyms simply because they cost less without the added counter-balancing hardware.
As a result, the bar on the Smith machine is actually heavier compared to commercial models.
Does the angle of the rails make the Smith bar weigh less?
You'll notice that many Smith machines—particularly the ones at your neighborhood gym—have angled rails.
This is not an accident.
The slight pitch—usually at 7-degrees—promotes a more natural path of motion with the barbell.
This slight pitch can make the bar feel a little lighter.
See also: How Much Does a Leg Press Machine Sled Weigh?
A perfectly vertical bar path means you get the "full" weight of the bar. Most residential Smith machines use a vertical bar path.
An angled bar path—commercial-grade Smith Machines are often pitched at 5-7 degrees—will slightly lose some of the heaviness, with a fraction of the weight being transferred to the carriage.
This is an ultimately minor consideration.
How Much Do Smith Bars Weigh?
To give you an idea of the variability of how much a Smith bar can weigh, below are some examples.
As you will notice, the machines that are designed for heavy-duty use and commercial spaces have a lighter bar compared to Smith machines targeting the residential market.
Life Fitness Signature Series Smith Machine – 20lbs
Body-Solid SCB1000 Pro ClubLine Smith Machine– 6lbs
Hammer Strength Smith Machine – 30lbs
Force USA G3 Smith Machine – 35lbs
Deltech Linear Bearing Smith Machine – 58lbs
Powerline Body-Solid Smith Machine – 30lbs
Why does a Smith machine bar feel lighter?
Smith bars feel lighter because they are counter-balanced. Pulley systems attached to counter-weights reduce the weight of the bar, with some commercial-grade Smith machine bars having a weight as low as 6lbs.
This allows beginners to use a light bar so that they can focus on technique and form with the safety of a built-in spotter.
Is Smith machine weight considered "true" weight?
The weight used on a Smith machine is true weight, but it feels easier because there are no stability demands when pushing the weight.
This is similar to a leg press machine, which allows you to really isolate larger muscle groups and move weight along a controlled bar path.
That said, there are some consequences to a fixed bar path, as you miss out on the recruitment of smaller stabilizer muscles that are crucial for injury prevention and overall strength development.
More Smith Machine Guides and Articles
⭐ 7 Best Smith Machines for Home Gyms. Skip the lineups at the gym (and the commute!) with a detailed look at the best Smith Machines for home gyms, including key features, a buyer's guide, and more.
How Much Does a Squat Bar Weigh? Wondering how much weight you are actually squatting? Here's a detailed look at squat bars and how much they weigh.