The Smith Machine is an effective way to do resistance training—when used properly. Here's more on what the Smith Machine is, what it does best, its limitations, and best practices for how to use it effectively.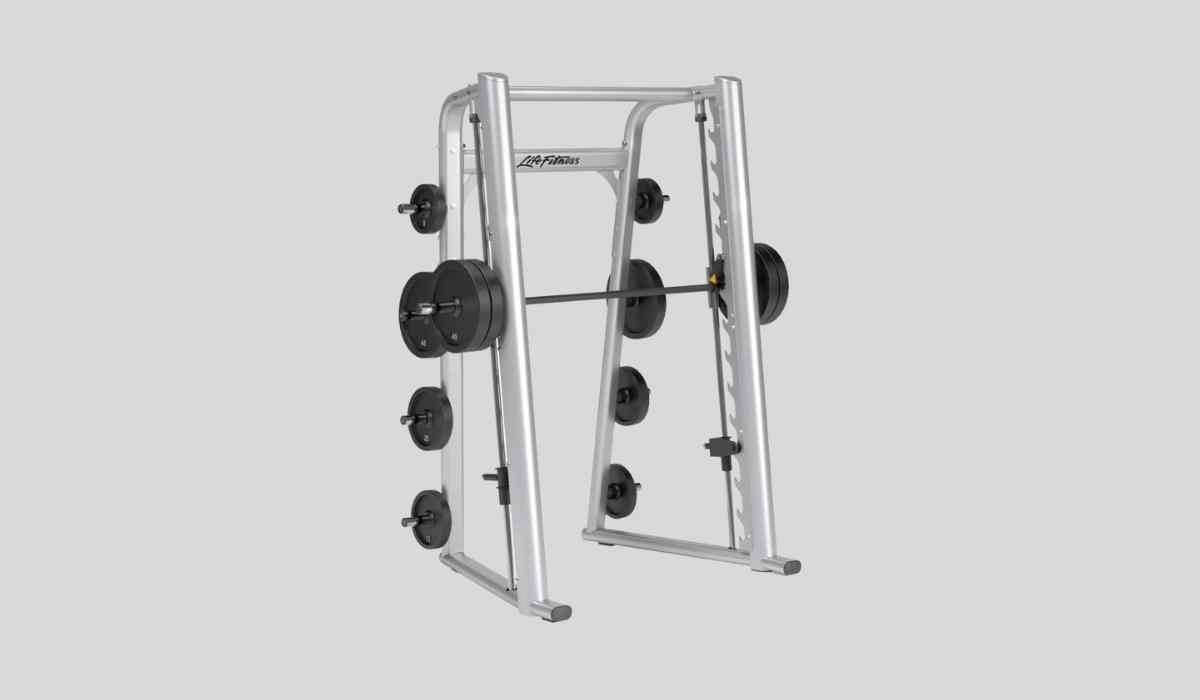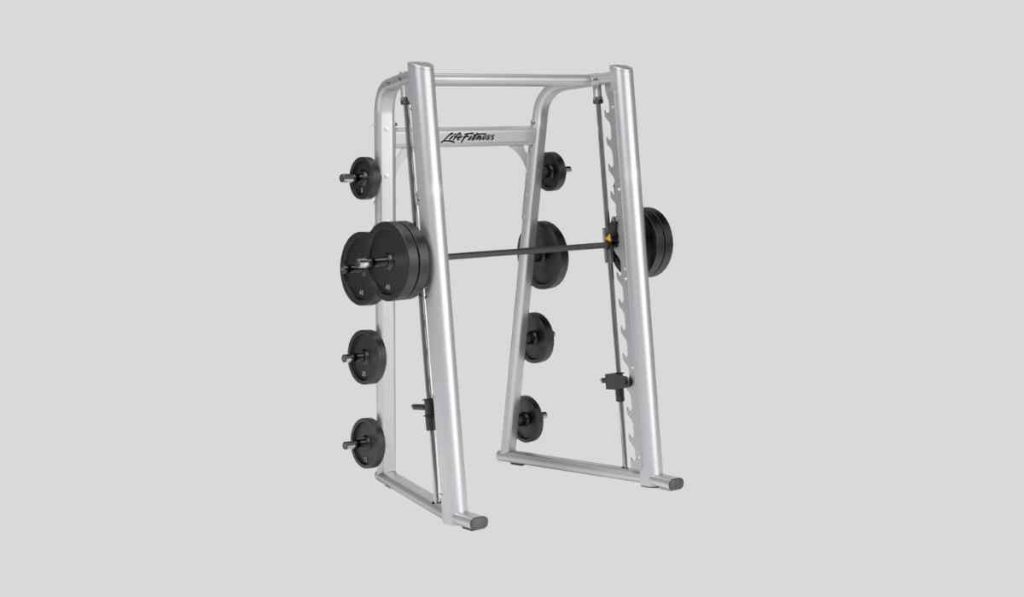 The Smith machine is one of the most popular machines in any gym—yet, surprisingly, also one that receives the most hate!
In the vast majority of workout articles, you'll find recommendations steering you away from the Smith machine because of all its many "drawbacks" and "downsides".
But there's a lot you need to understand about the Smith machine, including what makes it useful and how it can benefit you.
Below, we're going to get into the basics of Smith machines, looking at what is a Smith machine, how it works, why it gets a lot of flak, the benefits it can offer, and most importantly, how to use it properly to make the most of it.
By the end of this post, you'll know exactly how a Smith machine can give you an edge in your next workout, as well as when you should and shouldn't use it.
What is the Smith Machine?
To start, let's take a closer look at the basics: what is a Smith machine and how does it work?
A Smith machine is, to put it simply, a barbell affixed to a steel rail that allows it to slide in just one direction: vertically (or near-vertically, in the case of some angled Smith machines).
The bar typically has hooks that connect to a post or hook into a slot that act as the "safety catch" to rack the bar before and after your sets.
Like any barbell, all you have to do before doing your bench press, deadlifts, overhead presses, or squats on Smith machine is to load up the bar with your desired weight, unrack it from the cradle (including disengaging the safety), and get lifting!
Easy peasy, right?
Note: Some Smith machines are designed to tilt slightly forward or backward, allowing for a more three-dimensional degree of freedom. These are called "Jones Smith machines" or "3D Smith machines".
Who Invented the Smith Machine?
Few names are as recognizable or respected in the world of competitive weightlifting and bodybuilding as Jack LaLanne, so it's no surprise that a machine he invented has become a gym staple around the country.
It was LaLanne who first rigged up an apparatus to affix a barbell to a sliding rail in his gym, sometime during the 1950s.
However, it wasn't until Rudy Smith, manager of Vic Tanny's L.A. gym, saw and commissioned a properly constructed model of the machine that it become popular.
By the late 1950s, Smith was an executive at the Tanny's gym chain, and he included the Smith machine (which now bore his name) in all of his gyms. Because of that, the machine became popular around the country, and then went on to spread to the rest of the world.
Are Smith Machines Bad?
Let's talk about the elephant in the room and dive into why the Smith machine gets so much hate.
Typically, most of the animosity comes from free weight lifters, and it's all because of the simple difference between free weights and the Smith machine: range of motion.
The bar weight on Smith Machine is the exact same Olympic barbell as you'd use for free weight bench presses, curls, deadlifts, and other exercises.
The only difference is that the Smith machine affixed that bar to a sliding rail that entirely limits its range of motion.
It only slides up and down, with no forward or backward movement whatsoever.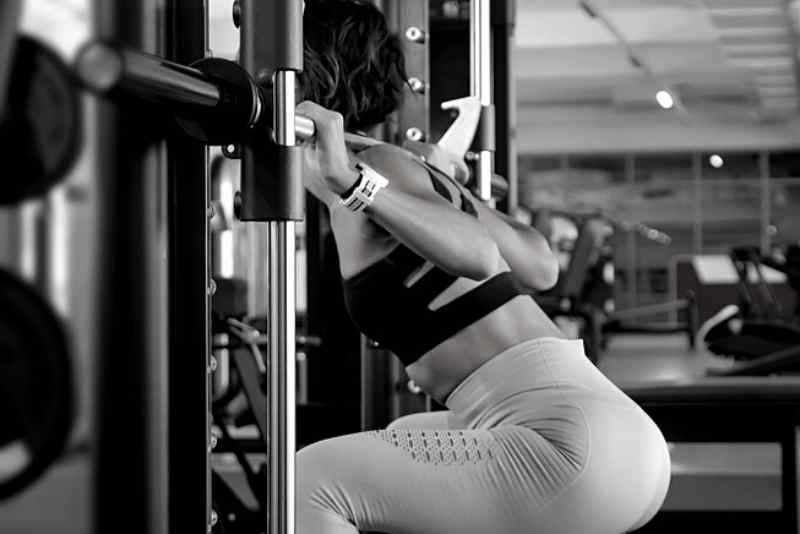 Here are the three reasons the Smith machine could be considered "bad" or less effective compared to other types of resistance training:
1. You lose the stability benefits when training with a Smith machine
The reason that free weight lifters dislike this is that there is far less muscular engagement required to maintain stability while you lift.
Let's say you're doing an overhead press, for example. With a free weight, you are not only lifting the weight over your head (using your shoulders, upper chest, and triceps), but you also have to use your core and lower body muscles to keep yourself stable and the weight traveling in a controlled path up and down.
See also: 6 Best Smith Machine Leg Exercises (and Sample Workout)
With the Smith machine, however, the rails are doing all the "controlling" of the path for you.
This removes the secondary stabilizer muscles from the equation. There are some benefits to this (as you'll see in the next section), but the drawback is that there isn't overall body conditioning when using the Smith machine.
You won't grow stronger or more stable in your stance, posture, or form when lifting using the Smith machine.
2. Smith Machines force a limited range of movement
Another drawback to the Smith machine is that it forces you to move within a very specific range of motion.
Taking it back to the overhead press, with free weights, you have freedom to move the weight slightly forward or backward to accommodate your joints' natural range of motion.
But with the sliding rail controlling the barbell, you have to adapt to the Smith machine rather than the other way around.
This can not only throw off form that you've worked hard to develop using free weights, but can also increase the risk of straining your joints. You may not be accustomed to working within that specific range of motion or loading your shoulders, elbows, knees, hips, or lower back a certain way.
With the Smith machine, there is always a greater risk of injury as you're adapting your free weight worm to the proper Smith machine form.
3. Smith machines activate less muscle compared to free weights
Finally, and this is the BIG one: muscle engagement (overall) with the Smith machine is significantly lower than with free weights.
One study back in 2009 compared free weights to the Smith machine, using EMG to measure electrical activity in the leg muscles when performing squats.
While electrical activity in many of the muscles (chiefly, the prime movers) remained the same between the two exercises, there was significantly higher activity in certain muscles—in this case, the vastus medialis, biceps femoris, and gastrocnemius.
As the study stated, "the EMG averaged over all muscles during the free weight squat was 43% higher when compared to the Smith machine squat" and concluded that "The free weight squat may be more beneficial than the Smith machine squat for individuals who are looking to strengthen plantar flexors, knee flexors, and knee extensors."
Notice that it didn't say "better for those who want to strengthen the quad muscles (prime movers)".
Instead, it mentioned secondary stabilizer muscles in the knees and feet.
This is because those secondary muscles have to work much harder to keep you balanced and stable when you lift free weights versus weights loaded on a Smith machine.
Reasons to Use the Smith Machine
So we've talked about all the ways the Smith machine is less effective than free weights, the reasons a lot of bodybuilders disdain it.
But now it's time to dive into all the reasons people still use it to this day (including the O.G. bodybuilder himself, Arnold Schwarzenegger), the reasons why it's still a weightlifting machine found in virtually every gym around the world.
? Smith Machines are excellent for muscle isolation
The first—and probably most significant—benefit of the Smith machine is that it facilitates isolating muscles during your training.
As explained above, the bar affixed to the sliding rail eliminates the instability factor, so there's significantly less engagement of the secondary stabilizer muscles. However, thanks to this, all of the focus will be placed on the prime movers, the muscles you're intending to train.
Back to the example of the overhead press, with the Smith machine, your shoulders, triceps, and upper chest are getting all of the emphasis, and there's virtually no engagement of your core or lower body to maintain your posture.
Because of this, all of the energy/power available can be directly utilized by your shoulders, triceps, and upper chest, with none diverted to powering the secondary stabilizer muscles.
As a result, it's common to experience a significant increase in the amount of weight you can lift—anywhere from 5-15%, depending on the exercise. The isolation of the lift ensures that only the prime movers are being called into action for the movement.
? Smith Machines are excellent for beginner lifters
Another of the big Smith machine benefits is that it's much safer for beginners to start lifting weights. Because it limits the range of motion, there's less risk of falling, tipping, or losing your balance while trying to master a new exercise.
There is also the added safety factor of the many "safety catches" installed along the length of the sliding rail. If, at any point, you're fatiguing, needing to take a break, or in pain from an injury, you can rack the weight without having to finish that last repetition.
This makes it exponentially less likely you'll get stuck and hurt yourself struggling to safely rack the weight.
? Smith Machines are great for focusing on technique and form
Finally, and this is one of my personal favorite benefits of the Smith machine, you can focus more on your form.
Because you're not stumbling or fumbling, you can pay attention to the way your body moves through the exercise, and find areas where you can correct your form or posture to be more joint-friendly and place greater emphasis on the muscles you're trying to work.
This can lead to huge improvements in both strength increases and safety during training.
How to Use the Smith Machine Properly
If you're going to work Smith machine exercises into your workout routine—and I highly recommend you do!—here are a few tips and best practices to keep in mind:
? Work to your full range of motion.
You've got the added support and stability of the machine, so take advantage of it. Work with it to help you train your muscles through the full range of motion, and even go deeper into that squat, lunge, or press.
? Isolate and concentrate.
Use the Smith machine to isolate your prime movers and focus on making each movement count. Pay close attention to how you move through the exercise, which way your body naturally tips or tilts through the movement.
Adapt your form so you are controlling the vertical ascent and descent of your body or limbs without needing the sliding rail's provided stability. That way, when you make the switch to free weights, you'll have full control of your movement.
? Go ballistic.
Using explosive movements for ballistic strength training can be a fun way to spice up your workouts. Don't just bench press, but throw the weight into the air and catch it on the way down.
The sliding rail will keep it controlled and make these movements much safer, but help you build explosive strength.
? Do heavy movements without a spotter.
The beauty of the Smith machine is that you can lift a lot heavier more safely because if you're ever struggling or in trouble, you can easily flip your wrists to rack the weight.
It's a great way to train heavy even if you don't have a spotter or buddy to back you up.
? Work on new movements.
Instead of always doing front or back squats, use the Smith machine to work on your hack squat. Instead of always flat bench pressing, use the Smith machine to train your incline bench.
The more variety you work into your training sessions, the better! Thanks to its design, the Smith machine can help you to work on certain exercises you've historically avoided (for lack of knowledge or spotter).
? Lift heavier.
When lifting free weights, a lot of your strength is diverted by the secondary muscles needed to keep you stable.
Now that you're working on a Smith machine, try adding a few pounds to your next lift, and you might just be surprised that you're capable of lifting heavier.
The extra energy you'll have available for your prime movers to burn can make a huge difference on your lifts, and can give you the "bump" that will help you increase your load capacity.
The Bottom Line
The Smith machine, like all gym machines, isn't perfect. There are a few flaws in its design, a few "cons" that earn it a bit of animosity among gym-goers, particularly those who like free weights.
But, as you've seen above, it can serve a purpose. When used correctly, it can actually improve your performance across the board and help to strengthen you for those heavy free weight lifts.
Be smart about incorporating Smith machine exercises into your regular training, and you'll see significant improvement in no time!
---
More Smith Machine Guides and Articles
How to Deadlift on a Smith Machine (Step-by-Step, Pros and Cons). Thinking about using the Smith machine for deadlifts? Here is a complete guide on how to do them properly, including pros and cons of using the Smith machine for this exercise.
How to Do Hack Squats on a Smith Machine Like a Pro. Hack squats are a monster for building quads in the gym. Here's a step-by-step guide for how to do this exercise on a Smith machine like a champion. Next stop, Quadtown!
How to Train Glutes on a Smith Machine (Exercises, Benefits, and Step-by-Step Instructions). The Smith machine is an excellent tool for developing glute strength and muscle. Here are the best Smith machine exercises for developing a stronger behind.