The Smith machine is a popular and sometimes popularly loathed piece of strength training equipment. Here are the pros and cons of the Smith machine.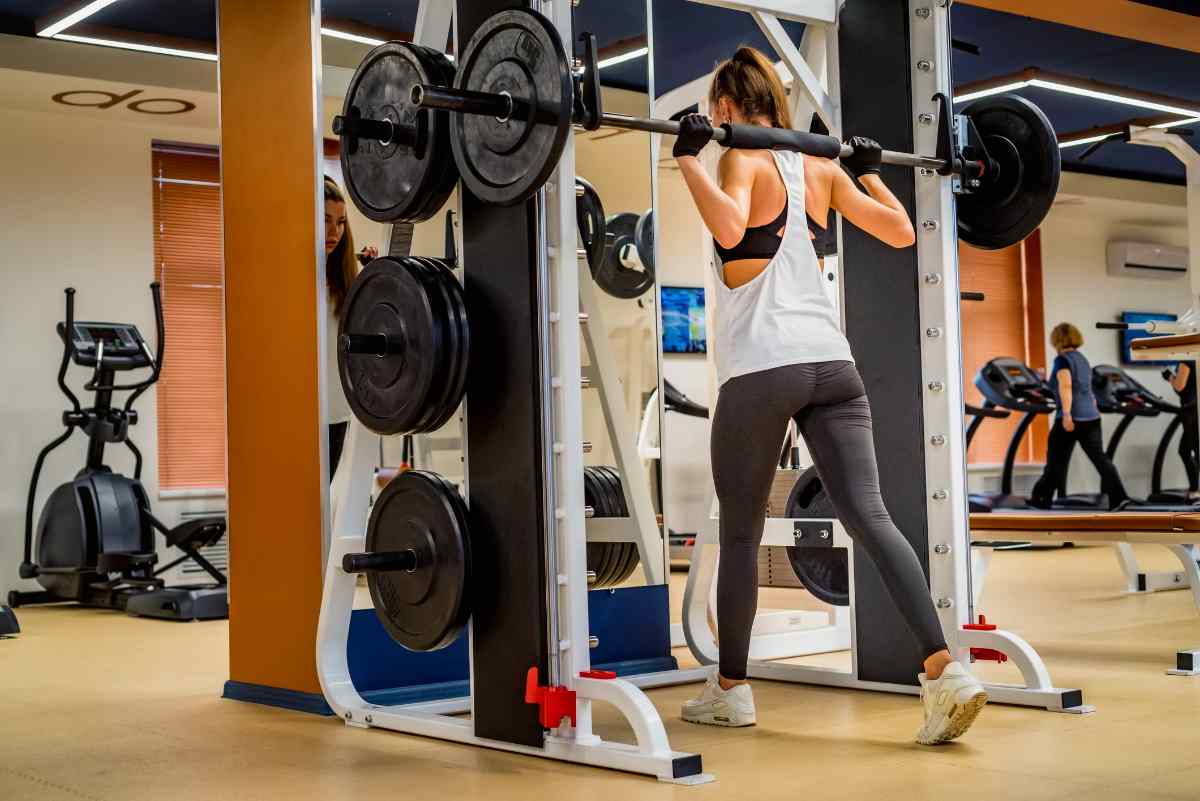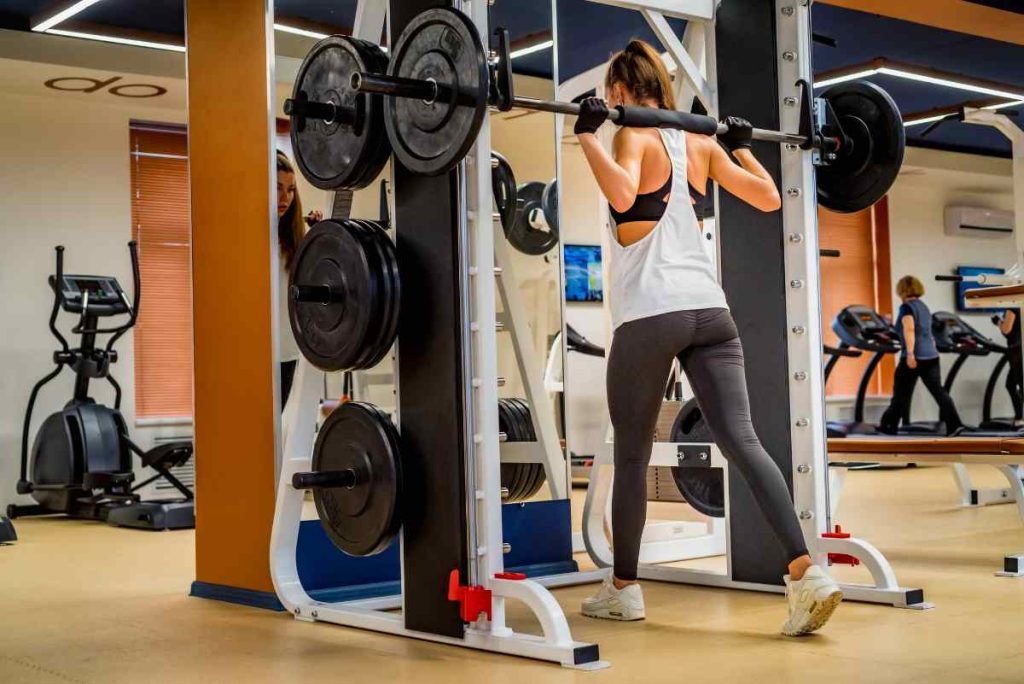 If you're anything like me, you're always on the lookout for ways to improve your home gym or your workouts at the gym.
Whether it's adding a new machine, picking up more weight discs for your barbell, testing out a new wall ball, or working with heavier/lighter kettlebells, you can always step up your home workout game one way or another.
One of the best machines to consider for a home gym upgrade is the Smith machine, a machine specifically built to help you squat, shoulder press, bench press, deadlift (and more!) with the added support of a railing system.
But is the Smith machine actually worth all money it costs and the space it takes up? Or are you better off with a different machine?
In this post, we're going to take a much closer look at the Smith machine and find the answer to those questions.
Let's jump right in.
The Smith Machine — Overview
Let's start off with the most important thing: an explanation of what, exactly, a Smith machine is.
You've absolutely seen one of these at your local gym—they're actually one of the most popular and commonly used gym weight machines.
A Smith machine is designed with a barbell secured to two steel rails, which only allows the Smith machine bar weight to slide up and down (either perfectly vertical or at an angle). Some will use a pulley system for weight, while others use the standard barbell and weight discs.
Stuck with Your Training in the Gym?
Join 12,000 lifters and athletes and sign up for FREE access to my 5-day email course on how to conquer the most common gym mistakes.
From goal setting to lifting technique, you will learn how to overcome the mistakes in the gym that are holding you back from getting bigger and stronger.
Unsubscribe anytime. No spam.
Also built into the sliding bar is a hook system that connects to a number of slots or posts on the frame itself, allowing you to rest the weight at your desired height. Typically, there will be anywhere between 10 and 16 slots/rests/posts ranging from knee/thigh height to above your head.
Smith machine squats are the most popular exercises for this machine, though they can be used for any number of classic resistance training workouts: from the Smith machine bar row to the chest press to the deadlift.
As long as the exercise calls for a barbell that moves straight up and down, you can use the Smith machine for it.
Benefits of the Smith Machines
Now that we know what the Smith machine is and what it does, it's time to talk about the really important thing: why you should consider using it.
We all know that free weights are the most effective training tool at the gym, offering the greatest amount of versatility and the most natural movements.
Given this, why should you use the Smith machine? What are its benefits compared to free weights and other machines?
They include:
1. Stability
With free weights, you have to support all the weight alone and maintain your balance. This can be tricky for those with balance problems, who are recovering from core injury/surgery, or anyone who is still working on developing strong muscles but still don't quite have sufficient strength.
With exercises like lunges and squats especially, balance/stability issues can make these movements significantly more difficult.
But with the Smith machine, you don't need to worry about keeping your balance. The barbell you're using is anchored securely to the sliding rail, so there's only one way it can move: up/down.
There's no chance of falling backward, forward, or to the side. It makes it much easier to focus on the exercise itself rather than always trying to keep your balance.
2. Improves Form and Posture
s I said above, because there is no difficulty with keeping your balance, you can pay more attention to the exercise. That means focusing on your posture before and after each rep, and your form throughout the full range of motion.
As you (should!) know, form and posture are absolutely critical for better fitness.
Proper posture will help you to move more naturally and smoothly through the full joint range of motion, and will reduce strain on your joints (particularly your lower back!).
With proper posture, you'll be less prone to injuries, and you'll strengthen the muscles that keep your joints strong and stable.
3. Easy for Beginners
This is one of the main reasons that so many people opt for Smith machine squats and rows. Thanks to the machine's stabilization, you can perform the exercise even if you've never squatted, lunged, or rowed before.
And you can focus on developing the correct posture and form throughout the exercise, which helps newbies to master each exercise properly and safely, reducing their risk of future injuries.
4. Smith machines are generally very safe
One of the great things about the Smith machine is that you have a lot of cradles/slots/posts at various heights to hook the barbell onto.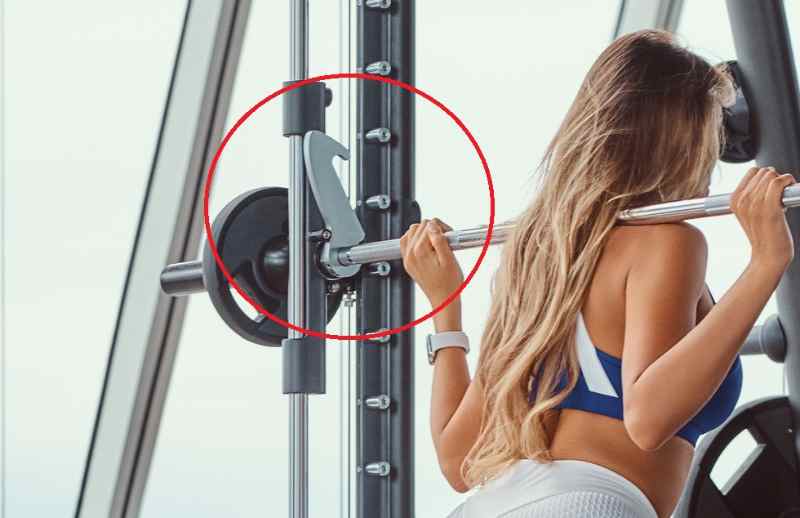 This means that at any point in your exercise, if you're struggling or stumbling, you can rack the weight safely. It's a great fail-safe mechanism that will allow even newbies and solo trainees to push themselves a bit harder.
With the Smith machine, you won't need a spotter or fellow lifter to help you get the weight back up to the rack.
5. Target Your Main Muscle Groups
The Smith machine isn't as flexible or versatile as free weights; there are only so many exercises you can do, and you're limited to working within a single range of motion. However, you can still target your main muscle groups—chest, back, and legs—using the sliding barbell-on-a-rail.
Smith machine squats help you hit your legs
Smith machine bench presses target your chest, triceps, and shoulders
Smith machine rows shred your back, biceps, and shoulders
You can even do exercises like overhead shoulder presses (seated, typically) to target your shoulder muscles.
6. Smith machines are good for isolation
If your goal is to focus on a single muscle/muscle group, the Smith machine is an excellent training tool.
Because it's limited to just the one plane of movement, you can push, pull, or squat in that very isolated plane of movement.
And because no stabilizer muscles need to engage to maintain your balance, the focus is primarily on whatever muscle the exercise targets.
Trainer's Note: While muscle isolation alone isn't ideal—it's always better to do compound, multi-muscle movements—using isolation exercises at the end of a training session make for a perfect "finishing move" to push your muscles to failure.
7. Smith machines allow you to lift more
Yes, this is an actual benefit of the Smith machine! It's all tied to the previous benefits—let me explain…
When you're not struggling to maintain your balance, your secondary stabilizer muscles don't need to be recruited. Thus, only the prime movers (the main muscles recruited by the exercise/movement) do the work of lifting.
[Curious how many different leg exercises you can do with a Smith Machine? Check out this guide to my 7 favorites.]
With proper posture, the knowledge that you can safely rack the weights if you're struggling, and better isolation of the muscles you're targeting, you'll find that you can actually lift anywhere from 2-15% more with the Smith machine than free weights.
Test it out at the gym for yourself, and you'll see that the design of the Smith machine helps you to push harder and lift heavier!
Disadvantages of the Smith Machines
As with any machine, the Smith machine isn't perfect.
There are a few reasons to consider other leg machines at the gym or free weights instead:
Not the most versatile.
Because the barbell can only move up and down, it's not a very versatile machine, and can't work all of your muscles efficiently. For example, you can't safely do barbell curls, and there's no way to do walking lunges with a barbell fixed to a sliding rail.
Uncomfortable or awkward.
It's normal to feel a bit uncomfortable or awkward when you first start training with the Smith machine because you're not used to the way it limits your movements. It takes time and practice to adapt your form and posture to the machine's fixed range of motion.
Higher risk of injury initially.
This is the case when introducing any new variable into heavy weight training. If you're accustomed to the specific form and posture of free weight deadlifts or squats, your body is used to moving in a very specific way.
Change things up by affixing the barbell to a sliding rail, and there's a very real risk that you'll move incorrectly and place extra strain on your joints.
Once you master the movement, it's much easier to perform it safely. Initially, however, there is a higher risk of injury.
You can't use the barbell for anything else.
It's affixed to the sliding rail, so you can't remove it to use for other exercises. This means that it's not the most versatile type of weight in the gym—or your home gym.
Takes up space.
This is a big concern for home resistance trainees who are working with limited gym space. A Smith machine is usually a fairly large four-legged square cage that stands up to 8 feet tall and an average of 5-7 feet wide.
It's not a small piece of machinery by any measure, and may take up too much space in your garage, basement, or living room gym.
The Smith Machine Pros and Cons — FAQs
What is the difference between a Smith machine and a squat rack?
A Smith machine, as I explained above, is a barbell affixed to a sliding rail, and is only able to slide up and down.
A squat rack, on the other hand, is a stable cage/rack that supports a free weight barbell. A squat rack doesn't limit you to a certain range of motion or plane of movement, but just holds the weight for you.
Are Smith machines good for upper body exercises?
I definitely like using the Smith machine for both upper and lower body exercises!
The Smith machine bar row, for example, is an amazing variation on the standard barbell row, and the fixed plane of movement makes it easier to target the upper back muscles without worrying about the lower back/lower body muscles having to maintain balance.
Bench presses can also be done easily on a Smith machine, too (Check out the Smith machine bench vs barbell bench press article for more information!), as can military/overhead shoulder presses. There are a lot of options for targeting your upper body thanks to the Smith machine.
Are Smith machines as effective as free weights?
As you saw above, there are some excellent advantages the Smith machine offers over free weights, but there are disadvantages, too.
At the end of the day, it's impossible to say which is "better". However, there's no doubt that Smith machines are easily as effective as free weights!
The Bottom Line
There are a lot of great reasons to love the Smith machine.
Sure, it's not the most versatile machine, but it allows you to target specific muscles, improve your form/posture, and safely lift more weight without a spotter or gym buddy.
The next time you hit your local gym, give the Smith machine a try and get those gains!
More Guides Like This
⭐ 7 Best Smith Machines for Home Gyms. Skip the lineups at the gym (and the commute!) with a detailed look at the best Smith Machines for home gyms, including key features, a buyer's guide, and more.
How to Do Smith Machine Squats (Benefits, Muscles Worked, and Common Mistakes). The Smith Machine squat is both loved and loathed in the gym. In this guide, we will cover the range of benefits of Smith Machine squats, disadvantages, how to do them properly, and much more.
Squat Rack vs Smith Machine: Pros, Cons, and Best Time to Use Each. The squat rack and Smith machine look similar, but vary widely in function and results. Here's a detailed look at the differences between a squat rack and a Smith machine.