Wondering how to do the Smith Machine row like a boss? Here's a complete look at the benefits of this exercise, muscles used, and a step-by-step blueprint for doing it properly.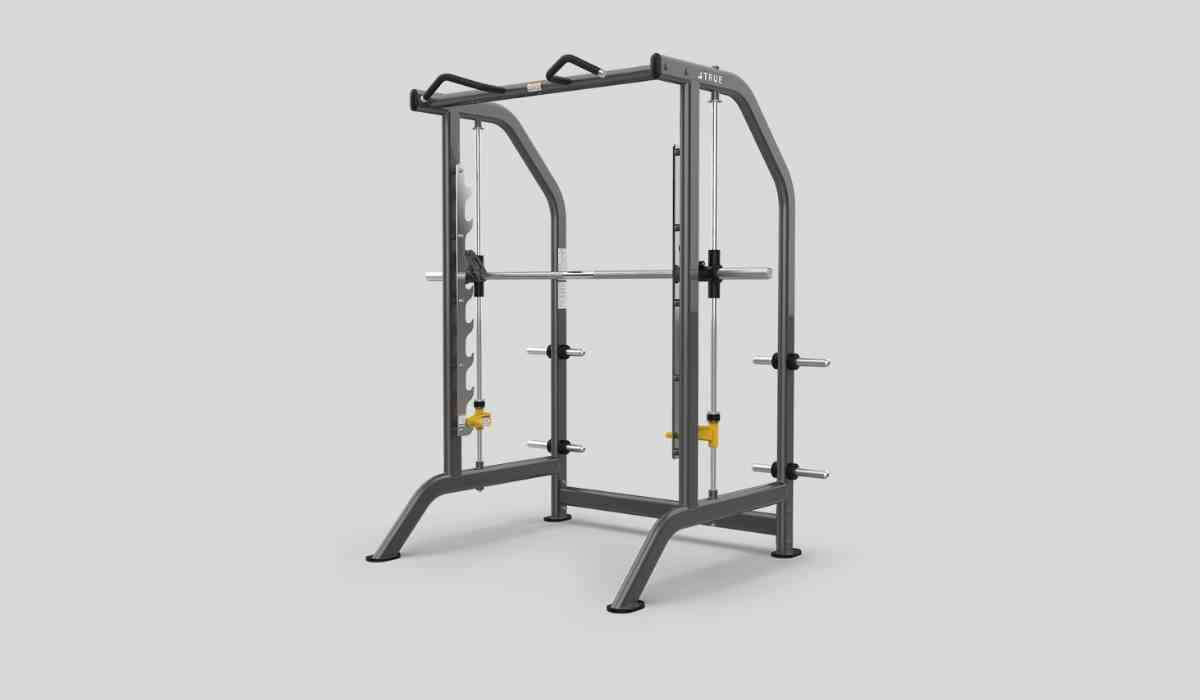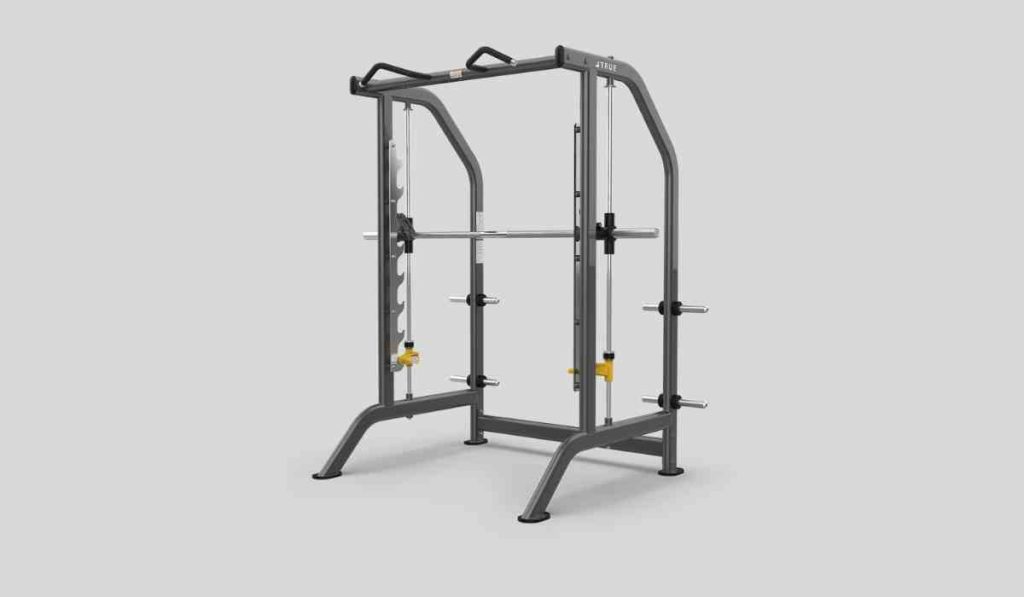 The Smith Machine Row is an AWESOME way to take your rowing to the next level.
By switching from free weights to the Smith machine, you improve the focus of the exercise, targeting your back muscles more efficiently—which means you see greater results faster!
That's why I recommend the Smith machine row instead of (or in addition to) the standard bent over barbell row or even dumbbell rows. It's a highly effective variation that I absolutely love.
In this post, we'll talk about how to use the Smith machine bar weight on its track to give you an edge in your next training sessions.
We'll look at the benefits of the exercise, what muscles it focuses on, and go step by step through the process of how to do it right.
By the end of this page, you'll be ready to incorporate this amazing type of rows into your workout!
Benefits of the Smith Machine Row
There are a lot of reasons to love the smith machine row!
First of all, it provides all of the benefits of the standard bent over row, including:
Targeting upper body and core muscles.
While the main focus is on your upper back, the bent-over pose recruits your core, too, forcing your abdominal and lower back muscles to engage in order to maintain the position while rowing.
Working bent over rows of any sort leads to serious upper body and core muscle development.
Easier than pull-ups.
Let's be honest: pull-ups are HARD! Even with a pull-up assistance machine, you still have to work pretty darned hard to complete that full set.
Your shoulders are also at risk if you swing/jerk/kip up.
But with bent-over Smith machine rows, you can easily adjust the weight for smoother, safer, and easier training.
See also: Lat Pulldowns vs Pull Ups: Pros, Cons and Differences
Improves your grip.
Any exercise that forces you to grip something heavy is going to be amazing for your forearm (grip) muscles.
The heavier the barbell, the more your forearms have to engage to hold it while rowing—leading to the development of better grip strength.
Enhances your posture.
The fact that you perform this exercise while bent over means you have to take extra care with your posture. Bend incorrectly, and you risk lower back strain.
It's imperative that you focus on your form and posture throughout the entire exercise. That way, you can engage only the right muscles and reduce the risk of lower back strain.
Related: Smith Machine Bench Press vs. Barbell Bench Press
The more time you spend training for better form/posture in exercises like the bent over row, the more your posture will improve across every other exercise.
Those are the benefits of bent over rows of any sort, using barbells, dumbbells, or even the cable machine.
But what are the specific benefits of the Smith machine row?
Isolate your upper back muscles.
As we discussed in depth in the Smith machine vs squat rack article, using a Smith machine with its fixed track eliminates the need to engage your secondary stabilizer muscles.
The single up-down direction of movement permitted by the sliding track means you focus entirely on pulling in that direction, and there's no swinging or shifting of the weight.
This leads to better isolation, which in turn leads to more effective muscle training.
Builds strength and power.
Because the bent over Smith machine row focuses entirely on your upper back muscles (and core), it leads to targeted, isolated training that will build better strength and power in the specific muscles you want to train.
Safer for anyone with balance issues.
If you struggle with your balance (due to injury or other medical issues), working with the Smith machine will make the exercise easier.
The machine itself will keep you and the weight balanced, helping you to focus on just rowing the weight correctly.
As you can see, there are some pretty great reasons to incorporate the Smith machine row into your workout!
What Muscles Does the Smith Machine Row Work?
The Smith machine row is intended to target your upper back muscles, with the prime movers being:
Lats
Rhomboids
Traps
Rear deltoids
However, there are secondary muscles also recruited for the exercise, including:
Biceps
Forearms
Lower back (spinal erectors)
Abdominals
Glutes
Hamstrings (depending on the bend in your knees)
It's an amazing exercise to focus on your posterior chain muscles, working everything from your shoulders to the backs of your legs.
You'll have much greater strength in all the muscles along the rear (posterior side) of your body thanks to these amazing rows!
How to Do the Smith Machine Row (Step by Step)
Time to dive into the nitty gritty and look at how you actually DO the exercise.
We've talked about it so much that by now you're probably raring to get into the gym and get working. Good on you!
The first thing you need to know, however, is how to do it safely and correctly so you can make it ultra-effective without risking your lower back or shoulders.
Follow this step-by-step guide to doing the Smith machine row, and you'll keep your joints safe while still shredding serious muscle:
⭐ Step 1: Set the machine to the right level. Ideally, you want the bar to be set around mid-thigh—that's the most comfortable level for you to start lifting at.
⭐ Step 2: Load up. Add enough weight onto the barbell that you'll start to struggle in the last 1-2 reps of each set, but not so much that you end up jerking or compromising your form/posture.
⭐ Step 3: Set up. Stand with your feet spread slightly beyond shoulder width apart, with your knees slightly bent. Bend over from the hips (hinge) without rounding your back. Keep your spine locked in neutral position—avoid the urge to arch or round in your spine or shoulders.
⭐ Step 4: Lift and lower. Lift the weight from the rack and lower it to full extension of your arms. You should feel the weight stretching out you back slightly—that's a good thing, as it will help to maximize mobility while also training strength.
⭐ Step 5: Brace and pull. Tighten your core muscles, look straight ahead, and pull the weight up toward your torso. Keep your elbows locked tightly against your sides and make sure you're squeezing your shoulder blades together as you row the weight upward. Pull until your wrists touch your torso.
⭐ Step 6: Lower under control. Control is 100% the name of the game here! This is the eccentric phase of the row, the phase where your muscles lengthen. If you control your movement and keep it slow, you get a double workout (on both the pull/concentric and lower/eccentric phases).
⭐ Step 7: Pause at the bottom. Give yourself a 1-count at the bottom of the exercise to pause, breathe, and re-focus. The short pause will help to prevent swinging/jerking, enabling you to keep your posture/form correct throughout the exercise.
⭐ Step 8: Repeat as desired. If you're training for muscular power and mass, work in the 4-6 rep range. If you're training for strength, train in the 8-12 rep range. If you're training for endurance, work in the 15-25 rep range.
Pro Tips for Doing Smith Machine Rows
Here is some advice on how to max out the effectiveness (and safety) of the Smith machine row:
New to rowing? Start out with light weight (~50% 1-Rep Max weight) and focus on your posture and form. Only start adding more weight once you've gotten the exercise right. Trust me, your back will thank you!
Consider using a weightlifting belt for this exercise. You don't necessarily want it to support your lower back, but instead, as a brace against which your abdominal muscles can push when you're tightening your core.
Focus on your elbows. A lot of people focus on pulling with their arms, but focusing on your elbows will help you to be more conscious and intentional with your rowing—leading to both smoother, more effective movements and less jerking.
Keep your spine neutral. This is the hardest part of the bent-over exercise, but the most important! If you feel your spine start to arch or round, take a break, lower the weight, and work with a lighter load that you can easily handle without compromising your posture.
Squeeze your traps. Making a conscious effort to squeeze your traps will help to maximize upper back muscle engagement, leading to better growth.
Smith Machine Row – FAQs
Can you do single-arm Smith machine row?
You can, but they're neither as easy or effective as two-handed Smith machine rows.
To be fair, the Smith machine bar is heavy enough that it may be too much of a load for you to handle one-handed, and the imbalance can strain your lower back (a weird twisting motion).
The awkward stance required will also make it harder to slide the barbell up and down the rack. Better to do one-handed dumbbell rows (one of my favorite dumbbell lat exercises) and keep the Smith machine for two-handed training.
Are Smith machine rows as effective as barbell rows?
As mentioned above, Smith machine rows are intended to isolate the back muscles, removing the need for secondary stabilizer muscles to engage.
For overall functional fitness, barbell rows are the better choice because they work your balance as well as strength. But adding in Smith machine rows helps to isolate your muscles, and thus work them more effectively!
In a perfect world, why not work both exercises into your routine? Start off with barbell rows, then finish off with a few sets of Smith machine rows. You'll see improvement in all your muscles, but with special attention paid to your upper back!
The Bottom Line
Smith machine rows are an excellent addition to your workout routine! As you've seen above, they offer a wide range of benefits—from better form and posture to increased core strength to serious back muscle power-building.
Because they target your posterior-chain muscles (from shoulders to hamstrings), they will make you a more mobile, resilient, stronger athlete and weight trainee all around.
I strongly recommend including this back-focused exercise into your training sessions.
Follow the step-by-step process above and incorporate the tips I shared, and you'll be seeing results (in terms of strength and size growth) in no time!
More Guides Like This
⭐ 7 Best Smith Machines for Home Gyms. Skip the lineups at the gym (and the commute!) with a detailed look at the best Smith Machines for home gyms, including key features, a buyer's guide, and more.
What is a Smith Machine? (And Should You Use One?) The Smith Machine is an effective way to do resistance training—when used properly. Here's more on what the Smith Machine is, what it does best, its limitations, and best practices for how to use it effectively.