Using a power rack for bench press means you can lift safer and chase bigger numbers on the bar. Here is a detailed look at the best ways to use a power rack for your next bench press workout.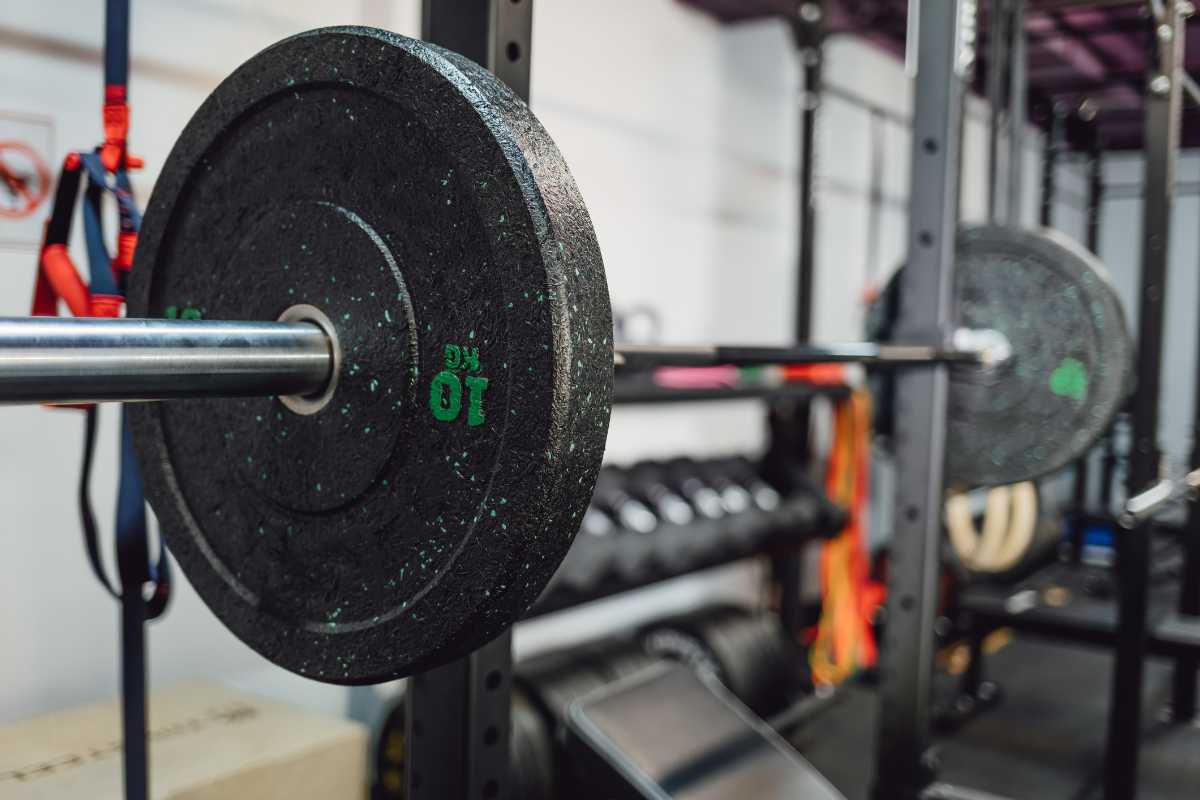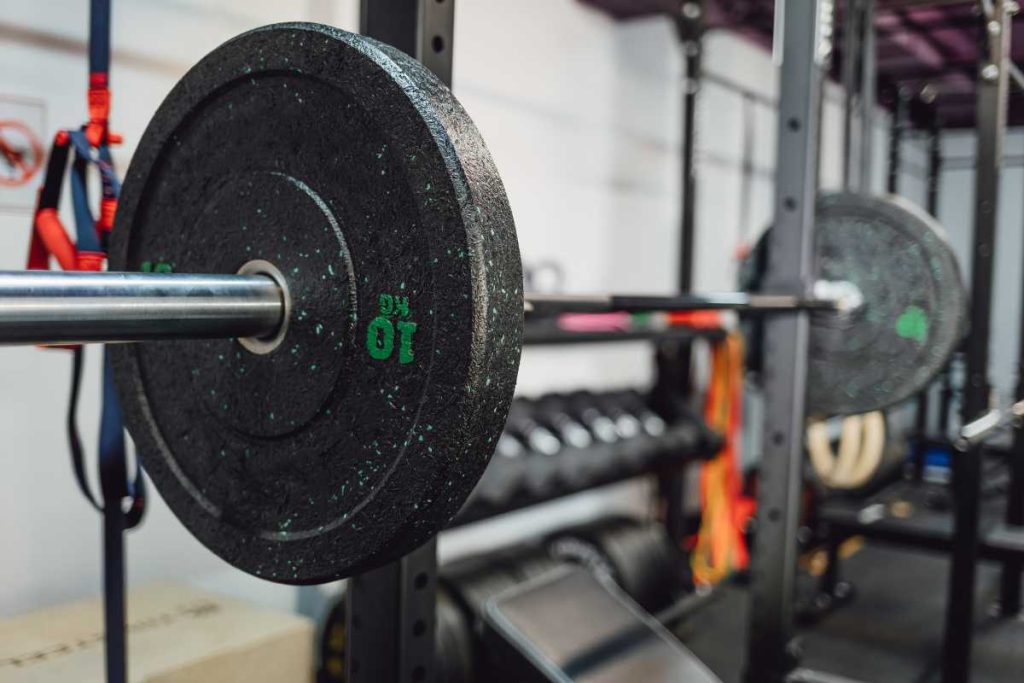 Bench pressing is THE Chest Day workout we all do, and one of the "Big Three" lifts.
Really, they're the hero of pretty much everyone's training session because of how effective they are at developing powerful chest, shoulder, and triceps muscles.
But what do you do if you don't have a bench press at home, or all the benches are occupied? Do you switch to push-ups, opt for dumbbell presses, or try your hand at cable flys?
While all of the above are excellent (especially bodyweight push-ups), you just can't beat bench presses for true strength-building. Thankfully, there's a simple solution that enables you to hammer out those bench presses even if you don't have a proper bench press.
And that solution involves your power rack…
Why You Should Use a Power Rack for Bench Press
Why is bench pressing with a power rack a good idea?
1) Easy setup.
Think about it: the power rack does exactly the same thing that a bench press does (supports your weights), but without the "bench" part.
But really, that's no problem if you've got a freestanding weight bench sitting around your gym or home gym. All you need to do is slide that bench into your power rack and you're good to go!
No fuss, no hassle, just moving a single piece of equipment.
2) Adjustable height.
One of the best things about power racks is that they are often more adjustable than bench presses and other equipment.
Bench presses will usually have 3-5 holes, ergo, 3-5 height levels to choose from.
Power racks, on the other hand, will typically have anywhere from 12 to 24—or even more, if your power rack happens to be one with Westside hole spacing (1" apart rather than 2" apart).
However tall your bench is, you can easily adjust the pins in your power rack to match its height. You'll have greater control over the weight's placement, setting it to the exact height that suits your bench and unique arm length.
In many ways, it's a setup superior to a bench press because you have total control over its height.
Heck, if you wanted to ditch the bench completely and do floor presses, the power rack makes that possible.
3) One piece of equipment.
I've argued before (including in my power rack vs squat rack article) that a squat rack/power rack is possibly the most important piece of gym equipment you can own.
It's not just useful for squats, but facilitates everything from deadlifts to pull-ups to dips (with the right power rack attachment, anything is possible).
So, if you're stocking your home gym with only a few pieces of equipment—due to limited space or budget—the power rack is likely the first (and best) to go for.
Once you have the power rack set up, really all you'll need is a freestanding weight bench (the foldable kind you use for incline presses, decline presses, and overhead presses) and you're good to get lifting.
You don't even need a bench press because the power rack and bench—whether you go with a regular flat bench or an adjustable weight bench–will be a more-than-suitable and wonderfully compact replacement.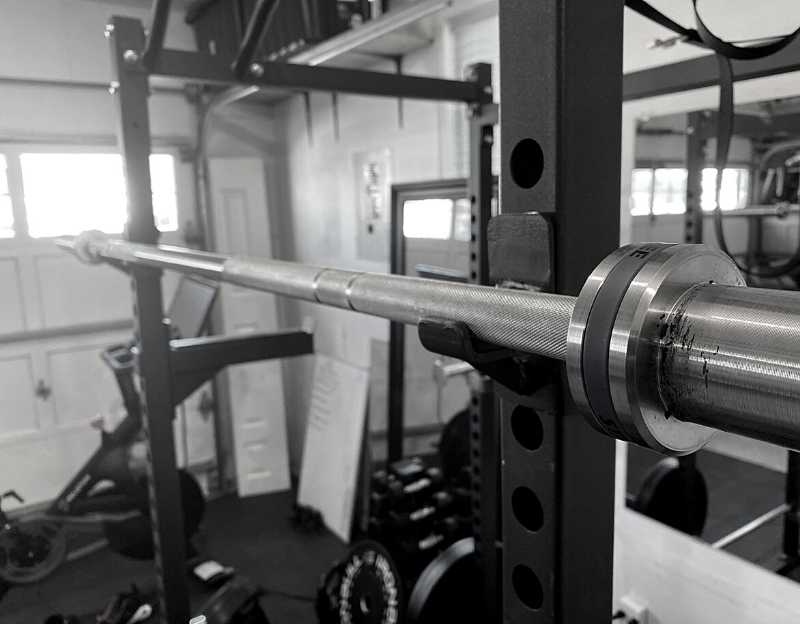 4) Greater safety.
This is one of the best things about doing bench presses using a power rack, and one of the reasons I strongly recommend going this route rather than using a bench press.
Why? Simple: you've got your own spotter built into the squat rack.
Spotter bars are twin bars that you connect between the power rack's posts to serve as a safety in case you need to drop the weight.
All you have to do is set them just above chest height, and you can easily and safely set down the heavy barbell if you can't finish that last rep or two due to muscle failure.
The safety bars won't interfere with your bench press form (you can still go as low as you need to), but it ensures you're not struggling and straining alone when you're hitting the wall. It's much safer and will drastically reduce your risk of injury.
And that's not the only safety feature you can set up.
You can set two levels of pins—one at the normal bench press height for the main rack, and one slightly lower as a fail-safe to re-rack the weight if you're struggling.
Bench-pressing with all the power rack's safety features is absolutely the smarter and safer way to train without someone to spot you or a trainer standing by.  
---
How to Set Up for Bench Press in a Power Rack
Setting up for a bench press in a power rack is beautifully easy, and it involves just two simple steps:
Step 1: Slide in the weight bench.
You can use pretty much any freestanding bench of any height.
While the de facto standard is typically 17 or 18 inches tall, some benches are a bit lower (as low as 15 inches) or higher (up to 20 inches). You can find the best bench to suit your height—i.e. taller lifters need a higher bench—and slide it into the space between your power rack.
Set it up so the rack's post with the pins is roughly at face height, with the rest of the bench running into the power rack cage (rather than out of it).
Step 2: Set the pins/rack.
Whether you're using J-cups, pins, or some other form of safety attachment, you should ideally set them up just one slot below the height of your fully extended arms.
That way, when you extend your arms, you lift the weight above the level of the pins to un-rack the weight.
If you want a backup, set up a second set of pins two or three slots below the main pins. This will give you someplace to easily re-rack the weight if you're struggling.
With that done, you're almost ready to bench press. There's just one thing left to set up: the safety bars.
---
How to Set the Safety Bars at the Right Height
Setting up the safety bars for bench pressing in a squat cage can be a bit tricky.
If you set them too high, they'll interfere with your bench press and limit your range of motion, which will stop you from building muscle as effectively as bench presses should. Set them too lower, however, and they will serve no purpose at all.
To set the safety bars to just the right height:
Step 1: Lie flat on your back on the bench in your typical bench-pressing position. Arch your chest slightly the way you would when bench pressing.
Step 2: Look at the power rack's post and mark the slots/holes that will be onthe level of your arched chest. Use a marker, sticker, or piece of tape if needed.
Step 3: Stand up, insert the safety bars in place between the rack posts, set a barbell in place, then lie back down and test the safety bars' placement.
Once again, arch your chest the way you would when bench pressing.
Ideally, the barbell should just make contact with your arched chest. That way, when you collapse your chest back to the bench (as you do when relaxing at the end of your set), you've got 1-2 inches to slide out from beneath the barbell.
If the barbell touches your chest even when you're collapsed, raise the safety bar one slot.
And just like that, you're good to get lifting!
---
Power Rack & Bench Press — FAQs
How do you set up incline bench press with a power rack?
The setup for an incline (or decline) bench press is pretty much identical to the setup for a flat bench press. The only real difference is that you need to set the bench to your desired incline (or decline), then raise the safety bars and pins/racks/J-cups accordingly.
Again, you should have the safety bars set to a level where a resting barbell will just touch your chest when arched into bench press position, but will be 1-2 inches above a relaxed chest.
That will allow you to slide out from under the barbell should you need to. 
Is it bad gym etiquette to bench press in a power rack?
Definitely not! It's understandable that bench presses are the most popular Chest Day exercise, so they're among the first pieces of gym equipment to be occupied.
Many people find alternatives for bench pressing—including bench pressing on a Smith machine, doing dumbbell bench presses, trying TRX presses, or, for smart people, opting for bench pressing on a power rack.
You're using the rack exactly the way it was intended to be used, so it's perfectly acceptable etiquette to bench press on a power rack.
The Bottom Line
Whether you're trying to find a solution to knock out Chest Day in a busy gym or maximize use of space in your home gym, bench pressing using a power rack is the way to go.
Not only do you have greater versatility and a more easily adjustable setup, but you can use just one piece of equipment for your entire Chest Day workout session (raising or lowering the setup for incline/decline presses).
Best of all, thanks to the built-in safety features, you can push your chest muscles to the limit even if you don't have a spotter standing by. That's the best reason of all to use your power rack for bench pressing!
---
More Guides Like This
5 Chest Exercises You Can Do with a Squat Rack (Plus Sample Workout). Squat racks are for much more than just huge lower body lifts–you can also use them to maximize training your chest. Here are the five best chest exercises you can do using your squat rack on International Chest Day.
How Much is a Squat Rack? (Cost of Every Kind of Rack). Squat racks are one of the best investments you can make for your lifting goals. Here's a look at the cost of each type of squat rack, some of the hidden costs of buying a rack, and why they can be so expensive.
5 Best Back Exercises You Can Do With a Squat Rack (Plus Benefits and Sample Workout). The squat rack is one of the few pieces of equipment that can train every major muscle group. Here's a look at the best back exercises you can do with a squat rack, including benefits and a sample workout.