Wondering if the cable machine will help you achieve your training goals? Here is a look at all the benefits of the cable machine, from bigger muscles to fewer injuries.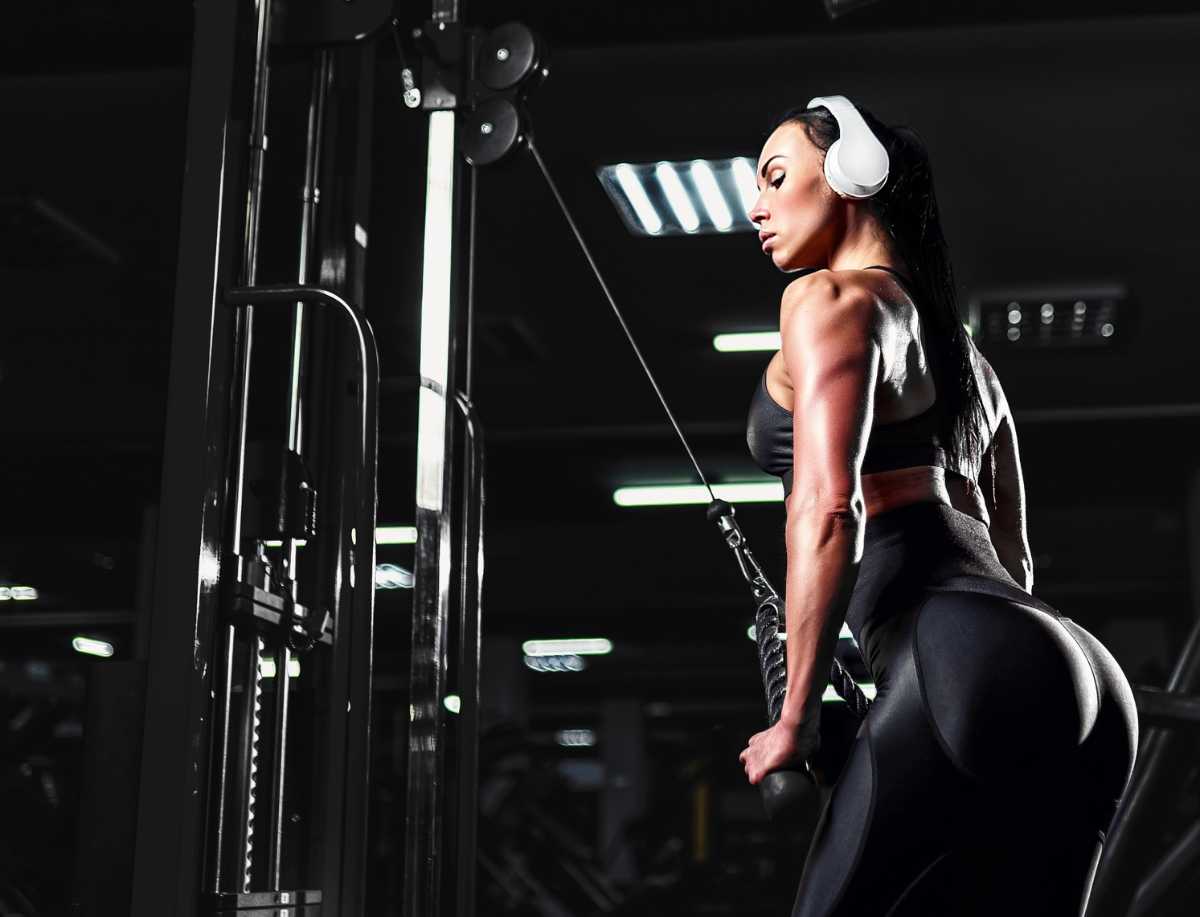 When it comes to building strength and muscle in the gym, free weights tend to be the stars of the show.
Barbells, dumbbells, kettlebells, and so on.
But when it comes to pure functionality, it's tough to beat the cable machine.
They are wildly versatile, increase time under tension (aka more muscle hypertrophy), and are much safer for most lifters compared to free weights1.
In this article, we will do a deep dive into ALL the benefits of cable machines, from safety to making you better looking.
(Mostly kidding about that last one…)
Let's jump in!
What is a Cable Machine?
A cable machine is pretty much exactly what it sounds like: a machine that uses a cable running through a system of pulleys to lift weights.
On one end of the cable, you have the handle/s that you grip, and the other end is attached to a weight stack.
Thanks to the pulley system design, you can adjust the height of the cable machine, allowing you to pull up, down, and outward.
The weight stack makes it easy to increase or decrease the amount of weight you lift as desired.
And, because there are so many handles and accessories available for the cable machine, you've got plenty of workout options to choose from.
There are a few different types of cable machines, from your basic home gym pulley system to double-deck cable crossover machines.
The Benefits of Training with a Cable Machine
Benefit #1: Great for Beginners
This may not be a huge benefit for experienced weightlifters, but it's definitely something newbies have to take into account.
With free weights, you expend a lot of energy trying to master the correct form of your exercises.
You're not yet accustomed to supporting the loaded barbells or dumbbells in the various positions, so you end up tipping, stumbling, or fumbling with exercises like bench presses, deadlifts, squats, and lunges.
But with the cable machine, there is no direct load on your body, which means far less weight imbalance. You can focus on the specific movement of whatever exercise you're doing, paying attention to the way your limbs go through the full range of motion.
It'll be easier to master the form on cable machine exercises, which helps you train safely right from the beginning.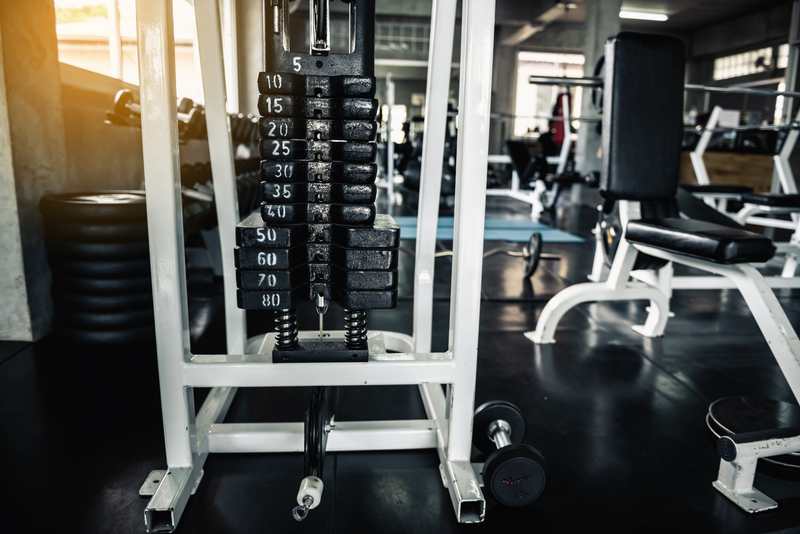 Benefit #2: No Direct Load
As someone who has suffered from multiple joint problems in the past, this is definitely a huge factor that makes me love the cable machine.
With free weights, you're supporting a heavily loaded barbell—for example, with bench presses, you're holding it out at arm's length, or with squats, you're carrying it on your shoulder. If you've got joint problems, this load can actually increase your injury risk or cause pain.
Bench presses may lead to a greater risk of shoulder injury because of incorrect form, or heavy barbells loaded on your shoulders can lead to lower back injuries when doing squats.
Fun Fact: One meta-analysis of gym-related injuries found that over half (55.2%) of injuries serious enough to warrant a hospital visit were because of using free weights like dumbbells or barbells. Exercise group classes (15.9%) and treadmills (9%) were also in the mix1.
But with the cable machine, there is no actual load placed directly on your body. You only support the weight when you pull/push on the handle to lift the weight stack.
This means that there is a far lower risk of injury and strain, and cable machine exercises tend to be gentler and safer for people suffering from existing injuries.
Fun Fact: A study2 that documented hospital visits in the US from 1990 to 2007 found that free weights were significantly more likely to cause fractures and dislocations (23.6%) compared to using machines (9.7%).
Whether you are looking to strengthen your chest with the cable machine or want to try safer alternatives for leg day, a cable machine can help you lift in a manner that reduces injuries.
Benefit #3: More Time Under Tension
This is probably the biggest and most often-flaunted benefit of the cable machine.
To understand why it matters, we need to look at what "time under tension" is and how it can lead to bigger muscles.
As its name suggests, "time under tension" refers to the amount of time your muscle/s spend contracted/under stress during an exercise.
The more and longer the stress, the more energy your muscles burn, so the more they have to adapt by increasing strength.
Experts agree that increasing time under tension leads to greater hypertrophy and faster gains3.
You might be wondering, "How does the cable machine increase time under tension?"
Simple: as long as you're holding the handles and pulling on the cable, there is tension being exerted against your muscles, and they are forced to contract.
What this means is that your muscles are always under tension through the full range of motion, with no real "rest point" where your muscles can relax between reps.
Cable machines will fatigue your muscles faster because of this, and will lead to greater muscle gains.
You can see why cable machines are so popular!
Benefit #4: Maximum Versatility
With free weights, you really only have one option for lifting: straight up and down. That's because it's only gravity that makes the weights heavy, and as we all know, gravity pulls the weights toward the floor.
We get under the weight to push, pull, curl, or lift them, and thus we get a great workout.
But the cable machine lets us do a whole lot more. The machine uses a system of pulleys that let you change the way you work.
While the cable pulls the weight up and down, the pulley can be raised and lowered to adapt the angle. If you want to pull up (for exercises like curls or overhead presses), you can.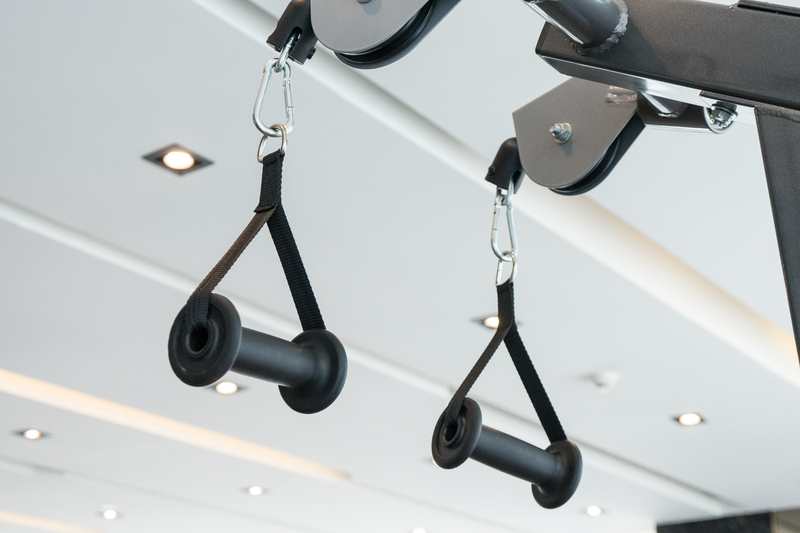 If you want to press straight out in front of you (for cable flys), you can do that, too. If you want to pull or push down (for cable pulldowns or iron crosses), that's also an option.
No machine is as versatile as the cable machine! Thanks to the pulley system, you can push or pull in literally any direction (as long as it's away from the machine).
This allows you to perform multiple exercises you wouldn't be able to with any single machine.
Heck, you can work out your entire body with just the one machine.
Tack on the fact that there is a huge list of cable machine attachments, including lat pulldown bars, tricep ropes, ankle straps for kickbacks, and more, and you've got literally endless versatility in terms of exercises.
Benefit #5: Greater Whole-Body Engagement
Cable machines will let you focus on a specific muscle or muscle group, but don't think those are the only muscles doing the work.
The rest of your muscles have to engage to keep you balanced in whatever position you're working.
Here are some examples:
When curling using the cable machine, your body has to counterbalance the movement of your arms.
With cable crossovers, your body has to maintain your posture in a forward half-lunge position.
And when doing pull-downs, your body has to brace against the seat to enable you to pull against the weight.
All of this leads to amazing engagement of your whole body—not just the prime movers, but a lot of stabilizer muscles.
Because there's no support (no bench beneath you for presses, no pad to pull against for rows), secondary muscle engagement increases, and you develop more resilience overall which improves your posture.
Or, if you want to specifically target the muscles that engage to keep you balanced and stable, you can do that, too.
There are a lot of cable machine exercises that move you through the twisting, rotating, raising, and crunching ranges of motion that engage your abs, lower back, and obliques.
You'll find that you become a more resilient and agile athlete thanks to the cable machine.
Benefit #6: Challenging for All Fitness Levels
The #1 benefit I listed above was "great for beginners", but don't think for a minute that expert-level trainees can't use the cable machine.
On the contrary: the cable machine offers more advanced weightlifters a precision tool to focus on specific ranges of motions, postures, or exercises.
The versatility of the cable machine allows you to incorporate a lot of more advanced movements into your routine.
(For more on how to get started with a cable machine, check out this beginner's guide to using a cable machine.)
The weight stack has more than enough load for even ultra-strong bodybuilders and powerlifters.
And because of how versatile the machine is, with so many movement options, there's always a new exercise you can add to your routine to challenge your body in a different way.
---
Why You Should Train with a Cable Machine – FAQs
Can you build muscle with just a cable machine?
Cable machines are excellent for building muscle as they increase time under tension safely and offer excellent versatility for movement.
The cable machine is versatile enough to work your entire body through every range of motion, engaging your push and pull muscles and your lower body. The cable machine is also one of the best ways to build stronger abs.
If you never lifted a single free weight in your life, you could still get insanely ripped using only the cable machine.
(That being said, variety is the spice of life. Changing up your exercises will prevent boredom and help you to train your muscles in new ways.)
Are cable machines a better workout compared to regular machines?
A lot of "regular machines" utilize the same pulley system on a cable machine. The real difference between them and the cable machine is that most of these other machines are designed to specifically target one single movement.
For example, the leg extension machine uses a pulley system to target your quads. The bicep curl machine targets your biceps, while the fly machine targets your chest.
Even the chest press machine will use a pulley system to serve as an alternative to bench presses.
However, because they only target a single muscle/muscle group through a single range of motion, they're less versatile than cable machines (though no less effective).
The Bottom Line
If you had to buy/use just one piece of gym equipment for the rest of your life, I'd argue the cable machine would be your best bet.
Not only can you get a full-body workout, targeting every muscle and muscle group with a broad range of exercises at multiple angles, but the increased time under tension can lead to faster muscle growth—i.e. better results for the time you've invested.
Even if you prefer free weights or other machines, it just makes sense to incorporate at least a few cable machine exercises into your workouts.
---
More Cable Machine Guides and Articles
Looking for more cable machine goodness?
We've got you covered. We've researched and written about this particular gym machine exhaustively, from our favorite exercises to do with it to our favorite cable machines for home gyms.
6 Best Cable Machine Arm Exercises (Plus a 20-Minute Workout). Using a cable crossover machine is an effective way to train the biceps and triceps. Here's a detailed look at the best cable machine exercises for stronger arms, plus a 20-minute sample workout.
How to Do Cable Machine Glute Kickbacks: Benefits, Muscles Worked, and Variations. Cable machine glute kickbacks are an awesome way to build stronger glutes, hamstrings, and hips. Here's a deeper look at the benefits of this exercise, how to do it like a pro, muscles worked, and some variations to try.