Looking for a leg extension machine for your home gym? Here's a detailed list of the best leg extension machines, including key features, a buyer's guide, and more.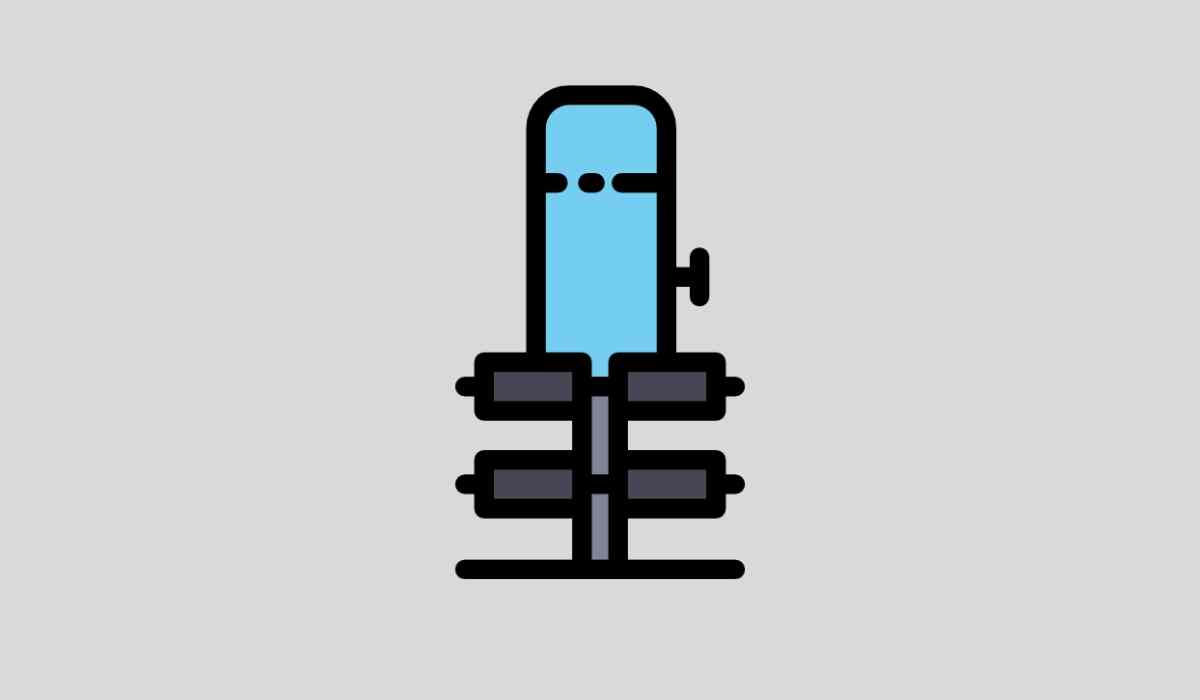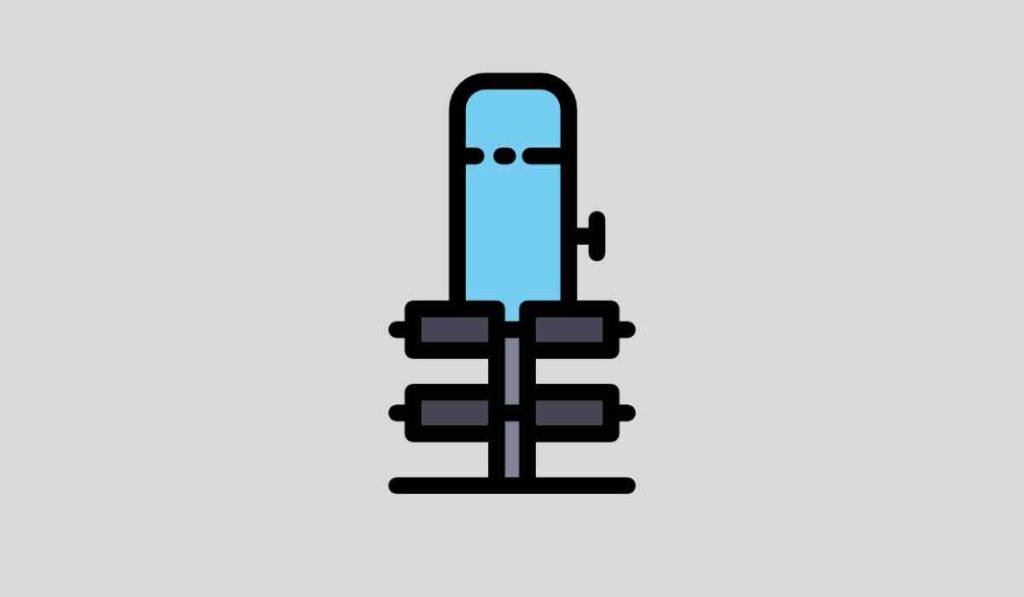 The leg extension exercise is one of the best movements you can do for developing the quadriceps.
The benefits of leg extensions are extensive:
Target the quads (and the VMO muscle—the teardrop muscle next to your knee)
Improve knee stability
Fixed path means it's safer than many free weight exercises
And more.
It's also surprisingly versatile for a leg machine, which means it can be done for more than just your garden-variety leg extension.
In this guide, we will look at the best leg extension machines on the market right now.
We will look at the top options for every budget.
Look at the key features of each.
And give you a detailed buying guide so that you can purchase with confidence, knowing that the leg extension bench you choose is the right one for you.
Let's jump right in.
---
Best Leg Extension Machines
Marcy Adjustable Utility Bench with Leg Extension
⭐ Best budget-friendly leg extension with bench
The marketplace on Amazon is a bit of a gongshow when it comes to third-party sellers, which have exploded in number since the Covid pandemic hit and gym equipment became one of the most sought-after products on the planet.
While many of the brands and manufacturers promise quality products at reasonable prices, I've gotten burned a few times, including on a power rack and adjustable dumbbells.
That said, there are some budget-friendly brands on Amazon that sell good stuff, and one of them is Marcy Fitness, which makes some of my favorite strength training equipment for home-based lifters.
For just a few hundred dollars, you get something that borders on a total home gym, with a fully adjustable workout bench (both incline and decline) and a "leg developer" attachment that can do both leg curls and leg extensions.
Key features:
Very budget-friendly
Wheels on the frame to move the bench when not in use
Leg developer attachment for both leg extensions and curls
Adjustable bench (six different positions)
Fits both 1" and 2" weight plates
Maximum weight capacity of 600lbs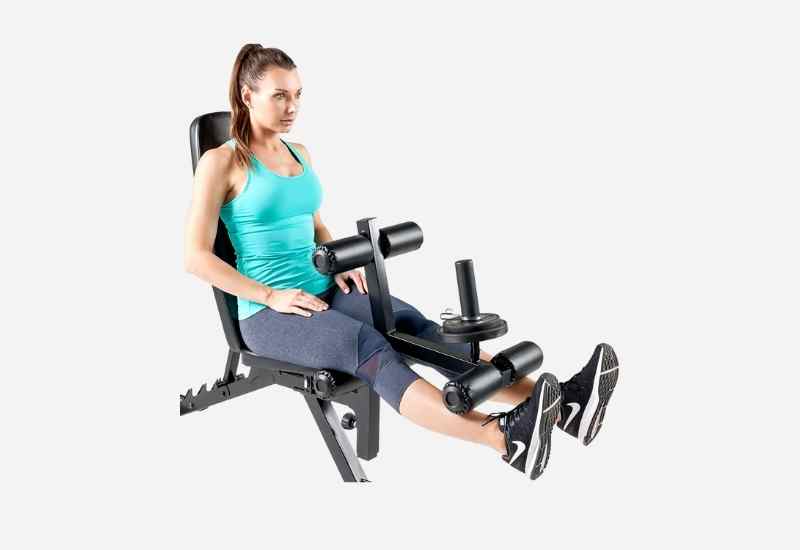 ---
Cybex Ion Series Leg Extension/Curl Machine
⭐ Best commercial-grade leg extension machine
Let's get this out of the way from the start: this machine is not cheap. It costs just over $5,000.
So clearly, it's not for everyone.
But for those who are looking at building a commercial-grade gym in the comfort of their own home, you can't do any better than this absolute monster of a leg extension machine.
Made with 11-gauge steel, and powder coated for maximum durability, the Cybex Ion Leg Extension has a weight stack using 15lb plates that moves up and down on self-lubricated bushings.
Magnetic pins lock into place on both the weight stack and the work arm, which features three different positions so that you can get your legs comfortably behind the roller.
The thing I like most about it is the large 20-degree seat angle that significantly increases the range of motion you will get out of this exercise (more range of motion = more muscle building).
The footprint is actually fairly minimal despite being such a heavy-duty piece of equipment, at 70" x 46".
Key features
Angled seat for more knee flexion (greater muscle recruitment)
202.5lb weight stack
Built like a tank – at 600lbs it will not wobble whatsoever
Adjustable back pad and workarm positions
Extra thick pads for a comfortable lifting experience
Pricey – retails for just over $5,000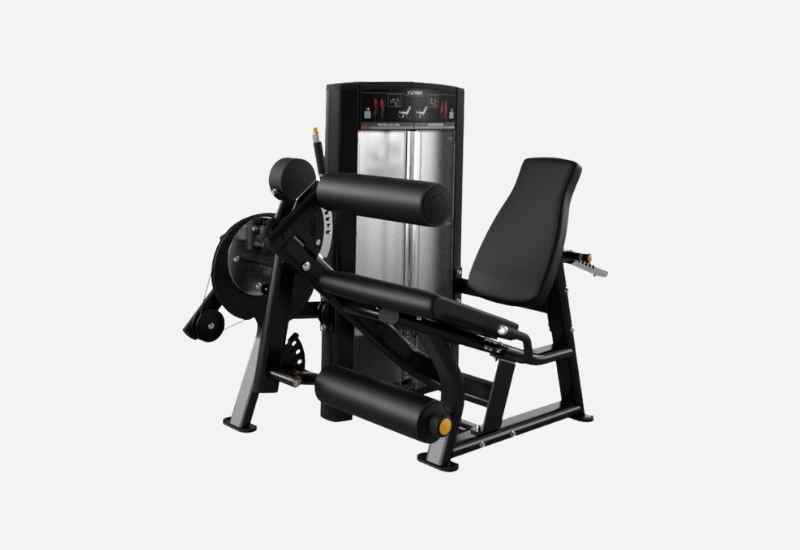 ---
Body-Solid Leg Extension and Curl Machine
⭐ Best compact leg extension and leg curl machine
Wanna combine the leg extension with the leg curl in one compact machine? This unit by Body-Solid is a sturdy and space-saving solution that allows you to target both exercises within a small footprint.
Made on a 2" by 3" steel frame, the machine has a footprint of just 55" (long) x 27" (wide). Although relatively small—as far as gym equipment goes, at least—the design is wobble-free, with the weight loaded in the middle of the machine. Use the handles on the side of the bench, and there will be next to no movement when you move weight.
The Body-Solid Leg Extension and Curl Machine is designed for standard weight plates (plates with a 1" diameter hole opening).
For gym owners with Olympic weight plates (2" diameter hole openings), Body-Solid offers an adapter that can be purchased separately.
Key features:
Extra thick pads for a comfy lifting experience
Uses plates for resistance (sold separately)
Designed for standard weight plates
Retails for under $700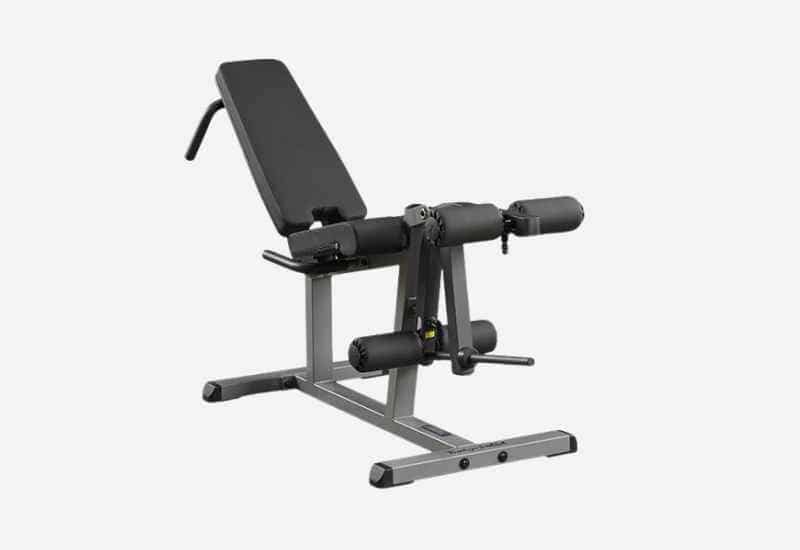 ---
XMark Rotary Leg Extension Machine
When it comes to leg extension machines, simpler is often better. The XMark Rotary Leg Extension Machine nails the mark with its simplicity and function.
For starters, the workarm gives you 20 different positions for ultimate flexibility on the beginning position for your workout. The thigh pads have 12 positions so that you can lift in comfort.
The side-loaded weight peg makes adding weight easy, and there is a large storage weight peg on the back of the machine for stacking weight plates between sets and reps.
The storage peg also provides an added bit of stability—load it up with weight plates and reduce wobble or teetering while lifting.
Downside? It's very frequently out of stock on Amazon (check here to see current stock and pricing at Amazon).
Key features:
20 positions on the adjustable work arm
Adjustable back pad and thigh pad
11-gauge steel frame
Non-skid feet for added stability
Works with both standard and Olympic weight plates (includes an adapter for the 2" diameter on Olympic plates)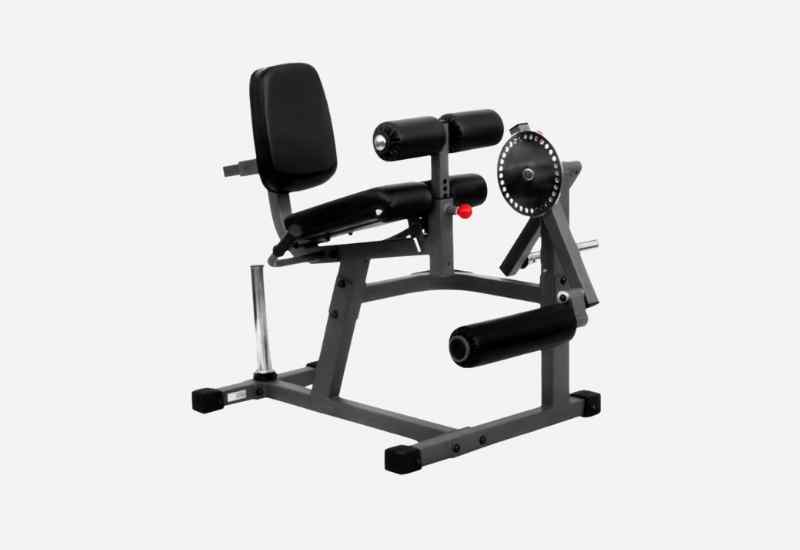 ---
Leg Extension Machine Buyer's Guide
Although the leg extension exercise is relatively straightforward—move weight up, move weight down—there are some key details when trying to choose the best leg extension machine for your home gym and your goals.
Things like seat angle, price (goes without saying), footprint, adjustability, and more.
Here are the top things to look for when searching through the leg machines on the market:
? Seat angle
Why does the seat angle matter? Because when your knees are on a slight incline, there is a greater range of motion. (Your legs travel further to straighten.)
More knee flexion means that you are recruiting more muscle in your quadriceps.
Obviously, you can still get a high degree of activation from a seat that is perfectly horizontal, but for the lifter that wants that extra little bit of oomph in their leg extensions, look for a leg extension machine that has a slightly angled seat.
? Adjustable roller pad
Leg extension machines, especially the better ones and those you see at your local gym, have an adjustable workarm (also called sundial adjustments) that allow you to adjust the position of the roller that goes just above your feet, keeping you parked in place while you kick the weight out.
Some machines have up to 20 different positions on the workarm, while others have just a few.
This is an important feature to look for if you have short or long legs (like most of us) and want to ensure your feet are properly positioned when sliding into the machine to workout.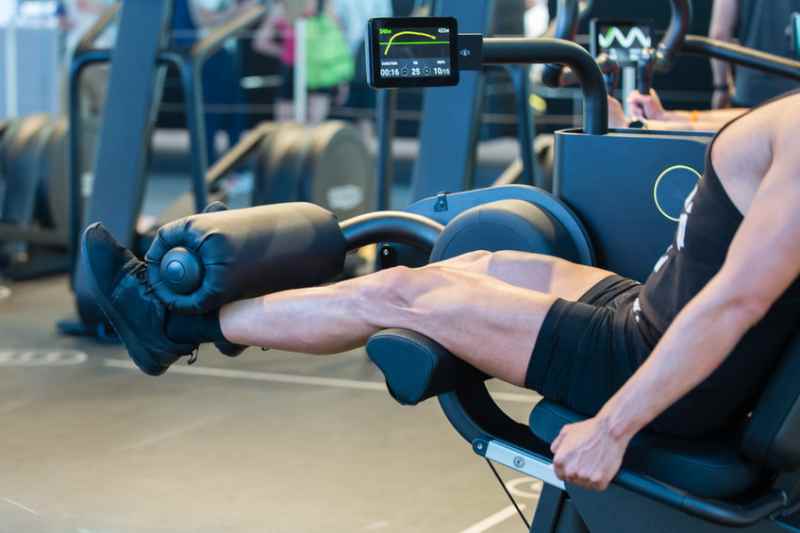 ? Plate loaded vs. Weight stack
Leg extension machines with a weight stack are going to be more expensive, both in product cost and shipping fees because of their added weight.
Another thing to look out for with plate-loaded machines is the size of the weight plate they are loaded with.
Gyms typically use 2" weight plates while a lot of residential lifting equipment uses 1" diameter weight plates.
Double-check with your existing plate collection to make sure that they will fit your leg extension machine of choice.
Nothing worse than spending a bunch of money on a leg extension bench or machine and not be able to use the plates you have on hand.
Leg Extension Machines – FAQs
Are leg extension machines worth it?
Leg extension machines are an excellent machine that can isolate the quadriceps for maximum muscle growth. They eliminate the instability that is inherent in squats and other free weight exercises, making them safer for people who have bad knees.
They are worth it for people who want to develop lower body muscle and strength without worrying about injuring themselves on traditional compound lifts that target the quads like squats.
How much do leg extension machines cost?
Machines that are designed specifically for leg extensions start at around $800 and go up from there, with commercial-grade leg extension machines costing around $4,000 to $5,000.
There are budget-friendly leg extension machines that can be bundled with a weight bench (the Marcy Fitness bench and leg extension above is an excellent example of this).
The factors that drive up cost are primarily whether they use a weight stack or plates, and how much load the machine can handle.
Bench-bound leg extension machines can handle maybe a hundred pounds or so, while machines with a weight stack (that are correspondingly more expensive) are capable of providing up to 350lbs of resistance.
What exercises can you do with a leg extension machine?
You can do a surprising variety of exercises on a leg extension machine, including single and double-leg extensions, hip thrusts, standing leg curls, ab crunches, glute kickbacks, and more.
How much versatility you can expect from this machine depends on whether if the machine has an adjustable press roller that frees you up to position the roller wherever you like.
The Final Rep
A leg extension machine is an excellent investment for the home gym enthusiast.
While the main focus of the machine is to help you build stronger quads, there are plenty of ways that you can change up your positioning on the machine to target the rest of your lower body muscle groups.
To recap:
⭐ The Marcy Adjustable Utility Bench with Leg Extension is the best bet for smaller workout areas and lifters who want a decent leg extension for an affordable price.
⭐ The Cybex Ion Series Leg Extension is a commercial-grade machine for home gyms that have the space and budget. It also has the best range of motion of any leg extension machine on the market.
More Leg Extension Resources
6 Leg Extension Alternatives for Developing Strong Quads. Whether you are at the gym or home, here are my favorite leg extension machine alternatives you can use to strengthen your quadriceps.
8 Benefits of Leg Extensions (Muscles Worked, How-to, and More). Leg extensions are an effective way to strengthen the quadriceps muscles. Here are eight reasons to use this exercise in your leg day routine, as well tips for how to do it like a pro, and more.
7 Best Leg Machines at the Gym (Plus Benefits, Muscles Worked, and More). Looking for a detailed breakdown of all of the leg machines at your local gym? Look no further. Here's a full look at all of the leg workout machines including muscles worked, benefits, and more.