Want to take your core strength to the next level? Here are the best cable machine exercises that will target your abs and core.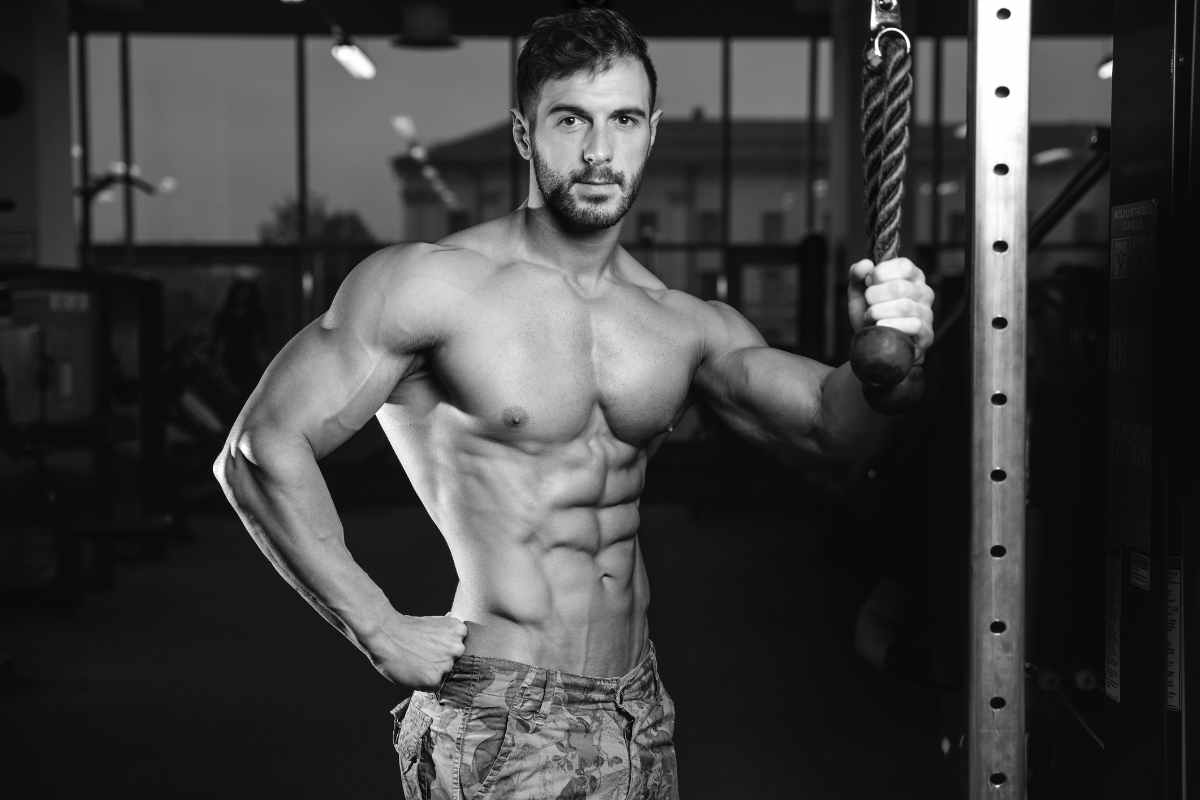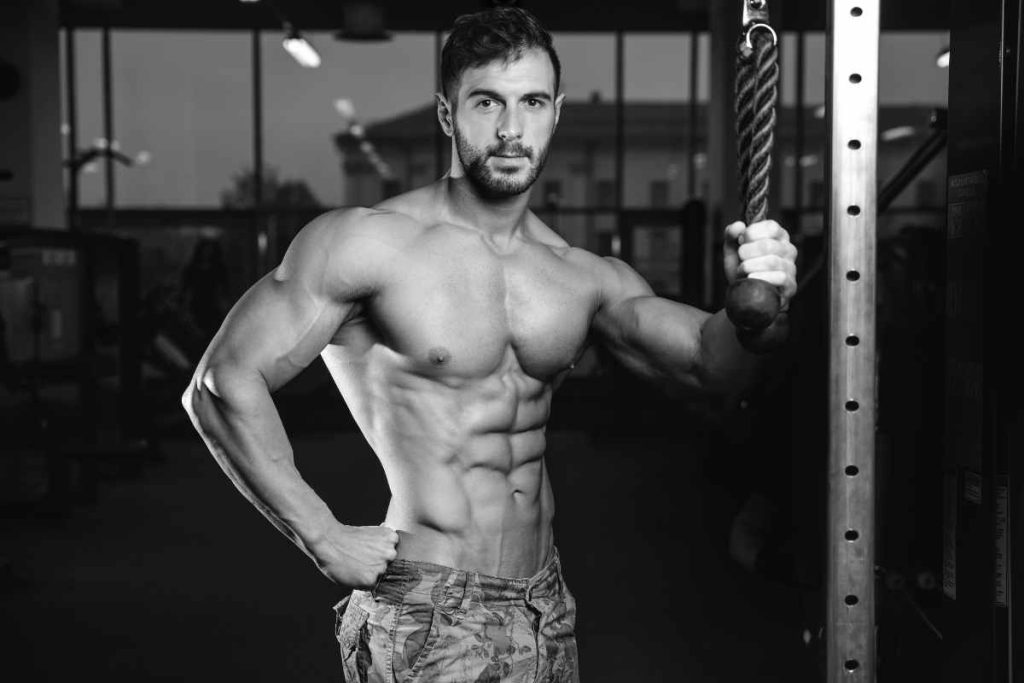 Working with a cable machine is an amazing way to take your training to the next level!
Not only does the cable machine allow for more versatility in your exercise options, but the increased time under tension does wonders to enhance muscle growth.
In this post, I want to talk specifically about how you can use the cable machine to shred your abs like beast.
I've shared in previous posts about how to work out the larger muscle groups—such as cable chest exercises or killer leg exercises—but in this one, we're focusing entirely on the core.
Some of the exercises below will include other muscles (legs, hips, arms, back, chest, etc.), but the main focus is on your abs.
The workout we've prepared for you below is an amazing one to shred your core, burn fat, and get those rock-solid abs you're working toward!
The Benefits of Training Abs on a Cable Machine
I love cable machines! They're probably the most effective machine in the gym for a number of reasons:
Increased time under tension.
With free weights, you eventually reach a point where the structure of your skeleton is supporting the load.
For example, at the top of your curl, or the top of your bench press. There is little or no muscle engagement at this "rest point", allowing your muscles to rest for a second between reps.
Stuck with Your Training in the Gym?
Join 12,000 lifters and athletes and sign up for FREE access to my 5-day email course on how to conquer the most common gym mistakes.
From goal setting to lifting technique, you will learn how to overcome the mistakes in the gym that are holding you back from getting bigger and stronger.
Unsubscribe anytime. No spam.
Not so with the cable machine. Because the cable is always pulling against you, there is no "rest point".
This increases the time your muscles spend under tension, which fatigues your muscles faster—ultimately leading to more effective muscle growth.
Versatility.
With the cable machine, there is no limit to your range of motion. You can move whatever way feels most natural, and the only "fixed" aspect of the machine is the cable machine attachment to the pulley system.
Whether you pull straight up, straight down, forward, backward, or horizontally, there is total freedom of movement.
This allows you to adapt pretty much any exercise to multiple positions and directions. You'll have a lot more versatility in your training as a result.
Engagement during concentric and eccentric phases.
With the cable machine, you have to maintain the tension in the cable during both the contraction (concentric) and relaxation (eccentric) phases of the exercise. This is what increases time under tension, and it strengthens your muscles in both critical phases.
Focus on form.
With the cable machine, slow and steady is actually the more effective way to train. Slow movements increases time under tension even more, so you hit muscle fatigue faster.
But it also helps you to pay attention to your form and really maximize the efficiency of your movements.
You can easily lower the weight to work within a safe, effective range and work on getting each part of your movement just right.
Best Exercises for Abs with a Cable Machine
Exercise #1: Kneeling Cable Crunch
Sick and tired of doing regular crunches?
Give this amazing cable variation a try! It's not just great for engaging your abs, it'll also increase hip and lower back mobility while increasing the strain on your abs (as the cable creates tension).
It's an amazing ab-buster that will help you develop serious core power.
To perform this exercise:
Kneel facing the cable machine. Set the machine to its maximum height, and attach a tricep rope.
Grip the handles and bring your hands down to either your forehead or beside your neck.
Keeping your elbows as close to your side as possible, crunch (bend) forward and try to touch your elbows to your knees.
When you can go no lower, hold the crunch for a 2-count, then slowly straighten and return to your starting position.
Repeat as desired.
Exercise #2: Cable Woodchoppers
The woodchopper is one of the best exercises to engage both your abs and obliques in a twisting motion that is integral to good spinal strength and stability. You'll find you are far less prone to lower back injuries because your other core muscles have more bracing power anytime you twist.
To perform this exercise:
Set the cable machine to its max height, and connect a standard D-handle.
Stand with the cable machine on your left side. Twist and reach for the handle, gripping it in both hands, and take one long step of your right foot forward. Bend your right knee to go lower into the stretch.
Tighten your core and use your abs and obliques as you twist from left to right. Pull downward as you twist, aiming to bring the handle above your bent knee and down to roughly shin level. Make sure to keep your arms perfectly straight so your abs do all the work!
Using your core (not your hips!), twist back toward the left, raising your hands and returning to starting position.
Repeat as desired, then switch sides.
Exercise #3: Horizontal Woodchoppers
Where the last exercise utilized a diagonal twisting motion, this one focuses much more on a horizontal motion.
There is a bit more strain on your lower back because it has to brace your lower body as you move, but the result will be a stronger spine and more powerful abs and obliques.
To perform this exercise:
Set the cable machine to roughly chest height. Use a standard D-handle attached to the machine.
Stand with the machine on your left side, with your feet planted roughly shoulder width apart, toes pointed forward, a slight bend to your knees.
Reach over with both hands to grasp the handle.
Brace yourself with your core and twist from left to right, keeping your arms extended straight out in front of you like you're swinging an axe around.
Twist to the right as far as the cable length will allow, then control your motion as you return to starting position on the left.
Repeat as desired, then switch sides (right to left) to maximize core power.
Exercise #4: Cable Hanging Leg Raise
If you've already got some strength in your abs but want to take it to the next level, give this beast of an exercise a try.
It's guaranteed to set your core screaming and maximize engagement of your abs, obliques, and the critical hip muscles that enable efficient leg movement.
To perform this exercise:
Set the cable machine to its lowest height. Secure the cables to your ankles using the ankle straps.
Grab the cable machine's hanging/pull-up bar and hang from your hands.
With your feet together and legs straight, raise your legs out in front of you until they're parallel to the floor (or higher, if you really want to go for broke!).
Lower your legs under control, but don't let them touch the ground.
Repeat as desired.
Exercise #5: Cable Reverse Crunch
Say goodbye to boring crunches, and hello to a new and better way to crunch!
This cable variation on the crunch will engage your hips along with your abs, leading to greater stability through your lower body.
It's also a fun way to challenge yourself to keep growing stronger and adding more weight.
To perform this exercise:
Lie on the floor with your feet near the cable machine. Set the machine to its lowest height and use a pair of ankle straps to connect your ankles to the machine.
Lift your legs until your knees are at a 90-degree angle to your body. Bend your knees to a 90-degree angle, too.
Place your hands behind your head, and using the power of your core only, crunch your knees toward your chest—WITHOUT lifting allowing your upper back to lift off the floor! The work should be done chiefly in your lower body, the lift primarily in your hips.
Aim to bring your knees as close to your chin/chest as possible. Once you've pulled as close as you can, hold the crunch position for a 2-count, then relax your body and return to the starting point.
Repeat as desired.
Sample Cable Machine Core-Blasting Circuit
Time to pull all those exercises together into an amazing core-blasting circuit!
Cable Hanging Leg Raise – 1 set of 8-10 reps
Rest 60 seconds
Cable Woodchoppers – 1 set of 8-10 reps
Rest 30 seconds
Horizontal Woodchoppers – 1 set of 8-10 reps
Rest 60 seconds
Cable Reverse Crunch – 1 set of 8-10 reps
Rest 30 seconds
Kneeling Cable Crunch – 1 set of 8-10 reps
Rest for 2 minutes, then repeat the circuit. Repeat 3-4 times to blast your core!
Cable Machine Ab Exercises – FAQs
Are cable machines an effective way to train core strength?
They absolutely are! Thanks to the extra time your muscles spend under tension, you can shred your abs and build ab power.
And by adding a twist or side bend, you engage your obliques, hips, even your lower back. You'll find that there are tons of core-focused cable exercises you can do!
How do you hit lower abs with cables?
Reverse cable crunches and hanging leg raises are both excellent for targeting your lower abs specifically!
How often can you train abs with a cable machine?
Like any muscle, you don't want to train your abs too often. Your muscles need at least 24 hours of recovery time between workouts, but the more intense your workout, the longer recovery time is needed (48 to 72 hours). Try to work out your abs no more than 2-3 times per week to avoid over-training.
The Bottom Line
Thanks to the cable machine exercises listed above, you can shred your abs and build serious core power in no time.
Whether you're using these exercises as a "finisher" to end your upper body workout or taking an entire day to focus on your abs, you'll find they do an amazing job of building the core power that will improve your stability and balance and decrease the risk of lower back injuries.
Good luck, and happy ab-blasting!
More Cable Machine Exercise and Workout Guides
6 Best Cable Machine Arm Exercises (Plus a 20-Minute Workout). Using a cable crossover machine is an effective way to train the biceps and triceps. Here's a detailed look at the best cable machine exercises for stronger arms, plus a 20-minute sample workout.
5 Best Cable Crossover Machines for Home Gyms. Crank up your workouts with the versatility of a cable crossover machine. Here are the best ones for every kind of home and garage gym.
5 Best Home Gym Pulley Systems. Pulley systems are a killer tool for better workouts. Here's a breakdown of the top home gym pulley systems for leveling up your workouts at home.