Using a cable crossover machine is an effective way to train the biceps and triceps. Here's a detailed look at the best cable machine exercises for stronger arms, plus a 20-minute sample workout.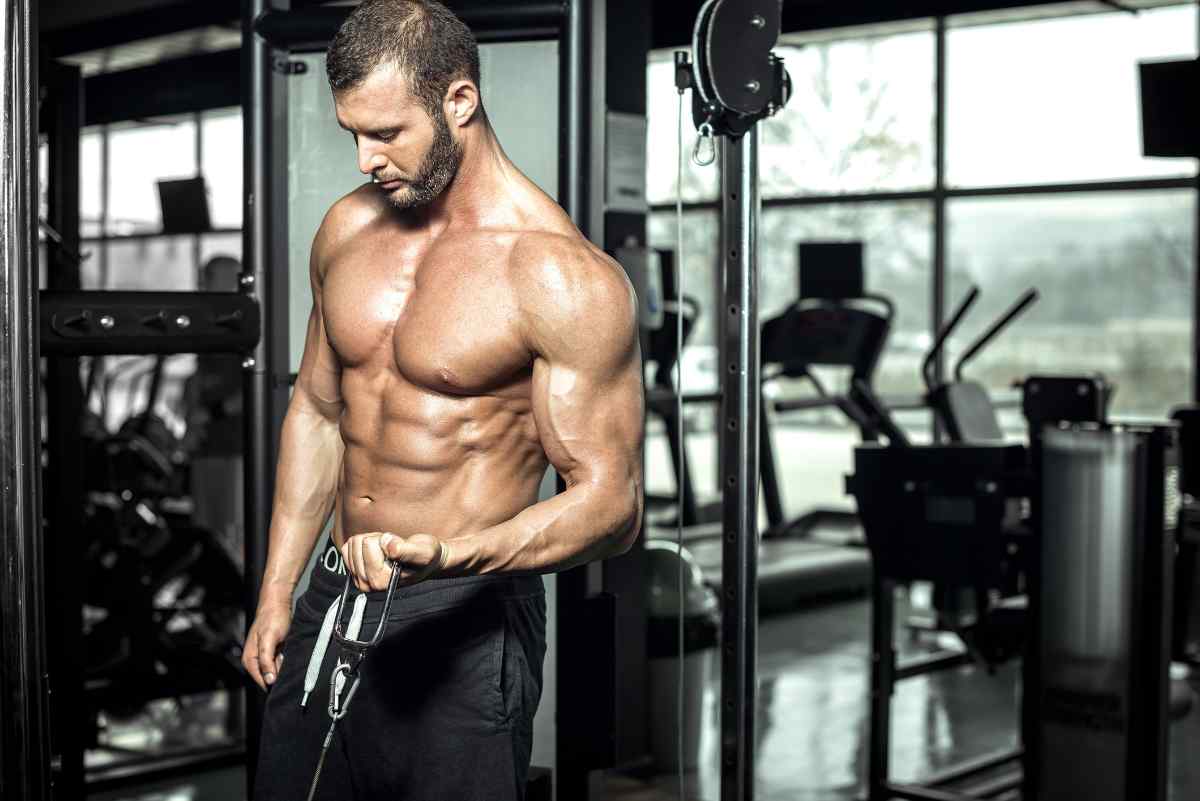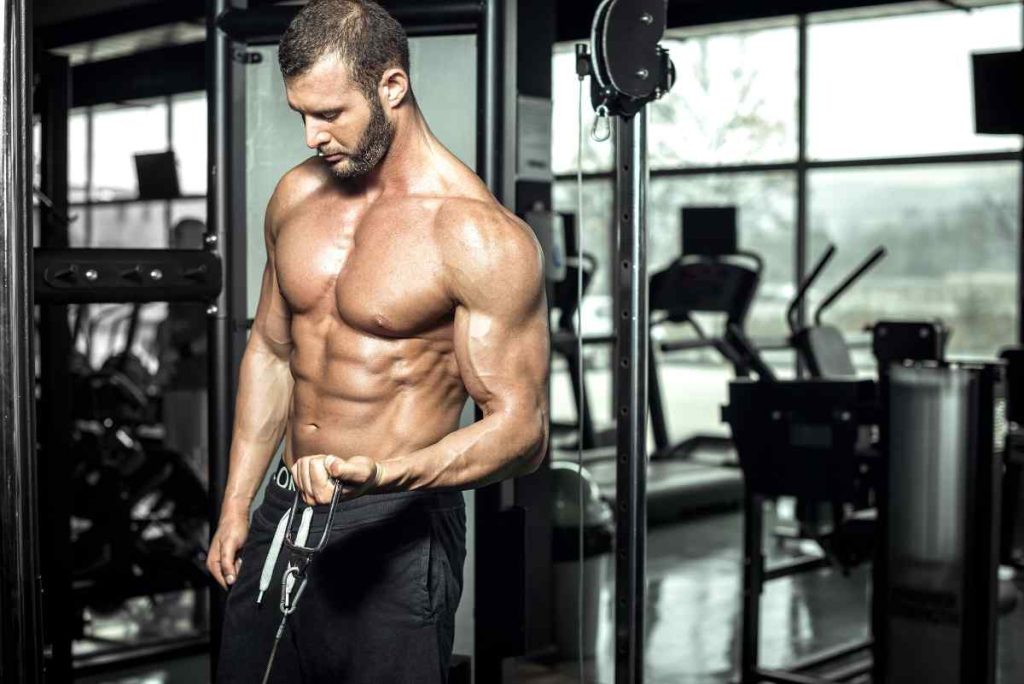 When it comes to building arm muscle in the gym, there is a LOT of different forms of resistance to pick from.
Barbells. Kettlebells. Dumbbells. Medicine balls. Machines. Pulley systems. Battle ropes.
And on and on.
One of my favorite pieces of strength training equipment, both for novice and experienced lifters alike, is the cable crossover machine.
Endlessly versatile, the cable machine is a killer tool for building muscle in your arms (as well as legs, chest, and back).
In this article, we will look at the reasons you should consider the cable machine for arms day, the best exercises you can do to build stronger arms, and even a sample cable arm workout to try next time you hit the gym.
Let's jump right in.
Benefits of Cable Machines for Building Arm Muscle
Okay, before we cannon-ball into the waters of my favorite exercises (which are not only awesome based on my own experience but are evidence-based to be effective), let's take a step back and go over why the cable machine is particularly useful.
Here's why cable machines—in my opinion—should be close to the top of the list when it comes to arm day:
Stuck with Your Training in the Gym?
Join 12,000 lifters and athletes and sign up for FREE access to my 5-day email course on how to conquer the most common gym mistakes.
From goal setting to lifting technique, you will learn how to overcome the mistakes in the gym that are holding you back from getting bigger and stronger.
Unsubscribe anytime. No spam.
Excellent muscle activation.
Go into the gym any day of the week and you will almost definitely see a few gymgoers doing standing bicep curls in front of the dumbbell rack. And yes, the occasional lifter doing barbell curls in a squat rack.
But if you want Big Guns, the cable machine is a better bet.
One study1, done by ACE, a personal training certification company, found that bicep curls done on a cable machine out-performed barbell curls, preacher curls, and even EZ curls when it came to bicep activation (the only exercise it didn't beat was the dumbbell concentration curl).
Better range of motion.
Cable machines can help you lift with an increased range of motion.
A study compared lifters exercising on either a selectorized machine (pin-loaded) or on a cable machine, and found that the cable machine promoted a greater range of motion through each exercise.
This was particularly in the case of upper body exercises like the chest press and overhead press2.
Perfect for complexes.
Cable machines are an all-in-one strength training solution.
Sliding the carriage up and down changes the direction of resistance, allowing you to quickly shift between contrasting exercises.
This makes them ideal for complexes.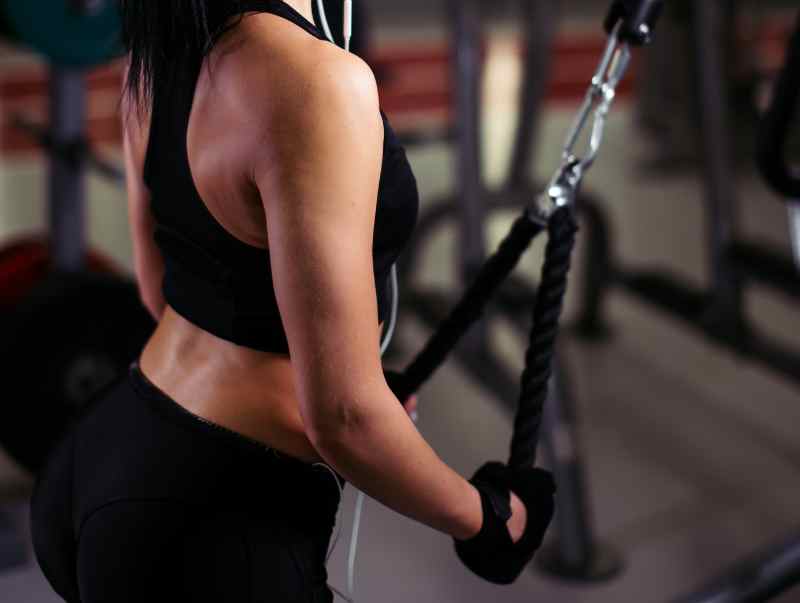 Switching between triceps pushdowns and bicep curls, for instance, takes only a couple of seconds to adjust the cable pulley and change between weight selections.
For lifters on a time crunch, complexes are a great way to maximize your time in the gym, and cable machines make jumping between exercises and resistance levels easy.
Cable machines tend to be safer.
Anytime you combine heavy objects and people striving to the point of failure, you are going to get injuries.
Between 1990 and 2007, almost a million Americans wound up in an emergency room after a trip to the gym, with almost 90% of those injured doing so while using free weights (dumbbells and barbells) compared to using machines3.
Cable machines have weight stacks that are enclosed, reducing the likelihood that you drop a weight on yourself while chasing gains.
Handle variety
One of my favorite perks of training with cable machines is being able to use a wide range of handles and bars/ropes.
Unlike a traditional dumbbell or barbell, which have fixed handles, with a cable machine you can use a rope, curled bar, D-handles, and so on.
Whichever cable attachment is most comfortable and allows you to workout to your full potential.
Great for building muscle.
Another study looked at the difference between using a cable machine or a barbell in conjunction with a preacher curl bench.
Hypertrophy was similar for forms of resistance4, showing that you don't necessarily need to pick up the old-school iron weights to build muscle in the gym
Not a bad list of benefits!
Now that we have a deeper understanding of just how powerful a cable machine can be, let's take a look at the top arm exercises you can do with it.
Best Cable Arm Exercises
1. Cable bicep curl
Let's start off with the stars of the show—biceps!
The bicep brachii is arguably the most trained body part at my local gym. It doesn't matter what day of the week it is, there are heaps of people training sculpting their guns.
And one underestimated way to train this muscle is by using a cable machine.
How to do the cable bicep curl like a pro:
Attach your bar (or rope) of choice to the pulley system
Select your weight
Pick up the bar (underhanded is the default hand grip) and take a step back to create tension in the cable
Curl the bar without swinging your arms or rocking your shoulders back
Remember to keep your elbows straight and to avoid flaring them out
Hit the top of range of motion, pause, and then lower
Repeat as necessary
As mentioned earlier, one of the best things about doing arms on a cable machine is that you can really play around with the grips and types of bars you use to do the exercise.
In one study5, researchers found cable bicep curls were more effective than barbell or EZ curls in contracting the biceps brachii.
Variations include:
Standing away from the cable machine and doing a horizontal bicep curl to get an alternate stimulus
Use a D-handle attachment and perform unilateral cable curls to maximize core engagement
The variety possible with this exercise is one of the reasons it's an essential cable machine exercise for arm day.
2. Cable triceps pushdowns
A staple of cable machine workouts for arms is the triceps pushdown.
Targeting the triceps brachii, the three-headed monster on the back of your arm, pushdowns strengthen elbow flexion5, and are highly effective at generating triceps muscle activation.
One study found that they outperformed closed grip bench press and lying barbell triceps extensions for triceps activation.
How to do triceps cable pushdowns like a champion:
Choose your attachment of choice (use a triceps cable rope if you can)
Get into a shoulder-width stance, with core braced
Keeping elbows tucked, push the resistance downwards
Pause once your arms are straight, contracting the triceps fully
Return to the starting position in a controlled manner
Repeat as necessary
Should I Use a Rope or Bar for Pushdowns?
EMG analysis6 with a group of well-trained lifters found that using a rope compared to a straight bar for this exercise activated more muscle in both the long and lateral heads of the triceps.
Ropes generated an average of 74/100 activation while bars trailed at 67/100.
If you have access to a triceps cable rope, by all means use it for this exercise as it also tends to be more comfortable in terms of grip.
Like the bicep curl, there are some excellent variations of this exercise that you can do to keep your workout routine fresh:
Use a V-handle for a more comfortable grip
Deploy a D-ring handle to do unilateral triceps pushdowns to create more core engagement and improve overall stability
Use the exercise as a "finisher" at the end of a workout for maximum burn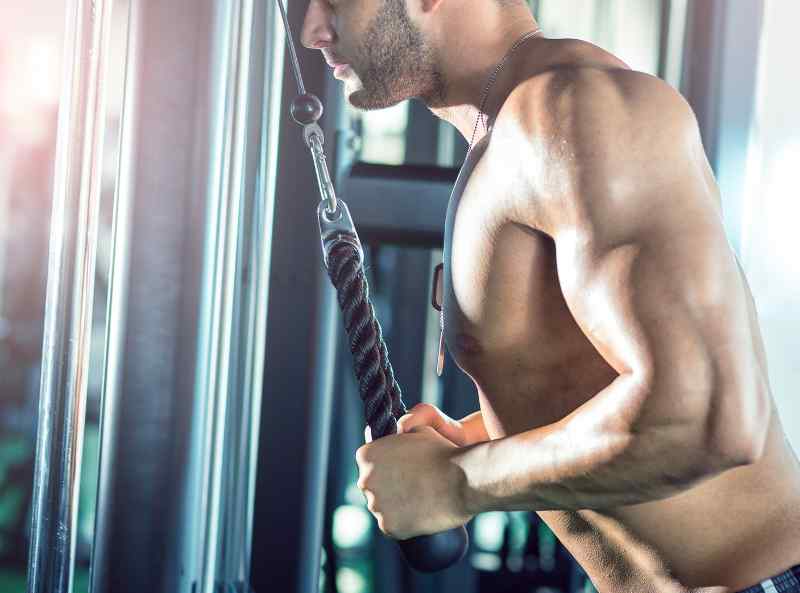 3. Overhead cable extension
We are gonna hit the triceps again, this time turning away from the cable machine, and extending the bar horizontally.
How to do overhead cable extensions like a champ:
Attach a triceps rope (or a small bar) to the high pulley cable machine
Pick an appropriate weight (that won't reel you back into the machine if you fail a rep)
Grab the rope (bar) and lean slightly forward away from the cable machine using a split stance
Brace your core—keeping the torso rigid helps isolate the triceps and gives a secondary training effect to your stabilizer muscles
Extend your forearms until the arms are almost locked out. A slight bend in the elbow maximizes tension and activation in the triceps
Keep your elbows relatively straight. Lifters tend to flare out their elbows when fatigue sets in with this exercise.
Slowly return to the starting position in a controlled manner.
Repeat as necessary
Like other cable arm exercises, there is a lot of variety to be found in this movement.
While ropes are the default "bar" you can also use a V-bar or small straight bar for this exercise.
If you really want to isolate the triceps and enhance the mind-muscle connection, try cable extensions unilaterally with a single handle cable attachment.
4. Cable hammer curls
Hammer curls are a variation of the standard bicep curl.
Done with a triceps rope, lifters use a neutral grip (palms facing each other) instead of a "palms up" grip.
This subtle change in hand positioning continues to engage the biceps, but it outperforms the standard curl in developing wrist and forearm strength.
Grip is crucial for overall strength and assisting in the big compound lifts and pull-heavy exercises like deadlifts and pull-ups. Improved grip strength is also associated with better overall health outcomes6.
For this reason, hammer curls are an essential accessory exercise in my training program and for most of my clients.
How to do cable machine hammer curls:
Attach a triceps rope to the low pulley on the cable machine
Get into a shoulder width, athletic stance
Grab both ends of the rope, with palms facing each other
Lead with your hands, bending at the elbows and bring your hands up towards the shoulders
Keep your elbows straight with the forearms, and keep them from flaring out
Avoid the natural urge to lean back or swing the upper body to use momentum to overcome resistance
Pause for a moment, feeling the contraction through the biceps and the forearms
Lower the rope until you are almost at lockout, maintaining tension in the arms
Repeat as necessary
There are plenty of variations to choose from with this exercise, including single arm hammer curls (you can use a triceps rope for this or even just the cable) and cross-body cable curl.
5. Cable kickbacks
Kickbacks are an excellent exercise for targeting the triceps in a unilateral manner.
The ACE study we mentioned earlier found that they were the second most effective exercise researchers tested for muscle activation in the triceps (behind triangle push-ups and tied with dips).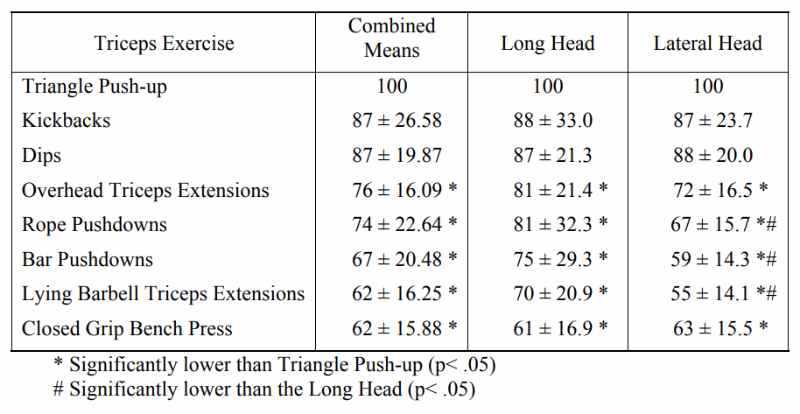 While kickbacks are predominantly done with a dumbbell, they can be performed with a cable machine as well.
I tend to prefer and recommend the cable machine version, as resistance is being applied almost exclusively in a horizontal manner (compared to dumbbells, where you are combating gravity and trying to push the weight horizontally).
Here's how to do the standing cable triceps kickback:
Face the cable machine and position the pulley so that it's at hip height (or slightly higher depending on how far you bend your back to do this exercise)
Adjust the weight stack to your desired resistance
Grab your cable attachment of choice
Hip hinge to the point that your back at about 10:00
Extend the arm backwards, taking care not to flare the elbow, until just before lockout
Feel the contraction happening through the triceps and forearms
Return to the starting position under control
Repeat as necessary
TRAINER'S NOTE
You don't necessarily need a cable attachment for this exercise.
Gripping the black plastic ball at the end of the cable is perfect, but you can also use a short triceps rope or a D-ring handle.
There are a few different ways to set up for this exercise, including use a bench to kneel on, but for most lifters, standing works just fine.
This exercise gets major points for the fact that it's done unilaterally, which allows you to really get a feel for the contractions happening in the arm while also providing an extra boost of secondary core and stability work.
6. High cable bicep curls
This exercise is a fun one, and I will admit that this is partly because you get a great look at yourself performing the exercise (if you have a large mirror set up in front of the cable machine, obviously).
How to do high cable curls like a boss:
Attach a D-ring handle attachment to the pulley
Set up the pulley so that the top of your arm remains horizontal through the movement (this means using a high pulley for most people)
Create tension in the cable by stepping laterally away from the weight stack
Brace your core and bend at the elbow, bringing the weight towards the side of your head
A little bend in the wrist is good and will likely make the exercise more comfortable
Pause at the "top" of the exercise
Return to the starting position (without locking out your elbows to keep tension maximized)
Repeat as necessary
The exercise can be done unilaterally or with both arms.
I prefer the two-arm version as the two weight stacks balance each other out and reduce some of the leaning and compensation that can happen with the one-arm version.
In either case, this exercise is excellent for targeting the inner head of the biceps and because the movement works on a horizontal plane, it also eliminates that pesky upper body swinging and leaning that happens when lifters cheat through bicep curls.
20-Minute Cable Machine Arms Workout
Now that we've covered the top arm exercises you can do with a cable machine, let's put it all together in a 20-minute program that you can use to build more arm muscle.
Each exercise to take around 60-90 seconds to complete, and add around a minute or so of rest between each.
Although this is a relatively short strength training workout, remember to always focus on control and contraction. This way, you can maximize the energy spent.
Bicep curls – 3×10-12 reps
Tricep pushdowns – 3×10-12 reps
Hammer curls – 2×10-12 reps
Overhead triceps extensions – 2×10-12 reps
High cable curls – 2×10 reps
Triceps cable kickbacks – 2×10 reps
Make sure to warm-up properly—especially the elbow joint—so that you can lift heavily, properly, and walk away with an awesome pump and hypertrophy.
The Bottom Line
Training arms is usually not much of a mystery. Grab something heavy, lift it up, put it down, and boom, stronger arms.
But thanks to the particular versatility, functionality and inherent safety of the cable machine, it's an excellent tool for your strength training goals.
The next time you hit the gym, saddle up to the cable machine, and get your arm workout on!
More Stuff Like This
5 Best Cable Crossover Machines for Home Gyms. Crank up your workouts with the versatility of a cable crossover machine. Here are the best ones for every kind of home and garage gym.
6 Best Cable Machine Attachments for Cranking Up Your Home Gym. The cable machine holds endless possibilities for exercises and muscle development. Here is a breakdown of the best cable machine attachments for taking your workouts to the next level.
5 Best Home Gym Pulley Systems. Pulley systems are a killer tool for better workouts. Here's a breakdown of the top home gym pulley systems for leveling up your workouts at home.