The cable machine holds endless possibilities for exercises and muscle development. Here is a breakdown of the best cable machine attachments for taking your workouts to the next level.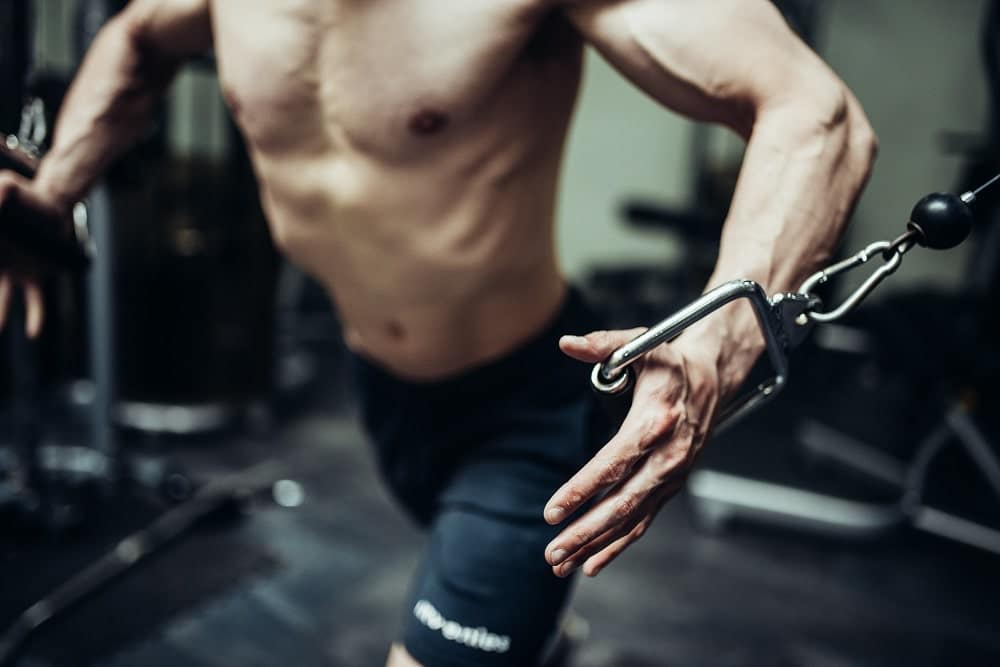 The cable machine is one of the most versatile pieces of equipment in the gym.
Whether you have a full cable crossover machine or a home gym pulley system, you can target just about every muscle group imaginable with the cable machine.
But, as many newbies to the gym realize the first time they see the bucket of attachments next to the machine, there is a lot of ways to train using the cable machine.
Fortunately,
Here are the six best cable attachments for cranking up the awesome with your cable machine or lat pulldown machine:
1. Lat pulldown bar
The lat pulldown bar is a certified gangster for developing a wide and powerful back.
Whether you want to use it for rows, lat pulldowns, low pull, cable shrugs—the world is your oyster with this bar. You can even use it as a straight-grip bar for barbell curls.
There is a surprising variety in the format of pulldown bars, with the most common one being the wide, dual-angled bar. There are also straight bars with D-handles and curved bars with neutral grip handles out there, but for most of us, a simple straight bar with angled handles is more than enough.
My favorite lat pulldown bar for home gyms is the one made by Rogue, which is manufactured solely of stainless steel (a lot of cheaper bars are coated with chrome, which isn't as long lasting or as durable).
Stuck with Your Training in the Gym?
Join 12,000 lifters and athletes and sign up for FREE access to my 5-day email course on how to conquer the most common gym mistakes.
From goal setting to lifting technique, you will learn how to overcome the mistakes in the gym that are holding you back from getting bigger and stronger.
Unsubscribe anytime. No spam.
Although pricier than most other lat pulldown bars (at around $160—check Rogue's website for current pricing), the fact that it's made completely in the USA (unlike most of the cheap knock-offs that litter the internet) and their gear is tested and proven by countless elite athletes across the globe makes it an easy winner.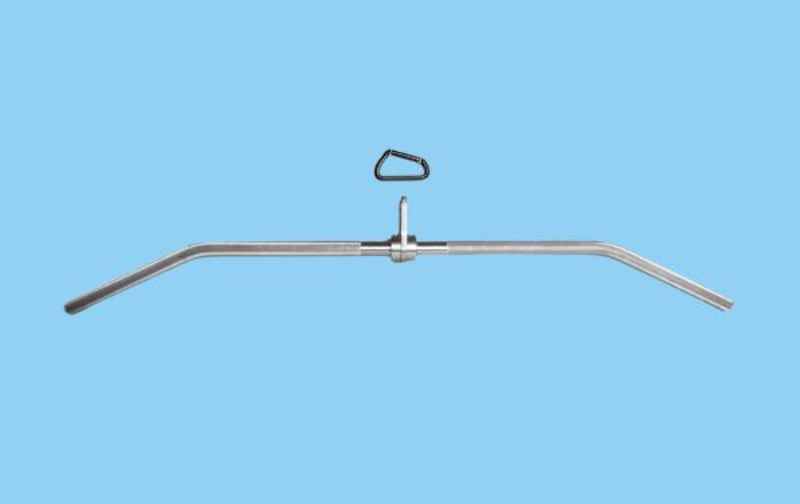 2. Tricep rope cable machine attachment
Although called a tricep rope, this thing is super versatile. Sure, you can target the three-headed muscle that is your triceps, but there is a long list of other exercises you can perform, including hammer grip curls, overhead extensions, face pull rows, RDLs, and so on.
One of my favorite tricep ropes on the market, and one of the best when it comes to price, is the rope from Yes4All. Constructed of heavy-duty nylown braided rope, and capped with a pair of rubber stoppers, the rope is under $20 (check Amazon for current pricing and availability) and is ready to help you crank up your workouts.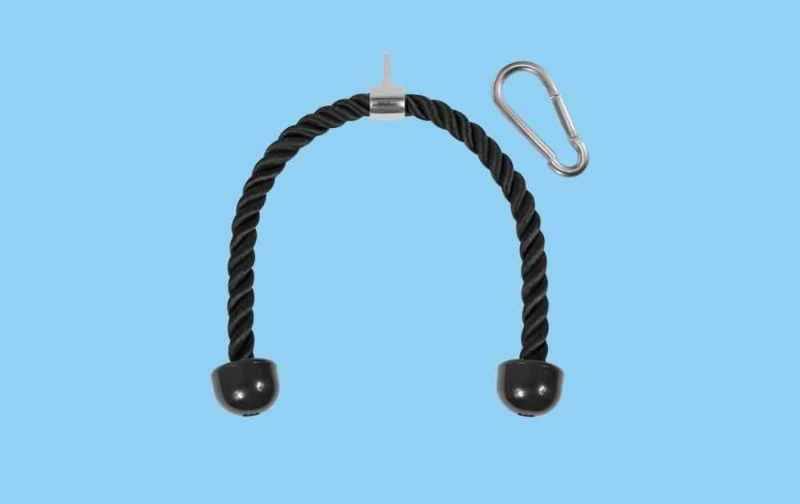 3. Cable machine ankle straps
Cable machine kickbacks have become a wildly popular exercise in recent years with the proliferation of booty-popping workout programs. Walking through the YMCA I often feel like Neo from the Matrix dodging flying legs coming from the cable machines.
For the home gym user, there is a bunch of killer different cable machine ankle straps that suit every budget and type of athlete. The most common type, and the one I rank as my best low-cost cable machine ankle strap, is the pair made by DMoose.
The cuffs are made of a soft neoprene that reduces chafing and abrasions on the ankle, while the Velcro strap is easy to adjust for a custom fit.
DMoose ships them in eight different color combinations and they cost just around $10.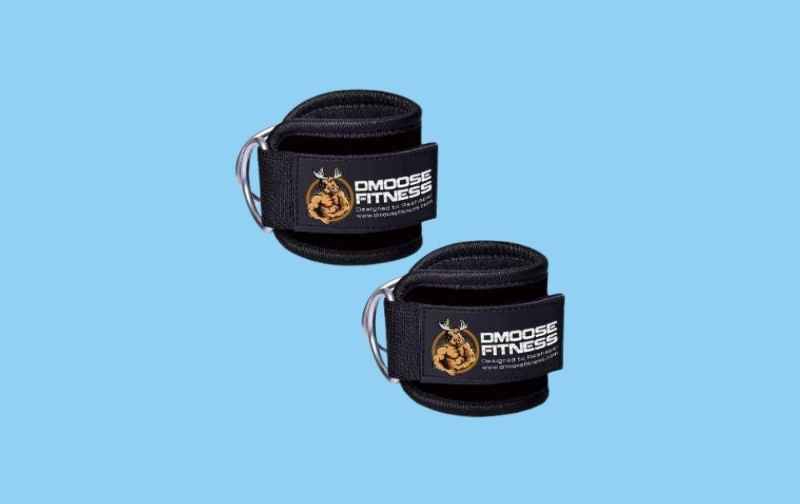 4. Double D Row Handle Cable Attachment
Do you like hammering out endless rows at the gym?
Then you are going to love having a double D row handle.
Designed specifically for a close-grip and powerful row, you will be able to lift more and more specifically target the larger muscles in your back when doing rows.
CAP Barbell—who also makes one of my preferred barbells for home gyms—makes a durable and comfortable double D-handle that is perfect for the garage gym enthusiast.
Manufactured with heavy-duty steel, and lightly knurled (but not so knurled that your skin is getting shredded) for a superior grip, the Cap Barbell D Handle has a universal attachment that works with just about every cable machine on the planet.
CAP's customer service has always been extremely on point with any concerns or questions about their stuff.
Combine this with a very reasonable price tag of around $23 (check Amazon for current pricing) you end up with the peace of mind of dealing with a company that fully backs their products along with a D Handle that is ready to help you unleash serious gainz on your rows.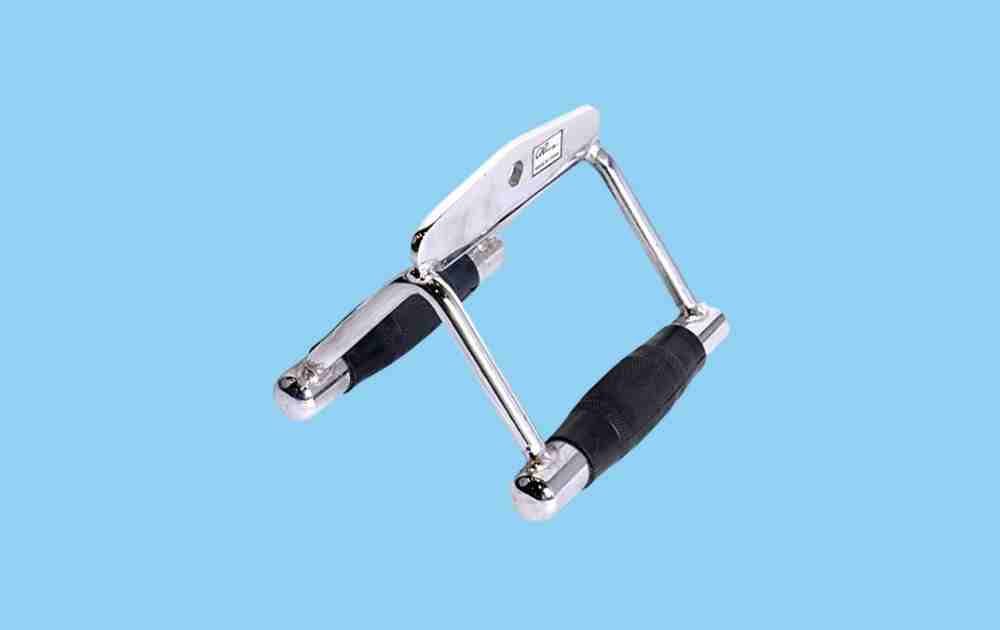 5. D Handle Cable Attachment
I love using D handles for unilateral training, specifically when it comes to shoulder raises, curls, tricep extensions, and even anti-rotational core exercises.
D Handles come in steel/chrome or nylon/rubber.
I like the nylon ones, specifically when it comes to doing rotational core work, because the steel/chrome versions will dig into my side if I rotate too far, but the steel/chrome handles simply last longer.
Synergee pops up again on this list with their D Handle attachment. The handle rotates, giving you a cleaner and more comfortable grip. Made of steel, the handle wont rust and the knurling helps keep your hand on the handle no matter how sweaty you get.
These handles ship with a standard carabiner that fits most cable machines, and Synergee rates this thing as being able to handle up to 770lbs (!!!) of weight.
Not bad.
Not bad at all…
Especially when you consider that you get a commercial-grade handle for about $20 (sold individually—check Amazon for current pricing and stock).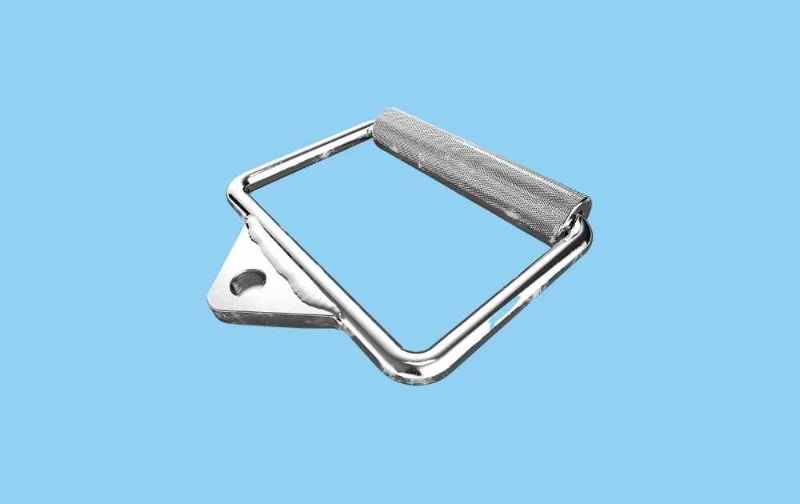 6. E-Z Curl bar cable machine attachment
The E-Z curl barbell was one of the first things I purchased when I got serious about building my home gym when Covid swept the world in 2020 and closed all of my neighborhood gyms.
The angled grip is more comfortable on your wrist compared to a straight bar, most E-Z bars have a few different angles you can use to attack your arms in different ways,
Fitness Maniac makes a quality curl bar that has a few features that I really like. For starters, the padded rubber grips keep your hands where they should be. Rubber stoppers at the end of the bar mean your hands won't slip off when doing wide grip movements. And the angled and solid steel construction gives you a ton of options for close-grip or wide-grip.
The cable attachment rotates, the bar is about 30" wide (so, about a foot shorter than most lat pulldown bars), and Amazon carries them for about $100 per bar (check Amazon for the most up-to-date pricing).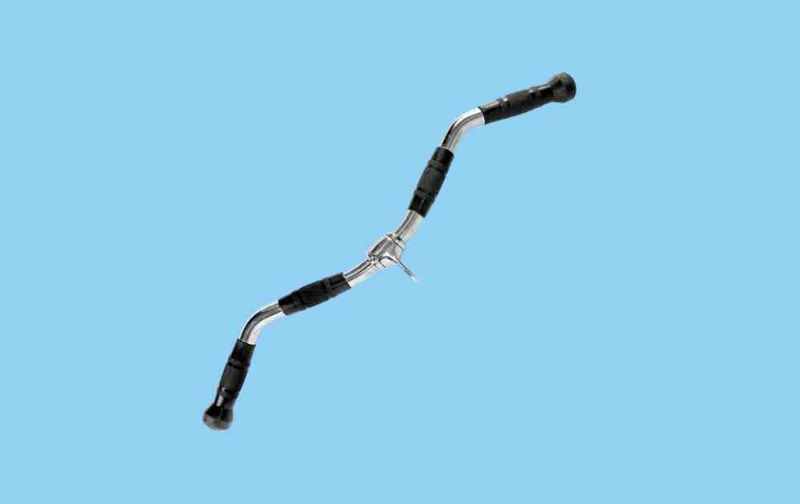 Recommended Reading
Get your cable attachment and cable machine fix with our collection of articles and guides. Below are some of the most popular with readers.
5 Best Home Gym Cable Pulley Systems. Pulley systems are a killer tool for better workouts. Here's a breakdown of the top home gym pulley systems for leveling up your workouts at home.
Best Barbell Landmine Attachments for Home Gyms. Read on for a breakdown of the different kinds of landmine attachments and find the best one for your home gym.