The cable machine is an incredibly versatile (and safe!) way to train at the gym. Here's a detailed look at how to use a cable machine, best practices, and some of the top exercises you can do with it.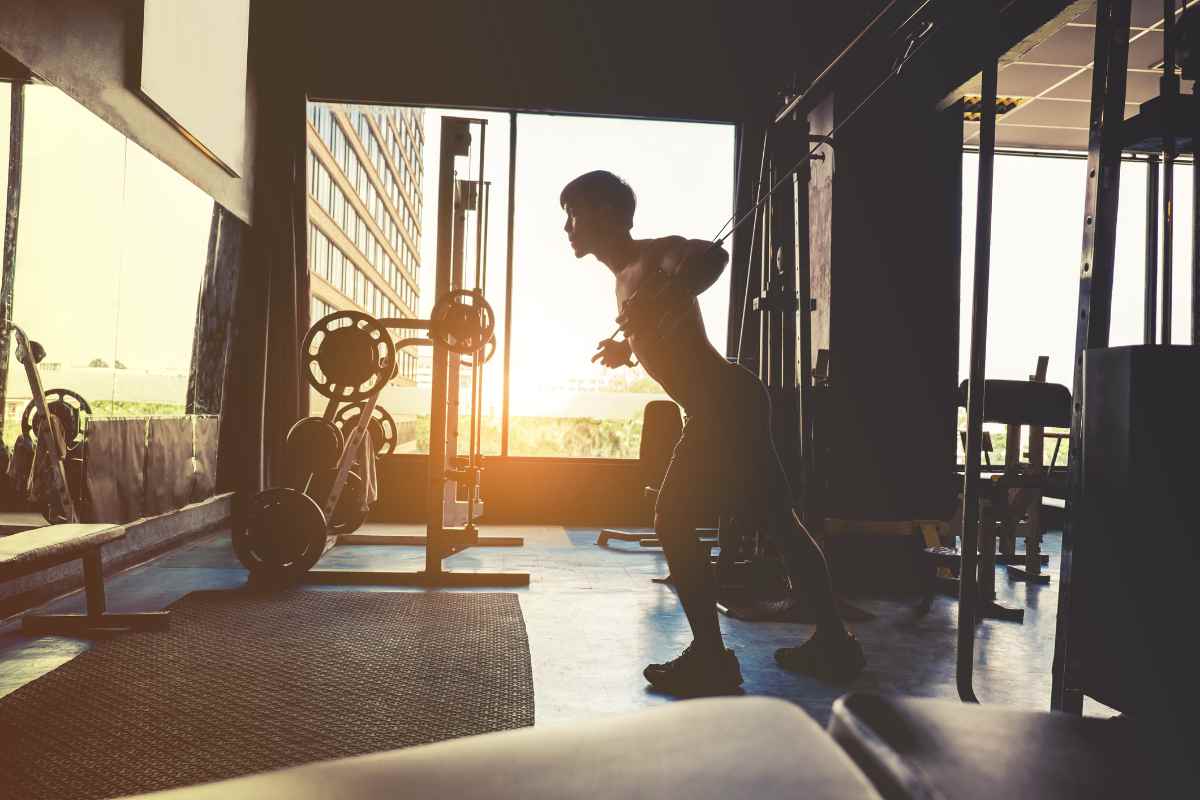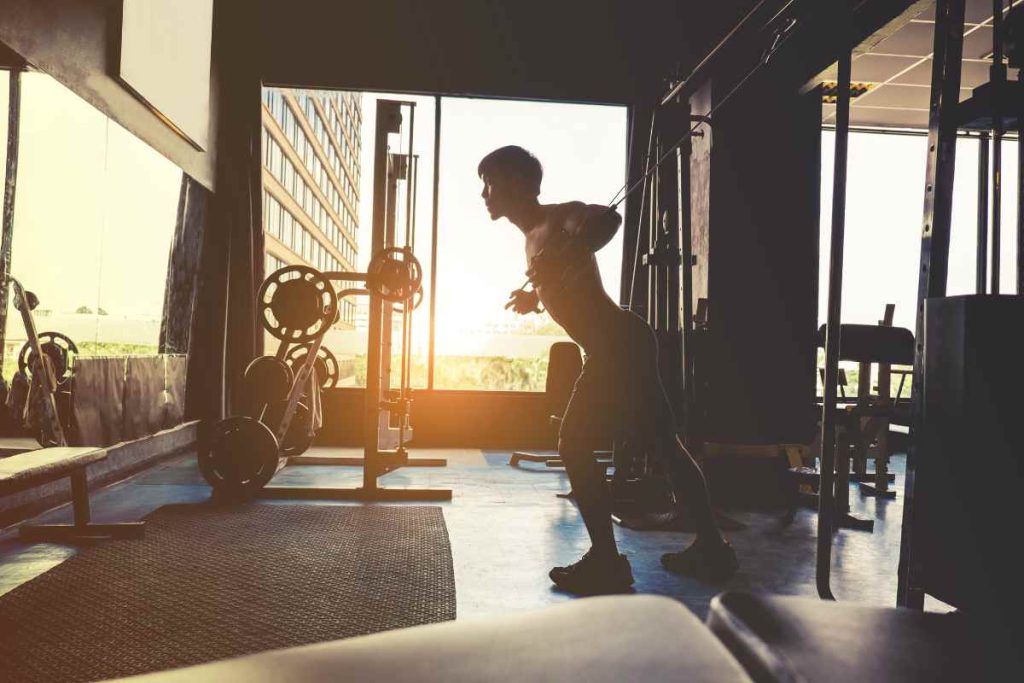 It's no exaggeration when to say the cable machine has to be the single most useful piece of equipment in the gym.
It's incredibly versatile and capable of training literally every muscle in your body.
And, because there's no direct load on your body, there is far less risk of joint strain than with free weights, the Smith machine, or squat racks.
Below, I'll walk you through the basics of cable machine training, including what benefits it offers, how to use it like the pros do, and my favorite cable machine exercises.
By the end of this article, you'll be ready to incorporate this wonderful machine into your workouts.
Let's get right to it.
Why Train with a Cable Machine
Let's start off with all the benefits you get by training with the cable machine.
There are, as you can imagine, A LOT of them, but I'll stick with the four main ones:
1. Greater Time Under Tension
One of the best things about the cable machine is that it increases the amount of time your muscles spend under tension. What this means is that your muscles are contracted for longer, with less rest between repetitions.
Let me explain…
Take bicep curls as the perfect example. When you hit the top of the curl, the weight is sort of "resting" on your arms, supported by the structure of your forearm, elbow joint, upper arm, and shoulder. There's a little moment where there's no load on the bicep, which gives it a rest between repetitions.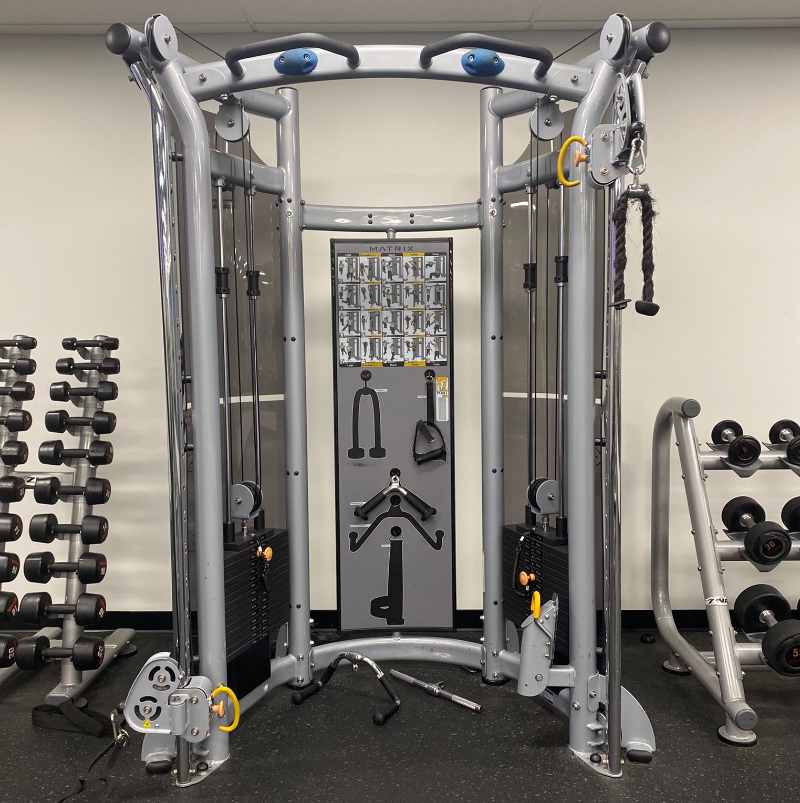 But with cable machine curls, things are a little different. Because you're pulling on a cable rather than directly lifting a load, there is no support coming from the structure of your arm.
You still have to maintain tension in your bicep and forearm as you hold the curl. Your muscle spends more time "under tension" throughout the entire movement.
This is a very desirable thing, because more time under tension means you burn through your available muscular energy faster, leading you to hit muscle fatigue and failure more quickly.
Reaching muscle failure is the most effective way to accelerate hypertrophy and increase muscular growth significantly.
To put it simply: greater time under tension = faster gains!
2. No Direct Load
When you lift free weights, there is a load (the weight) placed directly on your body. For example, with squats, the load (barbell) is placed across your shoulders. With curls, the load is on your arms. With bench presses, the load is on your arms and wrists.
This load is necessary for the lifts, but for people with joint insufficiencies (limited mobility, recovering from injury/surgery, etc.), the load can be a problem and cause pain.
With the cable machine, you're still lifting the load, but you're not actually supporting it directly. The cable machine utilizes a system of pulleys and weights that generates a heavy load for your lifts, but the machine itself supports all the weight. All you have to do is push or pull on the handles, and you'll get in a killer workout with FAR LESS load on your joints.
3. Adjustable Angles
With free weights, there's really only one range of motion you can work in: straight up and down. That's just the way gravity works!
But with the cable machine, you've got far more angles to work with. You can set the cable machine at ankle height and pull upward, set it at waist height and pull outward, or set it at head height and pull downward. You can face the machine and pull toward your body or face away from the machine and push away from your body.
There are so many angles to work with, which means a far more versatile workout that can be adapted any way you like.
4. All the Weight You Can Handle and More
The beauty of the cable machine is that it comes pre-loaded with a lot of weight. And I mean A LOT! Really, the stacks feature more weight than the average person will ever be able to lift even after a lifetime of training.
Or, at the very least, it's enough that it will take you years of hardcore lifting to actually reach that max.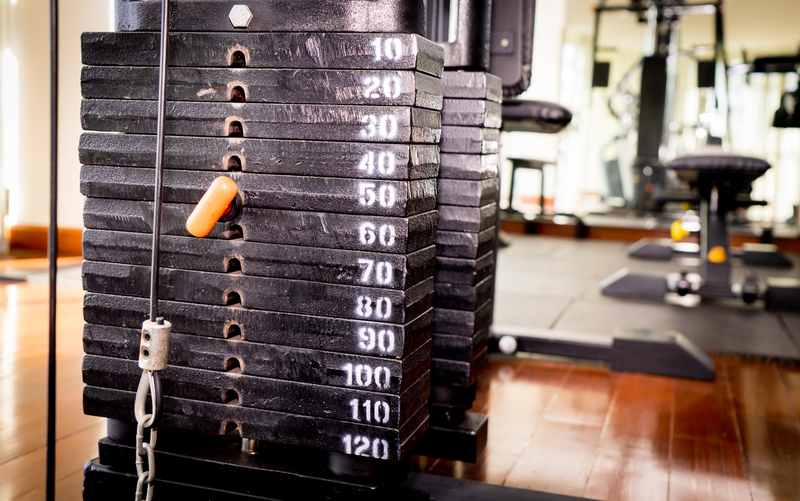 That means you never run out of weight with cable machines. No need to buy more weight plates, heavier barbells or kettlebells, or larger medicine balls. The cable machine has enough weight to last you a long time!
As you can see, there are a lot of great reasons to use a cable machine in your home gym (if you have one), and to add cable machine exercises into your workouts whenever possible.
---
How to Use the Cable Machine Like a Pro
Before you incorporate cable machine exercises for legs, chest, back, or arms into your workout, there are a few things you should know about how to use the cable machine correctly.
Keep these tips in mind as you plan your next cable machine workout:
Slow and Steady Is Best
With free weights, you may be tempted to jerk or swing to complete a difficult set. However, with the cable machine, it's easy to drop the weight slightly so you aren't straining to manage those last few reps.
That way, you can pay closer attention to what you're doing and really master the form of each exercise.
Moving slowly and steadily through the full range of motion will reduce joint strain, increase time under tension, and help you to maximize the effectiveness of your workout.
Play with the Height
The beauty of the cable machine is that you can adjust the height for each exercise you're doing. If you want to do cable crossover flys, you can set it at head height, lower it slightly to be more lower chest-focused, or lower it even more to incorporate a bit of extra triceps and abs engagement.
For curls, you can adapt the height to change up the angle of engagement for your arm muscles.
Test out the heights that work best for each exercise you're doing, and see how switching things up can change the way your muscles work.
Use the Various Attachments Right
Make the most of the many attachments that can be clipped to the cable machine. A few examples are:
The Double-D handles are excellent for close-grip rows that target the upper back muscles close to your spine, while the long bar targets the outer upper back muscles.
The curl handle allows you to focus on mastering the curl form.
The rope handle gives you flexibility for curls, kickbacks, and extensions.
The single handle makes for great unilateral training.
The leg attachment allows you to focus on your glutes and hamstrings.
There are literally dozens of attachments you can buy and add onto your cable machine, each with their own specific purpose.
Experiment with the many attachments to find the ones that will give you the best, most effective workout possible.
Watch Yourself in the Mirror
When working with new (unfamiliar) exercises, it's important to pay attention to the way you move and your form throughout the full range of motion.
Most cable machines are set up near mirrors that allow you to watch yourself as you work. It's worth looking at your entire body throughout the exercise—not just the muscles being worked, but all the muscles—to make sure your posture is correct, your non-essential muscles aren't engaging, and you're focusing on smooth, steady movements that will maximize time under tension.
---
What Exercises Can You Do with a Cable Machine?
Ready to get lifting using a cable machine?
Here are my four favorite cable machine exercises you can incorporate into your workouts:
1. Cable Crossover Flys
Crossover flys are one of the best exercises to include in your cable chest workout!
They engage the muscles in your chest effectively and encourage you to widen your arms so you can increase the range of motion in your shoulders and elbows.
The addition of the "crossover" at the end targets the middle chest in a way that few exercises can.
To perform this exercise:
Connect two single handles to both attachments on the cable crossover machine.
Stand in the middle of the machine, grip the handles, and pull them to ready position with your arms spread wide, your elbows raised and bent slightly, and a slight forward lean in your posture.
Press the handles together, using the muscles in your chest, shoulders, and triceps to bring them together directly in front of you.
Don't stop when your hands touch, but instead cross your right wrist over your left wrist to engage the middle chest muscle.
Hold at full extension for a 1-count, making sure to use the chest muscles as much as possible. Don't lock out your elbows!
Inhale as you return to your starting position with your arms spread wide.
Exhale as you push forward, crossing your left wrist over your right wrist.
Repeat as desired.
2. Cable Curls
Cable curls are a big hit in my own training regimen. They're the best for increasing time under tension and help me to hit muscle fatigue more effectively than regular barbell curls.
They're also easier on my wrists and can be adapted (using various cable machine attachments) according to the way I want to target my biceps.
Best of all, you can easily make the exercise more difficult by slowing down the speed of your curls.
To perform this exercise:
Stand facing the cable machine. Set the machine to ankle height, and connect the E-Z-Curl attachment.
Grip the bar in both hands, and exhale as you curl the bar upward to your chest.
Lower slowly and under control, but stop just before your muscles relax.
Repeat as desired.
3. Cable Glute Kicks
Time to step up your glute training with this badass exercise! It's become a staple for most glute-focused programs thanks to the lightning-fast isolation in the glutes and hips.
Cable machine glute kickbacks are also a great way to practice your spinning back leg kicks! (Kidding.)
To perform this exercise:
Set the machine to ankle height, and secure the ankle cuff attachment to the machine and your right ankle.
Get on your hands and knees with the cable machine on your right side.
Extend your right leg behind you and up as high as you can. Really focus on squeezing your glutes at the top of the kick to feel the burn.
Lower slowly and under control.
Repeat as desired on the right leg, then switch to the left leg to finish the set.
4. Cable Crunches
If you want to target your abs, cable crunches are one of the all-time best cable core exercises around.
They're easy, beginner-friendly, gentle on your back, and can be done with just about any attachment or handle you've got.
To perform this exercise:
Set the cable machine to head height, and connect the handle of your choice. (Trainer's Note: Typically, for this exercise, I like to use either the double tricep rope or resistance band-style soft handle. They're just more comfortable to grip.)
Get on your knees facing the cable machine. You should be roughly 18-24 inches away from the machine.
Grab the handle with both hands and pull it down behind your neck.
Crunch forward, using your ab muscles to lower your head toward your belly. Try to keep your butt and lower back as still as possible so you focus on the abs.
Hold at the lowest point for a 1-count, then slowly rise back up to your starting position.
Repeat as desired.
These are just a few, and there are so many more. From cable kickbacks to overhead extensions to isolation curls to leg extensions to rows, you've got options for training your entire body using just one highly effective machine.
The Bottom Line
As you've seen above, cable machines can be game-changing for making your workout more effective, increasing versatility, and reducing the strain on your joints.
The fact that you can hit muscle fatigue faster by increasing time under tension makes it one of the all-time BEST pieces of gym equipment to incorporate into your workout whenever possible.
---
More Cable Machine Guides
⭐ 6 Best Cable Crossover Machines for Home Gyms. Crank up your workouts with the versatility of a cable crossover machine. Here are the best ones for every kind of home and garage gym.
5 Best Cable Machine Shoulder Exercises (Plus a Sample Workout). Training shoulders on a cable machine is an excellent way to increase time under tension and build more muscle. Here are the best shoulder exercises you can do with a cable machine and a sample 20-minute workout for those Boulder Shoulders.
5 Best Home Gym Pulley Systems. Pulley systems are a killer tool for better workouts. Here's a breakdown of the top home gym pulley systems for leveling up your workouts at home.