Protect your shins and focus on crushing PRs with a breakdown of the best socks for deadlifting.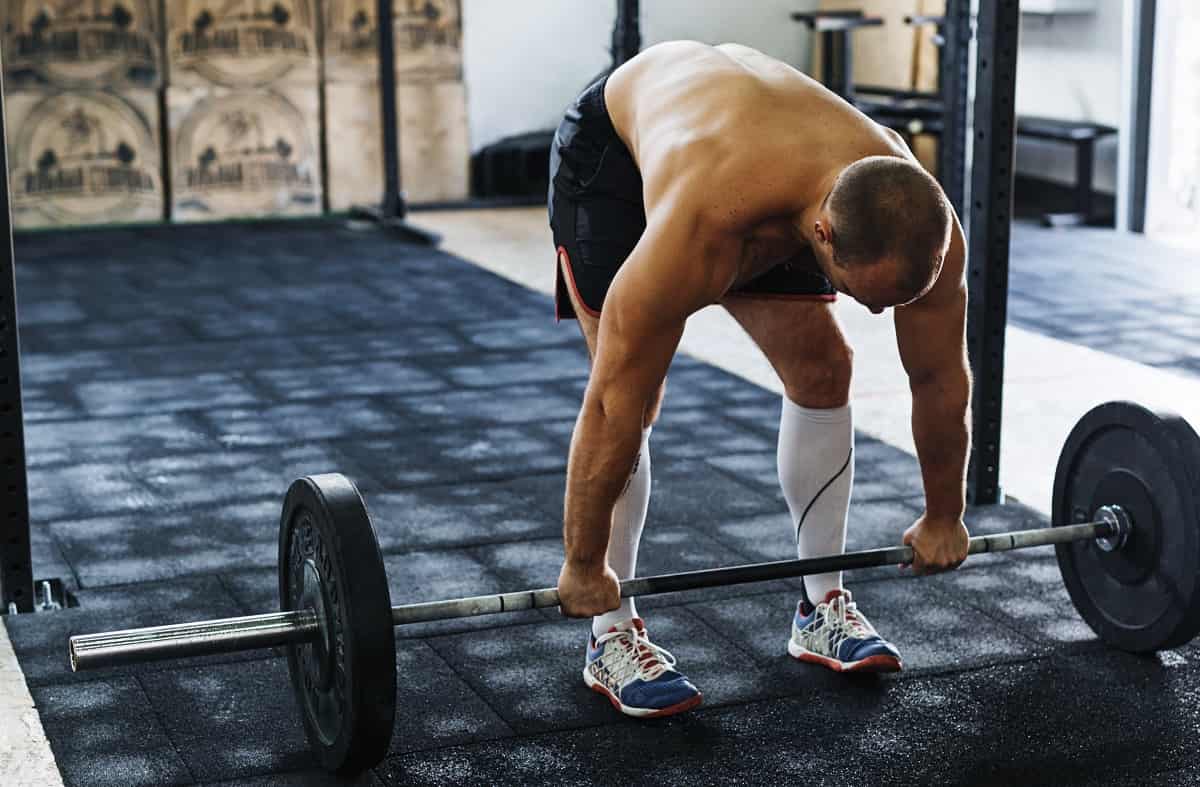 Deadlift socks, a type of athletic socks designed to improve grip, protection, and comfort during weightlifting, especially deadlifts and cleans, are popular among powerlifters, gym-goers, and lifting enthusiasts.
Rocking a pair of deadlifts socks means protecting your shins from getting scraped up and down by the diamond-shaped knurling on the barbell. Having legs that look like you got dragged nine blocks behind a car isn't a great look and can interrupt an otherwise solid lift.
Beyond the personal care aspect to it, there's also the issue of leaving your skin and blood all over a barbell at your local gym.
Yucky, right?
In this guide, we will look at the best deadlift socks for protecting your shins.
Whether you are a grizzled vet in the gym or a newbie just lifting off on their strength training journey, deadlift socks are an awesome (and stylish!) way to keep your shins intact while crushing PR's on the deadlifting platform.
Let's jump in.
---
Rogue Athletic Socks
⭐ Best overall socks for deadlifting
Rogue makes a ton of epic gear for serious and casual weightlifters and athletes. Their adjustable workout bench is one of my favorite pieces of workout equipment of all time, and they take this approach to excellence with the clothing they make, too.
While they may be better known for their close ties to Crossfit, the Rogue Athletic Socks are perfect for strength training.
See also: Rogue Deadlift Platform Review — The Best Platform for Crushing PRs
Made mostly of soft cotton, with 6% spandex to give the socks a nice stretch, they rise to the knees, giving you a layer of protection during "high-friction" exercises such as deadlifting.
One of the things I like most about these socks is that they are very breathable. I get really hot when working out, so it's important for me to wear grip socks when powerlifting that doesn't make my feet feel like they are dipped in the hot tub.
Available in packs of 5 and 10 (as well as pairs), the Rogue socks are well-priced, comfortable, and will have you destroying PRs in style and comfort.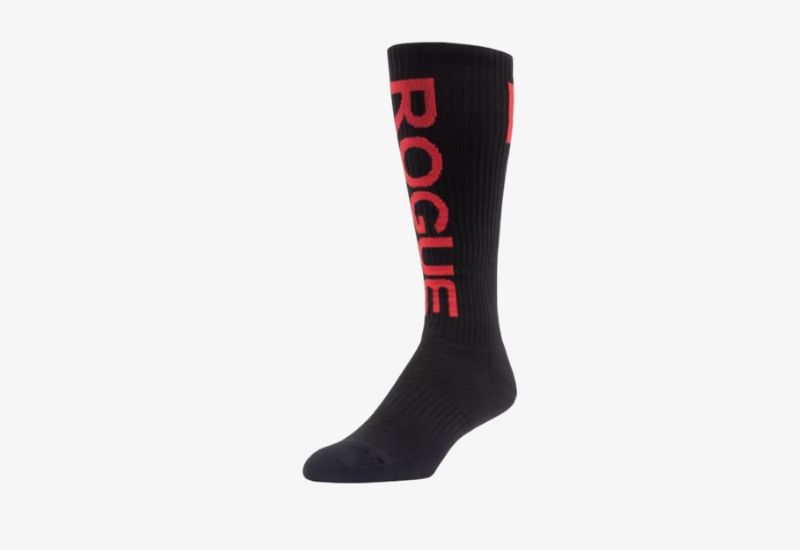 ---
Cerberus Deadlifting Socks
⭐ Best deadlift socks for extra stretch
Lifters who want more stretch and moisture-wicking from their deadlifting socks will LOVE the Cerberus V3 Deadlifting Socks. These are some of the most comfortable powerlifting socks I've ever worn.
Made with 75% cotton and 25% nylon/spandex, they have more stretch compared to other deadlifting socks on the market. The stretch also makes them partly compression socks.
But because it has a higher amount of spandex in them compared to the competition, they will stretch out and thin faster. (I highly recommend air drying these deadlift socks and not using the dryer.)
The Cerberus V3's are priced super reasonably, at around $20 per pair, are available in half a dozen colors, and are one size fits most.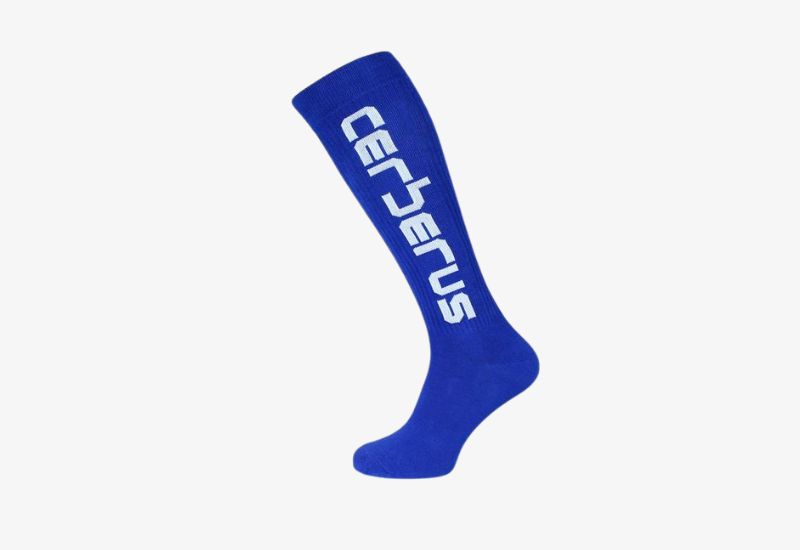 ---
Moxy Sock Deadlift Socks
If you want something as heavy-duty as your goals, give the Moxy Socks a rip. They are designed for the sole purpose of protecting your shins and ventilating the feet while deadlifting like a champion.
Moxy Socks sells these in a three-pack. The socks are unisex and feature extra material along the front to protect your shins from getting scraped by the barbell.
Extra padding makes them extremely comfortable to wear on the Olympic platform, and ventilated mesh along the back helps you keep cool while you are training.
Moxy offers these socks in a huge range of colors and prints, giving you lots of options for crushing deadlift day in style.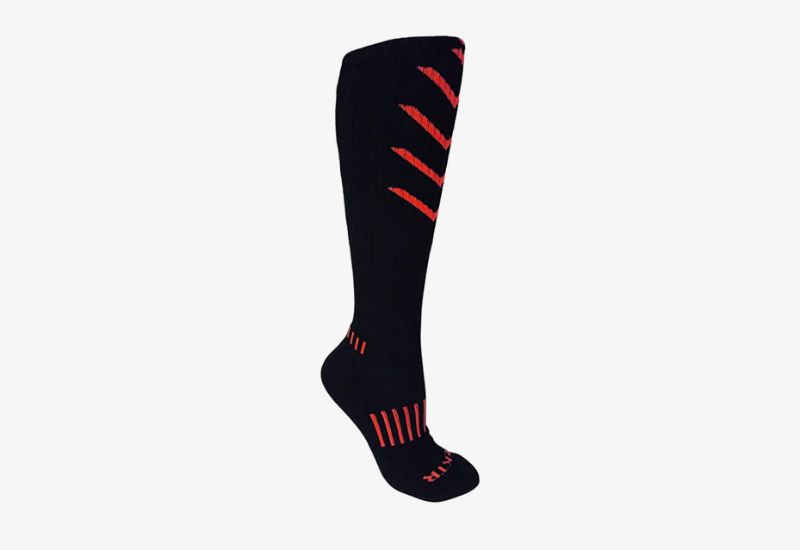 ---
Hoplite Premium Lifting Socks
Available in a range of sizes (up to 13 for men and 14 for women), Hoplite's socks are comfortable, easy to pull on and off after a big lifting session, and breathable enough that your feet won't be gushing sweat. The front of these socks features an extra layer of material to protect the shins.
Thick and breathable, the socks have supportive and tapered compression that makes them ideal for deadlifting as well as extended bouts of standing up or running.
Hoplite sells them in two different basic color combinations, and once your workout is over, toss them into the washing machine with your dark clothing.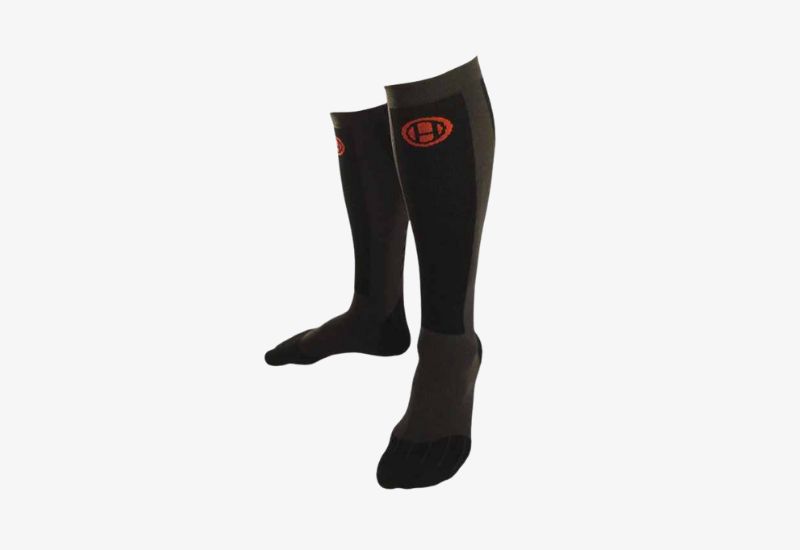 ---
TrendWell Elite Performance Lifting Socks
TrendWell's performance athletic socks are made with a breathable mesh that is moisture-wicking and antimicrobial.
For lifters who sweat a great deal (and I would absolutely count myself among those who gush in the gym), these socks are surprisingly light while also providing protection against skin-chewing powerlifting barbells.
TrendWell sells them in a wide variety of colors, from black to white to purple, and are available up to a size 14 in men.
Perfect for all of your athletic endeavors, these deadlifting socks provide a little extra support around the sole and arch and are machine washable.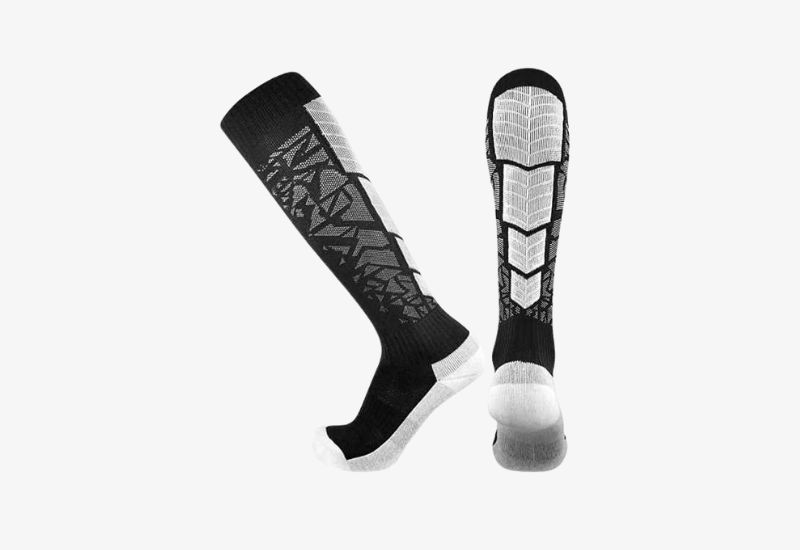 ---
Deadlifting Socks — FAQs
Should you wear socks when deadlifting?
Absolutely! Deadlift socks (or shin guards) protect the shin while performing deadlifts and cleans.
Proper deadlift form requires a straight bar path that can sometimes scrape against the shin.
When this happens, the knurling on the barbell can tear up the skin on your legs. Deadlift socks act as a barrier between the knurling on the barbell and your skin.
Additionally, deadlift socks promote better hygiene in shared gym spaces, provide added grip, and keep your feet warm while working out.
What's better, using deadlift socks or deadlift shoes?
Deadlift socks are designed primarily to protect the shins when doing deadlifts. They are made of moisture-wicking, breathable fabrics to keep the feet dry and warm while lifting.
Deadlift shoes improve stability, balance, and even power while doing deadlifts. They have a very thin sole, a supportive upper for a stable ankle, and grip on the bottom to help you "screw" the feet into the floor.
Deadlift socks are significantly cheaper and are more breathable for lifters who sweat a lot (that sounds exactly like me!) while deadlifting shoes provide more stability in the foot and ankle.
Of course, the two can also be used together to give you the best of both worlds.
What is the difference between deadlift socks and deadlift shinguards?
Deadlift socks and deadlift shin guards share a lot of functionality, particularly protecting the shins and lower leg coverage.
Deadlift shin guards tend to be much thicker than socks, typically made from neoprene or even leather. They are clasped using buckles or velcro to keep them in place and can limit your leg mobility.
The Final Rep
Ultimately, choosing the right socks for deadlifting can significantly improve your lifting performance by protecting your skin and improving grip and comfort.
To recap, the best socks for deadlifting are the Rogue Athletic Socks. Tested, used and abused by countless athletes across the world, including the author, they will help you perform your best on deadlift day.
Shop the Rogue Athletic Socks here.
Whether you're a powerlifter, weightlifter, or fitness enthusiast, investing in high-quality deadlift socks can make a significant difference in your lifting journey.
---
More Deadlifting Resources and Guides
6 Best Deadlift Drop Pads (Lift Heavier and Protect Your Floors). Looking for the best set of deadlift pads for your home gym? Our expert guide lists the top options on the market so that you can protect your floor and focus on lifting heavy.