Protect your shins and focus on crushing PRs with a breakdown of the best socks for deadlifting.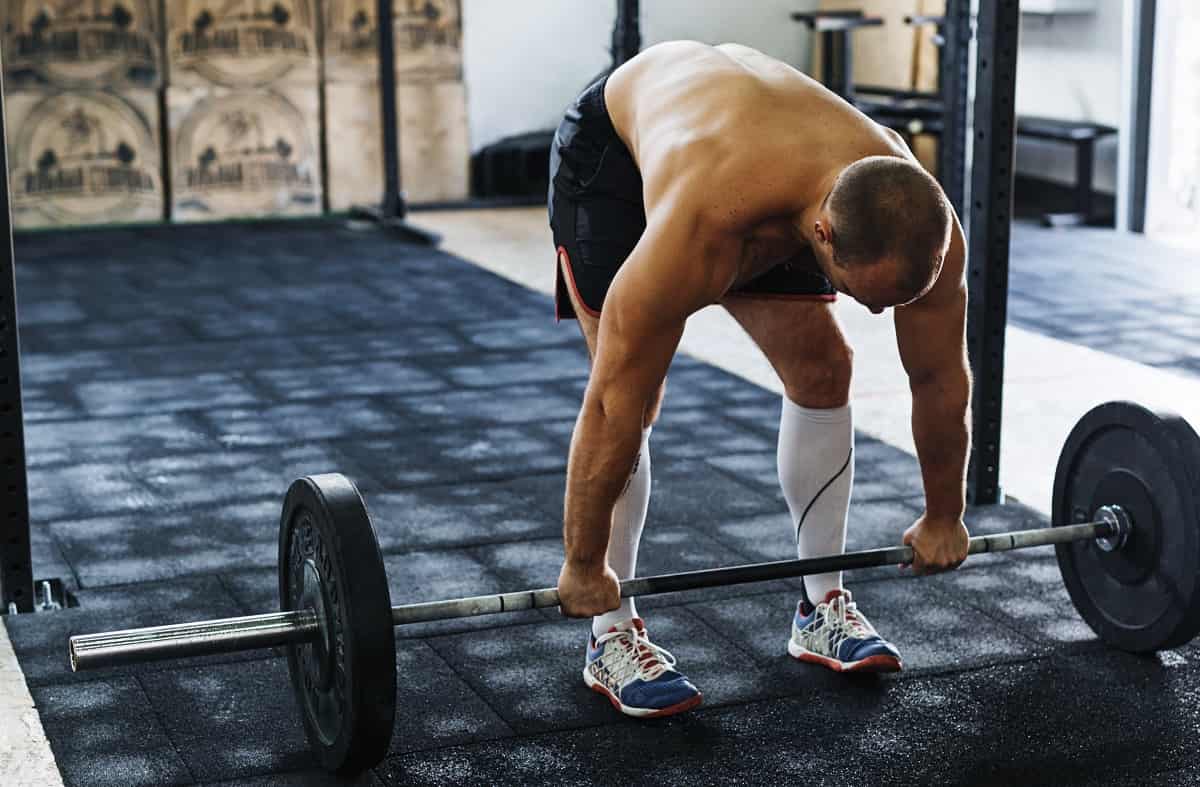 Deadlifts are one of the most popular exercises in the gym for building muscle, raw power, and strength.
The exercise itself is simple enough: Pick up heavy weights. Put down heavy weights. Repeat until GAINZ.
But for anyone who has deadlifted before, they know it's not that simple.
Deadlifts socks are a way to protect your shins from getting scraped up and down by the diamond-shaped knurling on the barbell. Having legs that look like you got dragged nine blocks behind a car isn't a great look.
Beyond the personal care aspect to it, there's also the issue of leaving your skin and blood all over a barbell at your local gym. Yucky, right?
In this guide we are going to take a look at the best deadlift socks for protecting your shins.
Whether you are a grizzled vet in the gym or a newbie just lifting off on their strength training journey, deadlift socks are an awesome (and stylish!) way to keep your shins intact while crushing PR's on the deadlifting platform.
Hoplite Premium Lifting Socks
Available in a range of sizes (up to 13 for men and 14 for women), Hoplite's socks are comfortable, easy to pull on and off after a big lifting session, and breathable enough that your feet won't be gushing sweat. The front of these socks feature an extra layer of material to protect the shins.
Thick and breathable, the socks have supportive and tapered compression that makes them ideal for deadlifting as well as extended bouts of standing up or running.
Hoplite sells them in two different basic color combinations, and once your workout is over, toss them into the washing machine with your dark clothing.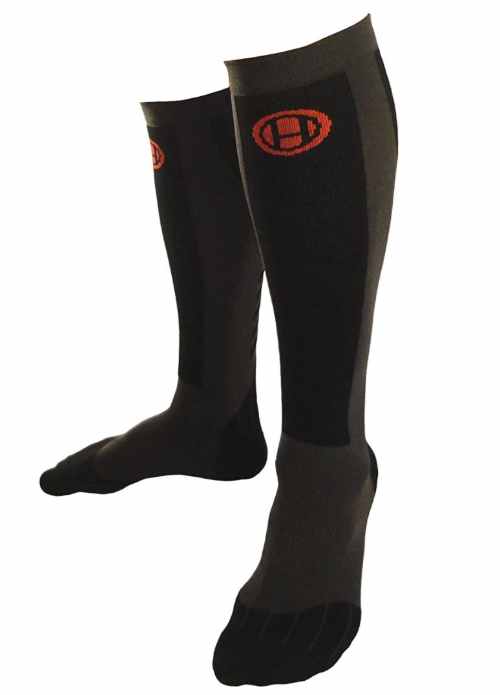 TrendWell Elite Performance Lifting Socks
TrendWell's performance athletic socks are made with a breathable mesh that is moisture-wicking and antimicrobial.
For lifters who sweat a great deal (and I would absolutely count myself among those who gush in the gym), these socks are surprisingly light while also providing protection against skin-chewing powerlifting barbells.
TrendWell sells them in a wide variety of colors, from black to white to purple, and are available up to a size 14 in men.
Perfect for all of your athletic endeavors, these deadlifting socks provide a little extra support around the sole and arch and are machine washable.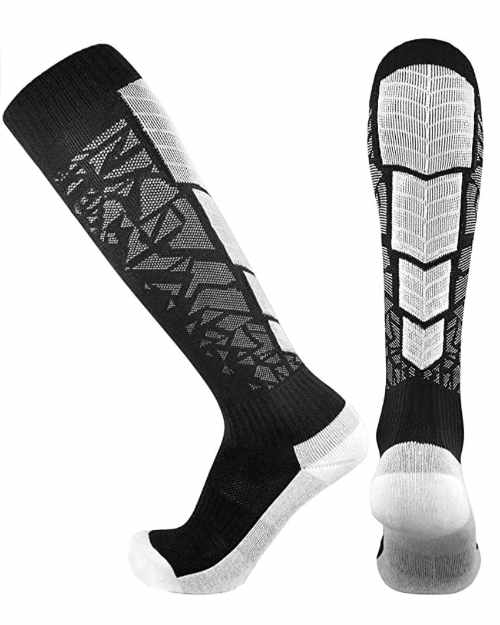 Muscle Funny Unicorn Deadlifting Socks
One of the key things to look for with deadlifting socks is a material that won't slip down while you are working out.
The Muscle Funny Unicorn socks are weaved and made of a polyester cotton that stretches enough that they wrap around your shins and calves.
Oh, and of course there is the design—how can you go wrong with a muscle-bound unicorn that is deadlifting?
Comfortable, hilarious, and made for performance, these unicorn socks are a fun and great way to keep your shins from getting dinged up while deadlifting.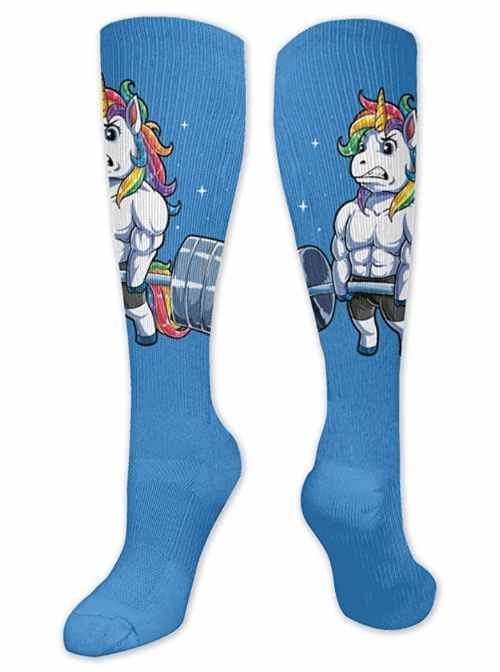 Rogue Athletic Socks
Rogue makes a ton of epic gear for serious and casual weightlifters and athletes. Their adjustable workout bench is one of my favorite pieces of workout equipment of all time, and they take this approach to excellence with the clothing they make, too.
Made mostly of soft cotton, with 6% spandex to give the socks a nice stretch, they rise to the knees, giving you a layer of protection during "high-friction" exercises such as deadlifting.
Available in packs of 5 and 10 (as well as pairs), the Rogue socks are well-priced, comfortable, and will have you destroying PRs in style and comfort.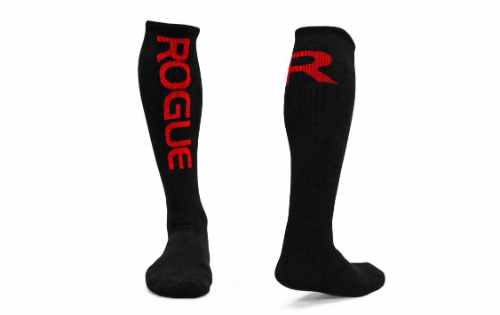 Moxy Sock Deadlift Socks
If you want something as heavy-duty as your goals, give the Moxy Socks a rip. They are designed for the sole purpose of protecting your shins and ventilating the feet while deadlifting like a champion.
Moxy Socks sells these in a three pack. The socks are unisex and feature extra material along the front to protect your shins from getting scraped by the barbell.
Extra padding makes them extremely comfortable to wear on the Olympic platform, and ventilated mesh along the back helps you keep cool while you are training.