Elliptical trainers are one of the best cardio machines for people with bad knees. Here is why the elliptical works for bad knees and how to avoid knee pain on the elliptical trainer.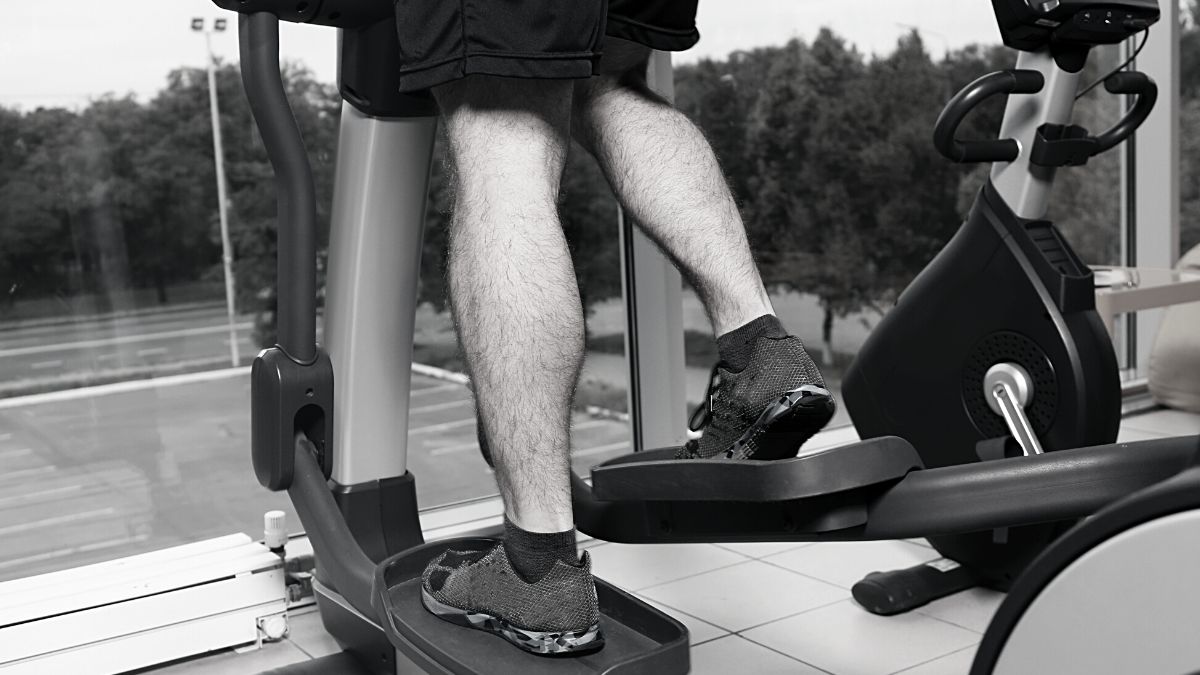 Bad knees are, sadly, an all-too-common problem that can make getting your daily exercise a LOT harder.
No matter how faithful you are with your daily workouts, you know that pushing already injured or painful knees harder is just going to make the damage worse, so you've basically got to avoid lower body training entirely—or, at the very least, reduce the intensity to be gentle on your knees.
Because of this injury or pain, you end up with a less-effective workout, less calorie burning and fat loss, and even less functional fitness.
But for those who are looking for a solution to train your entire body even with knee problems, you'll be glad to know that the elliptical trainer is just what you need.
Below, we're going to take a deep dive into the benefits of elliptical trainers for your knees specifically, looking at how this particular form of exercise can not only reduce the strain on your knees, but help you train the muscles around your knees to prevent further injury.
Plus, we'll talk about some easy ways you can avoid knee pain on the elliptical, and answer some frequently asked questions about elliptical training and your knees.
By the end of this post, you'll know everything you need to know about how to get in a truly EPIC elliptical trainer workout even if your knees aren't in great shape.
Why Ellipticals Are Good for People with Bad Knees
There are a number of reasons why the elliptical is probably one of the best machines in the gym (easily Top 3) to give you a great workout even if you have knee problems.
Natural Stride
One of the best things about the elliptical trainer—not just for your knees, but for any injury or joint problem—is that it encourages a natural stride.
Stuck with Your Training in the Gym?
Join 12,000 lifters and athletes and sign up for FREE access to my 5-day email course on how to conquer the most common gym mistakes.
From goal setting to lifting technique, you will learn how to overcome the mistakes in the gym that are holding you back from getting bigger and stronger.
Unsubscribe anytime. No spam.
Initially, you'll find the stride can feel a bit odd. It's not quite a walk, not quite a pedal, but something in between. However, over time, as you adapt to the movement, you'll find it's actually surprisingly smooth. The rolling gait helps to improve the biomechanics involved in each step, and you'll feel less pain as you walk.
With the right elliptical stride length—typically 20 inches is recommended—you'll feel far less pressure on your knees than you would with other forms of exercise.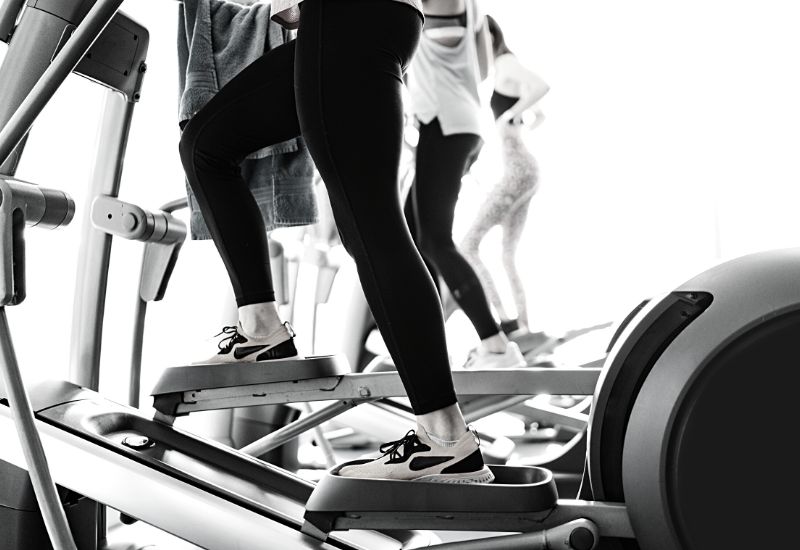 Minimal Impact
There are few other machines in the gym that offer such a low-impact workout!
Because your feet never actually fully lift off the pedals when you stride, there is no impact on each step.
Compare that to a treadmill or the stair climber, where every step involves impact on your feet, ankles, knees, and hips, and you'll see why the elliptical machine is such a popular rehab tool.
The near-zero impact allows you to train your muscles and work your cardiovascular system without placing greater strain on your joints. It's a gentle workout that's excellent for those who have knee pain or are recovering from knee injuries or surgeries.
Strengthens the Muscles Supporting the Knees
Take a look at the muscles worked on the elliptical trainer, and you'll see it's quite extensive. Everything from your upper body to your core to your lower body is engaged in the workout.
Though it's a full-body workout, you'll find it's surprisingly easy to adapt to specific body parts. For example, if you want to use the machine to train your upper body, all you've got to do is work the handles harder. To focus on your core, tighten your abs with every stride. For your quads, try squat-walking.
Anyone who wants to know how to use an elliptical to specifically strengthen the muscles around their knees is in luck—it's actually surprisingly easy. All you have to do is change the direction of your pedaling. Go backward instead of forward.
When you pedal backward (especially at a slight incline), you engage the lower quad muscles and hamstrings, which are the ones that support your kneecap.
This simple alteration to your workout will pay special attention to the muscles that keep your knee safe and facilitate movement in the joint.
By training these muscles, you'll "bulletproof" your knees against injuries and enable them to bear greater loads without damage to the soft connective tissue of your joints—which, let's be honest, is usually the first thing damaged any time you suffer a knee injury.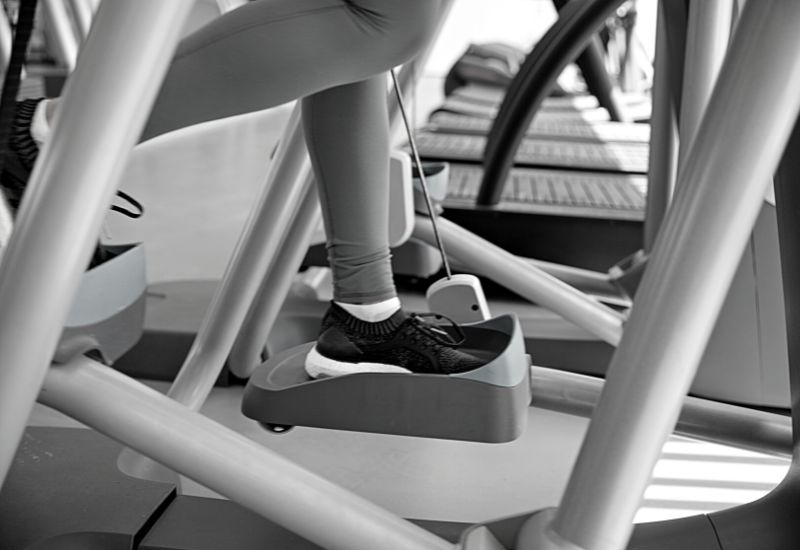 Light Exercise
If you look at the calories burned on elliptical machine, you'll find it's actually more than on pretty much any other machine in the gym.
That's because the elliptical engages your full body, working all the muscles from your chest and back to your shoulders and arms to your core to your quads and glutes, all the way down to your calves. The more muscles that engage, the more energy your body uses, and the more calories are burned.
That's why using elliptical machine for weight loss is such a good idea! You can burn serious calories in an elliptical workout, and train every muscle in your body.
But I want to highlight the fact that though you can burn more calories, you don't do so at the expense of higher injury risk. Because elliptical training is low-impact (as you saw above), there is far less strain on your joints than with the treadmill or stair climber.
You're also encouraging a natural, smooth stride, and targeting the muscles specifically around your knees.
Put this all together, and you get a workout that is very effective at both burning calories and strengthening your knees, but without increasing the risk of further damage.
Now that's a great reason to use the elliptical as a tool for your workouts!
How to Avoid Knee Pain on the Elliptical
If you're going to use the elliptical machine to train your bad knees—or train with your bad knees—here are some times to help you make the most of your workouts without aggravating existing injuries or causing new ones:
✅ Find the right machine.
The best elliptical machines will have a "natural" stride length, which on average, is around 20 inches.
Very short users may find that 16 to 18 inches is a more suitable ride, while very tall users may want to find a stride length of 22 inches to match the length of their legs.
(You can read more about this in our elliptical buying guide.)
✅ Use the right shoes.
Ideally, you'll want to wear walking shoes, which have more cushioning than running shoes and cross-trainers.
More cushioning means less impact on your knees and feet with every step. You'll want to make sure they also have plenty of arch support, as this is what facilitates a smooth transition from heel to toe with every step.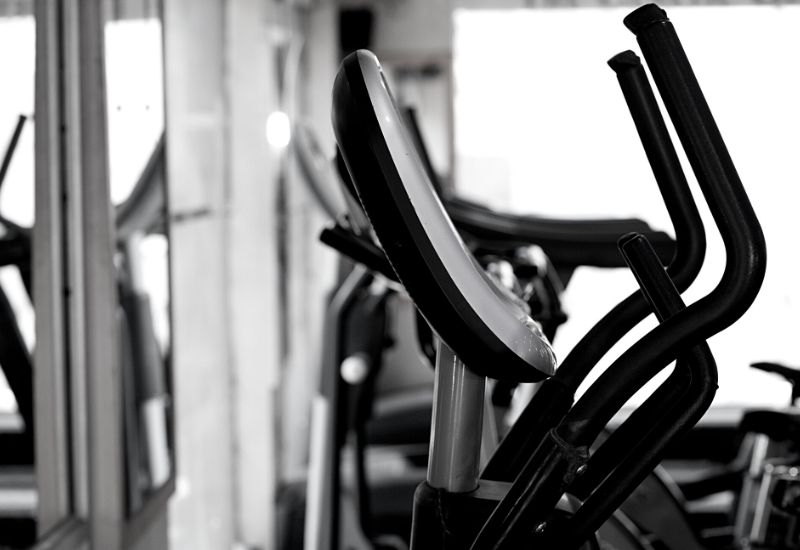 ✅ Warm up first.
Always, and I mean ALWAYS, take the time to warm up before your workout. Whether you had bad knees or your knees are in great shape, it's always the smart play to spend a few minutes loosening up both your muscles and connective tissue before any sort of exercise.
Warm, loose muscle and joint tissue has a far easier time expanding and stretching safely, and will be able to support more weight and handle more impact than cold, stiff tissue. Spend 5 to 15 minutes stretching before any workout.
✅ Focus on your posture.
When you first climb onto the elliptical, pay attention to the way you stand. Lift your head up and your spine straight.
As you raise your arms to grip the pedals, try rolling your shoulders back so your elbows are loose and your neck muscles are relaxed. Keep your knees slightly bent and point your toes straight forward.
This upright posture will go a long way toward encouraging more natural biomechanics, which will reduce the risk of joint strain as you train.
✅ Work on your form.
Once you start moving, keep a close eye on how you stand and move between each step. Make sure your shoulders stay down, your spine stays straight, your head remains up and your eyes are fixed ahead (not on the pedals), and your knees track forward over your toes.
Resist the urge to lean forward, but keep your body as upright as possible and your center of gravity directly over your feet.
Proper form on the elliptical is crucial for protecting all of your joints—from your wrists to your ankles.
✅ Start off slow and flat.
Resist the urge to jump straight into a full-intensity training session. Pushing your muscles and joints too hard right off the bat can lead to a higher risk of injury, or can exacerbate existing insufficiencies or injuries. Instead, start off at a slow pace and little to no incline.
Focus on your form during the first few minutes, and pay attention to your breathing, too, keeping it rhythmic and cyclical.
Spend the first 5 minutes at this slow pace, and only after your body is truly feeling "warm" (with your blood flowing and heart rate rising) should you pick up the pace, increase the resistance, and raise the incline.
✅ Pay attention to knee pain.
Pain in your joints is your body's way of telling you that you're doing something wrong. You may feel the temptation to "power through" or "push past the pain", but that could actually lead to worse injuries and greater damage to your knees.
When you feel pain, pay attention to what you're doing and how you're moving. You could be doing something that is causing that pain—for example, letting your knee flare slightly outward, stopping your ankles and feet from flexing properly, or standing incorrectly.
Maybe you're climbing at too high an incline or pedaling with too much resistance for what you're currently capable of handling. Try adjusting your form, slowing down, or lowering the incline and/or resistance to see if that improves things.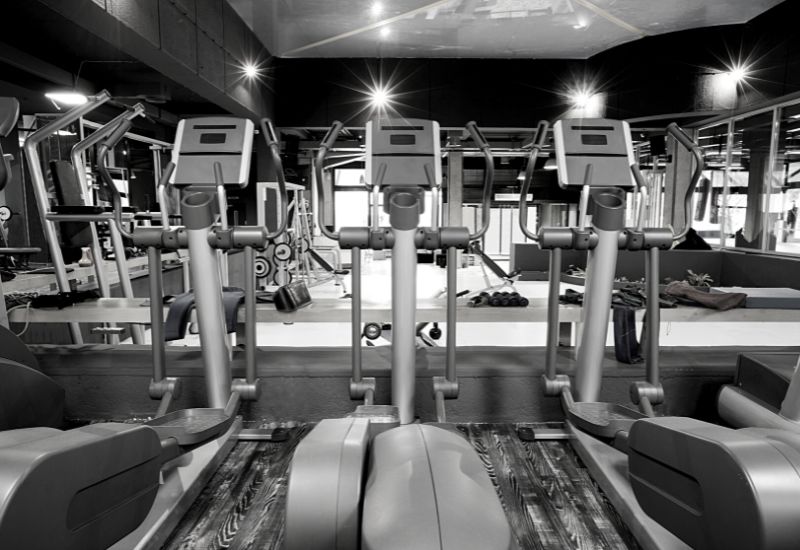 Ellipticals and Knee Pain — FAQs
What other cardio machines are good for people with bad knees?
When you have bad knees, you should train with two goals in mind: 1) avoid further injury and pain, and 2) strengthen the muscles and joints around your knees to protect against future problems.
Typically, the elliptical is the best cardio machine to help you get in a good workout without exacerbating knee injuries. You can also walk or jog on the treadmill, or use the recumbent bike to get in a good cycling workout with less risk of knee strain.
To strengthen your knees against future injuries, mix in rowing workouts, stair climbing, and regular cycling with your elliptical training sessions.
That will help to reinforce the muscles around your knees to offer the support your joint needs to endure future demands placed on it by work, exercise, and your activities of daily life.
How often should you use an elliptical when you have bad knees?
If you're training with bad knees, the elliptical shouldn't be the only cardio machine you use. You should try to mix in other machines—including the treadmill (for a light walk or jog), the rowing machine, and stair climber—along with knee-specific resistance training.
Ideally, aim to use the elliptical 2-4 times per week to help you get in a good cardio session even if your knees are in pain. Spend the rest of your week training on other cardio machines, lifting weights, or walking (weather permitting).
The Bottom Line
As you've seen above, the elliptical machine is definitely a great option to help you train even if your knees are wonky.
The machine offers a lot of benefits—from a natural stride to minimal impact to specific targeting of the muscles that support the knees—and provides you with a great option for getting in your daily cardio session without exacerbating existing injuries.
Make sure to follow the advice above on how to avoid knee pain on the elliptical, working on your form and posture so you move correctly with every step.
Do that, and you've got an excellent chance of improving your fitness and repairing the damage to your knee at the same time.
More Elliptical Guides and Articles
7 Best Elliptical Trainer Alternatives (and How to Choose). The elliptical is an awesome cardio machine for most users. But what if it's not right for you? Here are your best alternatives to the elliptical, including pros and cons of each, and how to choose the right one for you.
Does the Elliptical Work Your Stomach? (Yes, Here's How to Do It Right). Looking to work your stomach and core on the elliptical machine? Here's how to do it properly for maximum effectiveness.