Wondering whether the elliptical trainer or air bike is a better workout? Like always, it depends on your workout goals. In this guide, we compare the two so you can make the most of your time at the gym.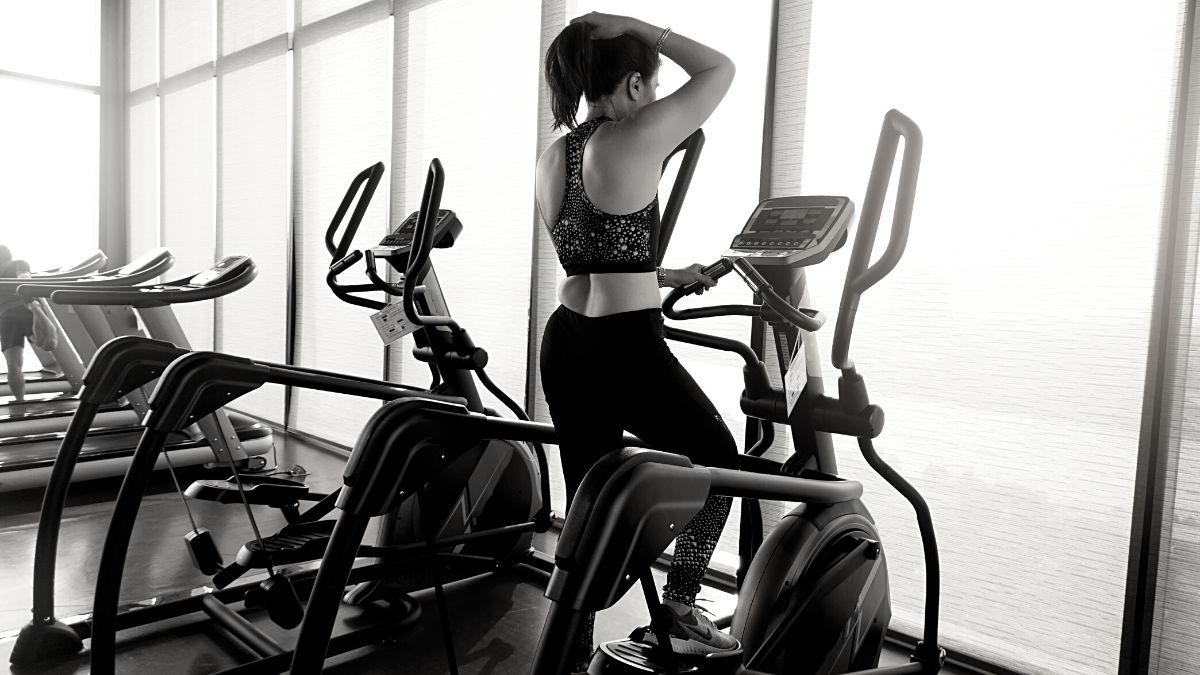 In this guide to the Elliptical vs. Air Bike:
Longtime readers of this site will know from past articles (where I talked about all the benefits of elliptical trainer workouts), that I'm a huge fan of elliptical machines.
There's something quite nice about being able to get in a full-body workout on one machine, engaging all of my muscles rather than just isolating my legs (like you get with a treadmill or stair climber workout).
Of all the cardio machines for weight loss, I find the elliptical just delivers the best bang for my buck.
But the air bike isn't far behind!
In fact, I'd say that of all the cardio machines in the gym, the air bike (or "assault bike" depending on who you ask) comes the closest to giving the elliptical a run for its money.
Below, I'll take a much closer look at the two machines, comparing all the important workout factors to consider. It's definitely going to be a close one, but by the end of this post, I'm confident we'll have a clear "winner" as to which of the two is the better—and a better use of your training time.
Let's get started.
Elliptical vs Air Bike – Calories Burned
Calories burned is always a great metric to get started with, because who doesn't love cold, hard numbers?
According to Harvard Health1, the calories burned on the elliptical machine by a 185-pound person is roughly 378 in a 30-minute workout.
Stuck with Your Training in the Gym?
Join 12,000 lifters and athletes and sign up for FREE access to my 5-day email course on how to conquer the most common gym mistakes.
From goal setting to lifting technique, you will learn how to overcome the mistakes in the gym that are holding you back from getting bigger and stronger.
Unsubscribe anytime. No spam.
Not too shabby, right?
Considering the fact that you're engaging all of your muscles (see the "Muscles Worked" section below), you can expend quite a lot of energy in training.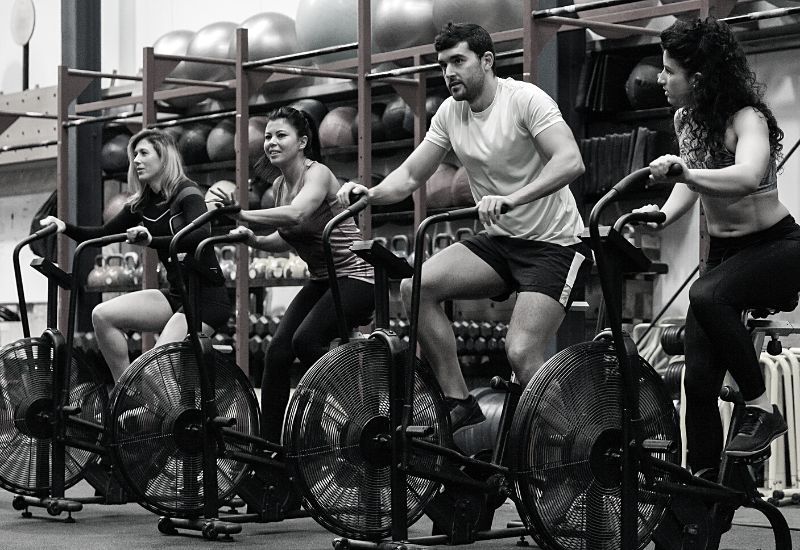 But the assault bike actually takes a slight lead in this department! That same 185-pound person can burn 385 calories in that same 30-minute workout. It's a lead of just 8 calories in 30 minutes, or 16 calories per hour, so not a huge difference.
But right out of the gate, the air bike is making a strong showing as a contender for the "best calorie-burning cardio machine."
Elliptical vs Air Bike – Weight Loss
Weight loss (or more specifically, fat burning) is determined by an intricate interplay of factors—everything from metabolic rate to time of eating to intensity of exercise to the macronutrient content of your food.
Suffice it to say, we don't have anywhere near enough space in this post to dive into everything that goes into weight loss, so we will boil it down to the simplest formula:
Weight loss = calories burned > calories consumed
As long as you are burning more than you eat, you've got a chance at weight loss.
Based on the above information about how many calories you burn in both workouts, the assault bike benefits are pretty much on par with the elliptical benefits. That 16-calories-per-hour difference between the two is basically negligible—16 calories is what you'd eat in 1/5 of an apple, two sticks of celery, or a small carrot.
Both machines deliver similar weight loss results, because A) they both burn roughly the same number of calories, and B) they both engage the same muscles.
Elliptical vs Air Bike – Cardio
When we talk about "cardio", we're referring to "cardiovascular endurance", your body's ability to absorb oxygen via your lungs, your heart to pump the oxygen- and nutrient-rich blood through effectively dilating and unblocked blood vessels to your muscles, where it is absorbed into your muscles.
The human body is an "adaptogenic" mechanism, meaning it adapts to stressors and its environment. That's why people who sit around on a couch 24 hours a day have significantly slower metabolisms than people who run marathons.
The more energy you demand from your body, the more energy your body will provide. It adapts to energy demands.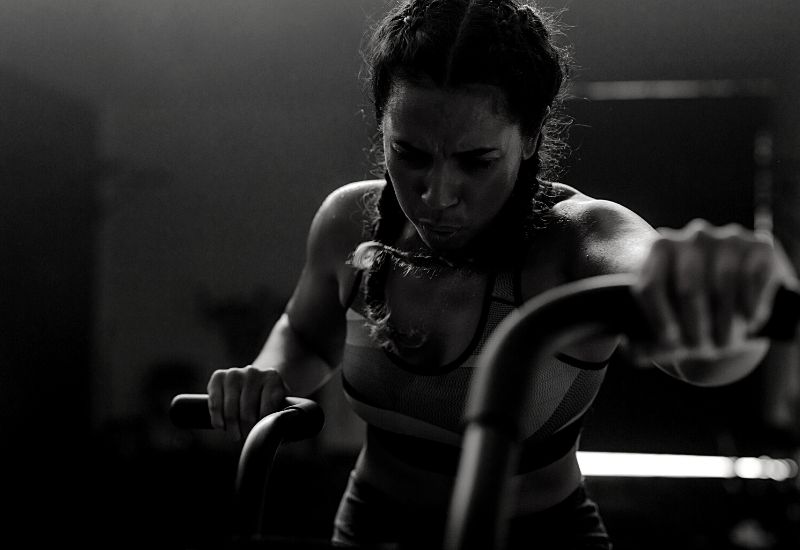 Both elliptical and air bike workouts will increase your cardiovascular endurance and the energy demands placed on your body.
The machines work in slightly different fashions—one is a seated workout, the other standing—but at the end of the day, they both come down to "your muscles are working and need more energy/oxygen, so your cardiovascular system has to provide it".
Given that they both burn roughly the same number of calories, the metabolic demand they both place on your body is roughly equal, as is the increase to your cardiovascular endurance.
Elliptical vs Air Bike – Functional Fitness
I'm all about that "functional fitness" life.
Functional fitness refers to "fitness that makes your activities of daily life easier".
An example of this would be squats vs. leg presses. You squat pretty much every day, so your body needs to be able to support your body weight.
No matter how much you lift on the leg press machine, training with squats will ultimately be more "functional" because it's a movement you do.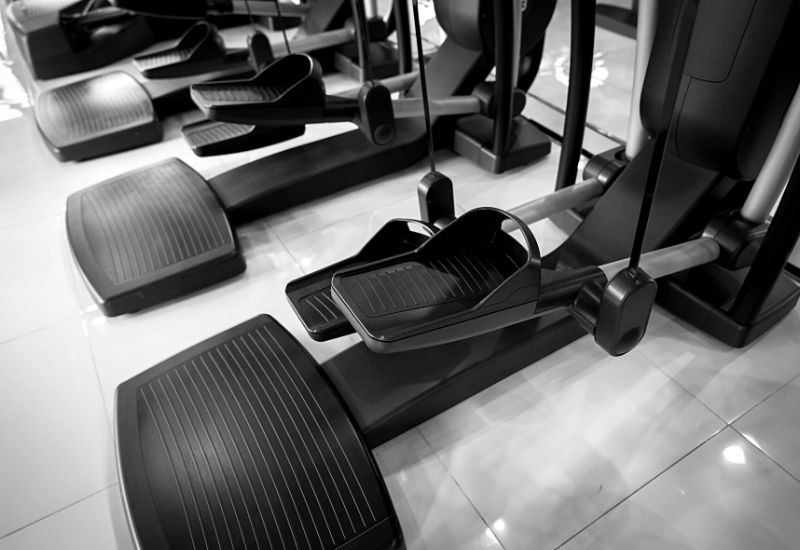 The same goes for cardio! When looking at the most "functional" forms of cardio, I look at the sorts of exercise I do in my life:
Mowing the lawn/cleaning the house
Chasing my kids
Jogging with my pets
Cycling around town
Climbing stairs
and the list goes on…
All of these are activities of daily life, and anything that makes me fitter and better-able to carry them out is "functional".
Neither the air bike nor the elliptical are the most functional machines. The air bike has the slight edge because training on it will make you a stronger cyclist, better able to handle the rigors of hills and long-distance riding.
Using the elliptical at the highest incline will act like a stair climber, training the leg muscles that get involved to tackle hills or staircases. Set at a standard incline with no resistance, it's basically as "functional" as taking a walk around the block.
Elliptical vs Air Bike – HIIT Workouts
HIIT, or high-intensity interval training, is one of the absolute best ways to maximize the effectiveness of your workout even when you're short on time.
During the high-intensity intervals, you're pushing your body to the absolute limits of its muscular and cardiovascular endurance. You only "recover" just enough during the low-intensity intervals that you can do it all over again—and repeat it for a full 15 to 20 minutes. It's an amazing way to burn calories and push your fitness to the next level.
Of all the gyms in the machine, I'd say the elliptical and air bike are two of the best HIIT machines, hands down.
To get in a good elliptical trainer HIIT workout, you've got a ton of options:
Speed up your pedaling
Squat-walk
Add incline/resistance
Some wicked combination of the three
The great thing about the first two is that you don't need to touch any buttons for those high-intensity intervals. You can just work harder, no adjustments needed. This makes it much easier and more hassle-free to get in a kickass HIIT workout.
With the air bike, the intensity actually increases as you pedal faster. The air bike is designed with a fan that becomes harder to spin the faster you pedal/pump the handles, so speeding up the pace is the way you max out the resistance.
You can also pedal standing up to make it more difficult and focus on hammering your leg muscles a new way.
Elliptical vs Air Bike – Muscles Worked
This is where we get down to the real brass tacks, the reason that the elliptical (and, it turns out, the air bike) gives you a far better workout than most other cardio machines in the gym.
If you look at a list of the muscles worked on the elliptical machine, you'll see it's pretty much all of them:
Upper body: Back, chest, shoulders, triceps, biceps, and forearms
Core: Abs, obliques, spinal supporters
Lower body: Quads, glutes, hamstrings, and calves
That's a lot of muscles!
Compare that to the treadmill or the stair climber, for example, which only recruit the lower body (with maybe a bit of core engagement). Or the rowing machine, which focuses on the "pull" muscles of your biceps and back, but leaves your "push" muscles (chest and triceps) totally ignored.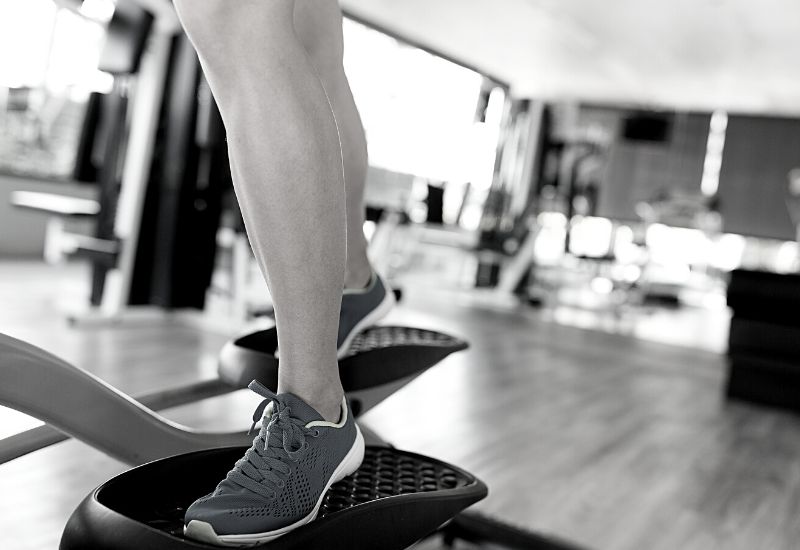 The air bike is the only cardio machine that can recruit all those same muscles.
When you pedal, your quads, hamstrings, glutes, and calves do the work. Your upper body muscles engage to pump the handles back and forth, and your core has to provide a stabilizer that keeps the upper and lower halves of your body working in sync.
There is less engagement of certain muscles—for example, the glutes and lower back muscles—because you're sitting down on the air bike rather than standing on the elliptical.
However, just because the muscles are recruited differently (or in different measure), it's still all the same muscles doing the work on both machines.
Elliptical vs Air Bike – Impact
As we've talked about in previous articles (like the elliptical vs running post), impact is a VERY important factor to consider.
Every time you work out, your muscles, joints, and bones sustain microscopic damage from the repeated movement or the strain placed on the tissue. Impact—such as landing from a jump or transferring all your weight onto your front foot when running or sprinting—will increase the amount of damage, specifically to your bones and joints.
Initially, your body is able to repair the damage. Over time, however, as the damage accumulates, it can overwhelm your body's natural healing mechanisms.
As you age, too, your body is less efficient at making repairs. Eventually, the increasing damage and decreasing healing ability reaches a "tipping point" where the high-impact nature of exercise can cause damage your body is unable to repair.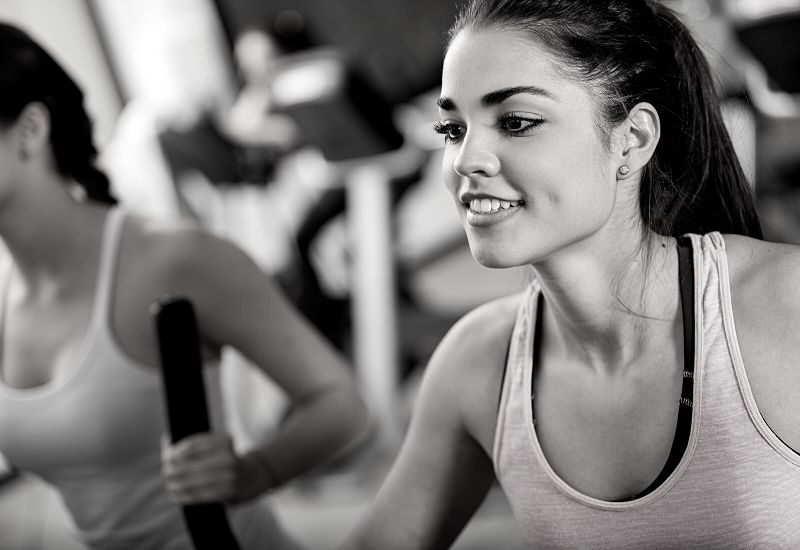 Add to that injuries, and you've got the recipe for chronic joint pain and strains.
To maximize your health, you should combine a mixture of high-impact exercise (which forces your musculoskeletal system to adapt and increase its repair ability) and low-impact exercise (which gives your musculoskeletal system enough "down time" to restore itself).
Both the air bike and elliptical are low-to-no-impact workouts.
On the air bike, you're sitting down, so there is no shifting of your weight from one foot onto the other. There is simply the exertion of pressing against the pedals and working the handles, but which causes minimal impact to the joints.
On the elliptical, you never take your feet off the pedals, so though your weight shifts to the front foot (or the back, if you're reverse pedaling), there is little to no impact on your joints.
Both of these machines are joint-friendly and great for rehabilitation following an injury or surgery.
Elliptical vs Air Bike – Enjoyment
Last, but definitely not least, how much will you enjoy working out on these machines?
Most ellipticals are built for entertainment. Typically, they'll feature some sort of built-in screen—some of which will only show the workout metrics, but many of which allow you to play movies or TV channels—or have a slot where you can set your phone or a tablet to entertain yourself while you work out.
For those who work out in their living room or who have a TV installed in their gym, the elliptical machine is usually quiet enough you can watch and enjoy while working out.
On the other hand, the air bike is a machine built for hardcore training, with little to no emphasis on enjoyment.
There are no built-in screens, rarely even a place to set your phone or a tablet to entertain yourself while working out. The noise of the spinning fan is often so loud it would drown out the sound from a TV (unless you've got a good speaker system).
I will say that this isn't a be-all-and-end-all factor—in fact, it's one of the least important ones, as your goal should always be on training.
But if one machine makes your workouts more enjoyable than the other, that's often the one you'll end up using on those days when you're "just not feeling it".
The Bottom Line
The air bike and elliptical were so close on so many factors—both the calories burned, the weight loss results, the cardiovascular conditioning, the muscles worked, the HIIT workouts, and the impact on your joints.
Yes, the air bike has the slight edge for functional fitness, and the elliptical is a slightly more enjoyable workout.
The great news is that both machines offer an amazing workout, and will help you take your fitness to the next level whether you do HIIT or just a regular training session.
It's worth considering both machines for inclusion in your home gym, based on your space, budget, and which type of workout you prefer.
More Elliptical Guides and Articles
7 Best Elliptical Trainer Alternatives (and How to Choose). The elliptical is an awesome cardio machine for most users. But what if it's not right for you? Here are your best alternatives to the elliptical, including pros and cons of each, and how to choose the right one for you.
How to Do Tabata Workouts on an Elliptical Machine (Plus Benefits and a Sample Workout Plan). Tabata training is an excellent way to generate a ton of fat burning and metabolic improvement in a short time. Here is how to use the elliptical trainer for your next Tabata workout.
Is the Elliptical Machine Good for Cardio? (Yes, and Here's Why and Sample Workouts). Ready to up your cardio game? Here's why the elliptical machine is so good for cardio, including some pro tips and sample workouts to get you started.