Ready to up your cardio game? Here's why the elliptical machine is so good for cardio, including some pro tips and sample workouts to get you started.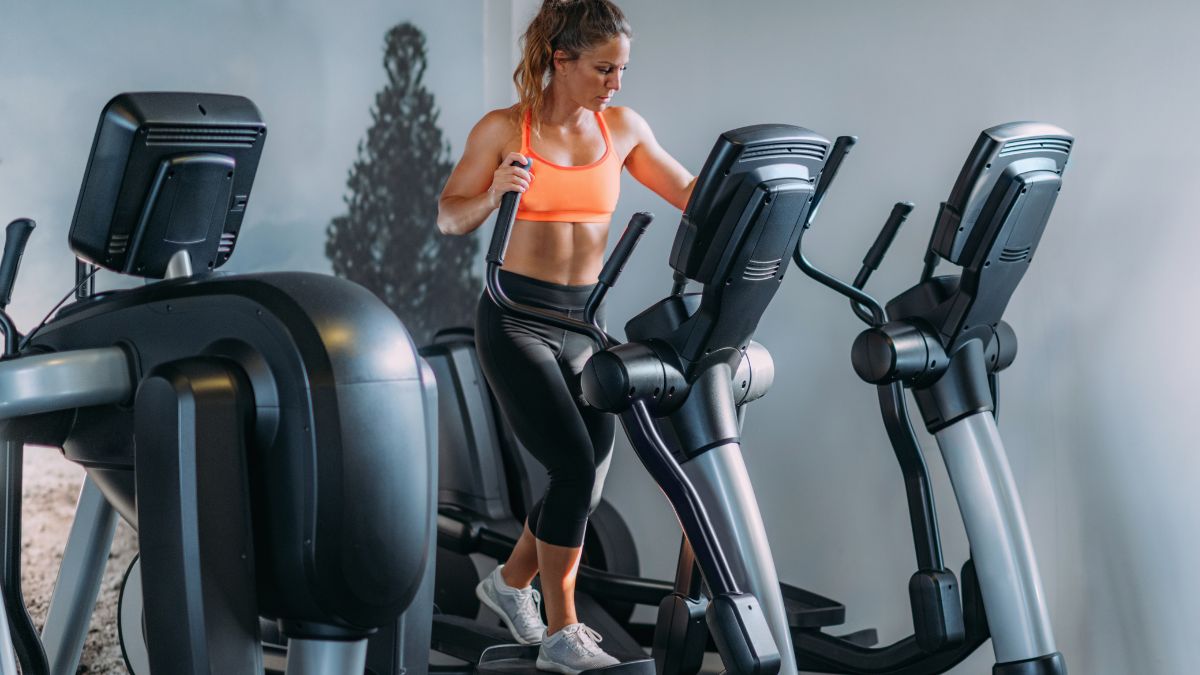 The elliptical is one of the most popular cardio machines in the gym—it's why there are always so many of them!
It's also well-suited to home use, can be utilized for both HIIT and "standard" cardio training, and delivers results that few machines in your gym can match.
Below, you'll learn why the elliptical machine is amazing for doing cardio and how you can use it to max out your cardio conditioning.
Plus, I'll share with you a few of my favorite cardio-building elliptical workouts and answer a few of the most commonly asked questions regarding the machine.
By the end of this post, you'll be ready to put the elliptical to its most effective use to boost your cardio conditioning like a boss!
Why the Elliptical Machine is Great for Doing Cardio
What makes the elliptical one of the top cardio machines for weight loss? Why is it one of my most-recommended machines for a good cardio workout?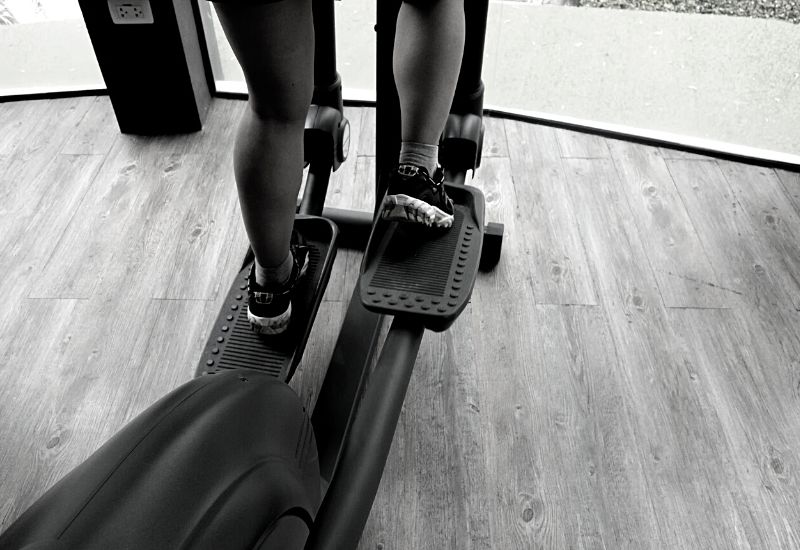 Here are a few of the benefits of using the elliptical trainer for building cardio:
? Good Aerobic Exercise (With the Option for Anaerobic, too!)
One of the best benefits of the elliptical trainer is that it delivers a truly excellent cardio workout.
"Cardio" refers to cardiovascular conditioning, or building cardiovascular endurance. That means your heart is better-able to pump blood, which your lungs have oxygenated, through your efficiently-dilating blood vessels to the muscles that are working.
Stuck with Your Training in the Gym?
Join 12,000 lifters and athletes and sign up for FREE access to my 5-day email course on how to conquer the most common gym mistakes.
From goal setting to lifting technique, you will learn how to overcome the mistakes in the gym that are holding you back from getting bigger and stronger.
Unsubscribe anytime. No spam.
Cardiovascular conditioning can only occur through repeated cardio exercise. Whether you run, row, cycle, or lift weights, your cardiovascular system needs to be strained in order for your cardiovascular capacity to be increased.
The elliptical works out pretty much all the muscles in your body. What this means is that more energy is being used every minute you train, so more energy is consumed and your body has to work harder to keep the working muscles oxygenated and fueled with calories.
That's on your heart and lungs to deliver, so the more muscles you work, the harder your body has to work to keep everything supplied, which in turn drastically improves your cardiovascular capacity.
This type of low-intensity exercise, or "aerobic exercise", isn't the only thing you can do on an elliptical. You can also push the pace and shift into high-intensity "anaerobic exercise", where your body is working so hard that it has to burn through stored glucose-based energy rather than fat-based energy.
Mixing aerobic and anaerobic exercise—such as through HIIT or weightlifting—is an amazing way to burn a lot of calories and increase your body's cardiovascular capacity.
✅ Burns A Lot of Calories
If you compare the calories burned on the elliptical machine to most other machines, you'll see the elliptical wins by quite a landslide.
It all comes down to the amount of work your body does while training. For example, with the treadmill, your legs do all the work, so only your leg muscles engage.
With rowing, your biceps and back work together with your legs to work, so more muscles are engaged. On the elliptical, all of your muscles are engaged in the exercise.
Not surprisingly, the more muscles you work, the more calories you burn. Your muscles consume stored energy—both fat and sugar-based—when they contract over and over again throughout your training session.
The longer you train and the more muscles engage, the greater the caloric expenditure as your body sends the energy it has stored (in your bloodstream, liver, and fat deposits) to keep your muscles powered up for the training.
✅ Joint-Friendly
I'm a huge fan of any workout that is gentle on the joints and encourages more natural movement with less risk of muscle and joint strain.
High-impact exercise is necessary for strengthening your muscles, bones, and joints, but over time, it can also cause excessive wear.
That's why I strongly recommend everyone to incorporate both low and high-impact workouts into their weekly training.
Combining the two allows the body to recover between training sessions, giving it time to make necessary repairs to micro-damaged bone, joint, and muscle tissue.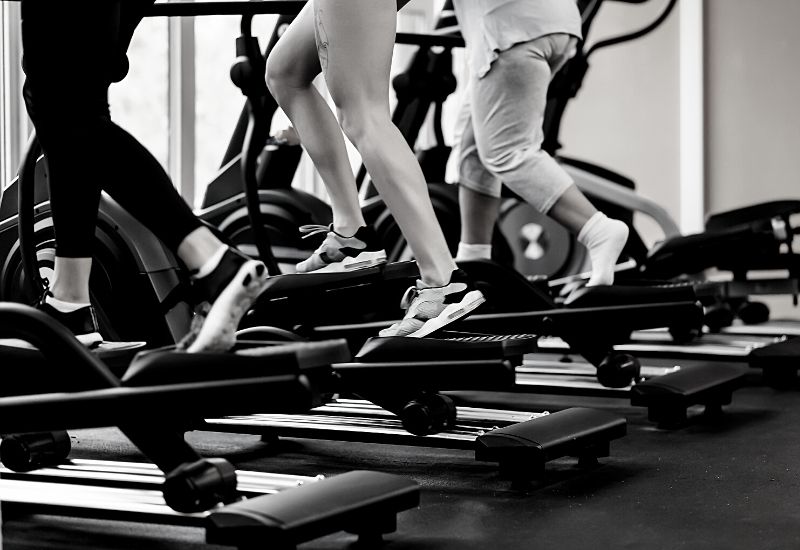 The elliptical is one of the most joint-friendly cardio machines and it's one of my favorite cardio machines for people with bad knees. Because you never lift your feet off the pedals, there is virtually no impact with every step.
You'll walk away from your elliptical training session with tired muscles, but your bones and joints won't complain the way they would on a stairmaster or treadmill.
The elliptical is also excellent for rehabilitating strained or injured joints. It's a good choice for strengthening your knees, for example, which you can do by walking backwards on the elliptical (the reverse stride targets the muscles in your lower legs that support your knees).
✅ Efficient Exercise
Because of how many muscles it engages and how many calories it burns, elliptical training is a very efficient exercise.
You'll find that most 30-minute elliptical workouts burn enough calories to make it worth your time, and there's no need to work for a full hour if you push the pace.
It's a great option for finishing up your workout and getting on with your busy day if you're short on time.
How to Master the Elliptical Trainer for Building Cardio
If you want to know how to lose weight with the elliptical and build your cardio, here are some tips to help you:
Keep pushing the resistance.
If you keep the resistance the same throughout your workout, you're actually working against yourself.
The human body is designed to adapt to exertion, so steady-state exercise will only push it so far before it adapts to the point that the effort becomes "easy".
The key, then, is to keep pushing the resistance. Even if you start off at the "0" setting, make it a goal to up the resistance by at least 1 level every 2-3 minutes.
Push yourself harder and harder, forcing your body to adapt to the new difficulty, but never giving it time to settle. By the time you finish the workout, you'll be breathing hard and sweating bullets, and you'll have burned a lot of calories.
Speed up.
Going faster will help to push your heart rate, which in turn increases the cardiovascular demand on your body. A slow, steady pace will only force your cardiovascular system to work so hard before it adapts. At that point, you'll stop burning so many calories and settle into a "groove".
But if you occasionally speed up, you essentially "trick" your body into thinking it's going to have to burn a lot more energy than it is during a slow-and-steady-state.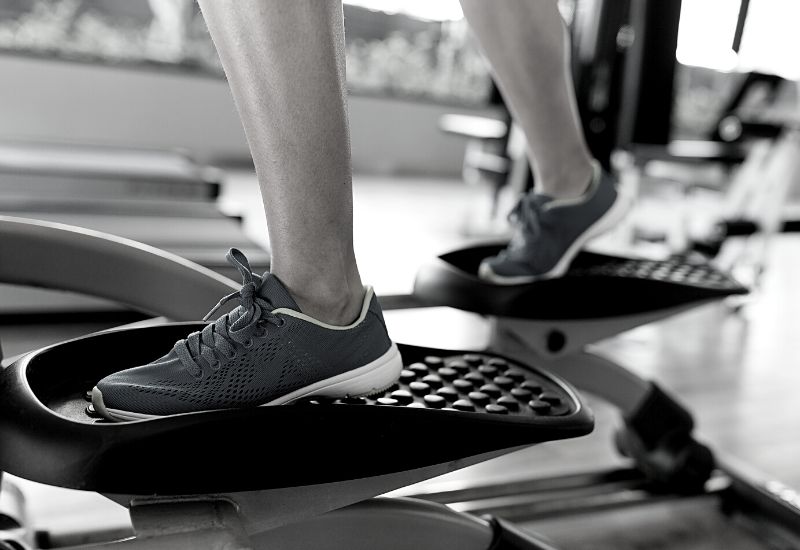 This accelerates your metabolic rate and drives your heart rate up. It will actually stay up for longer even after you slow down, and only eventually slow down in tandem with your movement. At which point, it'll be time to speed up again!
The more you change speeds, the more you keep your body guessing, and the more you'll push your aerobic capacity. Plus, high-intensity, fast-paced exercise is amazing for developing your cardio.
That's why HIIT training is such a great option for anyone looking to take their fitness to the next level.
Change directions.
Changing directions does wonders to work your body in a totally new way.
It's rare for us to walk backwards as part of our "normal" activities of daily life, so our bodies are fairly unaccustomed to this type of movement.
This means our muscles are under-developed for this movement.
Walking backwards on the elliptical—both at an incline and "flat"—will challenge your body in new ways and develop your muscles (both primary and stabilizer/balance muscles) in a way that you never could through your regular activities of daily life or regular training.
Plus, anything that keeps your body guessing prevents boredom and makes you ultimately a more agile person.
Don't be sucked into your screens.
The only screen you absolutely should be paying attention to when on the elliptical is the one that tells you how hard you're working, your Steps-Per-Minute count, and your watt count (which tells you how much energy you're expending). Don't even bother with the calorie count (it's rarely accurate)—just pay attention to your training session and how hard you're working.
Put down your phone, shut off the TV station, and avoid doing anything that will distract you from getting a truly effective workout. The harder you work, the better your cardio conditioning and the more calories you'll burn.
This is perhaps an unpopular opinion, but scrolling on your phone, flipping through TV channels, or surfing the internet will only slow you down and burn valuable exercise time.
Go into it with a game plan.
Before you start your session, figure out what you want to achieve and how hard you want to push yourself. Then do it!
Going into your workout with an intention or a "game plan" ensures that you make the most out of every workout, rather than just allowing the pre-programmed (and often less-effective) training programs guide your session.
Knowing how far you want to walk, what your target SPM count is, how many watts of energy you want to expend per minute, what your target heart rate zone is, and how long you want to walk are all crucial elements of your workout that you should figure out before you start training.
Clients are often surprised by how much more focused and energized their workouts can be when there are goals in place for the training session.
Use the handles.
Resist the urge to grip the stationary support handles. These remove your upper body entirely from the equation, and encourage you to lean forward, which will compromise your posture.
The key to a truly effective workout is to get your upper body working alongside your lower body. Work those handles, tense your core, and feel the burn in your entire body. The harder you work, the more calories you'll burn, and the more you'll improve your cardiovascular conditioning.
Switch it up.
To keep your foot on the gas pedal when it comes to improving cardiovascular fitness, it's key to never repeat the same workout back to back.
Remember: your body is designed to adapt to stressors, so the more often you do the same workout (repeating the same stressors), the easier that particular workout will become, until eventually it stops being difficult.
The key is to keep your body always guessing. Changing up pace, squat-walking, walking backward, switching between upper body and lower body emphasis, and adding incline and resistance can bring variety into your workout and force your body to keep adapting.
Variety isn't just the spice is life—it's the key to effective fitness training.
Elliptical Workouts for Building Cardio
Want to make the most of the time you spend on the elliptical?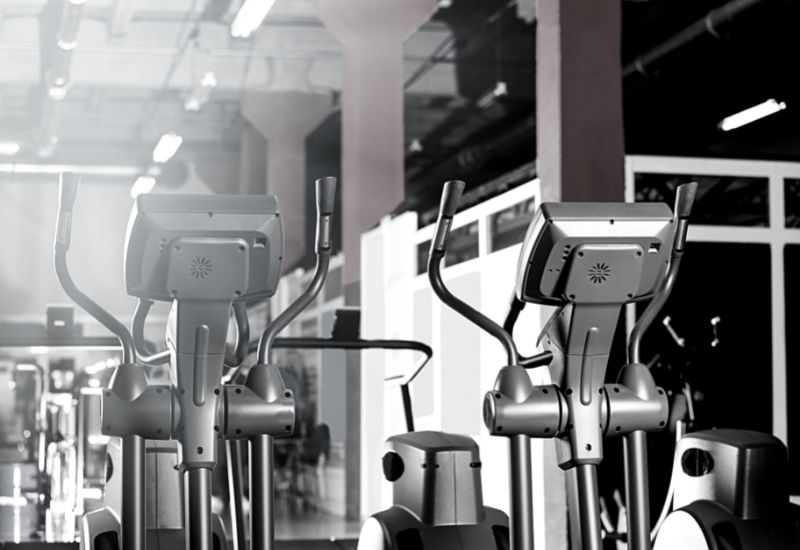 Here are three of my favorite workouts for building cardio:
Workout #1: 15-Minute HIIT
If you don't have a lot of time but want to get in a truly epic workout, try this 15-minute HIIT session.
Mixing the low- and high-intensity intervals won't just burn a ton of calories; it'll also push your cardiovascular endurance to the max.
Here's the workout:
Warm-Up – Spend at least 5 minutes warming up. You need to get your body warm, working, and ready to train. Light-intensity exercise on the elliptical is enough to warm you up for your workout.
30-second max intensity – For 30 seconds, push yourself to pedal as hard and fast as you can. Don't worry about incline or resistance; just work as if you're trying to sprint on the elliptical machine, pumping those handles with all your strength.
90 seconds low intensity – For the next 90 seconds, slow down to a "jog" pace, or even a "walk" if you need to. This is time to catch your breath, but keep moving to keep your body burning.
Alternate for 14 minutes. You'll do 7 rounds of 30-and-90 for the next 14 minutes.
Push hard for the last minute. For the 15th and final minute, push yourself to max intensity for the full 60 seconds. You're tired from working, I know, but it's worth it to make that one last intense effort. This is where you really push your cardiovascular endurance to the next level!
Cool down – Spend 5 to 10 minutes walking at a slow pace to cool down and give your heart a chance to return to its normal rate.
Congratulations, you just knocked out a HIIT workout!
For more workouts like this, check out these 3 HIIT workouts that can be done on elliptical trainers as well as our guide to doing Tabata workouts on the elliptical.
Workout #2: 30-Minute Sweat Session
If you've got a bit more time to spare, it's time to play around with adjusting resistance and incline as well as speed so you can increase your cardiovascular endurance.
Here's the workout:
Warm-Up – Spend at least 5 minutes warming up. You need to get your body warm, working, and ready to train. Light-intensity exercise on the elliptical is enough to warm you up for your workout.
Time to get training!
| | | |
| --- | --- | --- |
| Minutes | Resistance | Incline |
| 0-2 | 2 | 4 |
| 2-4 | 3 | 5 |
| 4-5 | 9 | 6 |
| 5-7 | 6 | 4 |
| 7-8 | 10 | 6 |
| 8-10 | 6 | 8 |
| 10-11 | 10 | 10 |
| 11-13 | 7 | 5 |
| 13-14 | 9 | 8 |
| 14-16 | 4 | 9 |
| 16-17 | 9 | 10 |
| 17-19 | 5 | 8 |
| 19-20 | 7 | 10 |
| 20-22 | 4 | 6 |
| 22-23 | 10 | 8 |
| 23-25 | 7 | 4 |
| 25-26 | 10 | 7 |
| 26-28 | 5 | 9 |
| 28-30 | 6 | 10 |
Cool down – Spend 5 to 10 minutes walking at a slow pace to cool down and give your heart a chance to return to its normal rate.
You'll finish this workout dripping sweat but feeling like a million bucks!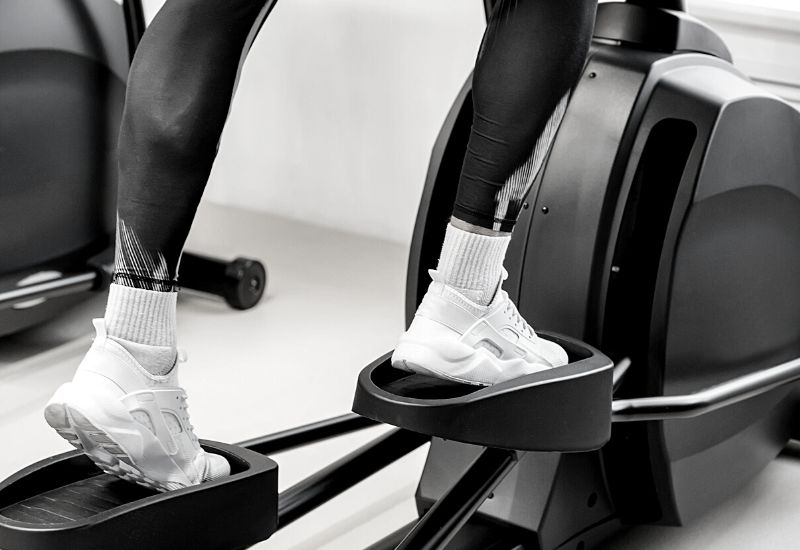 Workout #3: Lower Body Blaster
If you want to hit your lower body HARD while also developing great cardiovascular endurance, this is the workout for you. You'll keep your body guessing, switch up directions, target your quads, glutes, and hams, and push your fitness to the max.
It'll burn, but will be very worth it in the end!
Warm-Up – Spend at least 5 minutes warming up doing light-intensity exercise on the elliptical.
Minute 1-10: Forward Squat-Walk EMOM – Every minute on the minute, drop into a squat (supporting yourself on the arm-rests/handles) and squat-walk for 10 steps per leg. The rest of the minute, stand up straight to give your legs a chance to recover.
Minute 11-20: Steep Climb — Set the incline to the max, and add 50-75% resistance. This will do wonders to build glutes and strengthen your hamstrings.
Minute 21-25: Backward Squat-Walk EMOM – Time to switch directions! Every minute on the minute, drop into a squat (supporting yourself on the arm-rests/handles) and squat-walk for 10 steps per leg. The rest of the minute, stand up straight to give your legs a chance to recover.
Minute 26-35: Steep Climb — Set the incline to the max, and add 50-75% resistance. With the directions reversed, you'll get a lot more focus on the knees, strengthening the muscles that support and reinforce the joint. It's an amazing way to "bulletproof" your knees.
Cool down – Spend 5 to 10 minutes walking at a slow pace to cool down and give your heart a chance to return to its normal rate.
Your legs will thank you for all the time and effort you've put into strengthening them!
Ellipticals for Cardio — FAQs
How long does it take to see cardio improvement on the elliptical?
According to UC Denver, "If you are just starting out, you may improve your stamina with just 15 minutes of cardiovascular exercise. However, most studies show that cardiovascular training requires a minimum of 30 minutes, 3 times a week to guarantee increased aerobic capacity in about 8 to 12 weeks."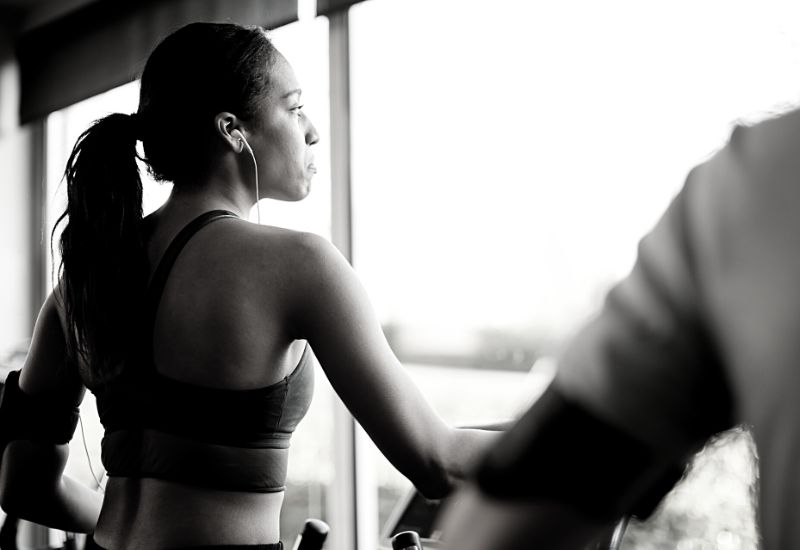 Yes, I know that 8-12 weeks isn't the timeframe you were hoping for. Most of us want to see instant results, so the idea of pushing hard for such a long time can be daunting.
But don't worry: give yourself time to improve and keep up the efforts, and you'll see results that last long-term.
How often should you use the elliptical for building cardio?
As I mentioned above, your body needs both high-impact exercise (like treadmill running, stair climbing, and weightlifting) and low-impact exercise (like elliptical training) in order to optimize fitness. High-impact exercise strengthens your bones, muscles, and joints, and makes them more resilient to damage.
However, only doing high-impact exercise will increase the risk of skeletomuscular injury or strain. That's why it's a good idea to mix in both low and high-impact workouts.
In a perfect world, you'd divide your high- and low-impact workouts at roughly even rates, a 50/50 split.
So if you work out four days a week, you'd do two of those days on the elliptical machine. If you work out six days a week, three of those would be spent on the elliptical (or other low-impact machines).
The Bottom Line
The elliptical machine is one of the best for cardio, for all the reasons you saw above, and the workouts I shared will do wonders to help you take your fitness to the next level without increasing your risk of injury, overtraining, or joint strain.
While it's not the be-all-and-end-all—you need to mix up both high and low-impact workouts, as well as resistance training and cardio—it's a machine you should definitely spend more time using in order to see the fitness results you want.
More Elliptical Articles and Guides
How Much Do Ellipticals Cost? (44 Different Models Compared). Ellipticals can be a costly investment in your workout goals. Here is a look at how much each type of elliptical costs and how much to spend on one.
What Muscles Do Elliptical Trainers Work? (and How to Build Muscle on an Elliptical). The elliptical trainer is an excellent machine for building cardio and muscle. Here's a look at all of the muscles worked on the elliptical, tricks for changing muscle groups, and how to build muscle on the elliptical.