The assault bike is one of the best tools for fat burning and improving athletic performance. Here are seven killer assault bike workouts for beginners, weight loss, building cardio, muscle growth, and more.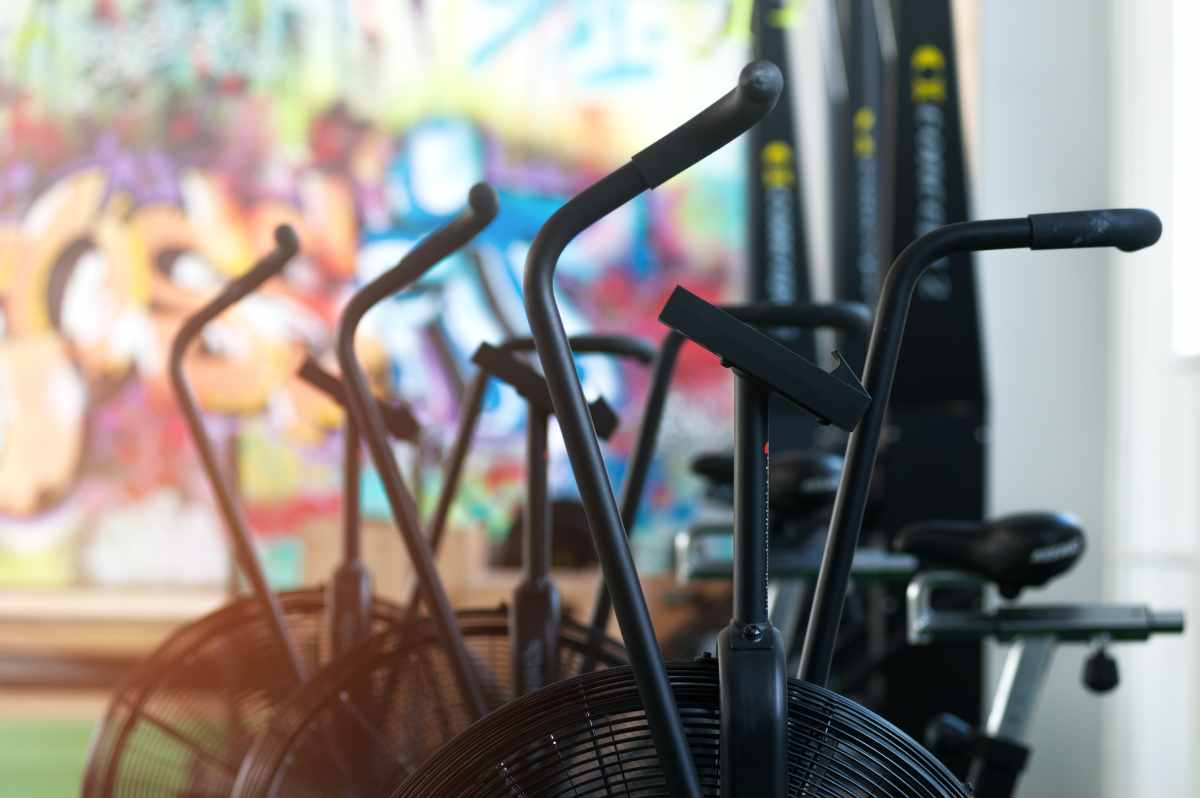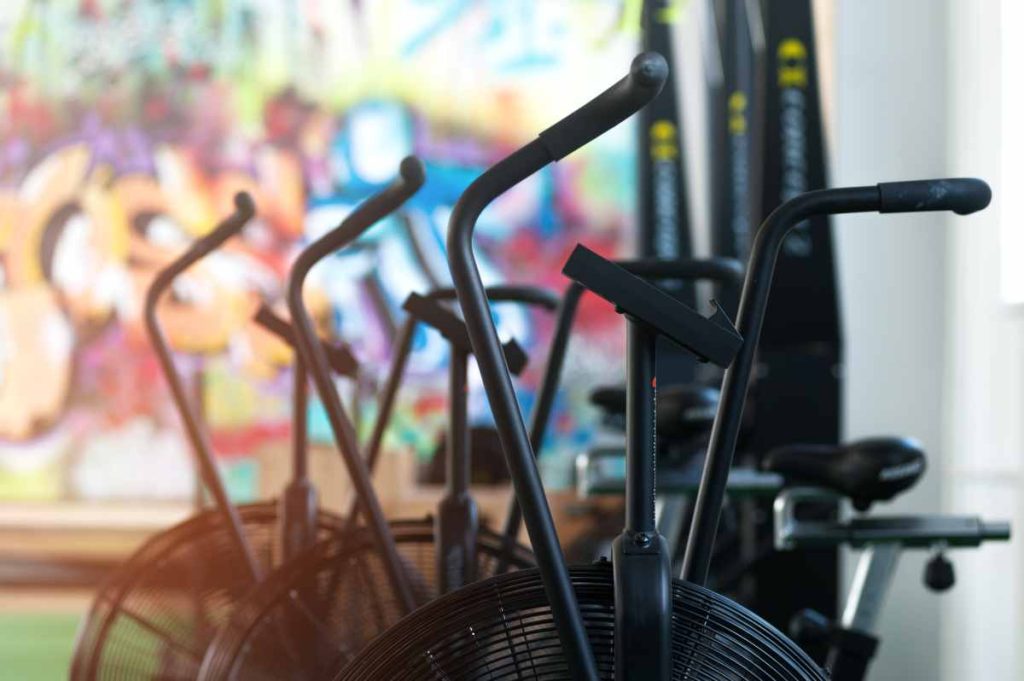 Assault bikes—also known as air bikes—are one of the most versatile and effective training tools for your home gym.
They're more than just your standard stationary bike; they're a full-body, variable resistance workout that will push your cardio and muscular endurance to the max, delivering real, noticeable improvements to your fitness!
Below, I've put together a selection of highly effective assault bike workouts, each with a different focus (aerobic conditioning, fat-burning, high-intensity, etc.).
If you can make it through a week of these workouts, you'll be far fitter and better able to keep up with the rest of your training.
Best of all, you can incorporate these assault bike workouts into your weekly routines to keep pushing your fitness to the next level again and again.
Let's get on the saddle and GO.
Assault Bike – An Overview
Before we dive into the assault bike workouts, I want to take a moment to answer one of the most commonly asked questions: "What the heck is an assault bike?"
Everyone is familiar with the typical stationary or spinning bikes found at every gym, but not every gym has an assault bike.
These bikes are smaller and more compact than stationary bikes, and they typically feature two moveable handles attached to what looks like the mix between a wheel and a huge fan.
Assault bikes like the Rogue Echo bike are designed with an air-resistance flywheel, which actually makes it harder to pedal the faster you go.
This is called "variable resistance," rather than the controls-based "adjustable resistance" integrated into most exercise bikes.
There are a lot of benefits to using the assault bike, with my favorite being:
⭐ A full-body workout.
Because the assault bike incorporates moving handles into the design, you can work your upper body muscles ("pedaling" by pushing/pulling on the handles) as well as your core in addition to the standard lower body muscles engaged by cycling.
It's pretty much a complete workout in one compact piece of gym equipment—perfect for home gyms!
⭐ Easy to max out the intensity.
All you have to do to increase the intensity of your workout is to pedal faster, and the air resistance will increase to make the work even harder.
It's amazing for HIIT training, all without the hassle of having to manually increase/lower the difficulty.
⭐ Cardiovascular and muscular endurance training rolled into one.
With the assault bike, you can target both your cardiovascular system and your muscles to build endurance.
The fact that you're hauling at the handles while pedaling away means your muscles do a lot more work, all while your cardiovascular system works harder to pump oxygenated blood to keep your body moving.
⭐ Great for rehab.
Healing from a lower-body injury but still want to get a killer workout? The assault bike lets your arms compensate for your legs, using the handles to "pedal" rather than your feet.
See also: 7 Reasons to Love the Schwinn Airdyne AD7 [Review]
You can incorporate your legs as desired, according to your pain/strength/mobility, but because the bike is operated by the handles, it's still a great tool for a kickass cardio and endurance workout even if your legs aren't up for a run, sprint, or climbing session.
Lots of great reasons to love the assault bike!
Time to give it a test for yourself with the workouts below.
Don't worry, I'll start you off easy…
Assault Bike Workouts for Weight Loss, Better Performance, and More
Workout #1: Beginner Assault
If you're new to the assault bike, this workout is for you. It's easy enough that you can do it even if your conditioning isn't where you want it to be.
All you have to do is set a pace you can sustain for 30 minutes, and you'll get through the workout just fine!
To perform this workout:
Cycle for 5 minutes at a slow, steady pace. Keep your heart rate controlled to roughly 60-70%. This is all about warming up.
Take it up a notch for 5 minutes, cycling at a faster pace to really get some sweat going. You should end these 5 minutes feeling the burn in your muscles and breathing hard.
Slow your pace for 5 more minutes, then ratchet up the intensity for the next 5.
Repeat this cycle one last time, finishing off the final high-intensity 5-minute period with 30 seconds of full-speed sprint pedaling.
Cool down with 2-5 minutes of slow, steady cycling at a leisurely pace.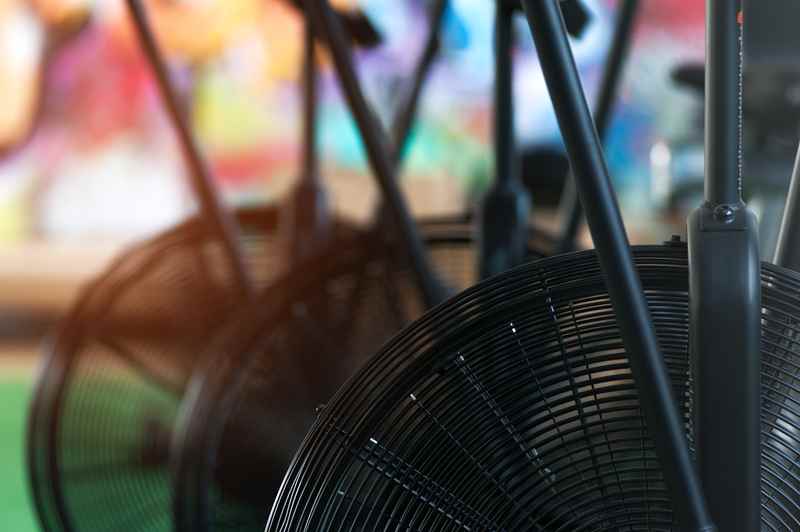 Workout #2: Fat-Burning
Time to kick things into high gear and get your body burning some serious fat.
This high-intensity interval workout isn't complicated at all, but alternating between high and low-intensity periods is guaranteed to torch calories and get your body's internal fat-burning mechanisms running at optimum capacity.
To perform this workout:
Start with 1 minute of slow, steady cycling. (This should be after a 5-10 minute warm-up to get your muscles loose and ready for workout.)
At the minute mark, ratchet up the intensity to the MAX and sustain the pace for one full minute.
After the 60-second sprint, take another minute at restful pace before setting off on another 60-second sprint.
Repeat this alternating high- and low-intensity switch-off for 15 rounds, or 30 minutes.
To really add some spice to it, see how many calories you can burn each minute of your high intensity pedaling, and always try to burn more each time. The ultimate goal of this workout is to burn max calories in just 30 minutes!
Workout #3: Anaerobic Performance
Anaerobic performance refers to your body's ability to function without oxygen being absorbed into the muscles. This happens when your muscles are contracting/relaxing consistently without periods of rest between.
Weightlifting is an "anaerobic exercise" because there is no rest between reps, so your muscles can't absorb additional oxygen until after the set is completed. Greater anaerobic capacity essentially means your muscles can function longer without running out of energy/locking up/hitting fatigue point.
With this assault bike workout, you can measure and increase your anaerobic performance significantly.
To perform this workout:
Start with a 5-10 minute warm-up at a slow, steady pace.
Cycle at full intensity for 45 to 60 seconds, then slow your pace for 3 minutes.
Repeat this alternating high-and-low-intensity interval for five rounds.
For the next five rounds, alternate between 75 seconds of full intensity and 2 ½ minutes of rest.
Trainer's Note: Pay close attention to how your muscles respond at the end of the full-intensity intervals, and how long it takes you to recover between. This is how you measure your anaerobic performance. Working these intervals will help you to increase anaerobic capacity!
Workout #4: 450 Calorie Race
This one is simple, but far from easy! It's going to push your body to its absolute limits, and focus your mind on a single goal: hitting your desired calorie count in the least amount of time possible.
It's one of the best assault bike workouts to challenge yourself to the max, and keep upping your performance every time you do it.
To perform this workout:
Aim to burn 450 calories in the least amount of time possible. Alternate between high and low intensity intervals as desired.
Workout #5: Time Crunch
Don't have hours to work out but still want to push your fitness?
This is the perfect assault bike workout to use in a pinch when you've only got a few minutes to spare. But I promise you that though it's short, it's not at all going to be easy.
To perform this workout:
Set a 15-minute timer, and aim to burn as many calories as possible during that time. Alternate between high and low intensity intervals as desired. Every workout, try to beat your previous calorie record.
Workout #6: Full Body Workout
Want to shred every muscle group in your body in one workout?
This isn't going to be a "finisher" like your regular cardio—it's a full body workout in and of itself, more than suitable to replace your daily weightlifting session.
To perform this workout:
Burn 50 calories pedaling using both your arms and legs.
Burn 50 calories pedaling only using your legs.
Burn 50 calories pedaling only using your hands.
Burn your last 50 calories pedaling using both your arms and legs.
Your goal is to burn 200 calories as quickly as possible. Alternate between high and low intensity intervals as desired.
Workout #7: Recovery Day Relax
So you've been pushing hard all week long and need a day to recover and relax? Good for you!
Active recovery is more effective than passive recovery, and will help you focus on your technique.
To perform this workout:
Start with a 60-second sprint at full intensity, followed by 4 minutes of mid- to low-intensity cycling.
Repeat 4 times for a total of 20 minutes.
Spend the last five minutes of your workout alternating between 60 seconds of high intensity and 60 seconds of restful, slow-pace cycling.
Finish with a 5-minute cool-down at a very slow, restful pace.
The Bottom Line
If you're looking to push your fitness to the next level, these assault bike workouts will be an absolute game-changer.
Assault bikes will make you sweat like never before, and thanks to the full-body and HIIT nature of the machine, you will torch some serious calories and fat.
Plus, you can walk away from your training session absolutely drained, but in a fraction of the time you'd spend with regular cardio.
That's just what makes the assault bike such an amazing addition to your regular workout routines!
---
More Assault Bike Guides and Articles
⭐ The Best Air Bikes for Home Gyms (Unleash Beast Mode). Ready to perform a laser-targeted attack on your weight loss goals? Here's a detailed look at the best Air Bikes for home gyms.
Assault Bike vs Echo Bike: Pros, Cons, Differences and Which One is Best. The AssaultBike and Rogue Echo are two of the best air bikes in the gym. Here's a detailed look at the main differences between these two commercial-grade air bikes.