Tabata training is an excellent way to generate a ton of fat burning and metabolic improvement in a short time. Here is how to use the elliptical trainer for your next Tabata workout.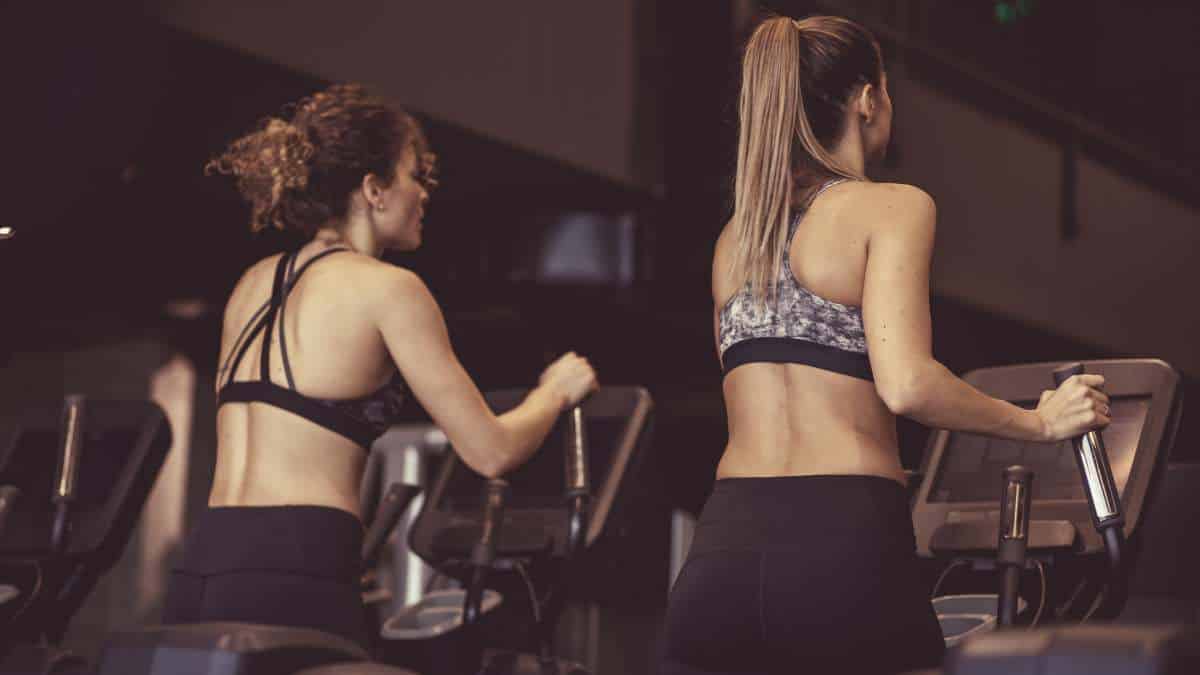 In this guide to elliptical Tabata workouts:
Looking to take your workouts to the next level and step your fitness up a notch?
Time for you to give the Tabata workout method a try!
Not only does this form of exercise turn the elliptical into a truly effective cardio machine for weight loss, but it will do wonders to increase your cardiovascular and muscular endurance.
Plus, you can burn an insane amount of calories in a fraction of the time—and that's one heck of a reason to love this type of workout.
Below, I'll walk you through everything you need to know about Tabata, including what it is, why it's beneficial for you to do it, and how you can use your elliptical machine for Tabata workouts. I'll even share with you one of my all-time favorite elliptical Tabata workouts that you can try for yourself at home or the gym.
By the end of this post, you'll be ready to tackle this new challenge in your fitness and step your training game big-time.
What is Tabata?
A lot of people speak of elliptical "HIIT workout" and Tabata workout interchangeably. That's because they don't understand the difference between the two.
To make it easier to understand, let me explain what Tabata is…
During the 1990s, a Japanese scientist named Dr. Izumi Tabata led a team of researchers from the National Institute of Fitness and Sports in Tokyo to investigate a new and highly effective form of workout.
In the workout, he had athletes train at high-intensity levels four days a week for six weeks. Each of those workouts lasted just four minutes and 20 seconds—that's very short, when compared with the "control group", that worked out at moderate intensity for a full hour, and for five days a week rather than just four.
After the six-week study ended, the two groups were compared. While the group that did the 1-hour workouts improved their cardiovascular endurance, the group that did the shorter, high-intensity workouts also improved their muscular (anaerobic) endurance.
Aerobic capacity also improved significantly over those who worked out at moderate intensity.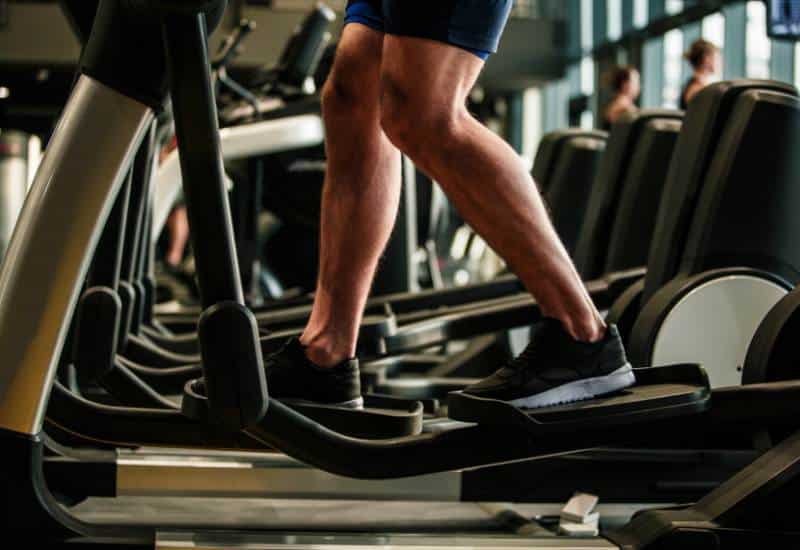 What has become known as the "Tabata method" is different from HIIT in that it never changes. With HIIT, you can use intervals of whatever length: 30-60 seconds of high intensity, with 30 to 120 seconds of low intensity.
Tabata, however, uses intervals of 20 seconds at high intensity, with 10 seconds of rest. Completing eight rounds of this leads to a total of four minutes of working out.
With the Tabata method, you repeat eight rounds of the same exercise—for example, squats or bench presses—to train a specific muscle.
Given the high intensity pace and the lack of rest between sets, it's all but guaranteed you'll hit muscle failure by the end of the eight sets.
Plus, the fast pace and extreme demand placed on your cardiovascular system to supply oxygenated and nutrient-rich blood to the muscles being used means your cardiovascular endurance increases drastically.
The Tabata method is what gave rise to what we now know today as HIIT, but the specific training methodology makes it much easier to follow than the "DIY-style" HIIT intervals.
The Benefits of Using an Elliptical for Tabata Workouts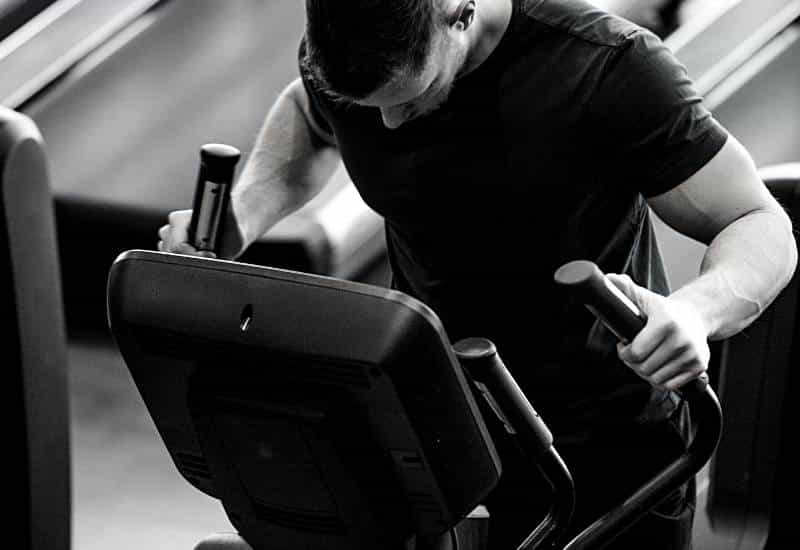 A lot of the focus with the Tabata method is on strength training and muscle-building, using weightlifting exercises to increase your strength while also pushing your cardiovascular endurance.
But using Tabata for your cardio training can also be just as effective. Think about how much endurance you can build sprint training, hill sprinting, or stair-climbing—it's a truly game-changing cardio workout!
Now, why would you use the elliptical machine for Tabata workouts rather than the more "commonly used" cardio machines like the treadmill, stair climber, or Jacob's ladder?
✅ Variable Incline
One of the best benefits of elliptical machines for Tabata training is that it's easy to shift between walking and hill climbing at the touch of a button.
Being able to increase the incline allows you to max out the glute-focused training (at the highest incline, it's almost as good as stair-climbing for targeting your glutes), but you can also set it to low or no incline to give you a more walking/running-like workout.
You can even set the machine to rotate between various incline levels, allowing you to switch up the muscle focus of your workout while also getting in a truly epic Tabata session.
✅ Variable Resistance
Adding resistance increases the difficulty, which in turn demands more from your body.
If you're striding at top speed and pushing against high resistance, it will strengthen your muscles and force your cardiovascular system to work harder to provide oxygen and nutrients to the muscles doing all the work.
✅ Variable Speed
One of the reasons that there are more calories burned on the elliptical than most other cardio machines is that it's so easy to speed up. You may think you're walking at a "normal" or "steady" pace, but when you look at your heart rate, you'll often find you're moving faster or pushing harder.
This is because there are no speed settings—you set the speed for yourself by how fast you stride. When you want to speed up and push your body into HIIT/Tabata mode, you don't have to press any buttons (like you do with the treadmill or stair climber).
Just start pedaling/pumping the handles faster, and you'll hit top speeds right away. It's a much easier machine to use when you're varying the speeds between the 20-second fast-paced intervals and the 10-second "rest" intervals.
How to Do Tabata with an Elliptical Machine
If your goal is losing weight with an elliptical or you just want to get fitter using Tabata, you're in luck!
We've got some great advice to help you make the most of this new training method using the elliptical machine.
⭐ Set a "speed goal."
For the 20-second high intensity intervals, set yourself a goal of a certain number of steps per minute. The more steps you aim for, the faster you have to pedal, so the harder your body works.
⭐ Raise the incline.
Raising the incline adds a new level of difficulty because instead of striding on "flat" ground, your movement is more like climbing stairs, which is much more challenging on your glutes and quads.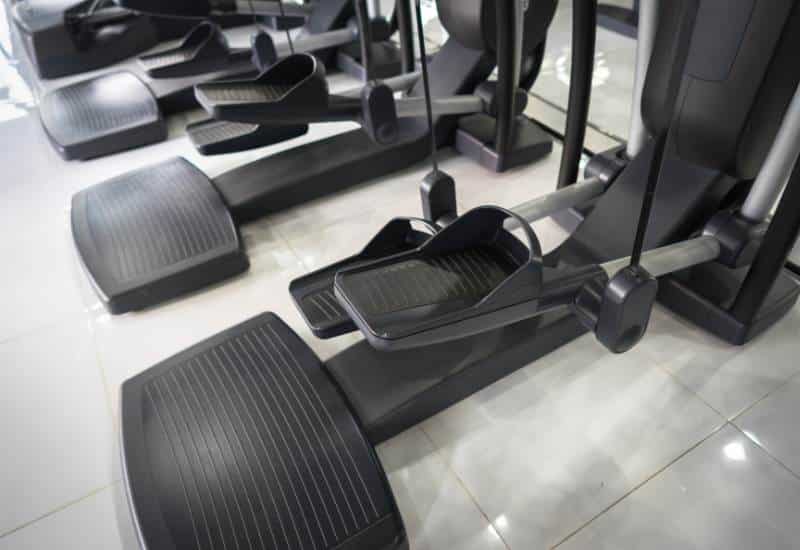 You'll find that a 4-minute Tabata workout targeting your glutes by setting it at a high incline is crucial for developing these important leg muscles while still being able to push your cardiovascular endurance to the max.
⭐ Add resistance.
Whatever incline level you set, whether a "0" for flat ground or a "10" for max incline, try adding a bit of resistance, too.
Your entire body will have to work harder to push against the pedals/pump the handles, and the increased demands on your muscles will force your cardiovascular system to work harder, too.
The end result: better fitness and more calorie-burning!
⭐ Don't stop at just one.
Don't end the workout at just one round of Tabata. With HIIT, you'd typically aim for a 15 to 25-minute session (not including warm-up and cool-down).
If you can do the same with Tabata, adding in multiple 4-minute rounds, you'll see real progress in your fitness efforts!
⭐ Start easy, increase difficulty over time.
Don't worry if you're struggling to knock out even one Tabata round, much less 3 or 4. If you're finding it challenging, go easy on yourself.
Reduce the incline or resistance, and focus on just picking up the speed of your stride.
Within a few training sessions, your body will adapt to the increased cardiovascular and muscular demands, and you'll have a much easier time completing those tough workouts!
The Perfect Tabata Elliptical Workout
I've been using the Tabata method in my own training for a few years now, and absolutely love how focused and challenging it can be.
One of my favorite workouts of the week is my Tabata elliptical workout—an under-30-minute sweat session that leaves me sweating bullets every time but is a highlight of my training.
Here is what it looks like:
Warm-Up:
Start with 5 minutes of stretching, followed by 5 minutes of slow-pace elliptical. Give your joints a chance to limber up, and warm up your muscles before pushing into top-speed training.
Once you're warm and ready to move, it's time to get working!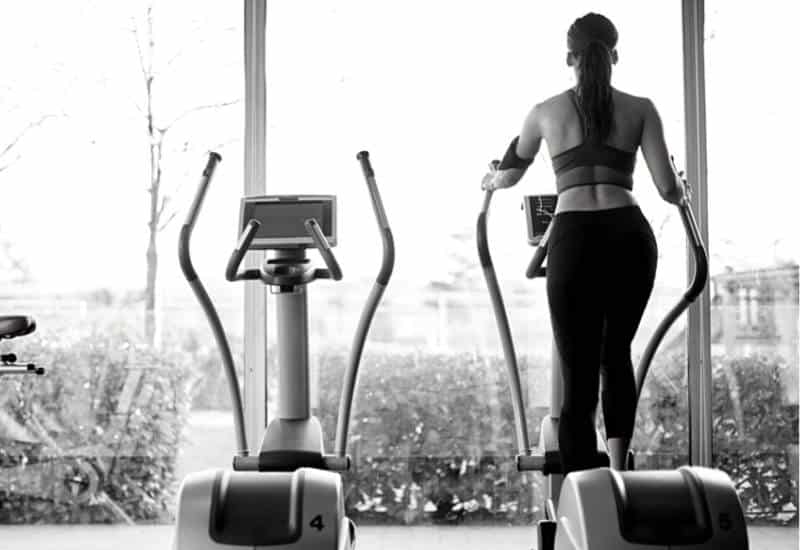 Tabata Round 1: Speed Goal.
Set yourself a goal to hit a certain number of steps per minute. On the first 20-second round, see if you can hit that goal (watch the elliptical's digital screen to see what your SPM count is).
After the second round, if you're finding that it's too easy to hit that SPM target, try adding a few more. You should be hitting those 20 seconds with every ounce of speed you can demand from your body, earning those 10-second rest intervals every time.
Rest: Once you finish that first 4-minute round, give yourself 3 minutes to rest. Slow down your speed to a "moderate" pace, or even settle into a slower walk. You should be moving easily and giving your cardiovascular system time to recover before your next round.
Tabata Round 2: Higher Incline and Resistance.
Crank up the resistance to 60 to 75%, and add a bit of an incline (25 to 50%), too. You'll feel the burn during those 20-second max-intensity intervals, and your 10-second rest intervals will be a lot less "restful". Make sure to pick up the pace, too, but don't worry about hitting a SPM goal. Just pedal as fast and hard as you can for the 4-minute round.
Rest: You've earned it! Take another 3 minutes to come down and recover enough to hit one final round.
Tabata Round 3: Max Incline and High Resistance.
Leave the resistance at 60 to 75%, but set the incline to 100%. This will be much more glute-focused, but the resistance will still give your quads and hamstrings a killer workout. Push the speed as much as you can for those 20-second intervals, and slow down as much as you need to during the 10-second rest intervals.
Cool Down: Once you finish this Tabata round, spend 5 minutes striding at a moderate pace and low resistance and incline setting. You've done the hard work; now it's time to let your body cool down before stepping off and spending a few minutes stretching out your muscles.
And just like that, you've completed your first Tabata elliptical workout.
Less than 30 minutes, no need to change machines or add weight.
All it takes is increasing your speed, resistance, and incline to push your body to the max.
The Bottom Line
As you've seen above, Tabata is a highly effective method of training that can help you get a game-changing workout in a fraction of the time you'd spend on "standard" cardio or resistance training.
You can even begin with just one four-minute round per day, and you'll start seeing results right away.
The more of these Tabata rounds you add, the more you'll push your aerobic and anaerobic capacity.
Over time, you'll see huge gains in your strength, endurance, and your body's ability to keep your muscles oxygenated and energized even during periods of maximum intensity workout.
---
More Guides and Articles Like This
6 Best Machines for HIIT Workouts at Home. High-intensity interval training is the fastest way to get cardio and conditioning under your belt. Here's a look at the best HIIT machines to add to your home gym.