The Bowflex 5.1s Adjustable Weight Bench is one of the best adjustable weight benches on the market. Strong, versatile, and well-priced, here's everything you need to know about the 5.1s bench.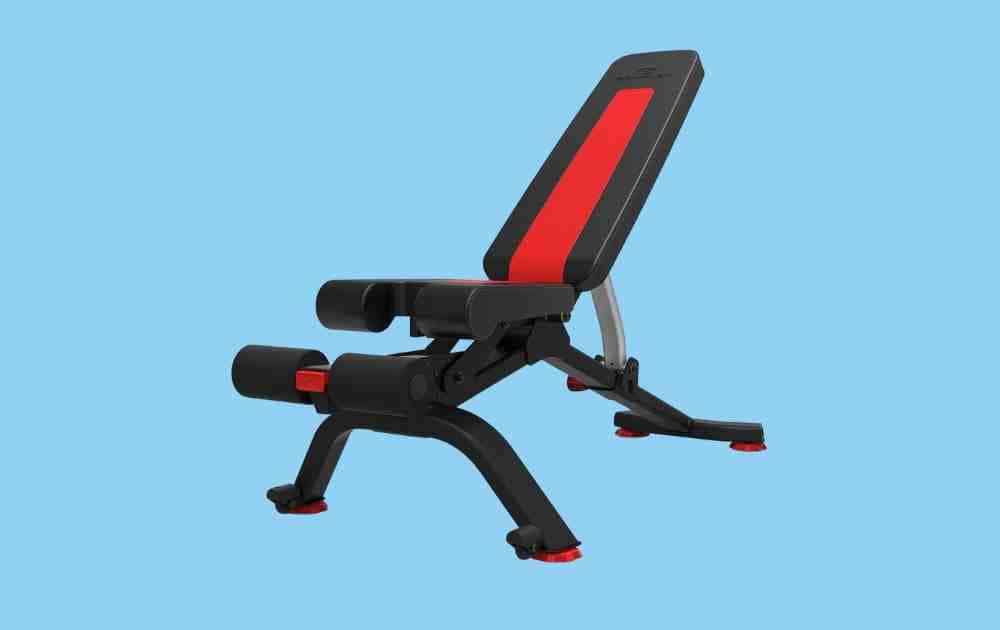 If you have watched television in the past 30 years you know the name. But Bowflex has gone beyond being a late-night infomercial regular into one of the big names in home fitness equipment.
While probably better known for their all-in-one home gyms, they also produce a ton of other stuff for the home workout enthusiast including adjustable dumbbells, spin bikes, and adjustable kettlebells.
Bowflex's line of adjustable and flat weight benches are well-priced, versatile, and offer home gym enthusiasts lots of options when it comes to working out.
Within this roster of workout benches is the 5.1s, Bowflex's "premium" adjustable bench.
There is a lot to like about the bench, but there are a few reasons that it might not be the one for you.
Read on, learn more about the key features of the Bowflex 5.1s Adjustable Weight Bench, and arm yourself with the knowledge to buy (or not) with confidence.
Let's get right into it.
Bowflex 5.1s Adjustable Weight Bench – Key Features
✔️ Heavy-duty steel frame.
The Bowflex 5.1s is very well built. There's no getting around that. Like the Bowflex C6 spin bike (which my wife liked but not as much as the Peloton bike), you get a sense that this is a really tough piece of equipment.
Fully assembled, the bench weighs a sturdy 60lbs.
Pulling it out of the box you will be surprised by how heavy-duty the frame is. (Which kind of surprised me when I read that the maximum load for the bench was just 600lb.)
✔️ Five different grades on the back pad.
The whole point of an adjustable bench is that you get lots of options and grades for working out. Incline bench press, shoulder press, etc.
The back pad on the 5.1s can be tilted to a -20 decline, making it a modified ab bench, horizontal (like your typical flat weight bench), and then 30, 45, 60, or 90 degree inclines.
For most lifters, this will be enough, but if you want more options than that, the Rogue Adjustable Weight Bench 3.0 offers ten different incline angles on its industrial-strength bench.
✔️ Can be stored vertically.
One of the big headaches of building out an area to workout at home is the shortage of space. For most of us, equal consideration is giving to the footprint of the equipment we are buying as the price and functionality.
The Bowflex 5.1s can be stored vertically. Pull it out when you are ready to train, sweat it out, and then park it back up against a wall. If you're short on space at home (and most of us certainly are!) this is a key consideration.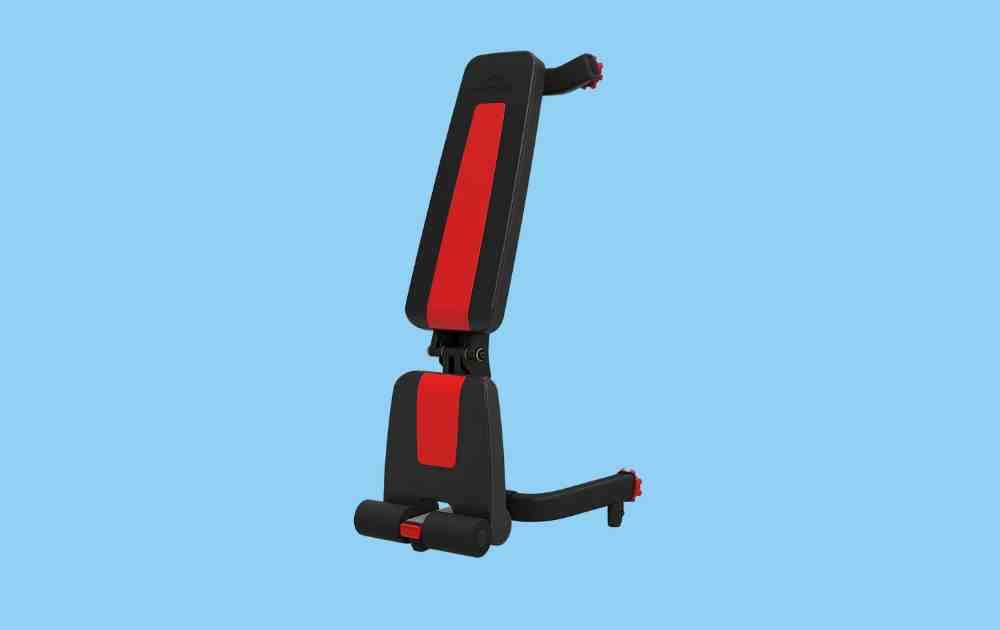 ✔️ Wheels for quick stowing and portability.
Portability is a critical component of home fitness equipment.
Whether you want to tuck the bench away between workouts or you want to wheel it into your power rack, your bench needs to be easy to move.
The Bowflex 5.1s has two rubber wheels at the front of the bench make it easy to move between workouts/sets. Simply tilt the head of the back pad and off you go.
✔️ Priced competitively.
Bowflex definitely ranks as one of the more premium-priced brands when it comes to home fitness equipment.
But the 5.1s is well priced, retailing at around $280-300 (check Amazon for current pricing and stock availability).
This is on par with other heavy-duty adjustable benches on the market.
✔️ Massive footprint for massive stability.
Most weight benches have a T-shaped footprint. The Bowflex 5.1s adjustable bench goes with a double-T footprint that removes any and all wobbling and generates additional stability.
A regular T-shape base is fine for most lifting, but if you plan on using the bench for dynamic exercises, like as an aerobic stepper, for example, you want something that is extra stable.
Additionally, the width of the bench is an industry-leading 28.5″. I've yet to see a workout bench that is wider than this, so if stability is a prime concern, this is great news.
✔️ Secure arm adjustment pin
One of my pet peeves with benches is when the adjustment arm doesn't lock securely into the steel frame when you are adjusting the incline or decline of the back pad.
You see this often with the cheapo benches that use a horizontal metal peg at the end of the arm to be set into steel teeth. Often the peg is barely wider than the teeth, and if you inadvertently slide the back pad to the side while working out the peg can slide out of one of the teeth and unlock.
The Bowflex benches avoid this with a locking pin that keeps the adjustment arm, back pad, and the lifter on firm ground.
❌ Not as strong as other benches on the market.
Despite being a relatively heavy-duty bench, the Bowflex 5.1s taps out at 600lb total (lifter + weights).
For the same price, you can purchase the Bells of Steel Commercial 3.0 Adjustable Bench, which is rated for 1,000lb.
There are also other adjustable benches on Amazon that have a 1,000lb+ weight capacity.
❌ Upright position is too upright.
The best adjustable weight benches on the market have an upright incline position of 85 degrees, which allows a little give for people who don't have perfect shoulder and back mobility for shoulder presses.
90-degrees is simply too upright for most people, myself included, leaving you feeling like you are leaning forward.
Bowflex 5.1s Adjustable Bench – Where to Buy
Bowflex is well-known for making quality workout gear. With decades of experience under their belt, they've created a really solid line of adjustable workout benches that will work for a large part of the exercising public.
Available through Amazon for around $280, the Bowflex 5.1s Adjustable Bench is a great choice for most people that want to exercise at home with a bench that is sturdy, extra stable and can be stowed away between workouts.