Curious about adjustable kettlebells? Here's a detailed look at the best adjustable kettlebells for every kind of budget and athlete.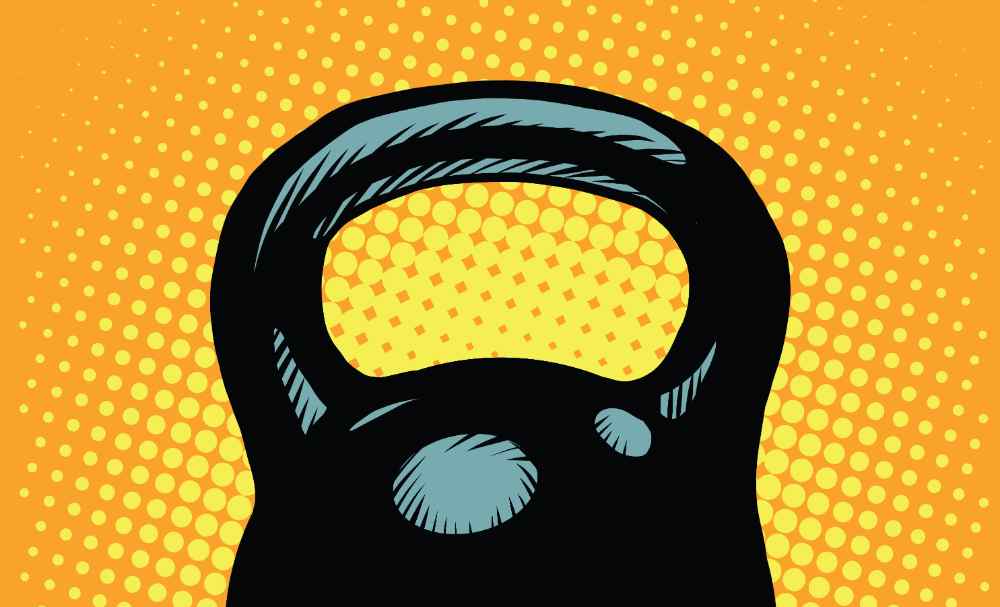 Kettlebells are one of the best (and probably my favorite!) tools for working out.
Even though it's just a metal bell with a handle, the movement, body parts, and training goals you can tackle with a kettlebell are almost endless. You can use them as part of a cardio, fat-burning program. Use them to develop hyper-explosive speed and power. Use them to improve the stability of your hips and shoulders. And so much more.
But the old-school, cast-iron kettlebell does have one drawback.
Unlike a barbell or a (loadable) dumbbell, you can't change the weight on them.
Well, at least you couldn't until adjustable kettlebells came on the scene.
Adjustable kettlebells versus Regular kettlebells
Regular and competition kettlebells are fixed weight. Competition kettlebells are all the same size, regardless of weight, and are ideal for technique work and single-handed swings. Standard kettlebells, whether cast-iron or steel, vary in size and handle shape.
Adjustable kettlebells use sand, water, or gravel to increase or decrease the weight of the bell.
Because you only need to buy one, adjustable kettlebells can quickly save you money compared to buying individual bells. And for people who exercise at home, you also have the added benefit of saving a ton of space. No need for a big rack of kettlebells.
Adjustable dumbbells come in a variety of shapes, construction, and price.
Below is a breakdown of the best adjustable kettlebells on the market right now, including key features, price, and weight options with each.
Let's get right into it.
Bowflex SelectTech Adjustable Kettlebell
⭐ Best adjustable dumbbell for most people
If you own a television set, you've heard the name Bowflex. They make high-grade home gym gear, including treadmills, spin bikes (not wild about my experience with the C6, however) and compact home gyms.
By turning a dial on top of the bell (and under the handle) you can immediately adjust the resistance of the kettlebell from 8-40lbs. With six different weight settings, you'll never be short of options for resistance.
The ergonomic handle is wide enough to comfortably two large hands and the space-saving design effectively removes the need of having six different bells.
The SelectTech Kettlebell absolutely kills it on Amazon with the reviews, with over 2,500 five-star reviews (click here to read them) and retails for around $200.
Key features: Small footprint, easy to change, sturdy metal plates for resistance, costs the same as about 2-3 regular kettlebells. Training program with 24 different exercises included.
Weights: 8, 12, 20, 25, 35, 40 pounds
Price: ~ $200 @ Amazon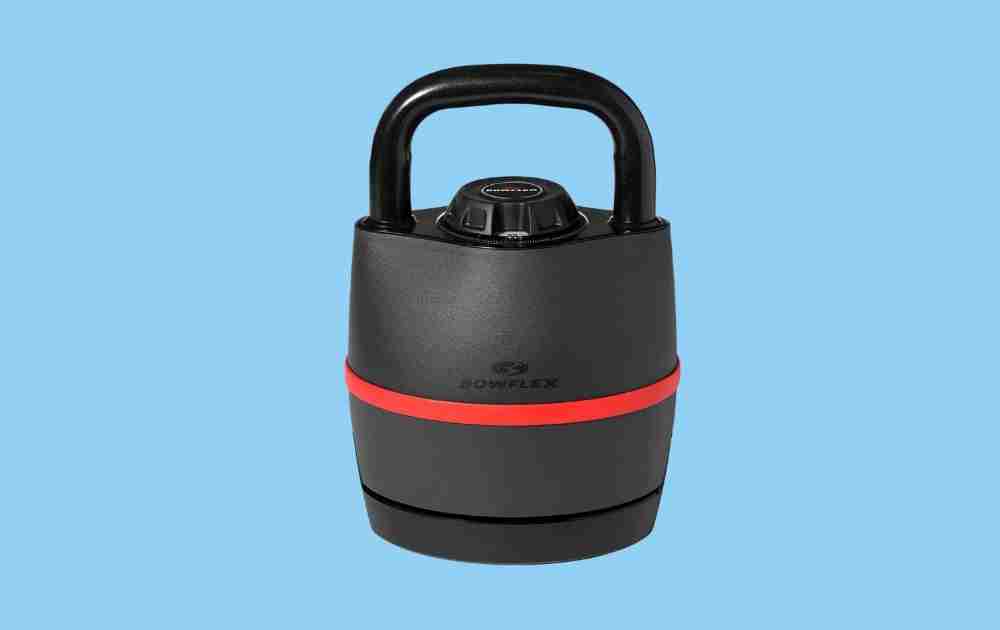 Kettlebell Kings Adjustable Competition Kettlebells
⭐ Best adjustable competition kettlebell
For those who have dabbled extensively with kettlebells, they will know the name Kettlebell Kings. They are the makers of the best competition kettlebells on the planet.
They've taken their legendary competition bells and made an adjustable version. It's not cheap—definitely reserved for more serious kettlebell enthusiasts and those who take their swings very seriously.
Small weight plates are added to the inside of the bell to add or subtract weight as necessary. You can slide up and down in weight from 12 to 32kg.
This form of changing the weight isn't as fast as the Bowflex or some of the other adjustable kettlebells on this list, but this specific bell makes perfect sense for technique-oriented kettlebellers (is that a word? It is now!) who are short on workout space at home (or are on the road frequently) and want a competition bell.
Key features: Competition bell size, shell made of steel, 35mm handle.
Weights: 19 different weight options between 12-32kg
Price: $464 @ Kettlebell Kings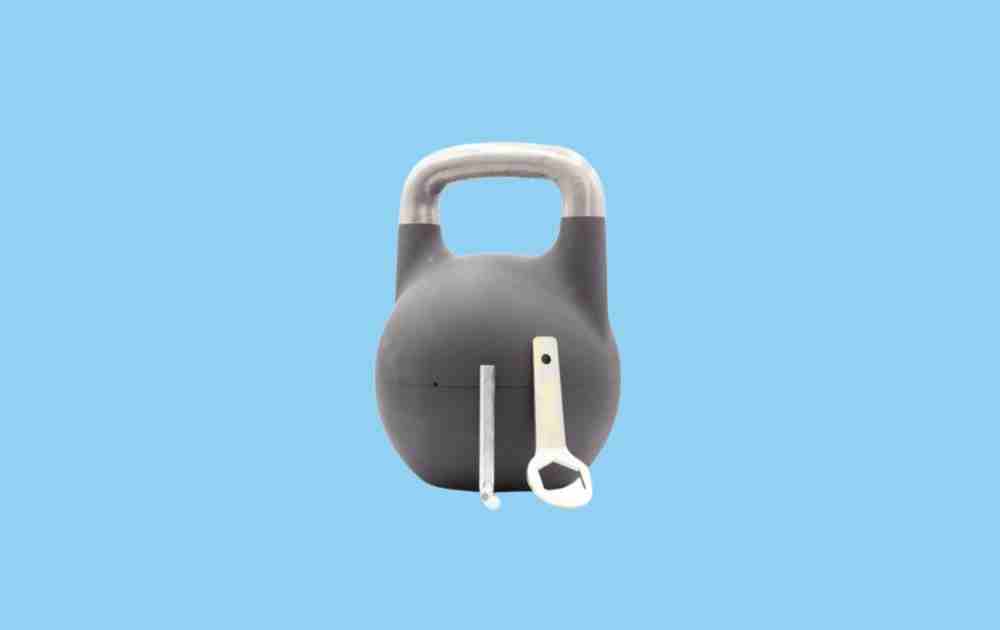 Kamagon Adjustable Water-Filled Kettlebell
Best suited for users who are new to kettlebells, this easy-to-fill bell is weighted down with water. At its lightest, the Kamagon Water-Fill Kettlebell weighs 2lb and fully topped up hits the scale at a respectable 13lb, providing a solid variety of weight options.
Although the handles take a right turn from traditional kettlebell handles, it does open new possibilities for grip positions. (I love it for exercises such as Russian twists, for example.)
Another perk to a kettlebell that uses water as weight is that the fluid moves around (sloshes might be the more appropriate term), creating a degree of instability and making things a little more difficult. Sort of like trying to do lunges on a waterbed, but less 1980's.
Kamagon offers the water0filled kettlebells in three different colors.
Key features: Dual handles, won't damage floors if dropped, great for stability work in shoulders and arms
Weights: 2-13lb
Price: $35-49 depending on color and seller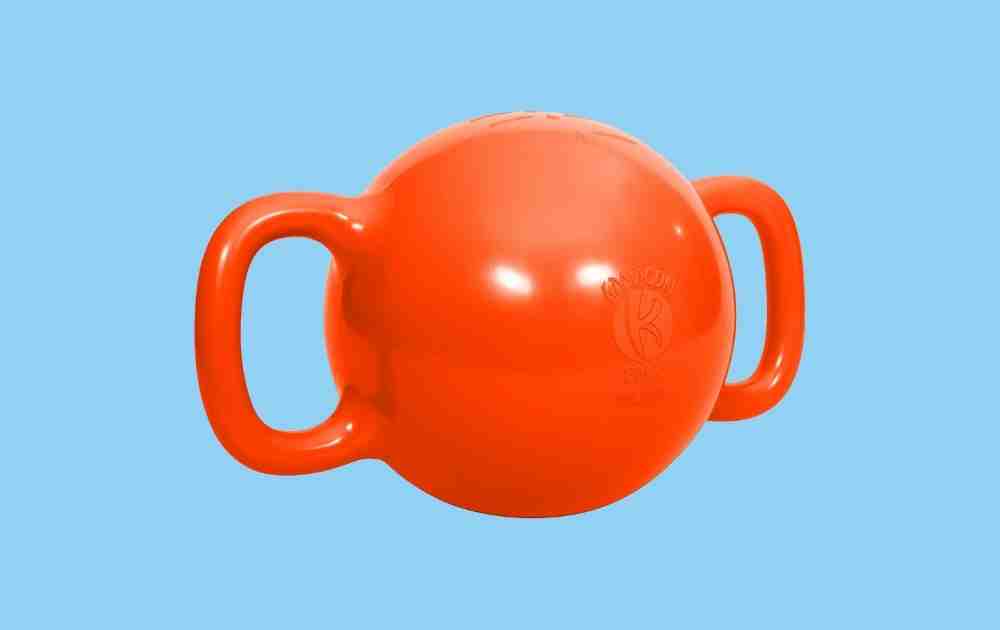 KettleGryp
⭐ Best alternative to adjustable kettlebells
Already have a dumbbell set in your home gym? Or does your local neighborhood gym not have any kettlebells?
With the sneaky-sneaky smart KettleGryp you can turn any dumbbells into your own line of adjustable kettlebells.
Simply clasp the knuckle around the handle on a dumbbell and boom—it's now a kettlebell. This tool is perfect for those who are on the road a lot and is a must-have addition to your gym bag for hitting the gym.
Rated for dumbbells up to 55lbs, this is one of the best Christmas presents I ever received from my ex. Made in the USA, the KettleGryp is hilariously low-cost, at just over $34 (check Amazon for current pricing and availability).
Key features: Tough, easy to attach, made in the USA and works with most straight dumbbell handles.
Weight options: Up to 55lb
Price: $34 @ Amazon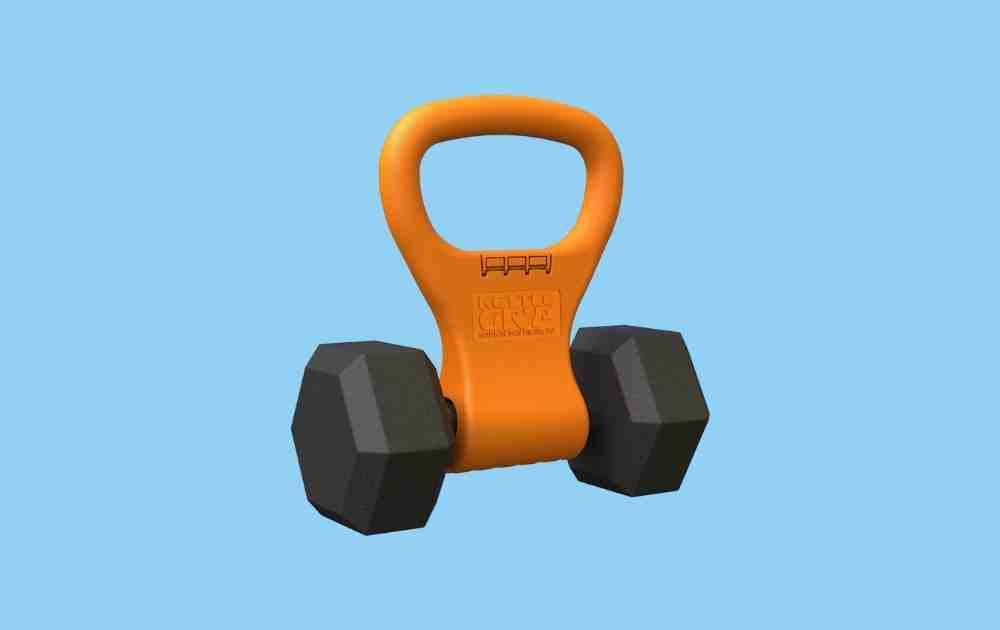 Kettlebell Kings Adjustable Kettlebell
Another entry from the folks over at Kettlebell Kings. This bad boy is perfect for intermediate lifters and athletes.
Available in two different color combinations, this kettlebell is easier to adjust compared to the competition-style bell and can quickly be changed from 10-40lb. Quickly dial up or down the weight using the lever to change out weights.
While the base isn't as wide as competition bells, the handle is perfect for two-handed swings. The Kettlebell Kings Adjustable Bell is perfect for people who are fresh-faced to kettlebell swings and want something they can start using on day one.
Key features: Easy to change weight, different color options, 30mm handle.
Weight options: 5, 10, 15, 20, 25, 30, 35, 40 pounds
Price: $209 @ Kettlebell Kings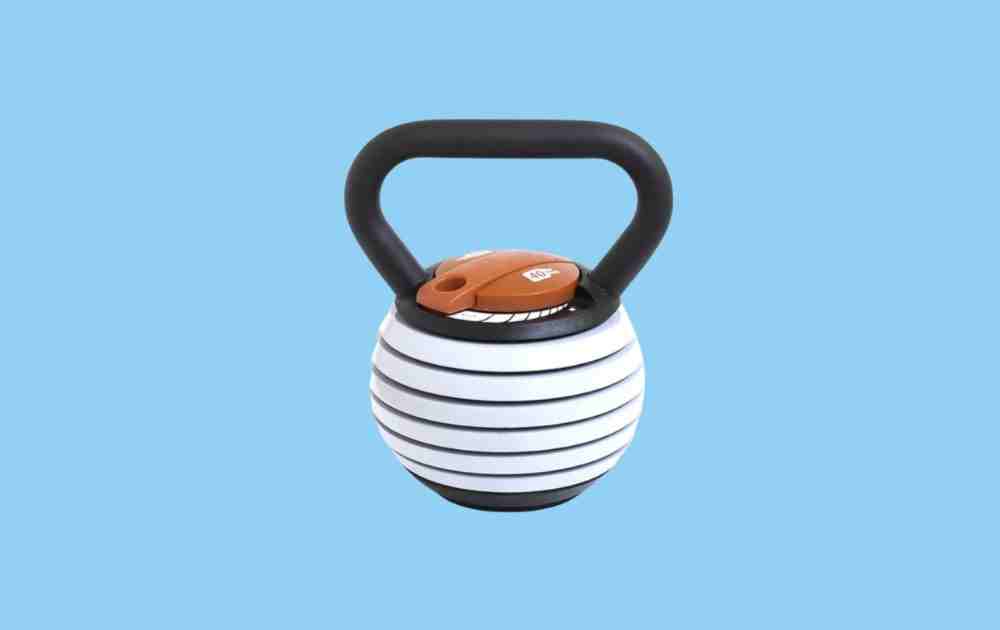 Recommended Reading
I've written extensively on kettlebells (between my garage kettlebell workouts ?) on this website.
Take advantage of my years of training, coaching, and kettlebell'ing to find the right KB for you.
Best Rogue Kettlebells for Cranking Up Your Workouts (Full Review). Looking to pick up a Rogue kettlebell? Here is a full rundown and reviews of the best Rogue kettlebells for demolishing your workout goals.
7 Best Kettlebells for Home Gyms. Kettlebells are a proven way to dominate your workouts. Here's a breakdown of the best kettlebells for athletes and gymgoers. Read our list and get to swinging.
5 Best Competition Kettlebells. Kettlebells are one of the best things you can add to your workout arsenal. Here is a breakdown of the best competition kettlebells on the market, including key features, price, and more.