Ring, ring. Who's there? Bigger triceps, that's who! Here's a breakdown of the perks of the almighty tricep bar, and everything you need to know about choosing the best tricep (hammer curl) bar for your home gym.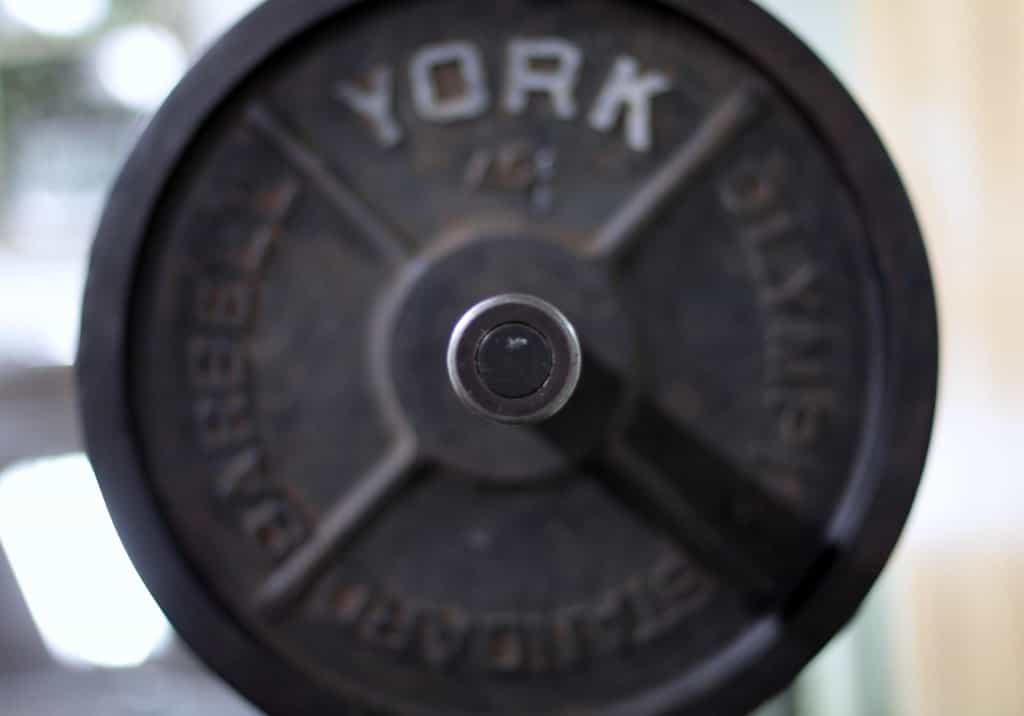 A triceps bar, also known as a hammer curl bar, is a barbell that looks like somebody peeled off the grill off a Jeep Wrangler.
With two vertical bars in the middle of the, err, bar, you can train your arms without placing some of the undue strain on your wrist and elbows that can happen with a regular barbell.
Along with the E-Z curl bar, and the trap/hex bar, the triceps bar is another one of my favorite "alternative" bars (not to be mistaken with Seattle-area grunge nightclubs) to round out your home gym bar set.
Some of the perks to this bad boy include:
Great for skull crushers. Along with E-Z curl bars, a triceps bar gives you a neutral grip that is ideal for doing skull crushers.
Triceps press. That three-headed monster on the back of your arm (better known as your triceps) can always use some isolation work, and doing overhead triceps press is a great way to spur muscle growth.
Hammer curl. Everybody loves training their guns, and hammer bicep curls are one of my favorites as I can usually lift more weight versus regular barbell curls.
A less stressful grip. Using a hammer grip places less strain on your arms, from your wrists to your shoulders. For shoulder-intensive athletes and gymgoers, a triceps bar is a way to isolate the triceps and biceps without wrecking the shoulders.
With the benefits behind us, let's get into some of the best triceps bars for the home gym enthusiast, including:
CAP Barbell Olympic Tricep Bar
Until last year, I had never heard of Cap Barbell. Gyms were open, and after taking my two-scoop of pre-workout, nearly pooping my pants, and going to my neighborhood gym, the last thing on my mind was the brand of the equipment I was using.
And then good old Covid came around and everybody starts buying up equipment to build a home gym.
Myself included.
Since then, Cap Barbell has been all up in my business. I have test driven a couple of their trap bars. Picked up a set of Cap Barbell barbell collars. And I even used their EVA foam gym flooring to protect my power rack, for a stretching area, and a place to park my wife's spin bike.

Naturally, the Cap Barbell Olympic Triceps Bar, was next.
Made of steel and finished with chrome or a black powder-coat, with a 200-pound weight rating, and with knurled middle bars for a superior grip, it delivers on all of the essentials. (Oh, and it also comes with its own barbell collars. Giddyup.)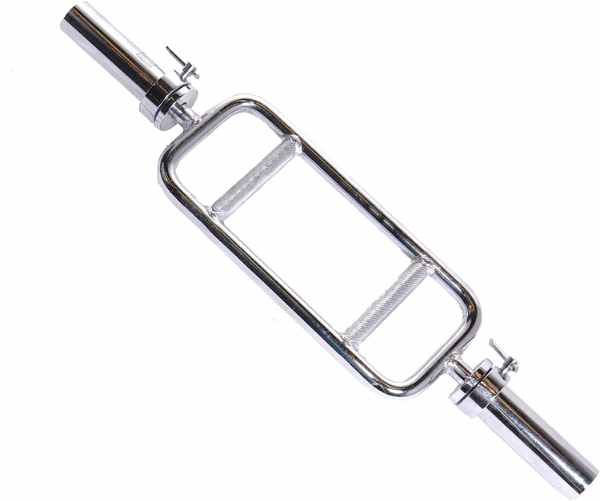 Power Systems Pro Olympic Tricep Bar
For gymgoers with larger hands and longer fingers (I myself suffer from something my wife kindly refers to as "E.T. Fingers"), a slightly thicker grip is always appreciated. The Power Systems Pro Olympic Tri Bar is a mouthful of a name, but gives lots of bar and grip for your hands to chew on.
The bar itself weighs 33-pounds, the sleeves are 7", and the sleeves are designed to load Olympic plates and collars (sold separately, obviously).
An alloy steel construction, knurled grip, and competitive pricing round out the Power Systems… okay, you know what it's called by now.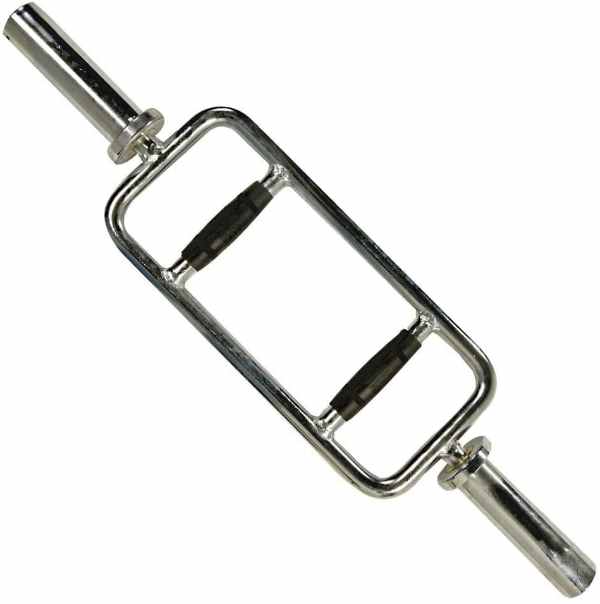 Rogue MG-3 Multi-Grip Bar
Rogue Fitness makes some of my favorite gym equipment. The Rogue adjustable weight bench is where you will find my butt when doing bench and recovering between rounds of kettlebell swings.
Beyond being basically bombproof, their gear just looks good.
(Look good, train good…?)
The Rogue MG-3 Multi-Grip Bar takes the tricep bar to the next level.
(Full disclosure: the MG-3 is also known as a Swiss Bar, but I love it as a tricep bar.)
For the more casual lifter, this bar is overkill. But for the more serious lifter who wants a full range of grip options, including two pairs of vertical grips and a set of angled grips, the Rogue MG-3 Multi Grip is an absolute beast.
Unlike most specialty bars, the MG-3 can be racked on power racks, making it ideal for the gymgoer who likes doing close grip bench press. With Rogue's trademark black powder coating, and 14" sleeves, the MG-3 is the best tricep bar I've ever used.
The only functional drawback is the width of the bar—I prefer a narrower bar when doing hammer curls—more energy spent lifting straight up and down versus balancing the bar.
As you can guess, the Rogue MG-3 Multi-Grip Bar doesn't come cheap. The last time I checked, the bar was $275 through Rogue's website, making it about $100 more than the second most expensive bar on this list.
If tri lifts are a key part of your training regimen, however, the investment will pay itself off in no time.
Sunny Health Threaded Tricep and Hammer Curl Bar
Made for one-inch weight plates (not Olympic plates), the Sunny Health Threaded Tricep Bar is a budget-friendly bar with great grip, safety collars, and threaded sleeves that keep the plates from running off the ends of the bar.
Sunny Health makes quality budget fitness gear, including a chrome barbell, and with a mountain of five-star reviews on Amazon, this tricep bar delivers for the home gym user who uses one-inch plates and wants to do so on a budget.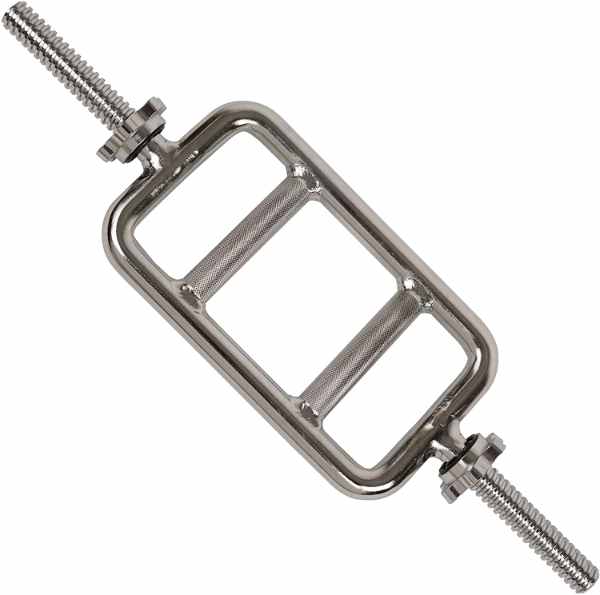 Marcy Fitness Triceps and Hammer Curl Bar
The Marcy Triceps Bar is another of the 1" bars for home gyms. And it's also on the cheaper side of things. With a threaded sleeve, knurled handles for a rocksteady grip, the Marcy Fitness Triceps Bar is made of steel and coated with a chrome finish.
The star-shaped collars are always a joy to spin and lock the plates into place. For a bargain-priced bar, this one can handle a lot of weight, rated for up to 300-pounds. Marcy backs their stuff with a two-year warranty.