Looking to take your arm muscles to the next level? Here's a look at the best gym machines for arms, including benefits, muscles worked, and much more.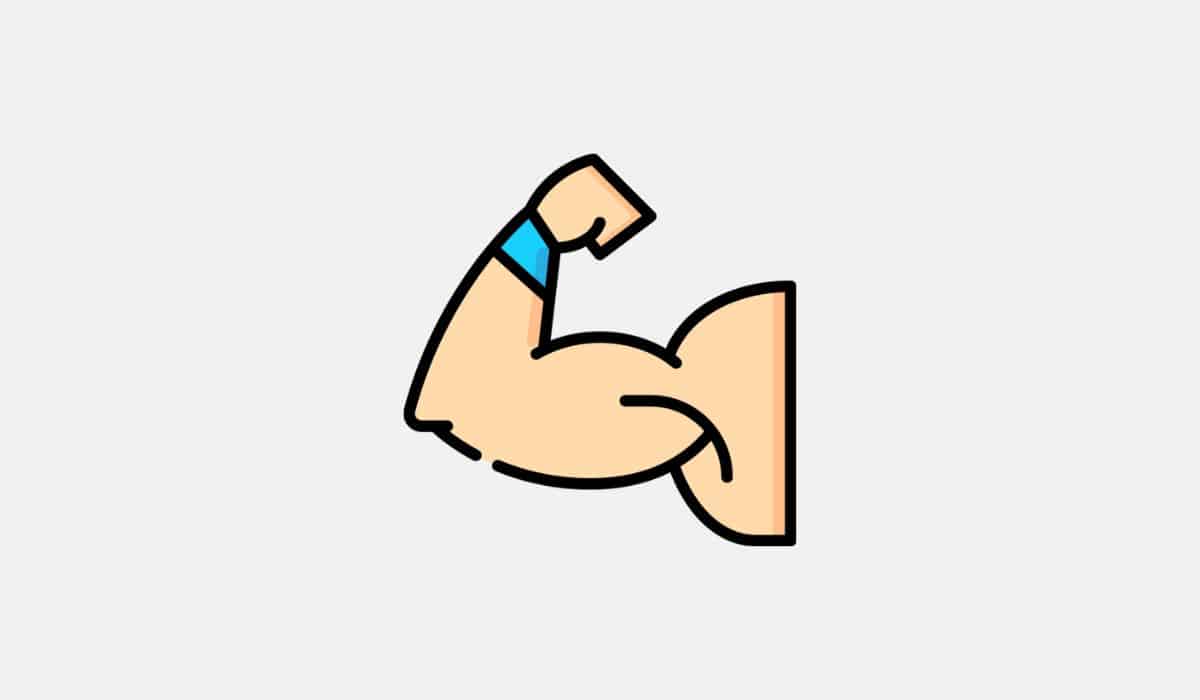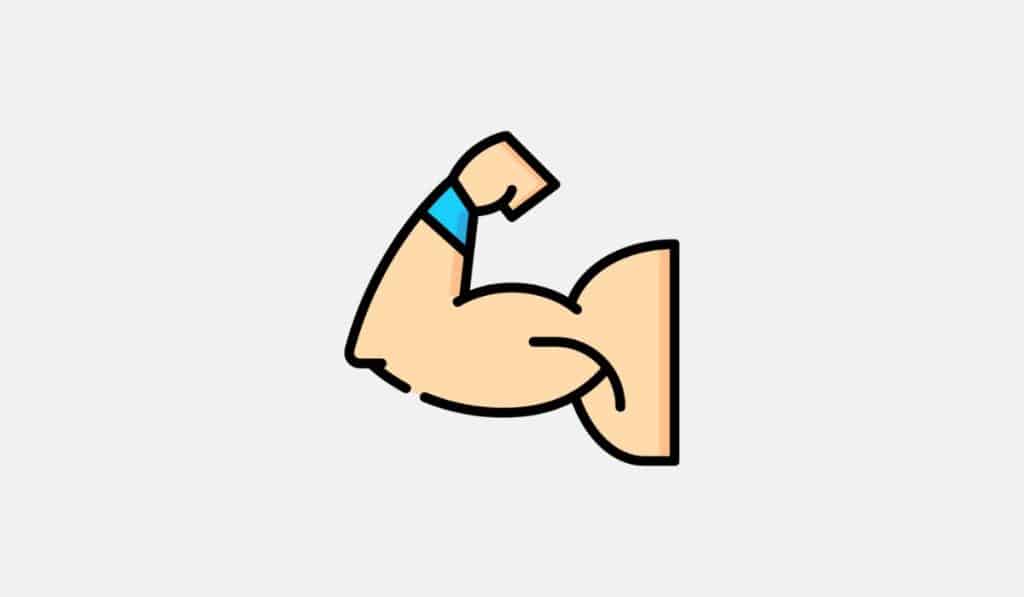 Let's be honest: we ALL want stronger and bigger arms!
Sure, a thick chest, powerful legs, and a broad back are always nice.
But when it comes right down to it, we all love the idea of having ripped arms that we can flex and show off for the world to see.
This is why it makes perfect sense that there are so many arm machines at the gym.
Each machine is purpose-built to target your triceps and/or biceps specifically, enabling isolated and concentrated muscle-building.
At the end of the day, though these machines aren't the only ones you'll use, they can be an incredibly important addition to any workout.
Below, I've compiled a list of the best gym machines for arms training to help you build the biggest biceps and triceps you can.
Next stop–the gun show!
Why Use Machines for Training Arms?
Before we dive into the list of the best gym machines for arms, let's take a hot moment and appreciate the reasons we should use machines to develop stronger arms.
Great for Beginners  
Machines are awesome for beginners because they essentially "force" you to use proper form by only allowing a certain range of motion.
For example, with the bicep curl machine, you're curling handles that can't shift side to side, only move forward and backward/up and down.
As a result, you learn to master the basic bicep curl form and start developing strength that translates into more effective bicep curls using free weights, cables, resistance bands, etc.
Less Risk of Injury
Because of the controlled path of movement, there is less likelihood of injury.
Although free weights get all of the love and attention in the gym, they are significantly more dangerous compared to machines.
Research tracking gym-related hospital visits show that free weights generate more than half of the trips to the hospital when working out1.
Easy Targeting and Isolation  
With machines, you can easily target just one specific muscle at a time, isolating just that muscle from the rest.
A great example of this is the preacher curl machine. With your arms placed on the bench and your hands gripping the secured bars, your biceps are isolated and the only muscles doing the work.
This allows you to focus exclusively on the critical muscles you're trying to build, leading to a more effective, targeted workout.
I'll admit that machines do have some drawbacks—they don't recruit as many muscles, and they tend to be "easier" than free weights—but for those who are just getting started at the gym or who want to pay extra attention to one specific muscle/muscle group, they can be an excellent choice for resistance.
The Best Arm Machines at the Gym
Cable Machine
I'll bet this surprised you!
The cable machine probably isn't the first you think of when picturing arm machines, but I'm here to tell you that it's actually one of the best machines in the gym, period.
One of the primary benefits of cable machines is that you increase time under tension, which leads to faster muscle fatigue and ultimately, greater hypertrophy and muscle growth.
Cable machines are also insanely versatile and can be used for a wide variety of exercises—including plenty of cable machine arm exercises like:
Cable machine curls
One-handed cable machine curls
Cable machine hammer curls
Triceps kickbacks
Cable machine pushdowns
And the list goes on.
You'll find that using the cable machine in your arms workouts leads to excellent muscle growth and gives you lots of options for training your arm muscles the right way.
Most cable machines at your local gym also have a pull-up bar mounted at the top, making them perfect for chin-up sand hammer curls, which target the biceps like a boss.
Assisted Pull-Up Machine
The assisted pull-up machine is one of the best gym machines for upper body development because it provides "assistance" for people who aren't strong enough to do multiple sets of pull-ups.
For those who are nearly strong enough, you can add just a few pounds to help you hammer out those last few reps.
And for those who need a real helping hand, there's plenty of assistance to help you lift your bodyweight.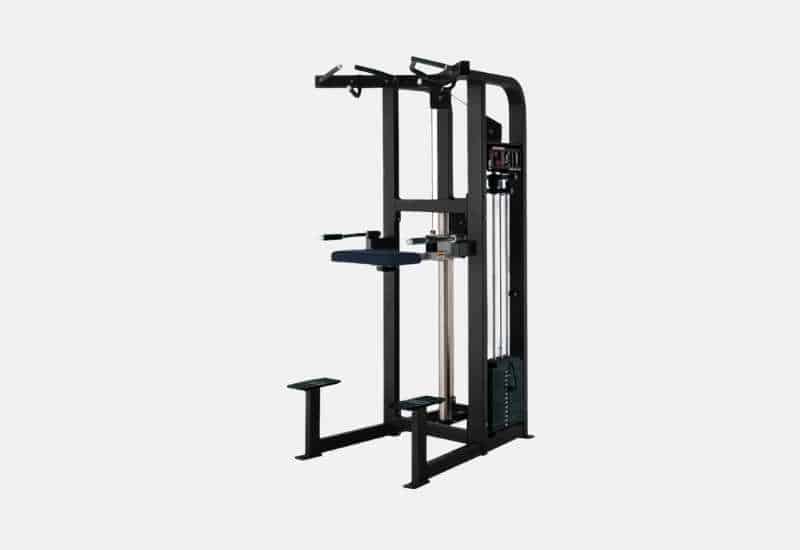 Both pull-ups (palms facing away from your body) and chin-ups (palms facing toward your body) are excellent for building bicep strength, as well as shoulder and upper back strength.
You'll also train the grip muscles in your forearms, which play a significant role in your arm strength and endurance.
Include pull-ups at the beginning of your Back Day or Arms Day workout to hammer those muscles hard, and use the pull-up machine to help you work your way towards doing bodyweight pull-ups.
Dips Station
The dips station is absolutely amazing for building strength in your triceps.
When you perform dips, your triceps are lifting all of your bodyweight, and working in a natural range of motion to develop functional strength.
The result is bigger biceps and greater ability to move your own body effectively.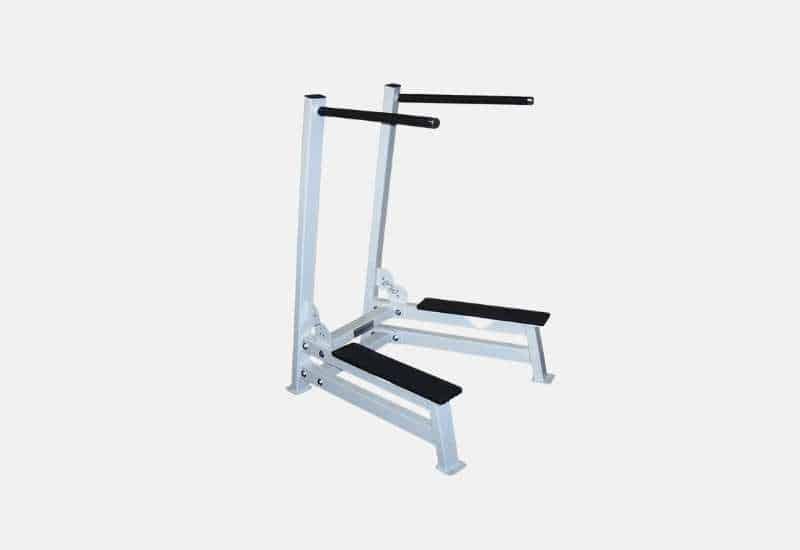 With the dip station, you can increase the difficulty simply by suspending a weight plate from a dip belt. Or, if you're not quite strong enough to perform dips alone, try the assisted dips machine (often built into the assisted pull-ups machine).
It provides just enough assistance that you can lift your bodyweight and still push your muscles to fatigue.
Seated Dip Machine
If you're trying to focus on your triceps and don't have an assisted dips machine, the seated dip machine is an awesome alternative.
With this machine, you press down on a weighted lever/bar to lift the weights from a seated position. It's the same concept as dips, just pushing the weight down and away from you rather than pressing your bodyweight up and away from a stationary object.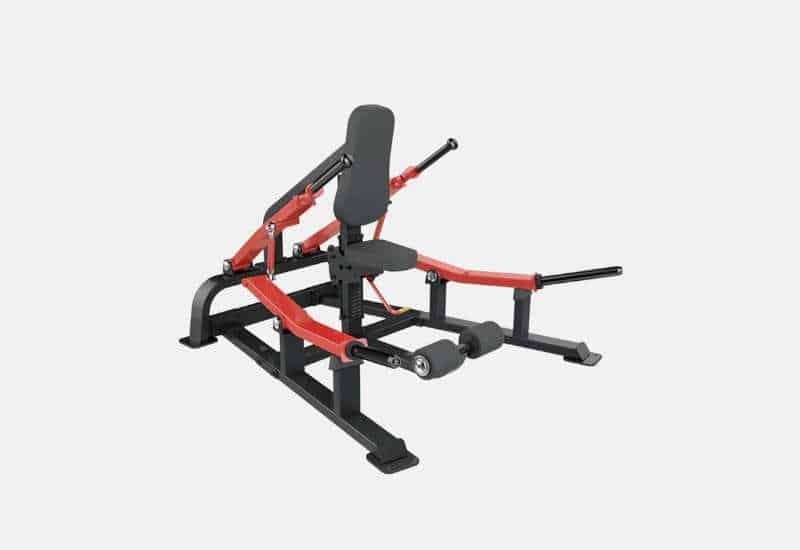 The great thing about the seated dips machine is that it allows you to train dips without needing assistance (perfect for those who are struggling with their bodyweight) as well as to add extra weight to really hammer those muscles hard (perfect for those who can easily lift their bodyweight).
It's a "one size fits all" machine that will do wonders to build your triceps!
Preacher Curl Machine
To really hammer those biceps, there's nothing quite like preacher curls! Preacher curls isolate your biceps by supporting your arms on an angled bench, forcing you to only use your biceps to curl the bar upward without allowing for any swinging motion or shoulder engagement.
As a result, you built more powerful biceps faster, and you develop strength in both the upper and lower biceps heads more effectively.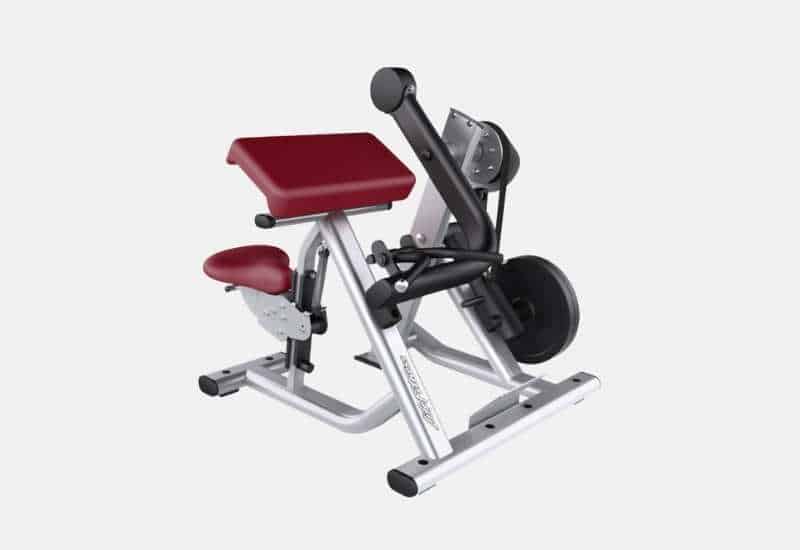 The preacher curl machine does the exact same job, just using a machine instead of free weights. This is actually a lot safer for you than using free weights, because there's no direct load on your joints (which can hurt your wrists or increase elbow injury risk).
The machine also increases time under tension and ensures your muscles are engaged throughout the entire range of motion—no resting at the top!
Triceps Extension Machine
The triceps extension machine is basically the reverse of the preacher curl machine: it places your arms on a pad/brace, and thus isolates your triceps as you perform triceps extensions.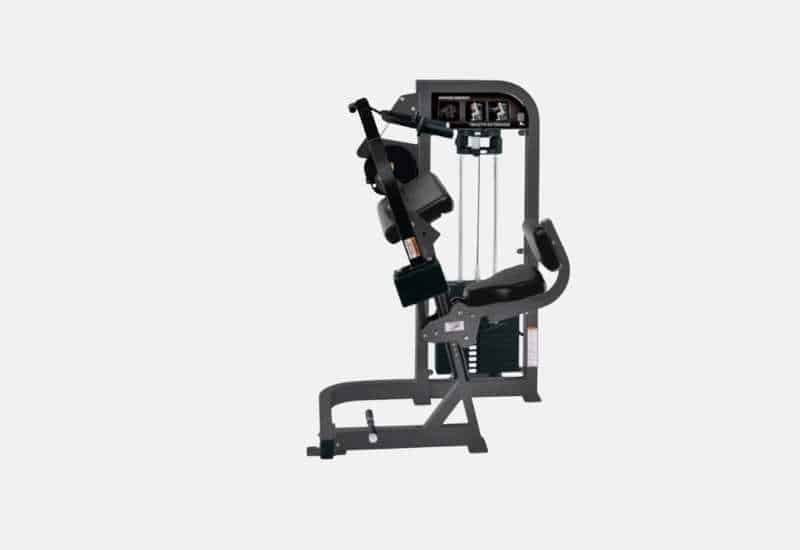 The isolation and increased time under tension lead to better triceps engagement and faster fatigue, helping you to build those triceps muscles that give your arm the majority of its thickness (and pushing power).
Smith Machine
The Smith machine may not be the first machine that springs to mind when you think of training your arms, and for good reason.
Because the bar is fixed to the rail, it just can't move through the full range of curl motion properly. Trying to perform regular curls using a Smith machine would just lead to wrist strain and ineffective training.
However, you can use the Smith machine for a tried-and-true classic: drag curls. With this exercise, you essentially drag a barbell up the front of your body, moving your elbows backward to accommodate the movement.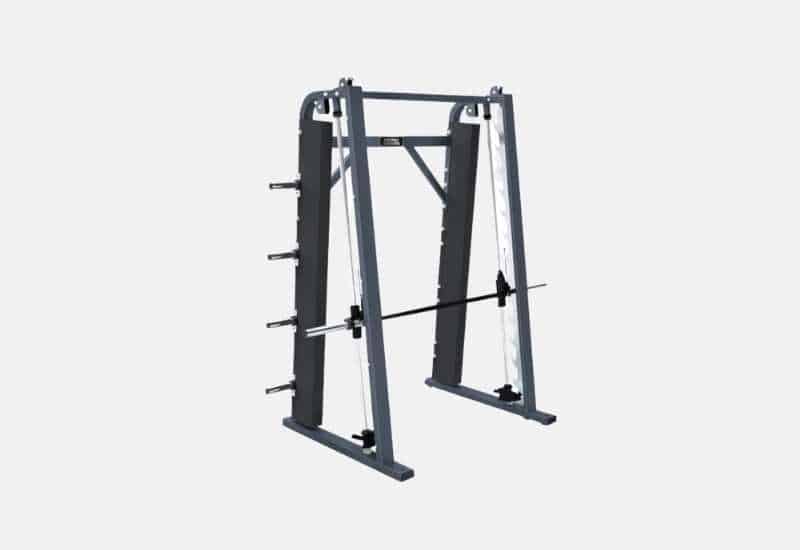 This does lead to greater shoulder engagement than with other curls, but it can be a great alternative to train your muscles in a new way.
The Smith machine can also be used for triceps-focused exercises like close-grip bench presses or Smith machine skull crushers.
Again, it's not the best machine in the gym for your arms, but used correctly, it can make for a decent addition to your Arms Day routine.
---
Arm Machines at the Gym — FAQs
What are the best machines I should use at the gym for arms?
If you're looking for the absolute BEST machines to focus on your arms, you should focus on the cable machine and the assisted pull-ups/dips machine.
The latter will develop more functional strength (pulling/pushing your bodyweight), and the former will allow you to hammer your muscles more effectively by increasing time under tension.
How many times a week should I train arms at the gym?
Like every other muscle/muscle group in your body, you run the risk of causing injury/damage if you over-train your muscles. Your muscles need at least 24 hours between workouts in order to recover, but 48 to 72 hours is recommended for recovering from a high-intensity and/or high-volume workout.
Ideally, you shouldn't work out the same muscle in high volumes more than 2-3 times per week. And remember: every chest workout also engages your triceps, and every back workout also engages your biceps.
Spread out your arm-focused training throughout your week to prevent overloading and overworking.
The Bottom Line
Though free weights get the most love, the truth is that they're not always the BEST approach for training your muscles.
Yes, they lead to maximum muscle engagement and help to develop other stabilizer muscles, but they're not as good for newbies and will make it harder to isolate your muscles specifically.
If your goal is to train for Arms Day or pay extra attention to your arms muscles after a heavy Push or Pull workout, you would do well to consider bringing machines into the mix.
With all the machines listed above, you can get a truly kickass, game-changing arms workout that will help you to develop those thick biceps and triceps that make your arms the star of your own personal "gun show."
---
More Guides and Articles Like This:
We've written other detailed articles on the top machines in the gym.
They include:
6 Best Gym Machines for Back (Benefits, Muscles Worked, and More). There is no shortage of ways to train your back at the gym. Here's a detailed look at the most popular back machines, including muscles worked and benefits so that you can nail your next back workout at the gym.
9 Best Gym Machines for Abs (Plus Benefits and Muscles Worked). Ready to build a rock-solid core? Here is a look at the best machines at the gym for stronger abs, including muscles worked and benefits.
6 Best Chest Machines at the Gym (Plus Benefits, Muscles Worked and More). Looking for a detailed breakdown of all the chest machines at the gym? Here's a complete look at all of the chest machines including benefits, muscles worked, and much more.