Looking for a detailed breakdown of all the chest machines at the gym? Here's a complete look at all of the chest machines including benefits, muscles worked, and much more.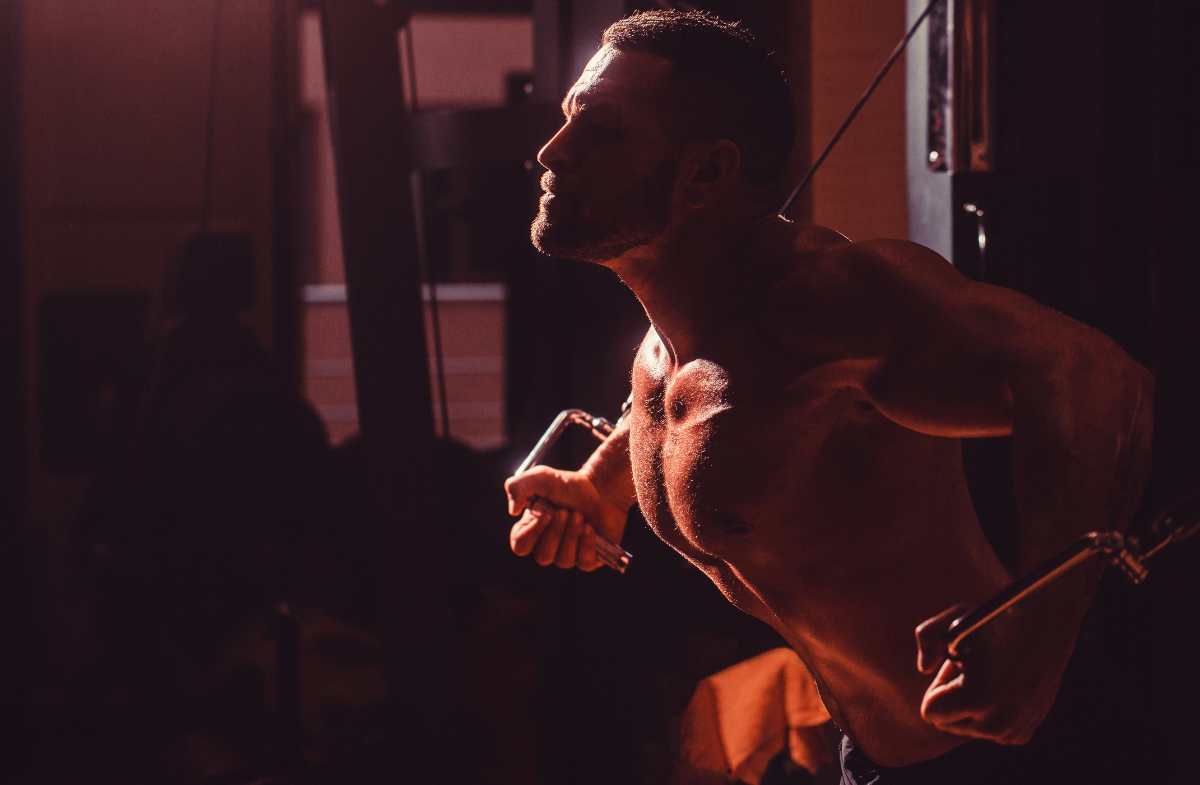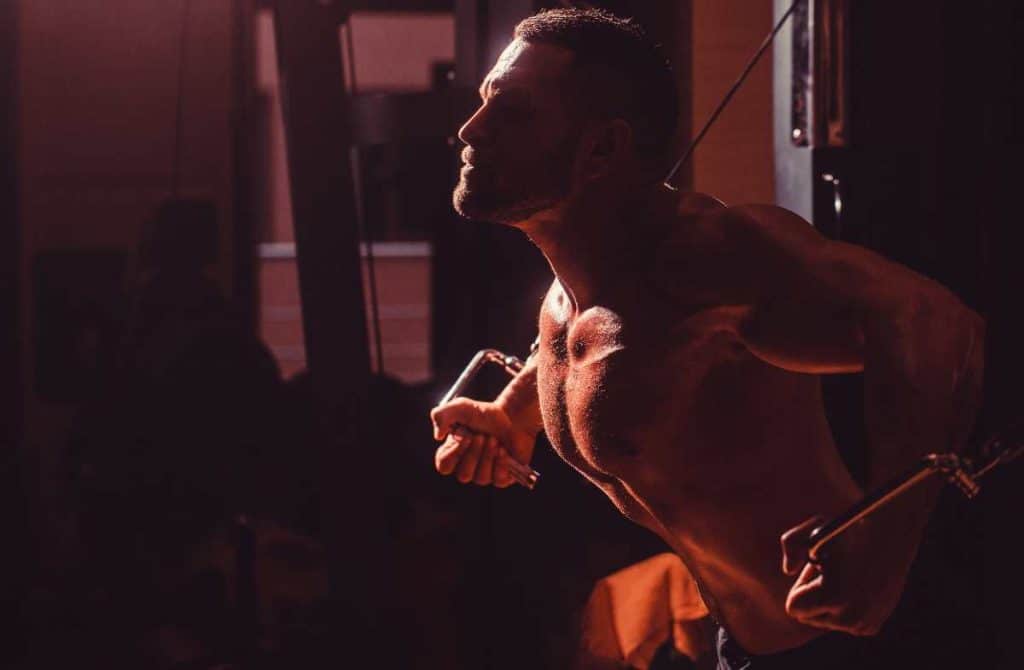 Chest muscles are the best muscles!
With a big, well-developed chest, you get that broad, powerful upper body you've always wanted, along with plenty of strength to perform all the usual "push" activities of your daily life—from pushing your lawn mower to pushing a car with a dead battery out of the road.
Ask anyone what their top recommendation for Chest Day training is, and 99 times out of 100, their answer will be "bench press".
And for good reason! Bench presses are an amazing free-weight exercise that maximizes chest muscle engagement and develops raw power and strength.
But it's not the only exercise you should be including in your workout.
Below, I want to highlight some of the chest workout machines you should also be incorporating into your workout, including key benefits of each, muscles worked, and tips for getting the most of them on chest day.
Let's jump right in.
The Benefits of Training Chest with Machines at the Gym
It's a commonly held belief that free weights are more effective for developing an all-around powerful physique, and there are plenty of studies to back up that claim.
Free weights not only engage the target muscles, but also force secondary muscles to engage to stabilize the weight being lifted.
Stuck with Your Training in the Gym?
Join 12,000 lifters and athletes and sign up for FREE access to my 5-day email course on how to conquer the most common gym mistakes.
From goal setting to lifting technique, you will learn how to overcome the mistakes in the gym that are holding you back from getting bigger and stronger.
Unsubscribe anytime. No spam.
For example, with the bench press, your target muscles are the chest, triceps, and shoulders. However, your core (lower back, abs, and obliques) and lower body muscles also have to engage to keep you from tilting or tipping while you lift.
All in all, this does lead to a stronger body overall.
But there are a few things that make the best chest gym machines a good alternative to add into your workout:
Great for Newbies
Not everyone is born to work out. Some people have a hard time mastering exercises like bench presses because the form isn't always easy to get right and the weights are heavy enough to have you tipping or wobbling even after weeks or months of attempting.
Gym machines for chest workouts help you to build chest strength while working on mastering the form.
Though the machines isolate the target muscles and remove the secondary stabilizer muscles from the equation, they help you to build the power in your chest, shoulders, and triceps that will enable you to bench press effectively when switching to free weights.
You'll be less worried about the movement of your arms and shoulders through the bench press range of motion because you've already mastered that part of the form, so you can focus on strengthening the secondary stabilizer muscles enough to pull off proper bench presses like a boss.
Lower Injury Risk
A LOT of bodybuilders and resistance trainees who focus on exercises like bench presses suffer from shoulder injuries—for example, rotator cuff strain or shoulder impingement.
This is because the shoulder joints do a lot of the work of bench pressing (especially at the lowest point in the motion), so if your form is inaccurate, you jerk/move incorrectly, or you overload the weight, the connective tissue supporting the joints are at risk.
The risk of injury is significantly lower with a weight machine. The machine is fixed to a single range of motion, so there's no chance it will slide/slip/shift incorrectly and put your shoulders at risk.
It's also easier to master the correct form because it's the only form the machine allows.
Less Direct Load
We've all struggled with joint issues at some point in our lives. I've had wrist problems (due to bone breaks as a youth), elbow problems (from over-use), and shoulder problems (from heavy lifting) that make it painful to support the weight of a heavily loaded barbell.
Even just holding the barbell in your hands can cause discomfort as the weight presses into your palms and pulls on your fingers. The result: pain. And that's never good for your workouts!
With machines, there is no direct load on your body. The machines "simulate" the load (using levers or a system of pulleys), but you only load up your muscles when pushing against the bar. Machines are far gentler on your joints and less likely to exacerbate old injuries.
Quick Weight Changes
One of my favorite things to do as a "finisher" for my chest workouts is a drop set—i.e., immediately after finishing a set at my usual weight, drop the weight by 10 to 30% for another "lighter" set right after.
This is an excellent technique for training to failure and does an amazing job of leaving my chest muscles absolutely blasted and done for the day.
Doing this with bench presses, you have to stand up, remove the clips holding the weights in place, remove some weight discs, replace the clips, and lie back down. All of this can take up to 30 seconds, which is 30 seconds your muscles are resting and recovering. You just can't easily do drop sets using free weights!
On the other hand, with a chest machine, you just reach over, pull the pin out of the weight stack, slide it into a "lighter" position, and you're good to go. 3-5 seconds, tops! It makes for faster weight changes so you can hit those drop sets right and finish off your training session like a beast.
Machines aren't the be-all-and-end-all for your workouts, but they can be an excellent addition to your routine.
The Best Chest Machines for Maximum Muscle and Strength
Chest Press Machine
The chest press machine is a top contender because of how effectively it targets your chest muscles!
This machine simulates bench presses as accurately as possible, though instead of lying on your back, you're typically sitting upright/at an incline.
However, you still push the machine directly out in front of you, so it's the same range of motion as the bench press.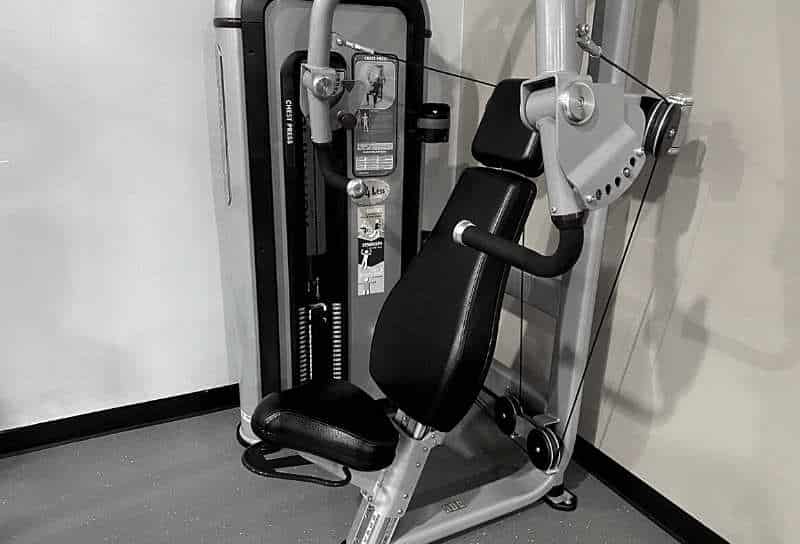 The great thing about this machine is that you can make minute adjustments to the bench and handles.
Raising and lowering the bench lets you adjust the angle of your elbows and shoulders, and adjusting the handles up and down enables you to facilitate the most natural range of motion.
Smith Machine
I'm a huge fan of Smith machine bench presses for one simple reason: they're just as good as bench presses, but feature the added safety of the Smith machine.
The Smith machine is basically a barbell affixed to a sliding rail. The barbell can only move in one direction: up and down.
There's no forward, backward, or lateral (side-to-side) motion, so there's no risk of tilting or tipping. It ensures that the barbell goes through only the correct range of motion for the bench press.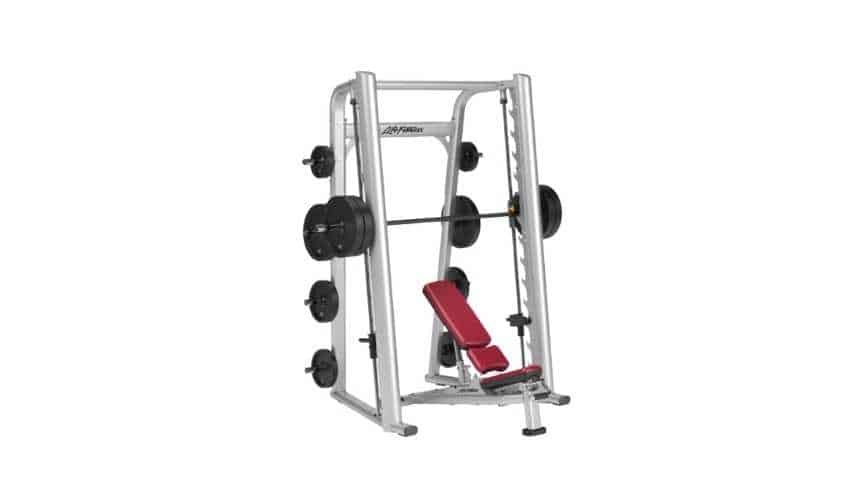 Because of this, you can usually bench up to 5 or 10% more using the Smith machine than you could with the bench press. And, because the weight is stable, there's less risk of injuring your shoulders, elbows, or wrists.
(For more information on the differences between Smith Machine and Barbell Bench Press, read this article.)
It's a great option for hammering your chest muscles and increasing your bench press 1-Rep Max safely even if you don't have a spotter.
Cable Machine
I LOVE the cable machine!
It's not only insanely versatile, but it's also one of the most effective for muscle-building. The system of pulleys and cables allows you to lift heavy loads and increases the time your muscles spend under tension, which leads to faster fatigue and greater hypertrophy.
There are plenty of options for chest exercises on a cable machine—everything from cable machine bench presses (using a flat, decline, or incline bench), cable flys (lying on a flat bench), standing cable flys, cable crossovers, cable iron cross, and many more.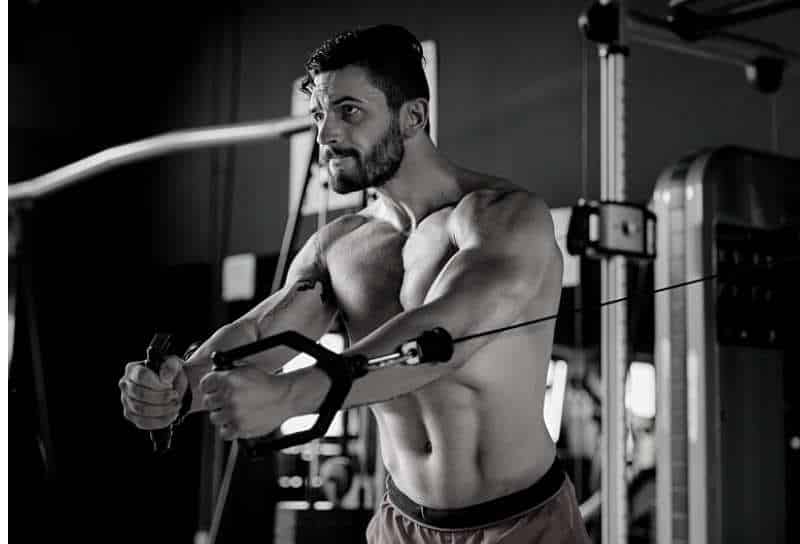 While the cable machine isn't usually a go-to for chest day, it's an excellent machine to incorporate into your routine to help target the parts of your chest that aren't typically the focus of bench presses—i.e., the inner chest, upper chest, and outer chest.
Chest Fly Machine
The Chest Fly Machine is one I rely heavily on to help improve form and posture on Chest Day.
Because the range of motion is controlled, I can focus on how my shoulders, elbows, and wrists are positioned throughout the exercise.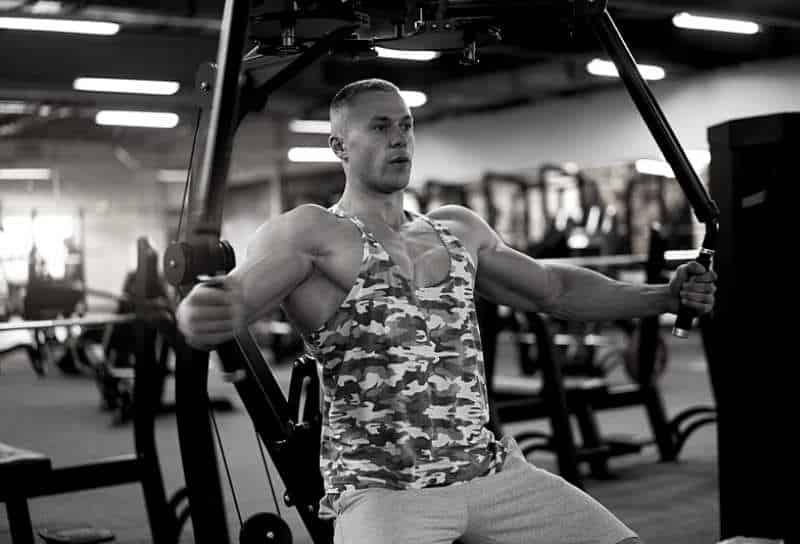 It's easier to pay attention to the contraction of your muscles, too, so you reduce the amount of shoulder engagement and really hit those triceps and chest muscles extra hard.
A lot of people who struggle with dumbbell chest flys find the chest fly machine is a wonderful alternative to help them master the form.
Pec Deck
The Pec Deck is an excellent machine to simulate dumbbell flys, but with a unique twist. Instead of gripping the handles like you do with flys (or the chest fly machine), your arms are bent so your forearms are pushing against the pad.
This actually helps to decrease tricep engagement and maximize chest muscle engagement, working all parts of your chest muscle from outer to inner.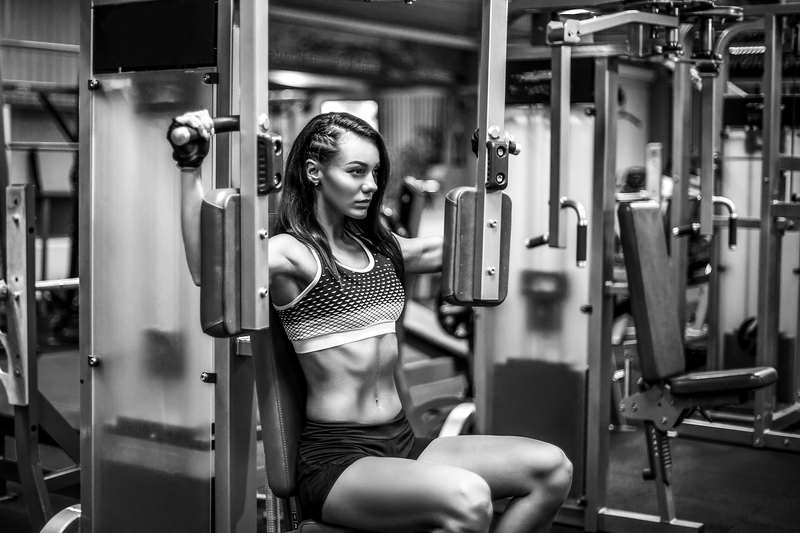 The Pec Deck also allows you to focus on your form and really pay attention to the way your body moves through the full range of motion.
Those recovering from shoulder, wrist, or elbow injuries will find it's one of the best, safest chest machines to use.
ISO Incline Press
The ISO Incline Press works your muscles in a similar fashion to the incline bench press. However, as the ISO in its name suggests, it forces both hemispheres of your body to engage together and independently of each other.
Each of the handles is connected to its own weight, so each arm and chest muscle will have to work on its own to lift the load.
What this does is highlight any inconsistencies or imbalances in your strength. We all know that one side of our body is stronger than the other, and this machine lets you identify which side that is and pay extra attention to it.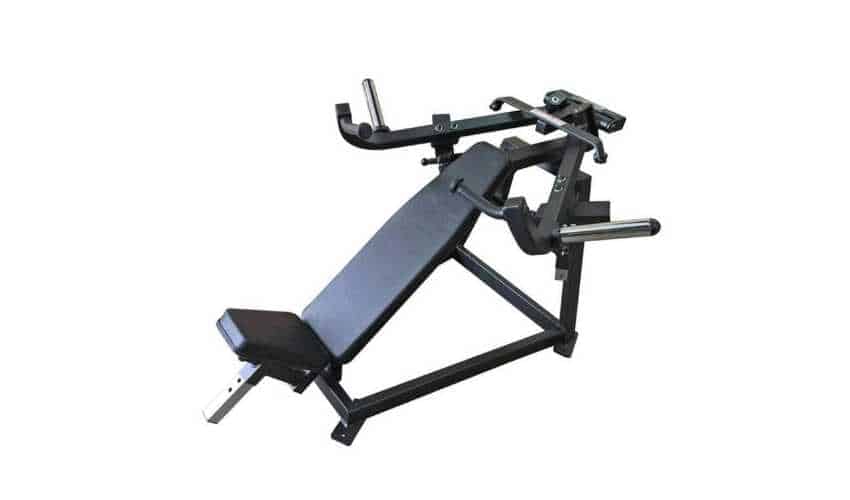 Maybe at first, you have to start off with less weight on your weaker side in order to complete the full sets.
However, as you train the muscles side by side, you can focus on pushing your weaker side through a few more reps until you can finally up the weight to match the strength of your stronger side.
It's an amazing machine to increase your body awareness and ensure both hemispheres are growing stronger at an equal pace.
Chest Machines in the Gym — FAQs
Can you build chest muscle with machines?
You absolutely can! While studies have shown that free weights increases free testosterone levels, there's no difference in muscle growth between the two.
And because chest machines tend to be safer, gentler on the joints, and allow for more isolation, they can be a great solution to help you really push your chest muscles to their absolute limit in every single workout you do.
What gym machine is best for chest?
If you had to choose just one machine to train your chest muscles (you only have space in your home gym for one), I'd recommend the cable machine.
You can use it to perform the widest variety of chest exercises, and the design of cable machines maximizes time under tension, which leads to faster muscle growth.
The Bottom Line
Using chest machines for your workout can be absolutely game-changing when it comes to building muscle and strength.
Machines tend to be safer and more newbie-friendly, but they're also excellent for isolating your muscles to really hammer those pecs hard.
The result: more effective strength training and better results for the time invested.
You can—and should—definitely keep using free weights in your workout routines if you prefer, but take some time to give these chest machines a try, too.
You might just fall in love with what they offer and find they make a great addition to your Chest Day routines.