Book your ticket to the gun show with preacher curls. Here is a breakdown of the best preacher curl benches for your home or garage gym.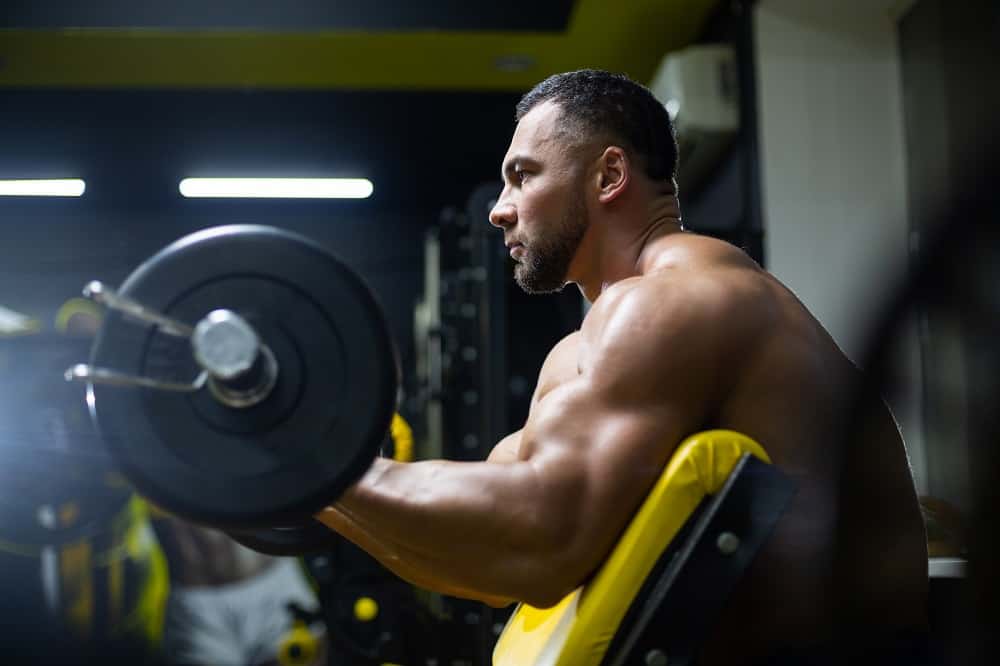 The bicep curl is one of the most popular exercises in the gym.
Look over by the dumbbell rack and you are going to find at least a couple of lifters swinging, er, curling weights in front of the mirror, hoping to thicken their arms.
Preacher curls, a modified bicep curl, are a way to keep your bicep curls honest and thoroughly engage more muscle fibers, causing more growth and sorer/bigger arms.
Preacher curls are awesome as they:
? Truly isolate the biceps. There's no back-up from other muscles in this exercise—it's almost entirely biceps and forearms doing the work.
? Eliminates swinging. I get the temptation to pad the weights for ego's sake, but not if it means the exercise isn't being done correctly. Preacher benches force you to be honest about how much you can curl by removing the ego-boosting swing.
? Loaded stretch (and stronger arms). When done properly (i.e. when you extend your elbows all the way at the bottom of the curl), preacher curls recruit a maximal amount of fibers and will make you stronger [1].
The only downside is that you obviously need a preacher curl bench to properly perform this exercise.
Fortunately, there are a ton of excellent preacher benches that will suit lifters of every ability, size, and budget.
Read on and let's book some tickets to the gun show.
GoPlus Preacher Curl Weight Bench
⭐ Best preacher bench for most home gym users
One of the key things I look for with benches of any kind, whether it's an adjustable weight bench or your basic meat-and-potatoes flat bench is the ability to change the height for maximum versatility.
The GoPlus Preacher Curl Weight Bench is adjustable in the three areas that matter most; the racking bar, the seat, and the pad where your arms go when blasting away at your biceps.
Pads are high-density foam, the bottom of your arms sit comfortably on the arm pad, and the small footprint of the bench means it will fit nicely into smaller workout areas like a garage or basement.
GoPlus retails these for a couple of hundred dollars, but as with most pieces of fitness equipment during the Covid era, they are frequently sold out and unavailable (check Amazon for current availability and stock).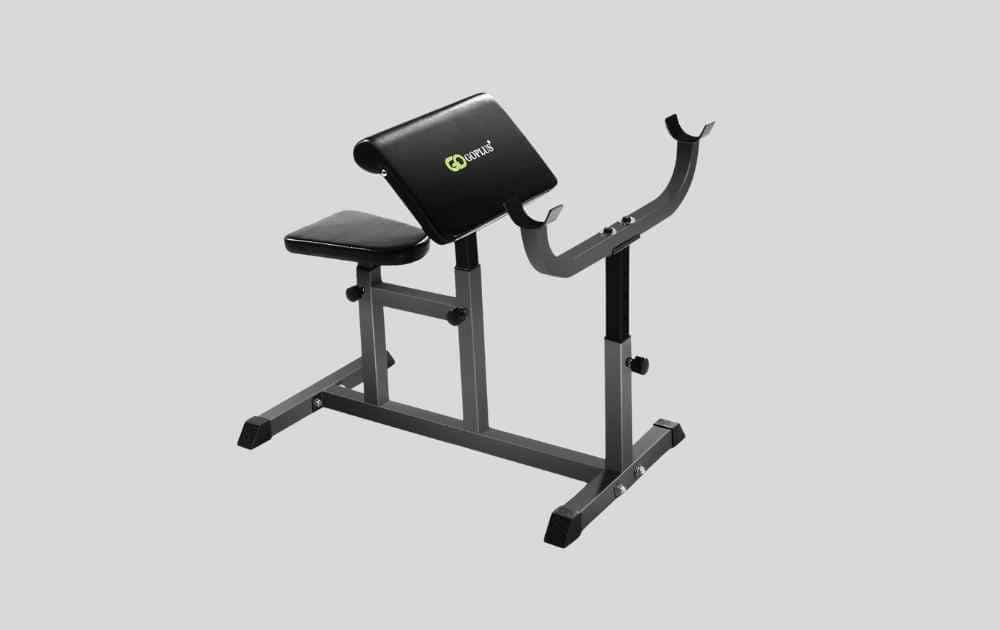 Body-Solid Powerline Adjustable Preacher Curl Bench
Made with heavy-duty, high-grade steel, the Body-Solid Powerline Preacher Bench has a 10-year warranty on the frame and a 300-pound weight capacity.
While not as adjustable as the GoPlus bench (only the seat can be changed for height), it does feature an extra wide padded seat and a wide base (three feet of width) for plenty of stability while working those bicep gainz. Nothing worse than a bench rattling and shifting while you are lifting large amount of weight.
While reviewers love this product, they consistently touch on the fact that only the seat is adjustable, and that shorter users (under 6') might have a hard time properly using the bench.
That said, if you are of the taller variety, and you want a no-frills preacher curl bench that looks like it could fit in a commercial gym, the Body-Line Preacher Curl is an excellent choice (check Amazon for current price and stock).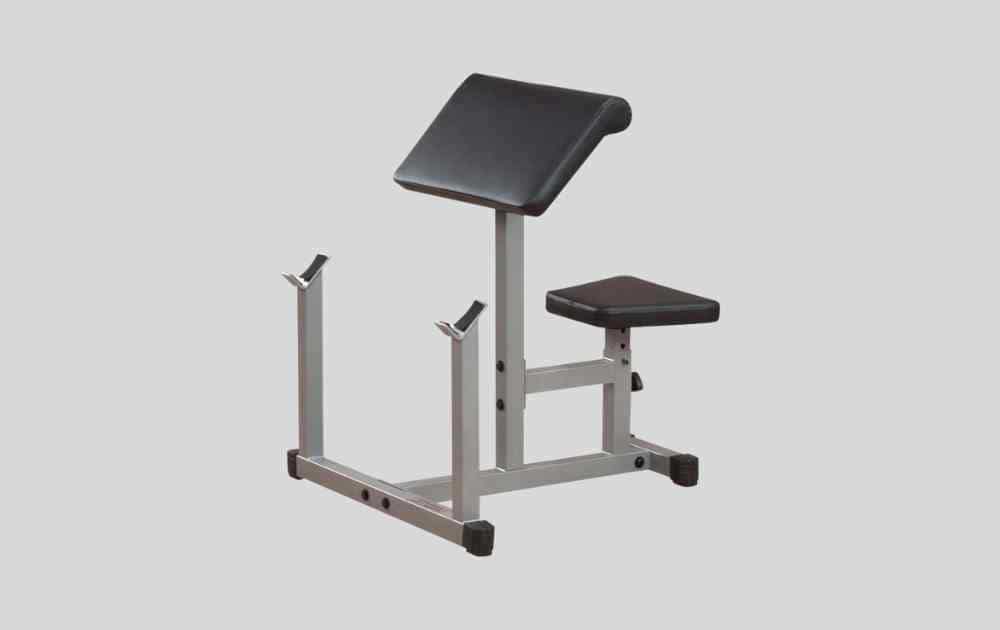 StrengthTech Fitness Preacher Curl Weight Bench
StrengthTech Fitness is not a name of gym equipment that I have seen too often, but generally when I do, they make quality stuff.
Their Preacher Curl Bench, available in two different color combos (gray & black and orange & gray) is made with a tough, heavy-duty steel. The width of the bench—just over 22"—makes it ideal for smaller workout areas and garage gyms.
The seat, elbow pad and rack are all adjustable in height, making the StrengthTech Bench perfect for lifters at the shorter and taller ends of the spectrum, and perfect for home gyms with multiple users.
The StrengthTech bench retails for just under $300 (check Amazon for most up-to-date pricing and stock) and this bench has a rare claim for fitness equipment nowadays—this bench is actually made in the USA.

Valor Fitness CB-5 Arm Curl Station
⭐ Best standing preacher curl station
The CB-5 is a no-frills, heavy duty curl bench that is ready for battle. Made with a 2 inch by 2 inch steel frame, and with a thick, dual-layered pad that is easy to clean and comfortable on the arms,
What sets the Valor Fitness Preacher Curl Bench apart (besides the fact that there is no seat or bench attached) are the four safety arms that act as a place to rest your weights between sets and to catch the bar when you lift to failure. The arms are padded to prevent damage to your EZ curl bar or barbell, as well.
The frame is heavy enough that you can tons of stability while lifting, and Valor Fitness ships them in two boxes. Assembly is a breeze, and reviewers consistently note that it's a commercial grade bench available for home gyms (check Amazon for current pricing and availability).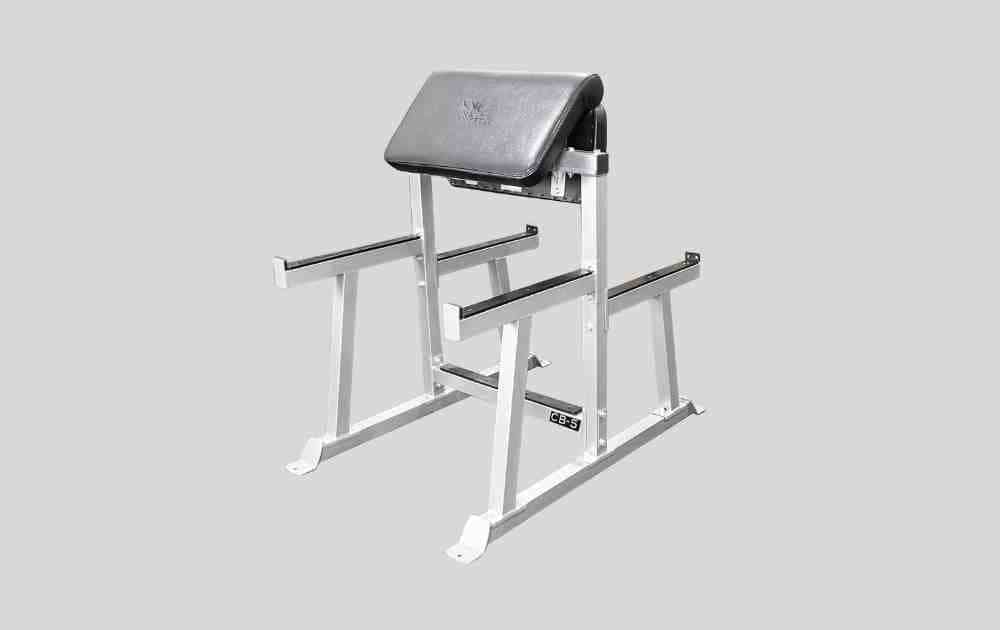 Perlecare Adjustable Weight Bench (with Preacher Curl)
⭐ Best budget weight bench with preacher curl
For the home and garage gym enthusiasts who is short on space, you have the option of combining the preacher curl bench with a regular weight bench.
While the options for weight benches with preacher curls are a little slim, and frankly the construction on these types of all-in-one benches aren't always great, there are some creative options out there.
The Perlecare Bench, for examples, offers a leg roller, an adjustable bench, and a preacher curl pad. The preacher curl pad is a little vertical for my liking, but ultimately, when you have a bench that is trying to be everything, there are going to be some things they simply don't do well.
Tip: If you have an adjustable weight bench, you can set the seat back at an angle and stand behind it, making it a pseudo preacher curl set-up for dumbbell curls.
Perlecare retails these multi-function benches for around $120, making them a great budget weight bench with preacher curl for the home gym enthusiast (check Amazon for current pricing and stock).