Get your sweat on at home with reviews of the best power towers with a bench.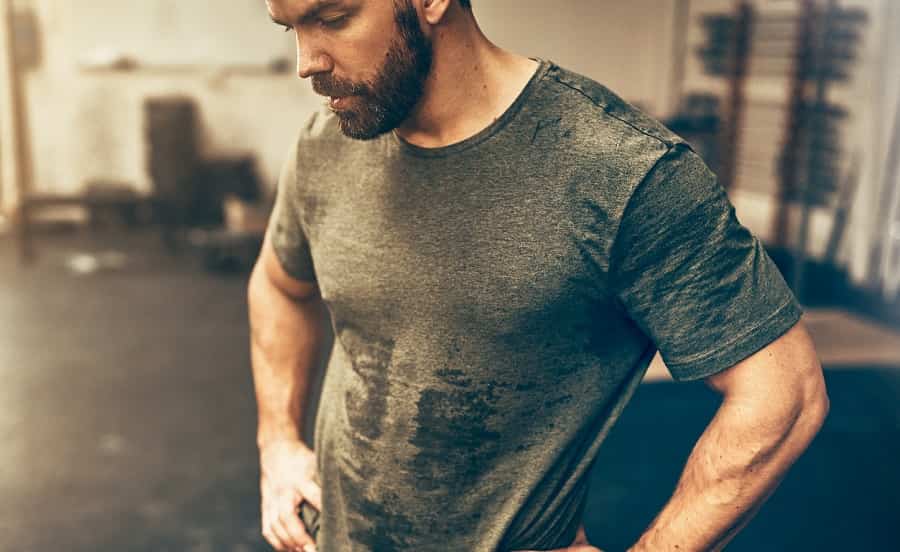 Working out at home has a metric ton of advantages…
A super short commute to the gym, no line for machines, and the only one dropping sweat and hogging the bench is the person in the mirror!
A power tower is a great way to build a multi-function home gym. Most power towers come with a variety of "stations" that allow you to perform a near-endless number of exercises.
Below is a breakdown of the best power towers on the market, key features of each, and what you can expect when you try them out.
Let's get into it.
Harison Multifunction Power Tower with Bench
The Harison Power Tower is anb incredibly versatile piece of workout machinery with which you can use to tackle just about every body part you can think of.
From the pull-up bar to the bench, the Harison Power Tower is one of my favorites simply because it packs so much punch while not taking up a ton of space in your home.
If this set-up had J-hooks for holding up a barbell for squats and shoulder presses, the Harison Power Tower would be a near-perfect and all-in-one home gym.
Some of the key features of this power tower include:
An adjustable height for the pull-up bar, which can be set as high as 88" or as low as 70".
A bench with an attachment for leg extensions. The bench can be set to an incline or be kept flat.
Sturdy H-frame base that doesn't slip or wobble when in use.
And a dip station that can also be used for leg raises.
Steel eyelets to attach your favorite resistance bands for banded exercises.
The Harison Power Tower is rated at a 500-lb capacity, making it an excellent choice for the garage or home workout enthusiast.

Health Gear CFT2.0 Power Tower
The Health Gear CFT2.0 is an economical power tower that is high on features.
The first thing you will notice when you put it together is that it has a slightly longer H-base. Combined with rubber tipped ends, this makes the tower very stable and less prone to sliding around.
The flat bench is removable (fed up with bench press? Use the rounded handles for "perfect" push-up at the base of the unit), or you can keep it to give yourself a step up to the pull up bar, which has a nice wide handle to really nail your lats and back.
Unlike many power towers, this one has J-hooks for resting a barbell. The J-hook's height is suitable only for bench press (no squatting off these hooks, sadly). The tower rates a maximum capacity of 300-pounds.
Besides that, the Health CFT2.0 is a killer choice for a garage or home power tower. It covers all of the basics, including a sturdy dip stand, free-standing pull up bar, and much more, all at a reasonable price.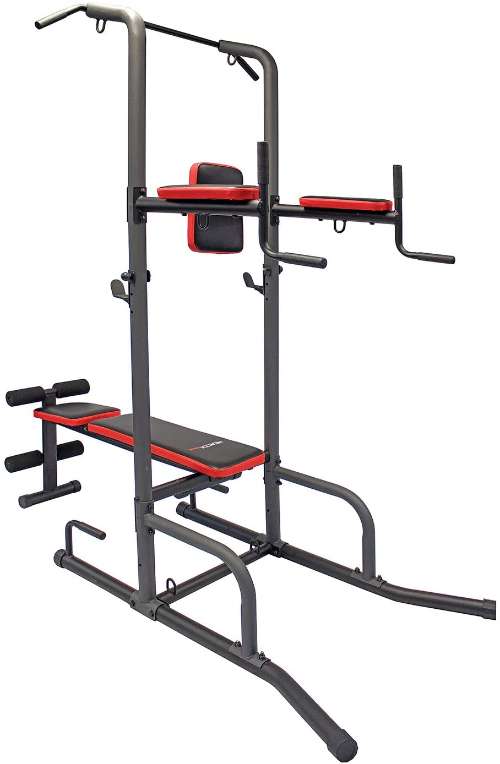 Reliancer Power Tower with Adjustable Bench
The Reliancer Power Tower is a heavy-hitting all-in-one gym for your garage or home.
Rated at a leading 800-pound capacity, the Reliancer features many of the typical elements we want from a power tower:
Dip station with a padded back rest for hammering out dips and leg raises.
Sturdy H-frame base with rubber feet to keep the tower planted firmly on the ground.
Two sets of J-hooks to rest a barbell while doing bench press.
The bench is my favorite part of this particular power tower.
You can use it as a decline and incline bench. You can use it as a flat bench. And you can straighten the back portion of the bench perpendicularly so that you can do overhead tricep extensions, seated curls, seated shoulder press; all with full support on your back.
Altogether, the Reliancer is a good-looking and highly versatile power tower that will help you make the most of your home-based workouts. (Motivation not included.)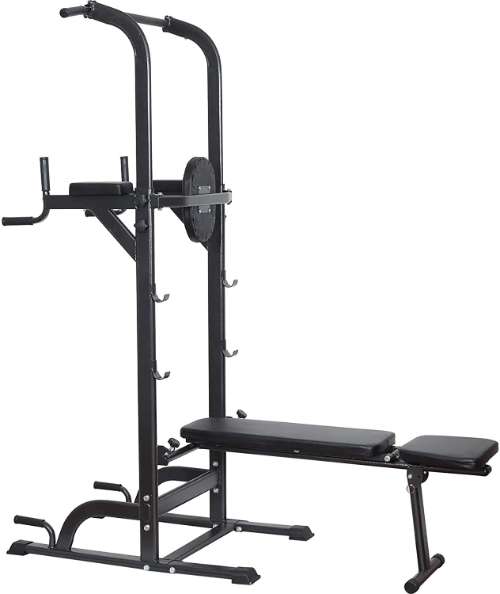 Zelus Multifunction Power Tower with Bench
With an adjustable pull up bar (up to 89"), a sit-up/bench press bench that can be angled at various decline degrees, and slip-free feet, the Zelus Multifunction Power Tower is a killer way to get a full-body workout in the comfort of your home.
The coolest part of this tower is the bench which folds up like a hideaway bed. When you are done with your workout, simply fold it up and minimize the footprint of the tower, making it ideal for high-traffic or congested areas in your home.
Made with high-grade and durable 2" by 2" aluminum tubes, the power tower can handle up to 400-pounds.
That said, several reviewers did notice that "you get what you pay for" with this power tower. The low price point seemed to be a fair trade-off for the slightly less stable construction of the tower.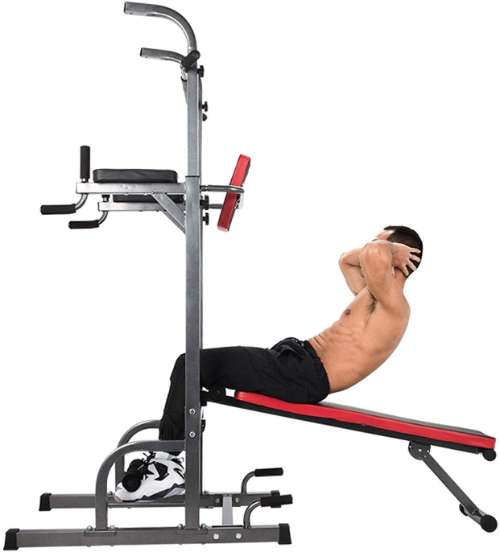 Ader VKR Power Tower with Sit-Up Bench
Finally, we have the Ader VKR Power Tower with accompanying sit-up bench.
Fully assembled, the tower comes in at around 7'2". Make sure that you have plenty of clearance above the pull up bar if you have designs on banging out reps of chin-ups on this bad boy.
In fact, the height thing comes up again with the bench, which I found to be way too small for my own use. The bummer is that I can't remove the bench and use it as a stand-alone bench as it is attached to the main structure of the power tower.
The power tower allows you to do most of the standard exercises you expect from these kind of home gyms, including:
Pull up and chin ups
Push ups (using the rounded handles)
Dips (throw on a dip belt for weighted dips if you wanna level up your dip game)
And countless others.
Like the Zelus tower, the Ader VKR is a cheap power tower. While you don't get the same high-grade construction and larger pads and benches that come with the more expensive power towers, it's ideal for those who are six-feet and under.
One specific complaint that comes up frequently with other reviews (and I would echo this sentiment 100%) is that the instruction manual that came with the power tower was difficult to work with. On top of that, you have to analyze the illustrations in the manual to see where parts go as they are not labeled.
That said, if you are looking for an affordable power tower and don't need all the bells and whistles, the Ader VKR is a great choice.

More Home Gym Gear Guides