Ready to take your calves to the next level? Develop stronger calves with a full rundown of the best calf raise machines for home gyms.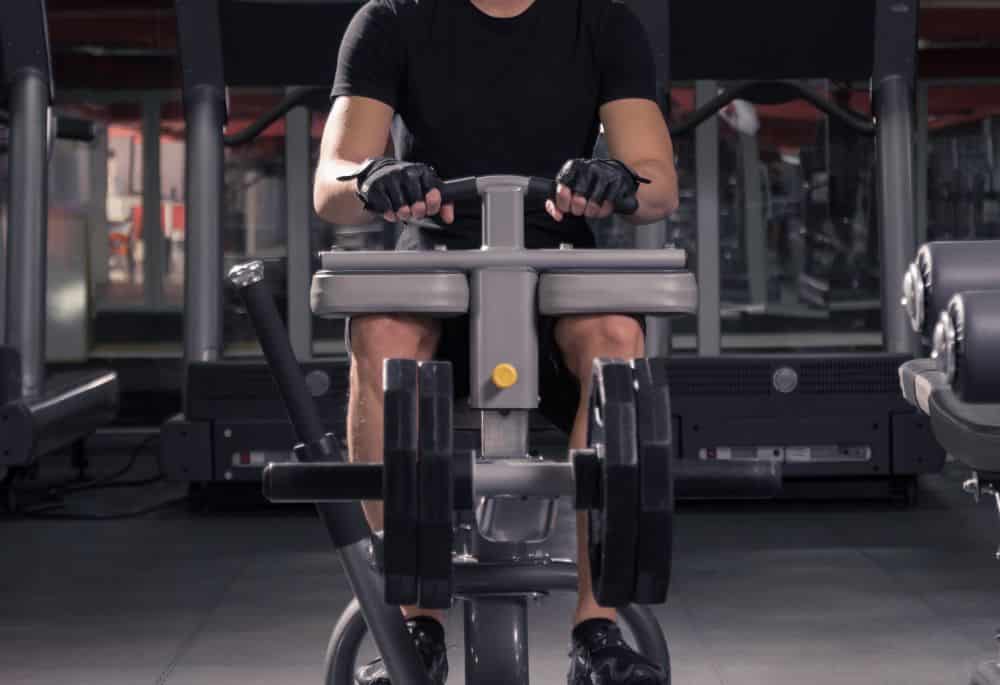 Strong calf muscles are important for all of us, no matter how ambitious our goals are in the gym.
They serve a highly functional purpose, including help us walk, run, and jump. Strong calves also promote ankle stability and boost your overall balance.
While there are a few different routes you can take to develop stronger calf muscles (my favorite old-school method is my tried and tested jump rope), there aren't a lot of options for pure muscle development.
That's where your friendly neighborhood calf raises machine steps in.
A dedicated calf raise machine can help spur muscle growth, help athletic performance, and even power up your other lifts and workouts. (Of course, defined calves also happen to look pretty nice in the mirror, too!)
While not the first leg machine people look for when building out a home gym, if you want a strong and muscular lower body, adding a calf raise machine is a must-have.
With the explosion in the popularity of home gyms since the Covid pandemic started in 2020, there has never been more competition within the fitness equipment industry.
This is great news for us as the consumer, as gym machines that would have been out of our price range even a couple of years ago have come down drastically in cost.
Below is a breakdown of the best calf raise machines on the market.
Read on, pick the calf machine that matches your budget and goals, and get to building stronger, muscular calves.
Body-Solid Powerline Seated Calf Raise Machine
The Body-Solid Powerline Seated Calf Raise Machine is a no-frills pick that doesn't take up a lot of space and includes all of the key features you want from this kind of machine.
The weight sleeves are designed for standard weight plates, but you can add on a collar that will make it work with 2" Olympic weight plates. The I-base is sturdy even though it's not super wide (just 21" in total width) and rubber feet keep you in place while exercising. The thigh pads are adjustable in height with a pin that can be adjusted, perfect for accommodating lifters of different heights.
Powerline backs it with a ten-year frame warranty and one-year parts guarantee, providing peace of mind when you purchase. Unfortunately, like most pieces of fitness equipment in the Covid era, this machine is frequently sold out (check Amazon for current availability and pricing).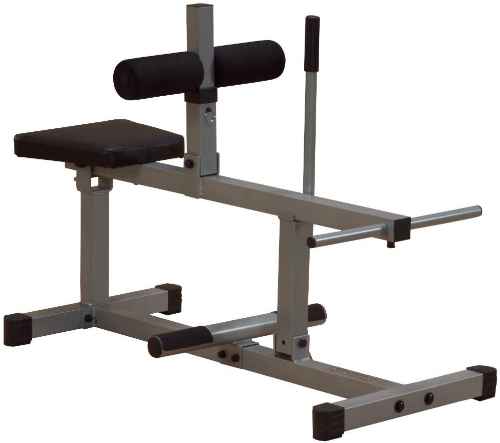 XMark Seated Calf Raise Machine
XMark is one of the premium names when it comes to manufacturing commercial-grade fitness equipment at home gym prices. They also make stellar lat pulldown machines, cable crossover machines, and ab benches that could just as easily fit in at your local big box gym. (Without the commercial-grade price tag, however.)
XMark's Seated Calf Raise Machine is made of nearly indestructible 2" x 3" steel. The seat pad is thick while also retaining shape after use. Two leg pads protect your thighs. A safety bar makes sliding in and out of the machine a breeze. And rubber feet mean that you won't be sliding around the floor as you exercise on it.
Reviewers rave about the build quality and ease of instruction (takes about 30-40 minutes to fully assemble), and the price is reasonable given that you are getting what amounts to a pro piece of fitness equipment (check Amazon for current pricing and availability).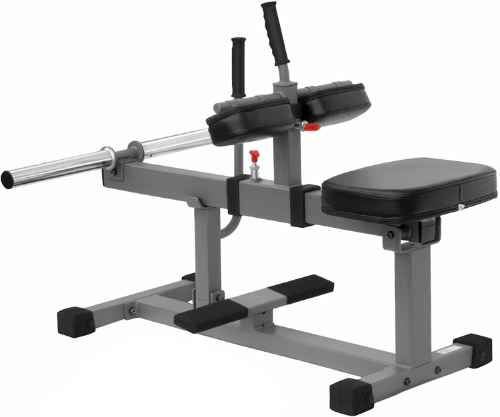 Valor Fitness CC-5 Seated Calf Machine
Valor Fitness makes sturdy gym equipment, and one look at this thing you will know what I am talking about. This machine is by far the largest in terms of footprint, which makes it best suited for larger workout spaces.
Made with 12-gauge steel tubes, the knee pads can be adjusted to six different vertical positions, and the machine is rated to handle up to 350lb of weight plates. Like the other seated calf machines on this list, the Valor Fitness model has a safety arm to stack the weights between sets and workouts.
Even though it is a beast of a machine, it's straight-forward to put together, with assembly requiring about half an hour.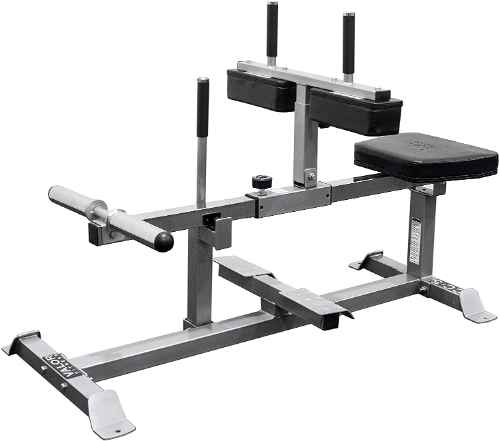 Reflex G2 Standing Calf Raise Machine
Rogue Fitness is one of the biggest names in the fitness equipment market, and while they don't produce these calf raise machines, they do sell them through their online portal at RogueFitness.com.
The Reflex G2 is an excellent choice for the home workout enthusiast. Most of us who work out at home have cast iron weight plates or bumper plates that we can use to load up the machine for resistance (as opposed to a dedicated weight stack—if you want a calf raise machine with a stack we will look at one below).
Other key features include a sturdy treaded footplate, easy adjustable arm for shoulder pad height, extra thick shoulder pads, and two "holy s***" handles to rest your hands while you do your calf raises.
Price-wise, the Reflex G2 is pretty good, with Rogue selling them for just over $1,000 (check Rogue's website for current pricing).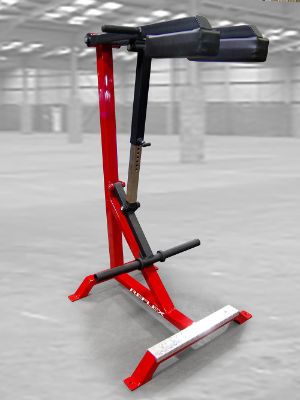 Deltech Fitness Seated Calf Machine
Made with heavy-duty steel tubing and painted bright white, the Deltech Fitness Seated Calf Machine looks like it jumped straight out of a fitness center circa 1994. Jokes aside, this thing is tough, comfortable, and does the basics really well.
A tilted footplate keeps your feet in place, an adjustable leg bar can be configured to fit the length of your legs, and a safety bar locks the weight into place between sets. The pads are firm yet comfortable, and the weight sleeve can accommodate both Olympic and standard plates (use the included adapter to change between plate sizes).
For around $200 (check Amazon for current pricing and stock), this calf raise machine delivers.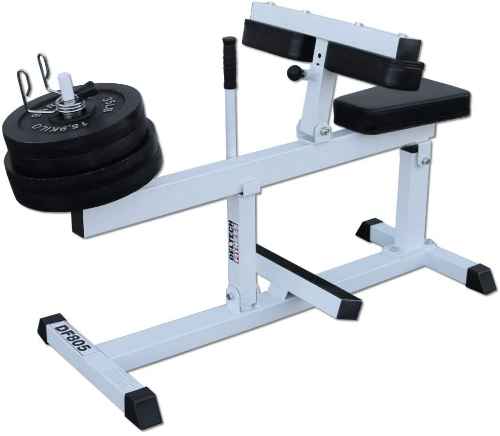 Reflex Standing Calf Raise
Another product that Rogue ships through their website is the Reflex Standing Calf Raise, which is a heavy-duty machine that features a 250lb weight stack, chrome pulleys for a smooth range of motion, and a powder-coated finish that prevents corrosion and chipping.
Two handlebars provide upper body stability when doing calf raises, the shoulder pads can be adjusted between 7 different positions, and a diamond foot plate keeps your feet firmly planted while working out.
This machine is definitely more for serious lifters and athletes and the ones who are looking to put together a premium home gym (or fitness facility, for that matter). Rogue sells them for about $2,700 (check Rogue's website for up-to-date pricing and shipping options).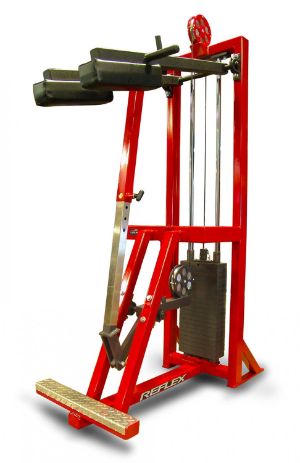 ---
Recommended Reading
5 Best Preacher Curl Benches for Home Gyms. Book your ticket to the gun show with preacher curls. Here is a breakdown of the best preacher curl benches for your home or garage gym.
5 Best Power Towers with Benches. Ready to take your upper body training to the next level? Get your sweat on at home with reviews of the best power towers with a bench.