Ready to unleash lightning-mode on your treadmill workouts? Here is a look at the best treadmills for sprinting, how to choose the right one for you, and more. Read on, and uncork the speed!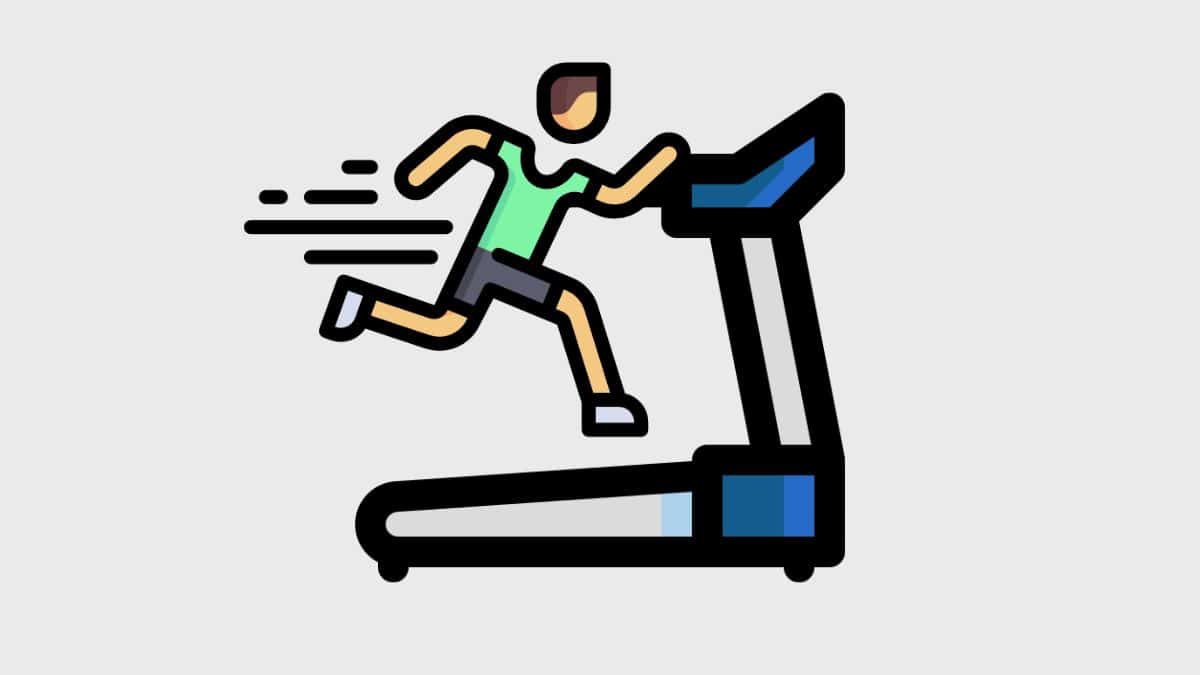 Treadmills are an excellent way to improve cardiovascular health, lose weight, and engage in fat-melting sprint workouts.
Some treadmill machines and treadmill brands are better suited to sprint-focused training.
The best treadmills for sprinting should be able to handle high speeds effortlessly, use a wide running deck, have safety features, and be built robustly enough to handle high-impact foot strikes.
Choosing the right treadmill for sprinting can make a significant difference in your performance, comfort, and overall workout experience.
In this guide, we will look at the best sprint-focused treadmill machine for cranking up the speed in your workouts. We'll also explore the essential factors to consider when choosing a treadmill that can handle the intensity of sprint training.
Let's dust off those sprint shoes and get started.
Best Treadmills for Sprinting
These treadmill machines for sprinting combine cutting-edge technology, robust construction, and advanced features to create an optimal environment for explosive sprints.
The AssaultRunner Pro leads the pack thanks to its durable construction, slat-belt design which is much smoother and faster compared to motorized treadmill belts, and compared to other curved treadmills, it's priced like a champion.
Other top picks include the NordicTrack X32i, a workhorse of a treadmill with a powerful motor and the largest incline of any treadmill on the market, and the Freemotion t10.9 Interval Reflex, the top sprint treadmill for people who want the best in cushioning.
A full round-up of our top picks is below, and later, we will look at each treadmill in more detail.
---
AssaultRunner Pro Treadmill
⭐ Best overall treadmill for sprinting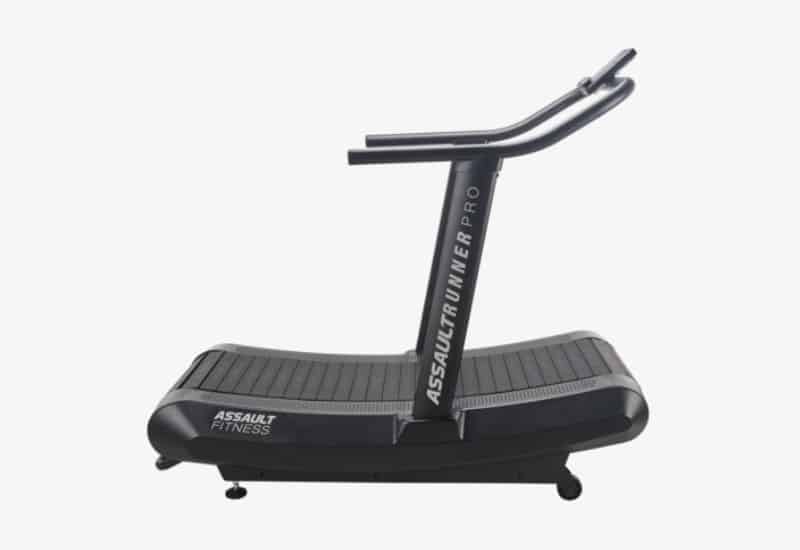 Key features:
Top speed: 20mph
Price: $2,999
Motor: N/A
Belt: Slat
Screen: LCD Display
17.1" x 62" running deck
The AssaultRunner Pro is the best overall treadmill for doing treadmill sprint workouts.
The uniquely curved design makes for a harder workout (more on that shortly), a more ergonomic stride, it doesn't require power, and with no motor, there is next to no maintenance required as you pound out the sprint workouts over the years.
Unlike the typical motorized treadmills we are all used to seeing and using at our neighborhood gym, the AssaultRunner Pro is a manual, curved treadmill. This type of treadmill has become really popular in recent years, and with good reason.
Curved treadmills rely exclusively on human power to move the belt (i.e. no motor to worry about and it doesn't need to be In reach of an outlet for power), the multi-slat design is comfortable on the feet, and curved tread is gentler on the feet and ankles when sprinting.
While there are other curved treadmills on the market—we include a couple more in this roundup of the top treadmills for sprint training—the AssaultRunner Pro gets the nod thanks to the relatively budget-friendly pricing and durability.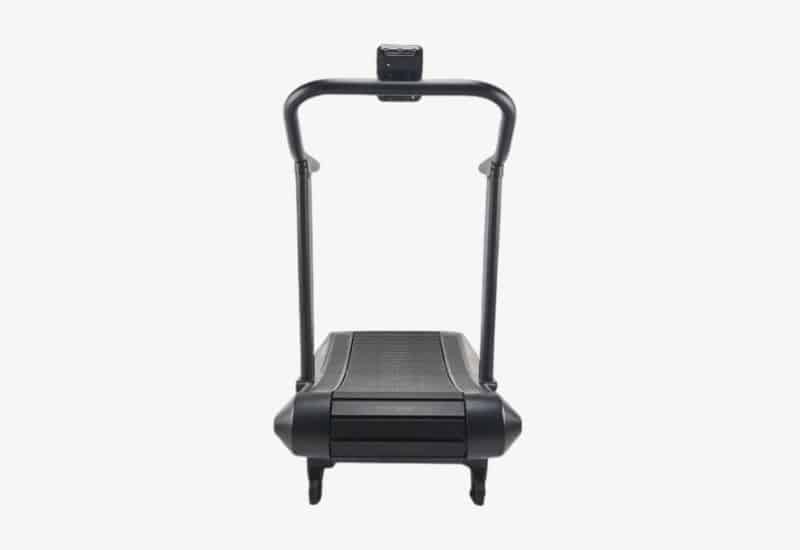 The treadmill has a 350lb user weight maximum, a tank-like 289lb machine weight, and a 150,000 mile warranty on the slat belt.
Although heavy, in my experience it was fairly easy to move the AssaultRunner Pro with the wide handle at the back of the housing and two castor wheels.
The display is a bit basic, not ideal if you are the kind of person who likes doing online classes and workouts or watching your favorite shows on Netflex while running (there is no ledge for a smartphone or tablet, either), but let's be honest, when you are sprinting Mach 10 the last thing you are going to be doing is trying to hit "skip intro" for the next episode of The Office.
The AssaultRunner Pro is made for all-out sprinting and does it better than anyone else.
Assault Fitness exclusively sells them through their official website and frequently have deals on free shipping.
If maximum speed is your bag—the AssaultRunner Pro tops out at a whopping 20mph—this is the treadmill for you.
| | |
| --- | --- |
| ✅ PROS | ❌ CONS |
| Made for lightning speed—up to 20mph | Display is basic |
| Budget-friendly for a curved treadmill | |
| Built like a tank | |
| Smooth belt slat is comfortable for sprint workouts | |
| No motor or power outlet required | |
---
NordicTrack Commercial X32i Treadmill
⭐ Best treadmill for high-speed running for online classes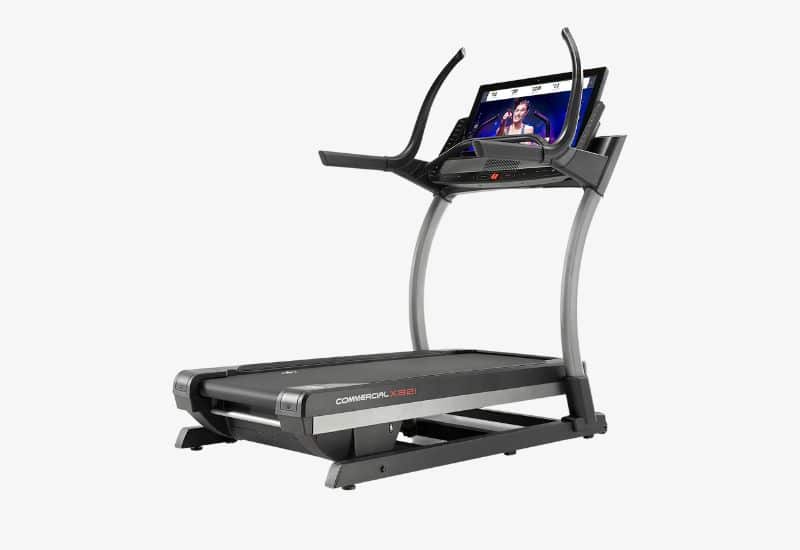 The NordicTrack Commercial X32i is a one-of-a-kind treadmill thanks to its 40-degree incline (you read that correctly), -6 degree decline, and 4.25 CHP motor that can handle all the speed and sprinting you can throw at it.
But perhaps the most noticeable thing about the Commercial X32i is the massive 32" HD touchscreen that is perfect for doing online classes via iFit, an online library of workouts, virtual trail running, and online classes.
The iFit collection of workouts includes a huge variety of treadmill sprint workouts for beginners and more advanced runners.
Whether it's "Foundations of Sprinting," a series designed for beginners, or more complex high-intensity interval sprints for maximum speed iFit has your workout needs covered.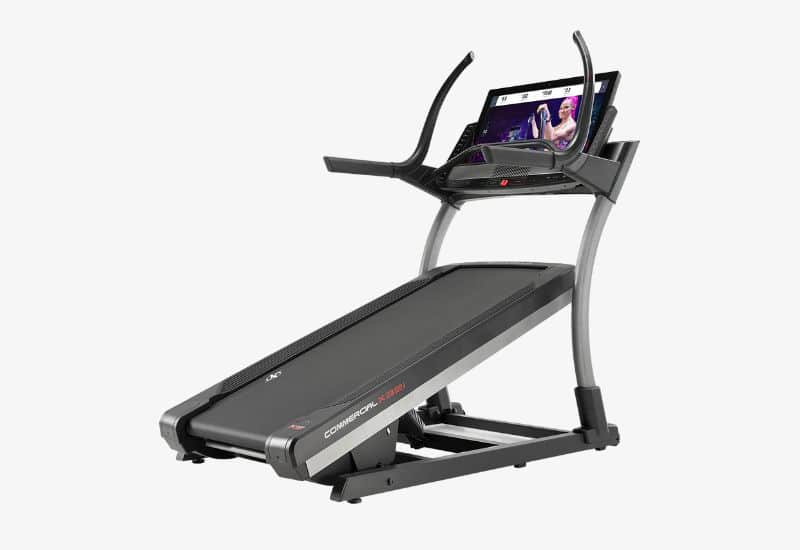 And of course, if you just want to manually crank the speed up and down at your convenience, you can do that too.
The NordicTrack X32i has the safety features that mean you can sprint with confidence, including hands-free speed and incline adjustments, vertical and horizontal safety arms, extra wide running deck (22" x 65") and a kill switch at the bottom of the console.
As you can guess, all of this functionality doesn't come cheap, retailing for $4,499 (and that's not considering the $39/month iFit subscription that kicks in after a 30-day free trial)
But if you are looking for a treadmill for sprinting that gives you maximum features, including a 32" HD touchscreen for doing classes and workouts, the NordicTrack X32i is an excellent choice.
| | |
| --- | --- |
| ✅ PROS | ❌ CONS |
| Massive 32" HD touchscreen for classes | Too expensive for the casual runner |
| Largest incline/decline range for a treadmill—up to 40-degrees and -6 degrees | |
| Extra large running deck (22" x 65") | |
| Vertical and horizontal safety arms | |
---
Freemotion t10.9 Interval Reflex Treadmill
⭐ Best motorized treadmill with extra cushioning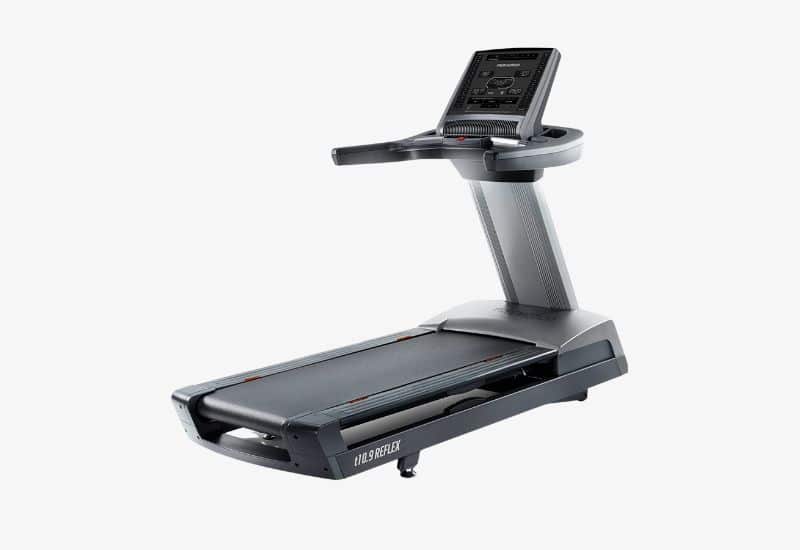 Key features:
Extra cushioned running deck
0-12mph
5.0 CHP motor
400lb weight capacity
21.5" x 60" running deck
One of the main issues runners have when doing sprint workouts on a treadmill, or overground, is mitigating plantar impact. This obviously starts with technique, but there are ways to mitigate some of the force.
Cushioned treadmills are an excellent tool for reducing the plantar loads when running, and especially with sprinting, and the Freemotion t10.9 Interval Reflex is the perfect cushioned treadmill for sprinters.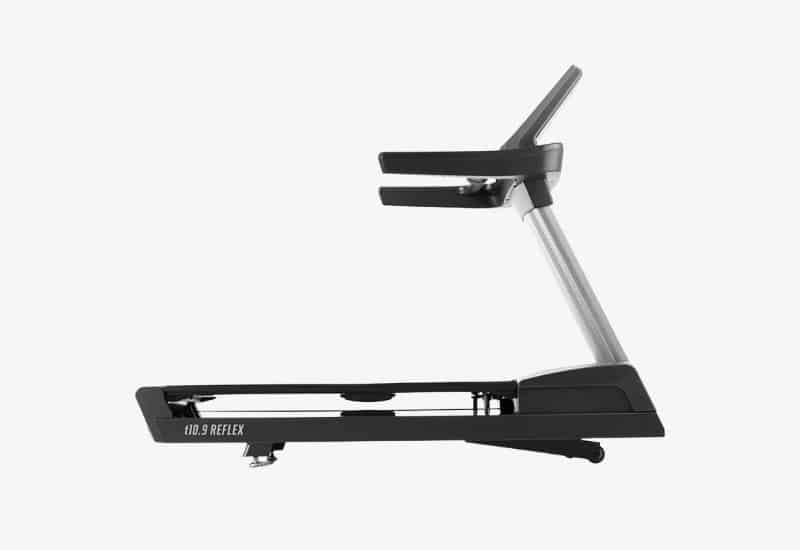 Freemotion uses a patented "flex" deck that absorbs a lot of the downward pressure and force. Additionally, the treadmill shows you the most optimal "Strike Zones" to use on the belt for efficient running technique.
Motor-wise, the Freemotion t10.9 is one of the strongest available for home gyms, with a 5.0 continuous-horsepower motor that can easily handle speeds up to 12mph. The treadmill has a motorized incline that can be adjusted up to 15-degrees for some calorie-torching uphill sprints.
The t10.9 is almost overbuilt, with a machine weight of 487lbs, which will make it hard to move once assembled. Also, I didn't love the display on the t10.9. For this price point I was expecting something a little more immersive and touchscreen-y.
| | |
| --- | --- |
| ✅ PROS | ❌ CONS |
| Added cushioning for protecting joints | Display is a bit basic for a treadmill this expensive |
| One-touch speed increase | Warranty could be better—just 7 years for the frame and motor |
| Optional 15.6" HD touchscreen | |
| 5.0 CHP motor | |
---
Trueform Runner Treadmill
⭐ Runner-up for best manual treadmill for sprinting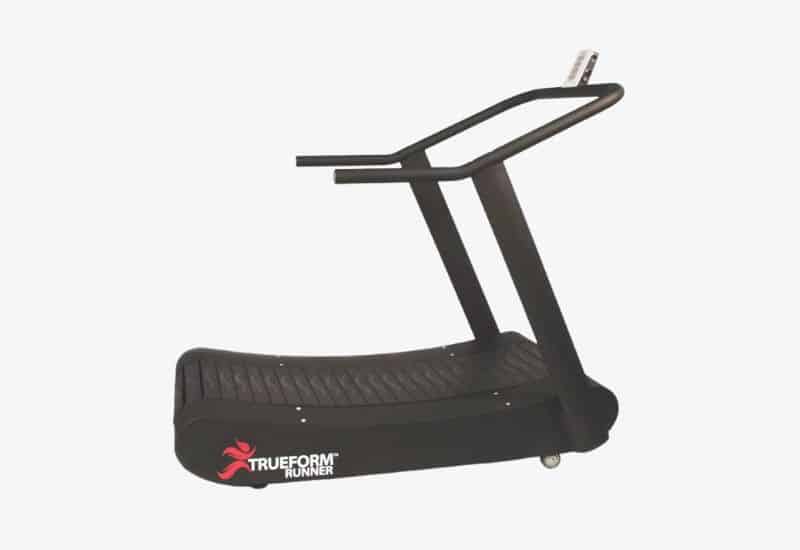 Key features:
Running deck: 17" x 54"
Motor: You
Weight capacity: 325lb
Price: $6,899
Simple is almost always better, especially when simple is done really, really well. The Trueform Runner Treadmill is a great example of this. The treadmill is made for hauling Mach 5, with your hair on fire, sprinting until your lungs burst into flames.
The Trueform Runner is very easy to put together (unlike some other manual treadmills, ahem Woodway), with just a handful of steps to put it together.
I've assembled almost a dozen of these over the past three years at my gym, and I'm always left thinking how I wish every other cardio machine was this straightforward to assemble.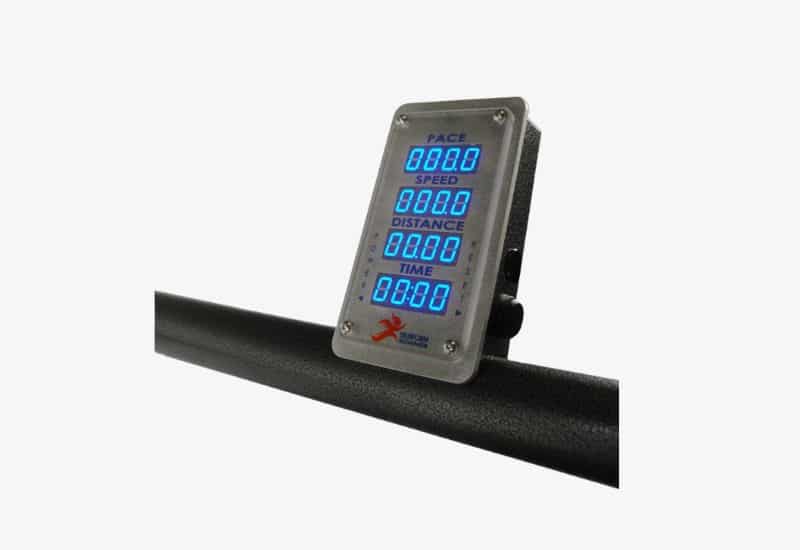 While we came here to drop some deadly sprint workouts, we can appreciate the look of the Trueform Runner. The design is sleek and modern, but make no mistake, the Runner is made for business.
I absolutely love the elevated front handle where the minimalistic console is parked. It's high enough that my Daddy-long-legs can stretch out when sprinting without worrying about nicking the console.
Safety handles are there for when I gas out after a round of full-intensity sprints. As a bigger dude, pushing 290lbs, I really appreciate the built-like-a-battleship design of the Trueform Runner.
It's… sturdy. Throw all of the high-intensity sprints you can at it, and she'll just smile right back at you.
Also, and I find this to be the coolest thing ever… You can choose the type of tread you want. The "standard" tread is a black slat belt, but you can upgrade to a turf tread or a track tread. Seriously.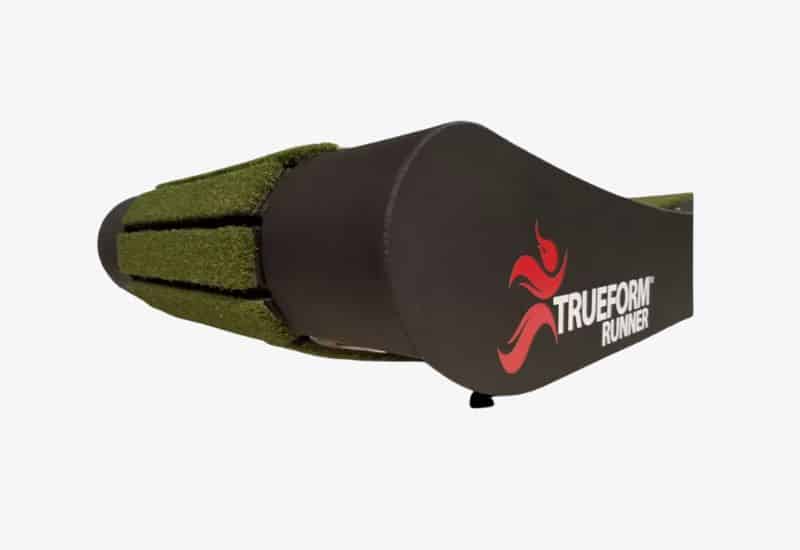 The catch? (And yes, if you are new to life, there is always one 😉)
The price tag. The Trueform Runner retails for just south of $7,000 (the turf and track treads are an additional $500, FYI), which is going to be exceedingly expensive for the casual sprinter.
If you can get past the price tag, the Trueform Runner is a treadmill that will last you a lifetime or three. It's available online, often with free shipping (hey, at this point, a few bucks is a few bucks!) from the folks at Rogue Fitness.
| | |
| --- | --- |
| ✅ PROS | ❌ CONS |
| Three tread options | Pricey… Like real pricey |
| Built like a battleship | |
| Easy to assemble | |
| Console bar is nice and high | |
| Simplistic design in the best way imaginable | |
---
Other Treadmills for Sprinting We've Tested
The options presented above represent my top picks for treadmills for sprinting. That said, a handful of others came close to making the cut.
They include:
Bells of Steel Blitz Manual Treadmill. Bells of Steel is one of my favorite brands for building quality strength training and conditioning equipment. I've been using BoS gear for years—fun fact, Kaevon, one of their founders, and I worked the same nightclub back in the day—but this treadmill is frequently out-of-stock. Pew.
Freemotion t22.9 Reflex Treadmill. We're fans of Freemotion, but this commercial-grade treadmill is likely overkill for the home user. It's got a max speed of 15mph, a massive screen (22" HD touchscreen), and tips the scales at a whopping 619lbs. Love it, but unless you are putting together a commercial-grade gym in your basement, it's likely excessive.
---
How to Choose the Perfect Treadmill for Sprinting
When it comes to choosing the ideal treadmill for sprint training, it's crucial to consider specific factors and attributes that can enhance your sprint workouts.
From motor power, treadmill type, screen size, to cushioning and stability, here are the key things to look for to make an informed decision and find the perfect treadmill for your sprinting needs.
Treadmill type
There are two main types of treadmills for sprinting: a motorized or a curved, manual treadmill. Both have their respective advantages.
Motorized treadmills allow you to set specific pace speeds, have larger screens with classes, and are less expensive. There are also more options for motorized treadmills.
Curved treadmills are a more challenging workout, allow you to self-select speed, and research published in the Journal of Science and Medicine in Sport (Schoenmakers and Reed, 2018) showed curved treadmills elicited a higher oxygen uptake compared to a motorized treadmill.
Another significant benefit of curved treadmills is that they don't require power (you are the power) so you don't need to worry about placing the treadmill near an outlet.
Safety features
Safety is the most important thing to consider when sprinting on a treadmill. Look for safety features like horizontal safety arms, an emergency kill switch, and an expanded running deck.
A larger running deck, like that found on the NordicTrack X32i (22" x 65") allows you to do all-out sprinting without worrying about catching a toe on the front or sides of the treadmill housing.
Longer running decks are also best-suited for taller users so that they can sprint with full stride without hitting the console with their knees and thighs.
Max speed
Motorized treadmills have a top-end speed of 12mph, with a couple of treadmills with a 15mph ceiling. Horsepower is loosely correlated with top-end speed, but this isn't always the case.
A stronger motor can handle speed, but a stronger motor, represented in HP or CHP (continuous horsepower), is also smoother, lasts longer, and can handle heavier folks (like me).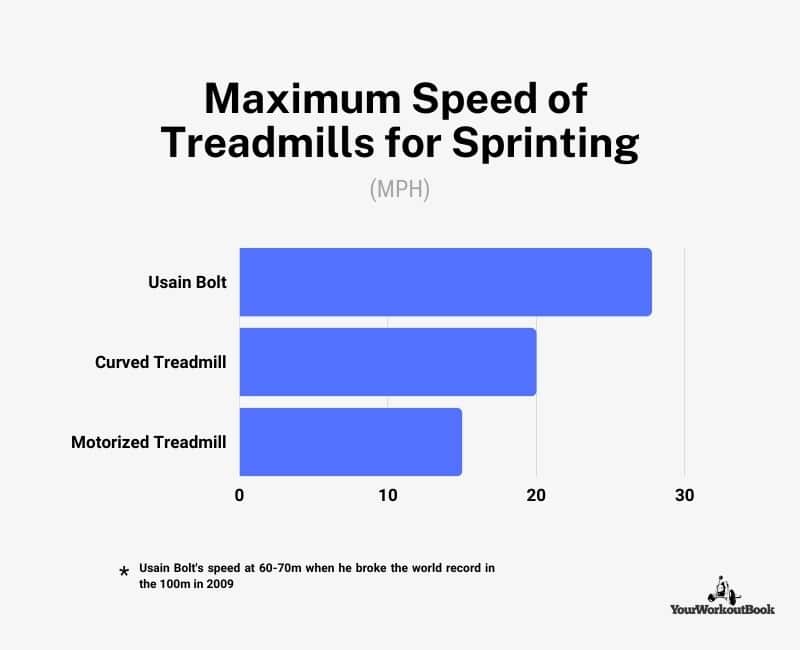 With curved treadmills, on the other hand, the sky is the limit. Well, okay, maybe not quite. But close!
Curved treadmills top out at 20mph. To give you a sense of how fast that is, Usain Bolt, when he broke the world record in the 100m dash in 2009, hit a top speed of around 28mph.
Cushioning
Treadmills come in a variety of levels of cushioning. Cushioned treadmills reduce the load of high-impact forces when doing treadmill sprints. The decreased plantar pressure and force when sprinting on a treadmill helps runners do more sprinting and is also an ideal solution for injury rehab.
A study published in the Journal of Gait Posture found that participants experienced significantly reduced peak plantar force when running at speeds of 10 km/h on a cushioned treadmill.
"Running on the treadmill with cushion may be a useful method in the prevention of fore foot injuries," noted the paper's authors.
Another paper published in the Journal of Science and Medicine in Sport, titled "Comparison of plantar loads during treadmill and overground running" echoed those findings. Plantar impact was significantly reduced with the participants, a group of 16 amateur runners, when using a treadmill versus overground running.
If plantar load and heel force reduction are something you want, look for a treadmill that has increased cushioning and shock absorption for your speed training.
Incline
There are a lot of benefits to sprinting uphill, whether that's a local park or on a treadmill.
A study by researchers at the University of Oxford (Kavaliauskas et al, 2018) found that performing 4×30-seconds sprints on a 10-degree incline elicited significant improvement in time-to-exhaustion compared to participants who did the same protocol sprinting on a stationary bike.
Sprinting on an incline generates more muscle activation in the glutes, something that is perfect for sprinters, as the glutes are largely what drives power and speed.
Manual treadmills, obviously, don't have an incline feature. The motorized treadmills included in this list, however, do have a power or motorized incline functionality so that you can incorporate hill sprints into your workouts.
Screen size and programming
The screen size on a treadmill pays a crucial role in giving you the feedback and data metrics you need to stay on top of your workout.
Whether it's speed, calories burned, wattage, heart rate, or distance, the screen on your treadmill needs to give you the right data to help keep you on track.
Curved treadmills have very basic LCD displays that spit out the essentials, while motorized treadmills, like the Freemotion t10.9 Interval Reflex, offer a large and interactive display for streaming shows and doing interactive workouts.
Pricing
Striking a balance between performance and pricing is always top-of-mind when investing in conditioning gear for your home gym.
Treadmills, on average, are expensive, And yet, somehow, manual, curved treadmills, even more so. It seems counterintuitive that manual treadmills, with no motor or shiny HD touchscreen, can be so expensive. This is largely due to the fact that they are a bit of a rare commodity—not a lot of people buy them, hence higher per-item production costs.
Cost is a crucial factor when it comes to figuring out which treadmill for sprinting is right for you.
Build quality and warranty
A sturdy frame and overall stability are essential when sprinting at high speeds. Look for treadmills with solid construction and a weight capacity that exceeds your body weight.
There is nothing worse than unleashing your inner Usain Bolt on the treadmill and hearing the bolts and frame rattling like a jar full of loose nails.
---
Treadmills for Sprinting — FAQs
What is the best treadmill to do sprints on?
The best treadmill for doing sprints are manual treadmills because they are self-powered and more ergonomic compared to motorized treadmills. The fact that you are the locomotive power for the belt also makes it a more challenging and rewarding workout in terms of speed.
That said, you can easily do sprint workouts on an electric or motorized treadmill, I've done so countless times over the years. Ultimately, the type of treadmill you use for your sprints comes down to the kind of functionality you want from the machine.
Can treadmill sprinting increase sprinting speed?
Yes, using a treadmill for sprinting can improve overall speed. A study published in the Journal of Sports Sciences (Willoughby et al., 2015) with middle-aged adults (40-50 years old) and younger adults (20-30 years old) found a significant increase in peak sprinting speed and average sprint speed after just four weeks of treadmill sprint training.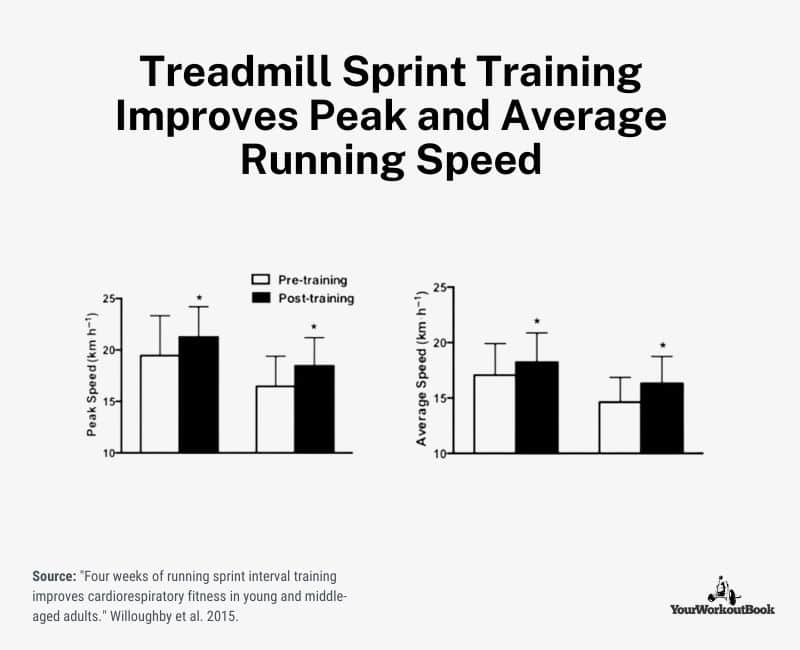 The participants followed a protocol of 4-6 x30s all-out sprinting on a curved treadmill with four minutes of recovery between sprints. They each did the workout three times per week, with 48h to 72h between workouts to ensure sufficient recovery.
The Final Rep
The treadmill is one of the best cardio machines for weight loss and developing blinding athletic speed.
Fortunately, for the speed-minded trainee, there has never been a better time for buying a treadmill for home use.
To recap our top choices:
⭐ The AssaultRunner Pro takes the crown the best overall choice thanks to its unique and ergonomic design and high top-end speed.
⭐ For online workout nerds, the NordicTrack Commercial X32i and its massive 32" HD touchscreen is our top choice.
⭐ And lastly, for individuals who want extra cushioning and protection when sprinting, the Freemotion t10.9 Treadmill stands alone as the best option.
Choose the right treadmill for your sprinting workouts, crank up the MPH, and reach new levels of speed, endurance, and overall fitness.