We logged hundreds of miles on 90+ treadmills to find you the best treadmill with a screen. Read on for a look at the top treadmills for streaming, online classes, and watching TV.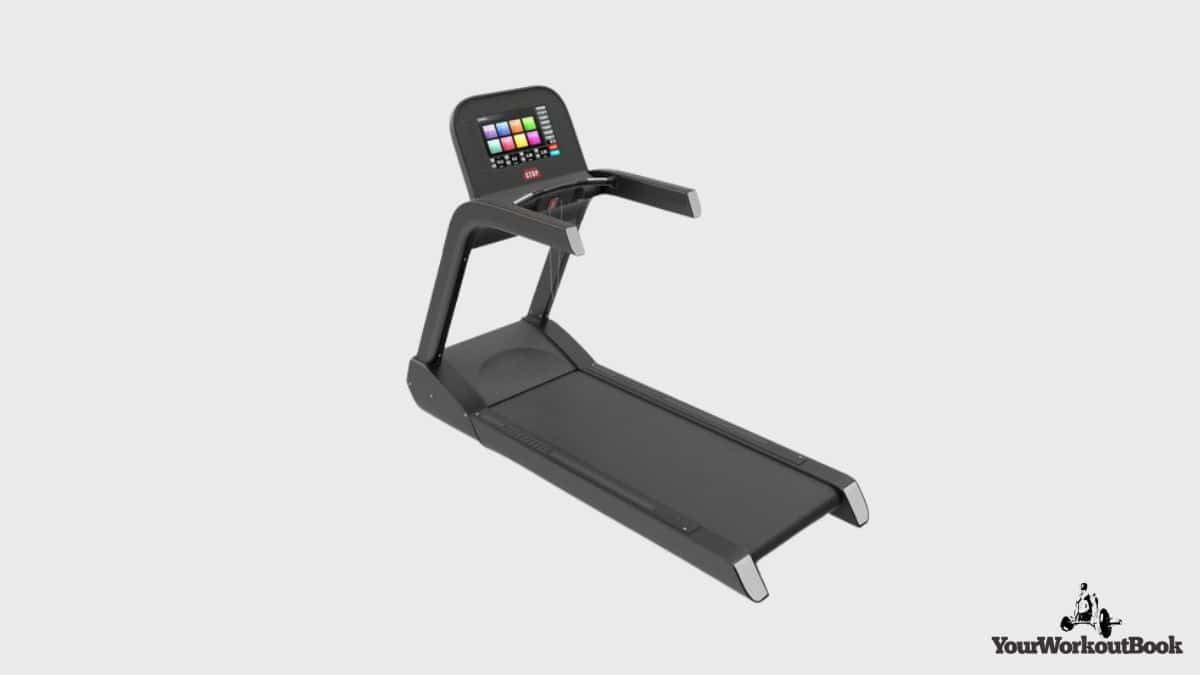 Treadmills are one of the best cardio machines for losing weight, burning fat, and channeling your inner athlete.
And while nothing quite beats the feeling of the wind blowing by your ears while running outdoors, using a treadmill with a screen is a pretty close alternative. Treadmill machines are also in some ways superior, as you can customize incline (and decline), set specific pace targets, reduce impact on your joints, and you don't need to dress up for the weather.
As there are countless treadmills with screens for home gyms on the market, with different motors, screen sizes, subscription services, connectivity, and fitness apps, there is no single "best" for every circumstance.
But there are some clear winners for specific situations.
In this guide to the top treadmill machines with screens, we'll look at the best options for every kind of runner/walker, the key things to look for when choosing, and more.
Let's get started.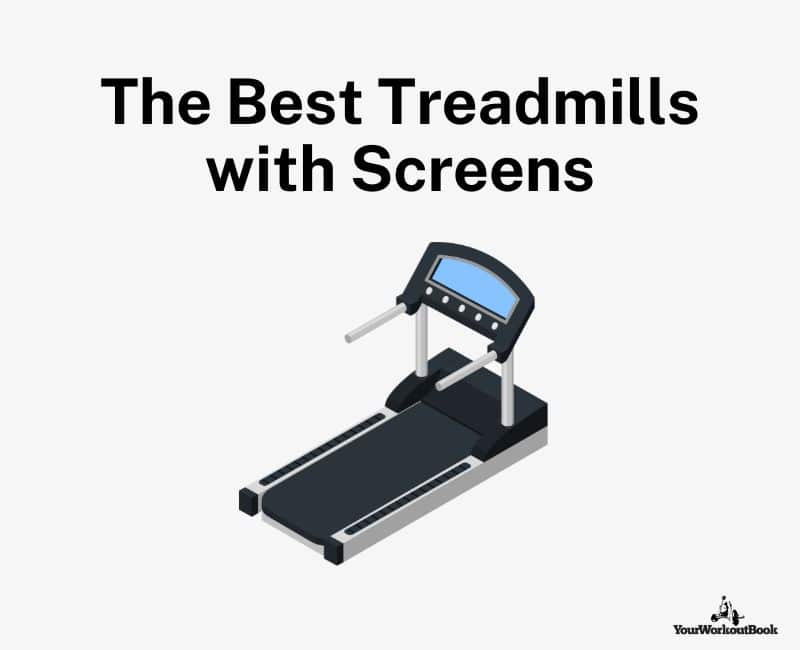 Best Treadmills with Screens
Here is a look at the best treadmills for home gyms that have a screen, including screen size, the fitness app used by the treadmill, whether or not it can stream apps like Netflix, and the current price.
They include:
| | | | | |
| --- | --- | --- | --- | --- |
| TREADMILL | SCREEN | FITNESS APP | STREAMING | PRICE |
| NordicTrack x32i | 32" | iFit | Yes* | $4,499 |
| Bowflex Treadmill 22 | 22" | JRNY | Yes | $2,699 |
| NordicTrack X22i | 22" | iFit | Yes* | $3,199 |
| Echelon Stride-5s | 24" | Echelon App | No | $2,299 |
| ProForm Pro 9000 | 22" | iFit | Yes* | $2,099 |
| ProForm Carbon T10 | 10" | iFit | Yes* | $1,299 |
| Freemotion Reflex t22.9 | 22" | iFit | Yes* + TV | $11,999 |
*=streaming apps need to be installed manually and do not come pre-installed.
---
NordicTrack Commercial X32i Treadmill Machine
⭐ Best overall treadmill with a screen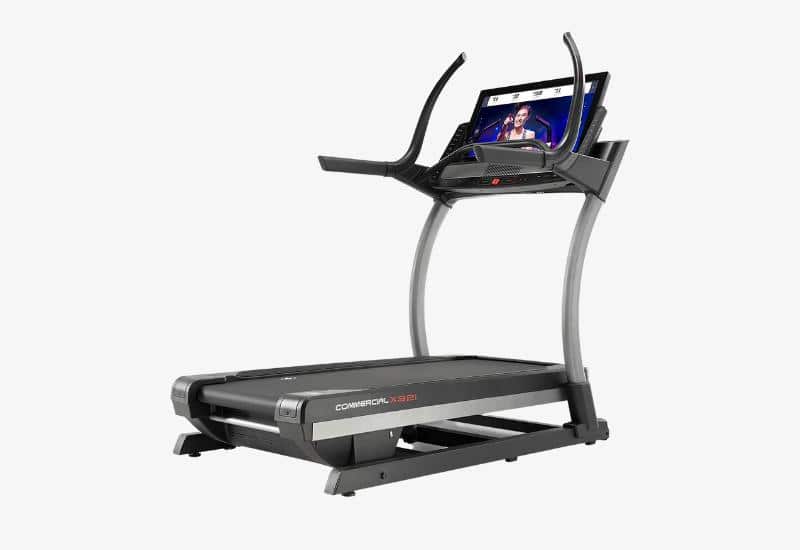 Main performance features:
32" Smart high-definition touchscreen
iFit-powered (the treadmill comes with one-month free, $39/month after)
Extra large running deck – 22" x 65"
Bluetooth and internet connectivity
Powered by Android 9 OS
10 year warranty on frame, 2 years on parts, 1 year on labor
The NordicTrack X32i is the top-rated treadmill machine with a screen because of the huge screen size, large running deck, and unrivaled performance features.
In fact, the competition isn't even close when you consider that the X32i can be used as a manual treadmill for extreme incline walking (up to a whopping 40-degrees), for decline running (it can be adjusted to a minus 6-degree decline), and yes, that massive, industry-leading 32" HD touchscreen.
The screen is powered by iFit, which has an online library of literally thousands of different types of workouts. These include trainer-led classes, monthly challenges, "around the world" trails for walking and running, and even a large collection of strength training workouts for days where you want to mix up the running.
I love the fact that the X32i also tracks all of my runs, including pace, distance, time, and all of that goodness so that I can see progress over time.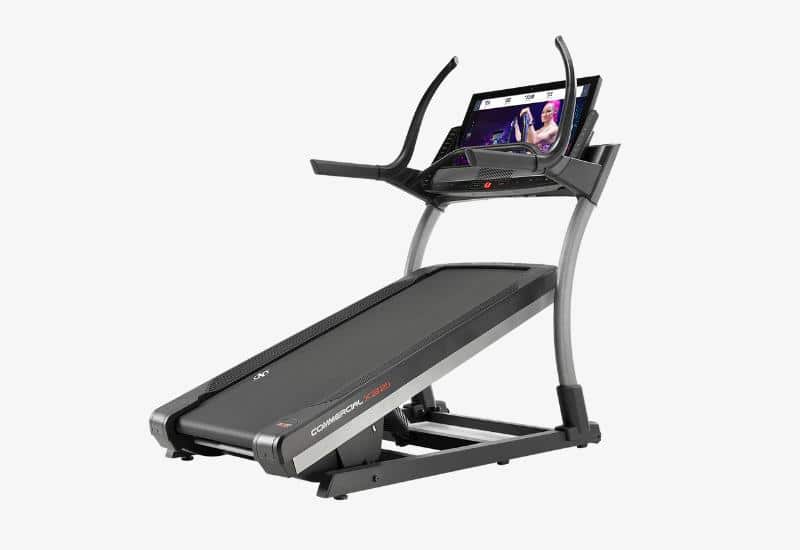 In terms of running performance, the NordicTrack X32i brings the noise, with an extra large running deck (at 22" x 65" it's the largest available for home gyms), making it perfect for taller runners like me who find themselves cramped on a "regular" sized treadmill. The 4.25 CHP is also one of the strongest motors available.
The main thing you should know about the Commercial X32i is that your favorite streaming apps will need to be installed manually. (This isn't too hard, but those who are not tech savvy may struggle.)
Additionally, the NordicTrack X32i is an expensive machine, at $4,449, which is too pricey for the casual treadmill enthusiast.
However, for those who want the best of the best when it comes to screen size, online training, and ultimate flexibility in performance, the NordicTrack Commercial X32i destroys the competition when it comes to the best treadmill with a screen.
| | |
| --- | --- |
| ✅ PROS | ❌ CONS |
| Best treadmill with a large screen (32") | Pricey; not for the casual treadmill user |
| Huge incline and decline range | Streaming apps need to be installed manually |
| Bluetooth and WiFi compatible | |
| Extra large running deck (22" x 65") | |
| 4.25 CHP motor | |
---
Bowflex Treadmill 22
⭐ Best heavy-duty treadmill for streaming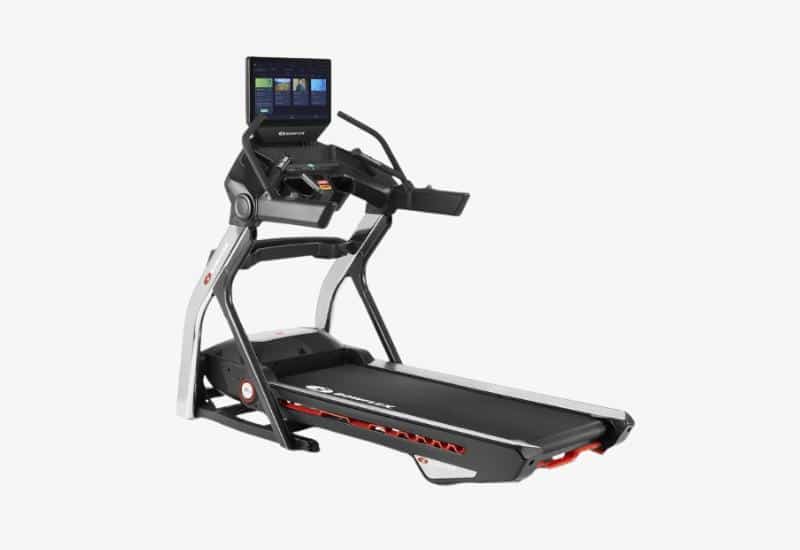 The Bowflex Treadmill 22 is the best treadmill with a screen for home gyms for people who want to start streaming their favorite apps on day one. The Treadmill 22 is pre-loaded with all of the most popular streaming services, including Netflix, Hulu, Disney, and more.
The functionality of the Treadmill 22 is no joke, either. The screen itself is a massive 22" high-resolution display that crisply streams, whether it's using the JRNY app or watching your favorite show. The screen can be tilted up (or down) to runners of different height. Wi-Fi and a JRNY subscription are required to access both the online workouts and streaming services.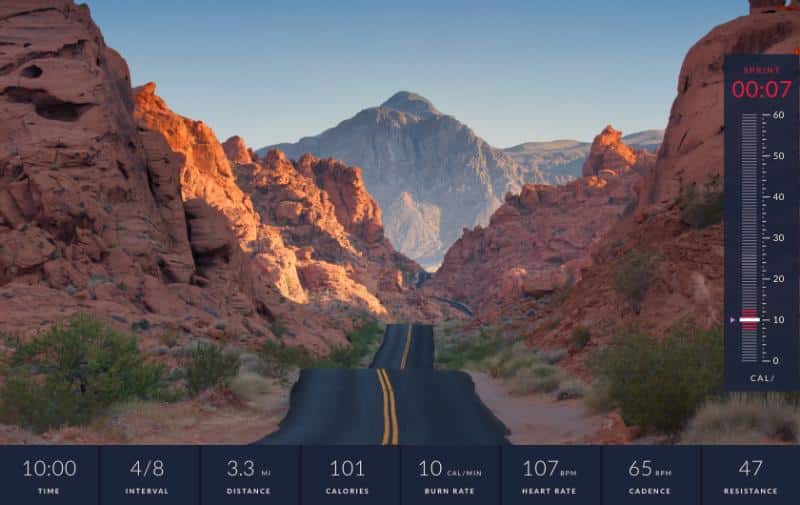 For heavier users, the Bowflex Treadmill 22 is the best option for a treadmill with a screen that is heavy-duty and not the price of a commercial treadmill, which can quickly exceed $10,000 in price. The maximum user weight on the Bowflex Treadmill 22 is 400lbs, also making it one of the best treadmills for heavy people.
Extra features include Bowflex shipping the treadmill with an arm band heart rate monitor (you'd be surprised how many treadmill companies do not do this), a small footprint when folded up, and one-touch speed and incline adjustments.
Also, Bowflex has some of the best warranties in the business, with a 15-year warranty on the frame and motor, which far exceeds the warranties of other treadmill brands.
| | |
| --- | --- |
| ✅ PROS | ❌ CONS |
| Big 22" screen for streaming and workout classes | JRNY subscription required to use streaming services |
| Heavy-duty—can handle users up to 400lbs | Console is a bit bulky |
| Industry-leading 15 year warranty on the frame and motor | |
| Folds up to about half the footprint | |
---
ProForm Pro 9000
⭐ Best budget-friendly treadmill with a huge screen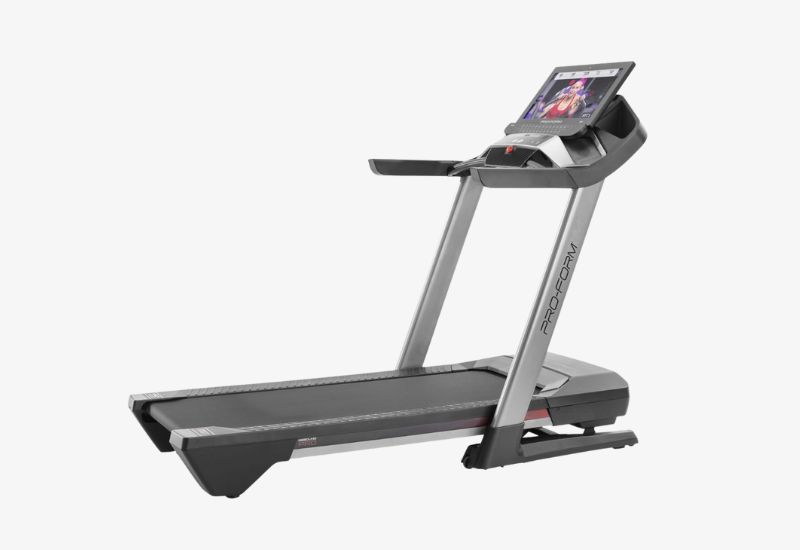 Key features of the Proform Pro 9000:
Price: $2,099
22" HD touchscreen
iFit compatible (comes with 30-days access for free)
3.6 CHP
The ProForm Pro 9000 is a budget-friendly treadmill that has a screen size that punches above its weight class. The 22" high-definition touchscreen has explosively vivid colors, Bluetooth compatibility, and the treadmill runs (ha! Running pun!) the iFit fitness app.
The fitness app iFit is one that you will hear a lot from in this list, as it is the umbrella company for many of the most popular treadmill companies on the planet, including NordicTrack, Freemotion, and you guessed it, ProForm.
ProForm is the budget-friendly treadmill division of the company. The Pro 9000 is the "elite" model in its line of treadmills, with a huge running deck (22" x 60"), 3.6 CHP motor for smooth running, and up to 12-degrees of incline.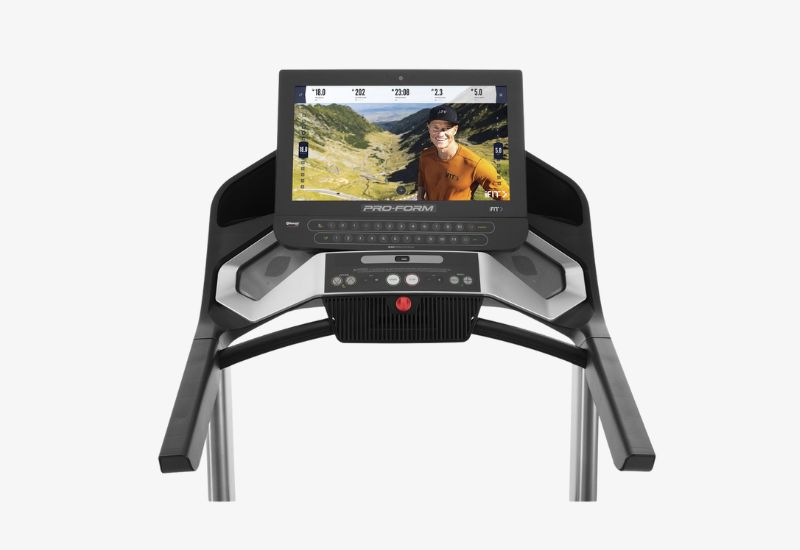 The training programs are comprehensive, with one-touch pre-programmed workouts (intervals, hills, manual, and so on), both built-in to the console, but more notably, when using the iFit platform. iFit has tens of thousands of workouts, both for your treadmill, including trainer-led classes and virtual runs in locales around the world, and strength training and yoga workouts to mix up your cardio workouts.
One thing I really like about the Pro 9000 is that like the NordicTrack X32i, the Pro 9000 features a decline setting. Decline walking or running is an excellent way to vary up your workouts, helps strengthen the ligaments in the ankle and knee joint, and preps you for running downhill outside. While the Pro 9000 doesn't have the same range of decline as the X32i (-3 degrees vs -6 degrees), it's also half the price.
And like the NordicTrack treadmills, installing streaming apps needs to be done manually as they are not pre-installed.
The ProForm Pro 9000 runs like a dream and has a beautiful 22" screen perfect for workouts, classed and streaming. And the best part is you don't have to break the bank to get a premium screen and treadmill.
| | |
| --- | --- |
| ✅ PROS | ❌ CONS |
| Premium screen size at a budget-friendly price | Only comes with 30-days of iFit ($39 per month after) |
| Has a 12-degree incline and a 3-degree decline | Streaming apps need to be installed manually |
| Runs on iFit; tons of classes and workouts, both on treadmill and off | |
| Large running deck – 22" x 60" | |
---
ProForm Carbon T10 Treadmill
⭐ Budget-friendly treadmill with a screen for smaller spaces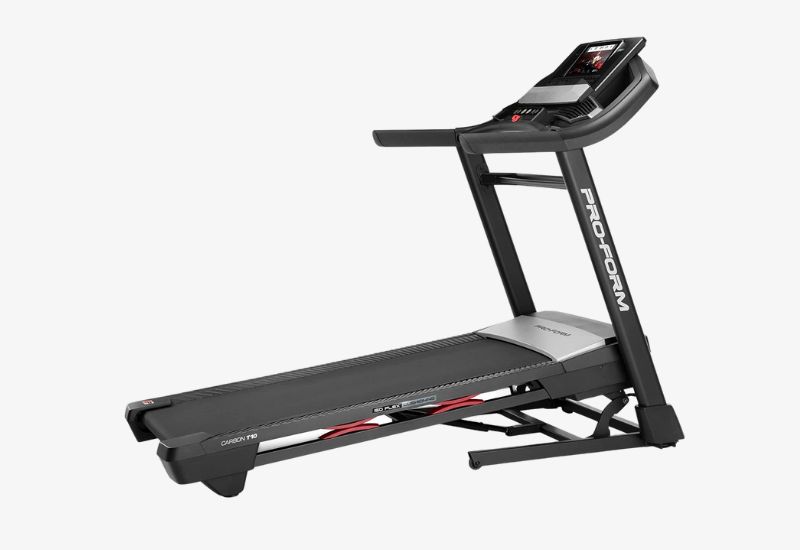 Key features:
Price: $1,299
10" HD touchscreen
Runs on iFit's fitness platform
2.75 CHP
Looking for something a little easier on the budget? The ProForm Carbon T10 Treadmill is the top treadmill with a large screen and a small budget. The screen on the Carbon T10 is a 10" Smart high-definition touchscreen and is Bluetooth Compatible.
Like its big brother, the ProForm Pro 9000, the Carbon T10 uses iFit for its online workouts, classes, and streaming. And like the other iFit treadmills on this list, you will need to manually add the streaming applications.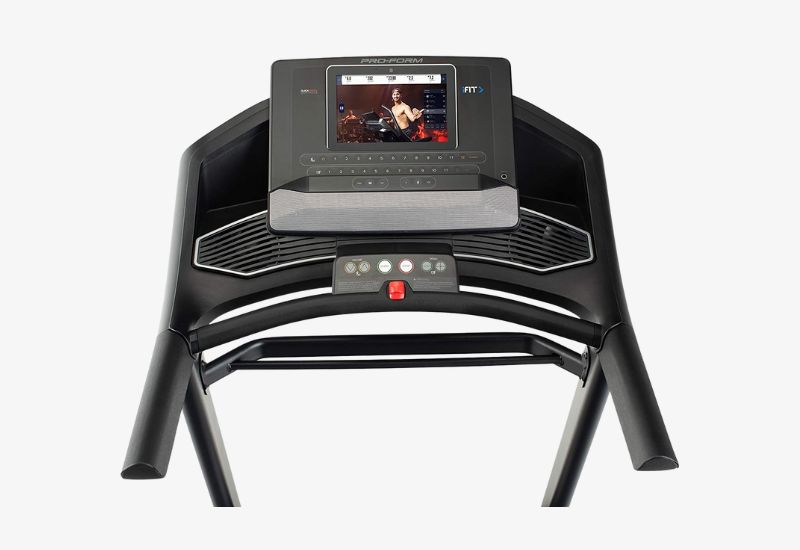 The Carbon T10 is the perfect choice for people who want a lightweight treadmill with a screen that can be easily tucked away between workouts. The space-saving design of the Carbon T10 folds up to less than half of its original length when folded up, making it perfect for shared spaces like a bedroom or living room. Folding it up also acts as a security feature, preventing kids and/or pets from accessing the belt.
Despite being a budget-friendly option at $1,299, which is half the cost of the Bowflex Treadmill 22 and around $800 cheaper than the ProForm Pro 9000, the Carbon T10 runs like a dream.
I love the fact that it has up to 12-degrees of incline (perfect for days when I want to hammer out a fat-torching HIIT workout in less time), one-touch adjustments from the console, and extra cushioning at the front of the running deck to reduce impact and shock.
Altogether, the ProForm Carbon T10 is the right treadmill for people who want a decent sized screen, all the functionality of more expensive treadmills, and don't want to spend a ton of money.
| | |
| --- | --- |
| ✅ PROS | ❌ CONS |
| 10" HD touchscreen | Streaming apps need to be downloaded |
| Folding design—takes less than half the space when folded up | |
| Uses iFit's big library of workouts for programming | |
| Budget-friendly pricing | |
---
Freemotion t22.9 Treadmill Machine
⭐ Best commercial treadmill with screen and cushioning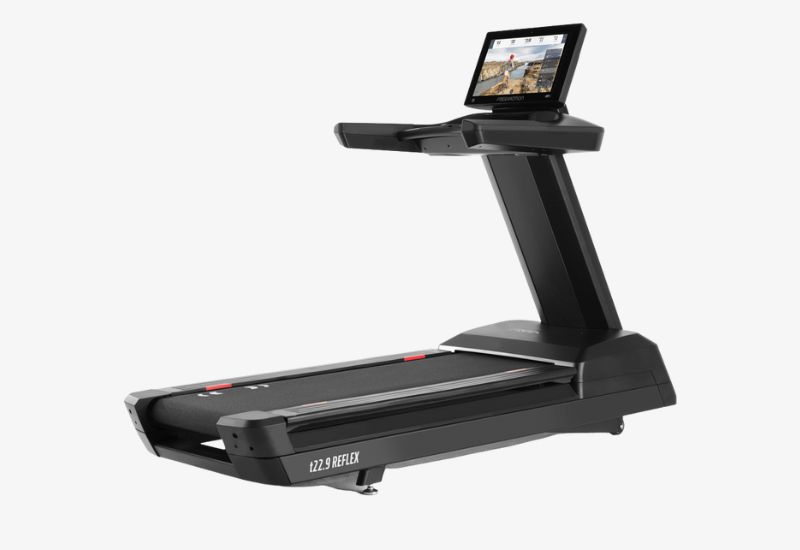 From one end of the budget range to the other, the Freemotion t22.9 Treadmill is an absolute beast of a machine that is designed primarily for commercial use.
The Freemotion t22.9 has a big 22" touchscreen that uses the iFit platform of workouts and classes, world-class cushioning that targets each zone of your stride optimally, and a top speed of 15mph, the fastest of any motorized treadmill on the market.
The 22" touchscreen has 1080p resolution for crisp colors and excellent contrast, whether you are running along to a trainer-led class, doing one of the countless (around the world" trails, or streaming the most recent episode of your favorite Netflix show. You can even use Google Maps to run the neighborhood you grew up in.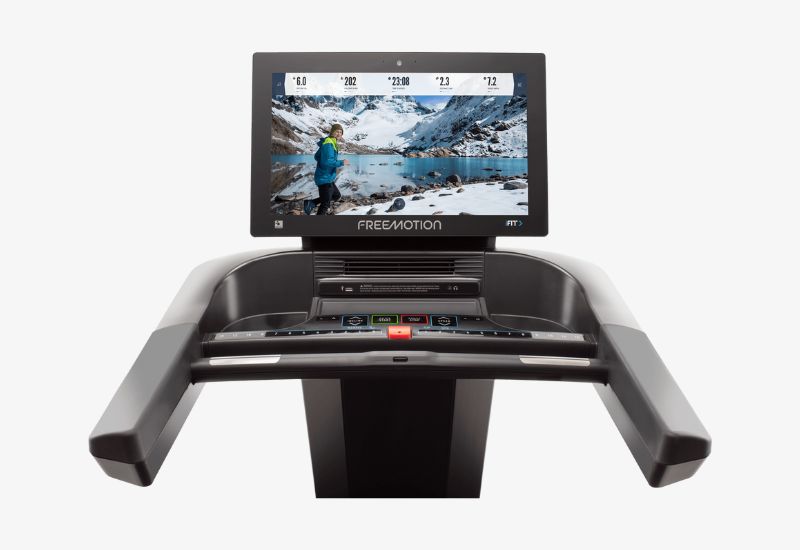 For people who want a treadmill with TV access, the t22.9 is one of the few treadmills on the market that has a TV tuner. The tuner uses a coaxial (or HDMI) input to carry cable television and has closed captioning for when you want to watch the news or the big game but not listen to it.
In terms of performance, the Freemotion t22.9 is a beast with a 5.0 CHP motor, a top speed of 15mph, and a decent sized running belt that is 21.5" wide and 54.6" long. The incline can be increased to 15-degrees,
The zoned cushioning is also next-level, outperforming Life Fitness and Precor treadmills in a university-approved study, giving the t22.9 the unique attribute of also being one of the best cushioned treadmills available.
The Freemotion t22.9 Treadmill is priced for gyms and studios, with a price tag of $11,999, putting it out of reach for more casual runners and walkers.
But for the home gym owner who wants the best of the best, including maximum cushioning, a big 22" HD touchscreen, and the ability to watch live TV on their treadmill, the t22.9 is going to be worth the investment.
| | |
| --- | --- |
| ✅ PROS | ❌ CONS |
| Commercial-grade construction | Commercial-grade pricing |
| 22" HD touchscreen with 1080p resolution | |
| Console has a TV tuner with closed captioning | |
| The console has a TV tuner with closed captioning | |
---
Other Treadmills with Screens We've Tested
Below are a number of treadmills with screens that we have reviewed but didn't quite make the cut.
They include:
Echelon Stride-5s Smart Treadmill – The Echelon Stride-5s Smart Treadmill is a quality machine with a large screen (24") that can rotate to view off-treadmill. Echelon uses its own fitness platform for online classes and workouts and doesn't have as many workouts and classes as iFit or JRNY.
NordicTrack X22i Treadmill. The little sibling to the X32i, it has a smaller screen (22"), a less powerful motor, and a smaller running deck. The X32i is worth the extra cost.
Peloton Tread. The Peloton Tread looks amazing with its sleek frame, world-class workout programming, and no hood at the front of the belt. However, the Tread has had a long line of issues and recalls, with Peloton suspending sales due to pets and humans getting sucked under the tread, resulting in injury and death. So, yeah.
ProForm Carbon T7. The Carbon T7 is an affordable-ish treadmill at $1,400, but the screen size is 7", not much bigger than my Apple smartphone. However, it does fold up easily, and it's a solid option for people looking for a lighter frame with a treadmill.
---
How to Choose the Best Treadmill with a Screen
Treadmills are a serious investment that can pay serious dividends in your health and well-being. And choosing the right one can feel a little intimidating as they vary so widely in terms of features and function.
Below is a list of the most important things to look for when shopping around, from display features, to screen size, to warranty.
Here's what to look for when choosing the perfect treadmill with a screen for you:
Screen size and resolution
Look for a treadmill with a high-definition touchscreen for your treadmill. Resolution of the screen should be at least 1080p to get a crisp and bright viewing experience that allows you to take advantage of streaming shows and workout classes.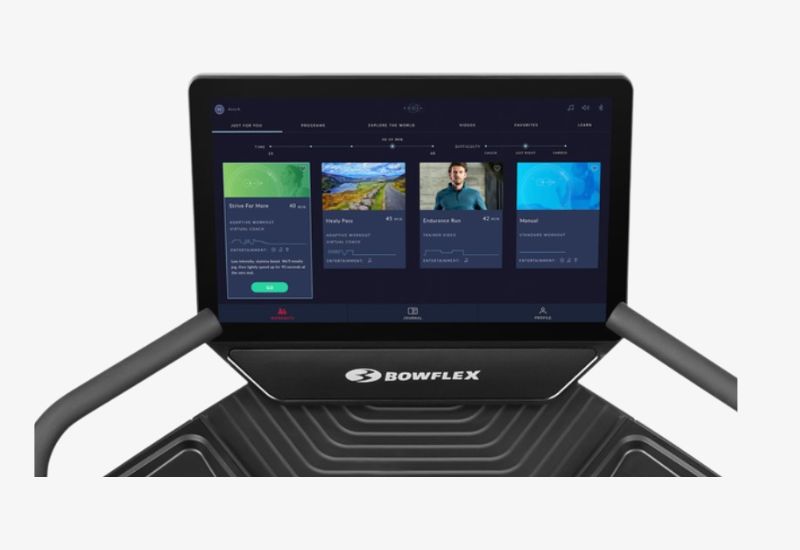 How large a screen you want comes down to your budget—the larger the screen, the larger the price tag. In my opinion, treadmills with smaller screens (7" and under) are not worth it as they are not much bigger than a large smartphone and don't justify the jump in cost.
Bluetooth connectivity.
Treadmills with screens allow you to watch your favorite shows, listen to a banger of a playlist, and don online-classes. Bluetooth connectivity allows you to pair headphones to the treadmill so that you can listen at full volume without bothering neighbors or waking up the kids in the next room.
Fitness app costs.
Treadmills with a screen use online fitness platforms to deliver workouts and classes to your home.
The most popular online training program is iFit, which uses NordicTrack, ProForm, and Freemotion treadmills to deliver programming. Bowflex's JRNY is an excellent alternative, and they bundle streaming apps within JRNY and tend to be cheaper.
iFit requires separate installation of streaming apps. iFit costs $39 per month (or $400/year for families), while JRNY is significantly less expensive, with an all-access pass costing $29 a month (or $199 a year).
TV Tuner.
Treadmills with a TV tuner allow you to watch live cable television on the console. To do this, the treadmill requires a tuner as well as either a coaxial or HDMI input to run the cable subscription into the treadmill.
Cushioning
One of the main benefits of treadmills is that they significantly reduce the impact and shock from when your heel strikes the ground. Treadmills have zoned cushioning that protects your foot from excess shock and reduces injury.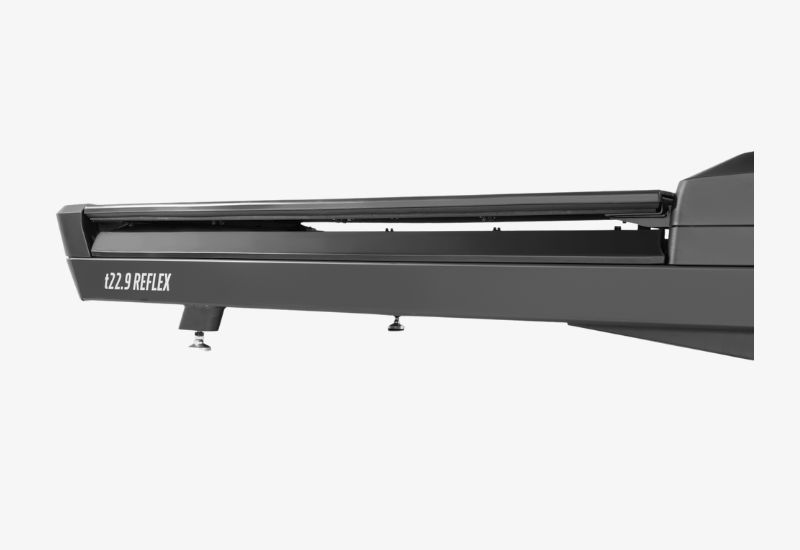 Optimal treadmill cushioning is a little softer at the front, where the heel lands, and firmer at the back, where your foot pushes off of the belt.
Incline and Decline
Treadmill running is great, but variety is the spice of life. And that's how decline and incline features can help mix up your workouts.
Nearly every treadmill for home gyms has an incline feature, but a select few also incorporate a decline feature. The benefits of decline treadmill running include improving downhill running technique, strengthening your knees, and mixing up your running workouts.
Motor
Motorized treadmills use a small motor to power the belt. Horsepower ranges from 2 to 5 CHP (continuous horsepower). The premium treadmills for home gyms have between 4 and 5 CHP for a smooth running experience.
Running Deck
The running deck is the amount of "runnable" space on the deck of the treadmill machine. Taller users will want to look for a treadmill with a longer deck (55" and up) to ensure they can run with a full stride without their knees hitting the console or running off the back of the treadmill.
Safety features
Treadmill running is not without its risks. We've all had a moment or two where we stumbled on the treadmill.
Safety features include arms on the side of the console to rest your body and step off the belt and a "kill" switch at the center of the console.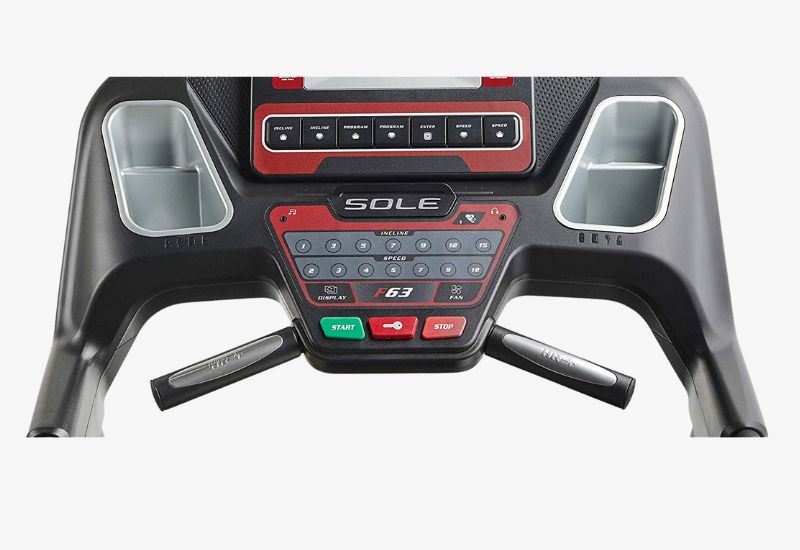 Foldable treadmills provide an added safety layer, keeping toddlers and pets from playing around on the belt.
Safety doesn't take a holiday, after all!
Warranty
Finally, protect your investment with a warranty that will give you peace of mind at the time of purchase and for the inevitable moment something goes awry with your treadmill. Look for a warranty of at least 5 years on the frame and motor.
---
Treadmills with Screens — FAQs
Does Sole Fitness have a treadmill with a touchscreen?
Sole Fitness has two treadmill models that have a touchscreen: the Sole F80 and Sole F85. The Sole F85, which we featured in our guide to the best treadmills under $2,000, has the largest screen among Sole treadmills at 15.6″.
For a more detailed look at Sole's treadmills, reference this guide.
Can you stream Netflix on a treadmill machine?
Yes, most treadmills with a high-definition screen allow streaming. The Bowflex line of treadmills, using the JRNY platform, as these streaming services pre-installed. Treadmills that use iFit, like NordicTrack, Freemotion, and ProForm, can be configured to install your favorite streaming apps but are not pre-installed.
---
More Treadmill Guides and Reviews
5 Best Cheap Treadmills for Home (Tested and Reviewed). Maximize your running workouts at home without maxing out your bank account. We tested 90+ treadmills and found the best cheap treadmills that deliver on performance without breaking the bank.
How Much Do Treadmills Cost? (90 Different Treadmills Compared). The treadmill machine is a killer tool for better health and improved fitness. But knowing how much you should spend on a treadmill can be tough. Here's your ultimate guide to how much treadmills cost and how much you should spend on one.