Commercial grade treadmills offer the ultimate in durability and performance. Here's a look at the best commercial treadmills for home use, how to choose, and more.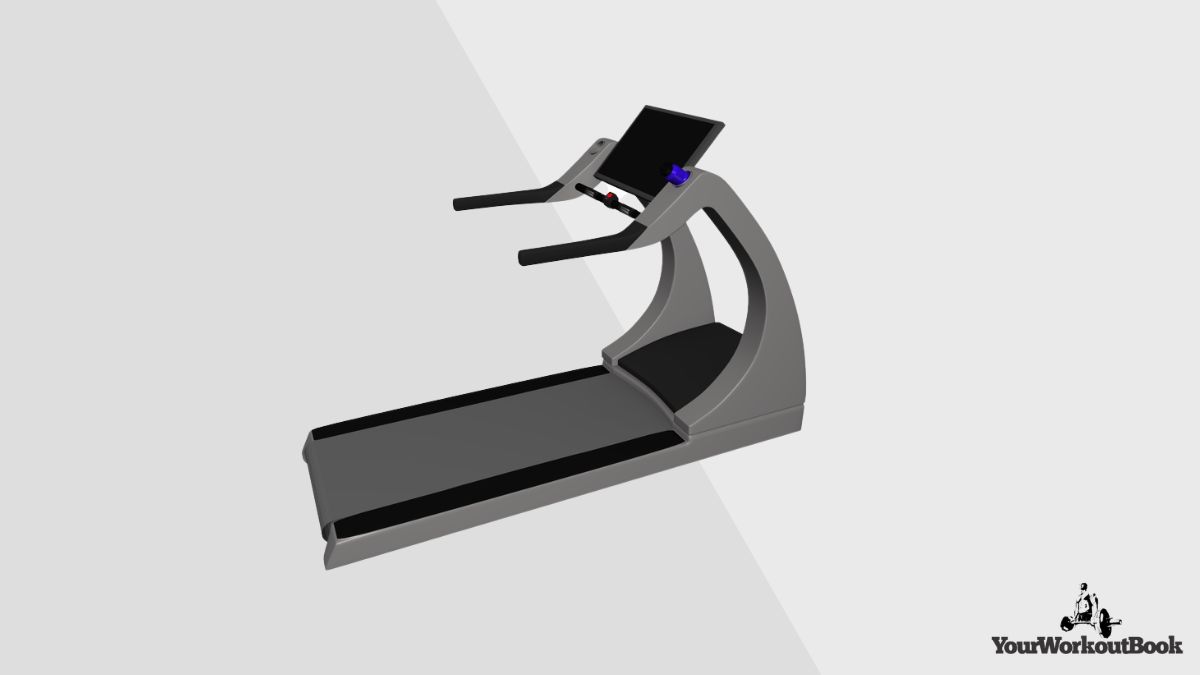 Putting together a legendary home gym is the dream for workout enthusiasts. No commute to the gym, no line-ups for your favorite cardio machine, and you get full control of the music and screens.
With a commercial treadmill, you can bring home the durability, motor, running surface, advanced cushioning system, screen size, and overall performance of a commercial grade treadmill.
But with so many options out there, it can be easy to feel a little overwhelmed. Especially when you start to see those five-digit price tags on some commercial treadmills.
In this comparison of the best commercial treadmills for home gyms, we look at the top treadmills that combine commercial-grade performance and a residential price tag.
Over the years we've tested nearly 100 treadmills, both at local gyms as well as in our garage gyms. From cushioning to motor horsepower, we've got your back when it comes to making an informed decision when buying a new treadmill.
Let's jump in.
The Best Commercial-Grade Treadmills for Home Use
Here is a quick look at the top commercial treadmills for residential use: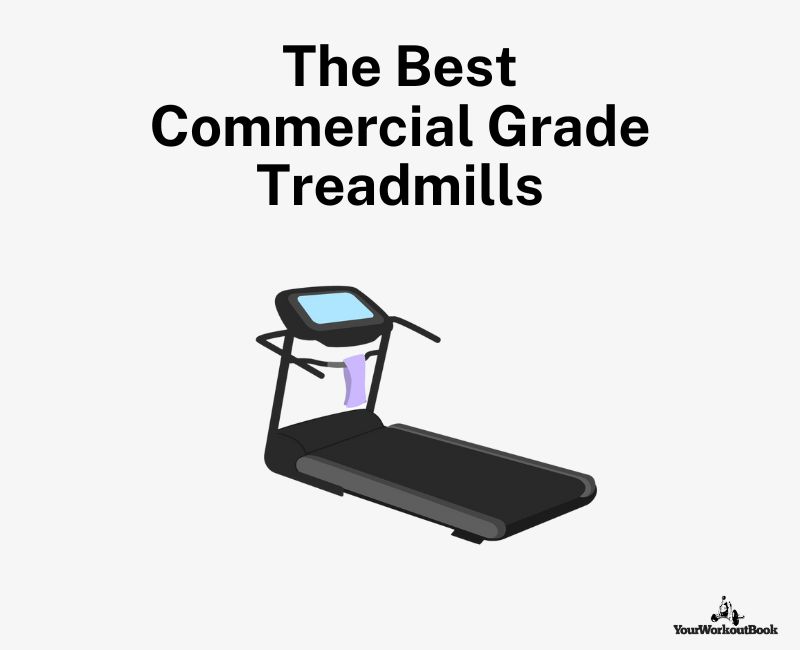 Below, we will take a closer look at each commercial treadmill, including pros and cons, key features and specifications, how they perform, and more.
NordicTrack X32i Commercial Treadmill
⭐ Best overall commercial-grade treadmill for home use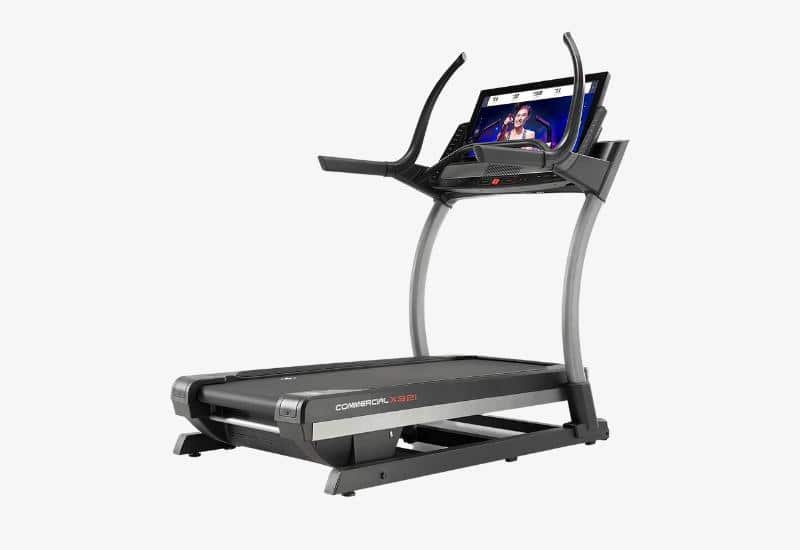 Key features:
Price: $4,499
Motor: 4.25 CHP
Running surface: 22" x 65"
Screen: 15.6" touchscreen
Incline: -6 to 40-degrees
Weight capacity: 300lbs
Warranty: 10 years (frame), two years (parts)
The NordicTrack X32i Commercial Treadmill is the best overall commercial grade treadmill for home gyms, and the competition isn't even close.
Nevermind how the X32i performs against the other treadmills in this list, in many respects, the NordicTrack X32i out-performs significantly more expensive commercial treadmills.
For example, the screen of 32" is much larger than you'd find at your local gym, the X32i's 65" running deck is five inches longer than a standard gym-grade treadmill, and the X32i has an incline (up to a nearly vertical 40-degree grade) and decline (up to -6 degrees) that you simply don't see with true commercial treadmills which can cost 2x or 3x as much.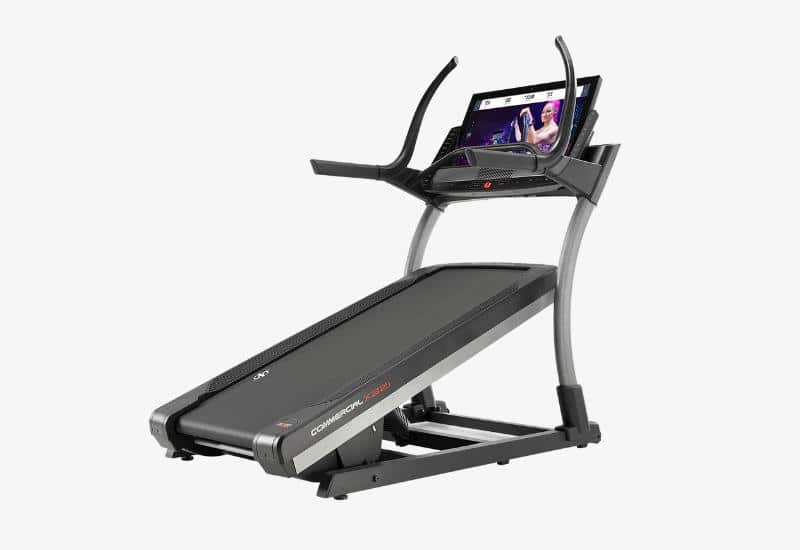 In terms of running performance, the motor is a beast, running (ha! Running puns!) at a 4.25 continuous horsepower. This means you can change speeds seamlessly. The powerful motor, one of the strongest you'll see in a treadmill, also helps move the deck through that wide range of inclines and declines.
The huge 32" high-definition touchscreen is compatible with iFit's massive library of workout classes and trainer-led treadmill workouts. You can also step off the treadmill and do strength training and mobility workouts for added diversification of your training. (The X32i comes with one month of free access to iFit; monthly subscription charges kick in after that.)
Additionally, and this is another unique feature exclusive to the X32i, the machine can be used as a manual treadmill for more demanding walking workouts on an incline. Crank up the incline, set it to manual, and crank up the difficulty by forcing your body to do ALL the work to move the belt.
Now, on to the not-so-great news. For such a strong motor, the weight capacity is slightly low at just 300lbs. This is typical of NordicTrack treadmills, with all of them rated for a max user weight of 300lbs.
And of course, with all of those high-performance features and the football-field-wide screen comes a commercial-grade price tag of $4,499.
The NordicTrack X32i is our overall top pick for the best commercial-grade treadmill, but the person who will get the most from this treadmill is the person who loves decline and incline training, is going to take full advantage of iFit's huge library of classes and workouts, and wants an extra long deck for running and sprinting.
| | |
| --- | --- |
| ✅ PROS | ❌ CONS |
| Best overall commercial grade treadmill | Low weight capacity for such a pricey treadmill |
| Huge 32" touchscreen | A bit pricey at $4,499 |
| Compatible with iFit | |
| Best-in-class for incline/decline options | |
| Manual mode | |
| Extra long running deck | |
Life Fitness Club Series + Treadmill
⭐ Best heavy-duty commercial treadmill for home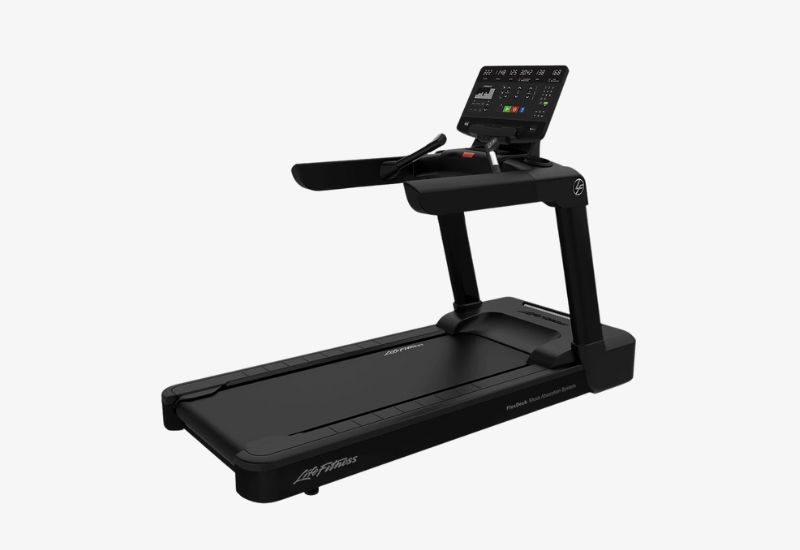 Key features:
Price: Starts at $7,869
Motor: 4.0 CHP
Running surface: 22" x 60"
Screen: 20.5" LED or 21.5" HD
Incline: 0-15 degrees
Weight capacity: 400lbs
Warranty: Lifetime (frame and motor), parts (10 years)
If you've ever used a treadmill at a local gym, you've almost definitely used a Life Fitness Treadmill. They have long been one of the most popular commercial treadmill brands, manufacturing treadmills that are designed to last for years in a high-volume environment.
The Life Fitness Club Series Plus is the best heavy-duty commercial grade treadmill for home use. The Club Series Plus is, for lack of a better term, robust with a 400lb max user weight rating, 4 CHP motor, and large 22" x 60" running deck.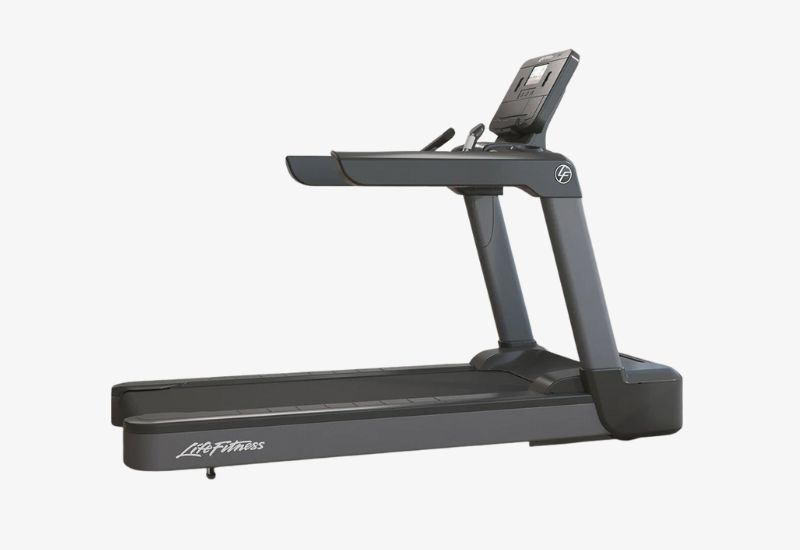 The heart of any treadmill is its motor. The Club Series Plus has a 4.0 CHP motor that provides smooth and consistent speed and incline changes but also works great for those high-speed treadmill sprint workouts.
The frame and design of the Club Series Plus is a big upgrade from previous editions, which look remarkably dated in comparison.
The all-black model—the Club Series Plus comes in two color options—looks like the Batmobile, and with the option of a 20.5" LED screen or a high-definition 21.5" touchscreen, you've got lots of screen for measuring your workout, streaming a show, or taking advantage of Life Fitness's online workout classes.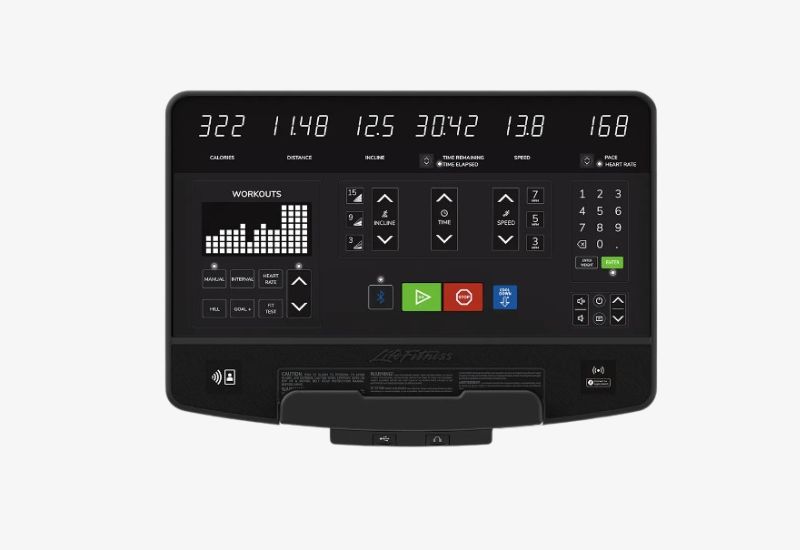 Life Fitness treadmills are built to withstand hours and hours of daily use in commercial gym settings, from all manner of user, so you know that this bad boy is going to last.
For maximum peace of mind, Life Fitness backs the Club Series Plus treadmills with the best warranty around: lifetime coverage on the frame and motor and ten years on parts.
Price-wise, the Club Series Plus is priced like a commercial treadmill, starting at $7,869 and going up from there depending on the screen size and color you choose.
But if the best of the best in terms of heavy-duty performance, durability and warranty coverage is what you are looking for, the Life Fitness Club Series Plus is your best bet.
| | |
| --- | --- |
| ✅ PROS | ❌ CONS |
| Best heavy-duty commercial treadmill for home use | No decline setting |
| Sleek, updated design | Pricey |
| Compatible with Apple watches | |
| Best-in-class for warranty protection | |
| Multiple screen options and frame colors | |
| Most durable treadmill brand on the market | |
Sole F85 Treadmill
⭐ Best budget-friendly commercial treadmill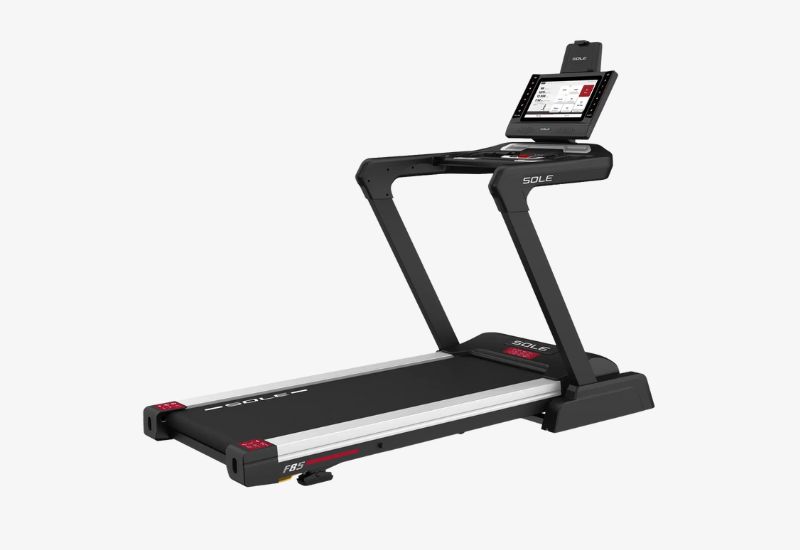 Key features:
Price: $2,399
Motor: 4.0 CHP
Running surface: 22" x 60"
Screen: 15.6" touchscreen
Incline: -6 to 15-degrees
Weight capacity: 375lbs
Warranty: Lifetime (frame and motor)
The Sole F85 Treadmill is the best commercial treadmill when it comes to being budget-friendly. It has a powerhouse 4.0 CHP motor, huge running surface, zoned cushioning for reduced impact, and is built like a total tank, all for a price of less than $2,400, making it our top value pick.
The motor on the Sole F85 is 4.0 CHP, powerful enough for every size of human and speed. Adjusting between speeds (the F85 can get up to 12mph) and incline and decline settings is smooth and easy. User-friendly controls on the guardrails mean you can easily make adjustments while running or walking.
Sole recently upgraded the F85, giving it a crisp 15.6" high-definition touchscreen that can stream your favorite shows or be used for online programs and trainer-led classes with Sole's online training platform, STUDIO (monthly subscription required).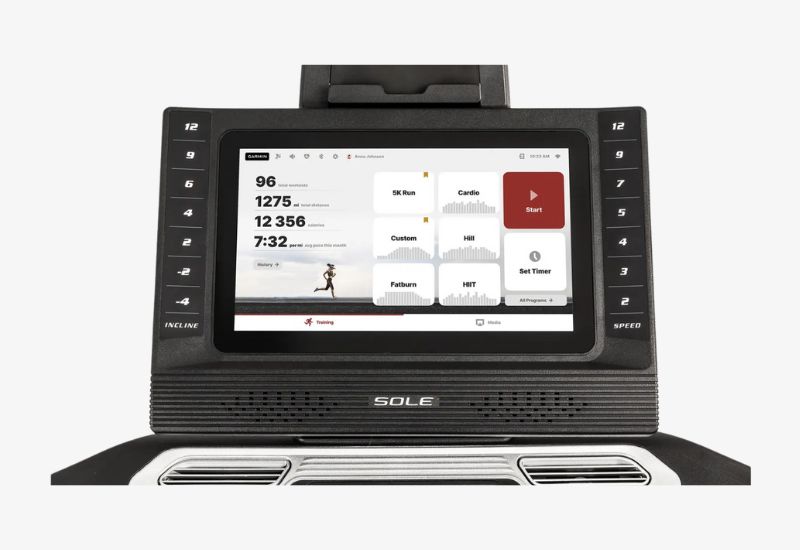 The Sole F85 is built to last—it has a max user weight of 375lbs and is quite heavy, weighing in just a shade under 320lbs. For people who want a treadmill that can fold, the F85 does this too, with a hydraulic-powered folding mechanism that reduces the footprint by half when not in use.
Sole treadmills are one of the best in the game for a reason—they make exceptionally durable treadmills bundled with high-performance features at approachable prices. Sole backs up the F85 with a lifetime warranty on both the frame and motor for added peace of mind.
The only gripe I'd have with the Sole F85 is that Sole's online workout portal, STUDIO, is a bit buggy and doesn't have as many workouts and classes as other fitness apps like iFit, JRNY, or even Echelon's app.
The Sole F85 is the easy winner when it comes to a commercial grade treadmill without breaking the bank.
| | |
| --- | --- |
| ✅ PROS | ❌ CONS |
| Best budget-friendly gym grade treadmill | Sole's online workout library doesn't have as many workouts as iFit and JRNY |
| Powerful 4.0 CHP motor | |
| Incline (up to 15-degrees) and decline (up to -6 degrees) | |
| Foldable | |
| Lifetime warranty (frame and motor) | |
Freemotion t22.9 Reflex Treadmill
⭐ Best commercial treadmill with maximum cushioning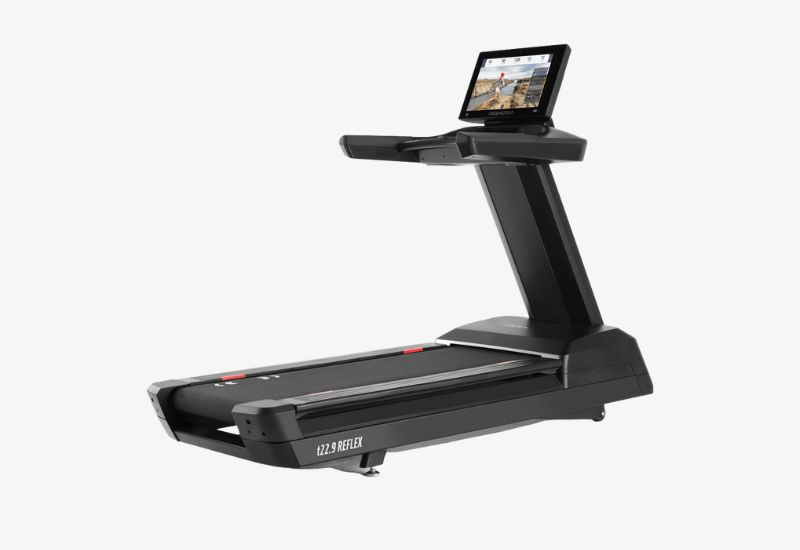 Key features:
Price: $11,999
Motor: 5.0 CHP
Running surface: 21.5" x 60"
Screen: 22" high-definition LCD display
Incline: 0-15-degrees
Weight capacity: 375lbs
Warranty: Lifetime (frame and motor)
The Freemotion t22.9 Reflex Treadmill is an absolute unit of a treadmill that is designed (and priced) primarily for commercial gyms but is available for purchase by the residential consumer. It combines excellent stability, a large 22" display, and zoned cushioning for a truly commercial-grade running experience.
For runners who want maximum cushioning, the t22.9 is the best commercial treadmill for reducing impact on your joints and feet. Freemotion built zoned cushioning into the t22.9 Reflex, which means it provides additional support at the front of the belt, where your heel strikes the treadmill, softening the blow.
The firmness increases towards the back of the deck so that you can push-off with maximum contact and force for a more optimal stride.
The big 22" LCD screen on the t22.9 Reflex is gorgeous, and is compatible with iFit, which has nearly 20,000 workouts and daily live classes. This is awesome for the runner who likes doing immersive training.
In terms of performance, the Freemotion t22.9 Reflex hauls—it has a 5.0 CHP AC motor that is as strong as it gets on a treadmill. This generates a top speed of a blistering 15mph, the fastest on the market. The motor handles speed and incline changes very smoothly, and user-friendly, one-touch controls on the display make for effortless adjustments during workouts.
More casual runners will find that the t22.9 Reflex treadmill is a bit overkill (especially with that price tag) and those who plan on using the treadmill in a shared space will be disappointed to see that this treadmill does not fold up.
A final note… This treadmill is heavy. Like, real heavy.
It tips the scales at a whopping 619lbs. Make sure you have a place for it picked out before setting it up as moving it is a real pain in the butt (or perhaps more accurately, pain in the back).
Ultimately, the Freemotion t22.9 Reflex treadmill is the ultimate
| | |
| --- | --- |
| ✅ PROS | ❌ CONS |
| Extremely stable—no rattling or clunking when in use | Heavy—weighs over 600lbs |
| Zoned cushioning system for reducing joint stress | Doesn't fold |
| 22" display for doing iFit classes | Pricey |
| Strongest treadmill motor on the market | |
| Top speed of 15mph | |
How to Choose a Commercial Grade Treadmill for Home Use
Here are the key things to look for when choosing the right commercial treadmill for your home gym.
Durability
The primary benefit of commercial treadmills is that they are exceptionally stable and durable. Whether you are doing sprint workouts, you are a heavier person, or you plan on using it for extended runs and walks, commercial treadmills should be durable.
Look for high quality materials and construction are made to withstand the demands of frequent and intense usage.
Motor Power
Commercial treadmills have robust motors to handle heavy use, whether that is hitting those higher speeds without the belt rattling or increasing and declining the running deck during an intense HIIT workout. Commercial-grade treadmills have a CHP rating of at least 3.0 to ensure smooth operation.
Running Deck
The size of the running deck is important as you can run with optimal technique and a full stride without worrying about hitting the frame of the treadmill or worse, bailing off of the back of the treadmill.
Taller users and runners with long legs should look for a running deck that is at least 55" long, and wider users should strive for a running deck width of 20" to 22" for safe and comfortable use.
Cushioning
Cushioning systems reduce the overall impact of running and jogging. Properly cushioned treadmills have variable flex in the deck—ideally, softer in the front to blunt heel impact and firmer in the back to allow for a firm push-off.
Weight Capacity
The weight capacity of a treadmill machine is an indicator of how durable it is. A higher weight capacity means that users of variable weights can use it without compromising the deck, motor, and other parts of the treadmill.
Incline/Decline
Commercial treadmills all have some level of incline to simulate uphill running or walking. Some models also offer a decline setting, which is excellent for mirroring downhill running or walking. There are lots of benefits of a decline treadmill, including strengthening joints and getting used to running at higher speeds.
Interactive training
One of my favorite aspects of commercial treadmills is the enhanced interactive training options. Whether it's doing trainer-led classes, selecting an "around the world" trail to run, or simply following a series of goal-focused workouts (i.e. "sprinting for beginners"), commercial treadmills offer a wide range of options.
Popular fitness apps like iFit, JRNY, STUDIO, or Life Fitness or Echelon's fitness apps include a huge array of workouts that can be done on and off the treadmill.
Screen size
When it comes to streaming shows or doing online classes, screen size is going to be critical. Commercial treadmills mostly have large, high-definition touchscreens that can be used for streaming Netflix, YouTube, playing music, and so on.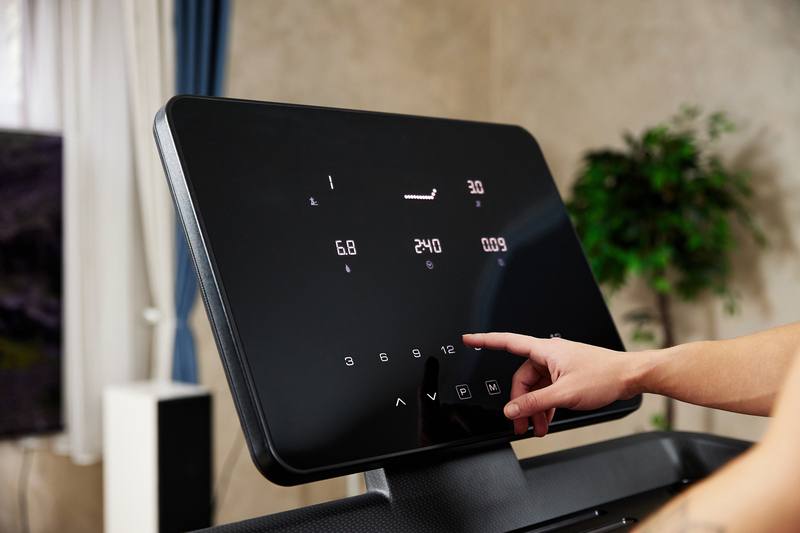 A large, high-resolution screen allows for clear visualization of workout metrics, interactive training sessions, and entertainment options. Make sure the screen is easy to read and navigate during workouts.
User-friendly controls
Look for a treadmill that has lots of user-friendly controls that make changing speed, incline, and other settings easier when working out. One-touch controls on the safety arms and on the console make adjusting your workouts convenient and safer.
Cost
Commercial treadmills, to no one's surprise, often come with a higher price tag. Sometimes exceedingly so. That said, they also offer a superior build quality and more advanced features compared to cheap treadmills.
Figure out your price range and choose the treadmill that reflects the best combination of value and performance.
Warranty
When it comes to a commercial-grade treadmill, a reliable and lengthy warranty is critical for indicating the manufacturer's confidence in the quality and durability of the treadmill. Look for a warranty that has extended coverage for the motor and frame of the treadmill so that you can have peace of mind when ordering and years down the road as you churn out the miles on the belt of the treadmill.
Commercial Treadmills for Home Use – FAQs
What are the best commercial treadmill brands?
The best commercial treadmill brands include Life Fitness, Sole Fitness, Precor, Freemotion, NordicTrack and Star Trac.
These treadmill brands have established themselves as leaders in the commercial treadmill market by consistently delivering reliable treadmills that see use in high-volume gyms and fitness centers worldwide.
These brands provide the opportunity to buy treadmills specifically designed for demanding and rigorous use in a gym environment, while catering to the needs of home users.
When do commercial treadmills go on sale?
Commercial treadmills go on sale at various times in the year, including end-of-year sales, Boxing Day sales, as well as when a treadmill is being phased out.
While each treadmill brand has its own calendar for sales and close outs, here are some common times when you should be on the lookout for discounted commercial treadmills:
Black Friday and Cyber Monday. This holiday shopping bonanza takes place at the end of November and marks the beginning of the Christmas shopping season.
New Year's Sales. The New Year is a time for resolutions, and it's also a very popular time for people buying fitness equipment. Many brands offer deals as part of the big rush of New Year's resolutions and new fitness goals.
Closeout sales. Treadmill companies often phase out models that aren't selling as well. Catching these can be tricky as there is no set schedule for close-out sales.
More Treadmill Guides and Articles
How Much Do Treadmills Cost? (90 Different Treadmills Compared). The treadmill machine is a killer tool for better health and improved fitness. But knowing how much you should spend on a treadmill can be tough. Here's your ultimate guide to how much treadmills cost and how much you should spend on one.
The 6 Best Treadmills Under $2,000 – Tested and Reviewed. Looking for an awesome treadmill machine for under $2,000? In this roundup we highlight the best treadmills for getting sweaty and burning fat without breaking the bank.