Wondering whether a manual or motorized treadmill is best for you? Below, we highlight the differences between the two so that you can choose the right treadmill for your running goals.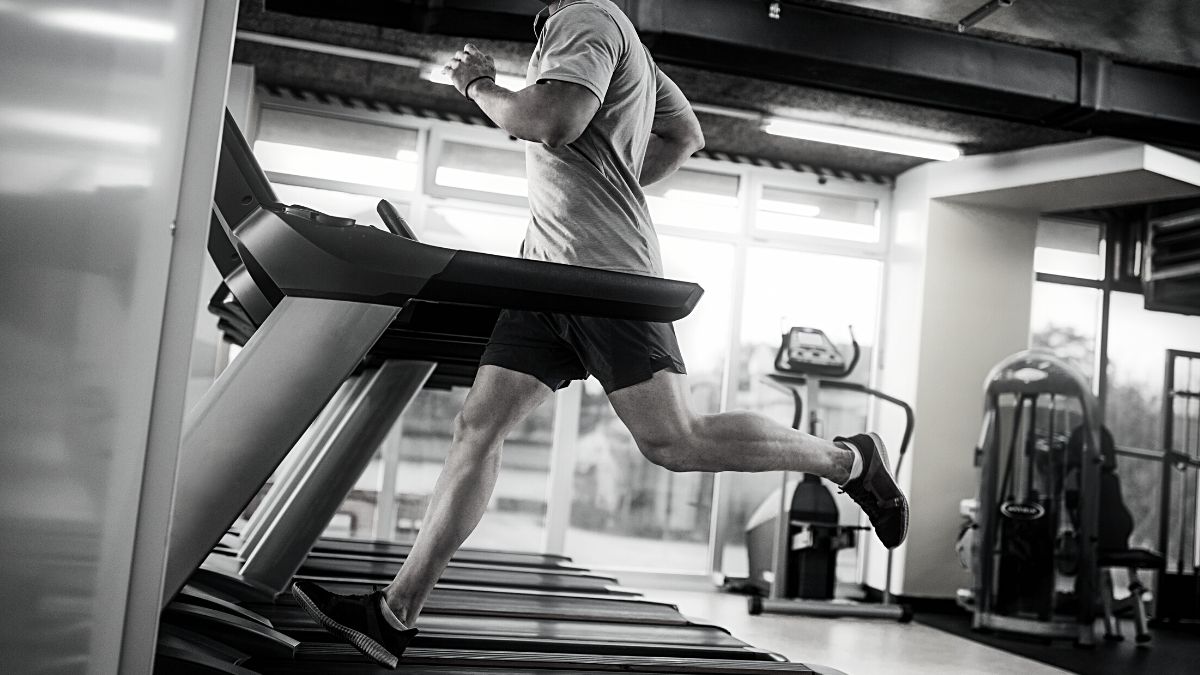 The benefits of using a treadmill versus running out on the open road are fairly obvious…
You can quickly adjust incline, simulating hill training. There's the whole staying dry aspect of training indoors. Watch your favorite podcast or TV show. And there is significantly less impact on joints when using a treadmill, equating to longer runs (i.e. burning more calories) and fewer injuries.
But when choosing between the different types of treadmills, you've got a few different options.
And the two most popular are manual and motorized treadmills.
In this guide, we will highlight the differences between the two, including the pros and cons of each.
By the end, you will have a crystal-clear idea of whether a manual or motorized treadmill is right for you.
Let's jump right in.
Manual Treadmills
A manual treadmill is a treadmill that features no motor. The only thing that provides its power to turn is you.
When you run, you push against the ground with your feet, which propels your body forward.
On a manual treadmill, the same exertion that propels your body forward also spins the belt backward. You "run forward" in the same place, while your legs spin the belt.
Manual Treadmills – The Benefits
Time to talk about what makes manual treadmills a great choice:
⭐ More Calories Burned
What this means is that your muscles actually do more work on a manual treadmill.
Because you are not only pushing your body forward but also pushing the belt backward, fractionally more energy is expended with every step, so you burn stored energy (calories) faster.
No surprise, then, that manual treadmills will burn more calories (and fat) than a motorized treadmill.
In fact, studies have found that the number of calories burned on the treadmill is as much as 30% higher on a manual treadmill than on a motorized treadmill.
If calorie burning is your primary goal when working out, the manual treadmill is a great choice.
⭐ Cheaper Option
Because there is no motor and no high-tech control panel with all sorts of cool bells and whistles (Bluetooth connectivity, connection to your wireless headphones, data tracking, pre-programmed workouts, etc), manual treadmills tend to be cheaper.
Manual treadmills can cost up to 50% less than budget motorized treadmills. You should be able to find manual treadmills in the $200 to $300 range easily.
A great choice if you are trying to set up a home gym with a tight budget.
⭐ Better for sprinting (*)
One of the most effective treadmill workouts for losing weight is intermittent sprinting (also known as HIIT).
While not all manual treadmills are suited for all-out sprinting, curved treadmills like the AssaultRunner Pro and the Rogue Woodway are non-motorized examples of treadmills that are perfect for these kinds of calorie-torching workouts.
Fun Fact: Curved treadmills force runners to increase cadence and also require more effort, generally increasing caloric burn1.
The curved design on these treadmills places less stress on the joints and muscles, and the belt speed is controlled purely by your stride and pace, making it easy to customize workouts based on your current fitness levels.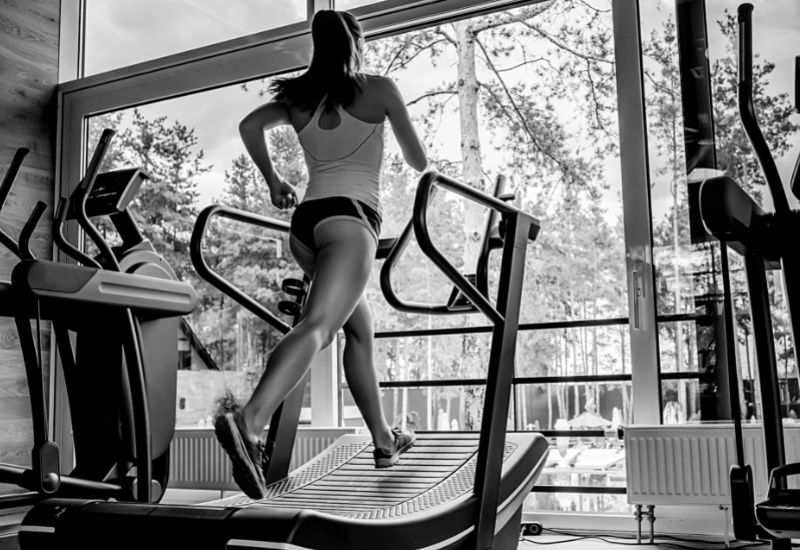 ⭐ No Electricity Necessary
One great thing about manual treadmills is that you never need to plug them in. Because you are the power source, you can use them anywhere in your house, even if you're far away from a plug. There is no motor that needs to be powered.
Again, this contributes to making the manual treadmills a much more budget-friendly choice. Not only are the machines themselves cheaper, but they are cheaper to run (no addition to your monthly electric bill).
And, if you ever find yourself in a blackout or without access to power, you can still get in a great workout because you are powering the treadmill.
⭐ Safe and User-Friendly
When on the manual treadmill, if you ever feel that you need to stop or slow down, all you have to do is stop or slow down.
No need to fumble at buttons or try to hit the emergency stop button (like motorized treadmills have).
This is great for people who are a bit unsteady or unstable, such as newbies to treadmill running. Or, if you want to switch between sprint training and jogging or walking, it's far faster to slow down going on the manual treadmill.
Manual Treadmills – The Disadvantages
Of course, no machine is ever perfect. There are a few drawbacks to using the manual treadmill:
Best-Suited to Walking
To be honest: most manual treadmills aren't built quite as tough as motorized treadmills.
Typically, manual treadmills are more compact and designed to be lighter. What this means is that they can't handle as high a weight capacity as motorized treadmills. Because they usually have shorter decks, which means a shorter stride length, non-motorized treadmills are better suited to walking than running.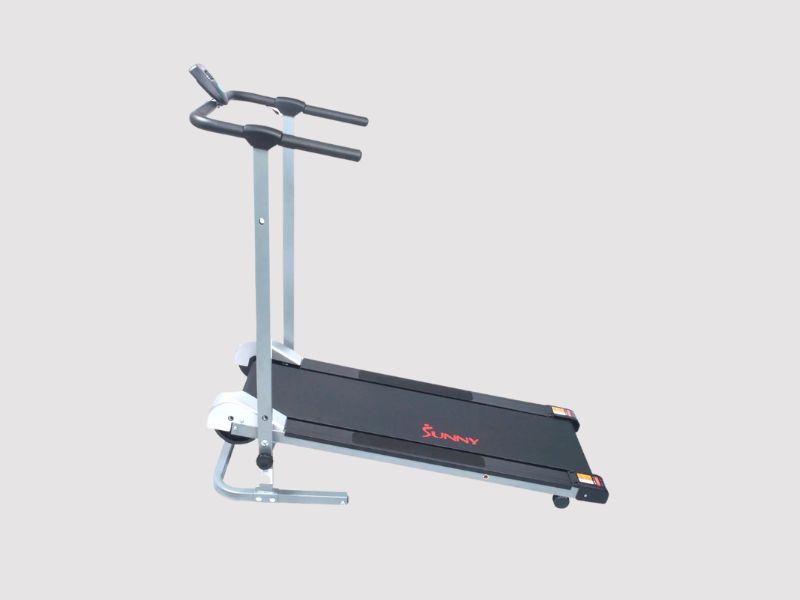 Really, you'll find that running on a manual treadmill is a whole lot more challenging, as well as potentially less comfortable (due to its smaller size).
You're better off sticking to a walking or speed walking workout at the beginning until you get accustomed to the feel of the manual treadmill.
(Again, this consideration does not include curved, non-motorized treadmills, built like tanks, and made for high-velocity workouts.)
Higher Joint and Muscle Stress
Because you are providing the power source for the treadmill, it takes a lot more effort to get the workout started. You can't just turn on the motor and let it start running; You have to use your leg power to get the belt turning.
While this is great for burning more calories, it will place your muscles under greater strain and increase the risk of joint injury (slightly).
Flat manual treadmills have been known to increase the risk of joint pain, particularly in your ankles, knees, and hips. It's all because of the effort of straining against the machine to start running and to maintain your speed.
Incline Can Only Be Changed Manually
This is a major downside for me and anyone who likes running at different inclines throughout the workout to simulate real-life terrain with its natural dips and hills.
If you want to change the incline on a manual treadmill, you have to get off the machine, adjust it by hand to your desired incline, and then get back on and start working again. By comparison, the motorized treadmill makes it easy to set the incline at the touch of a button.
It's a little less convenient and conducive to a workout with variable incline.
Motorized Treadmills
A motorized treadmill is exactly what it sounds like: a treadmill with an integrated motor.
The motor is what spins the treadmill belt, which in turn regulates the speed of your run. You set the speed using the control panel, and the control panel sends the signal to the motor, telling it how fast to turn the belt so you can run faster or slower depending on your settings.
The bigger the motor, the faster the belt can run and the more weight it can handle. Bigger, heavier users will find that a treadmill with a larger motor is the best choice.
Motorized Treadmills – The Benefits
Let's talk specifically about the benefits of treadmills that feature built-in motors.
⭐ Less Effort Required
Because the motor is turning the belt for you, all you have to do is focus on your run. All of your effort is expended into propelling your body forward, while the motor does the work of turning the belt.
What this means is that you use less energy to run then on the manual treadmill–up to 30% less. This means more energy is dedicated to powering your muscles while you run, so you can run faster, longer, and harder on a motorized treadmill.
⭐ Easy to Adjust/Maintain Speed and Incline
What's great about motorized treadmills is that you can set it and forget it, literally!
With the motorized treadmill, you use a button to set the motor to your desired speed, and then you just keep running trusting that the motor will maintain the speed. If you ever want to slow down or speed up, all it takes is the press of a few buttons to make that happen.
Fun Fact: An incline of 1% on a treadmill simulates the air resistance you would experience with running outdoors2.
By comparison, the manual treadmill requires that you sustain your effort in order to maintain the speed, not the other way around.
Another great thing about the motorized treadmill is that it uses a motor to raise and lower the incline.
See also: 6 Best Incline Treadmills for Home Gyms (Burn More Calories, Faster)
No need to jump off and adjust manually; Just hit a button and raise or lower as desired. For people like me, who like to get a workout with variable terrain, this is an absolute must-have.
⭐ More Advanced Features
I'm all in favor of advanced features.
I like to connect my Bluetooth headphones to the treadmill so I can listen to music, the radio or the sound of whatever TV series or station is playing on the screen. I also like to directly connect the workout data to my fitness tracker app on my smartphone so I can keep an eye on my workout performance every single day.
Motorized treadmills are really the only ones that make this possible. They feature built-in control panels that include screams and smart functions like Bluetooth and smartphone connectivity.
You can find an amazing array of high-tech options and advanced features in motorized treadmills that most manual treadmills just don't offer.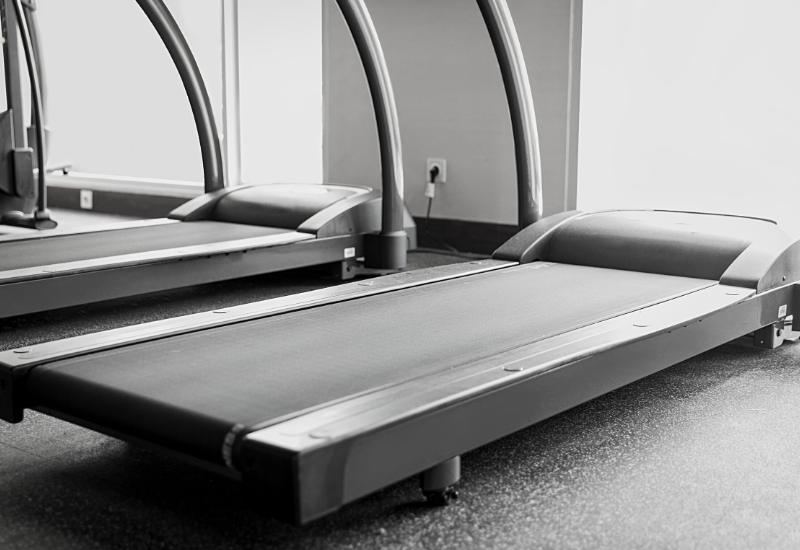 ⭐ Ideal for Longer Workouts
As I mentioned above, it takes more effort to maintain your pace while on a manual treadmill. What this means is that you will tire out faster on a manual treadmill.
Add to that the increased joint strain (to your knees, hips, and ankles) and you can see why manual treadmills are typically used for shorter workouts.
On the other hand, with the motorized treadmill, all of your effort goes into your running, with no effort dedicated to keeping the treadmill belt spinning. Because of this, you'll find it much easier to sustain your workout for 30, 45, 60, or even 120 minutes for endurance runners.
⭐ Reduced Impact
Motorized treadmills have another big advantage in that they typically include some type of cushioning system to reduce joint impact when running/walking on the treadmill.
The advanced shock-absorption systems on the best cushioned treadmills reduce joint stress and the likelihood of injury, allowing trainees to push their limits and run further and farther.
Motorized Treadmills – The Cons
I do have to admit that motorized treadmills have a couple of downsides:
More Expensive
You can find some pretty decent budget motorized treadmills starting around $400 or $500, but the cost of treadmills will rise as high as $2000 or $3000 for the really high-end models.
Even the mid-tier models will cost you around $1000. It will definitely be worth it for a high-quality machine, but it's definitely not the most budget-friendly choice for anyone trying to set up a home gym cheaply.
More Space and Power Requirements
With the manual treadmill, there is no need for motor housing or big platform to store the control panel and all the complex electronics. This makes it easier to build more compact manual treadmills.
By comparison, motorized treadmills need all the extra space to house gears, wiring, and other electronics. For this very reason, they tend to be anywhere from 25 to 40% larger than manual treadmills.
Not only that, but they also have to be plugged into a power source to function. If ever you're cut off from electricity, you can't use a motorized treadmill the same way you would a manual treadmill. The belt will not spin even under your own body power.
Which One is Best for You?
The motorized treadmill is the perfect choice for anyone who:
Likes to workout on variable terrain (incline and decline)
Prefers long-distance running and sprint training to walking
Is willing to spend a bit more money on a higher tech, higher quality machine
Wants a more advanced workout
The manual treadmill is the ideal choice for anyone who:
Loves doing sprint treadmill workouts (this benefit is exclusive to curved treadmills)
Wants to save a bit of money on setting up their home gym
Prefers to burn more calories during their workout, even if the workout duration is shorter
Needs a compact, portable treadmill that doesn't require electric power
Both machines offer a lot of benefits, as well as a few drawbacks. It's important to find the machine that suits your specific needs and home gym setup best.
Hopefully the information above made it easier for you to decide which of the two treadmill types is right for you.
Happy running!
---
More Treadmill Guides and Articles
How to Run on a Treadmill Like a Pro (Form, Technique and Tips). The treadmill is one of the best cardio machines in the gym for weight loss and overall fitness. Here's how to master proper form and technique on the treadmill machine.
5 Best Treadmill Workouts for Weight Loss (Plus Tips for Turbocharged Weight Loss. Looking for some killer treadmill workouts for weight loss? Here are five weight loss workouts you can do on the treadmill, plus some tips for getting the most of your time on the treadmill.