Wondering if the curved treadmill is the right treadmill for your goals? Here's a detailed look at the benefits (and disadvantages) of this popular treadmill so you can see if it's right for you.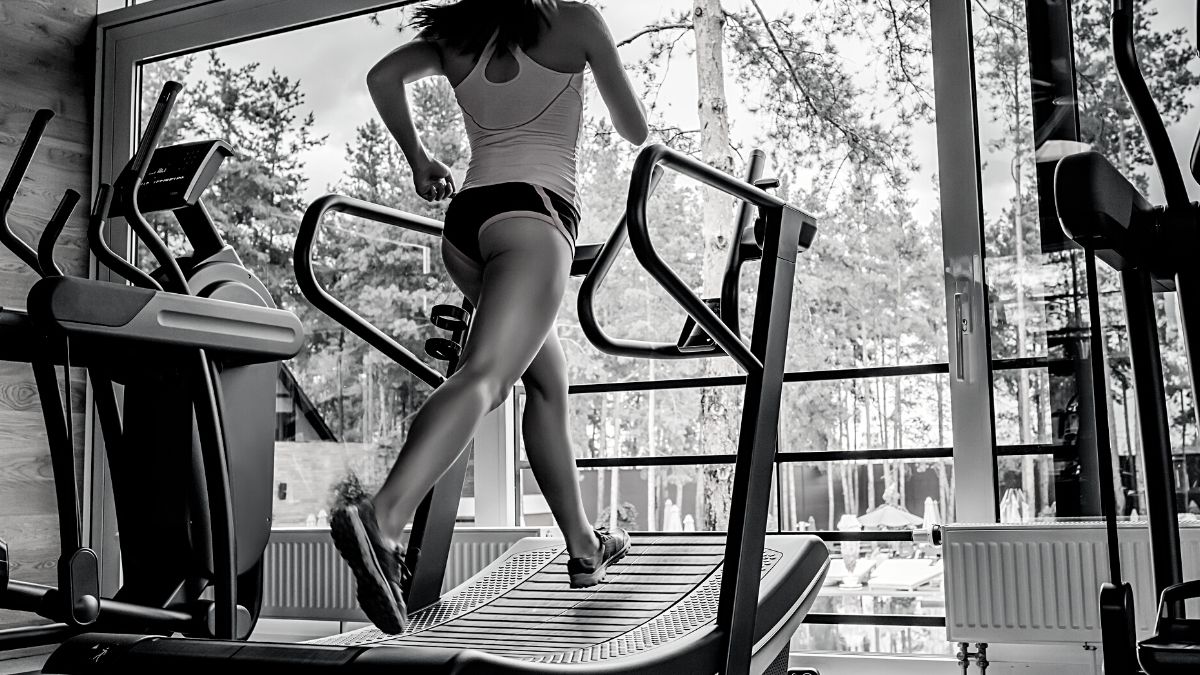 It's no exaggeration to say that treadmill workouts for losing weight are among the most effective workout options around.
Not only do you burn a lot of calories, but it's a highly functional form of training that will make you more effective at walking and running in real-life outdoor environments. Plus, it'll boost your endurance and strengthen your joints.
Now that's a win-win!
Advances in treadmill tech have made getting a more efficient workout easier. Now, you can use treadmills that pair with your smartphone and track your performance data in real-time or use a treadmill designed specifically to simulate outdoor conditions.
The curved treadmill is one of the highest-tech options for an epic treadmill workout.
Below, we will take a deep dive into this type of treadmill, looking at what it is, what benefits it can offer, and what drawbacks there are to using it. We'll also answer a few of the most commonly asked questions about curved treadmills.
By the end of this post, you'll know exactly whether the curved treadmill is a good option for you.
Let's jump in!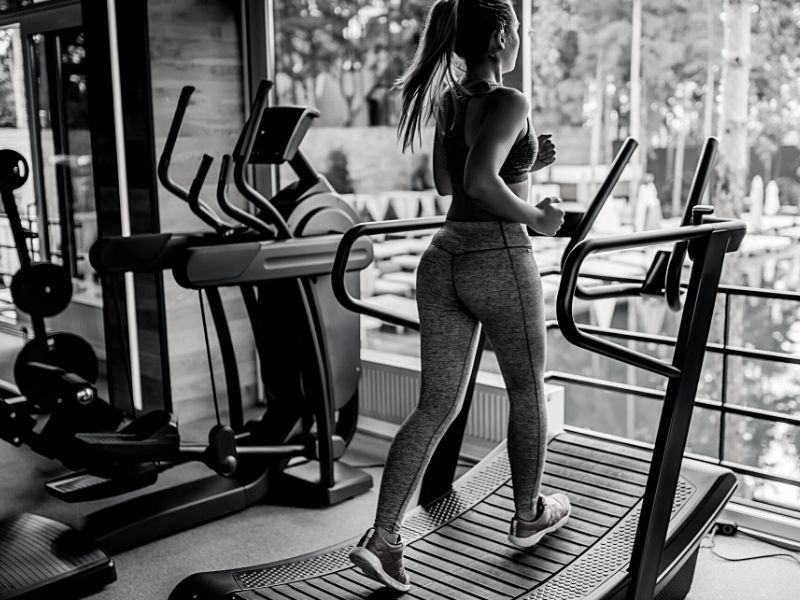 What is a Curved Treadmill?
A curved treadmill is a type of treadmill that relies 100% on your lower body to move the belt. It's different from other manual treadmills in that it has a curved design.
Typically, when you think of treadmills, you think of standard motorized treadmills. These are the ones you'll find in most gyms and home gyms, which feature a motor that spins the belt at your desired speed so you can essentially "set it and forget it" when you're running.
However, the original treadmills were made without a motor.
These manual power treadmills utilize the power of your legs to run. When you stride forward, your feet push against the belt, pushing it backwards to spin. The faster you run, the faster the belt spins.
Curved treadmills are the latest advancement in manual-powered treadmills. Instead of a flat surface, they feature an upward curve at both ends. And rather than a continuous belt, the treadmill has a number of connected slats that flow more smoothly over the curve-shaped body.
On the face of it, curved treadmills are operated by the same muscle power as flat manual-powered treadmills. Your forward walking, jogging, or running movement will turn the treadmill.
And, as you'll see below, the design of the curved treadmill offers some pretty great benefits (and a couple of drawbacks) you need to know about…
Curved Treadmills – What Are The Benefits?
Talking about the good, all the reasons that you would want to use a curved treadmill for your walks, jogs, and runs when training indoors.
✅ Engages Your Muscles More Effectively
One of the best benefits of treadmills is that they give you a truly epic lower body workout.
Your leg muscles do all the work of propelling your body forward and supporting your weight. And every time you place your foot down and shift your weight onto your front leg, your leg muscles contract to absorb the impact.
For this reason, at the end of your running workouts, your quads, hamstrings, glutes, and calves will be feeling the burn. Tackle a hill or add a few sprints, and your muscles really get a workout!
One thing that sets manual treadmills (including the curved treadmill) apart from the more commonplace motorized treadmills (the ones you will use in your gym) is the lack of a motor.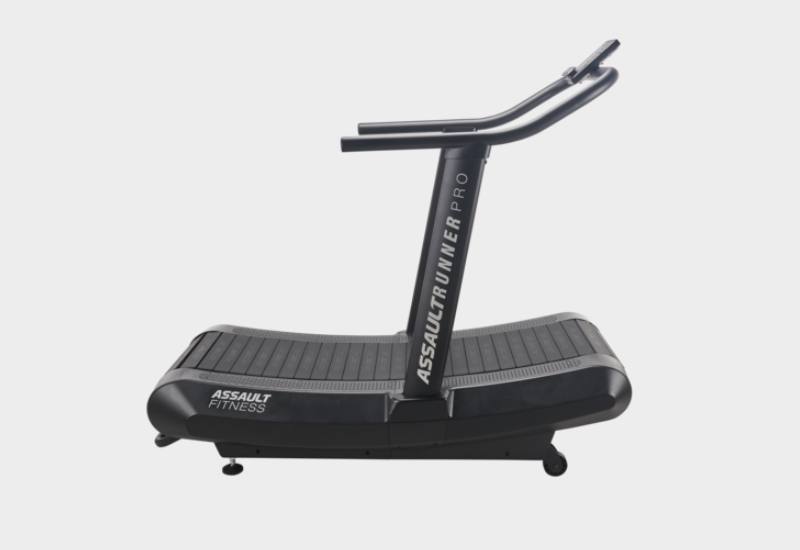 With a motor to spin the belt, your legs are really only engaged to propel your body forward. All your effort goes into your forward motion and maintaining your running speed.
But without a motor, your legs have to do the work of not only propelling your body forward, but also spinning the belt. This leads to (as much as) double the effort required for your run.
You will feel the burn much faster in your legs, and sustaining a higher speed will be even more challenging because of this increased muscle engagement.
✅ Burn More Calories With Every Workout
As I mentioned above, when you run on a curved treadmill, you are providing the power for both your run and the treadmill's movement. No surprise, this demand significantly more energy from your body.
On the one hand, this is an excellent benefit for anyone who wants to burn more calories. Already, the number of calories burned on the treadmill can be pretty great, especially if you're running at higher speeds or incorporating HIIT training into your workouts.
But when you do those higher-speed or interval training runs on a manual treadmill where your legs are providing all the power, you'll burn even more calories!
One study looked at both the physical and perceptual demands of working out on a curved treadmill versus a motorized treadmill. The data showed that not only did the runners on a curved treadmill reach a higher relative oxygen uptake (VO2 max), but their heart rates were also higher.
Combine more oxygen absorption and higher heart rates, and it's clear that the curved treadmill makes your body work harder. The harder your body works, the more calories it burns. It's just that simple!
✅ More Ergonomic and Joint-Friendly
We've dedicated plenty of articles to teaching you how to run on a treadmill to protect your joints. After all, running in all its forms (outdoors and on the treadmill) is quite a high-impact workout that, over time, can take a toll on your joints.
Every step forward is accompanied by an impact that travels up your legs, through your hips, and up your spine. Nearly every joint in your body—from your foot bones up to your neck—is affected by the repetitive impact of your run.
On a flat, hard surface, you can expect to feel a lot more impact. Softer surfaces like running tracks and grass will take less of a toll on your joints. Modern treadmills are designed with special impact-absorbing platforms that reduce stress even more.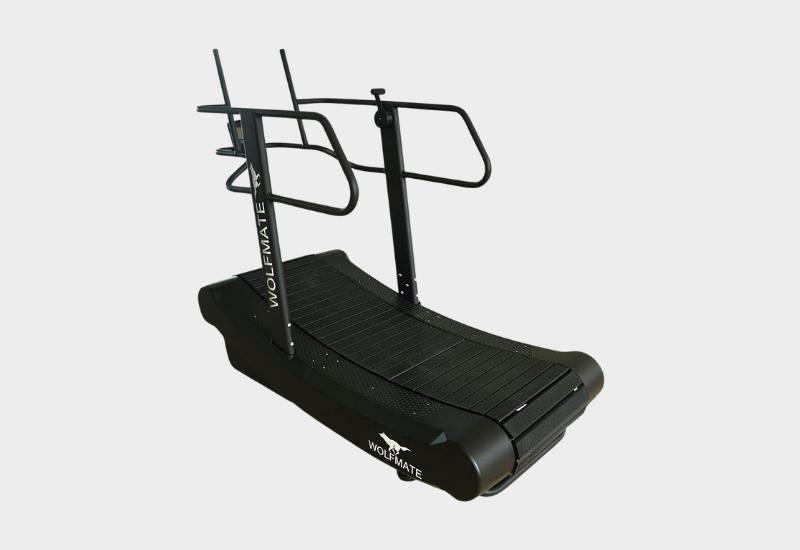 The curved treadmill, though, takes it one step farther.
The upward curve of the treadmill creates a more ergonomic surface that encourages better posture, reduces the impact of every foot strike, and promotes a more natural stride.
Add to that the rubberized surface of the slats, which absorbs the impact even further, and you've got as close to an "optimal running surface" as exists.
(For runners who prefer the slat belt without the curve, there is a healthy selection of flat slat belt treadmills on the market, including the Sole ST90, Peloton Tread, and Woodway 4Front.)
You'll feel less stress on your knees, hips, ankles, and lower back with every step thanks to the unique design of the curved treadmill.
✅ No Power Needed
This is a major benefit for people considering using a curved treadmill in their home gym.
With the motorized treadmill, you need electricity to power the control panel, servos, gears, and motors. If you don't have easy access to a plug, you've got no way to run your treadmill. Or, if the power goes out in your home or neighborhood, the belt just won't spin without the motor to power it.
But with the curved treadmill, like all manual treadmills, you are the power source. As long as your legs have the energy to keep moving forward, the machine will be powered.
You never have to plug in a curved treadmill. You never have to worry about power outages or blackouts. All you have to do is step on and get running or walking, and the machine will work. And because you don't have to plug it in, placement is completely and utterly up to you.
Curved Treadmills – What are the Disadvantages?
As with any machine, there are downsides to the curved treadmill (compared to the motorized treadmill).
None of them will be dealbreakers, but it's important that you know what they are before you make the decision to buy a curved treadmill for your home gym.
❌ Can gas you out faster
In the study we mentioned above, the researchers found that the perceived stress of the curved treadmill was significantly higher than that of the motorized treadmill.
The runners who trained on the curved treadmill tired out faster because the energy demands placed on their bodies were notably higher with the manual power treadmill.
In fact, when they were set to a four-minute run at 80% VO2 max (a fairly standard sprint test), none of the runners could complete it.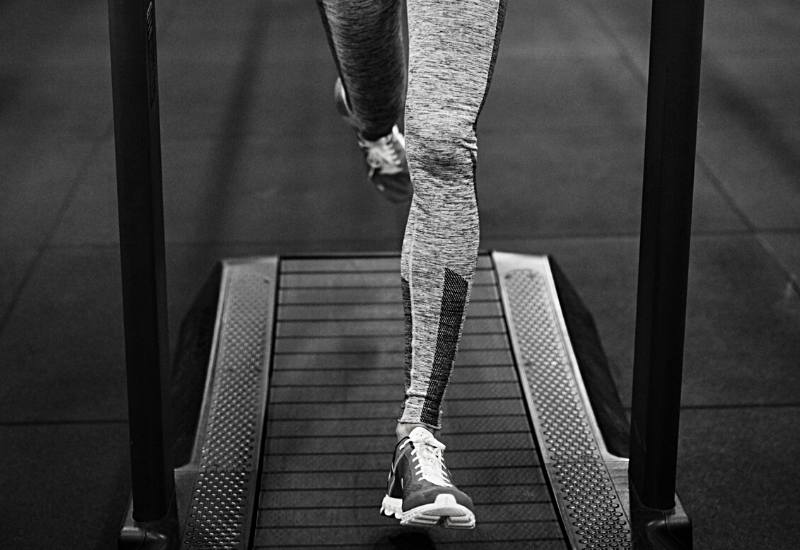 The data proved there was "less efficient running economy" on the curved treadmill because of the increased muscular power needed to power the treadmill.
To put it simply, on the curved treadmill, you will have a harder time:
Reaching and maintaining higher speeds (fast-paced run or sprint).
Running for longer periods.
The curved treadmill is good for a low-intensity, steady-state run (jogging or slower running), but even well-conditioned athletes will have a harder time sustaining the pace for the "standard duration" of their runs (be it 45, 60, or 120+ minutes).
The curved treadmill is also a good option for really short sprint sessions (Tabata-style, for example), where the goal is maximum effort for shorter periods.
❌ Pricey
As I mentioned above, curved treadmills are among the latest advances in treadmill technology. High-tech typically equals pricey, as you well know. Plus, they're made using advanced (expensive) materials.
While you can find standard treadmills as low as $200 or $300, curved treadmills will never be a budget-friendly buy.
In fact, you'll be hard-pressed to find a curved treadmill that retails for under $2,000 brand-new. For the more advanced, higher-end curved treadmills, you can expect to spend upwards of $4,000 or $5,000.
That's not to say that these machines aren't worth the cost. On the contrary, the effectiveness of the workout they provide can make them well worth the expense.
But for the average person just getting their home gym set up, it's just not the most affordable option.
You can find much cheaper treadmills—including both your standard manual treadmill and motorized treadmills—that retail for a fraction of the price. These may be the better choice for setting up your home gym on a budget.
Curved Treadmills – FAQs
Is it harder to run on a curved treadmill?
Yes, it is significantly harder to run on the curved treadmill. Your leg muscles have to work to not only push your body forward, but also push the treadmill belt backward.
Because of this, your legs consume more energy, which pushes both your heart rate and oxygen uptake levels higher than on a motorized treadmill. You'll burn more calories with every step, but also run out of steam faster.
What muscles does a curved treadmill work?
The curved treadmill, like a motorized or manual treadmill will engage all your lower body muscles: quads, hamstrings, glutes, calves, and even your shins.
There is greater glutes and hamstrings engagement on the curved treadmill because of the slight upward incline of the curved design. It feels like you're running up a gentle hill the entire time.
The Bottom Line
Curved treadmills are a unique, advanced type of treadmill that offers a more ergonomic and joint friendly workout.
It will burn more calories with every step, and engage your muscles more efficiently than any other type of treadmill—leading leads to greater muscular endurance as well as cardiovascular endurance.
Because it has no motor, there is greater energy demands on your body, so you are likely to tire more quickly. It's also not as well suited to longer, higher speed runs.
But if you're looking for a cutting-edge type of treadmill that will torch calories and give you a more effective overall workout for the time invested, the curved treadmill is definitely an option worth considering!
---
More Articles and Guides Like This
Manual vs. Motorized Treadmills: Which is Best for Your Goals? Wondering whether a manual or motorized treadmill is best for you? Below, we highlight the differences between the two so that you can choose the right treadmill for your running goals.
7 Treadmill Sprint Workouts for Blistering Speed. Ready to crank up the speed on the treadmill? Here are seven treadmill sprint workouts for building speed, endurance, and burning a metric ton of calories.