The treadmill is one of the best cardio machines in the gym for weight loss and overall fitness. Here's how to master proper form and technique on the treadmill machine.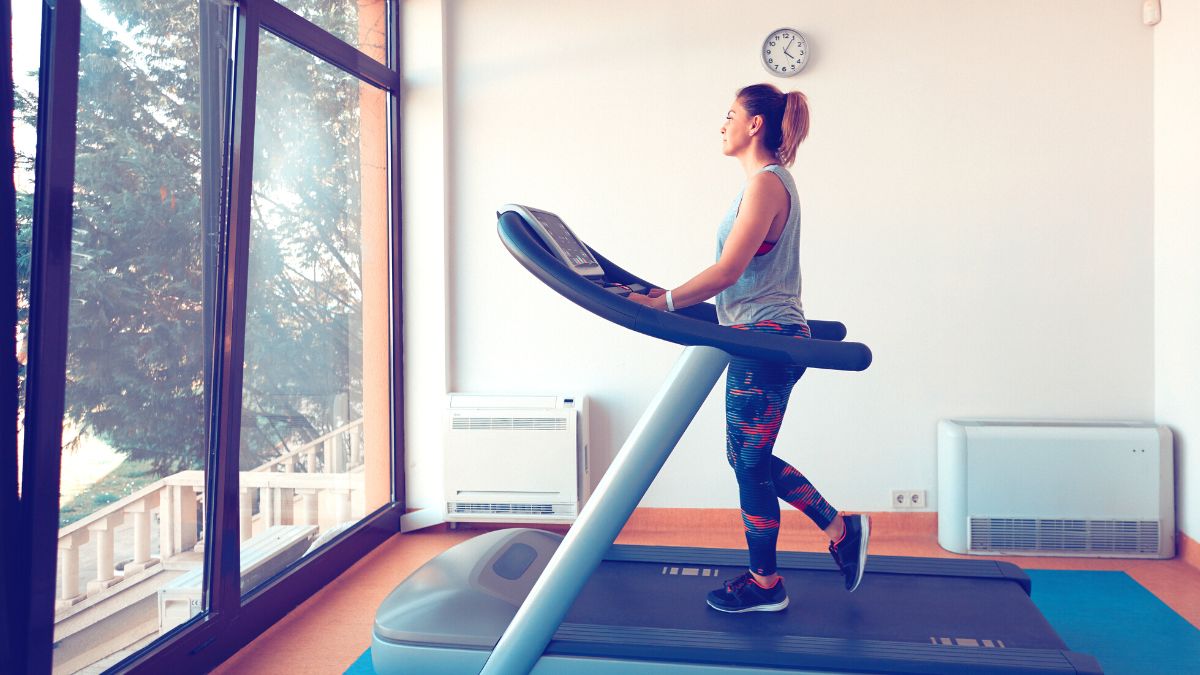 Ahh, the treadmill: the machine that gets you amazing results for running, walking, and sprinting without ever having to leave the gym.
I'm a big fan of the treadmill because of how functional—and effective—it is.
Though it's not a full-body workout (like the elliptical machine or rowing machine), it's still easily one of the best cardio machines for losing weight and getting in proper shape.
Provided you're using it right, of course!
In this article, I'm going to talk about how to master the treadmill, everything from using the proper running form to smart tips to make the most of the time you spend training.
By the end of this post, you're going to know A LOT more about the treadmill, and be ready to use it to obtain the maximum benefits from every workout.
Let's jump in.
How to Use Proper Form When Running on a Treadmill
The greatest challenge—and, often the greatest risk—of any cardio workout for beginners is that newbies often lack knowledge of proper form.
You can spend hours watching YouTube videos, talking with experienced trainees, and studying images of proper form, but until you get on the machine and get moving, you just won't know.
Stuck with Your Training in the Gym?
Join 12,000 lifters and athletes and sign up for FREE access to my 5-day email course on how to conquer the most common gym mistakes.
From goal setting to lifting technique, you will learn how to overcome the mistakes in the gym that are holding you back from getting bigger and stronger.
Unsubscribe anytime. No spam.
Initially, until you master the form, your body is at risk of injury or over-use, which could put a serious dent in your training.
Thankfully, we've got the advice you need to get the form right in every one of your treadmill workouts for weight loss:
✅ Stand Up Straight
This is absolutely crucial in every single thing type of training, whether you're lifting weights, running, or doing cardio workouts at the gym.
The human body is designed to move efficiently, with all of your joints—neck, shoulders, elbows, wrists, hand bones, spine, pelvis, hips, knees, ankles, and foot bones—all working in concert. Proper alignment is crucial for proper movement.
Hunching is one of the worst things you can do for your skeletal structure.
When you hunch:
Your head hangs slightly forward, which pulls on your neck.
Your shoulder and neck muscles engage, which can lead to tension on the upper spine.
The forward lean in your upper spine places the strain on your lower spine.
Your lower back, glutes, hamstrings, and lower leg muscles try to compensate for the additional spinal strain, leading to extra pressure on your spinal muscles, hips, and knees.
Really, a hunched posture can strain everything from your neck down to your ankles and feet.
So, for the love of your body, STAND UP STRAIGHT!
Keep your head up, your face level and looking straight ahead, your neck aligned with your spine, your shoulders relaxed and thrown back, your chest up, and your back straight.
It doesn't matter if you're walking, jogging, running, or doing treadmill sprinting workouts—keeping your body straight is absolutely essential for proper performance on the treadmill.
✅ Let Go of the Rails
When you're first starting out running on the treadmill, you might feel a bit unsteady or unstable, so you grip the rails to maintain your balance.
This may feel right at the beginning, but it's important to know that it's actually terrible for both your performance and your posture.
When you run while gripping the rails, you're causing your body to lean forward, which promotes terrible posture and will strain your lower back, hips, knees, ankles, and feet.
Gripping the rails also negatively impacts the way you run; you can't get a proper stride length because you're trying to stay within an arm's length of the rails.
The rails are only there to assist you in getting on and off the treadmill, never to help you maintain your balance while running. That's what your core muscles are for.
Clench your abs to stay upright and steady while you run, and slow down your pace if you feel wobbly.
✅ Use Your Road Running Technique
If you're accustomed to running on the street, track, or anywhere outside, that is exactly the same form you want to bring to the treadmill.
That means the same stride length, bounce in your step, swing in your arms, everything down to the smallest detail.
Fun Fact: Compared to outdoor running, treadmill running is measurably easier on the musculoskeletal system1, making it a better choice for new runners and people working around injuries.
Yes, there is a slight difference in how you run on the treadmill vs. running on the street.
But if you can bring your road running technique into the gym and move as close to the same way as possible, the time you spend training on the treadmill will translate into more efficient running outdoors, with less strain on your skeletomuscular system.
✅ Swing Your Arms Right
If you're running with your back straight, your head up, and your legs moving through the same stride length as your outdoor running form, you're already well on your way to getting the treadmill running form right.
Time to bring your arms into the mix.
The "ideal" form for your arms is fairly standard: a 90-degree bend in your elbows, your shoulders and wrists relaxed, your palms turned inward toward your body, and a natural-feeling swing with every step.
Don't swing too hard, which will cause your spine to twist and strain your lower back. Don't keep your arms too stiff, either; that'll feel awkward and clumsy.
Just give your arms room to move back and forth, doing what feels natural to you. You've run before, so your body knows what works best.
But there's one very important detail to remember: relax your shoulders.
When you swing your arms, if you hunch or tense your shoulders, you increase tension in your neck and upper back and down your triceps to your elbows. You'll actually feel tightness in your entire upper body if you tense your shoulders while running.
That's actually where swinging your arms can help. The back-and-forth motion of your arms can serve as a reminder to keep your shoulders loose.
✅ Master Your Stride
Entire books have been written dedicated to the "proper" runner's stride, and countless medical studies have been performed to analyze and quantify every tiny detail of how your feet strike the floor and your body weight transitions forward with every step.
For the sake of brevity, here's what you need to know:
Shorten your stride slightly to keep your ankle straight with every step forward.
Place your foot down directly beneath your hips. Try to imagine a straight line running directly downward from your hips to your foot.
Try to strike on the midfoot—striking on the heel increases risk of knee strain, while forefoot striking places more pressure on your Achilles tendon and ankle. However, if this causes pain, try adapting your foot-strike slightly to see which suits your specific physiology best.
Treadmill-specific tip #1: Try to place your feet near the center point of the treadmill, just offset from "dead center" enough to remain in line with your hips. This will keep you right in the middle of the treadmill.
Treadmill-specific tip #2: Run at the center of the belt. Don't run too close to the console/front of the machine, and don't lag so far behind you risk slipping off the back. Try to stick to the center, where you can maintain a steady stride with full freedom of movement.
Pro Tip: Form can be influenced by the type of treadmill machine you use. Manual treadmills, for example, always start on an incline, and curved treadmills generate a slightly shorter step (and faster cadence).
Tips for How to Run on a Treadmill Like a Pro
To obtain all the many, many treadmill benefits you've heard about, it's important to use the treadmill right.
That "right" refers to more than just the form (which we talked about above); it's also about being smart with your training and making the most of the cardio machine's full capabilities.
Here are our best tips to help you use the treadmill like a pro:
✅ Always Warm Up and Cool Down
Don't make the mistake of jumping straight into your run from "cold" condition. Your muscles and joints both need time to warm up and loosen up.
Skipping warm-up will not only put you at risk of injury, but it'll reduce the overall efficiency of your workout.
Cooling down after your workout gives your tired, hard-worked muscles time for "active recovery."
This means your muscles are still using energy, but small quantities, just enough to keep your metabolism working and delivering the energy necessary to replenish the calories you burned during the workout and begin making the repairs to any damage sustained.
Active recovery has many benefits, including:
Faster draining of lactic acid buildup in your muscles
Better flexibility
Reduced post-workout stiffness and soreness
Increased blood flow to deliver energy and nutrients
Spend 3-10 minutes warming up before every treadmill workout by walking at a slow pace (usually 3.5 to 3.8 MPH), then another 5-10 minutes cooling down after the workout.
Warming up and warming down both improve the efficacy of your treadmill sessions and will help reduce the likelihood of injury. Win-win.
✅ Add Resistance
Here's something you might not know: when you run on a treadmill indoors, there is less air resistance, so it feels easier.
To account for that, add resistance by setting the treadmill to a 1% incline.
This slight incline won't strain your knees or put excessive pressure on your lower back, but will create just enough resistance that your run will feel the same as the air resistance you experience when running outdoors.
Fun Fact: Adding an incline on the treadmill burns more calories. Just how much? According to the American College of Sports Medicine2, a 150-pound person burns 60% more calories when walking uphill compared to walking on flat ground.
✅ Vary Your Running Terrain
You can spend your entire workout running at a flat level with 0% incline—that's absolutely fine! But if you really want to challenge yourself, it's worth varying your running terrain.
Think about it: you'll rarely find terrain outdoors that is entirely flat. There will always be some sort of incline or decline—be it hills, stairs, ramps, bridges, and the list goes on.
If you're training on the treadmill to be a more effective outdoor runner, it's worth simulating the "real life" conditions you'd experience outdoors. To do that, vary the incline settings.
Start out running at a flat/0% incline, then raise it to 5% incline, so it feels like you're running up a shallow hill. Run for a few minutes at that incline, then return it to 0% incline for a few more minutes before dialing it up to 10% incline to tackle a steep hill.
Play around with the settings yourself, or use the treadmill's pre-programmed workouts to vary up the terrain. Running only flat won't push your conditioning as efficiently as running at multiple incline settings.
✅ Speed It Up
Because you're running indoors (with less air resistance and a well-cushioned running surface), your runs will require less effort and take a lesser toll on your body.
Which means you can work a bit harder without feeling the strain quite as acutely.
As you train, you'll likely grow accustomed to a certain running speed—for example, many people jog at 4.5 or 4.6 MPH, or run at 5 to 5.5 MPH.
But for the sake of your fitness, try raising the pace slightly. Add 0.1 or 0.2 MPH to your workout, and see how that feels. If you're struggling, there's no shame in returning to your regular pace. At least until the next workout, when you can raise the pace again.
The more you push your pace with your treadmill workouts, the more your body will be forced to adapt to the increased energy output and cardiovascular demands.
Always running at the same speed will help you to develop endurance, but running slightly faster every workout will help you develop endurance faster.
✅ Go High Intensity
Try mixing some High Intensity Interval Training (aka, sprint training) into your regular walks, jogs, and runs.
Your body can only sustain max sprint speed (anywhere from 8 to 10 MPH) for a short period of time—30 to 60 seconds. But mixing in periods of slow walking or jogging (3.5 to 4.5 MPH) will give your body a chance to recover in 60 to 120 seconds. Then you're ready to sprint once more.
Fun Fact: HIIT workouts on the treadmill are awesome for people who want maximum fat burn in less time. High-intensity training is superior to medium-effort, steady-state cardio workouts in reducing body fat3, improving VO2 max, and increased metabolic activity up to 48hrs after a workout4.
I've talked a lot about the benefits of HIIT training, how it increases your metabolism, improves your endurance and strength both, burns an insane amount of calories, and gives you a great workout in a shorter period of time.
It's absolutely worth replacing at least one of your regular treadmills each week (or two) with HIIT training–or even making HIIT your standard go-to workout when on the treadmill.
The Bottom Line
The treadmill is, hands down, the single most functional cardio machine in the gym.
Thanks to the time you spend on it, you'll be able to walk, jog, run, and sprint more efficiently in "real life" outdoor conditions.
Plus, you'll improve your cardiovascular conditioning and overall fitness in very real, tangible ways.
The tips above will transform you into a more effective treadmill runner, helping you to master the correct form and make the most of every cardio workout you perform on the treadmill.
Put them into practice, and see better results for the time and effort you invest in your training!
More Articles and Guides Like This
6 Best Machines for HIIT Workouts at Home. High-intensity interval training is the fastest way to get cardio and conditioning under your belt. Here's a look at the best HIIT machines to add to your home gym.
Manual vs. Motorized Treadmills: Which is Best for Your Goals? Wondering whether a manual or motorized treadmill is best for you? Below, we highlight the differences between the two so that you can choose the right treadmill for your running goals.