No matter what your goals are in the gym, here's a breakdown of the best women's weightlifting and powerlifting belts.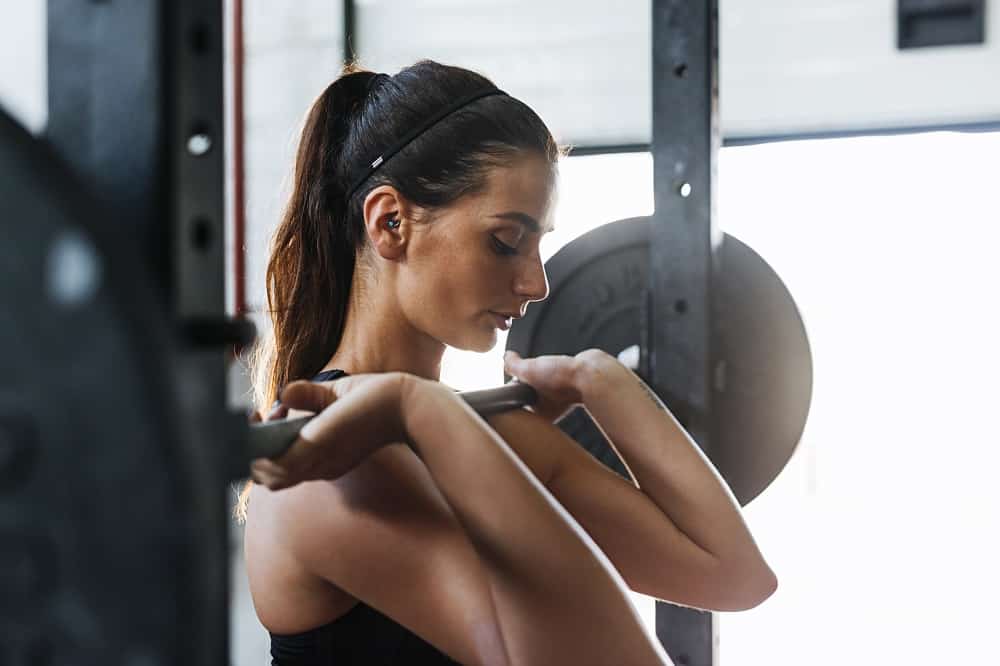 Using a belt when you are weightlifting and powerlifting is a critical way to improve posture, technique, and protect yourself.
Belts, like knee wraps and elbow wraps, provide stability, help you target the big muscles instead of be crippled by the "weak" links in your lift, and even help you maintain proper technique and form in the gym.
One of the key complaints about weightlifting and powerlifting belts is that they are primarily designed for men. Which means that women are often left with belts that are too wide, resulting in sore ribs, limited mobility and insufficient support.
Fortunately, even though the market seems to be dominated by belts that are designed for men, there are plenty of awesome weightlifting belts for women.
Belts that can give you stability and a better lifting experience without digging into your ribs or leave you feeling like you are swimming in the belt.
Read on and let's get to liftin'!
Rogue 3" Ohio Weightlifting Belt
⭐ Best for powerlifting and competition
Leather belts hark back to the old school days of building. And leather belts are generally viewed as being overly stiff, uncomfortable and requiring a long time to "break in."
But Rogue's 3" Ohio Belt is made of a 10mm thick vegetable leather that is soft enough that it isn't jabbing into your sides while also providing a ton of stability under load. A double-prong buckle locks the belt in at your desired tightness.
The Rogue Ohio Weightlifting belt is also the thinnest belt on this list.
For powerlifters looking to take a belt to competition, Rogue's Ohio Belt is IPF approved.
The belt retails for around $94, which is definitely at the higher end of the spectrum when it comes to cost, but Rogue makes durable, quality stuff.
Because the belt is made and shipped out of the USA shipping times are also reasonable.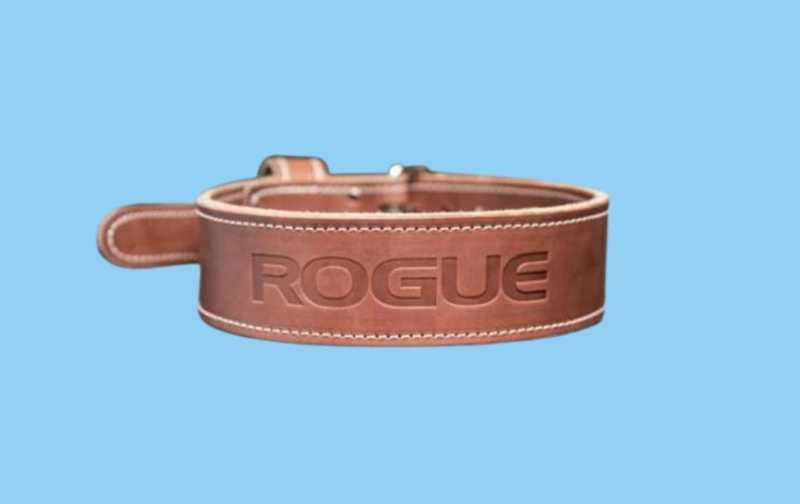 Iron Bull Strength Women's Weightlifting Belt
I really like Iron Bull Strength's stuff. My wife and I have outfitted our garage gym with tons of Iron Bull gear, from their battle ropes to a hip thrust barbell pad.
This belt is made with a foam core interior and has a five-inch wide belt that closes quickly with a Velcro strap for quick locking. Foam material belts tend to be more breathable and more flexible than their leather counterparts.
Available in four different colors, Iron Bull Strength Women's Weightlifting Belts retail for around $25 (check current pricing and availability at Amazon here) and do an excellent job stabilizing and supporting the back.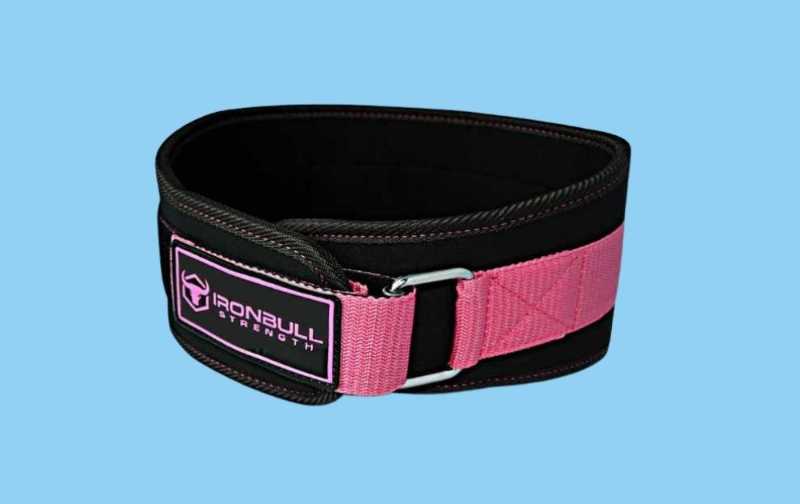 Fitplicity Weightlifting Belt for Women
One of the best parts about weightlifting belts is the support through the lower back. This is one of the reasons that I appreciate belts that have an extra large tapered section to support this area.
Which is exactly what the Fitplicity belt does.
Made of neoprene, available in almost a dozen color combinations, and adjustable for a custom fit with Velcro straps, the contoured designed gives you support in the back and mobility in the front to hammer your workout.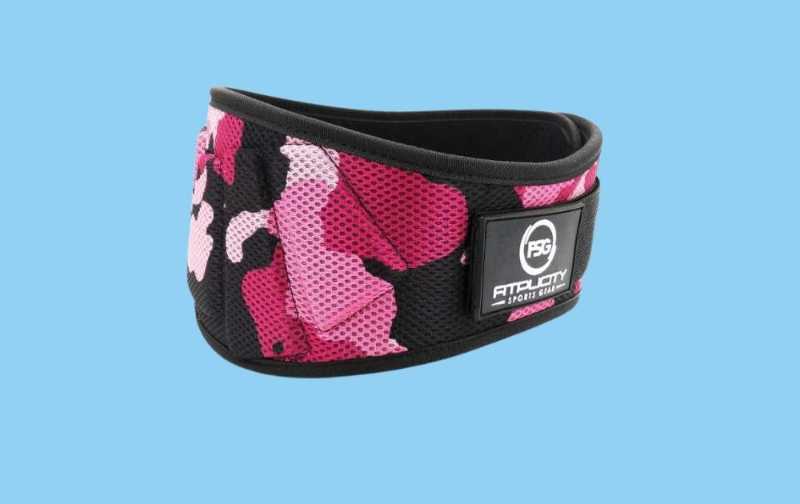 Schiek 3004 Powerlifting Belt
Another belt that is perfectly suited for women who are serious about powerlifting is the Schiek 3004.
While soft leather provides a firm support, this belt, made of neoprene, gives lifters a more flexible and contoured fit, with the back of the belt tapering up to 4.5". The belt is easy to customize and adjust using Velcro pads.
While powerlifters will love this belt, they will have to strictly use it in training as the belt isn't approved for competition.
Schiek's stuff is generally a little more expensive, and this belt retails at just under $60 and is available in four different color combos (check here for the most recent pricing and availability on Amazon).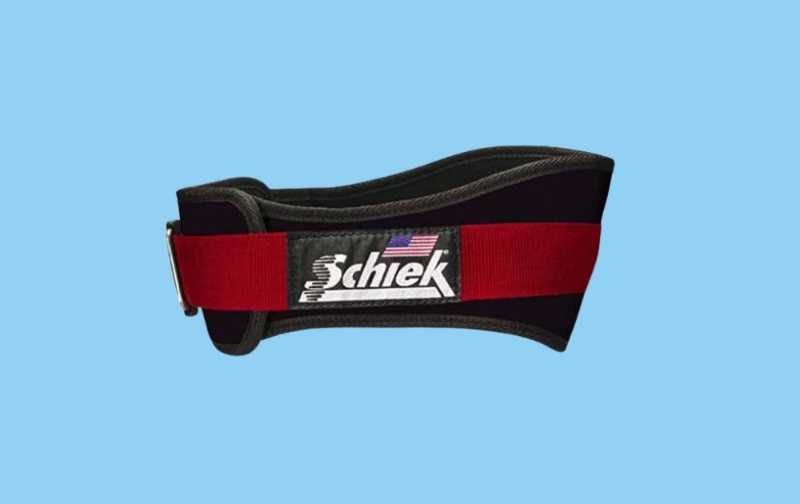 Hawk Sports Powerlifting Belt for Women
⭐ Best lever powerlifting belt for women
For something as simple in function, there is a staggering amount of variety when it comes to belt sizes, buckling mechanisms, fabrics, and so on. Another form of buckle, beyond Velcro and the classic double-prong buckle you see on leather belts are lever belts.
Hawk Sports' leather lever belts are one of the best on the market. Made of 10mm leather suede that is strong as hell while also not being so stiff that you cannot move around, the lever buckle system allows you to find your desired tightness and fully lock you in.
The belt is 4-inches wide all the way around, comes in a variety of sizes, and Hawk Sports backs their lever lifting belts with a lifetime warranty.

Valeo Performance Weightlifting Belt
The Valeo is another one of the slimmer width belts, not exceeding four inches in width at its widest.
Made of a soft and flexible foam core, the Valeo Performance Weightlifting Belt is comfortable and molds to the body, providing rigidity while not sacrificing range of motion.
The belt tightens with a ring and hook system and the belt is locked at your desired tightness with stick y Velcro for a custom and easily adjustable fit.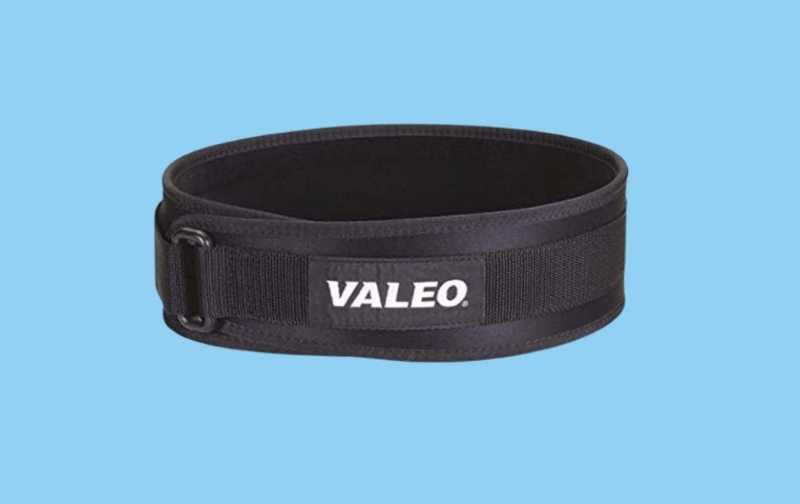 Harbinger Women's Weightlifting Belt
⭐ Best lightweight women's lifting belt
Made specifically for women (if you couldn't tell by the color combo), the Harbinger weightlifting belt is built with an extremely light foam core that is also breathable and durable.
Weighing just over 9 ounces, the Harbinger belt is the lightest on our list, providing support without weighing you down. The belt is 5-inches at its widest, locks with the tradition hook and Velcro buckle that is typical of nylon/foam belts, and Harbinger offers the belt in three different color combinations.
Reviewers consistently love the belt for the fact that they can perform all manner of weightlifting exercises, from squats and deadlifts to back extensions, without the belt slipping or digging into their rib cage.
With nearly 2,500 five-star reviews on Amazon, the Harbinger belt is an excellent choice for women who are looking for a weightlifting belt that is light, durable, and comfortable.