The leg press machine is a killer addition to your leg day workout. However, not all leg press machines function the same. Here's a look at the different types of leg press machines, including key pros and cons of each.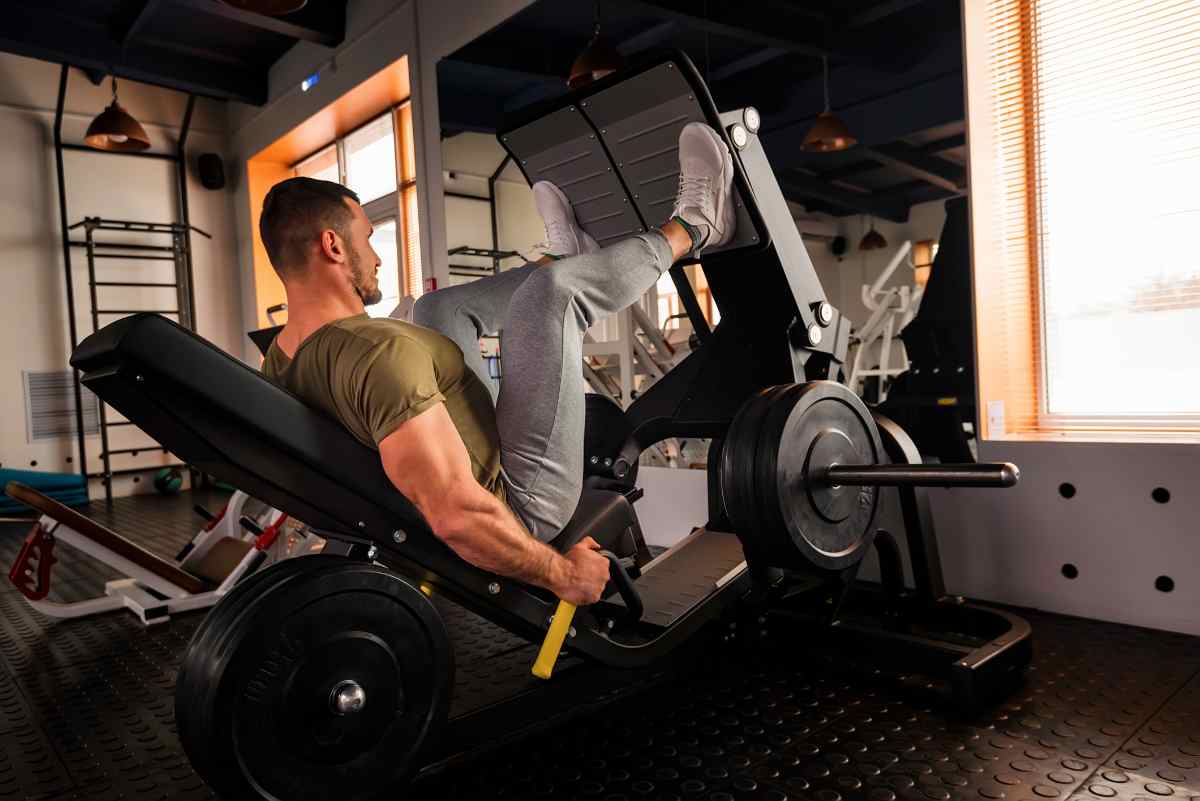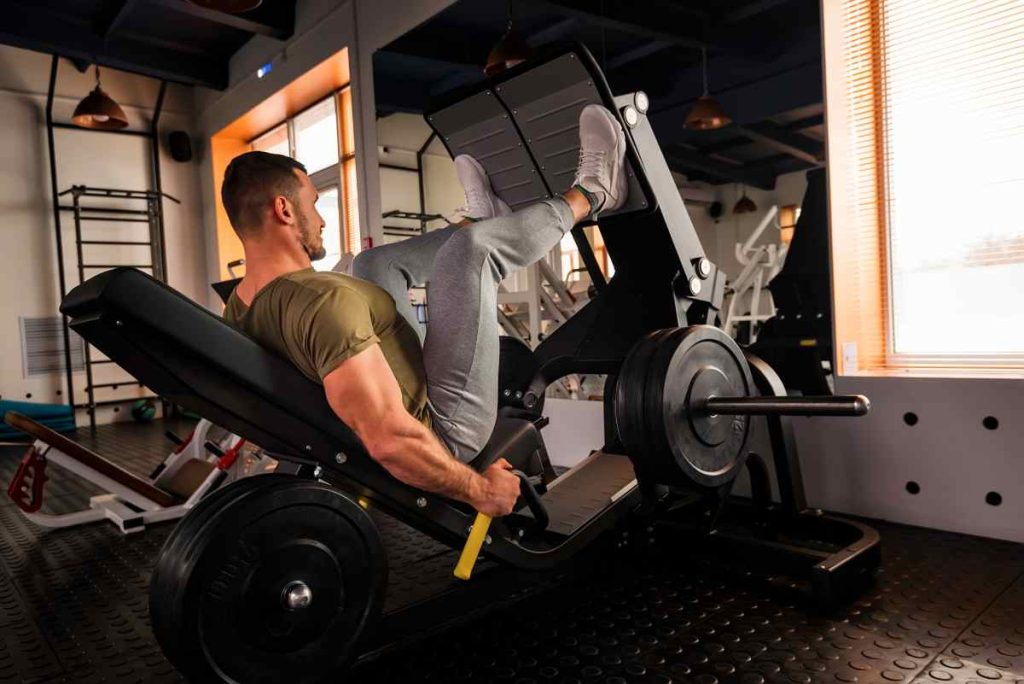 The leg press machine is one of my favorite tools for kicking the tar out of leg day.
Leg presses are excellent for targeting the quads (there are some leg press foot placements you can do to target other muscles, as well).
They are significantly safer than free weights.
And, as you will see, there are different types of leg press machines that allow you to train in a manner that match your goals in the gym.
In this guide, we will look at the pros and cons of each type of leg press machine.
Let's jump right in and get to pressin'!
The Three Different Kinds of Leg Press Machines
While leg press machines generally have the same function—train your quads—they differ widely in how they do it, how resistance is generated, and more.
A simple way to differentiate the three kinds of leg press machines is by the angle of your back when you are doing the exercise.
Angled (or 45-degree) leg press machines have your back angled at around 40-45 degrees.
Seated leg press machines have your back (mostly) vertically straight.
Vertical leg press machines have you flat on your back horizontally.
Ultimately, most of the differences that arise come from the direction the leg press moves or creates resistance.
Let's take a deeper look at each of the three, including how to do them properly and the key benefits of each.
Angled Leg Press Machines
First, we've got the angled leg press machine, also known as the 45-degree leg press.
It's the most common type of leg press in the gym and likely the first thing that comes to mind when people hear leg press.
They are popular for a reason: you can load a TON of weight on them thanks to the angled resistance and controlled movement of load.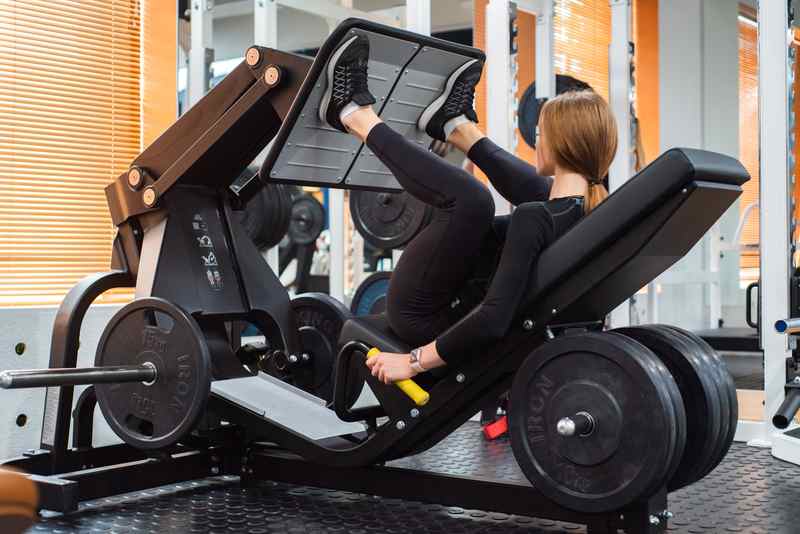 Angled presses have stoppers to prevent the carriage—and all the plates loaded on them—from crumpling you up like a dirty Klenex.
They also tend to have lots of plate storage pins on the machine to store weight plates.
How to do presses on an angled leg press machine:
Slide into the low, reclined seat.
Set your feet on the raised foot plate at shoulder-width.
When you are ready to press, give a little push with your legs and the carriage will go up enough for you to twist the stoppers out of the way.
Your legs should be straight but not locked out and ESPECIALLY not hyper-extended.
Slowly descend until legs hit 90-degrees.
Pause and then return to starting position.
And you're off to the races towards stronger, thicker legs!
The key things I love about angled leg press machines:
? Fixed path.
Like most leg machines you see at the gym, leg press machines move on a fixed path.
This means you don't have to worry about balancing a heavy barbell or taxing your stabilizer muscles to complete the lift.
The fixed path also makes it a safer lift in comparison to free weights.
With the way the reclined seat is positioned on an angled (or 45-degree) leg press machine, you get the same path of movement with resistance with each repetition.
? Provides about 60-70% of "true" resistance.
One of the things people are ALWAYS asking is how much the weight on a leg press correlates to "real" resistance.
Because of the angled path, a significant amount of weight is dissipated to gravity.
How much?
Around 30-40% depending on the angle.
This is why lifters can often push 500lbs on the leg press but "only" barbell squat 250lbs.
(Well, there's more to that, including reduced nervous system and stabilizer muscle demands when using machines, but we can chat about that another time.)
A handy thing to remember with leg press machines is that the steeper the angle, the more true weight you will be pushing.
? Excellent for building hypertrophy.
Leg presses are an isolation exercise that primarily target your quadriceps muscles.
(Secondary muscles worked in leg press include glutes, hamstrings, and calves.)
The laser-targeted focus on the quads makes them an excellent option for finishers, repping out, and higher-rep, hypertrophy-focused sets.
With handles and stoppers at your side to immediately rack the carriage, you can lift to full failure in relative safety and confidence.
Within angled leg press machines you will also find the hybrid hack squat/leg press machine.
This Franken-leg-machine combines two killer exercises—hack squats and leg presses—and stuffs them into one machine.
While generally designed for the home and garage gym enthusiast, I've seen them from time to time in commercial gyms.
The benefits to a hybrid machine are obvious—you get twice the number of exercises in one machine.
Seated Leg Press Machines
The seated leg press machine is the other commonly seen leg press machine you are likely to see at the gym.
Instead of pushing the weight at an angle, we are pushing the weight horizontally.
The lower initial resistance is excellent for people just starting with lower body training, while more experienced users can benefit from the unilateral aspects of training with this machine.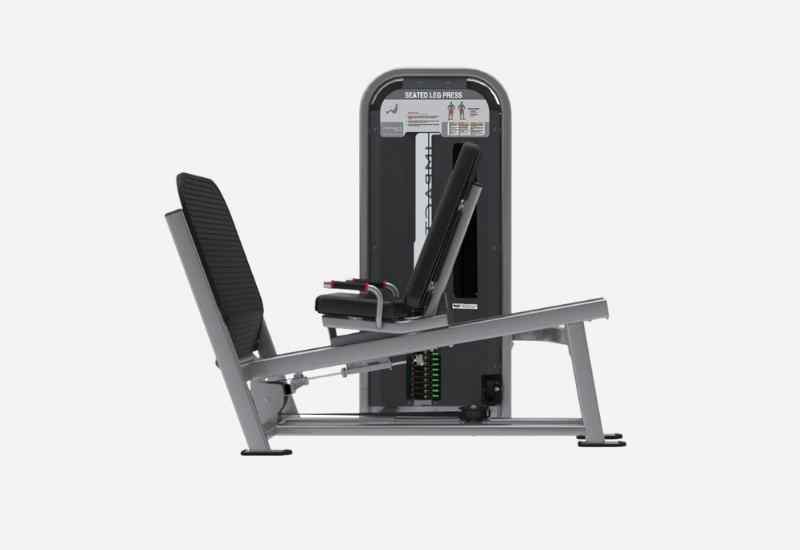 Here's how to use the seated leg press step-by-step:
Slide into the seat, adjusting the seat position as necessary
Choose a starting weight
When ready, push to release the carriage from the stoppers
Twist the handles (if the machine has them)
Extend so that your legs are straight but not locked-out or hyperextended
Slowly "lower" the weight so that it pulls back towards you
When your legs are at 90-degrees, pause
Push the weight back to the starting position
There are some things that make the seated leg press machine stand out, including:
? Best for beginners and rehab.
Because the starting resistance on a seated leg press is minimal (the starting weight is usually the weight of the first plate on the stack—5-10lbs), you can truly start nice and easy with this exercise.
The lower resistance is ideal for lifters who are returning from injury or people who are just getting started with resistance training.
? Great for single-leg presses.
While you can do unilateral presses on an angled machine, it simply feels different when pushing the weight horizontally. More natural. There's no particular science behind this sentiment, just my experience training and working with clients.
For athletes, and people who simply want to get more "functional" training out of the leg press, doing single leg presses is a killer way to go about it.
A study done with a group of female college students found that unilateral leg press training resulted in a 2.5" improvement in single-leg jumping performance after six weeks1.
Vertical Leg Press Machines
Finally, we have the vertical leg press machine. You slide into the machine, with your back facing the floor, and push weight directly towards the sky.
The chief benefit is that you are pushing "true" weight. It's not as commonly seen in commercial gyms as the seated and angled machines because, well, it's not a machine for beginners.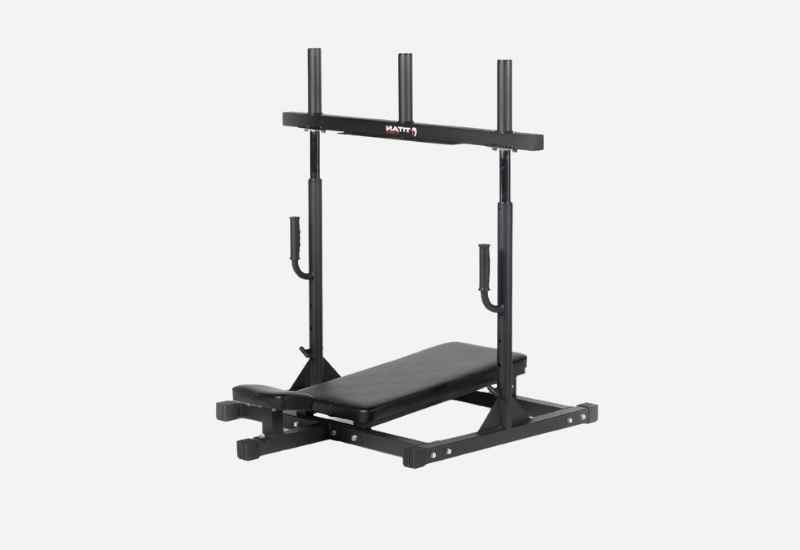 There's something viscerally uncomfortable about watching people load a vertical leg press machine with heavy load and sliding under it.
For most users, this machine is unnecessary, and I would strongly caution even intermediate lifters to be careful with this machine.
That said, there are plenty of people who swear by it.
The vertical leg press comes in a few different iterations.
There are presses made for home use, commercial-grade gyms (which are the safest option as they have stoppers), and lifters can also MacGyver a Smith Machine to vertical presses.
How to do vertical leg presses:
Load the machine with the target number of weight plates
Slide comfortably into the back pad
Line up your feet shoulder-width on the footplate or the bar
Push up slightly to "unrack" the weight
Twist the stoppers to clear the rails
Descend slowly and with FULL control
Pause at the bottom before extending your legs (as always, without locking or hyperextending them)
Repeat as necessary
Benefits of vertical leg presses:
? The "true" resistance is closer to 1:1.
Vertical leg presses are the closest we can get to lifting what is essentially "true" weight when doing this exercise.
In other words, the weight you put on the machine is the weight you are actually pushing.
? Smaller footprint than other leg press machines.
Vertical leg press machines—with the exception of the commercial-grade models—take up a bare minimum of room.
They have the smallest footprint of any type of leg press machine, which makes them ideal for the home or garage gym enthusiast who is on a space crunch.
---
Types of Leg Press Machines – FAQs
Which type of leg press machine is best?
This totally depends on your goals.
Angled leg press machines are best for building muscle mass (for most people) because of its fixed path of resistance and ability to move more weight than you could with free weights.
Seated leg press machines are best suited for beginners or for unilateral leg training for athletic performance.
And vertical leg presses are best for people who want as close to a 1:1 ratio of "true" resistance when leg pressing.
Are all leg press machines the same weight?
If you are asking if all leg presses have the same starting weight, then no.
The weight of the sled on leg press machines varies widely.
Angled leg press machines have sleds that typically weigh 100lbs, with some nearing 200lbs.
Horizontal leg presses have a next-to-zero starting weight. Generally, the starting weight is the first plate on the weight stack and the weight of the pulley, which can work out to 5-20lbs.
Vertical leg presses have a starting weight that is as heavy as the footplate or bar that is being used to load weight.
For lifters using a Smith machine for vertical presses, the bar weight on a Smith Machine can vary widely between 6-45lbs.
The bar on the Titan Fitness Vertical Leg Press, for example, weighs just 17lbs.
The Bottom Line
The leg press is an excellent exercise that I believe belongs in every lifter's training program.
Whether you are looking to build muscle mass, strengthen your lower body after an injury, or want to develop single-leg athletic explosiveness, the leg press can help you get there.
Choose the type of leg press machine that lines up with your training goals and get to leg pressin'!
---
More Leg Press Guides and Articles
Leg Press Foot Placement: 6 Foot Positions and the Benefits of Each. Looking to mix up your leg press? Here are some different leg press foot placements to laser-target different muscles in your legs.
6 Best Leg Press Alternatives for Monster Leg Muscles. Looking to mix up your leg training? Here are the six best leg press alternatives for conquering leg day.