Take your home gym and workouts to the next level with this list of the best exercise mats for working out at home or on the go.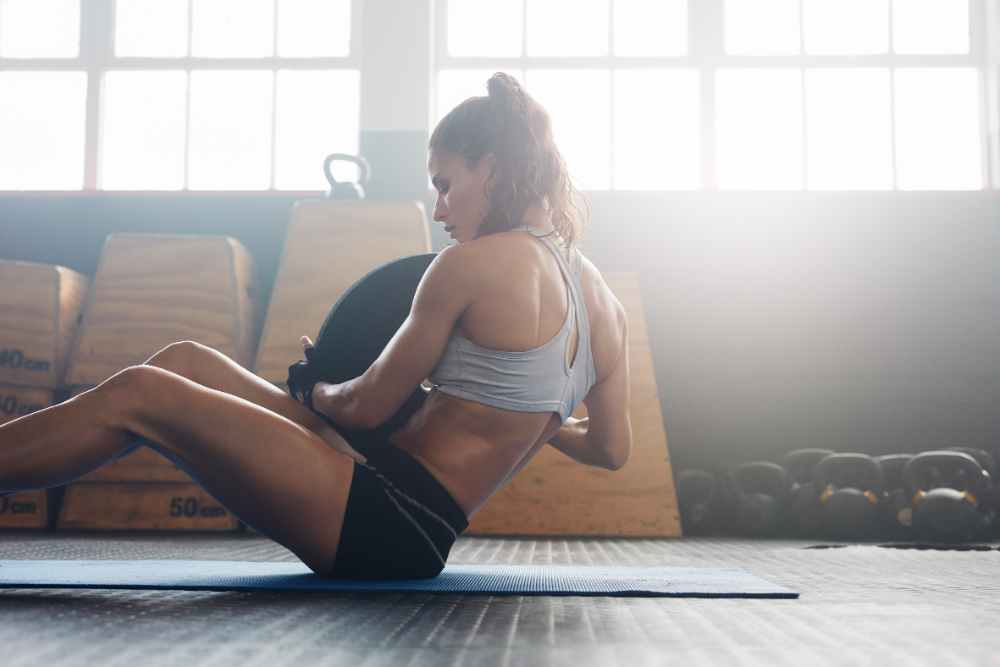 The exercise mat is a key part of your workouts.
They provide cushioning on your spine when doing core work. They protect your hardwood and concrete flooring (dropped kettlebell, anyone?). Exercise mats can also deaden some of the noise from your workout.
But when it comes to choosing the right exercise mat, suddenly there are a ton of different choices. From material to size to price, there is a surprising amount of stuff to consider when buying the best mat for you and your workout routine.
In this guide, we are specifically going to break down exercise mats, both personal and for small groups. If you are looking for a more permanent solution for your workout area, check out this guide on the best kinds of gym flooring.
Choosing the right exercise mat
Key things to look for with your exercise mat of choice:
Non-slip. You want to exercise with peace of mind on your mat, whether you are doing burpees, sit-ups, or doing yoga. Look for textured surfaces on both sides of your workout mat.
Thickness. Most mats are between 7mm and 8mm in thickness, but there are slimmer and thicker mats out there.
Storage. Home gyms don't have unlimited space—you want a mat that you can easily roll up or hang between workouts.
Price. Some premium exercise matting can get quite expensive, but most exercise mats are in the $20-40 range.
Below is a breakdown of the best exercise mats for your home workouts and gym.
Whether you use your mat for yoga, doing core exercises, HIIT training, there is a mat for you.
Let's dive right in.
BalanceFrom GoYoga Exercise Mat
⭐ Best exercise mat for most people
Doing HIIT on a thick and foldable mat isn't always a great idea. For starters, the mat is thick, which makes pushing off with your feet and hands a little more difficult. And foldable mats tend to slide around, as well.
See also: Yoga Burn – Is This Weight Loss Program Legit?
BalanceFrom's yoga mat, which can be used for sit ups and other forms of exercise, are exceptionally well-reviewed on Amazon, with over 25,000 five-star reviews (read the reviews here). With a 68" length, and 24" width, the mat provides a quarter inch of padding to keep yourself comfortable, whether you are doing yoga, stretching, or rolling out on your favorite ab roller wheel.
Available in seven different colors, each mat includes a carry strap, which means that you can take your workouts and yoga on the go. These mats are competitively priced, at less than $20, making them an excellent exercise mat that is also budget-friendly.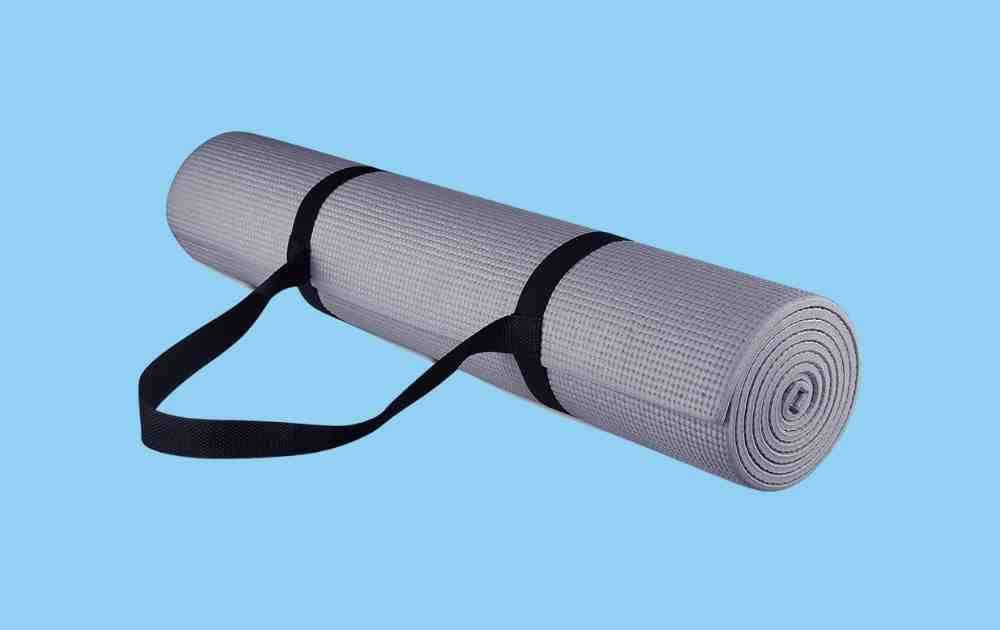 ---
ProSource Foldable Exercise Mat
Foldable exercise mats are the ones that are most commonly seen in gyms and fitness centers. The ProSource Foldable Exercise Mat checks all of the boxes for this type of mat.
The shell is a durable vinyl cover that makes wiping sweat off easy. A soft foam core gives you just over an inch of padding. Two handles on each end of the mat make it easy to carry and store. And the three-panel design means you can stack a bunch of these easily.
Available in five different colors, and priced at just under $40 (check Amazon for current pricing and availability), the ProSource is an excellent foldable exercise mat that will last as long your workouts do.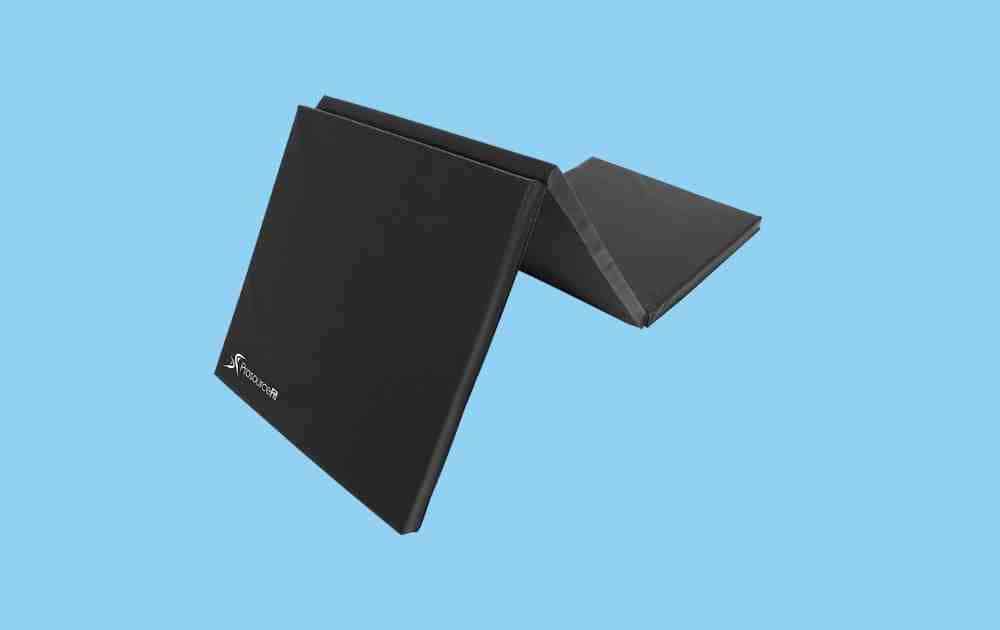 ---
Gxmmat Large Exercise Mat
⭐ Best XL exercise mat for home use
Sometimes our workouts escape the somewhat limited confines of a regular exercise mat. Whether you are doing side lunges, circuit training, or you want to exercise with a buddy, a large exercise mat is called for.
And the best one on the market is made by the folks at Gxmmat.
With over a thousand five-star reviews, their 6 foot by 4 foot mat is double the width of the other mats in this list. The mat itself is made of 7mm high density foam that resists tears and scratches. A textured underside keeps the mat stay in place whether you are working out on hard or carpeted surfaces.
Made on non-toxic materials and easy to wipe down and roll up, the Gxmmat Large Exercise mat is available in two different colors for around $90 (click here for current pricing on Amazon).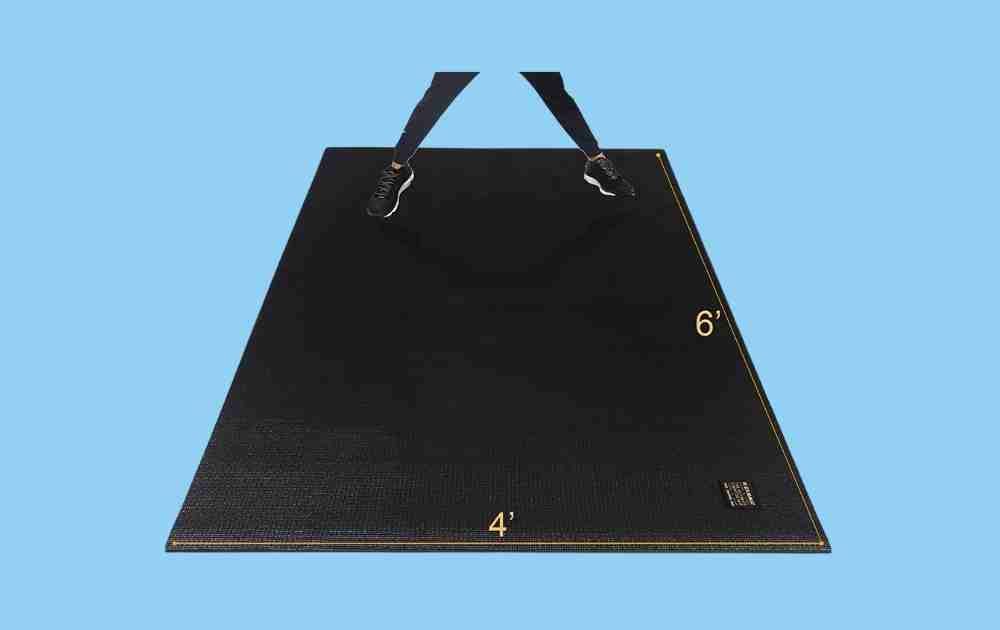 ---
SPRI Hangable Exercise & Fitness Mats
⭐ Best hangable workout mat
Home gyms are awesome for a long list of reasons (no lines for your favorite machines and full control of what's on the TV, for example), but one of the things that isn't so awesome is the general lack of space.
Hangable exercise mats are an intelligent way to save space. Hang the mat when not in use, and when it's time to blast some HIIT or do some stretching, toss it on the ground and go to work.
SPRI, who makes some of my favorite workout gear, including medicine balls and neoprene dumbbells, offers my favorite hanging workout mat. Made with high-density foam, and originally built for commercial gyms, you can take the tough SPRI mats to your home gyms.
Priced very competitively, in the range of $24-47 (check Amazon for current pricing and availability), the SPRI mats are available in a variety of lengths (56" or 71") and thicknesses (3/8" or 5/8").
Save space and take your workouts to the next level? All the wins.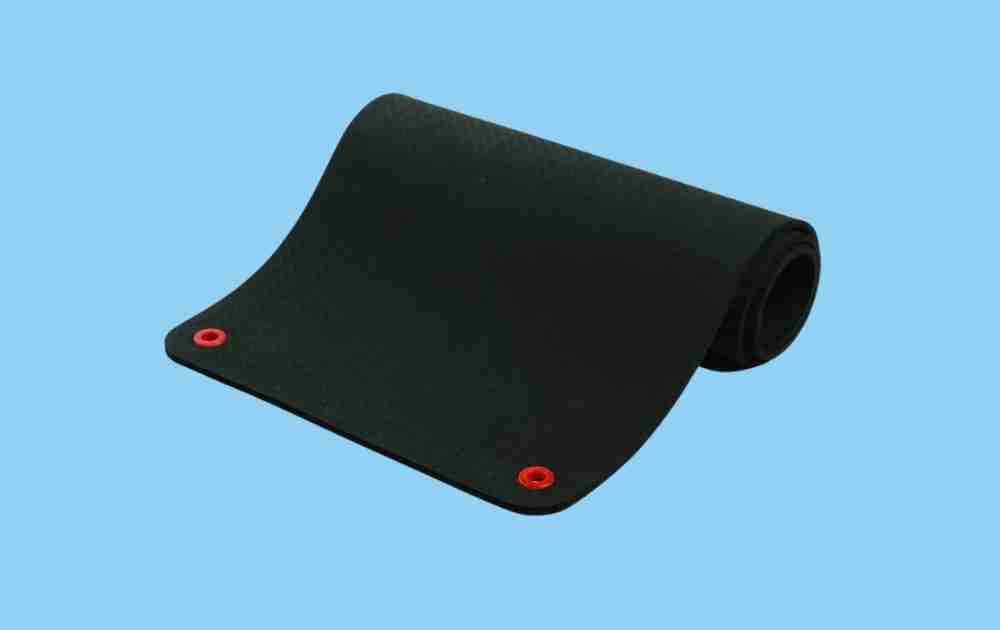 ---
Rogue Comp Matting
⭐ Best heavy-duty mat for large home gyms
Rogue Fitness is most associated with CrossFit, but they make killer fitness equipment for the rest of us. The Rogue R-3 power rack is my favorite squat rack of all time and they make tons of accessory gear, from kettlebells to—yup, you guessed it!—exercise mats.
The Rogue Comp Mat is an exercise mat designed for larger home gyms. The mat is thicker than all of the others on this list, at 1.25" thick (which is as thick as many dedicated lifting platforms like deadlift platforms), and Rogue offers custom sizes if you are looking to use it as matting for a larger space.
Made in the United States (Rogue is one of the few fitness brands that produces a majority of their equipment domestically), the Comp Matting is easy to set up (one person can do it), it's ten feet long, and retails for $475 (check Rogue's website for up-to-date pricing).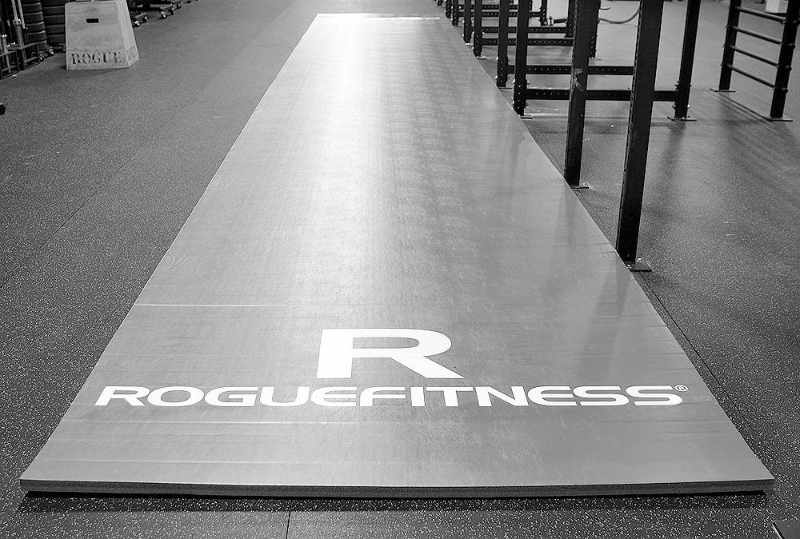 ---
TRX Training Mat
TRX suspension straps have become very popular in commercial gyms of late, and they are also a home gym essential (I use mine daily for both strength training and general mobility work), but TRX also makes a wide range of workout gear, including slam balls, foam rollers, and all-purpose training mats.
Made of high-density foam, and with a textured surface to prevent slipping and sliding, the TRX training mat is an awesome "does it all" mat that is also affordable, at just under $20 (check Amazon for current pricing).
Key features include top holes for hanging, light overall weight, and a high-density foam construction that is comfortable as it is durable.
TRX makes quality stuff, and this workout mat carries on that tradition of durable gear while also looking good. Whether you are doing yoga, sit ups, or just wanna lay down after a big workout, the TRX Training Mat is an excellent choice.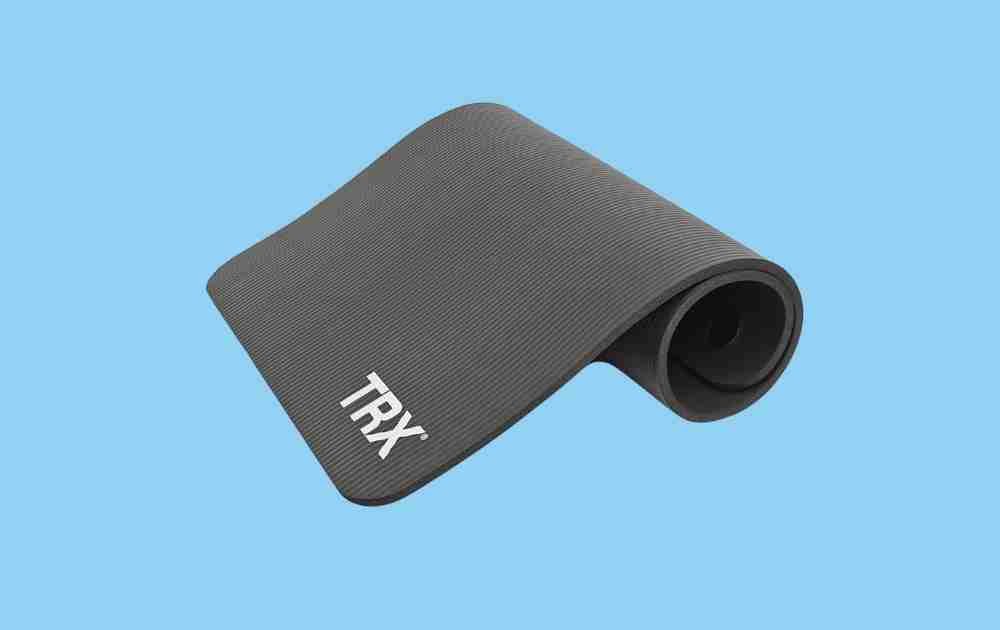 ---
BalanceFrom GoGym All-Purpose Folding Exercise Mats
Another foldable exercise mat is BalanceFrom's four panel mat. This bad boy isn't small, at ten feet long and four feet wide, making it ideal for more active workouts (gymnastics, for example) or working out in a group.
Filled with high-density EPE foam that retains shape, and wrapped in non-absorbent vinyl, these mats can be purchased in multiples and easily connected via Velcro that borders the mats. About two inches thick, these mats are definitely on the thicker side.
Available in four different colors, BalanceFrom backs their mats with a two year warranty. Amazon frequently sells out of these, so if they are in stock make sure to pick yourself up one (check Amazon for current pricing and stock).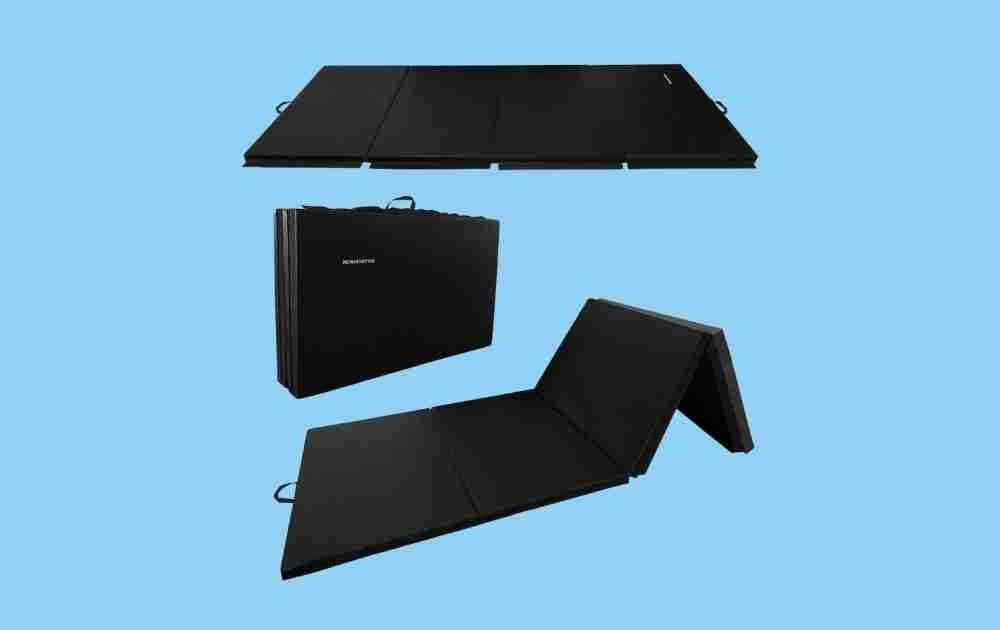 ---
Related Articles
6 Best Fans for Garage Gyms. Beat the heat and work out in comfort with the right home gym fan. Read on for our favorite fans for working out.
6 Best Gym Timers and Clocks for Intervals, CrossFit and More. Keep yourself accountable and stay on time during your workouts with my top picks for the best gym timers and clocks.