Ab rollers are your best weapon for strong and ripped mid-section. Here is a breakdown of the best ab rollers for your home gym.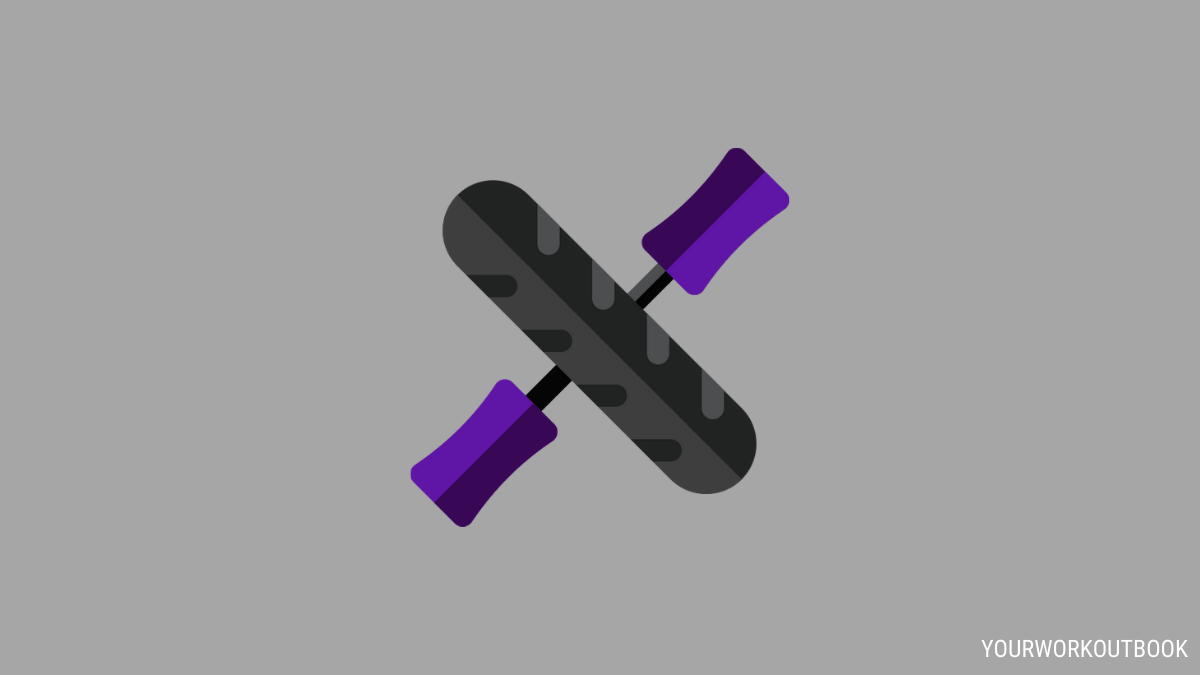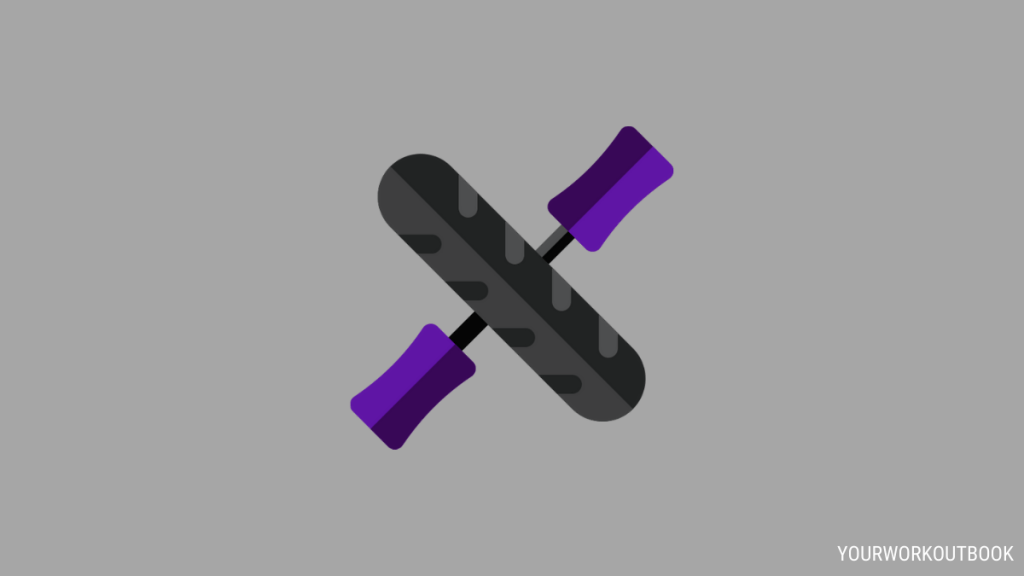 Ab machines tend to be a little ridiculous and over-hyped. ("Six-pack abs in just five minutes a day!").
Unlike over-priced and gimmicky machines such Ab Loungers, ab-toning belts, or ab circles, the best machine for developing a powerful and ripped midsection is the humble ab roller.
Cheap, durable, and highly versatile, ab roller primary function is facilitating one of the best ab exercises on the planet—rollouts.
Ab rollouts—a potent exercise for functional strength and ripped abs
Unlike traditional crunches, sit-ups, and twists, the ab rollout is an anti-extension exercise. As your arms go above your head, your core works overtime to keep your back from going into extension (aka bending and collapsing).
This is why ab rollouts are so brutal for untrained gymgoers. And why you should also strongly consider progressing into rollouts instead of starting with them on day one. Your lower back and spine will thank you.
Ab rollers or ab wheels are your tool for this exercise.
The device itself is relatively simple, but as they say, the devil is in the details. Ab rollers differ in construction, price, function, grip size, tread width, and more.
Read on for a breakdown of the best ab rollers and ab wheels and let's set that core on fire.
SKLZ Core Wheels Ab Trainer
? Best overall ab roller
These are the best ab rollers on the market. They are the ones I use myself every day, and twice on Sundays.
Typical ab rollers are rickety, made of cheap plastic, and have handles that are uncomfortable. Core Wheels roll smoothly, and the grips have happily endured plenty of punishment over 4+ years of use. They still look basically brand new, with the grips completely intact and the wheels rolling as smoothly as ever.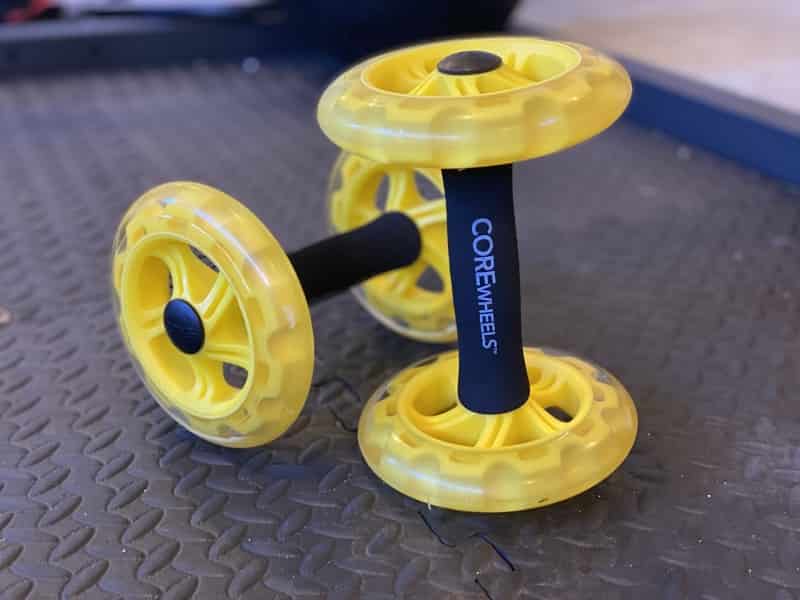 Aside from the quality of construction, it's the versatility of Core Wheels that make it truly stand above and beyond the rest. Core Wheels can be used for traditional rollouts, but they can also be rolled out to the side. Do butterfly presses, use them as push up bars, and work your upper body in a way that traditional ab rollers simply cannot.
Athletes will love these as you can train unilaterally. One arm goes up, while the other stays in neutral, improving balance and core stability.
Additionally, you can play around with different widths when doing rollouts. With Core Wheels, ab rollouts can be done shoulder-width apart or even wider, in the same way that you can do a wide grip lat pull-up, you can do a wide-grip ab roll-out.
Simply put, Core Wheels deliver true functional core strength (which, yes, translates into nicer looking abs), making it absolutely essential for home workouts.
If you want more power in the gym, more balance and stability in life, and rock- hard abdominals, the Core Wheels Ab Trainer will help you rock out with your abs out.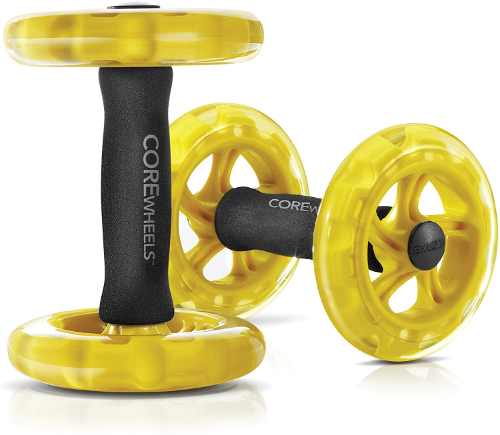 Perfect Fitness Ab Carver Pro
? Best single-piece ab roller
Perfect Fitness makes excellent gear for home workouts, including the popular Perfect Push Pushup Bar. Their ab roller is just as innovative, with a smooth-rolling and ergomonimc design that makes ab rollouts 8% less agonizing (rough personal estimate).
Often when I see gymgoers and athletes do rollouts at the gym, the wheel rattles and wobbles. The Ab Carver helps reduce this wobble so that you can focus on the anti-extension portion of the exercise without worrying about falling to the side.
The handles are exceptionally comfortable and fit more naturally into the palm of your hands compared to the straight bar on most rollers. Perfect Fitness adds a foam kneepad to help you stay comfortable and focused on your core while you do the exercise.
These added features make the Ab Carver Pro stick out above the rest of the crowd, and so will its price tag, which runs around $35-40, more expensive than the no-frill models reviewed below.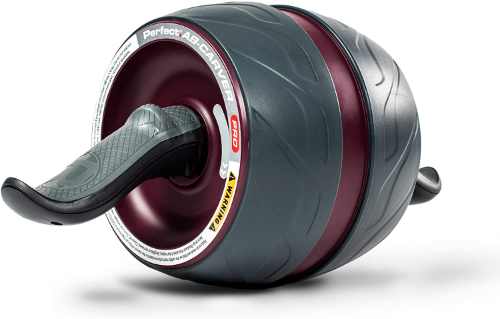 Fitnessery Ab Roller
? Best bundle and added features.
Put your hands up if you want bigger abs, to get stronger, and be a more stable and powerful athlete/lifter?
Yup, looks like just about everyone.
The Fitnessery Ab Roller is a no-frills wheel made stainless steel, with treaded rubber and PVC making up the wheel. The handles are very comfortable.
Instead of the knuckled hard plastic like you see on bargain ab rollers, foam padding covers the handles, providing a secure and comfortable grip.
Fitnessery bundles a foam knee mat to buffer your knees from hard floors, an e-book chock-full of exercises that you can try out with the wheel, and a nutrition handbook to help you pimp out your diet game (as the saying goes, "Abs are made in the kitchen").
Light, packed with features (the bonuses are a nice touch—the ebooks are sent to your inbox after purchase), and very affordable (less than $20), FItnessery does the basic ab roller very well.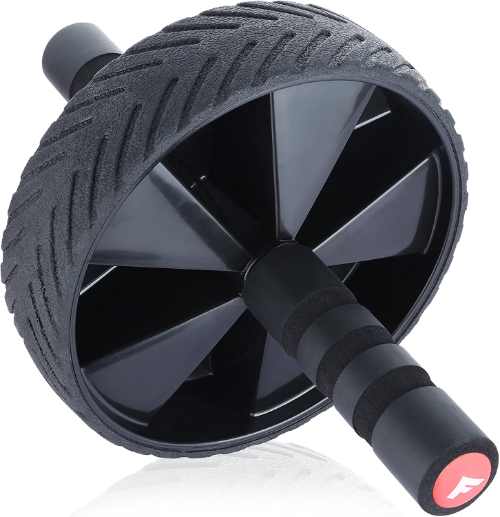 Rogue Ab Wheel
Heavy-duty, but over-priced.
Rogue Fitness makes some of the best fitness gear on the planet. Whether you are a commercial gym owner, a garage gym enthusiast, or someone who wants to work their core at home, Rogue makes some of my favorite gear (including their adjustable workout bench, which is the current showpiece of my garage gym).
In typical Rogue durability, the Rogue Ab Wheel is borderline indestructible. A nickel-plated steel shaft is the foundation of the handles. The wheel rolls very smoothly thanks to sealed bearings. Thick, easy-grip handles (1.25") round out this very light and portable roller.
While the wheel is extremely tough and durable, it's not as wide as the Ab Carver Pro. This results in a little wobble—great for those who want the challenge, perhaps not so great for those just getting started with ab rollouts.
Lastly, the price point is debatable, nearly $70. While I love Rogue's stuff, the price is hard to swallow when you consider that other rollers and wheels provide much of the same function and durability at a fraction of the cost.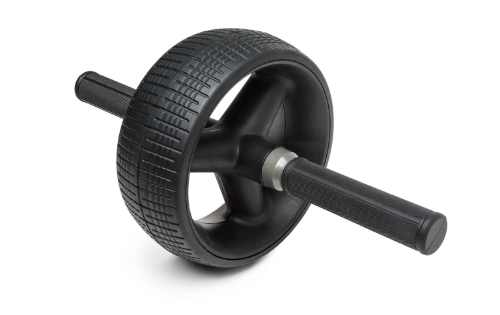 GYMNEIST Ab Wheel Roller
? Best ab roller for price
Available in a pair of colors, the GYMNEIST roller is a no-frills roller that is also the cheapest on our list (about $10 the last time I checked on Amazon).
Although the roller is made mostly of plastic, and doesn't have that same smooth roll and stable grip with more expensive rollers, I really appreciate the two-wheel construction, giving the roller a slightly wider base to work with, avoiding most of that cursed wobble.
Foam handles give you a solid grip, and the treaded rubber rolls quietly over the ground, no matter what kind of home gym flooring you are working out on. Gymneist sells these in hot pink and lime green.