Belt squats are an excellent exercise for developing lower body muscle and strength. Here are the main benefits of this powerful squat alternative.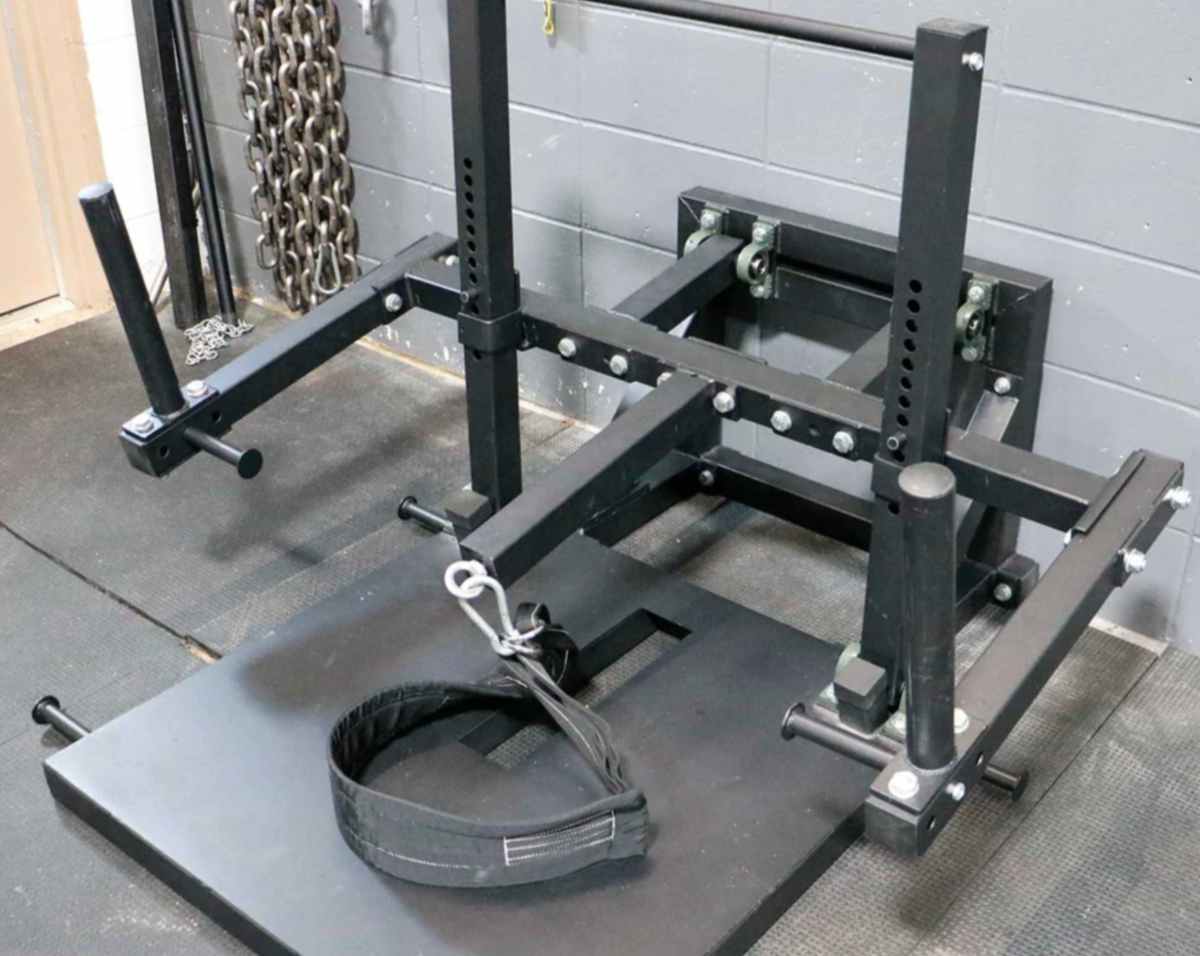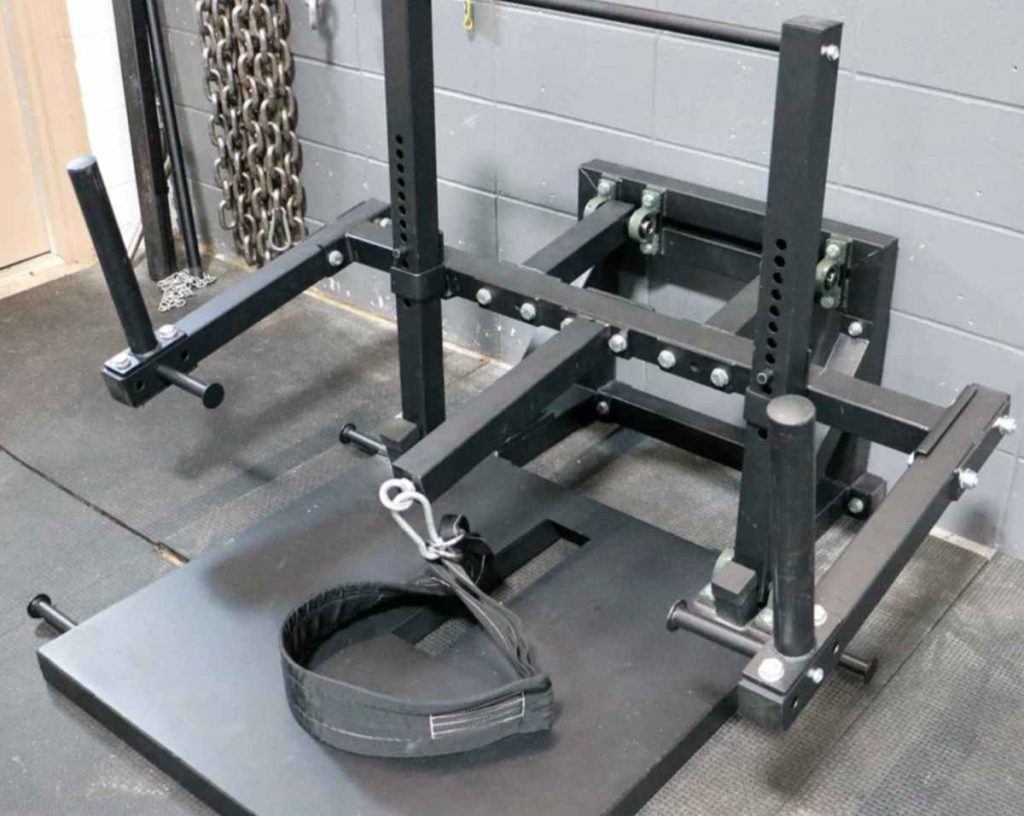 Looking for a squat variation to help you maximize quad development while taking it easy on your back?
Enter the belt squat.
Done either with a belt (dangling plates below you between two platforms) or on a dedicated belt squat machine, there are lots of things to love about this exercise.
In this article, we are going to tackle the main benefits of doing belt squats, a couple of disadvantages to keep in mind, and answer your belt squat benefit questions.
Let's jump right in and get to belt squattin'!
Benefits of Belt Squats
The belt squat machine is a relatively new addition to neighborhood gyms, although it's been used for years in the DIY form by powerlifters.
Here are the main benefits both experienced and novice lifters can benefit from the belt squat on leg day:
Easier on your back
The primary benefit of belt squats compared to barbell squats (whether we are talking about back squats or front squats) is the load is moved from the upper body to the hips.
Why does this matter?
Welp, it reduces spinal compression.
Loading a heavy barbell on your shoulders places a ton of weight directly on your spine. This compression can be no bueno for people with injured backs or weak back stabilizers (both the spinal erectae and other core muscles).
See also: Belt Squats: How to Do It, Muscles Worked, and Variations
Squats are king in the gym, but when done improperly—which is more frequent than it should be—lifters injure themselves.
Poor squat technique often leads to lower back injury and pain, and belt squats are a way to sneak around the stress on the spine.
Similar muscular demands compared to back squats
The main muscles worked when doing squats are the quadriceps, a group of four muscles that run along the front and side of your thighs, from your hips to your knees.
Belt squats, in a head-to-head comparison with back squats1, activated the quads comparably to the traditional squat. Hamstring activation, as well, was similar, and so was plantar flexor activation.
They did differ in glute activation, however, which we will discuss shortly and that this can actually work as a benefit.
See also: 7 Best Leg Machines in the Gym (Benefits, Muscles Worked, and More)
After all, the reduced muscle activation outside of the target muscles (quads) means that you will recover faster compared to more demanding exercises like deadlifts and back squats.
Basically, you get many of the same muscle-building benefits of squats without being crumpled up physically and requiring three days of recovery before your next workout.
Better for lifters with injured trunk musculature
One of the reasons that barbell back squats are top dog is because they are nearly a total body workout.
While they are predominantly a lower body exercise—your quads are working the elevator, after all, controlling the descent and the ascent of the movement—there is lots going in the rest of your body, too.
Your upper body and core musculature are working hard to keep the bar stable on your shoulders.
For lifters with injured core muscles, a belt squat is a great way to target the quads without placing undue stress on the core.
Good for lifters with limited shoulder mobility
Gripping the barbell when doing barbell squats is kinda important! And for many athletes and gymgoers, not an issue.
But for those lifters who limited in terms of shoulder mobility, whether because they cannot externally rotate to properly grip the barbell or they have an injured shoulder (happened to me more times than I can count during my competitive swimming career!), belt squats take shoulders completely out of the equation.
There are other ways you can skirt around the shoulder mobility issue, including using safety squat bars, or doing dumbbell squats, but the belt squat truly takes the shoulders and put them on the bench.
Safer than barbell squats
I really like belt squats because of the safety factor. Belt squats are easy and safe to ditch when failing a rep.
There's perhaps nothing funner than going heavier than cement on squats, feeling our knees quiver as we unrack the bar from the squat rack, and descend into lower body hypertrophy and epic strength.
Safety never takes a holiday, and safety is one of the best features of leg machines at the gym compared to free weights.
A database that tracks hospital visits in the United States found that over a period of twenty years, nearly 90% of the visits to the ER were people injuring themselves with free weights at the gym.
With the resistance (either plates or a pulley system), belt squats provide a degree of safety you won't find with dumbbells and barbells.
Can help with your squatting technique
This is purely anecdotal, but squatting when the load is centered around your hips feels different compared to loading the upper body.
Because the movement is completely driven by the lower body, you can get a better sense of driving the weight through your hips, which you can then carry over to your regular squat.
Heavy lifting requires teaching your body to fire the right muscles at the right time, and belt squats can help lock in the movement pattern for a successful squat.
Disadvantages of the Belt Squat
Although the belt squat machine is certified awesome at generating overall lower body muscle mass, like every type of machine in the gym, it has its limitations.
Here are the two main ones:
Doesn't work your core very well.
And by well, I mean almost not at all.
An EMG study2 with some lifters found that the obliques and rectus abdominus muscles only had around half the activation when doing belt machine squats compared to barbell squats.
Moving the load south may retain all of the muscular activation of the quads and hamstrings, but you lose out on the stabilizing benefits of loading the upper body.
This can be a benefit for lifters and athletes who are working around an injured core, but for the rest of us, we are missing out on some excellent core work.
Less glute activation.
While there are some ways that you can target the glutes more on the belt squat machine (wider foot stance, vertical shins, and turning the toes out slightly), in general, it's not as effective as the traditional barbell back squat for firing the glutes.
Researchers working with ten well-trained individuals found that there was a 32.1% peak reduction in glute activation with belt squats compared to barbell back squats.
While that isn't game-ending, and you should be incorporating other lifts that more appropriately target the glutes (hip thrusts, dumbbell step-ups, etc.), it's something to be aware of if you are obsessed with the booty gains.
The Benefits of Belt Squats — FAQs
What are belt squats good for?
Belt squats are an excellent exercise for lifters who want to train around an injured back or core. They are more comfortable for gymgoers who have shoulder or arm mobility issues or simply want to give their back a break from heavy load.
The different angles of resistance on the machine can also provide a different type of stimulus that can give your leg muscles a nice taste of something new, which can help you continue on your path towards more muscle and strength in the gym.
Do belt squats build mass?
Yes, belt squats can build muscle mass! They are just as effective as barbell back squats for building muscle mass in your quadriceps and hamstrings. While they can help you build mass in your glutes, they aren't as effective as back squats.
Additionally, because they are safer than regular squats, you are going to spend more time in the gym building muscle and less time at home nursing a sore back (or worse).
The Bottom Line
Belt squats are an excellent and handy squat variation that belongs in every serious lifter's lower body training program.
While it will never replace the back squat in terms of sheer awesomeness (meaning muscle mass and strength development), it does have a role to play as a secondary exercise.
With lots of upsides, including almost identical quad and hamstring development, and few downsides, the belt squat is a great way to take leg day to the max without overly stressing your back.
Müller, R. (1999). Fitness centers: injuries and discomforts during training. Federal Institute for Injury Prevention. Bern: BFU.
Joseph L, Reilly J, Sweezey K, Waugh R, Carlson LA, Lawrence MA. Activity of Trunk and Lower Extremity Musculature: Comparison Between Parallel Back Squats and Belt Squats. J Hum Kinet. 2020 Mar 31;72:223-228. doi: 10.2478/hukin-2019-0126. PMID: 32269663; PMCID: PMC7126258.
Evans TW, McLester CN, Howard JS, McLester JR, Calloway JP. Comparison of Muscle Activation Between Back Squats and Belt Squats. J Strength Cond Res. 2019 Jul;33 Suppl 1:S52-S59. doi: 10.1519/JSC.0000000000002052. PMID: 28595237.
---
More Guides Like This
Best Hack Squat Machines for Home and Commercial Gyms. Ready to take leg day to the next level? Here's a look at the best hack squat machines for home and commercial gyms.