Running on a treadmill and running outdoors have a lot of benefits. But they differ in some very key ways. Read on to see the best option for you and your running goals.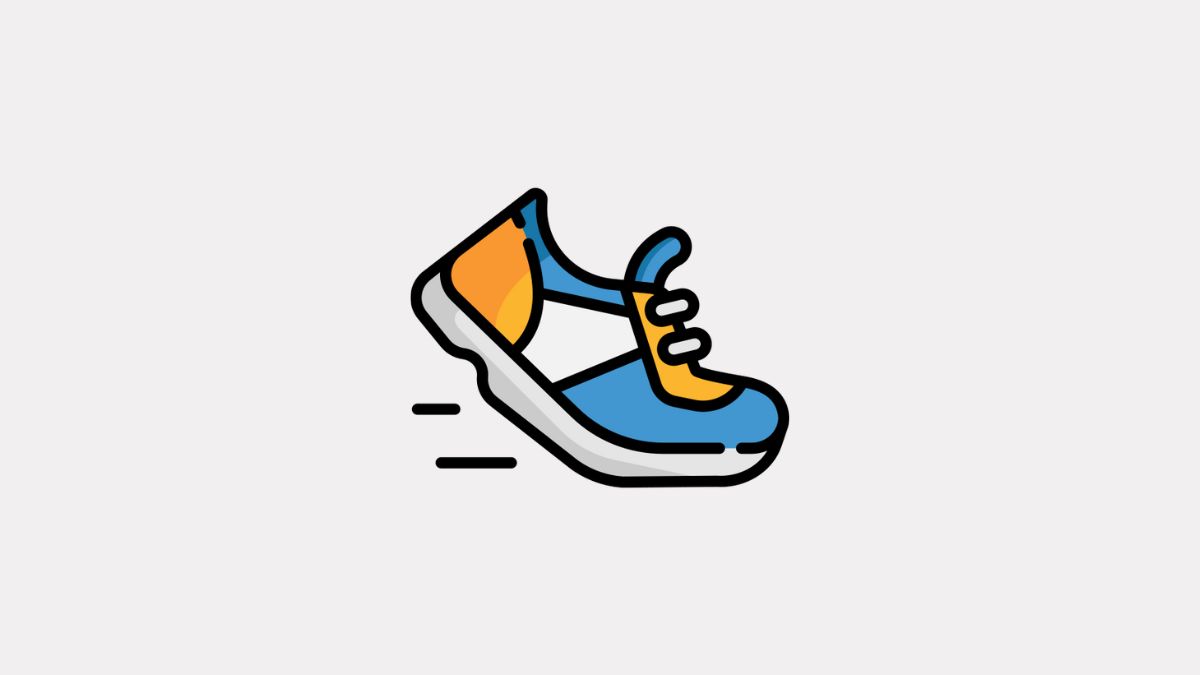 Running is, by far, the most popular form of cardio around.
It's functional, effective for burning fat and losing weight, and just makes you a fitter and better athlete overall. And when done outside, it's free. No gym membership or treadmill required.
But how, exactly, you should run is always a subject of great debate.
Or should I say where?
Proponents of indoor treadmill running will claim that the benefits of treadmills outweigh the benefits or outdoor running, while outdoor runners will scoff and say that no type of treadmill that can compare with the "real deal".
So which is it? Which is the better choice overall, and which will suit your needs best?
That's what we'll find out in the article below…
We'll look at not only the main differences between the two, but also how those differences make them better/or worse for your specific methods of training.
We'll even take the time to answer some of the most commonly asked questions about treadmill vs. outdoor running.
By the end of this post, you'll have a clear idea which is the right option for you.
Let's dive in…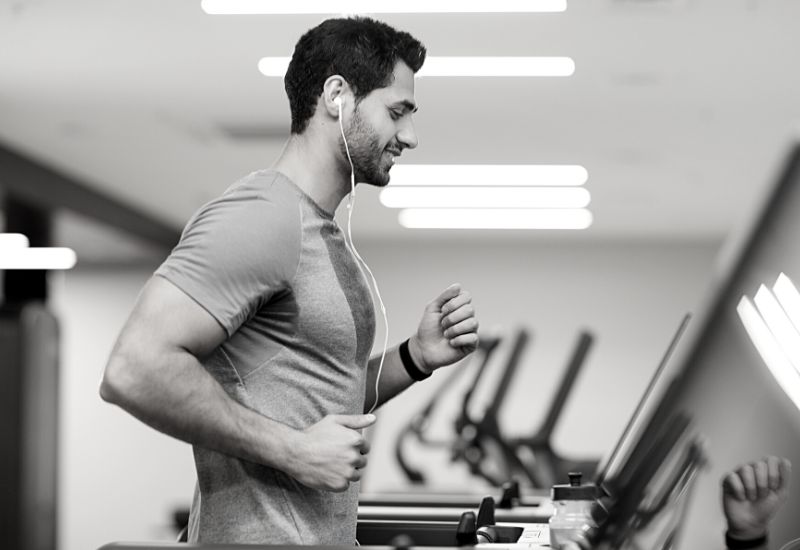 The Main Differences Between Treadmill vs. Outdoor Running
Effectiveness
Let's start off with what I consider to be the most important factor: how effective the workout is.
Or, put another way, how the two types of running vary in terms of weight loss and calorie-burning results.
As you know, running is one of the best forms of exercise to burn calories. Though your legs are the only body part doing the work, the fact that you're propelling your body forward means your entire body is working to some extent. Even if the muscles in your upper body aren't active, your cardiovascular system is—sending oxygenated and nutrient-rich blood throughout your whole body.
The good news is that there are no significant differences between the calories burned on the treadmill and outdoor running.
You can burn close enough to the same number of calories indoors and outdoors, meaning both are equally excellent for your weight loss and fat-burning overall.
Impact
Impact is a big factor for a pretty significant percentage of the running population:
People with joint problems
Heavier runners
Long-distance runners
Anyone who runs daily/frequently
As you've doubtless experienced for yourself, running is a high-impact workout that can take a toll on your joints and bones.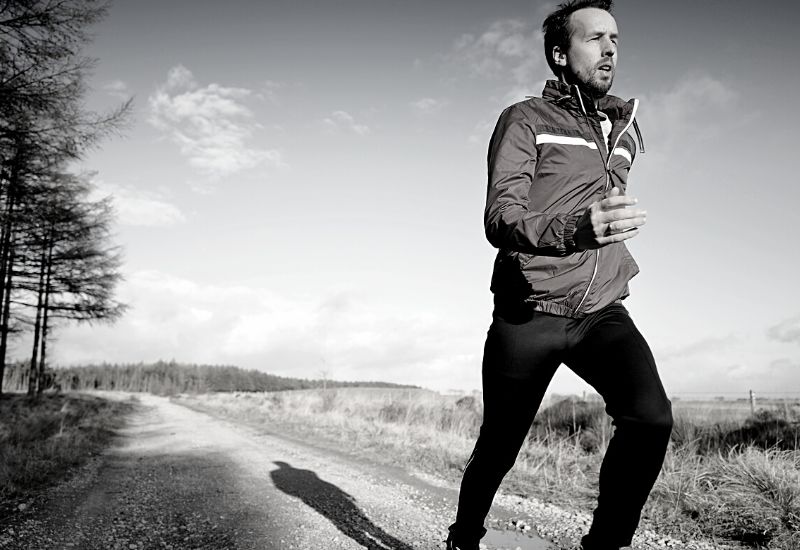 The impact will cause microscopic damage to the bone, joint, and even muscle tissue, leading to inflammation, stiffness, and pain—which you typically feel in the 24-48 hours after the run.
A number of factors can affect just how much damage is done:
The length of your run (longer obviously equals more damage).
The weight of the runner (greater body weight equals a greater load on the joints).
The terrain (harder terrain like concrete has a higher impact/does more damage than softer terrain like grass).
Running outdoors on the right terrain can be game-changing for your joints.
See also: Is Running on a Treadmill Machine Bad for Knees? (And How to Avoid Knee Pain on the Treadmill)
For example, running on soft grass, running tracks, forest trails, and even dirt mountain paths will all be gentler on your joints than road running.
No surprise, too, treadmills are gentler on your joints than road running.
While there are plenty of treadmills for heavier people specifically designed to reduce impact, all treadmills feature impact-reducing elements incorporated into their decks/platforms.
If you have a lot of joint pain, stiffness, or you're worried about impact (especially as you age and your bones/joints are less resilient and don't heal as quickly), indoor running and running on soft, springy terrain is equally effective.
Road (and sidewalk) running (on concrete) can be a bit too hard on your joints, which is one of the big benefits of cushioned treadmills, which do an excellent job of reducing impact and shock on your ankles and knees.
Mental Benefits
Running is amazing for your brain1:
It has a self-hypnotic effect that reduces anxiety and depression.
It increases activity in the hippocampus, which is responsible for focus, working memory, and task switching.
It can elevate your mood2.
It boosts executive function.
It makes you more concentrated and improves attention.
It increases brain activity overall3.
This is largely due to the activity part of the running, the fact that you are moving forward at a steady pace, with repeated movement and sustained exertion.
However, there is one factor that plays a huge role in the mental benefits of running: your surroundings.
When you run outdoors—for example, in a park, out in the forest, on a mountain trail, even in a city—you are surrounded by or, at the very least, encounter nature. Even just a few trees, bushes, plants, or gardens that you pass while running around—nature is all around you!
On top of all the running benefits listed above, being out in nature can have even more benefits.
According to the American Psychological Association4, "exposure to nature has been linked to a host of benefits, including improved attention, lower stress, better mood, reduced risk of psychiatric disorders and even upticks in empathy and cooperation."
When it comes to your mental health, running outdoors definitely has the edge!
Environment
Where you run will often directly influence how long you can run.
Think about it: you may be able to run for a full hour on flat ground (or a treadmill set to simulate flat ground), but unless you're very fit, you're going to have a much harder time maintaining that same pace and training time on a steep hill.
Don't get me wrong, there are a lot of benefits of incline walking and running. That's why so many treadmills feature the option to add incline.
But inclines and declines just make running harder. There's no two ways about it.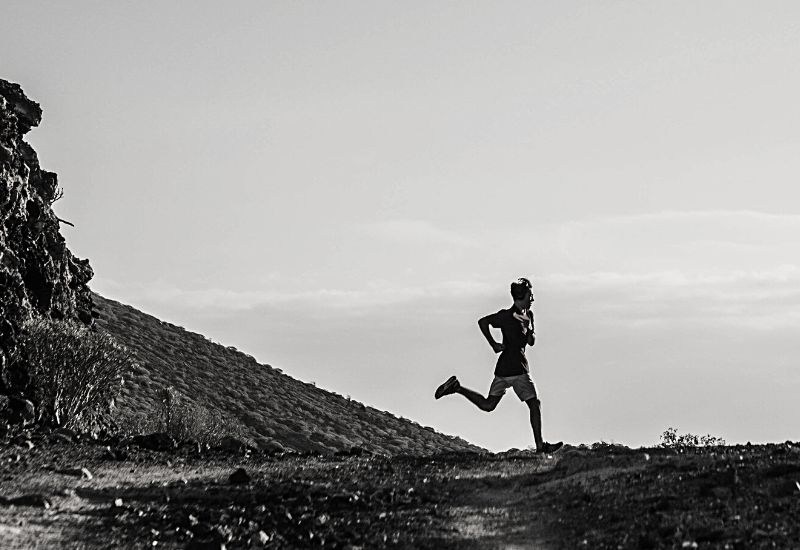 When running outdoors, you have no real control over your environment. You can control your route, but you still have to handle whatever terrain the street, path, track, or trail throws at you.
See also: 6 Best Treadmills with Incline (Burn More Calories, Faster)
On a treadmill, though, you're in full control. You can raise or lower the incline, increase or decrease your speed, all with the press of a button.
However, it's important to know that though you gain control, you lose variety.
Running indoors on a treadmill will always only expose you to the same environment. Oh, sure, you can change things up by switching what's playing on TV or adding/removing decorative flourishes. At the end of the day, though, it's always the same run in the same room.
When running outdoors, you get to explore your entire city…and beyond. In fact, you can run pretty much anywhere in the world and see new sights and sounds you'd never have encountered otherwise.
Bear in mind, though, that there's also the safety factor to take into account.
There are a lot of factors that can affect your safety when running outdoors:
Fellow pedestrians and runners
Vehicle traffic
Construction and road work
Crime
Lighting (when running in the dark)
Terrain (uneven, rocky, or slippery terrain increases injury risk)
and so on…
If you're trying a specific form of training (for example, sprint training or walking backward on a treadmill), you're a lot safer indoors than outdoors. Control over your environment also means a safer environment, even if it's less varied.
Running Technique
Here's an interesting fact: your running technique changes slightly when running on a treadmill vs. running outdoors.
One study compared the kinematic and kinetic trajectories of both types of running, and found that though the gaits remained the same, kinematics (especially in the knees) showed "statistically significant differences."
The way the joints moved and the way the muscles flexed and contracted to support the joints also showed slight variations.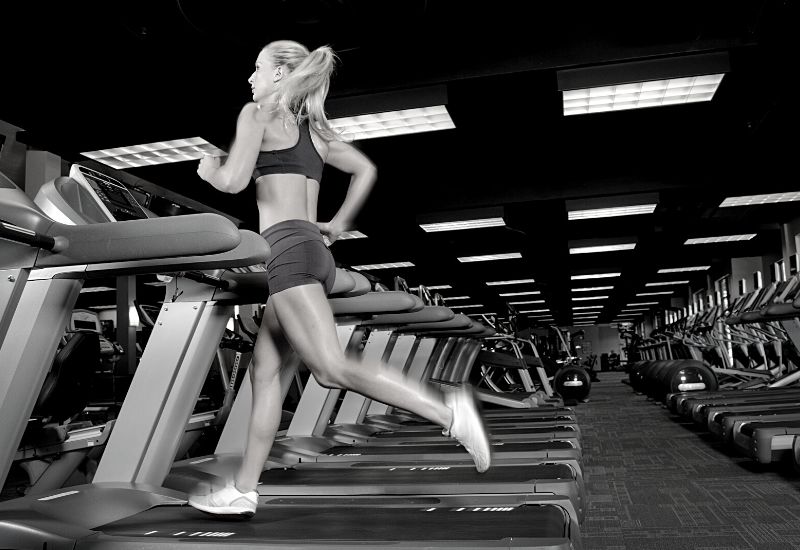 What does this mean for you?
Well, I'll boil it down to a simple conclusion: the time you spend training on the treadmill will mostly but not exactly translate into more effective running in real-life outdoor environments.
This is due to factors like your environment (wind that causes air resistance, variety in terrains, etc.) as well as the slight variations in your running technique.
You may still run at 80-99% efficiency, but the only way to 100% simulate real-life outdoor running conditions is…you guessed it: running in real-life outdoor running conditions.
Accessibility
Indoor running on a treadmill is a workout you can do anytime.
As long as no one minds you using the machine in your home gym (no one's sleeping in the room or next door), you can always hop on and get in a great workout. Or, you can hit up the gym—some are even open 24/7, so you can run at literally any time of day.
See also: The Best Decline Treadmill Machines for Home
Running outdoors is also accessible at any time of day, but not any time of year.
There will be days when the rain is coming down too hard, snow is falling, the roads are icy or slushy, the wind is blowing too fiercely, or the temperature is just too hot or cold to run outdoors.
Cost
Cost is always a factor to consider when examining the benefits of treadmill vs. outdoor running.
Running outdoors is absolutely free. Just lace up those training shoes, step outside your front door, and get running. Not a single cent will ever be spent on an outdoor run (unless you pay for membership to an exclusive club or track).
On the other hand, treadmill running will cost you something, whether that's a gym membership or taking on the cost of treadmill machine ownership:
Your gym membership fees (anywhere from $20 to $200 per month, depending on your club/city).
The $300 to $3,000 you'll need to invest in a treadmill for your at-home gym, plus the slight increase in electrical consumption reflected on your monthly electric bills.
That's not to say having to spend money to train on a treadmill indoors should be a deal-breaker. It's just a factor to take into account.
The Treadmill Machine
Indoor running on a treadmill is a great choice for anyone who:
Prefers to control their environment and track their runs down to the most minute detail.
Wants to avoid potential hazards they might encounter outside.
Likes doing controlled treadmill sprint workouts where they can control terrain, speed, etc.
Wants to get in a workout any time of the day or night, all year around—even in the hottest summer and coldest winter.
Needs a low-impact workout.
As you can see, there are a few pros and cons to working out indoors:
| | |
| --- | --- |
| ✅ Pros: | ❌ Cons: |
| Accessible 24/7/365 | Requires an investment |
| Lower-impact and more joint-friendly | No change in your running environment |
| Total control over terrain and environment | Movement isn't exactly identical to real-life running |
Running Outdoors
Outdoor running is ideal for anyone who:
Loves being out in nature and wants to spend more time among living things.
Wants to explore their city or neighborhood.
Hates feeling cooped up indoors, but needs open skies and (mostly) fresh air.
Wants to train for real-life situations and conditions.
| | |
| --- | --- |
| ✅ Pros: | ❌ Cons: |
| Better for your mental health overall | No control over your terrain or environment |
| More likely to perform better when running in real-life conditions | Weather may stop you from running frequently |
| Free to run anytime | More likely to be higher-impact and take a toll on your joints |
Treadmill vs. Running Outdoors – FAQs
Can you simulate running outdoors on a treadmill?
To simulate running outdoors on a treadmill, one study5 showed raising the incline by 1% simulated the air resistance you'll encounter when running outdoors.
Other than that, you can raise and lower the incline to simulate an uphill run. You won't be able to simulate downhills, thought, as most treadmills don't come with a decline functionality.
Why does running on a treadmill feel easier?
Running on a treadmill typically feels easier because of the reduced air resistance (no wind), the lower impact on your joints, and the minute changes to your kinetics/kinematics.
Don't worry, though: the calorie-burning and cardiovascular improvement remain the same as outdoor running!
The Bottom Line
As you can see above, both treadmill and outdoor running offer a lot of benefits.
At the end of the day, it's up to you to decide which set of "pros" and "cons" serve you best and give you the best option for your training.
Just remember: no matter how you run, running will always lead to improvements in your fitness as well as better cardiovascular health.
Happy running!
---
More Treadmill Articles and Guides
The 5 Best 30-Minute Treadmill Workouts (for Beginners, Fat Burning, HIIT, and More). Looking to blast a killer workout on the treadmill in 30 minutes or less? Here is a look at our favorite 30-minute treadmill workouts for beginners, burning fat, HIIT, and more.
6 Best Treadmill Alternatives (Pros and Cons of Each). The treadmill is one of the best cardio machines in the gym for weight loss. But it's not always available. Here are the best treadmill alternatives when you need to mix things up.
How to Build Your Glutes on the Treadmill (Plus Sample Workouts). The treadmill machine is a monster for building bigger and stronger glutes. Here's how to target your glutes on the treadmill and some butt-building workouts to get you started.